The Komodo National Park is formed by three major islands (Komodo, Rinca and Padar), and is known worldwide for being the home of the celebrated Komodo dragon (Varanus komodoensis), the largest lizard in the world.
The park is one of the most important nature conservation areas in the world. In fact, because of its biological importance and its incredibly rich marine environment, UNESCO has declared the park a World Heritage Site and Man and Biosphere Reserve.
But a trip to Komodo National Park goes beyond its famous gigantic carnivorous inhabitants who date back to prehistoric times.
It's also an opportunity to appreciate some of the most gorgeous islands in the world and their incredible fauna, flora and rock formations.
You can also go trekking, hiking, snorkelling, bird watching, diving and of course, chasing dragons!
I visited the park and was truly amazed and speechless at nature's splendour in this part of the world, not to mention being mesmerized by the fascinating Komodo dragons.
How to Plan a Trip to Komodo National Park
Labuan Bajo, a fishing town located on the westernmost part of the island of Flores, is the closest city to the Komodo National Park.
After spending some time discovering the best places to visit in Bali, I took a one-hour flight to Labuan Bajo.
Once in this city, I could choose between a day or overnight trip to Komodo. Both of these tours will enable you to visit Padar, Rinca and Bat Islands. On a liveaboard in Komodo trip, you will be accommodated on a boat and spend a second day visiting Komodo Island, the Pink Beach and Manta Point.
I opted to stay in the city in a luxury hotel because it's much more comfortable than sleeping in a boat and taking two day trips. However, if you have limited time, you can take a Komodo Island tour and I included some tips for booking a tour below.
Day 1 – Day Trip to Rinca, Padar and Bat Islands
So, on the morning after my arrival, I woke up at 6:00, had breakfast, and at 7:00, was picked up at the hotel to take the tour to Padar, Rinca and Bat Islands.
Unfortunately, my wooden boat had some mechanical problems and I ended up leaving Labuan Bajo only around 8:30.
However, the time wasted waiting for a smaller and faster boat was forgotten as soon as I started heading to Padar Island.
The stunning landscape was composed of hundreds of gigantic mountains covered in different shades of green; crystal clear emerald water that turned turquoise in some parts; a blue cloudy sky; birds flying and fish jumping in the water.
I was in awe of this picture-perfect scenery!
After approximately 2:30 hours the water was getting shallower, as the boat was approaching Padar Island.
The view from the boat was just amazing!! The bright green savannah that covers the island glowed in the bright sunlight, and the water was so shallow and clear that I could see the coral reefs and the fish darting in and out of them.
Padar Island
Padar Island is located about 30 km from Labuan Bajo, and has a savannah-covered surface area of 14,09Km².
While you may not have heard of it, since it's not as famous as Bali, Padar Island has a spectacular otherworldly landscape and is definitely one of the most beautiful islands in the world.
I have to admit that Padar was one of the islands I wanted to see most when I planned my trip to Indonesia.
Getting to the top of Padar Island doesn't take longer than 30min.
There is a wooden stairway at the start that leads to a gravel path that goes all the way to the summit.
The trekking is very easy, however, there are some small rocks on the path that can make the terrain a bit slippery, especially during the descent. So be careful, walk slowly and use appropriate shoes.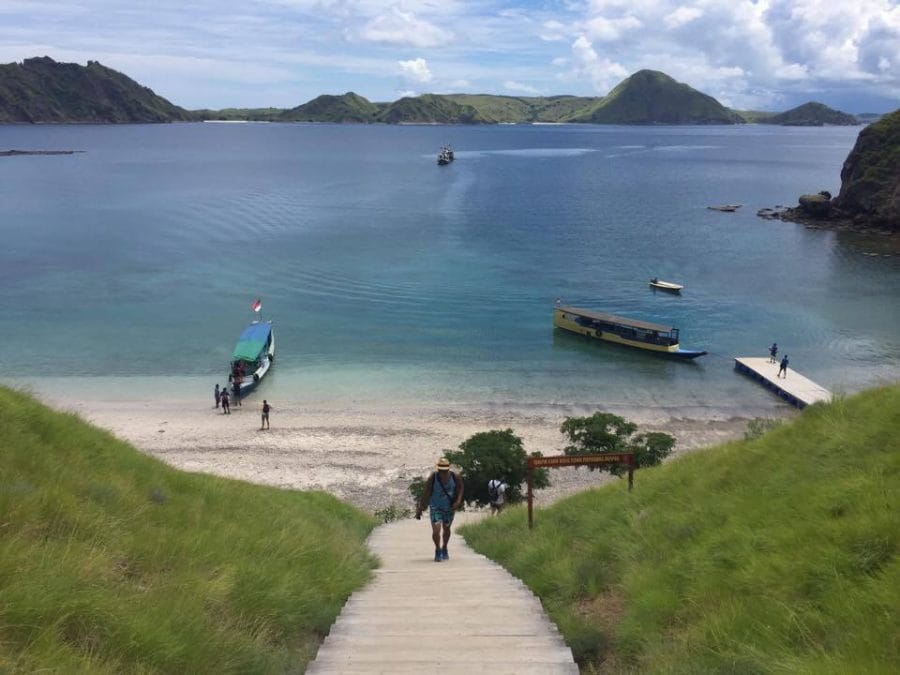 Once you're on the top, you can marvel at the extraordinary landscape: a fringe of bright green-capped mountains with exquisite shapes, surrounded by three turquoise bays.
Curiously, the three bays each have a different colour beach: white, black, and pink. I've never seen this phenomenon before and I don't think there's another case of this combination in the world…
I was speechless admiring the most breathtaking landscape that I've seen in Indonesia, and feeling extremely happy!!
There are three viewpoints on the way to the summit of the island, but you don't need to go all the way to the top, as the first one is the best one for taking pictures.
If you have time and want to explore the island more, you can go trekking for around one hour, or enjoy its deserted and superb beaches. Snorkelling on Padar Island is also amazing!
The island is home to falcons, kites, geckos, green turtles, three Komodo dragons, and other animals. But don't worry if you don't see the dragons during your visit – if that's what you want to do, you'd be better off going to Komodo or Rinca.
In fact, the next island we went to, was Rinca…
Rinca Island
The boat left Padar and sailed for 1:30 hours until we arrived at Rinca, which is home to more than 1500 Komodo dragons.
A visit to Rinca Island is only allowed in the presence of a park ranger, who will explain everything about the dragons, keep you safe and guide you around the island.
Komodo dragons are cold-blooded animals, and the best time to see them is early in the morning when they are looking for sunny places to heat up their body temperature while it's still not too hot.
Luckily, when I arrived, there were some dragons hanging out underneath the ranger's kitchen, attracted by the smell of the food.
The guide explained that dragons are carnivorous animals that can reach up to 3.5 meters in length and eat only once a month. We also learned that they can live up to 50 to 60 years, and their saliva contains more than 54 types of bacteria and is lethal.
I was fascinated and exhilarated to learn more about the komodo dragons. What an intriguing animal!
I also saw some monkeys and deer during my one-hour trek on Rinca Island.
Pempeng Island
After Rinca, I headed to Pempeng Island for some snorkelling, which was fantastic! I also saw a couple of spectacular eagles flying high above my head.
Bat Island
Next, the boat approached Bat Island. The island gets its name from the thousands of giant bats that roost in the mangroves on the island and take to the skies in their hordes at sunset.
Seeing the swarms of bats crossing the purple-red sky was undoubtedly one of the oddest experiences of my life.
By the time the boat headed back to Labuan Bajo, it was already dark, and the sky was full of stars.
It was a long day indeed, but sitting on the boat, admiring the phenomenal landscape and recalling and visiting all those amazing places filled my soul with gratitude.
Day 2 – Day Trip to Komodo Island, Pink Beach & Manta Point
On the second day, I took a Komodo Island tour that takes you to Komodo Island, Pink Beach and Manta Point.
I left the hotel at 7:00 AM, and after about two hours, the boat approached Komodo Island, the most famous and biggest island in the Komodo National Park.
Komodo Island
The island has a surface of 390 Km2 and a population of over 2000 people and 2500 dragons.
Its vegetation varies from grass-woodland savannah to tropical forest, and the altitude ranges from sea level to 750 m above sea level at the highest peak of the park.
Komodo Island, one of the New Seven Wonders of Nature, is also home to deer, monkeys, water buffalo, pigs, snakes, lizards, palm civets, whales, dolphins, mantas, and several species of coral-building reefs, sponges and many species of fish.
As soon as I arrived at Komodo Island, I saw two dragons: one walking on the beach and another resting underneath a tree.
I met a park ranger, who explained that there were three options in terms of hiking on the island: a 1h hike, one for 1h30 and one for 2h (which covers around 4-5km).
I followed the guide as he told me the rules to avoid being bitten by the dragons: always obey the ranger's instructions, pay attention to the pathway, maintain a certain distance from the dragons, etc.
Between 1985 and 2016 there were more than 20 recorded dragon attacks on humans, four of which were fatal…
We saw some empty dragons' nests (the mating season is from July to August) and also found three dragons resting in the shadow of some trees.
The trekking is suitable for all ages, with the terrain not too difficult to navigate and there are several trees and some hills providing absolutely stunning views of the Komodo National Park.
Just as we were coming to the end of our hike, we saw two dragons running, one of which was a baby.
The guide explained that baby dragons can climb trees and run up to 25 km/h. This is a necessary skill, as Komodo Dragons are cannibalistic and the biggest threat to baby dragons immediately after they've hatched, comes from the adults who will not hesitate to eat them if hungry.
I was extremely lucky to have seen Komodo dragons on both Rinca and Komodo Islands, as the guide explained that there is no guarantee that one will see dragons during your visit.
Finally, as we finished our hike, I saw several more dragons, a wild pig and a very cute and friendly deer.
Pink Beach
We left Komodo Island and 30 minutes later arrived at Pantai Merah, or the pink beach, one of only seven in the world and the first that I've ever seen.
I actually had to jump into the water to get to the beach because the boat could not get closer to the sand.
The crystal clear turquoise water was warm and full of coral reefs teeming with fish. Snorkelling at the pink beach was totally amazing, but what I really wanted to see was the powdery white, I mean pink, sand…
The beach is actually only pink close to the shore and gets its colour from pieces of red coral in the sand.
Despite there being quite a lot of rubbish lying around, it was a perfect place to sunbathe and relax.
Manta Point
After resting for a while, we carried on sailing for about 1h from the Komodo National Park towards our last stop, Manta Point, so-called because it's a good spot to see manta rays…
Once again we passed by incredible islands, with different shades of blue water and white sand. I just wanted to jump out of the boat and spend the rest of the day there…
However, we continued to Manta Point but when we got there, we couldn't find any mantas, unfortunately. I had to postpone my dream of swimming with mantas…
But we did go back to what was the most incredible sight – a small piece of land in the middle of the ocean surrounded by extremely clear blue water. It was a picture-perfect desert island and I felt like I was having my one piece of paradise on Earth.
On the three-hour journey back to Labuan Bajo, I saw more extraordinary scenery, hundreds of fish and thousands of stars in the sky
I spent one more day in Flores, kayaking, sunbathing, snorkelling, working a bit, enjoying the hotel's pool and the striking view of hundreds of mountains of different shapes and elevations covered with lush vegetation and surrounded by pristine emerald water.
The Komodo National Park is stunning, encompassing some of the best islands in Indonesia and I felt extremely blessed and privileged to have had the opportunity to visit this extraordinary, otherworldly place.
Safe travels and have in Indonesia!
Tips for Booking a Komodo Island Tour
There are several Komodo Island tours departing from Labuan Bajo.
If you have limited time and want to get the most out of Komodo National Park, I suggest that you book this Komodo Island tour, in which you can see the highlights of Komodo (Padar Island, Pink Beach, Komodo Island, Manta Point, Taka Makassar and Kanawa Island) in just one day.
The reviews are excellent and the price is fair. Book your tour online in advance here.
If you have more time, my recommendation is that you book one of the tours below.
You may also be interested in:
Planning a Trip to Komodo National Park – Tips
Where is Komodo National Park?
Komodo National Park (KNP) is located within the Lesser Sunda Islands in the border region between the provinces of East Nusa Tenggara and West Nusa Tenggara (check the map here).
How to get to Komodo National Park?
You can get to Komodo through the gateway cities of Labuan Bajo in the west of Flores, or Bima in eastern Sumbawa. However, the start point of your trip will be Bali.
By Air
There is an airport in Labuan Bajo, and the companies in operation are Garuda Airline and Lion Air.
You can book your flights with Skyscanner, which is the website that I use, trust and recommend.
By Land
There are overland buses departing from Bali to Labuan Bajo and Bima.
By Ferry
There are also ferries with PELNI, the Indonesia state's ferry. Travel time is approximately 36 hours.
Best time to go to Komodo?
You can visit Komodo National Park at any time of the year, but the best time is from April to June, and from September to November.
From December to March is the rainy season, and July and August the high season.
I was there in February and the weather was good.
Where to stay?
I stayed at Plataran Beach Resort, and if you're looking for where to stay in Labuan Bajo my recommendations are:
Travel Costs
* 5-month travel insurance: US$ 256 with World Nomads
* Three nights at Plataran Beach Resort: US$ 800
* Two days tour with Komodo Travellers: US$ 480
Extra Tips for Visiting Komodo National Park
The Komodo National Park is open daily from 7:00 AM to 5:00 PM.
There is an adventure trek on Komodo Island that takes around 4-5h (8Km). Check availability in the park's official website prior to your visit.
Bring sunscreen, a hat, sunglasses, hike shoes and plenty of water.
There are 6 species of sharks and 2 of mantas on Rinca Island, and the best time to see the mantas is from April to June.
Don't forget to save these pins for later 😉
Travel Planning Resources
For every booking made through my site I donate US$ 1 for a charitable organization.
Safe travels ☺