Looking for things to do in Bangkok? Here you will find my 7 favourite ones.
After almost three years I'm back in Bangkok, and this time for a much longer period than the mere three days I spent here in 2014.
If during my first visit I didn't like Thailand's capital that much, and even wondered whether I should come back or not, now it's completely different. I do like Bangkok and I even think that I could spend more time here.
It's such a vibrant, dynamic and cosmopolitan city, with an incredible food scene, captivating spirituality, big contrasts, also smiley people and there are many places to visit in Bangkok.
Bangkok combines the excitement of any big metropolis in the world with a unique fusion of eastern and western civilizations and the city must-be in any Thailand itinerary.
7 Best Things to Do in Bangkok
Because most visitors spend only a few days in the city, during which they also take day trips (floating market, Ayutthaya, etc.), they may end up not seeing many tourist attractions in Bangkok. Thus, I decided to make a list of the 7 best things to do in Bangkok, so during your next visit, you can appreciate this extraordinary city more.
Of course, a visit to Bangkok cannot be completed without going to one of the most popular and breathtaking landmarks in Thailand!
This architectonic complex was constructed in 1782 to be the residence of the royal family of Thailand and consists of museums, temples and government buildings. The Grand Palace is also the home of the Temple of the Emerald Buddha, the most sacred Buddha in the whole country.
With its glittering walls and statues, gigantic demon guardians, magnificent facades, impressing architecture and whimsical details, the Grand Palace will leave you amazed.
My favourite part is the Elevated Platform where there is a big bell-shaped shrine covered with golden tiles; the Buddhist Library with details in mother of pearl and four Buddha images in Javanese style made of volcanic rock; and the phenomenal Royal Pantheon, my preferred building of the whole complex.
I am awestruck and overwhelmed by the Grand Palace's beauty, and this is the first of my 7 best things to do in Bangkok.
Within walking distance of the Grand Palace is my number one temple in Bangkok and one of the best temples in Thailand.
Wat Pho, also known as the temple of the Reclining Buddha, is the oldest and largest temple in Bangkok and was constructed during the reign of King Phetracha (1688-1703).
This huge Buddhist temple complex has interesting architecture with 91 small chedis, four great stupas, several buildings in the traditional Thai style, pavilions, gardens and more than one thousand images of Buddha (the largest collection in Thailand). Not to mention its principal attraction, the adorable gilded reclining Buddha, measuring 46m (150 ft) in length and 15m (49.2 ft) in height.
Unfortunately, during my last visit, the 5m (16.2 ft) feet with details in mother of pearl were under restoration and I couldn't take a closer look at it.
Another point of interest is the Phra Ubosot (the Ordination Hall), which is used for performing Buddhist rituals. It's beautifully decorated and has a gold and crystal three-tiered pedestal topped with a gilded Buddha made of a gold-copper alloy. You will find much peace of mind in this temple, whether you are a religious person or not.
Wat Pho is also the earliest centre for public education in Thailand and the birthplace of the traditional Thai Massage. And because of its importance, loveliness and excellence, it's the second of my 7 best things to do in Bangkok.
3 – Thanon Rambuttri and Soi Rambuttri
Located parallel to the famous and eccentric Khao San Road, these two streets are a true example of the mix of eastern and western cultures in Bangkok.
They are full of charming restaurants decorated with Asian motives, hanging lamps, street vendors, good music and a vibe that I did not find anywhere else in the city.
Those two streets are especially good at the end of the afternoon when the heat is bearable, the light is dimming and more people are out to drink and dine. At night there is live music in some restaurants but the relaxing and pleasant atmosphere still prevails.
It is also a good place to buy souvenirs and meet other travellers because this is one of the most popular areas to stay in Bangkok. I personally prefer these streets much more than the noisy, touristy and crazy Khao San Road.
PS: If you want to experience the most popular street in Bangkok, here are 10 Things to Try on Khao San Road.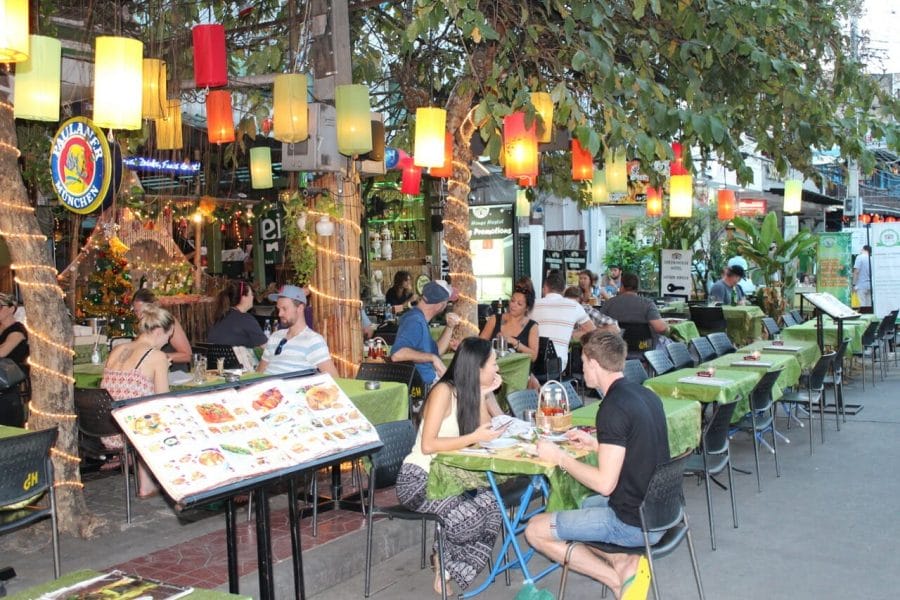 4 – Eat street food like a local
I've never seen a city with as many moveable food carts as Bangkok. OMG! They are everywhere: in front of luxury shopping malls, temples, supermarkets, subway stations, and even occupying whole streets.
The reason for all the stalls on the streets is because Thai people loooove street food. The variety is huge and ranges from fruit, seafood, pork, duck, chicken and noodles to smoothies, juices, and soups sold in plastic bags. If you are a foodie, you will feel in heaven in Bangkok!
And of course one of the best things to do in Bangkok is to eat street food like a local. The seller may not be able to speak English and explain what the ingredients are, and you might try combinations that you've never imagined, but I'm sure you will recognize some flavours and tastes and love it.
You can find good Thai street food all over the city but the places I like most are: Suan Phlu Road, Si Lom 20 and Chinatown (which is one of the best things to do at night in Bangkok). Other popular are: close to BTS stations such as Sala Daeng, Victory Monument and Tong Lo.
If you're a foodie, you should take one of the food tours in Bangkok.
Looking for other places to visit in Bangkok besides temples, and wishing to explore the cultural side of Bangkok a little more, I came across several museums and heritage houses.
Among them, the Jim Thompson House, a museum housing the art collection of American businessman and architect Jim Thompson, impressed me most.
The house, constructed in 1959, and set next to a canal, consists of six traditional Thai-style houses surrounded by beautiful and enticing gardens that look like a tropical jungle.
The house is exquisitely decorated with antique objects such as chandeliers from Thai palaces, and a door from China.
Visitors are escorted by a guide, who will take them on a tour around the house and explain the collection, which includes 8th century Buddha sculptures, traditional Thai paintings and12th century porcelain, etc.
Visitors will also learn the fascinating history of Jim Thompson's life, who disappeared mysteriously in Malaysia in 1967.
Visiting the Jim Thompson House is definitely one of the best things to do in Bangkok.
6 – Getting a Thai Massage
As noticeable as the street food vendors is are the massage places in Bangkok. It's basically impossible to walk down the streets of Bangkok without hearing "massage, massage…"
The history of Thai massage goes back over 2500 years ago, however, it only became popular worldwide after WWII. This healing technique involves deep massage and stretching, and helps promotes circulation, health and well-being.
Massage is part of the local culture and very popular in Thailand. It's quite common to see people massaging each other at their workplaces and even on the streets.
With prices ranging from US$ 6 to US$ 30, getting an authentic Thai massage is one of the best things to do in Bangkok, because where else in the world can it be so cheap and so good?
7 – Go to a rooftop bar
As with many other cities that are full of skyscrapers such as New York and Hong Kong, Bangkok adopted the rooftop bar culture.
When I came here for the first time I didn't have a chance to see any of them, but this time I went to several, at different times and on different occasions. From attending pool parties to watching sunsets or dining at restaurants, enjoying a rooftop bar is certainly one of the best things to do in Bangkok.
But pay attention to dress code, service and prices, because some places are picky and drinks can be really expensive.
My favorite rooftops are: Vertigo and Moon Bar, at the Banyan Tree Hotel, which provides an awesome view of the sunset, has a very nice atmosphere and good service; and the Sky Bar at the Lebua Hotel at night, with a magical view from its staircase. But the service at Sky Bar is pushy and terrible and the drinks are unbelievably expensive so I'm not convinced it's worth going there.
Other good rooftop bars and Bangkok attractions are Park Society & HI So at So-Sofitel, the Octave Rooftop Bar at the Marriot Hotel and Three Sixty Lounge at the Millennium Hilton Bangkok.
These are my 7 best things to do in Bangkok, but if you have more time you could also visit these places in Bangkok: Lumpini Park, Chatuchak Market, the Marble Temple, and M.R. Kukrit's House.
I hope you like these things to do in Bangkok as much as I did and get the most out of your stay in Thailand's capital.
Safe travels and enjoy Bangkok!
Visiting Bangkok
Bangkok is the Capital of Thailand which is a country located in South East Asia, that has borders with Malaysia, Myanmar (Burma), Laos and Cambodia. (See the map here).
Bangkok is a hub, and one of the most important getaways of Southeast Asia.
The city has two airports and some the companies that operate flights to Bangkok are: Delta, AirFrance, British Airways, Etihad, Emirates, Cathay Pacific, Air Asia, Nok Air, Thai Airways and Thai Lion Air.
You can also come by bus from the neighbour countries, or by train from other cities in Thailand.
Best time to visit Bangkok?
You can visit Bangkok all year round, however, the best time to visit Bangkok is from November to February when the heat and humidity are at their lowest.
March, April and May are the hottest months, and September and October the months with more rainfall.
I stayed at Mode Sathorn Hotel and you can read the review here. If you don't know where to stay in Bangkok, Sathorn/Silom is the best area to stay in the city.
To book your room you can check directly at Mode Sathorn Hotel's website, or check Booking and Agoda, which are the sites that I use.
∗ Five months travel insurance: US$ 256 with World Nomads
∗ The Grand Palace: 500 baht (US$ 14)
∗ Wat Pho: 100 baht (US$ 2.80)
∗ Jim Thompson House: 150 baht (US$ 4.20)
∗ Thai Massage: 350 baht (US$ 9.80)
∗ Street food average price: 100 – 150 baht (US$ 2.80 – 4.20)
Extra Tips
∗ To visit the Grand Palace you have to cover shoulders and knees and they only accept cash.
∗ There's a very common scam in Bangkok when you take a tuk-tuk to visit the temples. The drivers say that the temple is closed at the moment and will take you first to another temple instead, and also to a tailor because they get a gas coupon to bring customers to tailor stores.
∗ Taxi drivers don't like to use the meter and some of them also overcharge you and want to keep your change. Always take a taxi that isn't stopped on the street and make sure they use the meter.
∗ The best way to move around Bangkok for me is by using public transportation: Sky Train (BTS), MRT (Subway) and the local boat.
∗ If you need a guide in Thailand and/or want to take private tours you can contact [email protected]
Travel Planning Resources
For every booking made through my site I donate US$ 1 for a charitable organization.
Safe travels ☺