Faro, the capital of the Algarve and the main getaway to the region, is a historic and culturally rich city surrounded by unspoiled island beaches and the impressive Ria Formosa nature reserve.
Even though Faro has fascinating tourist attractions, it's generally overlooked by most of the visitors who head to more popular resort towns, such as Albufeira and Lagos.
I revisited the city in August 2020, 12 years after my first visit, and I loved it. I discovered that there are a lot of interesting things to do in Faro, Portugal, and in this post, I want to share my favourite ones with you.
From wandering around the Old Town to visiting an old Portuguese palace and a fantastic Bone Chapel, learning about Faro's history, enjoying the buzzing nightlife, and relaxing on deserted islands, here is a list of what to do in Faro.
* Affiliate disclosure: Some of the links below are affiliate links, meaning I earn a small fee if you click through and make a purchase. There is never any additional cost to you, and I use some of these earnings for my monthly charitable donations.
Most popular tours in Faro:
15 Best Things to Do in Faro: The Adorable Algarve's Capital
1 – Admire the stunning Arco da Vila
Arco da Vila is a beautiful and monumental arch that replaces the Arab gateway to the Old City of Faro which was partially destroyed by the 1755 earthquake.
The present gorgeous façade of Arco da Vila was built by the Italian architect Francisco Xavier Fabri and was inaugurated in 1812. It's one of the finest examples of Italian neoclassical style in the Algarve region and Portugal.
Inside the Arco da Vila, you can see the old stone-built walls on both sides and the medieval horseshoe arch from the Moorish period on the right side.
On top stands a statue of St. Thomas Aquinas, the patron saint of Faro, and right above, there's a charming bell tower.
When you visit the Old Town, you can't miss the opportunity to admire and walk through Arco da Vila, as it's one of the best free things to do in Faro.
2 – Wander around the Old Town
A trip to Faro cannot be complete without visiting its Old Town!
Faro's history stretches back more than 2000 years. It was occupied by the Phoenicians, Romans, Visigoths, Byzantines and Moors, who in the 9th century fortified the city with a ring of defensive walls that can still be seen today.
Featuring lovely cobblestone streets, important landmark buildings, museums, Roman passages, captivating churches, distinguished tiled houses, lively squares and cosy cafes, Faro's Old Town is a "city" within the city.
And there are many things to do in Faro Old Town (Cidade Velha), such as visiting Largo da Sé, a picturesque orange tree-lined square that is home to the 19th-century Town Hall, the 18th-century Bishop's Palace, and the ancient cathedral.
This area is a delightful melting pot of baroque, gothic, and other architectural styles.
I also suggest that you wander around to see the remains of the ancient city gates and walls, visit the beautiful Teatro Lethes, stop for a refreshing drink or delicious pastry at one of the open-air cafés, and explore shops and boutiques nestled in historical buildings.
3 – Renew your faith at the Sé Cathedral
While in the Old Town, you should pay a visit to the resilient Sé Catedral de Faro, also known as Igreja da Sé.
Located in Largo da Sé, it was built in the 13th century, although much of the inside decoration is from the 17th century. Despite being repaired after being sacked and burned by the Earl of Essex in 1596, and damaged by two earthquakes, it still has the original tower with the main doorway and two chapels.
The interior consists of three naves divided by columns of the Tuscan order and chapels in Gothic, Baroque, and Mannerism styles, sumptuously decorated with elaborate gilded wood altars and gazed azulejos (Portuguese tiles).
You can visit the cloister with a small garden and chapels, the upper choir, and the Museum of the Cathedral on the upper floor. You should also climb up the bell tower to get a bird's-eye view of the surrounding area.
Faro Cathedral is open from Monday to Saturday and costs 3.50 euros.
4 – Learn about Faro's history at the Museu Municipal
One of the top things to do in Faro if you're interested in history and old civilizations is to visit the Municipal Museum.
Located in the Old Town, within walking distance of Largo da Sé, The Museu Municipal, aka Faro Archeological Museum, is housed within the fascinating 16th century Convento de Nossa Senhora da Assunção (Our Lady of Assumption Convent).
The collection is closely linked to Faro's history, since the time the city was called Ossonoba. It has artefacts from the pre-historic, Roman, Moorish and medieval periods, including a gallery of religious artworks and paintings from the 20th century.
The highlights include the outstanding mosaic of the sea-god Oceanus, the bust of Emperor Hadrian and Agrippina, and 9th- to 13th-century Islamic artefacts.
Faro Archeological Museum is open from Tuesday to Sunday, costs only €2, and just the building alone makes the visit worthwhile.
5 – Visit Igreja de Nossa Senhora do Carmo and marvel at its iconic Bone Chapel
One of my favourite things to do in Faro is to visit its picturesque churches. Among them is Carmo Church, one of the most beautiful churches in the Algarve.
The twin-towered baroque church built in 1719 was heavily damaged by the 1755 earthquake. The reconstruction of the exterior, only finished in 1878, was paid for with Brazilian gold.
Carmo Church's interior has intricate and superb gilded carved altars with numerous cherubs, which surprised me.
But what brings most of the visitors to Carmo Church is its extraordinary Bone Chapel.
The bones and skulls of over 1000 monks fill every single available surface of the chapel and are displayed in different geometric patterns.
The Capela do Ossos can be considered macabre and disturbing, but it's quite exquisite and undoubtedly one of the best Faro tourist attractions.
It's open from Monday to Saturday and costs only 2€.
6 – Rest & Relax on one of the islands
If you're looking for relaxing things to do in Faro, you shouldn't miss one of the sandbars islands as they have some of the best beaches in the Algarve.
You can visit Ilha do Farol, Culatra or Deserta. These natural islands with pristine beaches and crystal-clear water shelter the Ria Formosa Natural Park's mudflats and are very popular among locals.
Ilha Deserta (Desert Island), my favourite one, is an unspoiled and uninhabited island with quiet beaches. There are some facilities, such as chairs and umbrellas for hire, and lifeguards on duty.
There's only one restaurant on the island, Restaurant Estaminé, and tables must be booked in advance. Otherwise, bring a cooler bag with some food and refreshments.
Farol and Culatra, which are technically the same island, have beautiful beach dunes that extend along the 6 km shoreline. There's a small fishing village on both islands, where you can find more infrastructure, including a scenic beachside footpath.
The islands are easily accessed by boat from Faro and are perfect to rest. Book your ferry to the beautiful Ilha Deserta in advance here, or a tour to four islands here.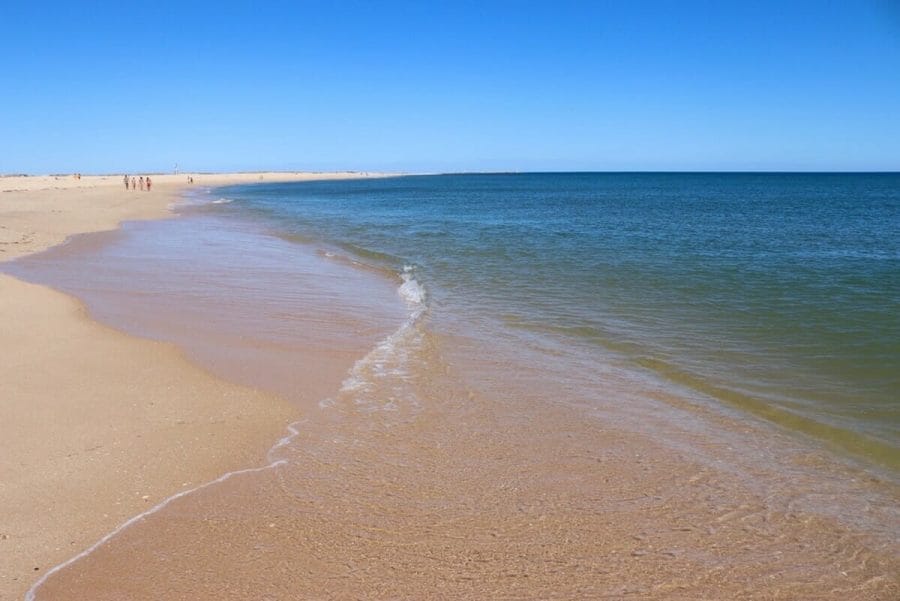 7 – Take a Ria Formosa Tour
Often overshadowed by the stunning Algarvian beaches, Parque Natural da Ria Formosa is one of the best places for outdoor activities in the Algarve.
This wetland of international importance is a maze of canals, freshwater lagoons, marshes, and barrier islands that stretches 60Km along the Algarve coast through the municipalities of Loulé, Faro, Olhão, Tavira, and Vila Real de Santo António.
You can do many things at Ria Formosa Natural Park, but I recommend bird watching, as it is one of the most important areas for aquatic birds in Portugal.
Sailing through the beautiful channels of Ria Formosa, you'll learn about the hundreds of native birds and have the opportunity to see birds from Northern and Central Europe, and the ones migrating between Europe and Africa.
8 – Have a drink, or more, with a view at Castelo Bar
Located atop the historic Faro city walls, this lounge bar and restaurant provides a unique view over Ria Formosa.
Serving traditional Portuguese cuisine, Castelo Bar also offers live music (fado, jazz, rock…), theme parties, and DJ appearances.
On Monday evenings, you have the opportunity to watch a Fado concert, a form of Portuguese singing that is known for how expressive and profoundly melancholic it is.
The Castelo Bar is one of the places where you can sit, relax, and have a drink, or more while admiring the peaceful view of the Ria Formosa after exploring the Old Town.
It's open daily from 10.30 a.m. to 4:00 a.m. and is very popular during sunset.
9 – Go to the beach
If you want to go to a beach close to the city centre before your flight takes off, you should go to Ilha de Faro, located only five minutes drive from the airport.
Ilha de Faro, also known as Praia de Faro, has 5 km of coastline with golden sands, low-key tourist development, restaurants, relaxed cafes, and beach bars.
It's a popular holiday destination for families and there're lifeguards on duty, sunbeds, kayaks, Stand-Up Paddleboards for hiring, and a surf school.
It can get a bit crowded in the summer, but the further you walk from the entrance, the quieter and more unspoiled it will become.
The seawaters of Praia de Faro are very clean, but cold, around 15C.
You can get to Ilha de Faro by car, bus (the same one as the airport – number 16), or boat from Porta Nova Pier near the Marina (only in the summer).
10 – Enjoy Faro's nightlife
If you ask me what to do in Faro at night, my answer is to enjoy its lively nightlife.
The city has some lovely restaurants, classy rooftops, spirited bars, and vibrant nightclubs.
Most of them are located in the Baixa (city centre), but you can also find some in the Old Town.
When the sun goes down, the pedestrian-only street Conselheiro Bivar becomes the hottest nightspot in Faro and attracts locals and tourists alike.
You can find many eateries and bars with outside tables and a great atmosphere on this adorable street. My top suggestions are Lodo Osteria and Aperitivo Bar.
If you feel like dancing, the best options are:
Columbus, an elegant cocktail bar with excellent drinks, and good music;
Castelo Bar, which has live entertainment;
Associação Recreativa e Cultural de Músicos de Faro, an alternative space that offers live music, parties, and DJ appearances;
Prestige Dance Club, a gay-friendly option to dance the night away.
11 – Eat plenty of Algarvian food
Besides the desire to see famous tourist attractions and have memorable experiences when visiting a new destination, there is also the curiosity to taste local and different dishes.
While in the Algarve, you must not miss the opportunity to taste Portuguese cuisine!
Some of the food you should try when visiting the Algarve are:
Bacalhau à Brás (fried potatoes, codfish, and parsley mixed with eggs);
Cataplana de Mariscos (mix of seafood with herbs, tomatoes, and white wine);
Enchidos (smoked sausages filled with different ingredients);
Grilled sardines;
Pastéis de Nata (the famous Portuguese custard tarts).
I love Cataplana and Pastéis de Nata, and every time I'm in Algarve, I eat a lot of it.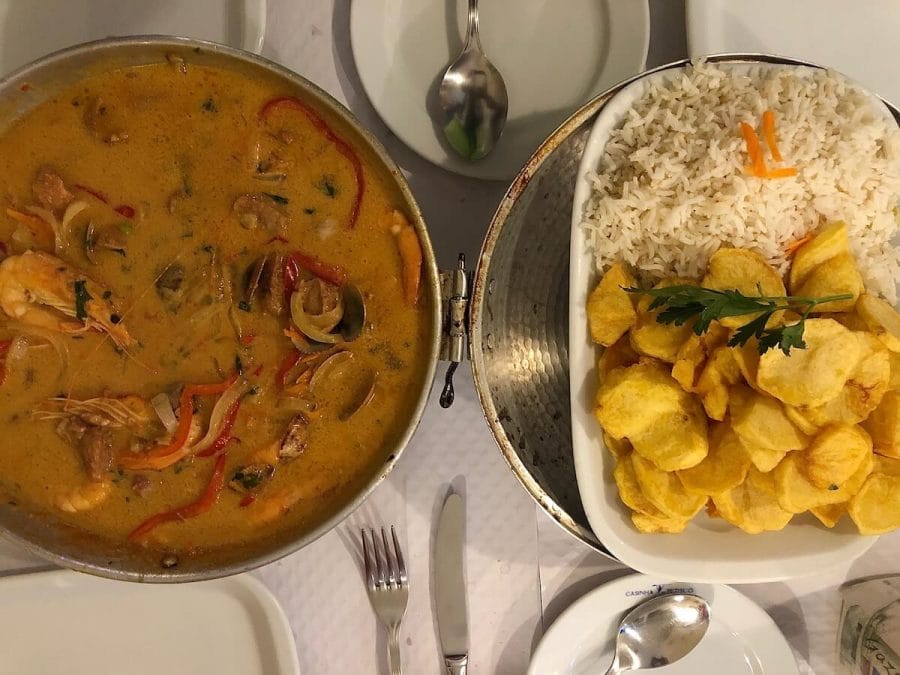 12 – Discover the nearby cities and towns
Albufeira, Lagos, Vilamoura, Carvoeiro and Portimão are generally considered to be some of the best places to visit in the Algarve.
But the Golden Coast, which extends for an area of 4.997 km2 (1,929 sq mi), has many other attractions.
And this is the reason that when you're in Faro, you should take the opportunity to discover the nearby towns and beaches.
If you like history, you should visit Loulé or Silves. If you prefer unique beaches, then don't miss Lagos, Lagoa, and Portimão; some of the most famous beaches in the Algarve are in these municipalities.
But if you're more into off the beaten track, my top recommendations are Tavira and Costa Vicentina Natural Park, where you can find a bit of history and gorgeous beaches.
13 – Visit Centro Ciência Viva do Algarve
Located in the old Algarve Power Station, Algarve Live Science Centre features permanent and temporary exhibitions, a greenhouse, a laboratory, aquariums, a garden and a rooftop, where astronomy activities are held regularly.
The Science Centre provides a range of educational and fun things to do and see for the whole family. Kids can observe and even touch sea creatures, cook with solar energy, and "investigate the world" with a magnifying glass. At the same time, adults can have a drink on the rooftop, while taking in the Ria Formosa Natural Park's striking views.
Visiting Centro Ciência Viva do Algarve is one of the best things to do in Faro today with kids and when it's raining.
It's open from Tuesday to Sunday and prices start at €2,50.
14 – Go shopping
With a great variety of boutiques, souvenir and gift shops, jewellery stores, bookshops, and one of the largest shopping centres in the region, you'll feel very tempted to go shopping.
You can go shopping in the city centre or Forum Algarve, a landmark project in an open-air space, which has become an obligatory stop for thousands of local consumers and tourists alike. It has 100 shops, 20 restaurants, five cinema screens, and a hypermarket.
You can buy some clothing for yourself or as a gift, beach accessories such as hats and sunglasses, handmade bags, watches, designer jewels, magnets, tiles, etc.
I really like shopping in Faro and in the Algarve in general. I always buy swimming suits, shorts for myself, magnets, tablecloths and tea towels for gifts. People love it!
Prices are reasonable, especially compared to the UK.
15 – Visit the Palácio de Estói
And the last, but not least thing to do in Faro, is the Palácio de Estói, one of my favourite Faro attractions.
Located in the village of Estoi, 10 Km from Faro, Pousada Palácio de Estói is the unique neo-Baroque and neo-Rococo styles palace with gorgeous French-inspired gardens in the Algarve.
The dusk-pink palace features luxury staterooms with frescos framed by moulded stucco, a foyer with antique paintings, glimmering gold leaf and ornate plasterwork commissioned by the palace's original owner, the Viscount of Estoi, and a delightful pavilion covered in blue and white tiles with majestic stairways.
Built in 1840, it was restored recently and converted into a hotel. But if you aren't a guest, you can still visit some of its saloons for free, walk around the garden and take beautiful photographs.
Ps.: Near the Estói Palace are the Roman ruins of Milreu, one of the most well-preserved places that indicate the Roman presence in the Algarve. If you have time, you should also visit it.
This is my list of the 15 best things to do in Faro, and below you'll find a suggested itinerary and some tips to help you plan your trip.
Safe travels and have fun in Portugal.
What to Do in Faro in 1 – 3 Days – Suggested Itinerary
Day 1 – Arrive in Faro
Old Town, City center and Igreja de Nossa Senhora do Carmo (Bone Chapel)
Day 2 – Palácio de Estói, Ilha Deserta and Faro nightlife
Day 3 – Day trip to Lagos, Portimão or Costa Vicentina
Depart from Faro
More posts about the Algarve that might interest you:
Don't forget to save these pins for later 😉
Tips for Planning a Trip to Faro, Portugal
Where's Faro?
Faro is the capital of southern Portugal's Algarve region (check the exact location here).
Is Faro worth visiting?
Although most tourists just arrive and depart from Faro, there are many things to do and see, and the visit is totally worthwhile. If you have an early morning flight, you should definitely arrive in Faro one day before and spend some time exploring the city before leaving the Algarve.
How to get to Faro?
There's an international airport in Faro and some of the airlines that fly to Faro are EasyJet, Ryanair, TAP Portugal and British Airways.
You can find the best deals on airlines tickets at Skyscanner. This is the website that I use, trust and recommend.
Best time to visit Faro?
You can visit Faro any time of the year, but the best time to visit it is definitely during the summer and particularly in July and August.
If you don't like crowds and heat, my suggestion is to go in June or September.
How many days to spend in Faro?
At least a full day. There are many things to see in Faro and if you stay longer, you can enjoy the nearby islands and also take a day trip to Lagos/Portimão/Tavira or Costa Vicentina, which are some of the best places to visit in the Algarve.
Where to stay in Faro?
I stayed at Hotel Eva Senses and highly recommend it.
The hotel is perfectly located in the city centre in front of the Marina, 5 minutes walk from the Old Town and just a 10-minute drive from the airport.
Eva Senses, a 4-star hotel, has 134 rooms and suites with private balconies, a health club & spa, three restaurants and bars, a very picturesque market, a barber, and hairdresser, a rooftop with a swimming pool and 7 meeting rooms with a maximum capacity of 300 people.
My superior room has a sophisticated décor, two double beds, a minibar, LCD TV, kettle, and a balcony with a wonderful view of the marina. The bathroom had a really nice shower, bathrobe, slippers, and high-quality toiletries.
The service was great, the gym surprisingly spacious and well equipped, and the food at Adão Restaurant was marvellous. Not to mention the rooftop that is perfect for sunbathing and relaxing in the pool.
But the location of Eva Senses is unbeatable!
Whether you're spending one, two, or three days in Faro, Eva Senses Hotel is your best option.
You can book your room directly through the hotel website or via Booking.com.
How to get around?
If you're visiting only Faro, you don't need a car.
But if you want to explore the nearby towns and beaches, you can do it by bus or train, however, it's easier and much more convenient with a car.
You can hire a car with Rental Cars here at no extra cost to you.
Travel Planning Resources
For every booking made through my site I donate US$ 1 for a charitable organization.
World Nomads provides travel insurance for travelers in over 100 countries. As an affiliate, we receive a fee when you get a quote from World Nomads using this link. We do not represent World Nomads. This is information only and not a recommendation to buy travel insurance.
Safe travels ☺