Looking for things to do in Yangon, the most vibrant and busiest city in Myanmar? In this post, you'll find not only the best Yangon attractions but also many other tips 😉
Yangon, the largest city in Myanmar, was founded as Dagon in the early 11th century.
After the British seized it during the Anglo-Burmese wars in the 1850s, it became known as Rangoon, until 1989, when it assumed its current name.
Yangon was also the Burmese capital until 2006, when the military government relocated the capital to Naypyidaw, in central Myanmar.
Today, the city still retains some of its colourful histories in the large and leafy avenues and colonial-era buildings, together with several outstanding pagodas and streets markets full of energy and life.
Myanmar, and especially Yangon, have recently become one of the must-visit destinations in Southeast Asia, and in 2015 over 1 million people visited the city.
When I arrived I didn't know what to do in Yangon apart from visiting Shwedagon Pagoda, one of the most famous and popular Yangon points of interest.
But after doing some research and asking locals I discovered several other places to visit in Yangon that are definitely worthwhile.
Best Things to do in Yangon: 7 Attractions You Can't-Miss!
1 – Shwedagon Pagoda
It's no surprise that number one on my list of the best places to visit in Yangon is Shwedagon Pagoda.
This golden, bell-shaped pagoda was constructed on the highest hill in Yangon around 600 BC and it's considered the most sacred Buddhist pagoda in the country because it houses a strand of Buddha's hair.
Over 100 small pagodas, shrine rooms, pavilions and other utility buildings surround this giant and impressive pagoda.

There are more than 4000 images of Buddha images scattered over the complex.
The 66 ft high main stupa has been plated with over 8000 slabs of gold and the tip has been embellished with more than 5000 diamonds and 2000 rubies and other precious stones.
It's common to see locals performing rituals, such as pouring water on the Buddha statues and walking clockwise around the main stupa.
As my ticket granted access for a whole day, I made two visits to the Shwedagon Pagoda, once during the day and once at night.
It's difficult to decide which time is better, but at sunset, the light is magnificent and seeing the pagoda illuminated is awesome.
After your visit, you'll easily understand why Shwedagon Pagoda is one of the best things to do in Yangon, day and night.
Pro tips:
I would recommend not visiting Shwedagon Pagoda on weekends and in the middle of the day because it gets really crowded.
I'd also recommend that you hire a guide, who will explain everything about the pagoda and the rituals, enhancing your experience hugely. I hired Aung Myo Ngwe and you can contact him on [email protected] or book this evening tour.
2 – Kandawgyi Lake
Located east of Shwedagon Pagoda, this artificial lake is one of the two major lakes in Yangon, and one of the coolest places to visit in the city.
The lake is approximately 8 Km (5miles) in circumference and is surrounded by the Kandawgyi Natural Park and Yangon Zoological Gardens.
It has many restaurants, including the famous and iconic Karaweik – a concrete replica of a Burmese royal flatboat built in 1972 – and a system of elevated wooden pathways that are perfect for a walk at the end of the day or early in the morning.
It's also a chance to be surrounded by nature in the middle of this bustling city.
Walking around Kandagwyi Lake, eating in one of its good and cheap restaurants facing the water and relaxing in the park are some of the things you must do in Yangon.
Pro tip:
During my visit, some of the wooden planks of the pathway were not securely attached, so please tread carefully.
3 – Chauk Htat Gyi Pagoda
Located North of Kandawgyi Lake, Chauk Htat Gyi is another well-known temple and one of Yangon's best tourist attractions.
This pagoda is the home of a very impressive and eccentric 65m long reclining Buddha statue, decorated in bright colours: golden robe, white face, red lipstick, blue eye shadow and red fingernails.
The Buddha image is quite odd but also the most exotic one I've ever seen! It's definitely one of the top things to see in Yangon!
The statue is 16m high and the soles of his feet have 108 red distinguished marks with images representing the 108 Lakshanas or attributes of the Buddha.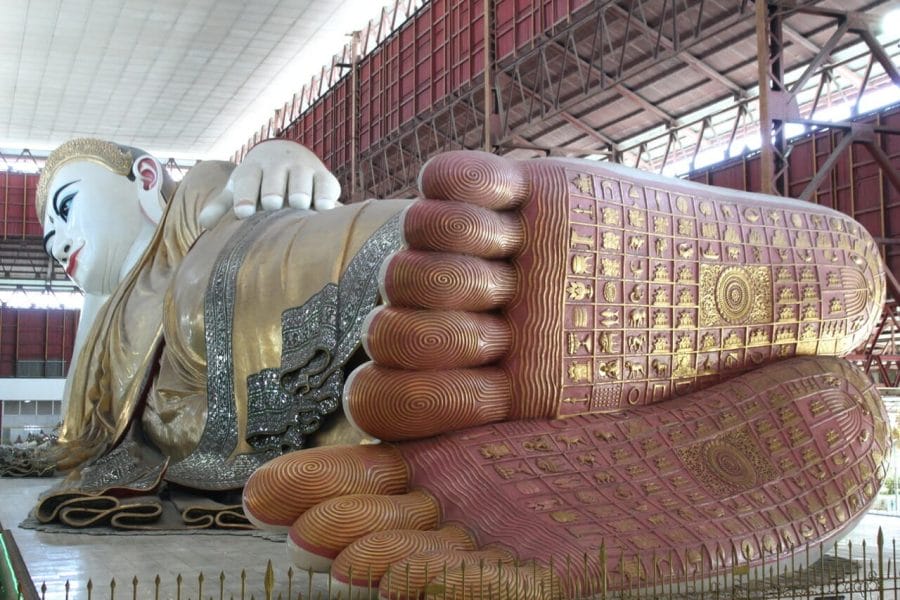 There are also 8 shrines, one for each day of the week in Burmese Astrology – Wednesday is divided into two days – and a beautifully painted mural that tells the story of the life of Buddha.
It's common to see monks, as there are several monasteries in the area, and other people paying respects to the Buddha by burning incense sticks and offering flowers.
Pro tip:
Just across the street from the Chauk That Gyi Pagoda is the temple of Nga Htat Gyi, which contains a huge seated Buddha image wearing a golden robe.
4 – National Museum of Myanmar
Founded in 1952, this five-storey museum has a wide range collection, from fossils, ancient artefacts, royal thrones, Burmese epigraphy and calligraphy to paintings, music instruments, traditional folk art, etc.
The exhibits I liked most were the impressive royal throne collection and the traditional costumes, that are organized by ethnic groups.
Unfortunately, not many people visit the National Museum of Myanmar, but it's an excellent opportunity to learn about Burmese history and culture and to appreciate artwork you may not have seen before.
I wasn't initially sure if I should visit this museum, but I really loved it and believe that this is one of the best things to do in Yangon.
Pro tip:
The National Museum is around 10min on foot from the People's Square and the People's Park, one of the major parks in Yangon, located in front of Shwedagon Pagoda.
5 – Downtown
Yangon is the city in Southeast Asia with the highest number of colonial-era buildings, mostly located in the downtown area.
Some of these buildings, constructed in the early 20th century, during the British colonization, are still well preserved and give the city an interesting character and a mix of architecture.
Also located in the heart of the downtown area, is the striking Sule Pagoda, one of the oldest pagodas in the city, and the second-most hallowed pagoda in Yangon.
Even if you don't go inside, the 44m high bell-shaped pagoda is something to marvel at, whether during the day or at night.
There are some very beautiful buildings close to Sule Pagoda, including the City Hall, but what fascinated me was the sight of a mosque and a Baptist church right in front of a Buddhist pagoda.
For all these reasons, the downtown area is definitely one of the most interesting Yangon attractions.
Pro tip:
If you like street food there are some food stalls on Mahar Bandoola Garden Street, right across Immanuel Baptist Church, and a popular street food market on 26th street.
6 – Bogyoke Market
Another great point of interest in Yangon is Boyoke Aung San Market.
This indoor market has numerous stores selling clothes, jewellery, Burmese handicrafts, garments and medicines, as well as art galleries and restaurants and is famously known as the place to buy jewellery in the city.
But even if you aren't interested in buying anything, a visit to the market is worth it for the building itself, an outstanding example of colonial architecture with picturesque cobbled streets.
And in case you don't know what to buy in Yangon, the exquisite Burmese Lacquerware, Buddhas and puppets are to die for.
Although there are many shops selling jade jewellery and fabrics, and despite the big shopping malls recently constructed in Yangon, Bogyoke Market is still one of the best places for souvenir shopping in the city.
7 – Botataung Pagoda
Located on the bank of the Yangon River, Botataung Pagoda is one of the most revered pagodas in Yangon, as it's the other pagoda that also contains a sacred hair relic of the Buddha.
The 40m high golden pagoda is unique in that it has a hollowed-out stupa. While most stupas are solid and closed to the public, visitors can walk through this one.
The main stupa is surrounded by pavilions, and one of them contains an extraordinary and sparkling bronze statue of Buddha, cast in 1859. This pavilion is beautifully decorated, filled with good energy and was my favourite part of this pagoda.
Those are just seven of the best Yangon attractions and you can visit them in three, or even two, days.
Some people list the circular train and Inya Lake as fun things to do in Yangon, but I personally didn't like either of them that much.
But I did enjoy walking around the streets of Yangon and meeting Burmese people, who are very friendly and always willing to talk to you to practice their English.
Safe travels and enjoy Yangon.
You may also be interested in:
Don't forget to save these pins for later 😉
Planning your Visit and Things to do in Yangon
Where is Yangon?
Yangon is located in Lower Burma (Myanmar) at the convergence of the Yangon and Bago Rivers about 30 km(19 mi) away from the Gulf of Martian (check the map here).
How to get to Yangon?
Yangon International Airport (also called Yangon Mingaladon Airport) is the primary entry point for most travellers from abroad.
Some of the companies flying to Yangon Airport are: Air Asia, Nok Air, Thai Smile, Bangkok Airways, Thai Airways, Etihad, Emirates, etc.
You can book your flights with Skyscanner, which is the website that I use and trust.
If you are travelling to other cities in Myanmar, you can travel by bus as I did. You can book your bus ticket online in advance here.
When is the best time to visit Yangon?
Yangon has a tropical climate, which means that it's hot and humid all year round.
Like other Southeast Asian countries, Myanmar has a rainy season, which ranges from June to October. A dry season is split into two periods: November to February, winter with temperatures from 19 to 33°C (66 to 91°F); March to May, which is characterized by high temperatures that can reach 40°C (104°F).
So, the best time to visit Yangon is from November to February when the weather is dry and more pleasant.
I visited Yangon in the beginning of March 2017, and it was very hot.
Where to stay in Yangon?
I stayed at Agga Bed and Breakfast, located in downtown, which is the best area to stay in Yangon.
If you're looking for hotels, my recommendations are:
* Budget: Backpacker(Bed & Breakfast), HOOD Hostel and Little Monkey Hostel.
* Great Value for Money: Best Western Chinatown Hotel and Prestige Residences at Golden Valley by Grand United Hospitality
* Luxury: Chatrium Hotel Royal Lake Yangon, Lotte Hotel Yangon and Sule Shangri-La.
Yangon Travel costs
Five-month travel insurance: US$ 256 with World Nomads.
Airport taxi: 8000 Ks (US$ 6)
Taxi to Shwedagon Pagoda: 1500 Ks (US$ 1,10)
Shwedagon Pagoda entrance fee: 10600 (US$ 8)
Taxi to from Shwedagon Pagoda to Chauk Htat Gyi Pagoda: 2500 Ks (US$ 1,85)
Five nights at Agga Bed and Breakfast: US$ 78
Guide on Shwedagon Pagoda: US$10
National Museum: 5000 Ks (US$ 3,70)
Taxi from National Museum to Botataung Pagoda: 3600 Ks (US$ 2,60)
Botataung Pagoda: 6600 Ks (US$ 5)
Taxi to the Bus Terminal to Bagan: 7500 Ks (US$ 5,50)
Extra tips
* You can apply for the Myanmar visa online (eVisa). The process is super simple and you can pick up your visa at Yangon airport. The visa is valid for 28 days.
* To get from Yangon airport to downtown, the best way is by car. You can book a private transfer here.
* It is common to see women, children, and adolescents wearing a yellow paste on their face, thanaka, to protect them against the sun; and men wearing a kind of skirt called longyi.
* If you take the bus from Yangon to Bagan, I advise you to buy the ticket at the bus station, as I paid a higher price by buying at the hotel.
Yangon Tours and Day trips
Have you ever visited Myanmar? What do you think about my list? Let me know on the comments below 😉
This post was converted into an app and you can get it here.
Travel Planning Resources
For every booking made through my site I donate US$ 1 for a charitable organization.
Safe travels ☺