Who has not dreamed about walking down Santorini's cobbled streets, framed by whitewashed houses and admiring the dazzling panoramic views?
But with so many pretty villages and to-die-for hotels, it can be hard to decide where to stay in Santorini and you can end up feeling confused and overwhelmed.
I've been to Santorini twice and it's why I'm writing this practical guide to the best places to stay in Santorini to help you plan your trip.
There is also this post with the review of the seven hotels that I stayed.
Before deciding where to stay in Santorini, here are some things to consider:
Are you hiring a car or using public transportation?
Are you on a budget or does the price not really matter?
Do you want to stay on the beachside or the caldera (volcanic crater) side?
Are you travelling alone or with someone else?
Do you want to stay in a quiet area or closer to the important tourist attractions?
Are you more interested in lying on a beach or sightseeing?
When considering booking your accommodation in Santorini bear in mind that:
You can move around the island by bus, but it's more convenient and easier to hire a car or a motorbike/quadricycle.
Accommodation in Santorini is quite expensive, especially during the high season and even more so if the hotel provides a volcano view.
Some of the most famous towns in Santorini can get very busy and walking through their alleys can turn into a nightmare.
Travelling with a partner/friends can be cheaper as you'll have someone to share costs with.
Accommodations in the beach towns are generally better valued for money than the ones perched on the steep cliffs facing the caldera.
* Affiliate disclosure: Some of the links below are affiliate links, meaning I earn a small fee if you click through and make a purchase. There is never any additional cost to you, and I use some of these earnings for my monthly charitable donations.
Where to Stay in Santorini: Towns and Beaches
In order to decide where is the best place to stay in Santorini for you, it might help to know more about this magical island.
Santorini has a surface area of approximately 73Km² (28 sq mi) and is 18Km long and 5Km wide.
It will take about 45min to drive from north to south.
There are four very popular towns in Santorini: Fira, Firostefani, Imerovigli and Oia. These villages are perched on the cliffs on the western side of the island and are connected by a 10Km path that provides spectacular caldera views and endless photo opportunities.
There are also two well-liked beach towns on the eastern side: Kamari and Perissa. These are better options if the main focus of your trip is to spend more time on the beach.
Akrotiri, Pyrgos and Karterados are other towns to stay in Santorini that are not yet on tourists' radar.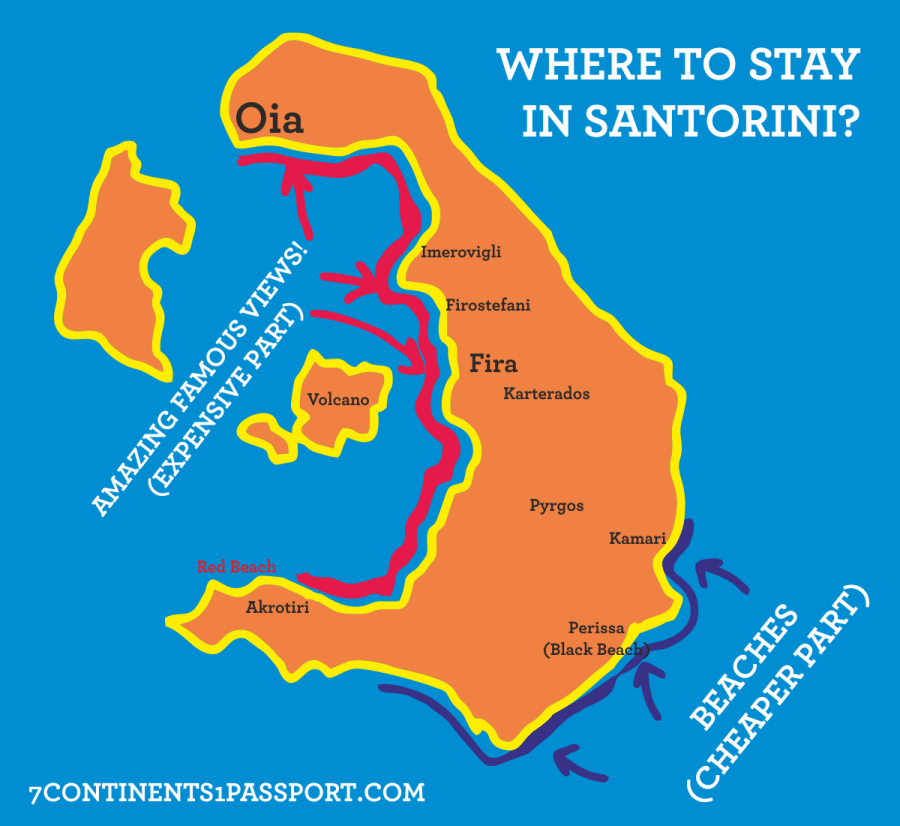 The best area to stay in Santorini is Fira, Firostefani, Imerovigli and Oia. These are the towns that make Santorini so special.
If it's your first time on the island, you should definitely stay on the caldera side, as that's what Santorini is famous for.
In Fira, Firostefani, Imerovigli and Oia you can find whitewashed villas, cave-style hotels with terraces, and infinity pools that have served as backdrops to countless fashion photoshoots, Instagram posts, and marriage proposals.
If you still don't feel you know where to stay in Santorini, here is a bit more about the main towns and the pros and cons of staying in them.
Fira
Fira is Santorini's capital and the largest town on the island. Fira is definitely one of the best places to stay in Santorini. Everything is close by and there are many restaurants to choose from.
It offers amazing caldera views and there is a plethora of hotels, restaurants, shops and a variety of nightlife.
There are hotels in Fira for every taste and pocket and if you're on a budget you can choose the ones that don't offer a caldera view and are not on the cliff's edge.
Located in the centre of the island, it's easier to explore Santorini from Fira. It's also the best option if you intend to use public transport because the main bus terminal is located here.
But even though I like Fira, it can feel a bit too commercial and touristy.
The main disadvantage of staying in Fira is the crowds. In addition to the tourists who are already on the island, loads of visitors arrive daily from cruise ships (the cruise port terminal is also located here) or the airport, which is only a 10 min drive away. So, the streets can get very packed.
Best Hotels in Fira: Anteliz Suites, Aria Suites and Cosmopolitan Suites
Best Cheap Hotels in Fira: San Giorgio, Costa Marina Villas and Kavalari Hotel.
Best Private Villas in Fira: Santorini Supreme, The Cliff and Caldera View
Firostefani
Firostefani is a quiet little town with good hotels, restaurants and shops.
It offers one of the most breathtaking views of the caldera and it's one of my favourite places to stay in Santorini.
The greatest thing about staying in Firostefani is that it's only a 10min walk from Fira and yet it's not nearly as crowded as Fira or other towns like Oia.
You can take advantage of Firostefani's location by walking to other villages. And if you don't want to rent a car, you can catch a bus on the main street, or even walk to the main bus terminal in Fira.
During my first visit to Santorini, I stayed in Firostefani and loved the fact that it was a quiet town but close enough that I could walk to Fira during the day to catch the bus, and at night to have dinner and party.
You could say that this is the disadvantage of staying in Firostefani – you have to go to Fira if you want to enjoy the nightlife because Firostefani is very quiet.
Best Hotels in Firostefani: Homeric Poems, The Tsitouras Collection and Belvedere
Best Cheap Hotels in Firostefani: Hotel Sofia, Afrodete Hotel and Damigos Caldera World.
Best Luxury Private Villas in Firostefani: Soothe My Soul and Swimming in the Clouds
Best Affordable Private Villas in Firostefani: Cobalt Cove , Villa Caldera and Hephaestus-haven
Oia
Oia (pronounce ee'yah) is the most famous town on the island, and if you're looking for picturesque and charming surroundings, it's the best place to stay in Santorini.
When you see a picture of Santorini featuring whitewashed houses and blue-domed churches, it was probably taken in Oia.
It also provides astonishing caldera and sunset views! In fact, the most popular location to admire the famous Santorini sunset is the ruins of a Venetian castle in Oia.
Santorini's second-largest town, Oia boasts all types of accommodation, particularly boutique hotels, as well as restaurants, luxury stores and art galleries.
It's indeed beautiful and there are a lot of things to do but it's also quite touristy and expensive.
Staying in Oia is a bit like staying in Fira: the streets are full of tourists which sometimes makes it hard to walk, especially near the many iconic photo spots.
Its location, on the northwestern tip of Santorini, also makes it more difficult to access the rest of the island. To drive to Fira, or the airport, for example, takes about 25 min, and to Kamari and Perissa, two of Santorini's best beaches, between 30 and 40 min respectively.
However, if you're willing to hire a car or spend quite a bit of time on buses, Oia could be your best option.
Best Hotels in Oia: Canaves Oia Suite & Spa, Katikies Hotel, Kirini Santorini, Charisma Suites and Mystique
Best Cheap Hotels in Oia: Anemomilos, Maryloujohn Villas and Zoe Aegeas.
Best Luxury Private Villas in Oia: Let's Chill in the Cave, The Sculptor's Delight and The Deep End
Kamari
Kamari is a lovely coastal town with a pebble beach located on the east side of Santorini.
There are many beachfront hotels, shops, supermarkets, restaurants, a few coffee places and "pub" style bars.
But Kamari does not feel like Santorini, but rather like any other Mediterranean island. The whitewashed houses and blue-domed churches clinging onto the cliffs that you associate with Santorini are not present here.
However, Kamari is the perfect choice if you want to spend more time relaxing on the beach rather than sightseeing and want to be away from mass tourism.
Accommodation here is cheaper compared to the other towns mentioned here and is better value for money.
Furthermore, Kamari is only a 15min drive from Fira and 10min from the airport.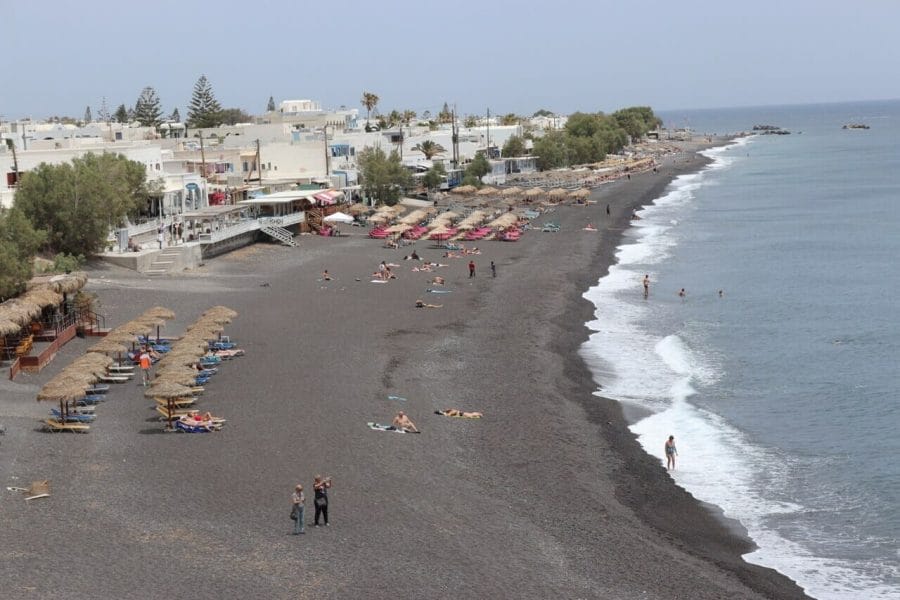 Best Hotels in Kamari: Bellonias Villas, La Bellezza Eco Boutique Hotel and Cavo Bianco
Best Cheap Hotels in Kamari: Hotel Matina, Santellini Hotel and Makris Beach
Perissa / Perivolos
If you want to stay by the beach, Perissa is your best option.
This seaside village, located on the southeastern edge of the island, is 13Km away from the capital Fira.
It's known for Perissa Black Sand Beach, the best beach in Santorini.
As in Kamari, there is a beachfront walkway backed by restaurants, bars, shops and hotels.
Kamari and Perissa are very similar: wide beaches with modern facilities and some water sports. The two beach towns are separated by Mesa Vouno, a rugged mountain with views over the Aegean Sea.
Perissa is a bit further from Fira, a 25min drive, and I personally think it has more character than Kamari. The beach is longer, less crowded and has a brilliant range of restaurants, cafes and bars.
Perivolos has its own beach, which is an extension of Perissa's beach, but wider, with fewer restaurants and is quieter.
Best Hotels in Perissa/Perivolos: Aqua Blue, Antoperla Luxury Hotel & Spa and Istoria
Best Cheap Hotels in Perissa/Perivolos: Meltemi Village, Stelios Place and Smaragdi Hotel
Imerovigli
If you ask me where to stay in Santorini, my answer is without a doubt, Imerovigli.
Known as the "Balcony to the Aegean" and located on the north of the island, Imerovigli was built on the highest point of the caldera cliffs, about 300 meters above sea level.
Imerovigli is the ideal combination: it's pretty, peaceful and relaxing, and the perfect choice for a more secluded and hustle-free holiday in Santorini.
This dream village is home to many luxury hotels and upscale restaurants and provides some of the best caldera and sunset views.
Accommodation here tends to be more expensive, though, and you will need a car because it's located about a 30min walk from Fira.
If you plan to use public transportation, you may have to change buses at the main terminal.
Also bear in mind that most of the hotels in Imerovigli don't have parking lots and finding a parking space can be very challenging.
But despite these issues, the sense of luxury and refinement makes Imerovigli the best place to stay in Santorini for me. I bet you will love it as well!
Best Hotels in Imerovigli: Chromata, Santorini Princess Hotel and Spa, Iconic Santorini, Astra Suites and Cavo Tagoo.
Best Cheap Hotels in Imerovigli: Merovigliosso, Casa Bianca and Anthonas Apartments
Best Luxury Private Villas in Imerovigli: Cliff Edge, Ouzo & Rack, Balcony of the Aegean and The Aquamarine
Best Places to Stay in Santorini
If you still are not sure where to stay in Santorini after this breakdown, below are the final answers to your questions.
Area
Imerovigli – a dream village with some of the best hotels in Santorini, the most awe-inspiring caldera views and isn't crowded as Fira and Oia.
For couples
Oia – very romantic and picturesque with many things to do and tons of famous places to take pictures together.
For honeymooners
Imerovigli – a bit like Oia, but more isolated and quieter. And it has the best honeymoon hotels in Santorini.
On a budget
Fira – you can find some hostels and many inexpensive hotels and you won't need a car. But most of those places won't have the famous caldera view.
Alternatively, you can stay in Karterados (20min walk / 6min drive from Fira). The hotels there are very cheap.
* Remember that beachside accommodation is much cheaper than the ones on the volcano side.
Best places to stay in Santorini with a view
Fira, Oia, Imerevigli and Firostefani offer the best views in Santorini.
I really love the vistas from Imerovigli and Firostefani though. They are truly amazing!!
For solo travellers
Fira – with tons of tourists, bars and clubs it's not going to be hard to make new friends.
Where to stay in Santorini for families
Perissa – it has a good infrastructure with sunbeds and umbrellas for hire, showers, changing cabins and even a public playground.
For nightlife
Undoubtedly Fira is where to stay in Santorini for nightlife. It has the hottest bars e nightclubs in Santorini.
Best place for young couples
Firostefani – walking distance to Fira and its nightlife, shops and restaurants, but it's less crowded and not as expensive as Imerovigli.
If money is an issue, Karterados and Kamari would be other options.
For beach life
Perissa / Perivolos – the beach is much longer and quieter than Kamari, has some good beach bars and in case you want to be more reclusive, you can lay your towel down on Perivolos Black Sand Beach.
Perissa is also closer to Red Beach and Vlychada, two beaches that you should not miss when you're in Santorini.
Where to stay in Santorini in winter
If you're visiting Santorini from November to April, the best place to stay is Fira. This is the only town that will be busy during the winter months.
Bear in mind that all beach bars and restaurants in Kamari, Perissa and Perivolos are closed during the winter.
Best unusual place
Pyrgos – a very pretty and non-touristy village located approximately 7Km from the island's capital, Fira.
It's also the highest town in Santorini and provides great panoramic views of both sides of the island.
I believe you are now able to decide where to stay in Santorini. If not, you can always send me a message.
Remember that when you book using the links on my site, there aren't additional costs for and you help me keep blogging and bringing valuable information. Book your room with Booking here.
Safe travels and have a wonderful time in Santorini.
Cheers.
MORE CONTENT ABOUT GREECE:
Pin it for later 😉
I always recommend that you buy travel insurance! It can literally be your lifeline if something happens to you, or if your luggage is lost or stolen.
I always use World Nomads, travel insurance for independent travellers. It's easy to buy, extend & claim online, even after you've left home.
Play safe and get yours here.
Planning a Trip to Santorini
Where is Santorini?
Santorini is an island in the southern Aegean Sea, about 200 km (120 mi) southeast of Greece's mainland (check the map here).
How to get to Santorini?
There are only two ways to get to Santorini: by boat or airplane.
∗ There are ferries connecting Santorini to other Greek islands. The most common routes from / to are: Athens, Crete and Mykonos.
From and to Athens: the conventional ferry takes around from 6 to 8h and the high-speed ferry takes between 4-5h. I recommend that you buy your ticket online in advance. You can check prices and timetable here.
∗ By airplane: there is an international airport in Santorini that receives flights from Athens during the whole year, and international flights during the high season.
The companies that operate from Athens to Santorini airport are: Aegean Air,Ryan Air and Volotea (only in high season).
You can book your flights with Skyscanner, the website that I use and trust.
You can book your shared arrival transfer from Santorini National Airport to your hotel or cruise port with a discount here; and your Private Departure Transfer: Santorini Hotels to Airport or Ferry Port here from US$ 37.
I highly recommend that you hire a car while in Santorini!
Best time to go to Santorini?
The best time to visit Santorini is from May to September when the sun is shining, the temperatures are high and the chances of rain are minimal.
To avoid crowds pick the months of May and September, or even until the middle of October because the weather in Santorini is still good at this time of the year.
Santorini Tours
There are several companies offering tours in Santorini. I recommend booking your tour online in advance with Viator, a TripAdvisor company, or Get Your Guide, which offers many different tours.
Some interesting Santorini tours are:
More tour options with Get your Guide:
Are you planning a trip to Greece? Now that you know where to stay, what are you waiting for? 😉
Travel Planning Resources
For every booking made through my site I donate US$ 1 for a charitable organization.
Safe travels ☺