Dreaming about visiting Koh Lipe? In this practical guide, you can find all the information you need to plan your trip, including the best things to do, how to get there, where to stay, eat & drink, travel costs, and many tips 😉
After spending some days in Bangkok I was dying to go to an island.
There're so many beautiful islands in Thailand that sometimes it's really hard to decide which one to visit.
From the paradisiacal to the trendy, and the overly touristy to the full moon party island, Thailand certainly has a stunning piece of land surrounded by water for every preference that will make you feel fortunate to be there.
It was while I was doing research to find the most beautiful island in Thailand that a friend told me about Koh Lipe.
I'd never heard of it before, and I was intrigued to find out that it's known as the Maldives of Thailand.
2023 Practical Guide to Koh Lipe
Koh Lipe (aka Ko Lipe) is the southernmost island in Thailand, located in the Andaman Sea, 60Km from the Thai mainland and only 30Km from Langkawi, Malaysia.
It's part of the Adang Archipelago, a group of more than fifty islands, and on the border of the Tarutao National Marine Park, one of the first parks created in Thailand in 1974.
Once you arrive in Koh Lipe, you will easily understand why it's called the Maldives of Thailand. The unbelievably turquoise crystalline water that is so characteristic of the Maldives, will welcome and mesmerize you.
The island is covered with lush vegetation, has three beaches (Pattaya, Sunset and Sunrise), a main street called "Walking Street" and is relatively small (2Km long and 1 km wide).
To move around it is very easy and it takes no more than 15-25min to walk from one beach to another.
There are hotels for all budgets, plenty of restaurants serving local cuisine, bars, ATM's, massage places, stores and travel agencies.
The nightlife is quiet and most of the bars on the "Walking Street" close around midnight.
Koh Lipe

Beaches
Koh Lipe has sandy beaches with crystal clear calm and warm water, which makes the island a perfect place for snorkelling. In fact, 25 per cent of the world's tropical fish species are found in the area.
The three main beaches share similar characteristics but they are slightly different from each other.
Pattaya Beach
This large sheltered bay has powdery sand, really good "pools" to swim in, and is so absolutely stunning, that when you arrive there, you won't believe it's true.
This is where the two ports are located and the ferries arrive and depart. So, because of that, the beach can be very busy, and sometimes there are even bars playing loud music.
You can find good options for accommodation and easy access to the bars and restaurants on the "Walking Street."
Sunrise Beach
This beach extends along the Eastern side of the island and has a pleasant breeze during the whole day.
It's my favorite beach in Koh Lipe and the best one for snorkeling and water sports.
It changes completely during high and low tides, with "rough" water and wind at high tide; and calm, shallow and transparent water at low tide.
As the name suggests, this is where the sun rises and waking up early in the morning to see it is totally worthwhile.
However, towards the end of the afternoon, the atmosphere gets so relaxing and laid-back that lying down on the sand and grabbing a drink will make you feel blessed.
Some of the best hotels, resorts and beach bars are located here, and it is also the best spot for pictures.
Sunset Beach
This small bay on the west side of the island has some rocks, calm water, and is relatively undeveloped compared to the other two.
There are tranquil and low-key bars and restaurants, and also a camping area, which gives it a hippie-style atmosphere. This is the perfect place to watch the sunset.
However, I didn't spend too much time on Sunset Beach because it is the one that I liked least on the island.
Tours

& Activities

While in Koh Lipe you should not miss the opportunity to do an island hop.

You'll visit some stunning islands with different formations and characteristics, incredible places for snorkelling, and if you're lucky enough, you can have your own private beach.

All boat operators provide the same route and the prices are very similar. Even so, I recommend that you book your tour online in advance, particularly during the high season.
Snorkelling Tour with Lunch
You will experience Thailand's sea life and coral reefs on a group snorkelling tour around the inner and outer zones of Ko Lipe by longtail boat.
Some of the islands that you will visit, such as Koh Hin Son, Koh Ror Kloy and Jabang, feature crystal-clear water with different colours of coral where you can swim amongst a variety of fishes.
I recommend this tour, which takes around 6h and costs 900 baht (US$ 28) per person.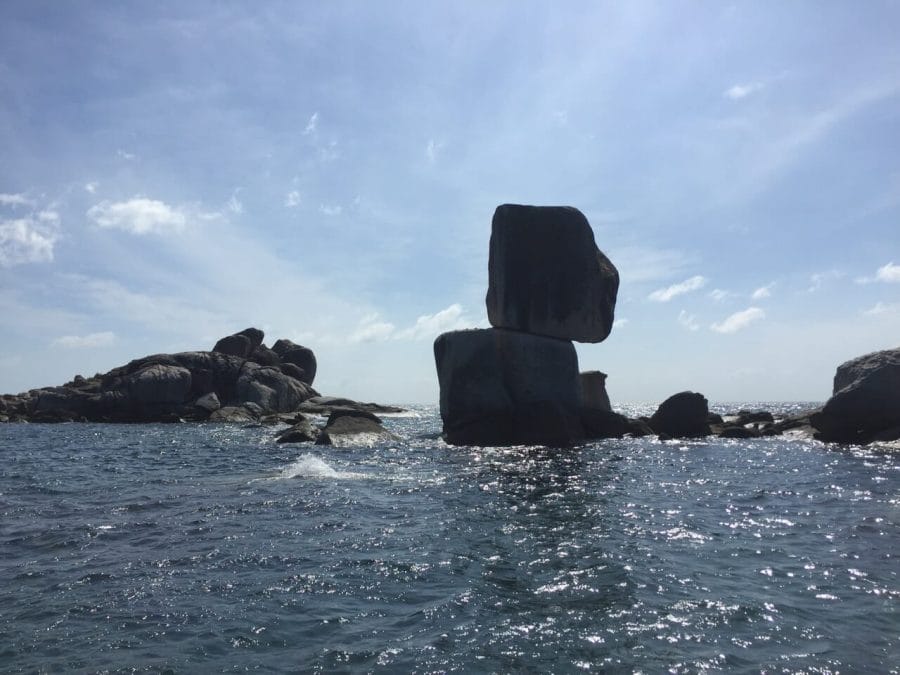 A quick tip: Don't forget to take a waterproof camera when you go on those tours. The Good Gears has some really nice ones.
Scuba Diving
Boasting about 25% of the world's tropical fish species along with dolphins, dugongs, whale sharks, minke and sperm whales, Koh Lipe is one of the best places for scuba diving in Thailand.
When you're visiting the island, don't miss the opportunity to marvel at its incredible coral reef and come face-to-face with a huge variety of marine life. And if you haven't dove before, you can book this Discover Scuba Diving Program.
Sunset Trip
From 2:30 PM to 6:30 PM, visiting Jabang, Koh Hin Ngam, Koh Yang and Koh Dang to see the sunset from the ocean.
Price: 450 baht (US$ 15) per person.
Plankton Trip
From 1:30 PM to 8:00 PM, visiting Jabang, Hin Ngam, Yang and Adang Beach to see the luminescent plankton at night.
Price: 900 baht (US$ 30) per person.
Prices are very similar for all the boat operators but a good tip is to negotiate with one of the longboat operators and do a private hire, with some friends if you can find them.
I did that and we ended up paying half of what it would've cost us. It also means you can decide the length and timing of the various parts of the trip.
I only took a snorkelling tour and it was the best thing I did during my stay in Koh Lipe. The islands are spectacular and it's going to be hard to decide which one you like most.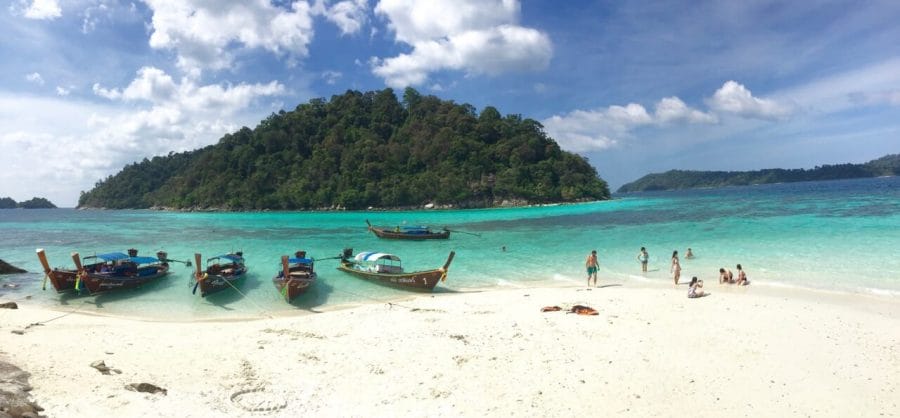 10 Best Things to Do in Ko Lipe
Some of the best things to do in Koh Lipe are:
1 – Take a walk around the island and the "Walking Street."
2 – Grab a drink in one of the beach bars and restaurants.
3 – Eat plenty of delicious and fresh Thai food.
4 – Go to a waterfall in Koh Adang.
5 – Climb Koh Adang to get a birds-eye view of the Maldives of Thailand.
6 – Snorkelling
Whether on Sunrise Beach close to two tiny islands, on Pattaya and Sunset beaches, or on a boat trip to some of the other islands nearby.
7 – Kayaking
Some of the hotels provide free kayaks and snorkel masks for their guests.
8 – Dive: Koh Lipe has some of the best dive sites in Thailand.
9 – Relax at one of its beaches.
10 – Take a boat trip to explore the other islands that are part of the archipelago.
What to Do in Koh Lipe: 1-Day Itinerary
If you're planning to visit Koh Lipe and want to get the most out of it, here is an itinerary for one day on the island.
It will be a packed day and I hope you will have the energy to keep up with me!
– Wake up at 6:00 AM to see the sunrise.
– Book a snorkelling trip or rent a longtail boat.
– Beat the crowd by asking your captain to depart before all the other tours.
– Take advantage of having your own boat and stay longer at the islands you like most.
– Come back from the tour around 5:00 PM, grab a drink and relax at one of the beachfront bars.
– Around 5:30 PM head to Sunset Beach for the sunset.
– Dine at Papaya Mom or Nee Papaya (the coconut milk soup is outrageous) near the centre of the Walking Street.
– Finish your night in Maya Bar, the coolest bar in Koh Lipe, situated right at the centre of the Walking Street.
– Go to bed and rest because this itinerary is just for one day, and I expect you will want to spend much more time on the island.
After your visit, you'll understand why this is one of my favourite islands in Thailand.
Safe travels and have fun in Koh Lipe!
More posts that might interest you:
Watch Video
Tips for Visiting Lipe Island
Where is Ko Lipe?
Koh Lipe is a small island in the Adang-Rawi Archipelago of the Strait of Malacca, in the Satun Province of southwest Thailand, close to the Malaysian border (check the map here).
How to get to Koh Lipe?
Getting to Koh Lipe isn't easy, and this is the reason the island is less crowded and popular compared to Phi Phi and Phuket, for example.
There are basically three options:
From Bangkok
Departing from Bangkok, you need to take a 1½h flight to Hat Yai, a 2h minibus drive to Pak Bara, and finally a 1½h ferry trip to Koh Lipe. Check the latest van and ferry prices here.
A journey that can take up to 6-7h, and if you take a bus or a train from Bangkok it will be even longer…
I know it's exhausting, but totally worth it, though!
You can fly to Hat Yai and book this transfer, which includes a van and a speed boat to Koh Lipe, or book a package (flight, van and ferry) with AirAsia and Nok Air.
You can book your flight with Skyscanner, that's the website that I use and trust.
From Koh Lanta
The speed boat from Koh Lanta to Ko Lipe, also only available in the high season (from the 1st of November to the 30th of April), takes around 3h and departs at 10:30 AM.
From Langkawi
The ferry from Langkawi, Malaysia only operates in the high season.
The ferry operates twice per day, at 09:30 AM and 2:30 PM, and takes around 1h30min.
Book your ticket online in advance here.
Best time to go?
The best time to visit Koh Lipe is from November to February when the sun shines every day. March to April is the hottest time, and April to October is the rainy season.
How many days should you stay?
It isn't easy to get to Koh Lipe and the journey can take half of your day.
To make your trip worthwhile, I highly recommend spending at least 3 days on the island.
Where to stay?
I stayed at Kathleen Beach Resort & Spa, and if you're looking for hotels I can also suggest:
Luxury: Idyllic Concept Resort, Castaway Resort and Bundhaya Villas.
Great Value for Money: Cabana Lipe Beach Resort, Anda Resort and Ricci House.
Budget: The Reef, The Chic Lipe and Bloom Cafe & Hostel.
Where to eat & drink?
On The Rocks Restaurant at Serendipity
Sunrise Beach Restaurant
Elephant Café & Bar
Papaya Mom
Nee Papaya Thai Food & BBQ
The Box
Café Tropical
Sea La Vie
Ten Moons Restaurant
Maya Bar
How much does it cost to travel to Ko Lipe?
* Five-month travel insurance: US$ 256 with World Nomads
* Mandatory National Park Entrance Fee: 200 baht (US$ 7)
∗ AirAsia Package: around 3,800 baht (US$ 90)
* Three nights at Kathalee Resort & Spa: 25,800 baths (US$ 864) with breakfast included
* Private boat: 2,500 bahts for 8 people (US$ 9 / person)
* Ferry to Langkawi: 1,000 baths (US$ 33)
* Drink at Maya Bar: 200 bahts (US$ 7)
* Average meal: 200 – 300 bahts (US$ 7 – 10)
Don't forget to save these pins for later 😉
This post was converted into an app and you can get it here.
Travel Planning Resources
For every booking made through my site I donate US$ 1 for a charitable organization.
Safe travels ☺