If you're wondering where you can swim with pigs and how to get to Pig Beach, Bahamas, wonder no more. Below, you will find all the information you need.
I remember seeing the first pictures and videos of pigs swimming in the crystal-clear turquoise water of Exuma, an archipelago comprising more than 365 islands in the Bahamas.
A few months later, I had the opportunity to visit the Bahamas and went swimming not only with pigs but also with sharks in Exuma and had an unforgettable time!
If you want to know how to get to Pig Island to have one of the most unique experiences in the Caribbean, how to book a Pig Beach tour, how much the tours cost, and also the cheapest way to swim with pigs in the Bahamas, do not worry because I'm covering everything in this post.
Some of the most popular tours in the Bahamas:
Where is Pig Beach, Bahamas?
The world-famous and super cute swimming pigs of Exuma live at Big Major Cay, also known as Pig Beach, an island entirely uninhabited by humans, located around 82 mi southeast of Nassau, Bahama's capital, and 50 mi northwest of George Town, Exuma's capital.
How the pigs got to Big Major Cay nobody knows, but the fact is that they live in a piece of paradise.
How to get to Pig Beach
You can get to Pig Island, Bahamas, by powerboat or plane.
If you're traveling from Nassau you can fly directly to Staniel Cay, just a 30min ride, or to Exuma Island, and book a tour from there. Another option is to book a swim-with-pigs tour from Nassau by powerboat.
You can also travel to Pig Beach from Miami and Fort Lauderdale.
Below you find the details about all the options available and many tips to plan your trip.
From Nassau:
To get to Pig Beach from Nassau you have two different options:
1 – Book a Pig Beach Tour with Flight included
If you've been dreaming about swimming with pigs in the original Pig Beach in the Bahamas, my recommendation is to book a day trip from Nassau with everything included. It's much easier, cheaper and stress-free.
If you book this Intimate Pig Beach Excursion to Exuma Swimming Pigs & Flight Options with Viator, a Trip Advisor company, you'll pay US$ 715/per person (US$ 465 for the tour + US$ 250 for the airfare on Flamingo Air). Including roundtrip to the airport.
Excluded: lunch.
The tour has seven stops and apart from swimming with the pigs, you'll also get the chance to feed iguanas, pet the sharks and snorkel in one of the best snorkelling spots in the world, Thunderball Grotto (where the James Bond homonym movie was filmed).
The flight has only a few seats, so booking your ticket in advance is highly recommended. Check out the reviews and tour details here.
Another seven-stops tour with flights included that might interest you, is this one that departs at 8:00 AM from a private and hassle-free airport in Nassau, which can be much more convenient. The tour includes roundtrip airport transfers, soft drinks, light snacks and lunch.
P.S.1: These tours are currently available only for two or more travelers. If you are travelling alone or put only one person, it'll say that the tour is unavailable.
P.S.2: You can reserve any of these two tours now, pay it later and get a full refund up to 24h before the activity starts in case you need to cancel it.
2 – Book a Pig Beach Tour from Nassau by Powerboat
The cheapest way to visit Pig Beach and swim with the famous swimming pigs of Exuma is to book a Pig Beach tour from Nassau by powerboat.
You can book this day trip from Nassau to Pig Island by Powerboat for approximately US$ 438 or this Exuma full-day Experience, which includes a stop at Pablo Escobar's plane crash, pick up & drop off, food and beverage for US$ 510.
Both tours have really good reviews, friendly local guides and great service. You can reserve it now and pay later.
The tours take up to 8-9h and are subject to weather conditions.
P.S: Please note that the boat ride from Nassau to Pig Beach takes an average of 3h, and is not suitable for children under three years old, pregnant women or persons with recent back injuries or major surgery.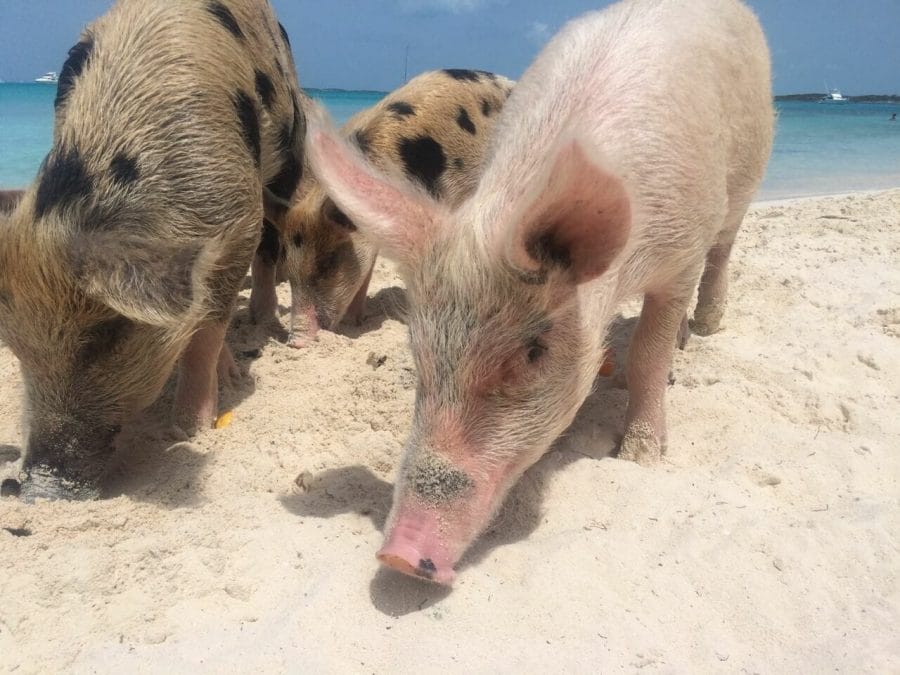 From Miami:
To get to Pig Beach from Miami you have the option to fly directly to George Town with American Airlines or fly to Nassau and then take another flight to Exuma or a Pig Beach Excursion.
Note that with both options you won't be able to take the tour on the same day that you arrive.
For more options on how to get to Pig Beach from the Miami area check the Fort Lauderdale options below.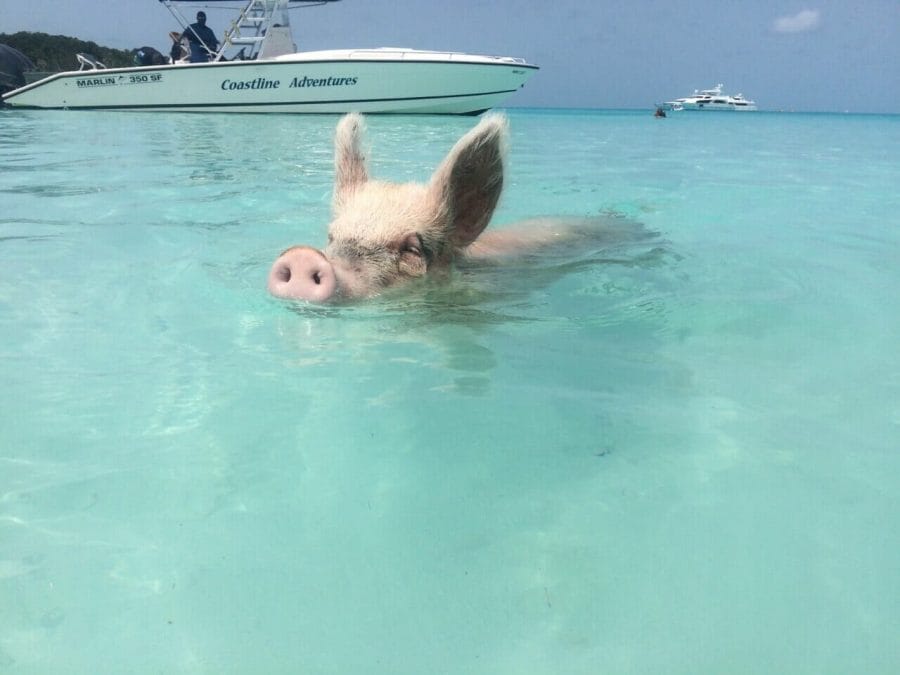 From Fort Lauderdale
To get to Pig Beach from Fort Lauderdale the easiest option is to fly direct to Staniel Cay with Makes Air (Watermakers Air), average price: US$ 675 per round-trip.
Bahamas Air Tours offers a day trip to Staniel Cay on a private aircraft. The tour departs at 7:30 AM and the average cost is US$ 897.40 for the round-trip tickets + tour + taxes.
You can also take a non-stop flight to George Town with Silver Airways, which can be much cheaper.
There is also a ferry from Fort Lauderdale to Bimini, but you'll need to take a flight to Nassau first, then get to Pig Beach following one of the options above.
My Experience getting to Pig Island
While planning my Three-day trip to the Bahamas, one of the places that I really wanted to see was Exuma Island, which features some of the clearest and most beautiful sapphire-blue water on the planet.
When I discovered that I could go swimming with pigs and sharks in Exuma, I hesitated a bit at first, because I was scared of sharks, but then decided to do it no matter how much money I would have to spend.
I was searching for tour companies and found Coastline Adventures. They gave me all the information I needed in order to go from Nassau to Exuma for the day trip to see the hilarious swimming pigs.
I took the first flight from Nassau to George Town at 6:00 AM, the driver picked me up at the airport around 7:00 and then the other people who were joining the tour at their hotels.
The Coastline Adventure Swimming Pigs tour was excellent!
We sailed on the crystal clear water of different shades of blue of Exuma Cays, saw some islands owned by celebrities and stopped on a breathtaking sandbank.
We also went to Thunderball Grotto (where two James Bond movies were shot), passed Nicolas Cage's Island and of course went swimming with pigs at Big Major Cay and with sharks at Compass Cay.
The music on the boat was really good, and the vibe was awesome. We had free drinks and a lot of fun feeding and swimming with the pigs and piglets.
The Swimming Pigs Tour covers a total of over 120 miles. So be prepared to spend a lot of time on the boat and under the sun.
In the end, they dropped me off at the airport on time to catch my flight back to Nassau.
How much does it cost to swim with pigs in the Bahamas?
If you're in Nassau or Paradise Island you'll spend at least US$ 438 for a Swimming with Pigs Tour by powerboat, and US$ 682 if you book a tour with a private plane.
In case you're already on Exuma Island and want to swim with the famous pigs, you'll spend a minimum of US$ 448 or 336 (if you're in a group of four) on a Pig Island Tour.
If you're on a budget, the cheapest way to swim with pigs in the Bahamas is to take a Pig Beach tour from Nassau to Sun Cay from US$ 179 or Rose Island from US$ 195. But note that these are not the original Pig Island.
My recommendation, is, of course, to go to Exuma, because it's a stunning archipelago, and you will also visit other beautiful islands along the way.
I'm not adding here the costs to get to the Bahamas because they can vary significantly depending on many factors, such as time of the year, distance traveled, etc.
Flying directly to Staniel Cay from Nassau the minimum you'll spend will be US$ 250, and from Fort Lauderdale (Miami area) around US$ 897.40.
Final Considerations & Tips
Some things to take into consideration when you plan your Swimming with Pigs trip are:
– The full-day Swimming with Pigs tours are long (8-9h) and you spend a considerable time on the boat.
– Bear in mind that open sea safari tours are not suitable for expectant mothers, infants and persons with back, knee, neck and heart problems or conditions affected by high-speed travel.
– The tours that depart from Nassau and Paradise Island are subject to cancellation due to weather conditions (wind, rain, hurricane, etc), so make sure to book it for the next day after you arrive, so if it gets cancelled, you may have another chance to do it.
– Flying direct to Staniel Cay is much easier, and faster and you'll spend less time sailing, but it'll be more expensive.
– For me, the best option is to stay two or three nights in Grand Exuma, take the tour in one day and enjoy the islands/beach in front of the hotel during the others.
– If you have limited time, my recommendation is to book this tour.
– Note that if you're traveling to the Bahamas on a cruise ship you might not have enough time to take in a Pig Beach Tour.
– Be careful when you feed the pigs and the iguanas too.
– Pack light and don't forget to bring sunscreen, a hat, sunglasses and your camera, please.
Safe travels and have fun in the Bahamas and swimming with the pigs in Exuma.
More posts about the Bahamas that might interest you:
Watch the pigs swimming on Pig Beach Bahamas
I always recommend that you buy travel insurance! It can literally be your lifeline if something happens to you, or your luggage is lost or stolen.
Play safe and get yours. Get a quote with World Nomads here or buy your travel insurance now with SafetyWing using the widget below.
Visiting the Bahamas
Where's it located?
The Bahamas is located in the Atlantic Ocean, 50 mi off the coast of Florida. The country is comprised of 700 islands sprinkled over 100,000 square miles (check the map here).
How to get there
The main airport is the Nassau International Airport, now known as Lynden Pindling International Airport, which is situated 10 mi west of Nassau, New Providence Island.
You can book your flights with Skyscanner which is the website that I use and trust.
From the U.S. there are direct flights with Delta, United, JetBlue, BahamasAir and Southwest Airlines.
There are direct flights with Air Canada departing from Canada.
From other countries is easier to fly to the U.S., Miami or Fort Lauderdale, than take another flight from there.
To Exuma, there's an international airport in Moss Town, northwest of George Town, and there are direct flights from Nassau, Miami, Atlanta and Toronto.
There is also a ferryboat from Nassau to Exuma with Bahamas Ferries, but it's a very long journey.
Best Time to Visit the Bahamas
The Bahamas can be visited all year round with temperatures ranging from 21C (70F) in the winter and 26-32C (80-90F) during the summer.
But there are two things to consider:
The hurricane season lasts from June to November.
The months with the most rain are May and June.
Where to stay near Pig Beach
I stayed in Nassau at Coco Plum Resorts Bahamas, (which I don't recommend) and just flew to Exumas to take the tour.
If you're looking for hotels near Pig Beach my recommendations are Embrace Resort, Paradise Bay, Exuma Beach Resort.
If you want to stay in the capital area, I recommend:
Nassau: Sandyport Beach Resort, British Colonial Hilton Nassau, Holiday Inn Express, Meliá Nassau Beach.
Paradise Island: Bay View Suites, Comfort Suites, The Cove Atlantis, The Ocean Club.
Travel Planning Resources
For every booking made through my site I donate US$ 1 for a charitable organization.
World Nomads provides travel insurance for travelers in over 100 countries. As an affiliate, we receive a fee when you get a quote from World Nomads using this link. We do not represent World Nomads. This is information only and not a recommendation to buy travel insurance.
Safe travels ☺