Looking for things to do in Santorini? Below you will find great tips and a suggested itinerary for three days 😉
Santorini is a perfect combination of archaeological sites, exotic beaches, picturesque whitewashed villages, an active volcano, and breathtaking sunsets.  
As soon as I arrived in Santorini for the first time in July 2014, I was captivated by its unforgettable beauty.
In 2019, in my role as a travel blogger, I committed to explore as many Santorini attractions as I could during 10 days on the island.
There are many extraordinary places to visit in Santorini, and in this post, I want to give some tips on what to do in Santorini on your next trip.
From visiting red and black beaches to discovering famous Instagrammable places, experiencing wine tasting, watching a Greek wedding show, touring the volcano caldera, and enjoying the vibrant nightlife, here is a list of the 30 best things to do in Santorini.
30 Best Things to Do in Santorini: Unmissable Tours & Attractions
1 – Admire the sweeping views
If there is something unbeatable on Santorini island, it's its spectacular landscape.
Some Santorini cities are perched on high cliffs, and provide stunning views of the deep blue sparkling Aegean Sea and other islands around this small archipelago.
Whether you're in Fira, Firostefani, Imerovigli or Oia, you will find plenty of places where you can appreciate the superb vistas.
From main squares to cafes, bars, restaurants, streets and even from your balcony, in case you're lucky enough to stay at one of the hotels with a caldera view.
For me, the most beautiful views are the completely unobstructed ones of Palaia Kameni and Nea Kameni, at the center of Santorini caldera (volcano's crater), from the north of Fira, towards Firostefani.
South of Imerovigli and Oia also provide stunning vistas.
But anywhere you're facing the caldera, the view will not disappoint you.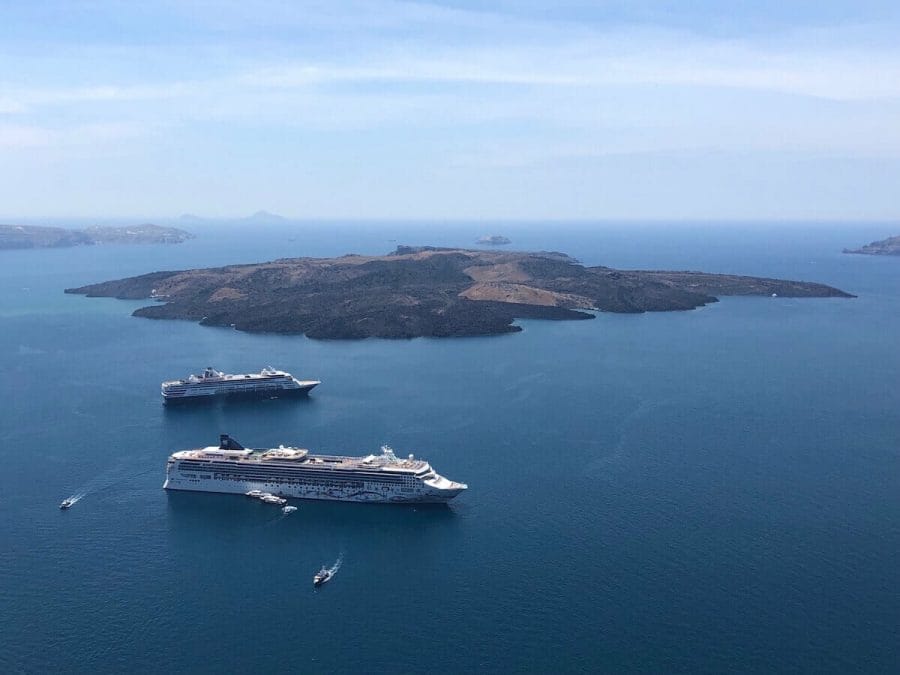 2 – Discover photo opportunities
Wandering around the streets and cobbled alleys of Santorini will leave you awestruck!!
Around every corner, you will find a photo opportunity because there is not a single place on this island that doesn't deserve to have its picture taken.
I selected some of the most iconic photo spots in Santorini to snap a "perfect" picture.
1 – Homeric Poems Hotel (Firostefani)
2 – Grace Hotel and Skaros Rock
3 – The most emblematic Santorini postcard
4 – The famous blue-domed churches
5 – Ammoudi Bay
These are just some of the best photo locations on Santorini Island and if you're into travel photography and don't want to miss any of the hotspots, why not take a Santorini photo tour?
3 – Walk a path with stunning vistas
The greatest way to explore Santorini is on foot and, in fact, there is a 10Km hiking trail connecting its prettiest villages: Fira, Firostefani, Imerovigli and Oia.
Even though some adventurous people hike the entire path, my suggestion is to walk only from Fira to Imerovigli. This part is very pleasant, much shorter at 3Km (35min walk), and the most interesting one.
You'll pass by numerous hotels, restaurants, picturesque houses and churches along the way.
The path provides impressive caldera vistas, especially from Fira to Firostefani, where you face the caldera constantly.
I love walking this hiking trail and it's one of my favorite things to do in Santorini.
4 – Visit Oia: the most picturesque and charming village
Oia is the most famous, scenic, and beautiful but also touristy and expensive Santorini's point of interest.
This small town boasts all types of accommodations, particularly boutique hotels with infinity pools, restaurants, bars, and luxury stores.
With plenty of whitewashed cubist houses colored only by bougainvillea flowers and blue-domed churches, Oia is so picturesque and romantic that you are bound to fall in love with it.
As Oia's main square and pedestrian strip can get very crowded, I recommend that you explore its paths, alleys, and stairwells to find places where you can enjoy the views peacefully and take great pictures.
Visiting the charming village of Oia is definitely one of the unmissable things to do in Santorini. You can do it by yourself or book one of these tours.
5 – Take a boat trip to the caldera, one of the best Santorini tours
Santorini is a complex of volcanic islands, and many people don't know that one of these islands has an active volcano.
During my first visit, I decided to take a day trip to the caldera, as it's one of the most unique things to do in Santorini.
The first stop was Nea Kameni Island, home of the volcano's crater.
The hike to the volcano was easy, with a clear trail to follow. It took around 1 hour over the hills and valleys but be aware that there was no shade at all.
During the tour, a guide explained curious facts about past volcanic eruptions and Santorini's formation and culture. In some places, I could actually feel the sulfurous heat from the underground steam vents.
From Nea Kameni, I was able to see all the islands that form Santorini and take in the breathtaking views.
The second stop of this Santorini must-take tour was the hot springs, located on Palea Kameni, one of the two volcanic islands in the middle of the Santorini caldera.
Following stops were at Therasia Island, where we had time for lunch and to explore the island, and then the charming Oia.
Taking a boat trip to the caldera is certainly a must-do in Santorini and I highly recommend that you book your tour online in advance here.
6 – Have a night out in Fira
One of the best things to do in Fira, Santorini's capital, is enjoying its vibrant nightlife.
You can go for a drink with friends or party like there is no tomorrow to Reggaeton and the big hits of the moment.
Murphys, Town Club, The Highlander, and Two Brothers are the best bars in Fira. The first three provide loud music, dance floors, and bar-top dancing; the latter, the smaller one only has tables and chairs and is more appropriate for drinking and chatting.
The best clubs in Fira are Koo Club and Enigma.
Koo has three outdoor bars where you can relax under the stars and palm trees. On the other hand, Enigma, built in a stylish Cycladic building, has more of a "proper club" vibe with an impressive lighting system.
Most bars and clubs are free and the drinks are reasonably priced.
While in Santorini, you should definitely go out at least once and enjoy the hottest night on the island.
7 – Watch the acclaimed Santorini sunset
A visit to Santorini cannot be complete without watching the sunset!
The island claims to have the most beautiful sunset in the world, so naturally one of the best things to do in Santorini is taking in this glorious spectacle.
Sunset in Santorini is a cult event and every day, visitors and locals alike stop and watch it.
You can see it from main streets, bars, restaurants, viewpoints, and even from your hotel if you're staying in a hotel with a sunset view.
The most popular places in Santorini to watch the sunset are: the Castle of Agios Nikolaos in Oia, Fira's promenade, the viewpoint located at the front of Agios Georgios church, and Skaros Rock in Imerovigli, Prophet Elias Monastery, and Akrotiri Lighthouse.
But no matter where you watch it, this spectacle of nature will amaze you.
8 – Be in awe with the Red Beach, one of the few red sand beaches in the world
If you're looking for unique places to visit in Santorini, the Red Beach must be on your list.
I was really excited to see a red beach for the first time in my life, especially since I didn't know that they existed…
The Red Beach, one of the best Santorini attractions, is located in the city of Akrotiri.
The access to this relatively small beach isn't that easy, the surface is very uneven and there are many rocks. Because of these reasons, most people just take a glance and leave.
Santorini Red Beach is enveloped by massive dark red cliffs, has soft sand mixed with seaweed and crystal blue waters.
There isn't much space for sunbathing near the cliffs because of the risk of falling rocks, and most people gather and sunbathe in the area near the restaurant.
Whether you decide to make your way down to the beach, or just admire the incredible view from the headland, this eccentric beach will leave you completely in awe.
9 – Spend the day on a black sand beach
Because of its volcanic formation, Santorini beaches range from white and red to black.
So, during your visit, you shouldn't miss out on the opportunity to visit a black sand beach.
Two of the most visited Santorini black sand beaches are Perissa and Kamari. Both of them have excellent infrastructure and restaurants, bars, water sports, and beach facilities.
They feature a long stretch of volcanic black sand and pebbles, crystalline water and are overlooked by the immense Mesa Vuono Mountain.
Perissa and Kamari are very attractive and the best areas to stay in Santorini for beach life.
Another great black sand beach is Perivolos, located 3Km away from Perissa.
Spending the day on a black sand beach is definitely one of the most relaxing things to do in Santorini. Don't miss it!
10 – Go shopping
With a great variety of boutiques, souvenir and gift shops, jewelry stores, bookshops, and a small shopping center, you'll feel very tempted to go shopping in Santorini.
You can buy some clothing for yourself or as a gift, beach accessories, such as hats and sunglasses, handmade bags, watches, designer jewels, magnets, black lava soap, etc.
Some of the best boutiques in Santorini are: Bazaar, Ilias Lalaounis, The White Santorini, and Ammos. And you can find souvenirs at really good prices in Perissa, close to the Holy Cross Perissa, a Greek Orthodox church.
During my first time in Santorini, I fell in love with a bust of Pericles and took one home with me. The second time, I wasn't planning on buying anything, but I couldn't resist getting a t-shirt and a lovely magnet.
11 – Go exploring
Fira, Oia, Perissa, and Kamari are generally considered to be the best places to visit in Santorini.
But the island, which extends for an area of 76.19 Km2 (29.4sq mi), has many other attractions.
And this is the reason that you should take the opportunity to discover other beaches and towns.
Some of the villages that you should visit are Imerovigli (very scenic), and Pyrgos (pretty and non-touristy).
Other beaches to visit are: Koloumbus (super exotic and deserted) and Vlychada (my favorite).
You can also go to Therasia, a laid-back and undeveloped island in Santorini.
12 – Find the famous Instagrammables Places in Santorini
Every summer our Insta-feeds are filled with pictures of people in Santorini.
The island, particularly Oia, with its iconic whitewashed houses and blue-domed churches, is an Instagrammer's delight and an ideal location for film and commercial photo shoots.
So don't miss the opportunity to boost your Instagram profile and provoke some social media envy while in Santorini.
Below I have selected the most famous Instagrammable places in Santorini where you can take the perfect picture.
1 – The blue-domed and salmon tower church: one of the most desired Instagrammable places in Santorini.
2 – The famous Santorini postcard (from another angle) and one of the most recognizable Santorini photo spots.
3 – Oia sunset: the best spot is from the castle where you can capture the whitewashed houses and windmills.
4 – Anastasi Church: the dome, the bell tower, the gate, and surroundings.
5 – Stairway of Chromata Hotel: a fashion blogger's favorite photo location.
13 – Go wine tasting
Santorini is Greece's top wine destination and cultivates nine indigenous grape varieties, including the famous Assyrtiko, as well as Aidani and Athirithe.
For all wine lovers looking for what to do in Santorini, booking a wine tasting should be on the top of their list.
You can witness the traditional vinification process from beginning to end at any one of 18 Santorini wine farms.
One of the best places in the world for wine tasting, according to Wine Enthusiastic Magazine, is Santo Wines, but my recommendation is to book one of these wine tours, for a much richer experience.
On this wine tasting tour, you'll visit three renowned wineries, learn about the island's unique viticulture, sample 12 different varietals and finish with breathtaking sunset views. The tour takes around 4h, includes pick-up and drop-off, and has excellent reviews.
14 – Try the delicious Greek cuisine
With many restaurants serving appetizing dishes, it's impossible to leave the island without tasting delicious Greek cuisine.
Just imagine consuming Greek salad, Souvlaki, Gyro, Moussaka, and Honey Baklava overlooking the blue waters of the Agean Sea and admiring the astonishing caldera view!
Some the best restaurants in Santorini are: Metaxí Max (Exo Gonia), Athenian House (Imerovigli), Cava Alta (Pyrgos), Naoussa (Fira), Panorama Balcony (Oia), La Maison (Imerovigli), Aktaion (Firostefani), Lucky's Souvlaki (Fira) and To Psaraki (Vlychada).
Reservations are highly recommended, especially during the summer.
Don't forget to add Greek cuisine to your list.
15 – Take the cable car
To deal with the increasing number of ships and tourists arriving in Santorini since the 1970s, a cable car was built between 1980 and 1982 to connect the old port to the capital.
The journey takes around 3min each way, provides amazing views and another perspective of the stunning caldera, and is one of the top things to do in Santorini.
It's a convenient method of transport, saving time and energy for those who arrive in Santorini by cruise ship or wish to take a volcano tour.
At the old port, you can visit the old market and also take a boat to Oia.
The one-way ticket costs 6 euros for adults and 3 for children, and the cable car is open every day of the week (time and frequency vary according to the season).
If you don't want to take the cable car, you can ride a donkey or, if you don't approve of that, you can take the 587 steps down (and keep your step count up).
16 – Hike Skaros Rock
If you're looking for adventurous things to do in Santorini, hiking Skaros Rock is a great option.
Skaros, an immense rocky promontory that was created through volcanic activity and shaped by erosions and earthquakes, lies on the seaward side of the village of Imerovigli.
This prominent landmark housed one of the five fortresses of Santorini that was constructed in 1207 and, by 1336, had become the largest settlement on the island with over 200 homes.
But many strong eruptions and earthquakes over the years reduced the Old Venetian fortress to only a few weathered ruins you see now.
However, you can hike to the top of Skaros Rock to admire and photograph the striking views.
The hike is easy, takes between 20 to 30min (each way), and is recommended for all ages.
17 – Enjoy one the most glamorous infinity pools in Santorini
Imerovigli, one of the most charming villages in Santorini, is home to many luxury hotels.
Among them is Cavo Tagoo, perched above the renowned caldera, and one of the best five-star hotels in Santorini.
Featuring sophisticated suites, one of the finest restaurants in Santorini, and a sumptuous infinity pool with unrivaled views of the Aegean Sea, Cavo Tagoo just has to be on my list.
Even better, you don't have to be a guest to enjoy the pool. Cavo Tagoo offers day use and you can just pop in, select one of three options (pool only, or pool and front row or back row sunbeds) and dive into the most glamorous infinity pool in Santorini.
Prices are not cheap but if you're celebrating a special occasion in Santorini or just want to boost your Instagram account and provoke social media envy, you should consider spending time at Cavo Tagoo.
The ambiance is awesome, the staff professional and friendly and the service as good as the pool.
18 – Plunge into the public pool
One of the most glamorous things to do in Santorini is to relax in an infinity pool and enjoy dazzling views of the Aegean Sea.
But if you're on a budget and your hotel doesn't have a pool with a view, worry no more because there is a "public" pool with fascinating views that you can plunge into.
At Lioyerma Lounge Cafe Pool Bar, you can swim, have breakfast and/or cocktails, unwind and watch the sunset from a very privileged spot at the edge of the caldera.
With no entrance fee and a minimum of only 10 Euros spend per person, you can enjoy free sunbeds, tables, and umbrellas all day long.
Lioyerma Lounge Cafe Pool Bar is a true hidden gem of Santorini that I stumbled upon during my first visit in 2014.
It's a great place for a sunset drink and to have fun with friends!
19 – Take the steps down to Ammoudi Bay
You can get a glimpse of the beautiful Ammoudi Bay from Oia, but if you have time, I recommend that you take the 240+ steps down to enjoy this scenic point of interest.
This tiny idyllic cove in Oia's foothills is enveloped by impressive red cliffs with crystal-clear turquoise water and boasts taverns serving delicious seafood and Greek specialties.
At Ammoudi Bay you can also find a great spot to watch the sunset.
In fact, dining and watching the sunset at the picturesque harbor is very popular in Santorini so reservations are highly recommended.
From Ammoudi Bay you can also take a caldera tour or a boat to Therasia Island.
And if you feel tired and don't want to climb the steps, you can ride a donkey for 5 euros.
20 – Go cliff jumping
If you're looking for adventurous things to do during your visit, you should go cliff jumping.
There are two popular places on the island where you can get an extra dose of adrenaline by throwing yourself into the crystalline blue waters of the Aegean Sea.
If you want to go cliff jumping on Kamari Beach, just head to the farthest section and you will see the cliff from where people jump.
In Ammoudi Bay, on the contrary, the rock is not easily visible or accessible. You need to walk south along the bay and follow the narrow, treacherous path that leads to a hidden beach between the rocks.
To get to the boulder and jump platform, you need to swim out and climb some stairs.
The crystal-clear water is very enticing and the boulder is only 4.5 – 6 m (15-20 ft) high, but it feels very good.
21 – Get naked on Vlychada Beach
During my endeavor to find the best Santorini attractions, I stumbled upon Vlychada Beach.
Located on the south coast of Santorini, 13Km from Fira, Vlychada features a long stretch of volcanic black sand and pebbles and the most incredible rock formations I've seen on the island.
Vlychada is perfect for those who like one-of-a-kind beaches, but also to tan and bathe completely naked, as it's one of the few clothing-optional beaches in Santorini.
At Vlychada Beach I felt like I was in a sci-fi movie – its moon-shaped landscape, carved by the wind, completely blew my mind!
Vlychada Beach is one of the most exotic beaches in Santorini. I loved it!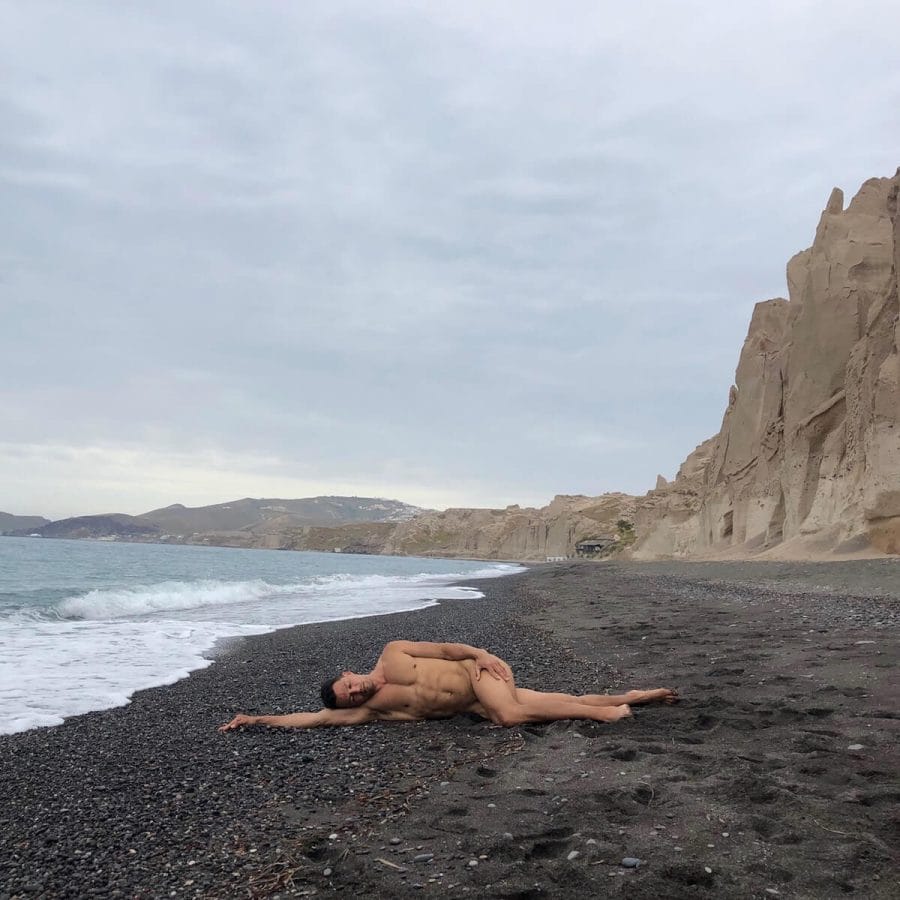 22 – Visit an old tomato factory
Tomatoes are some of the most famous and traditional products of Santorini and have been cultivated on the island since the end of the 19th century.
With their distinctive flavor, small size, and high sugar content, Santorinian tomatoes are ideal for the production of tomato paste.
The tomato factory of D.Nomikos has been transformed into a modern Industrial Tomato Museum, offering its visitors a journey back into the industrial past of Santorini, by guiding them through the cultivation, processing, and production of tomatoes.
The Tomato Industrial Museum "D. Nomikos" is open daily, except Monday, from 10h to 16h and the ticket costs 10 euros (free for children up to 12 years old).
Visiting an old tomato factory is arguably one of the most unusual things to do in Santorini, and suitable for the whole family.
23 – Visit Atlantis Bookshop
One of the most popular places to visit in Santorini among book lovers is Atlantis, of Europe's most enchanting bookshops.
Located on the main street of Oia, overlooking the caldera, Atlantis Bookshop offers literature in English, French, Italian, Spanish, German, Chinese, and of course, Greek.
It focuses on new and used books of modern classic fiction and non-fiction but also offers selections of poetry, philosophy, art, and all things Greek.
What makes Atlantis worthy of visiting, apart from its exquisitely curated collection, is its setting.
It occupies the basement of an old captains' house that was leveled by the 1956 earthquake.
A precipitously steep staircase leads to a two-room cave stuffed from floor to ceiling. Above the shop, up a short flight of exterior stairs, is the rooftop terrace with bookshelves, benches, and sweeping views of the Aegean Sea.
Atlantis is one of the most distinctive bookshops that I've been to, and you should not miss it.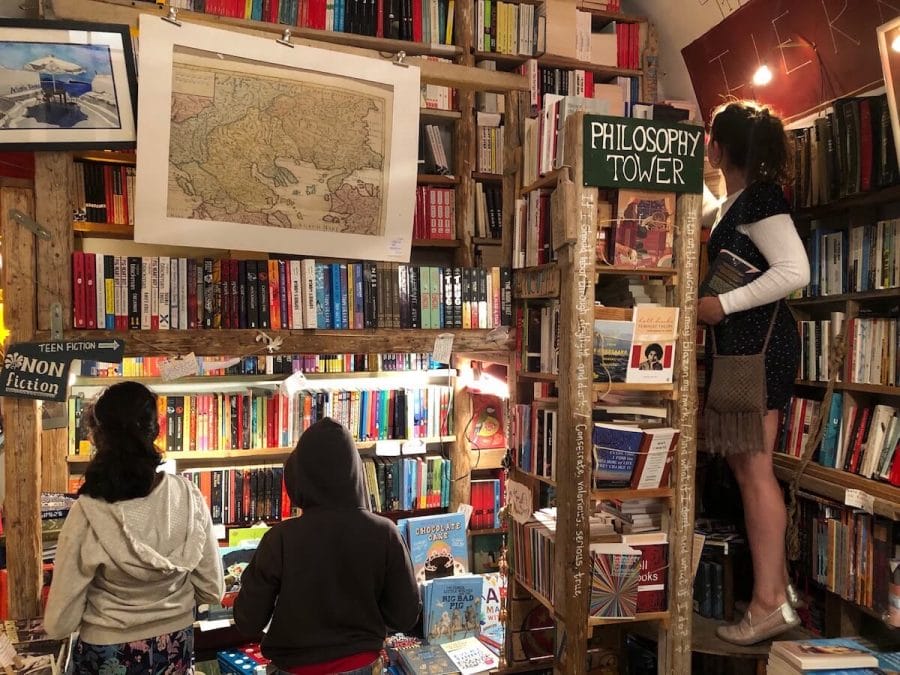 24 – Go to a Greek wedding show
One of the coolest things to do in Santorini with family is to visit a Greek wedding show, where you'll celebrate Greek culture through music and dance.
The "ceremony" is held in a 200-year-old building in Fira and is set during the post-war years of the 1940s. The 90-minute show consists of an interactive performance of singing, dancing, acting, and music.
Guests also enjoy plenty of local wine and a selection of traditional homemade Greek tapas. Book your ticket online in advance here.
Another option is to go to the Taverna Boat House Restaurant in Kamari, which has been offering shows with dancers for its guests since 1995 on Wednesdays and Sundays, from 20h to 23h.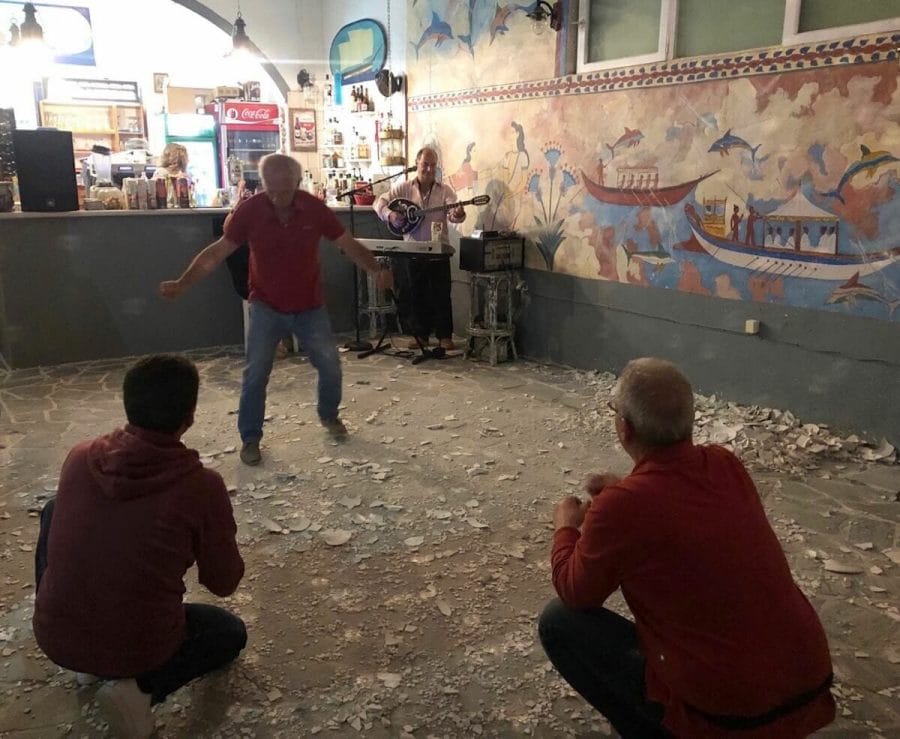 25 – See a movie at one of the best open-air cinemas in the world
Imagine sitting comfortably under the stars, surrounded by trees with a cocktail in hand, enjoying a movie. It sounds like a dream, doesn't it?
While visiting this enchanting island, you have the chance to go to one of the best outdoor cinemas in the world, according to CNN and The Guardian, and be entertained with a very different movie experience.
The beautiful Cinekamari has been one of the most popular Santorini attractions since 1987.
The movies are in English with Greek subtitles and start at 21h30min.
The entrance fee is 8 euros and the cinema is open from May until October.
26 – Find beautiful churches
Santorini has dozens of churches, and their blue domes are iconic images of the island.
With over 600 cathedrals, churches, chapels, temples, and monasteries, I have no doubt you'll fall in love with at least some of them.
With glorious, extraordinary, and different architectural styles, colors, bell towers, and types of crosses all over the island, one of the coolest things to do in Santorini is to find beautiful churches.
The most famous churches in Santorini are the Orthodox Metropolitan Cathedral and the Catholic Cathedral of Saint John the Baptist in Fira; Ekklisia Panagia Platsani, Agios Spyridonas (Saint Spiridon) and the iconic blue-domed Church of Anastasis (Resurrection) in Oia; and the historic Church of the Presentation of the Virgin Mary in Pyrgos.
Make sure to visit some of these churches when you're in Santorini.
27 – Visit Art Galleries
If you're looking for relaxing things to do in Santorini in the evening or on a cloudy day, why not visit some art galleries?
Ak Art Gallery and Foundation, Oia Treasures, Icon Painting Work Shop, Spira Marble, MATI Art Gallery, and Opera are just somewhere you can find intriguing sculptures, beautiful paintings, and many other artworks made by local artists.
You can also find handmade designer jewelry, pottery, temporary art exhibitions, and events.
The galleries combine sophisticated aesthetics with the beauty of the island and even a non-connoisseur will enjoy them.
Most are open until midnight in the summer months and offer worldwide shipping.
28 – Learn about Santorini's history at its archeological sites
Santorini used to be a much larger island that suffered one of the world's biggest eruptions around 3600 years ago.
The Minoan eruption devastated the island of Thera (now called Santorini), and the middle of the island collapsed, forming a huge crater (the caldera).
It also destroyed the city of Akrotiri, one of the most important Minoan Bronze Age settlements on the Aegean Sea, as well as other communities and agricultural areas on nearby islands and along the coast of Crete.
A visit to the archeological site of Akrotiri transports visitors back to those ancient times and is a great opportunity to learn about the old Santorini civilizations.
The huge acclimatized hangar contains ruins from 1500 BC when Akrotiri was a small fishing village, that are very well preserved due to being covered in volcanic ashes.
The visit takes around one hour, and you can do it by yourself, but I highly recommend that you hire a private guide or go on a group tour.
Another archaeological site that you shouldn't miss is Ancient Thera, the classic city of the island, located on Mesa Vouno, 396 m above sea level.
It was founded in the 9th century B.C. by Dorian colonists, led by Theras, and continued to be inhabited until the early Byzantine period.
I have visited both and loved them.
29 – Visit the Prehistoric Thera Museum
One of the best things to do in Santorini for history lovers is to visit one of the most important museums in Greece.
Located in the heart of Fira, close to the bus terminal, the Museum of Prehistoric Thera reveals treasures and shows the evolution of the old civilization of the Cycladic Islands.
The exhibition is structured in four parts: the first refers to the history of research at Thera, the second to the geology of the island, the third to the island's history from the Late Neolithic to the Late Cycladic I Period, and the last to the heyday of the city at Akrotiri (mature Late Cycladic I Period, 17th century BC).
The two-story building houses some extraordinary pieces from the excavations at Akrotiri, Potamos, and other parts of the island, and the collection includes pottery from the Neolithic to the Middle Cycladic period, marble figurines, metal artifacts, and many more.
It's open daily, except Tuesdays, and tickets cost 3 euros.
The museum is very interesting but small, so a visit won't take longer than one hour.
30 – Take the off-the-beaten-path path
Santorini is one of the dreamiest places and most visited islands on earth.
So, it isn't surprising that it has loads of tourists – in fact, over two million of them yearly.
The cities of Fira and Oia can get constantly overcrowded, particularly in the summer.
After wandering around these two cities and taking some good pictures, it's time to beat the crowds.
The southern part of Oia, towards Fira, is very serene and unspoiled, and the perfect photo location for a picture with whitewashed houses in the background. The same applies to the South of Fira.
Even quieter are Imerovigli, Firostefani, Pyrgos, and Megalochori, all very picturesque, making a visit totally worthwhile.
Remember to explore Santorini's less touristy villages during your trip.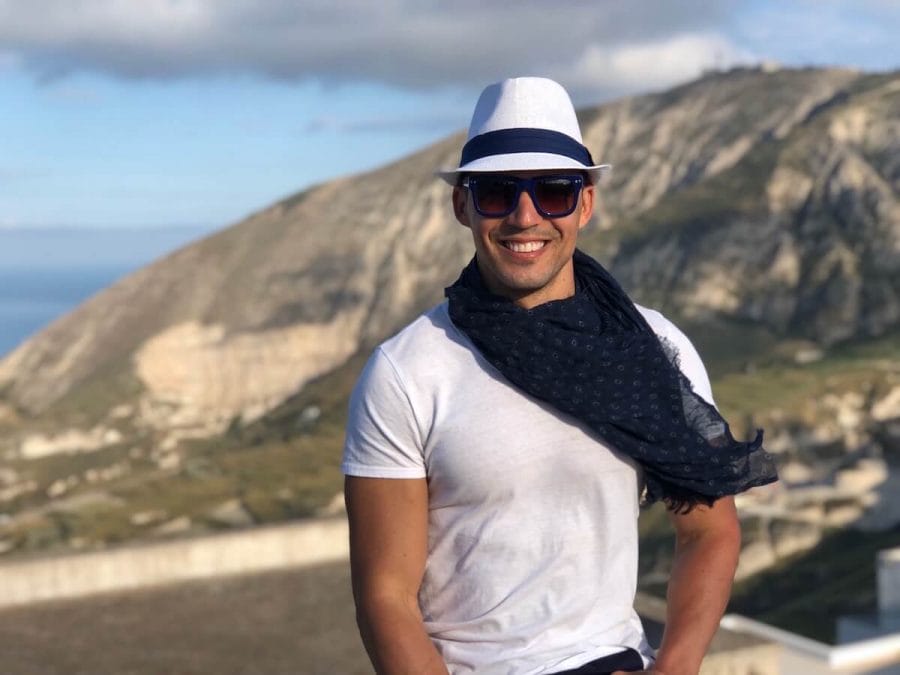 Santorini is one of the most picturesque islands in the world! But as gorgeous as it looks in pictures, they can never capture the true magnificence of Santorini. And this is the reason one should visit it at least once.
Safe travels and enjoy Greece.
What to Do in Santorini in 3 Days – Suggested Itinerary
Day 1 – Best places to visit in Santorini (Fira, Imerovigli and Oia) and Sunset in Oia
Day 2 – The Archeological City of Akrotiri, Santorini Red Beach and Perissa/Kamari Black Sand Beach
Day 3 – Santorini Volcano Tour + Fira Nightlife
Don't forget to save these pins for later 😉
I always recommend that you buy travel insurance! It can literally be your lifeline if your luggage is lost or stolen.
I always use World Nomads Travel insurance for independent travelers. It's easy to buy, extend & claim online, even after you've left home.
Get yours here.
If you're thinking about visiting Mykonos you can spend few days in Ios, a small island between Santorini and Mykonos. In this post, you can find Things to do in Ios.
Planning your Visit to Santorini
Where is Santorini?
Santorini is an island in the southern Aegean Sea, about 200 km (120 mi) southeast of Greece's mainland (check map here).
How to get to there?
There are only two ways to get to Santorini: by boat or airplane.
∗ There are ferryboats connecting Santorini to other Greek islands. The most common routes from / to are: Athens, Crete, and Mykonos.
From and to Athens: the conventional ferry takes around from 6h to 8h and the high-speed one takes between 4h to 5h. I recommend that you buy your tickets online in advance. You can check prices and timetable here.
∗ By airplane: there is an international airport in Santorini that receives flights from Athens during the whole year, and international flights during the high season.
Book your flights with Skyscanner, which is the website that I use and trust.
You can book your shared arrival transfer from Santorini National Airport to your hotel or cruise port with a discount here; or a Private Departure Transfer: Santorini Hotels to Airport or Ferry Port here from US$ 37.
If you prefer, hire a car with Rental Cars here with no extra costs for you.
Best time to go?
The best time to visit Santorini is from May to September when the sun is shining, the temperatures are high and the chances of rain are minimum.
To avoid crowds pick the months of May and September, as the weather in Santorini is still good this time of the year.
How long should you spend in Santorini?
At least 3 full days. There are many things to do on the island and if you stay longer, you can enjoy it island more.
Where to stay?
In Fira
In Firostefani:
In Imerovigli:
In Oia:
On Perissa and Kamari Beaches
Santorini Tours that I Recommend
There are several companies offering tours as in Santorini. I recommend that you book your tour online in advance with Viator, a TripAdvisor company, or Get Your Guide, which offers many different tours.
∗ Are you planning a trip to Santorini? Now that you know what to do, what are you waiting for?
∗ This post was converted into an app, and you can get it by clicking here.
Travel Planning Resources
For every booking made through my site I donate US$ 1 for a charitable organization.
Safe travels ☺