Are you planning a trip to Greece and wondering about what to wear in Santorini? In this post, you'll find the best men's Greece outfits, a packing list and many tips 😉
Santorini is undoubtedly one of the most beautiful places on Earth!
Walking down Santorini's cobbled streets framed by whitewashed houses while taking in the striking views of the deep blue Aegean Sea is a dream for many people.
Now that this dream is coming true and you've booked the tickets, accommodation, and tours, you might be asking yourself: What do men wear in Greece? What should I pack for Santorini?
I've been to this magical island twice. The first time it was a very long trip across 10 European countries and I fit all my clothes in a hand suitcase. The second one, I travelled only to Greece and bought fashionable outfits and accessories for my 15-day trip.
If you want to be smartly dressed and look sharp in your pictures, here are my tips and suggestions for what to wear in Santorini.
What to Wear in Santorini – Best Men's Greece Outfits
Santorini is one of Greece's most popular islands and among the world's top destinations.
The island can be visited at any time of the year, but the best time to visit it is from May to October (this is the period that I'll be focused on in this post).
When travelling to Santorini, you should bear in mind that:
The island is full of cobblestone streets, stairs, hills and narrow alleyways. A pair of comfy shoes is a must.
Whitewashed villas can increase UV exposure, making it much easier to get a sunburn, and also making it very bright. You must protect your skin and eyes even in the shade.
The average temperature in May and October ranges from 16C (61F) to 22C (71F). You can expect lovely sunny days and chilly nights.
In June and September the temperature range from 20C (68F) to 26C (79C). It seems the perfect weather to enjoy Santorini's attractions, but believe me, it feels much hotter than what the thermometers mark.
In the heights of summer, July and August, days are usually very hot with balmy evenings. Temperatures range from 23C (73F) to 29C (85F).
From the middle of May to September, you can expect thousands of tourists and packed streets, particularly in Fira (Santorini's capital) and Oia (the most famous, glamorous and touristy town).
While deciding what to wear in Santorini, here are some things to consider:
Are you traveling to Greece for any special occasion (wedding, vow renewals, birthday, etc)?
Are you staying in one of the many fancy boutique hotels?
Are you booking any fine-dining restaurants?
Is your trip more focused on sightseeing or beaches?
Do you want to look good in your pictures and take great pictures for your socials or you don't really care about it?
I noticed on both trips that people, locals and tourists alike, are generally well-dressed in Santorini.
If you want to pack wisely and also be dressed to impress while in Greece, here are my top tips:
Blend in (Color matching)
When we think about Santorini, the first things that come to mind are dazzling whitewashed houses, blue-domed churches and glamorous infinity swimming pools.
The most common colors on the Cyclades, the island group that Santorini and Mykonos are part of, are blue and white. But you can also find houses and home shutters painted in beige, salmon, brown, etc.
The island has predominant pastel colors, and it's the reason that you should think about these colors when packing to Santorini.
You should select clothes in white, all shades of blue, beige, green, and light grey colors.
Avoid at all costs dark colors, particularly black.
Remember that is going to be hot in Greece and white color reflects light, which results in less absorption of the heat, while dark colors absorb more light and heat.
I created my Santorini outfits inspired by its scenery, and they worked perfectly well.
I wasn't only fashionably dressed, but also looked very good in my pictures.
Pick the right fabrics
Whether you're traveling to Santorini in spring or summer, choosing the right fabrics is the key to dressing comfortably.
The best fabrics for hot weather are linen, chambray, lightweight wool (aka summer wool), and cotton. But forget thick cotton t-shirts and choose lighter ones.
Avoid fabrics like rubber, leather, polyester, acrylic and denim.
You should also fend off distinctive logos and novelty designs.
Choose comfortable summer shoes
You don't need to be a frequent traveler to know that the wrong pair of shoes can ruin your trip.
To compose your Greek outfits and choose the perfect summer shoes, you can use the same criteria we used for the clothes. So, think about light fabrics and colours. Something more relaxed and breathable.
Sandals, light trainers, boat shoes, espadrilles and loafer suede (for a more dress-up look) are great for summer. Which one to take, will depend on your style.
I chose a pair of white trainers, sandals, and running shoes.
If you are planning to spend time wandering around all day, hike the path from Fira to Oia and take a caldera tour (something that I really recommend), you should pack a pair of sneakers.
To make your composition stand out, don't forget to bring some accessories.
A pair of sunglasses, or two, and a hat will not only protect you from the sun but also give a chic final touch to your Santorini outfits.
I also recommend some bracelets, necklaces and a watch.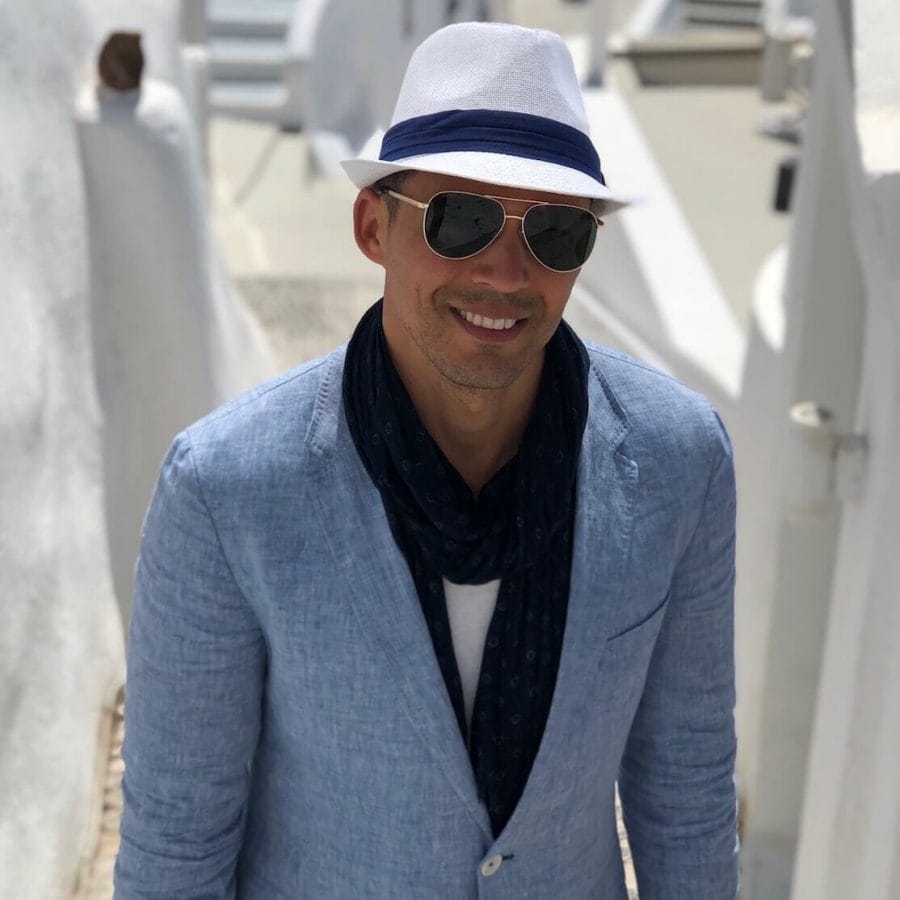 If you ask me what to wear in Santorini, I would say marine blue or cream shorts; blue or light grey trousers; white or light green/blue shirts or polos; and colorful print beach shorts.
If you're traveling to Santorini in May or October, you should also pack a sweater (it can be any color) or a casual summer blazer (stick with your favorite color or branch out into new shades).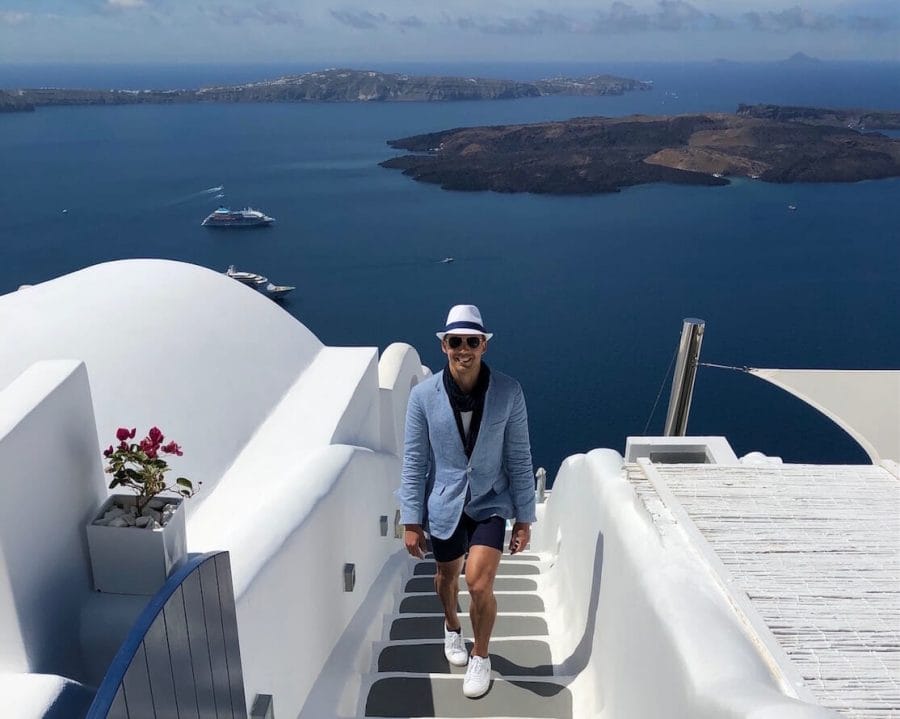 What to pack for Santorini
Now that you have a better understanding of what men should wear in Santorini, I also prepared a packing list for a 3-day trip.
Shorts: 03
Beach shorts: 02
Swimsuit: 01
T-shirts: 03
Polo: 01
Shirts: 02
Trousers: 02 Pairs (01 chino + 01 linen)
Sandals: 01 Pair
Trainers: 02 Pairs
Underpants: 04
Socks: 04
Hat: 01
Sunglasses: 02 Pairs
Sunscreen: 01
Bracelets: 04
Toiletries (including deodorant, perfume, toothbrush and razor)
Travel adapter
Now that you already know what to pack for Santorini, what are you waiting for?
Are you still looking for more inspiration? Check the stylish men's outfits for Greece and some Santorini travel essentials that I selected on my Amazon Influencer store.
Safe travels and have fun in Greece.
More posts about Santorini that might interest you:
Don't forget to save these Santorini, Greece, outfits inspiration for men 😉
Planning a Trip to Santorini
Where is Santorini?
Santorini is an island in the southern Aegean Sea, about 200 km (120 mi) southeast of Greece's mainland (check the map here).
How to get to Santorini?
There are only two ways to get to Santorini: by boat or airplane.
Find the best deals on airline tickets on Skyscanner, the website that I use and trust.
You can book your shared arrival transfer from Santorini National Airport to your hotel or cruise port with a discount here; or a Private Departure Transfer: Santorini Hotels to Airport or Ferry Port here from US$ 34.
If you prefer, hire a car with Rental Cars here at no extra cost to you.
Best time to go to Santorini?
The best time to visit Santorini is from May to September when the sun is shining, the temperatures are high and the chances of rain are minimum.
To avoid crowds pick the months of May and September, or even until the middle of October, as the weather in Santorini is still good this time of the year.
How many days to spend in Santorini?
At least 3 full days. There're many things to do in Santorini and if you stay longer, you can enjoy the island more.
Where to stay in Santorini?
Budget: San Giorgio, Afrodete Hotel, Merovigliosso and Anemomilos
Great value for money: Evgenia Villas & Suites, Agali Houses, Aqua Luxury Suites Santorini and White Pearl
Luxury: Cosmopolitan Suites, Katikies Hotel, The Tsitouras Collection and Iconic Santorini
Santorini Tours
There are several companies offering tours. I recommend that you book your tour online in advance with Viator, a TripAdvisor company, or Get Your Guide, which offers many different tours.
Travel Planning Resources
For every booking made through my site I donate US$ 1 for a charitable organization.
Safe travels ☺