Ilha de Boipeba is located in the South of Bahia, Brazil and was elected in 2013 by Trip Advisor as the second best island in South America. The island is part of the Tinharé Archipelago and is situated 356 Km (222 mi) from Salvador, Bahia's capital.
Boipeba is home of a dense Atlantic rainforest, with salt marshes, sand dunes, and extensive mangroves, along with luscious coconut trees dotting the beaches and numerous coral reefs. It has an incredible ecosystem and is a world of ecological diversity.
I visited Boipeba in February 2016 and was enchanted by its charming village with cobblestone streets and colorful houses and delighted by the gorgeous beaches with soft sand and unbelievably warm water.
The island is becoming more and more popular among Brazilians as well as foreigners because of the island's simple infrastructure and because it is perfect for those who are looking for tranquility and being with nature.
Things to do in Boipeba
Velha Boipeba (the village)
The village was founded by the Jesuits in 1537, and is one of the oldest Portuguese settlements in Bahia.
The best thing to see is that the village still preserves the "old times" atmosphere.
Velha Boipeba, with Santo Antônio Square at its center, is the most important village on the island.
Church of the Divine Holy Spirit
Constructed in the 17th century this neoclassical church is the island's main monument.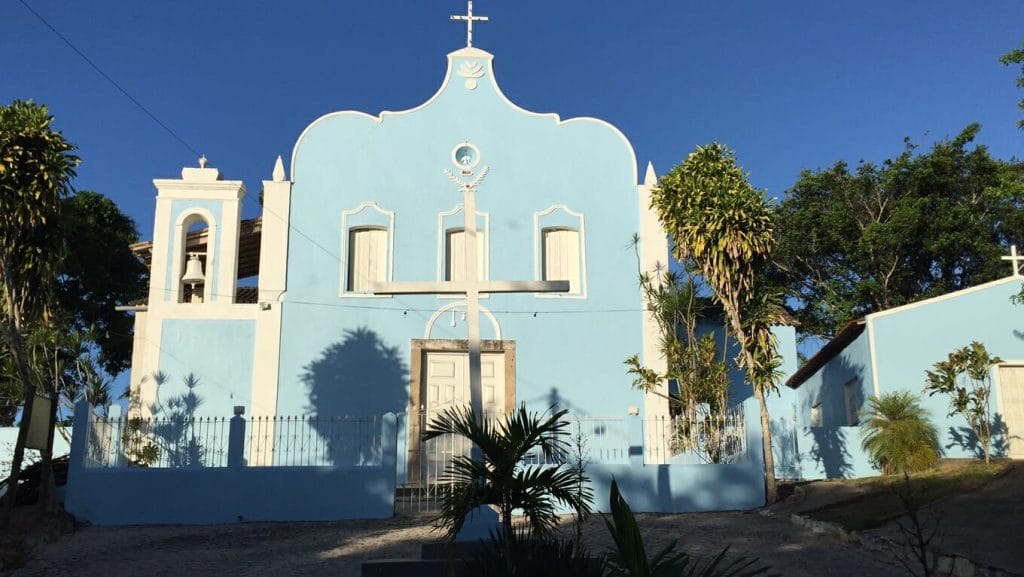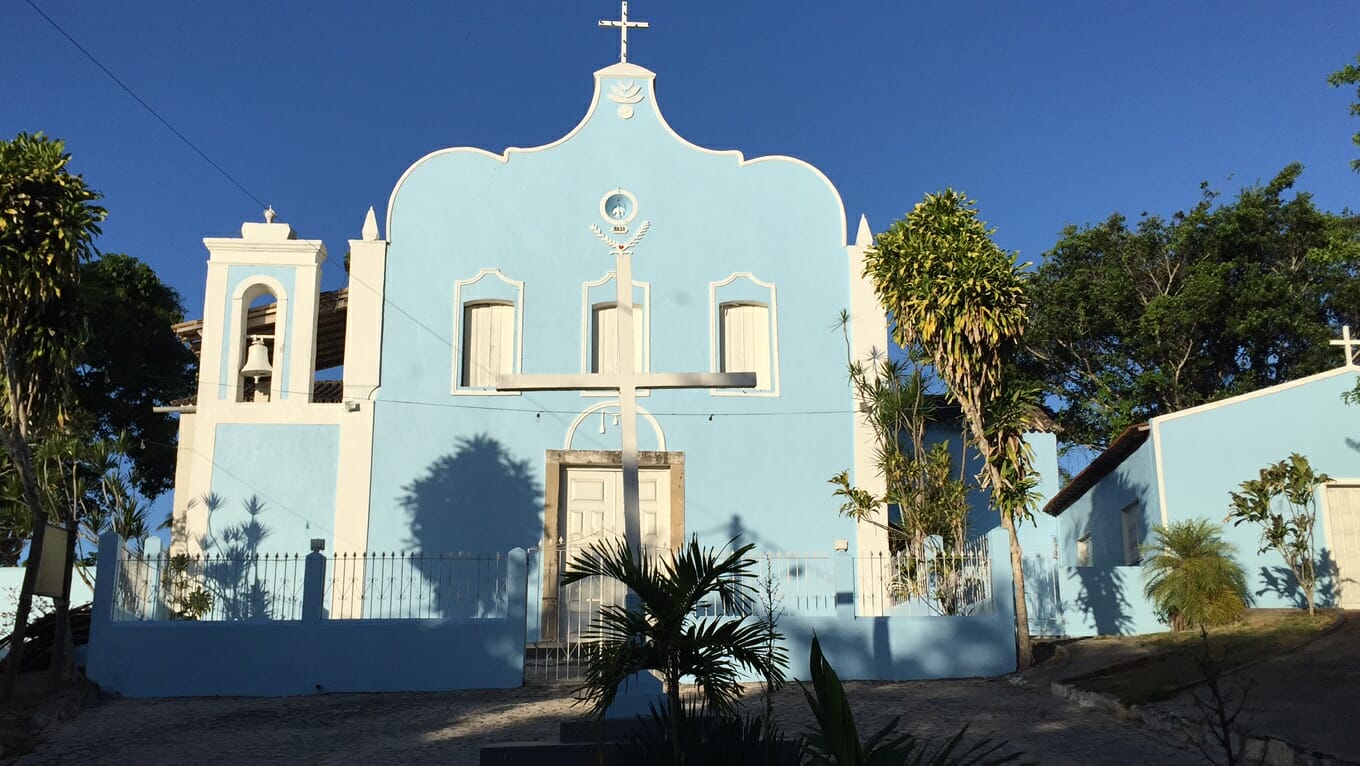 Museu do Osso (Bone Museum)
Founded by "Cabeludo" ("Long hair"), this small museum has bones of whales and turtles, beautiful shells, teeth, and tails of fishes.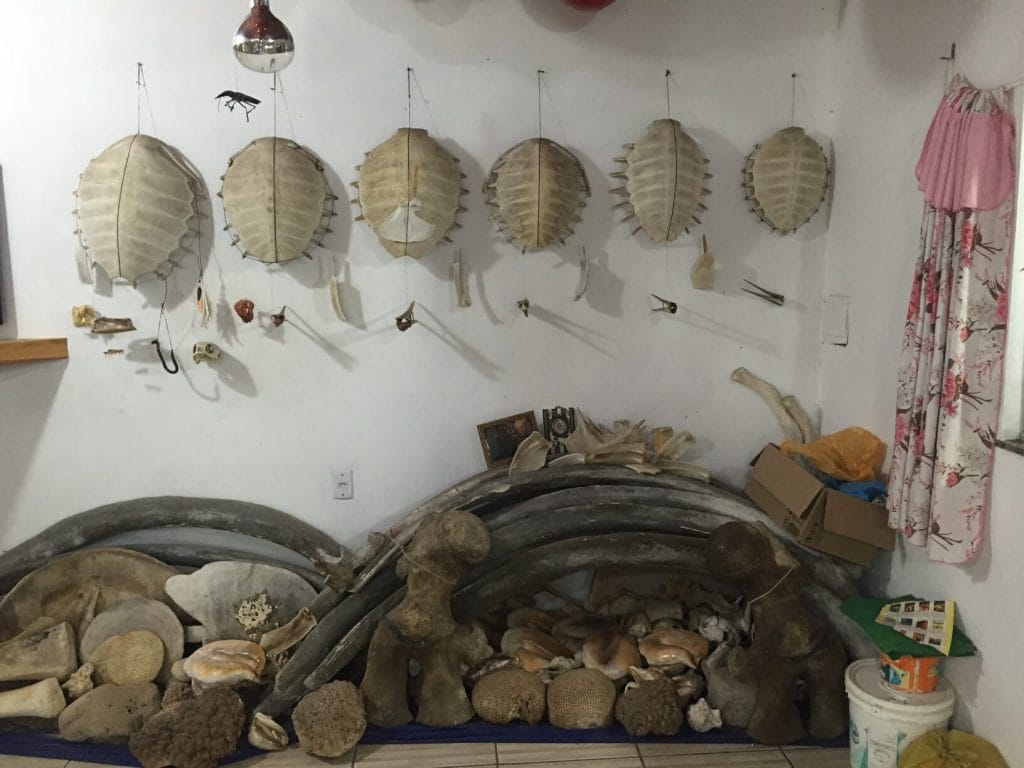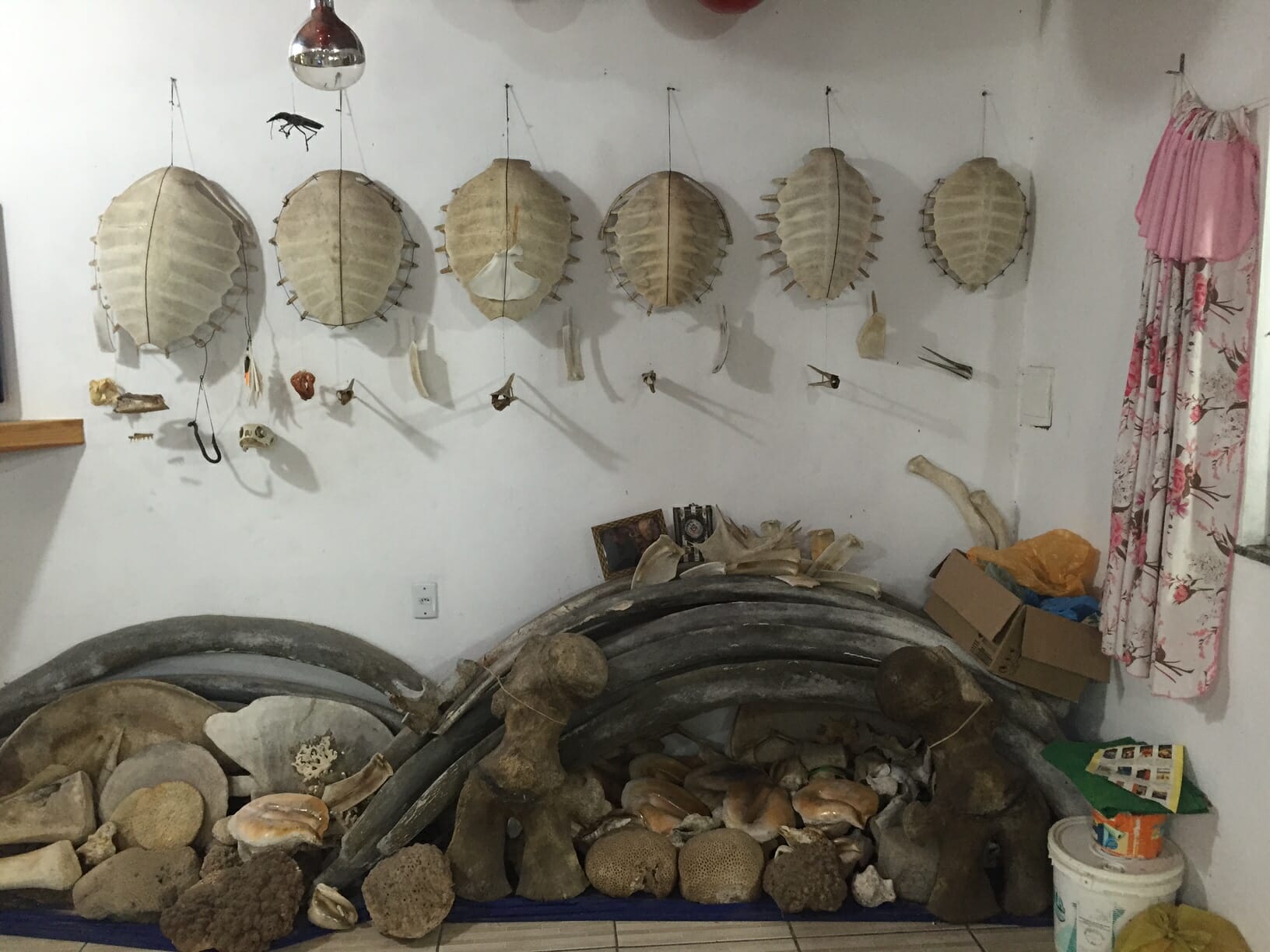 Shopping Mall
Located at Boca da Barra Beach, this small shopping mall has restaurants, travel agencies and a hotel with fine accommodations. But for me, nothing beats the green area, specially the backyard, that is full of gorgeous trees, and many bird nests.
Boipeba Beaches
Boca da Barra
The closest beach to the village has many good amenities with kiosks, restaurants, hotels and even a small shopping mall. This is where the river meets the sea, the port is located here and also the boats for the tours depart from this beach.
With soft sand and warm water this beach is a good place to relax, to practice SUP (Stand Up Paddle Board) and also to see the sunset.
Tassimirim
This beach has soft sand, warm water, lush vegetation and fine accommodation. It is perfect for swimming.
Cueira
This beach, which is actually a bay, is very long and is dotted with massive coconut trees. I loved Cueira and I was in awe walking on its soft sand.
Only in one part can you find some kiosks and restaurants, although, by the way, one of the best restaurants on the island is located there (Restaurante do Guido).
To get to Cueira there are two options: walk by the shore and on some trails (around 30-40min) or take a tractor from the village (or even walk on the road).
Moreré 
The most visited beach in Boipeba and is also one of the best beaches in Bahia.
Moreré is famous for its crystal clear warm water pools and coral reefs and is perfect for snorkeling and swimming. This is the most photographed spot on the island.
There are pools all over this area, however the best ones are located offshore and you need to take a canoe to get there and can access it only during low tide.
This breathtaking beach is also dotted with coconut trees and lush vegetation.
To get there, there are two options: walk all the way on the shore and trails (it takes around 1:30 from the village and you can only do that by low tide because you need to cross a river near Cueira beach) or take a tractor.
Bainema: located after Moreré this is the longest beach with crystal clear water, soft sand, and has a very relaxed and laid-back atmosphere.
Castelhanos: one of the most beautiful beaches in my opinion with huge pools, exuberant vegetation and some kiosks.
This beach is very far from the village and there is almost no one there, the same is true in Moreré and Cueira.
Watching the sunset
There are three famous spots to watch the sunset in Boipeba: Point do Reggae (Boca da Barra Beach), Morro do Quebra Cu (Break Ass Hill) and O Céu de Boipeba (Boipeba's sky) Hotel. Undoubtedly O Céu de Boipeba is the best one!
Located on the top of a hill, this hotel provides a really good view of the island and has fine amenities. The bar/restaurant is open to the public from 4:00 to 9:00 PM.
Tours in Boipeba
Around the island
This is the most popular tour and takes you to Moreré pools, Castelhanos Beach, a sandbank, Cova da Onça (a fisherman village) and Portal das Ostras (a bar on a boat parked in the middle of the river that serves fresh oyster).
The speedboat makes a lap around the island and sails in the ocean and in the river passing through beautiful mangroves.
Price: R$ 100 (US$ 25). Discounts for groups.
From 9:00 AM to 4:00 PM.
Contact: Cito +55 (75) 99969-5584
Moreré Beach and Pools
This tour takes you only to Moreré pools, beach and village.
Price: R$60 (US$ 15)
Contact: Cito +55 (75) 99969-5584
Castelhano Beach and Pools
Visiting Castelhanos pools and beach, with lunch in Moreré.
Price: R$ 80 (US$ 20)
Contact: Cito +55 (75) 99969-5584
Trekking to Castelhanos Beach
Leaving the village and walking all the way to Castelhanos beach, passing trough mangroves and river.
It departs in general at 8:00 AM but depends on the tide.
Price: R$ 70 (US$ 17.50)
Contact: Erick: +55 (75) 99700-6471 (WhatsApp).
Canoe into the mangroves
This tour also depends on the tide and it takes you through mangrove canopies and to watch the sunset.
Price: R$50 (US$ 12.50)
Contact: Nerí: +55 (75) 99966-2731
Garapuá
This tour takes you to Garapuá beach (considered the most beautiful in the Tinharé Archipelago) and pools.
Price: R$ 80 (US$ 20)
Contact: Cito +55 (75) 99969-5584
Portal das Ostras
Happy hour on a boat parked in the middle of the river to eat fresh oysters and to watch the sunset.
Price: R$ 50 (US$ 12.50)
From 4:00 to 8:00 PM
Contact: Cito +55 (75) 99969-5584
Tinharé island
This tour takes you around Tinharé Island and you visit Garapuá pools, Morro de São Paulo (another outstanding island close to Boipeba), the third oldest Monastery in Brazil and also the second oldest church (both located on the mainland in Cairu city).
Price: R$ 100 (US$ 25).
Contact: Cito +55 (75) 99969-5584
Barra Grande
You spend the whole day in Barra Grande, which is considered one of the most beautiful islands on the Tinharé Archipelago.
Price: R$ 130 (US$ 32.50). It needs at least 8 people to depart.
Contact: Cito +55 (75) 99969-5584
Whale watching
This tour only happens from July to the middle of September, where you can see the Humpback whales and also enjoy the pools in Moreré.
Price: R$ 150 (US$ 37.50)
Contact: Cito +55 (75) 99969-5584
Ecological Tours
Guided snorkeling by an oceanographer and kayaking in the mangrove tunnels.
Contact: Marta: +55 (11) 99295-8858 (WhatsApp).
∗ For tips about accommodation, read the article: Restaurants and hotels in Boipeba.
Visiting Boipeba
Boipeba is located is the city of Cairu, in the south coast of Bahia, Brazil (check map here).
There are only two ways to get in Boipeba:
∗ By boat: the most common and the cheapest. From Valença there are two options:
The conventional: you take a bus to Torrinhas then a speedboat to Boipeba. It takes around 1:30-2h,  costs R$25 (US$ 6) and departs 6:00, 11:00 and 2:00 PM (both ways).
The express: you take a speedboat direct to Boipeba. It takes around 1:15-20 costs R$ 44 (US$ 11) and departs: 10:00, 12:00, 2:00 PM and 4:00 PM.
From Boipeba: 6:00, 7:00, 9:00, 12:00, 2:00 PM and 4:00PM.
You can also take a boat in Morro de São Paulo and Barra Grande.  From Morro contact Daniel: (75)3653-6065 (best price: R$60 – US$ 15).
And from Morro there's also an option of taking a Jeep then a boat (R$ 90 – US$ 22.50)
By plane:  there's a small airport located in a farm in Tinharé Island that receives flights from Salvador. It takes 30min and costs R$ 570 (US$142.50) each way.
Timetable: Salvador > Boipeba: 08:30 AM, 12:30 and 3:30 PM ; Boipeba > Salvador: 09:15 AM, 01:15 and 04:15 PM
There is also now flight to Valença with Azul.
The island can be visited all year round just consider two things:
∗ From Christmas to Carnival is the busiest time.
∗ From April to July is the rainy season.
The best time for me is from September to December or two weeks after the carnival.
Travel Planning Resources
For every booking made through my site I donate US$ 1 for a charitable organization.
Safe travels ☺