Santorini is undeniably one of the dreamiest and most idyllic islands in the world!
It attracts millions of honeymooners, Instagrammers, culture and food lovers who arrive daily by air and sea to visit one of Greece's top destinations, mostly for its stunning scenery and picturesque villages.
But while Santorini beaches are not like the ones in Mykonos, Crete and Zakynthos, they are undoubtedly unusual and quite remarkable.
Because of their volcanic formation, the beaches in Santorini range from black to red and white.
In this post, I want to share the 10 most unique and best Santorini beaches that you should not miss on your trip.
10 Best and Most Unique Santorini Beaches
1 – Red Beach: one of the most impressive Santorini beaches
Located in the city of Akrotiri, 12Km from the capital Fira, Santorini Red Beach is one of the best attractions on the island and must be on your list.
Access to this relatively small beach isn't easy. There is a parking lot and after leaving your car you need to walk around 10min through a very uneven surface with many rocks to get to the beach.
Because of these reasons, most people just take a glance and leave.
Santorini Red Beach is enveloped by massive dark red cliffs, has soft sand mixed with seaweed and crystal blue waters.
There isn't much space for sunbathing near the cliffs because of the risk of falling rocks, and most people gather and sunbathe in the area near the restaurant. There are also some chairs and umbrellas for hire during the high season.
I was really excited to see a red beach for the first time in my life, especially since I didn't know that it existed.
Whether you decide to make your way down to the beach, or just admire the incredible view from the headland, this unique beach will leave you completely in awe.
2 – Perissa Black Sand Beach
Located around 12Km (7.5mi) from Fira at the foothill of the imposing Mesa Vuono mountain, Perissa is an outstanding beach with thick black sand and pebbles, deep blue crystalline water and a row of trees onshore.
Perissa, a Blue Flag beach, is one of the longest and most organized beaches in Santorini with excellent infrastructure.
It provides comfy lounge chairs and umbrellas for hire, lifeguards, showers, changing cabins, wooden paths, watersports, a masseur and even a public playground, which makes this beach perfect for families with kids.
Perissa also features seaside hotels, boutiques, restaurants and beach bars. It is one of the best places to stay in Santorini, and accommodation here is cheaper than in Fira, Oia, Firestofani and Imerovigli.
Perissa Black Sand Beach is one of my favorite Santorini beaches and if you want to choose one beach on which to spend some time relaxing and unwinding, this is my top recommendation.
Places to stay on Perissa Beach
Beach bars and Restaurants:
3 – Kamari Beach: one of the best Santorini beaches
Located around 8.2Km (5.1mi) from Fira, Kamari is another black sand beach that lies at the base of Mesa Vuono. It's very similar to Perissa, dotted with some trees, featuring thick black sand and pebbles and deep blue crystalline water.
If fact these two beaches are separated by Mesa Vuono, a massive rocky mountain.
It also has excellent infrastructure, with wooden paths, lifeguards, watersports and a promenade that boasts seaside hotels, bars, pubs and restaurants.
Kamari is one of the most popular beach resorts and cheapest places to stay in Santorini.
I do like Kamari, not as much as Perissa because in my experience, the latter is quieter and has more character.
Where to stay in Kamari:
Restaurants that I recommend:
4 – Vlychada Beach
During my endeavor to find Santorini's best beaches, I stumbled upon Vlychada Beach.
Located on the south coast of Santorini, 13Km from Fira, Vlychada features a long stretch of volcanic black sand and pebbles and the most incredible rock formations I've seen on the island.
When I arrived at Vlychada Beach, its "moon-shaped" landscape carved by the wind, completely blew my mind! I felt like I was in a sci-fi movie…
It's a semi-organized beach and during the high season, there are chairs and umbrellas for hire.
Vlychada is one of the few clothing-optional and gay beaches in Santorini and is perfect for those who like "one of a kind" beaches and also to tan and bathe completely naked.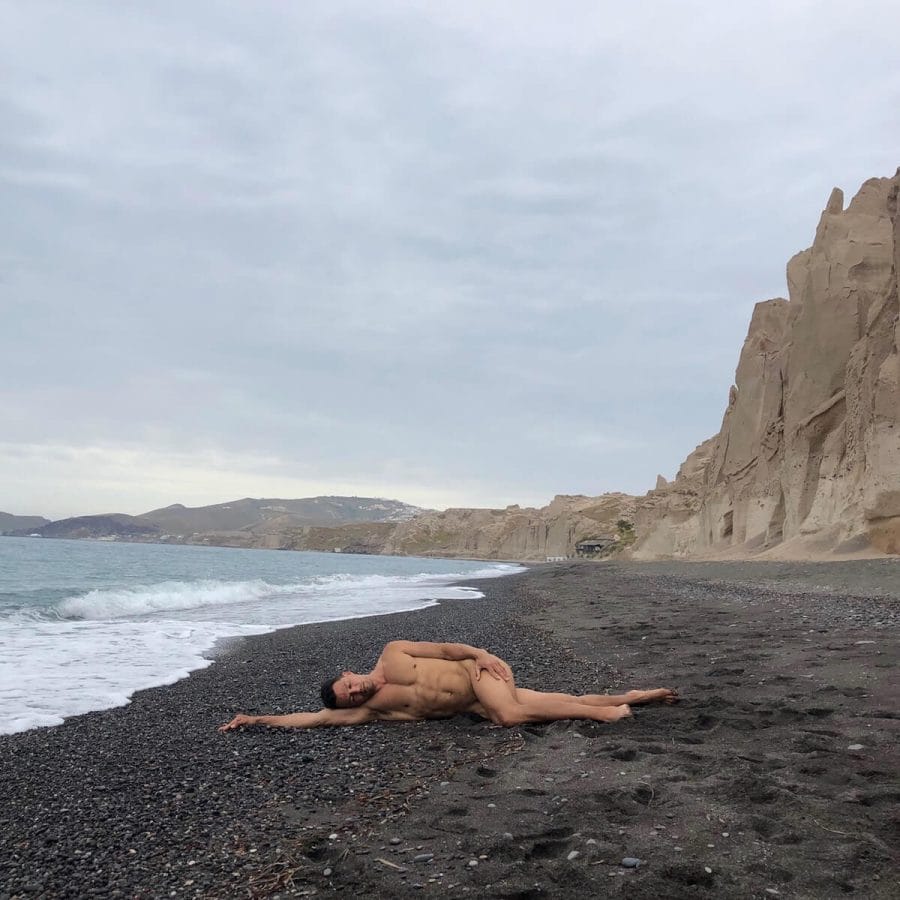 Don't forget to put Vlychada on your list. It's for me one of the most spectacular and unique Santorini beaches.
5 – Cape Columbo Beach
Cape Columbo is one of the most unspoiled and wildest Santorini beaches.
Located around 8.5Km (5.3mi) from Fira, this secluded beach is enveloped by a dramatic promontory, which was carved by the wind into beautiful shapes.
Cape Columbo Beach is covered in powder black-grey sand and tiny pebbles and has crystalline warm water due to the proximity of an active underwater crater.
There aren't amenities, only a simple restaurant in the very beginning with chairs and umbrellas, so be prepared to bring towels and a cooler with drinks.
It isn't easily accessible, which makes it very quiet and isolated.
Cape Columbo is perfect for those who want privacy, tranquillity and to get rid of tan lines, as it's one of Santorini nudist beaches.
6 – Perivolos Beach: one of the longest black sand beaches in Santorini
Located around 12Km (7.5Km) from Fira, Perivolos is an "extension" of Perissa Beach. In fact, these two beaches can be considered one very long black sand beach.
It has very good infrastructure as well, with wooden paths, sunbeds and umbrellas for hire, showers, lifeguards, watersports, beach volleyball courts and nice restaurants.
Perivolos is the beach party scene in Santorini and has trendy beach clubs playing loud dance music all day long and hosting many special events with DJ's performing. So, if like to party, Perivolos is your beach.
Where to stay in Perivolos:
Beach Bars & Restaurants:
7 – Ammoudi Bay
If you're looking for Santorini beaches with crystal-clear turquoise water, Ammoudi Bay is the one to go to.
This tiny idyllic cove at Oia's foothills, surrounded by impressive red cliffs with pristine turquoise water is a very popular place for dining and watching the sunset and swimming.
To dip in that beautiful and enticing water, you need to walk south along the bay and follow the narrow treacherous path that leads to a hidden beach between the rocks.
You can also go cliff jumping at Ammoudi Bay. You just need to swim over to a cemented platform or a boulder and jump from it. It's only 4.5 – 6 m (15-20 ft) high, but it feels very good.
The main disadvantage of Ammoudi Bay is that there isn't much space for sunbathing plus it's a rocky beach.
But if you're staying in Oia and doesn't want to drive to the other beaches, you should take the 240+ steps down to Ammoudi Bay. It's worth the visit!
8 – White Beach
In the town of Akrotiri, 14Km from Fira, you can find one of the most remarkable and special Santorini beaches.
The White Beach is a small cove surrounded by white towering cliffs featuring a mix of pumice stones, grey volcanic sand and pebbles, and crystal-clear water.
Similarly to the Red Beach, there isn't much space for sunbathing. But you can find some chairs and umbrellas for hire and a cave canteen selling basic supplies.
The easiest way to access the White Beach is by boat from Akrotiri Beach, and it can also be done from the neighbouring Red and Kambia beaches, but the paths are not easy to cross.
The boat costs 10 euros and takes you to the Red, White and Black beaches. If you prefer, you can also book a tour.
Santorini White Beach is a very rare and special place to visit. You shouldn't miss it!
9 – Eros Beach
Situated on the coast of Vlychada, 10Km (6.2mi) from Fira, Eros Beach is a pebbly secluded shore encompassed by astonishing beige cliffs.
Eros has great infrastructure with wooden paths, sunbeds and umbrellas for hire and a beach volleyball court. There is also a parking lot and a classy beach bar that hosts weddings, yoga sessions, meditation classes and parties.
The atmosphere at the elegant Theros Wave Bar, with sofas, swings, hammocks and ambient music, is very romantic, which makes this beach a couples' favorite.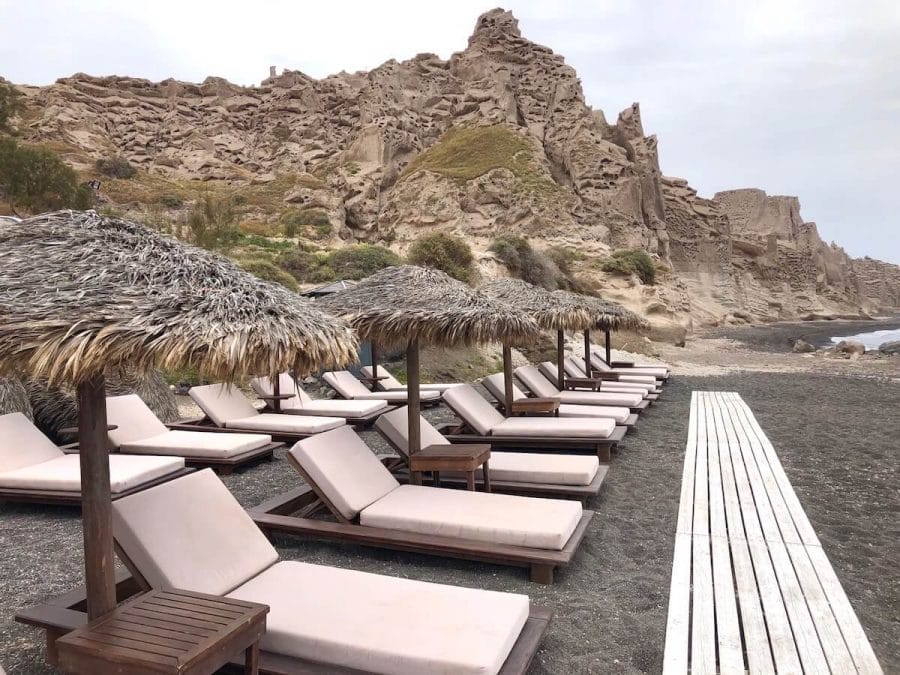 Eros's landscape is very similar to Vlychada, an extension of it. Here you can also find cliffs that have been carved by the wind and sea over the years, and created one of the most surreal Santorini vistas.
Eros Beach is tucked away from the more famous Santorini beaches and for those who are looking for some privacy, I recommend staying on the farthest section of this beach.
A very popular activity is to go horse riding from Vlychada to Eros Beach and you can find more information here.
10 – Monolithos Beach: perfect for family and playing sports
The last on my Santorini beaches list is Monolithos, a long beach with soft black sand and shallow crystalline water, 9Km (5.6mi) from Fira
Monolithos has some well-organized parts with wooden paths, umbrellas and chairs for hire, lifeguards on duty, showers, a football pitch, volleyball and basketball courts and a nice play area for children.
It has also more isolated parts, where you can enjoy the natural shade that the trees provide, which are ideal for privacy, tranquillity and relaxation.
Monolithos is a local's favorite, especially families with kids, and there are nearby hotels, cafes, restaurants and bars, including Nikki Beach Santorini, the luxury global lifestyle beach club that brings together music, entertainment, fashion & dining.
This is my list of the 10 best and most unique beaches in Santorini and you should make sure to visit some of them on your trip.
There's a Santorini beaches map below so you can have a better idea of the exact location of each.
Safe travels and enjoy Santorini.
Extra Tips for Visiting Santorini Beaches
– At most of the bars on Kamari/Perissa and Perivolos there's a 10 euros per person consumption charge to use the sunbeds and umbrellas.
– There are taxi boats connecting Perissa and Kamari beaches at regular intervals every day.
– If you want to visit the White Beach, I recommend that you do it early in your trip, so that, if the boat is not running, due to water conditions, you can try it again at another time.
– The access to Cape Columbo Beach is in front of Soulis Apartments.
– Pebbles can get very hot without shoes, so bring sandals or water shoes.
– Always bring sun blocker, hat, towel, sunglasses and plenty of water no matter which beach you go to.
Don't forget to save these pins for later 😉
Enjoying the Best Beaches in Santorini
Where is Santorini?
Santorini is an island in the southern Aegean Sea, about 200 km (120 mi) southeast of Greece's mainland (check map here).
How to get to Santorini?
There are only two ways to get to Santorini: by boat or airplane.
∗ There are ferryboats connecting Santorini to other Greek islands. The most common routes from / to are: Athens, Crete and Mykonos.
From and to Athens: the conventional ferry takes around from 6h to 8h and the high-speed one takes between 4h to 5h. I recommend that you buy your tickets online in advance. You can check prices and timetable here.
∗ By airplane: there is an international airport in Santorini that receives flights from Athens during the whole year, and international flights during the high season.
Book your flights with Skyscanner, which is the website that I use and trust.
You can book your shared arrival transfer from Santorini National Airport to your hotel or cruise port with a discount here; or a Private Departure Transfer: Santorini Hotels to Airport or Ferry Port here from US$ 16,50.
If you prefer, hire a car with Rental Cars here with no extra costs for you.
Best time to go to Santorini?
The best time to visit and enjoy all Santorini beaches is from May to September when the sun is shining, the temperatures are high and chances of rain are minimum.
To avoid crowds pick the months of May and September, as the weather in Santorini is still good this time of the year.
Where to stay in Santorini?
* In Fira:
* In Firostefani:
* In Imerovigli:
* In Oia:
Santorini Tours
There are several companies offering tours as it's one of the best things to do in Santorini in one day. I recommend that you book your tour online in advance with Viator, a TripAdvisor company, or Get Your Guide, which offer many different tours.
∗ Are you planning a trip to Santorini? Now that you know which are the best beaches in Santorini what are you waiting for?
Travel Planning Resources
For every booking made through my site I donate US$ 1 for a charitable organization.
Safe travels ☺