Santorini is undoubtedly one of the most beautiful places in the world!
The island attracts thousands of vacationers, especially honeymooners, who are enchanted by its famous villages with whitewashed houses, cobblestone alleys and blue-domed churches.
While Fira and Oia get most of the attention, and visitors, other villages such as Imerovigli, Firostefani and Pyrgos, remain unspoiled.
I fell in love with Imerovigli during my first visit to Santorini in 2014.
This dreamy village, known as the "Balcony to the Aegean", is located on the north of the island and built on the highest point of the caldera cliffs, about 300 meters above sea level.
Imerovigli is pretty, peaceful and relaxing, and the perfect choice for a more secluded and hustle-free holiday in Santorini.
During my second visit to Santorini, I decided to stay in Imerovigli and explore this part of the island more.
There are several interesting things to do in Imerovigli and I compiled a list of the seven best ones below.
7 Best Things to Do in Imerovigli, Santorini
1 – Admire the breathtaking vistas
Because of its geographical location on the highest point of the island, Imerovigli provides magnificent views of the famous volcano, the deep blue sparkling Aegean Sea and other Santorini villages.
From Imerovigli, you can take in the complete dramatic Santorini landscape, including both the North and South parts of the main island Thira and Skaros Rock.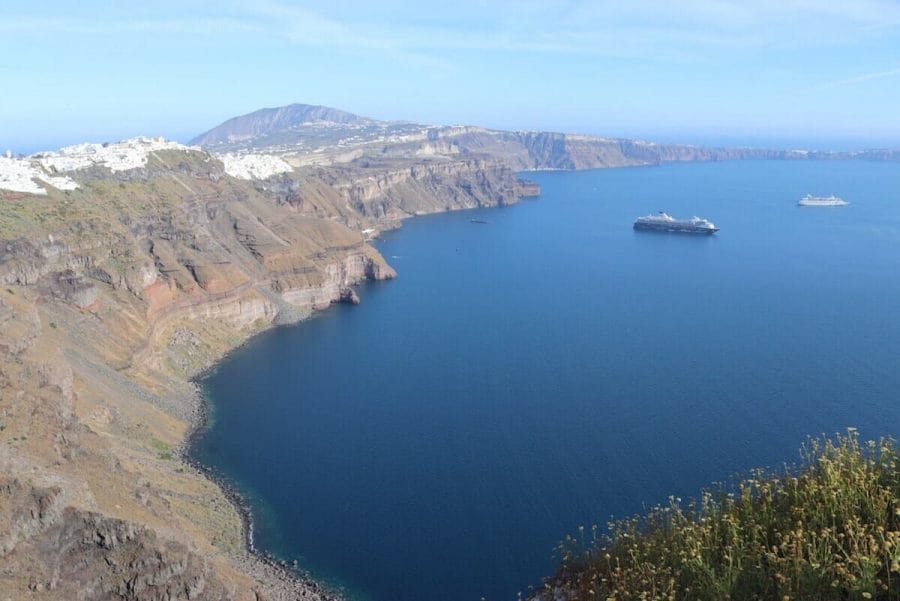 And there are plenty of other places where you can appreciate the stunning vistas in Imerovigli. From cafes to bars, restaurants, viewpoints, paths and even from your balcony, in case you're lucky enough to stay at one of the hotels with a caldera view.
Admiring the breathtaking vistas is only the first of the seven best things to do in Imerovigli.
2 – Discover photo opportunities
Wandering around the streets and cobbled alleys of Imerovigli will leave you completely in awe!!
It's going to be hard to stop taking photographs.
Around every corner, you will find a photo opportunity because there is not a single place in this village that doesn't deserve to have its picture taken.
I selected some of the most iconic photo spots in Imerovigli to snap the "perfect picture".
1 – Stairway of Chromata Hotel: one of the most Instagrammable places in Santorini
2 – Anastasi Church: the dome, the bell tower, the gate and surroundings.
3 – The roof in front of Alexander Suites, located just after the Anastasi Church (walking from Imerovigli to Fira).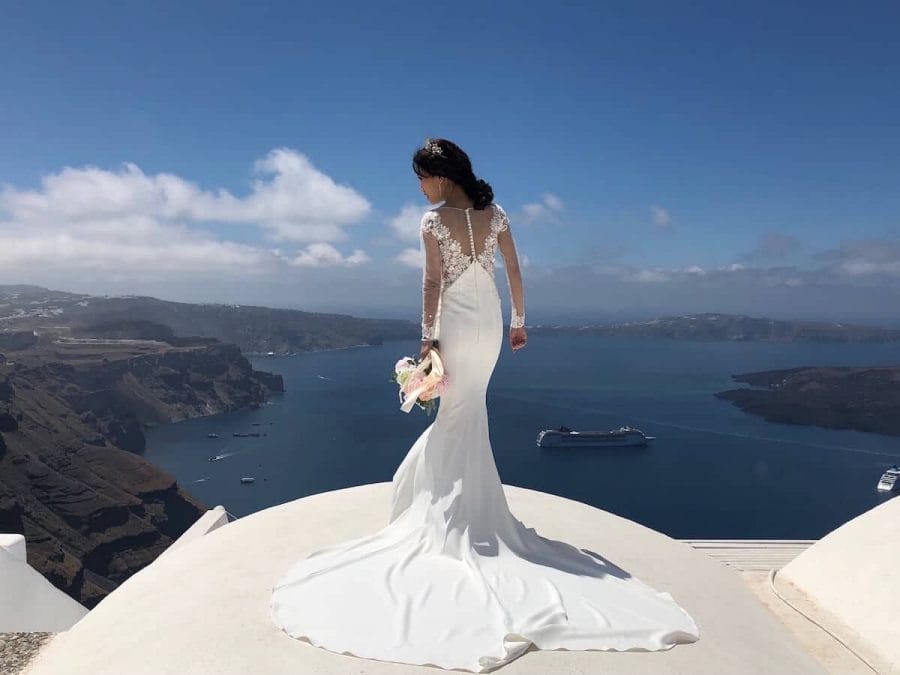 4 – Grace Hotel and Skaros Rock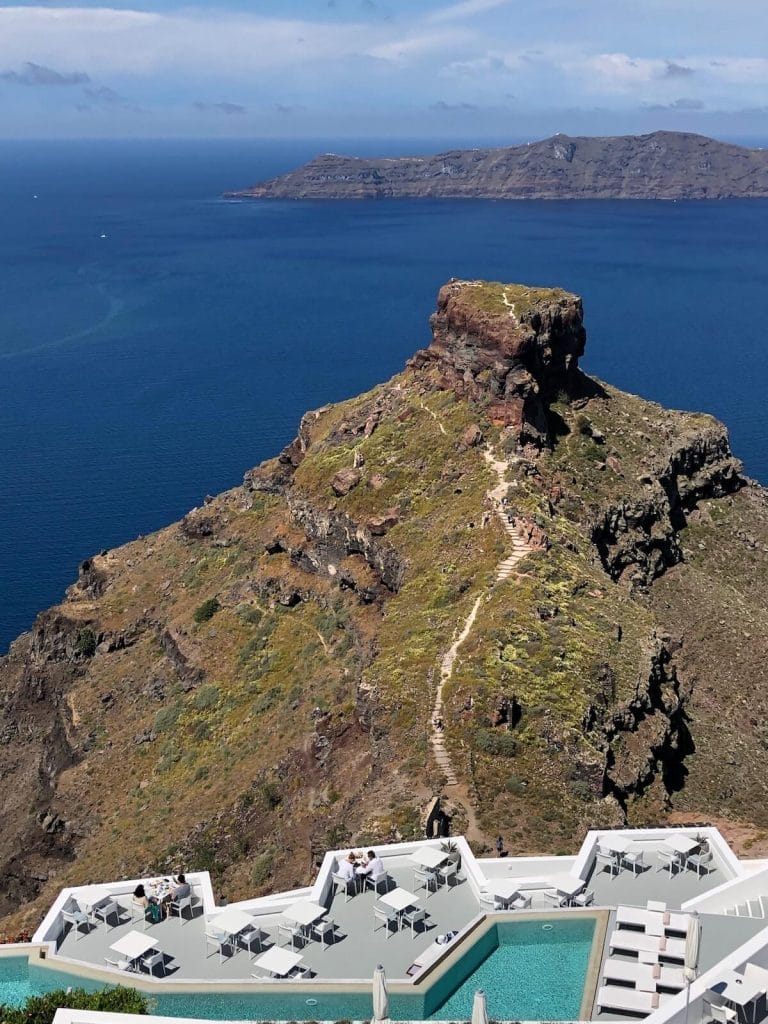 5 – The stairway close to Nefelis Homes: great photo location for a picture with whitewashed houses in the background.
These are just some of the best photo locations in Imerovigli and I'm sure you'll find some more.
Discovering photo opportunities is the second of the seven top things to do in Imerovigli.
3 – Walk the path between Fira and Imerovigli
Imerovigli is easily accessible by car, taxi, bus and foot from Fira and Oia.
In fact, there is a 10Km path connecting the villages of Fira, Firostefani, Imerovigli and Oia.
Even though some adventurous people could decide to walk the entire path, my suggestion is to walk only from Imerovigli to Fira. Apart from the picturesque Oia, there isn't that much to see and there are some hills and unpaved parts to the path.
The 3Km walk from Fira to Imerovigli is very pleasant and takes around 35min, depending on how many stops you make to take pictures along the way.
You will pass by numerous hotels, restaurants, picturesque houses, churches and shops in Firostefani and Fira.
The path provides impressive caldera vistas, especially from Firostefani to Fira, where you face the caldera constantly.
4 – Hike Skaros Rock
If you're looking for some adventurous things to do in Imerovigli, hiking Skaros Rock is the greatest option.
Skaros, an immense rocky promontory that was created through volcanic activity and shaped by erosions and earthquakes, lies on the seaward side of the village of Imerovigli.
This prominent landmark housed one of the five fortresses of Santorini that was constructed in 1207 and by 1336 had become the largest settlement on the island with over 200 homes.
But many eruptions and subsequent strong earthquakes over the years reduced the Old Venetian fortress to only a few weathered ruins you see now.
However, you can hike to the top of Skaros Rock to admire the striking views and photography.
The hike is easy, takes between 20 to 30min (each way) and is recommended for all ages.
I felt so happy hiking Skaros Rock! There were so many flowers, the views were absolutely amazing and it was incredibly peaceful.
You can visit the Chapel of Panagia Theoskepastiat the base of the rock formation, and also get to the very top of Skaros (some rock climbing experience needed) where you'll get a unique panoramic view of the caldera.
Don't forget to bring your hat, sunglasses, water, hiking shoes or sneakers, sunscreen, cellphone and camera when hiking Skaros Rock.
I bet you will also love it!
5 – Enjoy one of the most glamorous infinity pools in Santorini
Imerovigli, one of the most charming villages in Santorini, is home to many luxury hotels.
Among them is Cavo Tagoo, one of the best five-star hotels in Santorini, perched above the renowned caldera.
Featuring sophisticated suites, one of the finest restaurants in Santorini and a sumptuous infinity pool with unrivalled views of the Aegean Sea, Cavo Tagoo just has to be on my "Best things to do in Imerovigli" list.
The great thing is that you don't have to be a guest to enjoy the pool. Cavo Tagoo offers day use and you can just pop in, select one of three options (pool only, or pool and front row or back row sunbeds) and dive into one of the most glamorous infinity pools in Santorini.
Prices are quite expensive, but if you're celebrating a special occasion in Santorini or just want to boost your Instagram account, you should consider spending some time at the hotel.
The ambient is awesome, the staff is very professional and friendly and the service is as good as the pool. And the views are unbeatable!
6 – Dine at La Maison
In addition to upscale hotels, Imerovigli offers really good options for fine dining, such as the restaurants La Maison, Ovac and The Athenian. Among them, La Maison is my favourite.
The restaurant serves Mediterranean fusion cuisine with a modern gastronomic approach and provides a gorgeous view of the Aegean Sea.
I went to La Maison twice, once just for a sunset drink and then for dinner.
I had the Duck orange miso that comes with potato miso gnocchi, leeks, duck jus with orange (€32); and a glass of Amethystos wine 2018 (€10). The dish was well presented and very tasty and the service was impeccable.
I loved the food and it was one of the best meals I had in Santorini.
The restaurant also offers a degustation menu option with 6 courses, which costs €140, or €160 with wine pairing.
Reservations are highly recommended and you should definitely dine at La Maison, as it's one of the best restaurants in Imerovigli.
7 – Watch the sunset
A visit to Santorini cannot be complete without watching the sunset!
The island claims to have the most beautiful sunset in the world. And it might be true.
Sunset in Santorini is like a cult event and every day, visitors and locals alike stop to watch it.
You can see it from the main street, bars, restaurants, viewpoints and even from your hotel if you're staying in a hotel with a sunset view. But be aware that there are some parts of the village where you can't see it.
The most popular place in the village to watch the famous Imerovigli sunset is the viewpoint located in front of Agios Georgics church.
But if you want to grab a drink while taking in the sunset, my recommendations are the Blue Note and Mezzo restaurants.
No matter where you go, this spectacle of nature will not disappoint you. I promise!!
For my last Santorini sunset, I was with my family, which made it even more special and stunning and moved me. The image of the cloudy sky painted with yellow, orange and golden and the boats sailing in the sea was beyond magical.
This is my list of the 7 Best Things to do in Imerovigli and I bet you will find some more.
Safe travels and enjoy Santorini.
MORE CONTENT ABOUT GREECE:
Enjoying the Best Things to Do in Imerovigli, Santorini
Where is Imerovigli?
Imerovigli is located 2.5 Km of the north of the island's capital Fira (see the exact location here)
How to get there?
There are only two ways to get to Santorini: by boat or airplane.
∗ There are ferryboats connecting Santorini to other Greek islands. The most common routes from / to are: Athens, Crete and Mykonos.
From and to Athens: the conventional ferry takes around 6h to 8h and the high-speed one takes between 4h to 5h. I recommend that you buy your tickets online in advance. You can check the prices and timetable here.
∗ By airplane: there is an international airport in Santorini that receives flights from Athens during the whole year, and international flights during the high season.
The companies that operate from Athens to Santorini airport are: Aegean Air, Ryan Air and Volotea (only in high season).
You can book your flights with Skyscanner, which is the website that I use and trust.
You can book your shared arrival transfer from Santorini National Airport to your hotel or cruise port with a discount here; and your Private Departure Transfer: Santorini Hotels to Airport or Ferry Port here from US$ 34.
Best time to visit Imerovigli?
The best time to visit Imerovigli (Santorini), is from May to September when the sun is shining, the temperatures are high and chances of rain are minimum.
To avoid crowds pick the months of May and September, or even until the middle of October. The weather in Santorini is still good at this time of the year.
Where to stay in Imerovigli?
I stayed at Kasimatis Suites and if you're looking for hotels in Imerovigli my recommendations are:
Budget: Merovigliosso, Casa Bianca and Anthonas Apartments
Great value for money: Aqua Luxury Suites Santorini, Aliko Luxury Suites and Andromeda Villas & Spa Resort
Luxury: Chromata, Santorini Princess Hotel and Spa, Iconic Santorini, Astra Suites and Cavo Tagoo
Santorini Tours that I recommend
Are you planning to visit Santorini? What do you think of my list? Let me know in the comments below 😉
Travel Planning Resources
For every booking made through my site I donate US$ 1 for a charitable organization.
Safe travels ☺