Things to do in Oia? Below are the ten best ones and many other tips 😉
A trip to Santorini cannot be complete without visiting the most picturesque and famous town on the island, Oia (pronounced Ee-uh).
Located on the northwestern tip of Santorini, Oia has picture-perfect scenery with white washed houses, blue domed churches, cobblestone alleys and charming traditional Cycladic hotels and cave houses carved into the rock face of a cliff.
Oia's first settlements date back to the medieval times when St. Nicolas Castle was built to protect the northern part of the island.
Nowadays Oia is booming with tourism and it's one of the dreamiest and most photographed places on earth.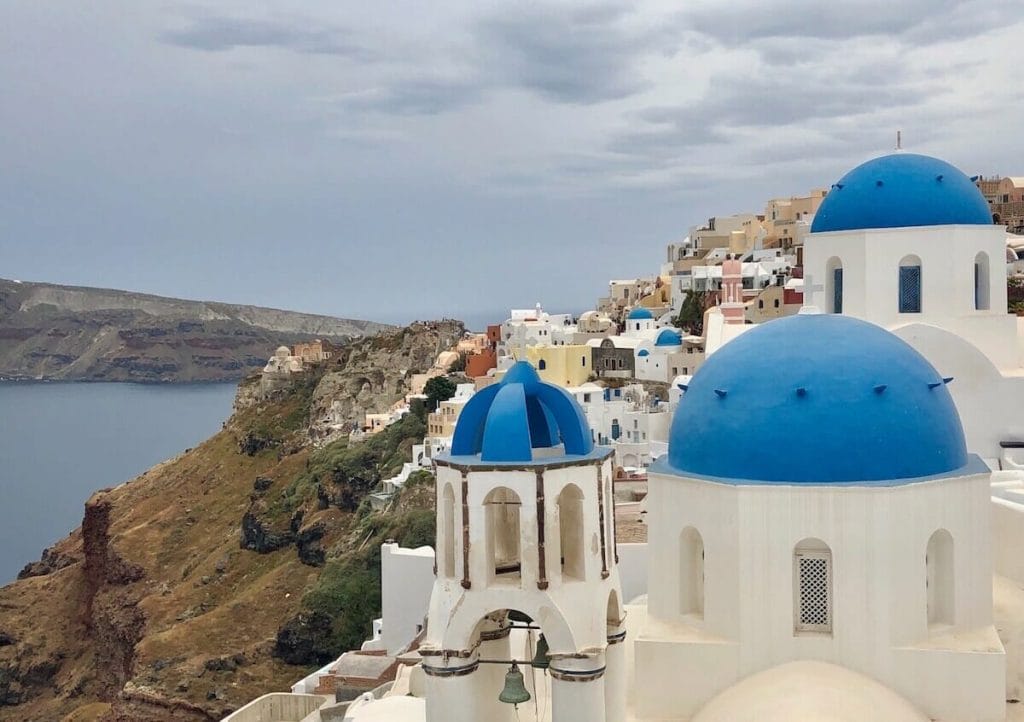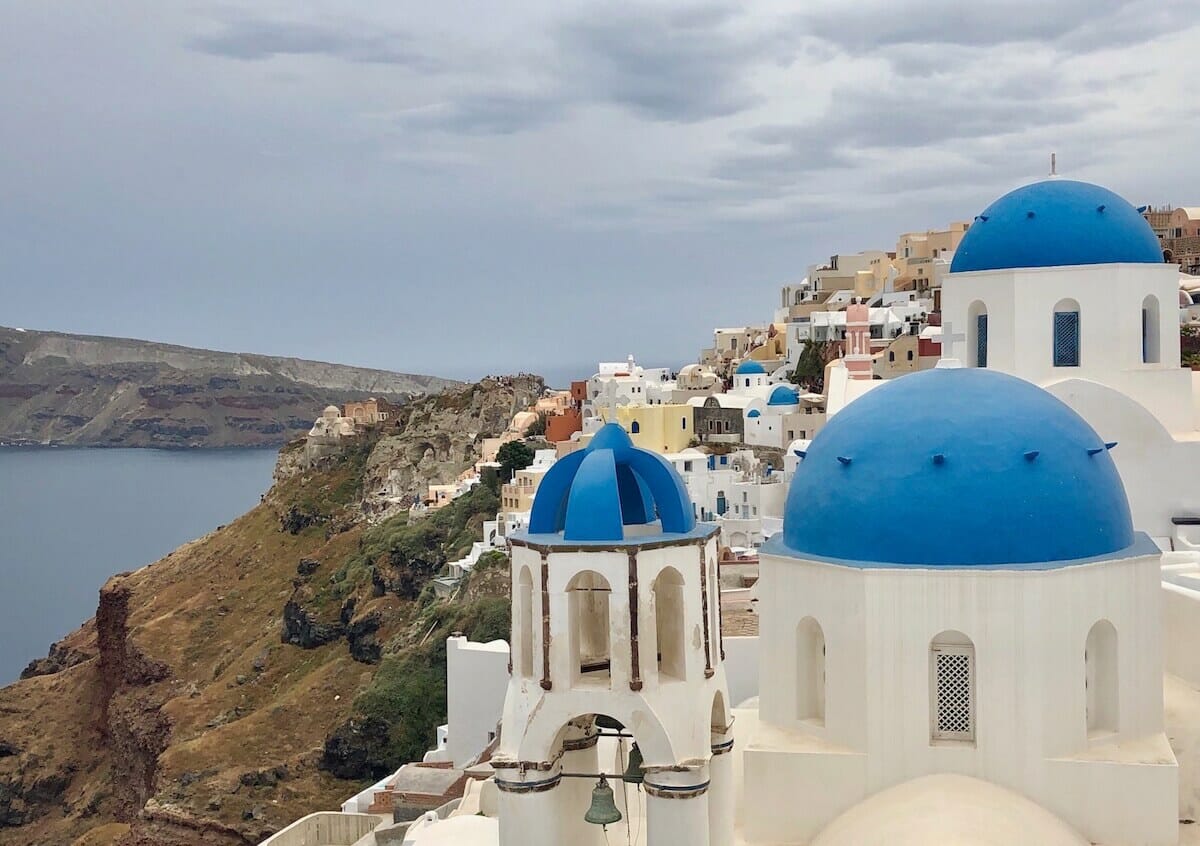 During my second visit to Santorini, I decided to stay in Oia for a few nights and explore this part of the island more.
There are several interesting things to do in Oia and I compiled a list of the ten best ones below.
* Affiliate disclosure: Some of the links below are affiliate links, meaning at I earn a small fee if you click through and make a purchase. There is never any additional cost to you, and I use some of these earnings for my monthly charitable donations.
10 Best Things to do in Oia
1 – Soak in the breathtaking views
Because of its geographical location on the northwestern edge of a cliff between 70 and 100m (230 and 330 feet) above sea level, Oia provides magnificent views of the famous volcano, the deep blue sparkling Aegean Sea, and other Santorini villages.
From Oia you can take in the complete dramatic Santorini landscape, including the whole length of the main island Thira, Ammoudi Bay and Thirassia Island.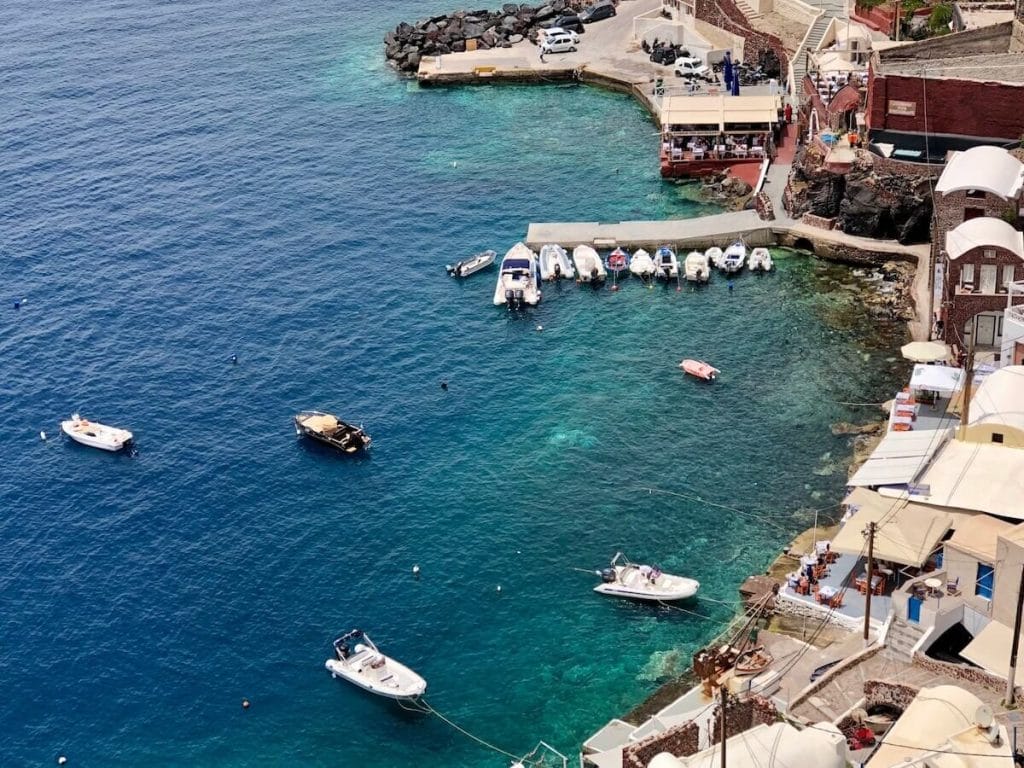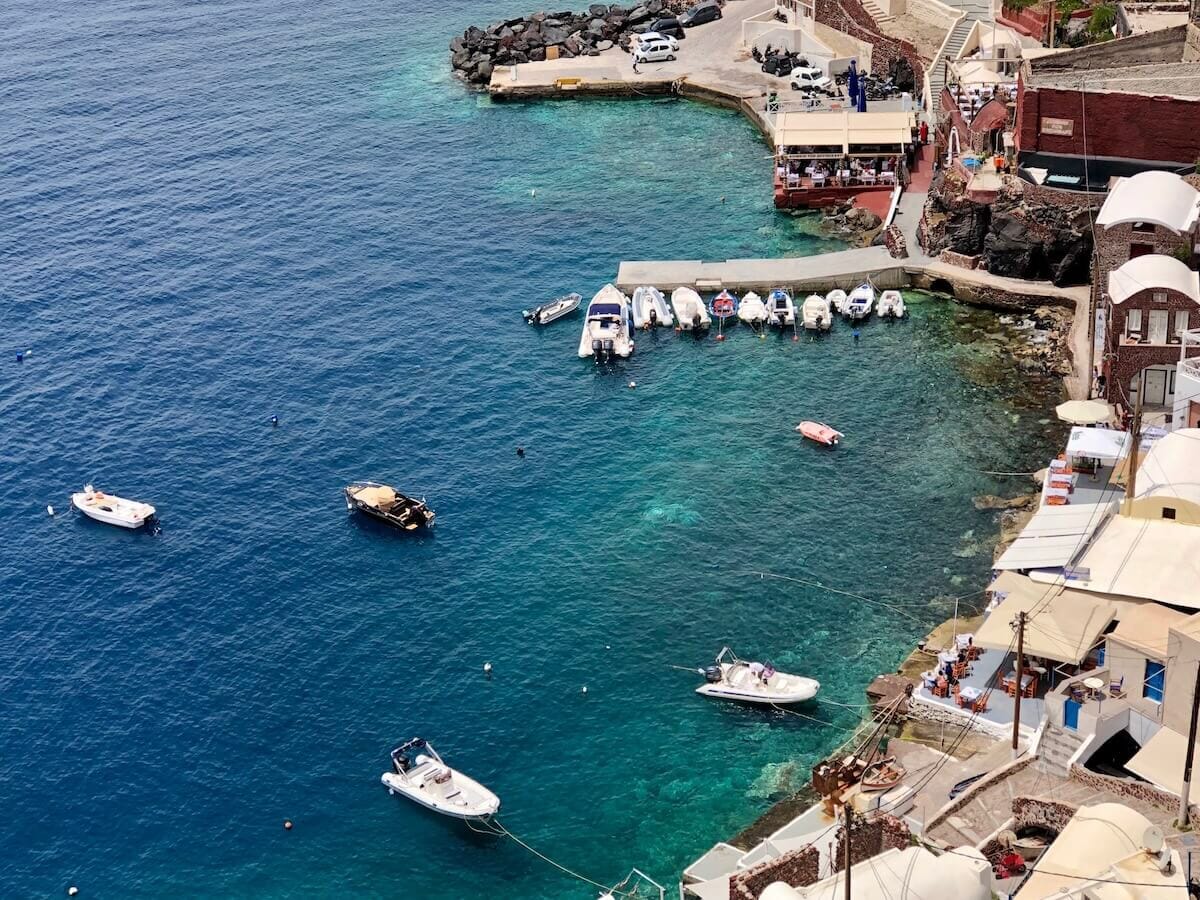 And there are plenty of places where you can appreciate the gorgeous vistas in Oia. From the ruins of the castle, to cafes, bars, restaurants, paths and even from your balcony, in case you're lucky enough to stay at one of the hotels with a caldera view.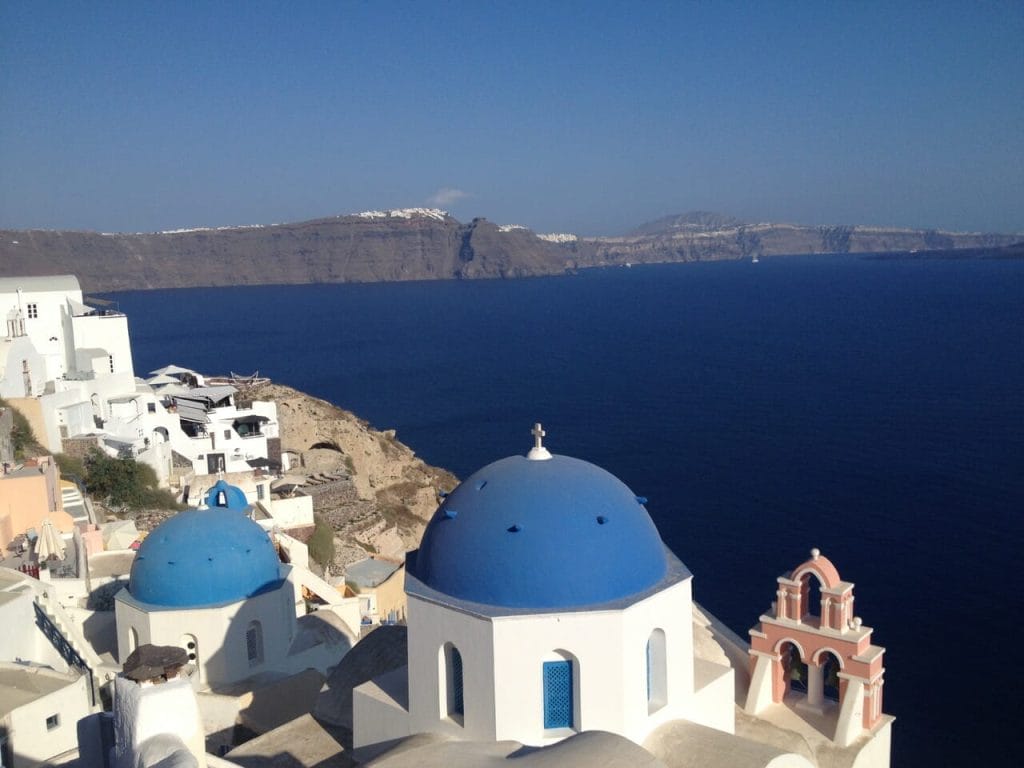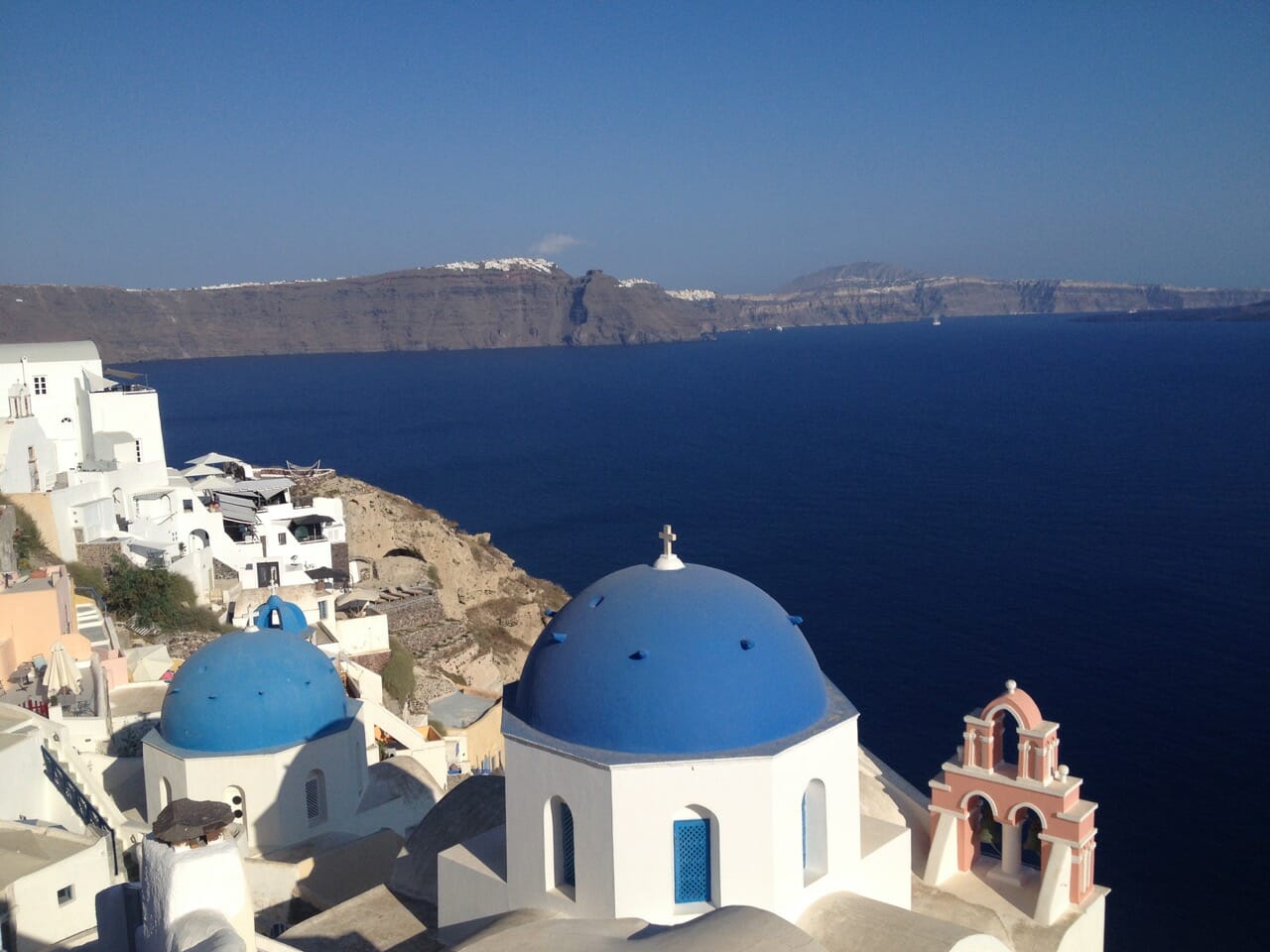 Admiring the breathtaking vistas is only the first of the ten best things to do in Oia.
2 – Explore the paths, alleys and stairwells of Oia
The scenic town of Oia extends for almost 2Km (1.2 mi) and has two main squares and a central street that cross the top of the cliff branching off through narrow passageways.
But Oia's main pedestrian strip can get very crowded, especially in the summer, with loads of tourists.
If you want to see a much quieter town, find good locations for pictures and places where you can enjoy the views peacefully, you should delve into Oia's winding streets, alleys and stairwells.
My top recommendation is the southern part of Oia, towards Fira, which is very serene, because many tourists don't go there. It's indeed stunning and the perfect photo location for a picture with whitewashed houses on the background.
The area around the windmills is also lovely and there are houses painted in different pastel colors, vivid flowers and it only gets busy during the sunset.
Remember that one of the best things to do in Oia is to go off-the-beaten-track and explore its paths, alleys and stairwells.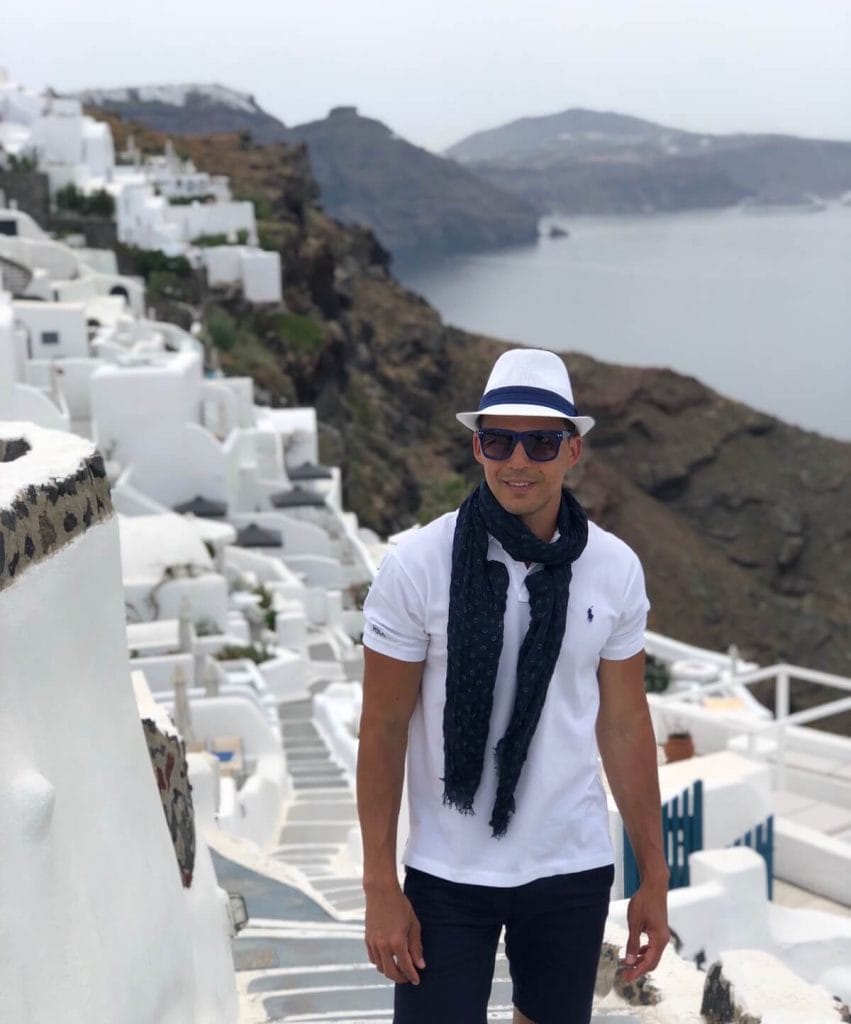 3- Walk the path between Oia and Fira
Oia is accessible by car, taxi, bus and foot from Fira.
In fact, there is a 10Km path connecting the villages of Fira, Firostefani, Imerovigli and Oia.
One of the best things to do in Oia is to walk this path, which can take from 2 to 5 hours.
After leaving the town there will be some hills and unpaved parts that can be a bit challenging, specially because of the heat and seasonal mosquitos.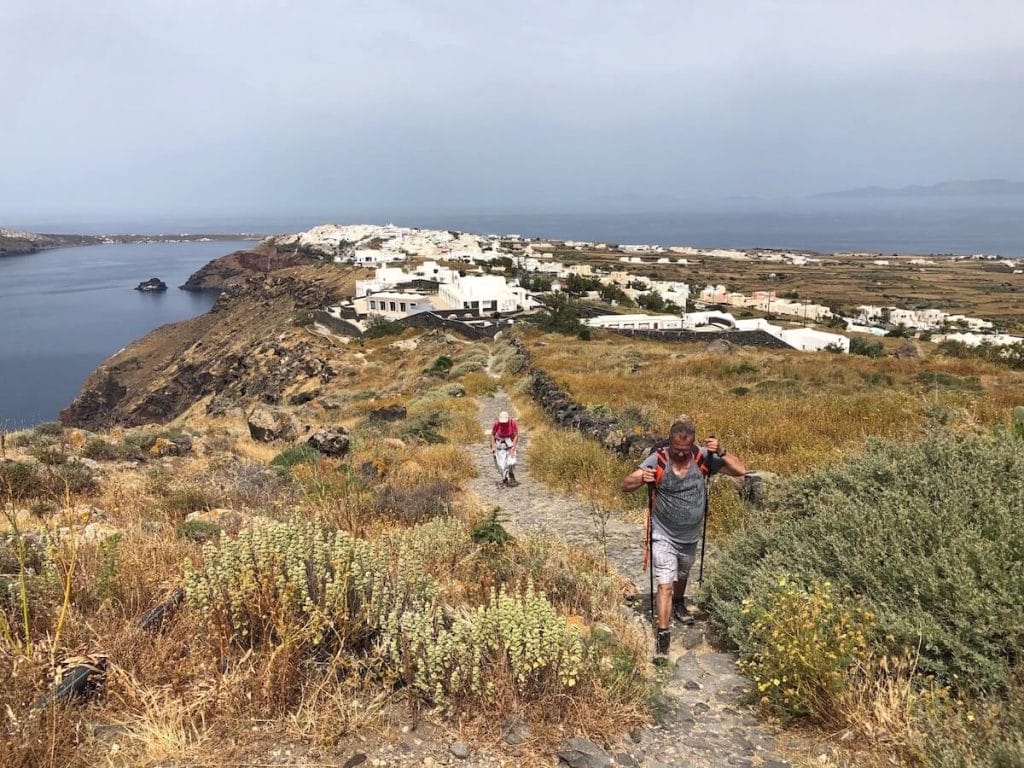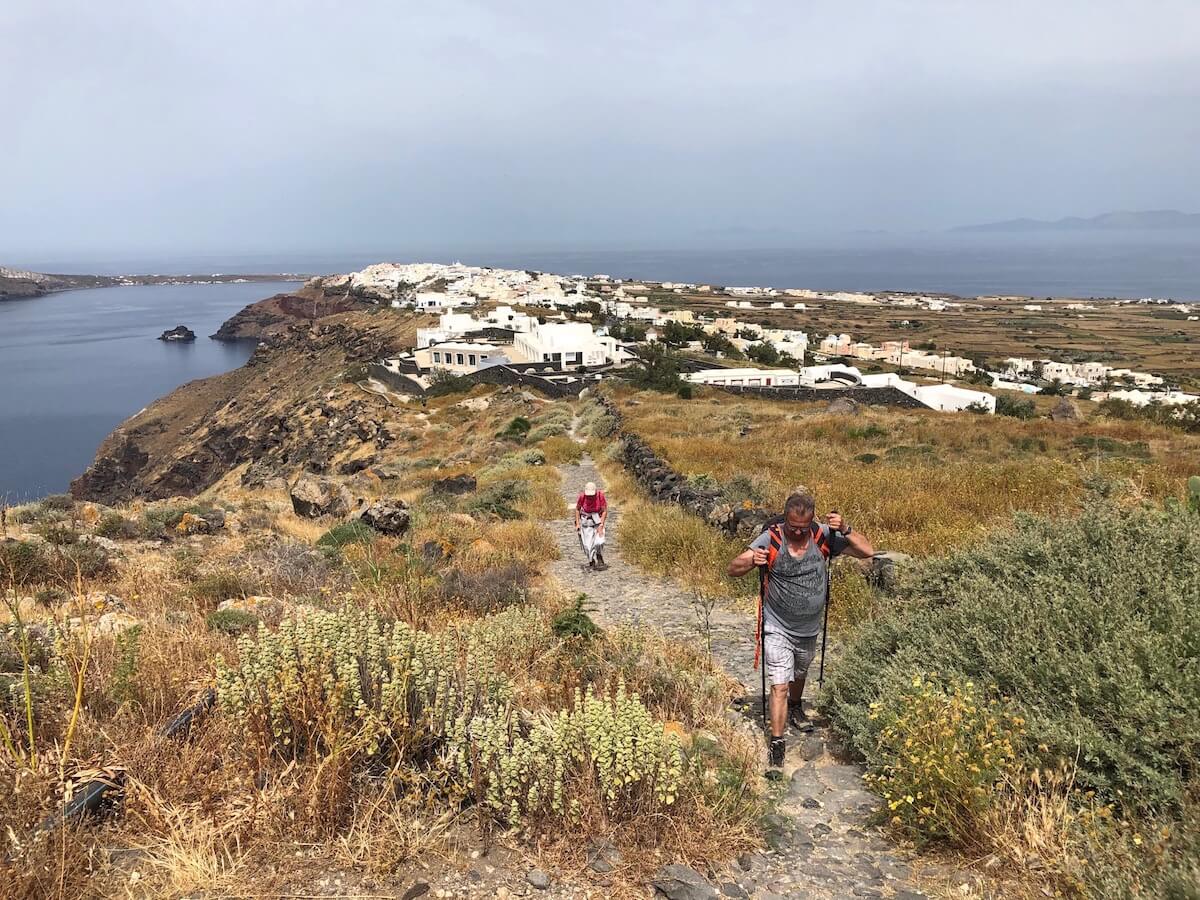 But once you get to Imergovigli, the path is paved and much more pleasant.
You will pass by numerous hotels, restaurants, picturesque houses and churches and shops in Firostefani and Fira.
The path provides impressive caldera vistas, especially from Firostefani to Fira, where you face the caldera constantly.
If you want some adventure and have spare time, you should definitely hike the path between Fira and Oia.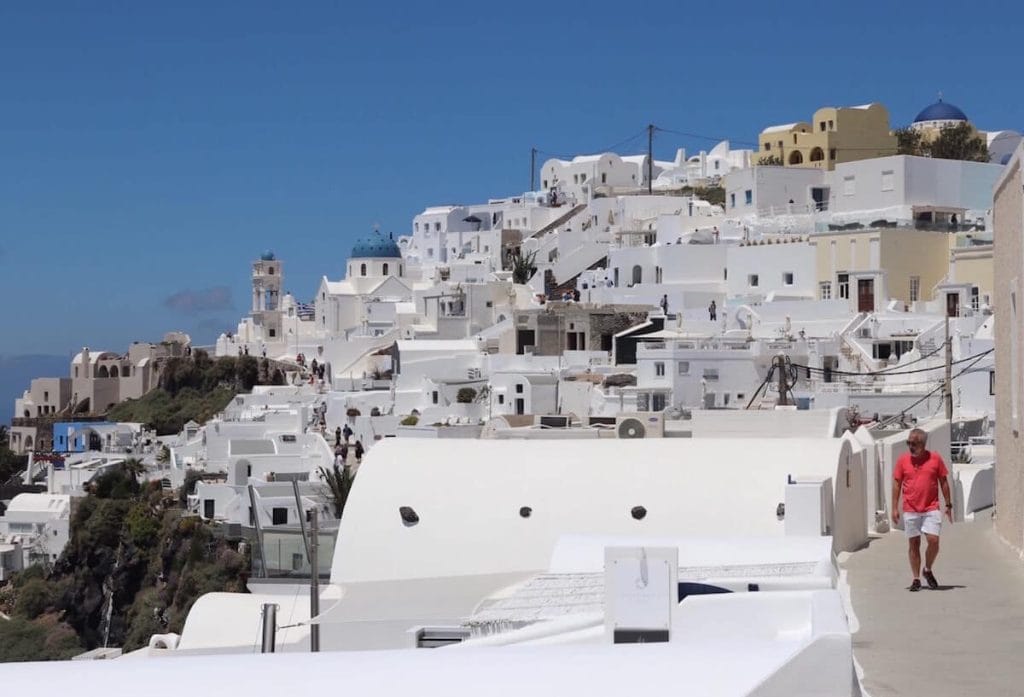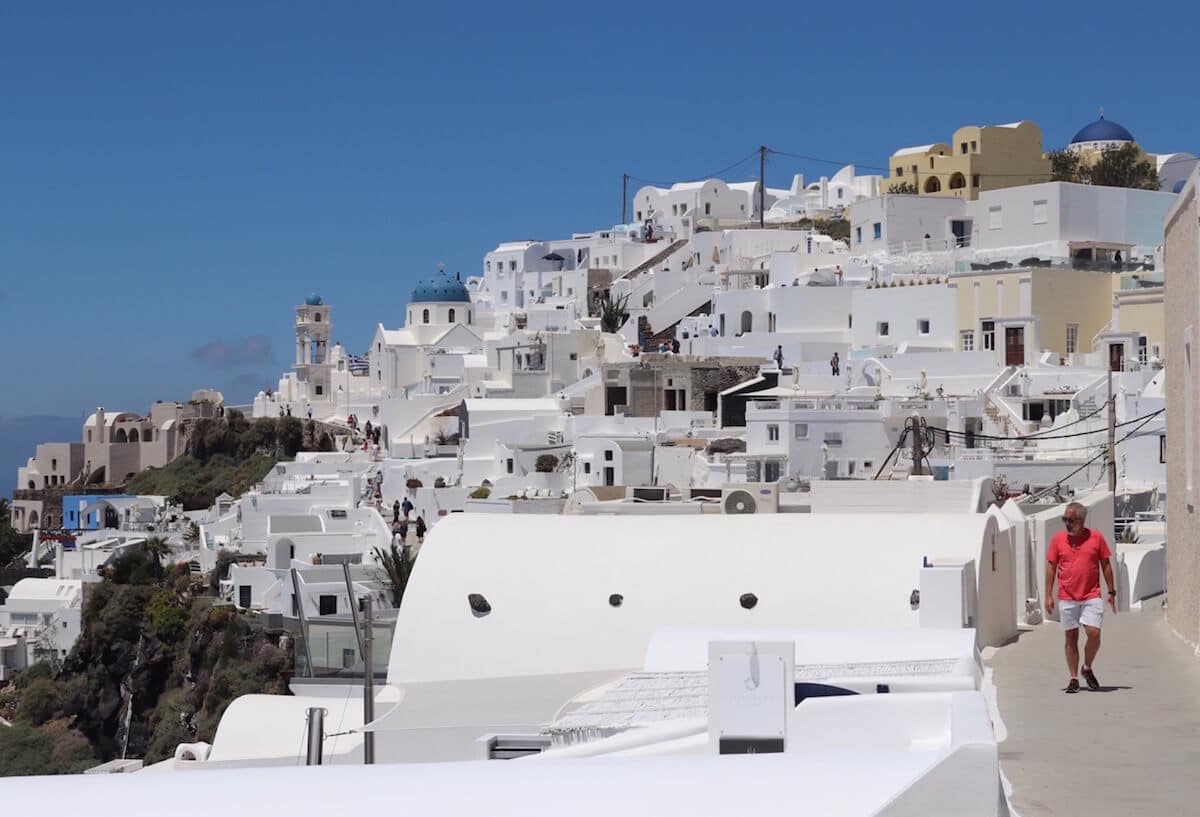 4 – Watch the Acclaimed Oia Sunset
Oia is famous worldwide for its beauty, glamorous luxury hotels with infinity pools and incredible sunsets.
Of course one of the best things to do in Oia is to take in this glorious sight.
You can see it from the main street, bars, restaurants, viewpoints, Ammoudi Bay and even from your hotel, if you're staying in a hotel with a sunset view.
No matter where you go, this spectacle of nature will not disappoint you.
The most popular place in Oia to watch the acclaimed Santorini sunset is the ruins of the old Venetian castle. But it can get overcrowded and you might need to get there at least one hour in advance.
From the castle you can watch the sun curving towards the sea, the sky being painted with layers of yellow and orange and the whitewashed houses gleaming. When it starts getting dark, shades of gold, orange and amber streak across the sky, and the white houses light up like candles sparkling in the twilight. It's magical!
5 – Take the steps down to Ammoudi Bay
One of the best things to do in Oia is to take the 240+ steps down to Ammoudi Bay.
This tiny idyllic cove at Oia's foothill is enveloped by impressive red cliffs with crystal-clear turquoise water and boasts taverns serving delicious seafood and Greek specialties.
At Ammoudi Bay you can also find a great spot to watch the sunset.
However, dining and watching the sunset at the picturesque harbor is very popular in Santorini and reservations are highly recommended.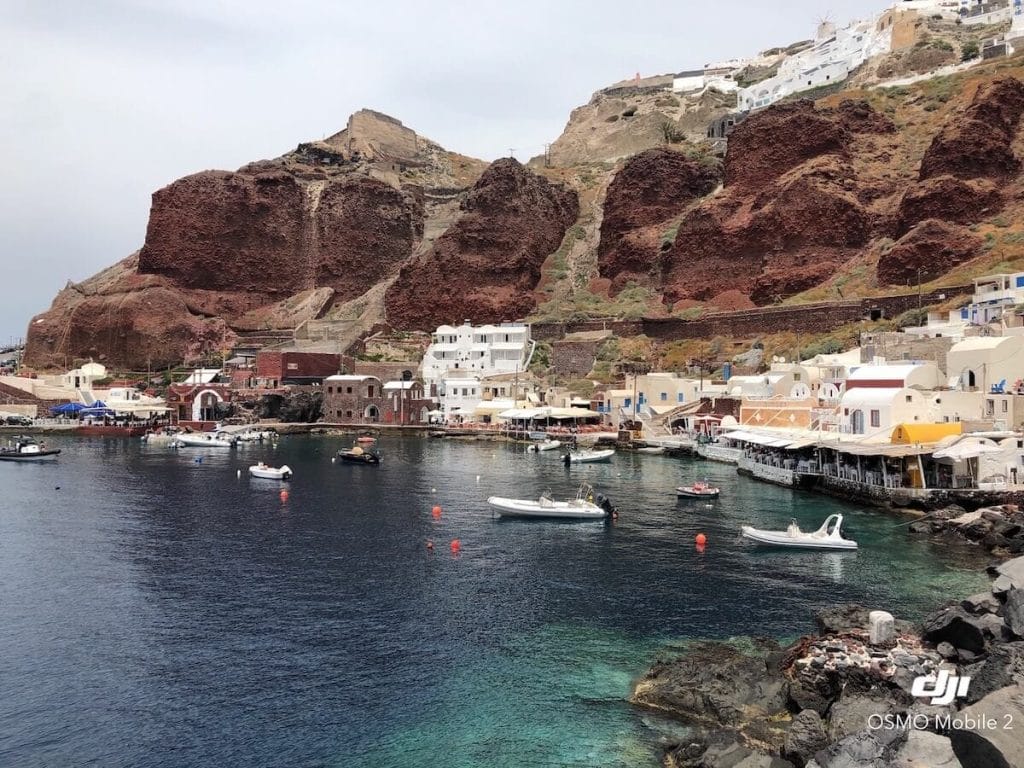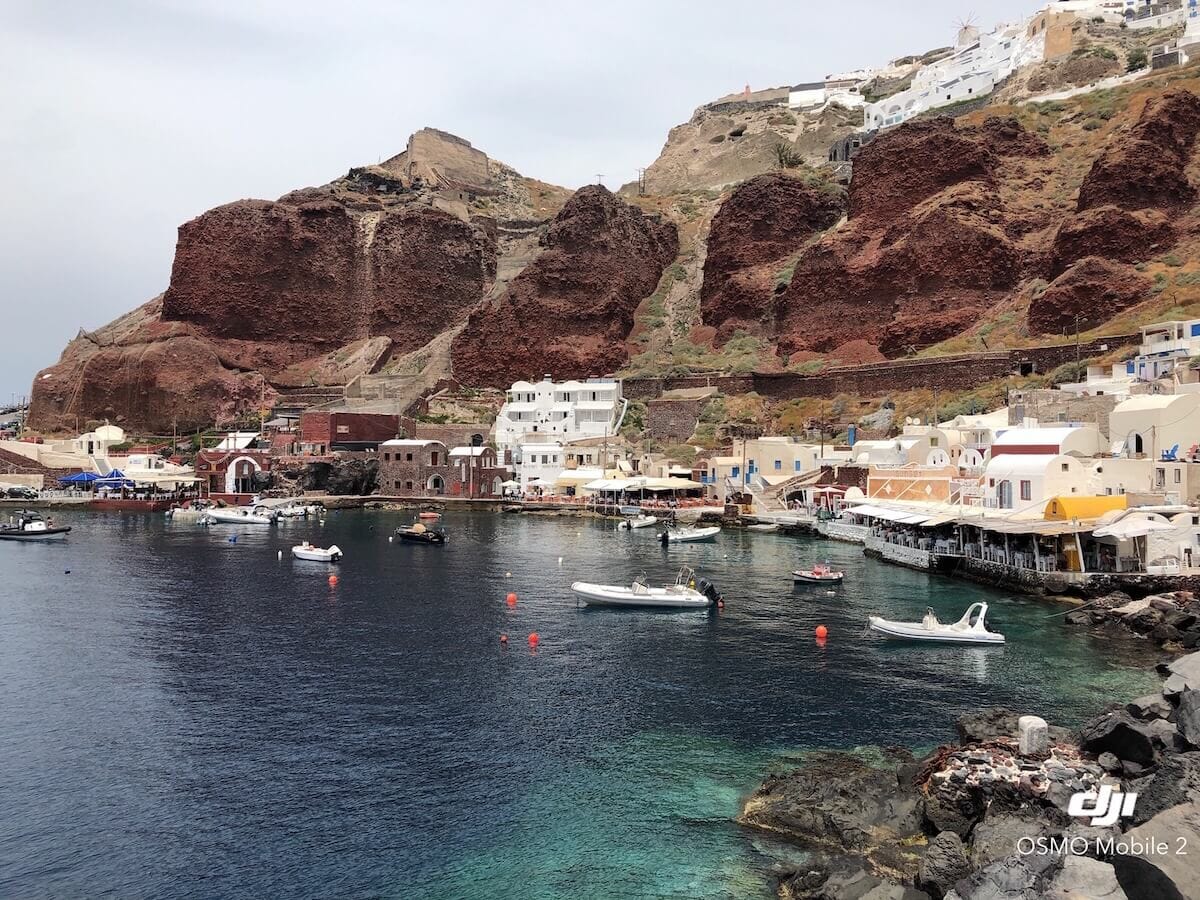 If you want to go swimming in that beautiful water or even cliff jumping, just walk south along the bay and follow the narrow treacherous path that lead to a hidden beach between the rocks.
The crystal-clear water is very enticing and you need to swim to get a cemented platform or a boulder and jump from it. It's only 4.5 – 6 m (15-20 ft) high, but it feels very good.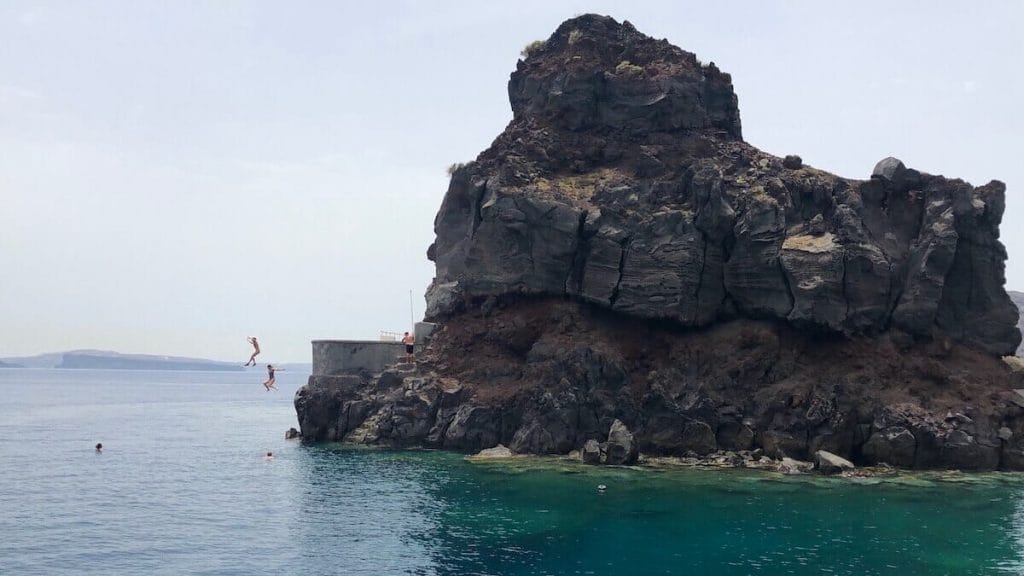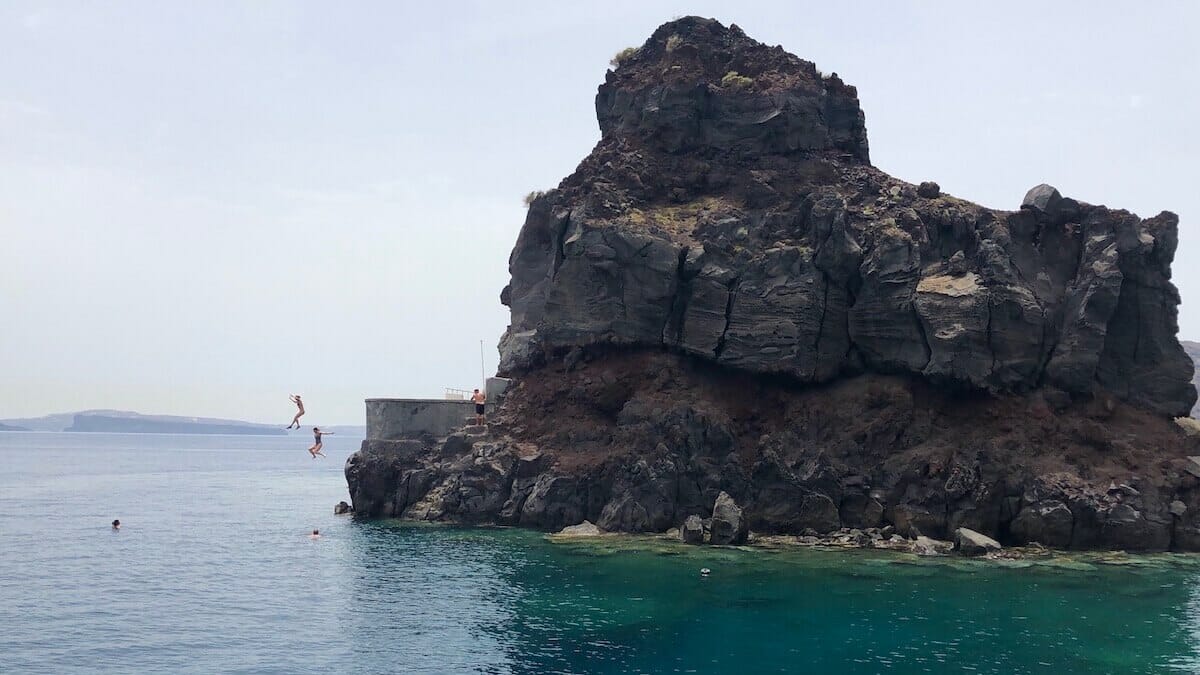 From Ammoudi Bay you can also take a caldera tour, one of the top things to do in Oia. You'll have the unique opportunity to walk on the volcano's crater, learn about Santorini geological formation and history, swim in the hot springs and visit Thirrasia, a unspoiled island across from Santorini's caldera. Book you caldera tour in advance here.
6 – Find the famous & secret Instagrammables Places in Oia
Every summer our Insta-feeds are filled with pictures of people in Santorini.
The island, and especially Oia, with its iconic whitewashed houses and blue domed churches is an Instagrammer's delight and a perfect location for film and commercial photo shoots.
Once you're in town, you cannot miss the opportunity to boost your Instagram and provoke some social media envy, as it's one of the best things to do in Oia.
Take your hat, sunglasses and camera because I have selected some of the most famous and secret Instagrammable places in Oia to snap that "dreamy" picture.
1 – The blue domed and salmon tower church: one of the most desired Instagrammable places in Santorini.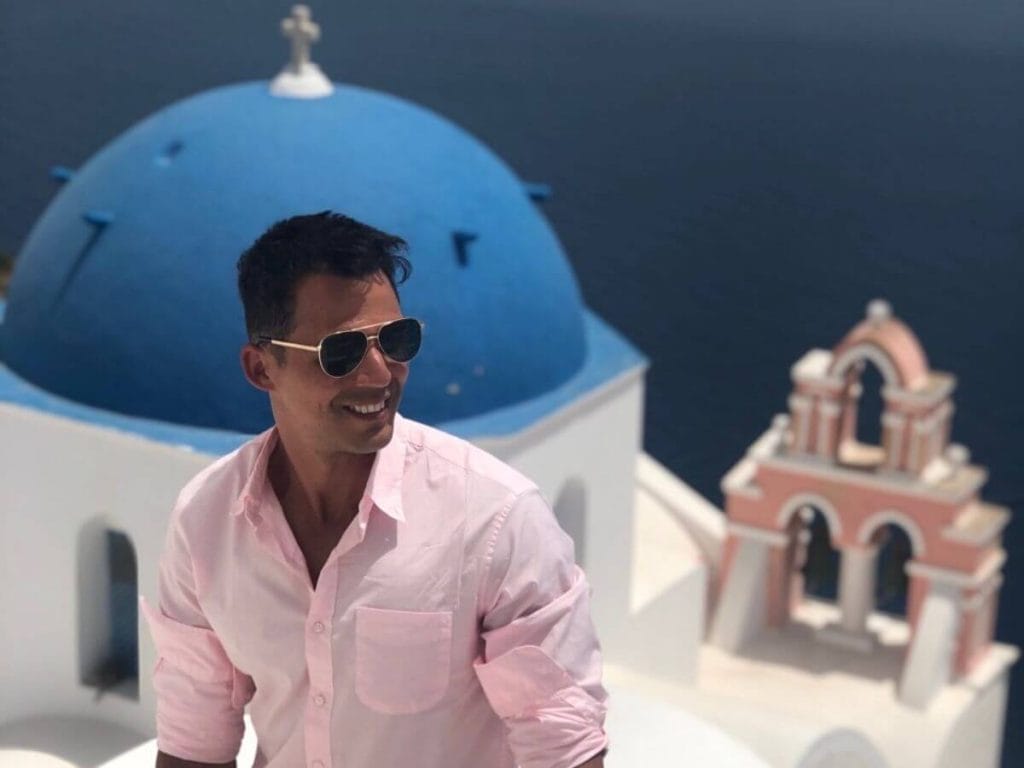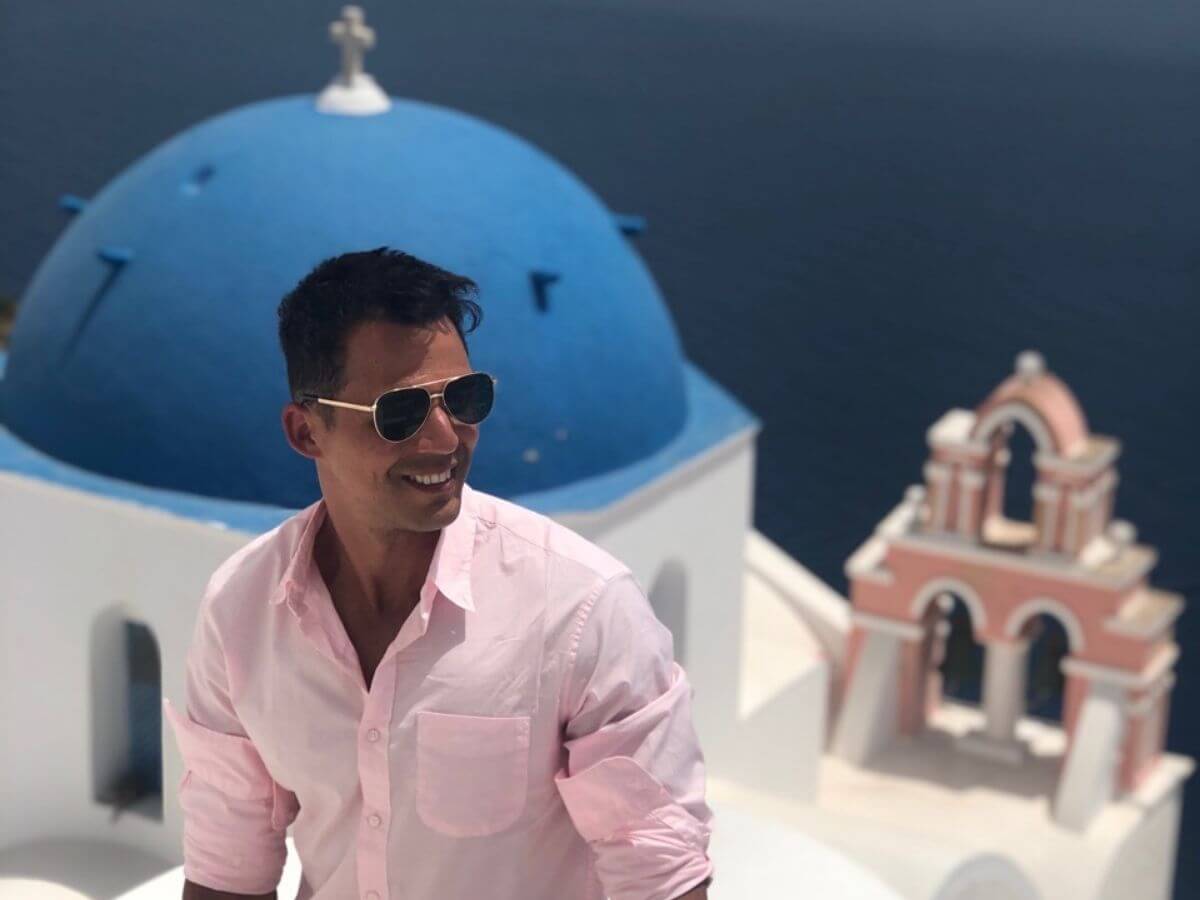 P.S.: There is a small gate to give access to the stairs in front of the church. It remains closed, however if you're with a local photographer he/she grants you access.
2 – The famous Santorini postcard
This is the picture that I shared in the very beginning of this post. The place to take this shot can be absurdly overcrowded with people queuing to take the exact postcard photo.
This view is indeed beautiful and it's one of the most recognizable Santorini photo spots.
From the stairs you can also take lovely pictures!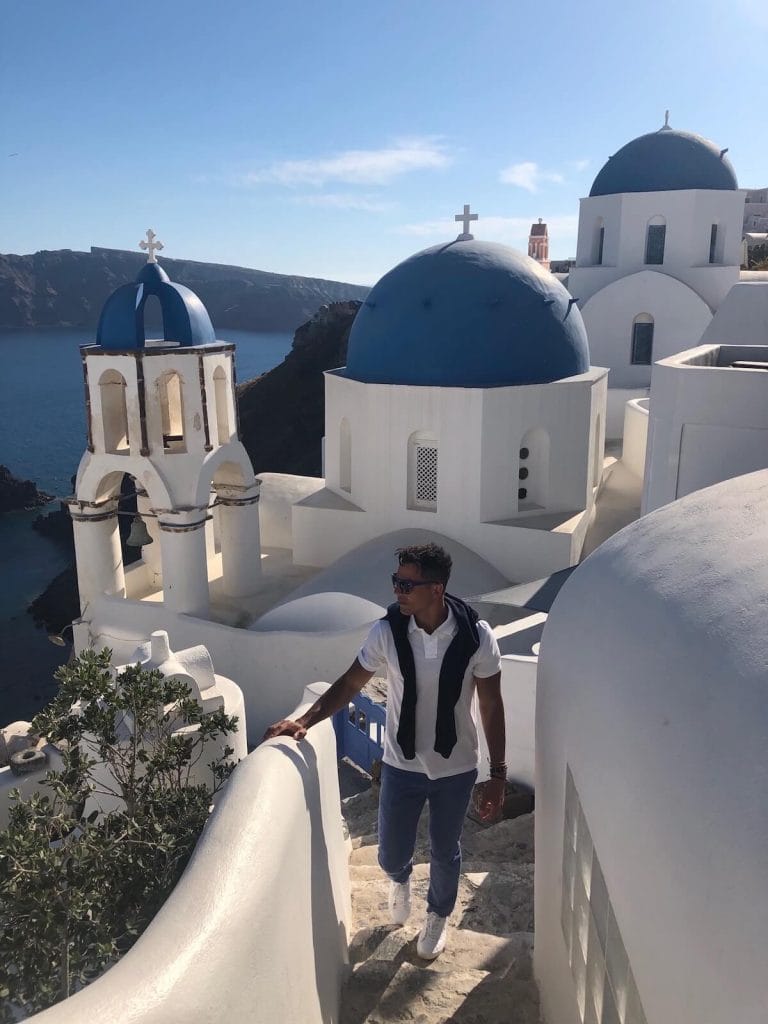 3 – Oia sunset: the best spot is from the castle where you can get the whitewashed houses and windmills.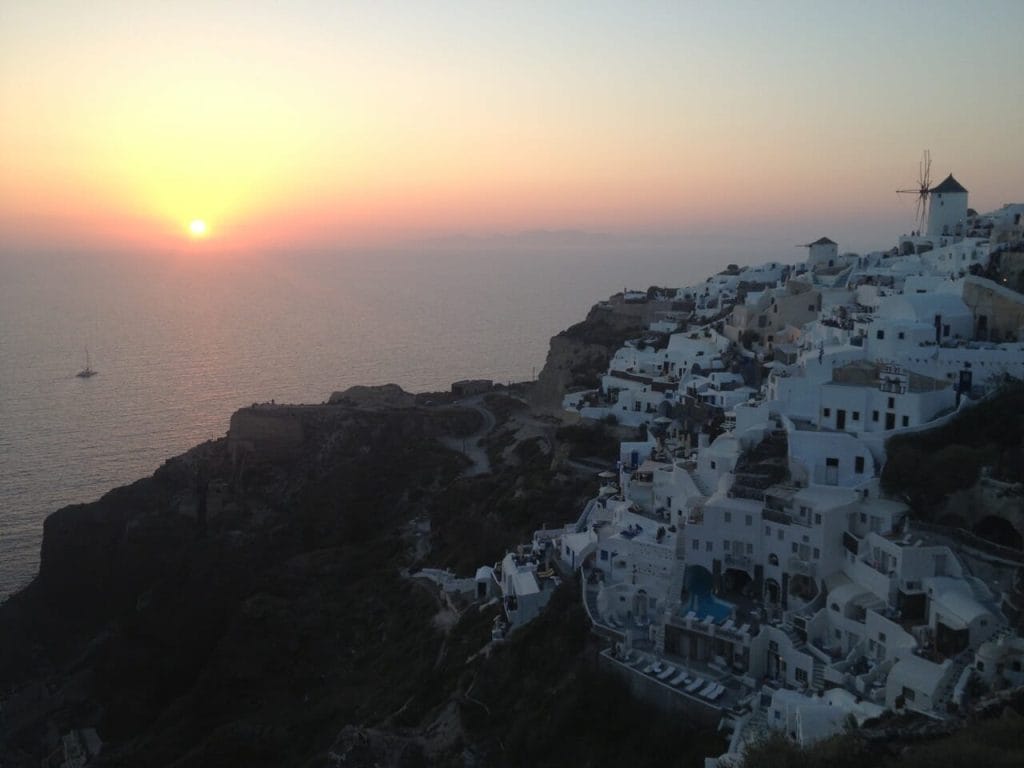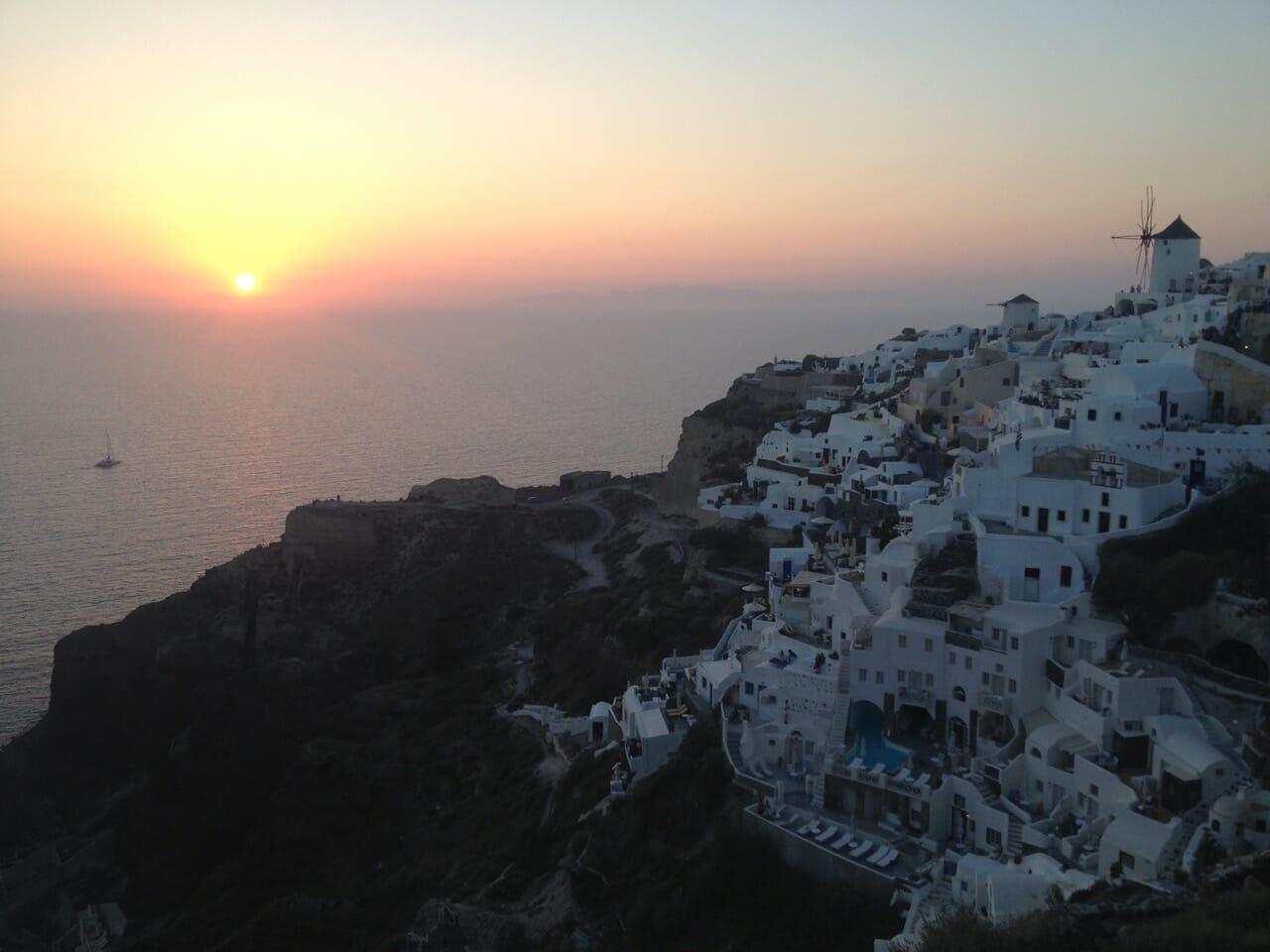 4 – Kastro: Kastro Restaurants (adorable small garden in front of it) and Kastro Oia Houses (stairs)
5 – South of Oia: great photo location for a picture with whitewashed houses in the background.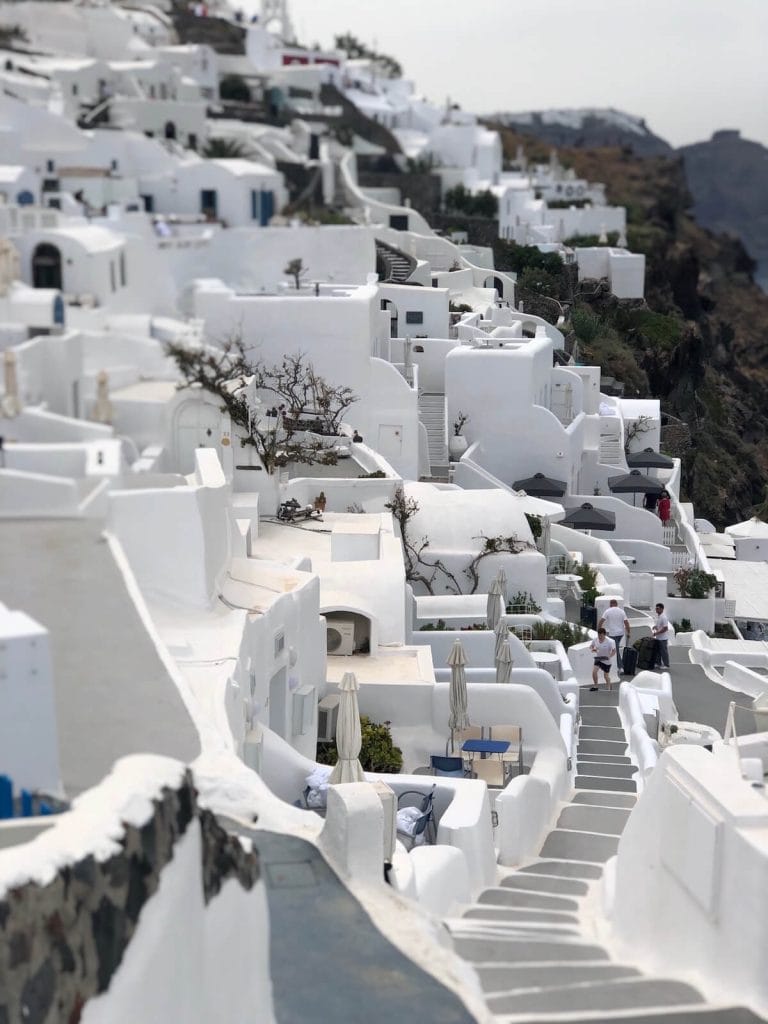 These are just some of the most Instagrammable places in Oia, but there are more, such as: the stairs of Katikies Hotel, the two bell towers close to Aspaki Exclusive Suites, etc.
And because some of them aren't easy to find and/or have restricted access, I created a map with the exact location of each and the directions to get there.
7 – Visit Atlantis Bookshop
One of the favorite things to do in Oia among book lovers is to visit one of Europe's most enchanting bookshops.
Located on the main street of Oia, overlooking the caldera view, Atlantis offers literature in English, French, Italian, Spanish, German, Chinese, and, of course, Greek.
It focuses on new and used books of modern classic fiction and non-fiction but also offer selections of poetry, philosophy, art, and all things Greek interest.
What makes Atlantis worthy visiting, a part from its exquisitely curated collection, is its location.
Atlantis Books occupies the basement of an old captains' house that was leveled by the 1956 earthquake.
A precipitously steep staircase leads to a two-room cave stuffed with books from floor to ceiling. Above the shop, up a short flight of exterior stairs, is the rooftop terrace with bookshelves, benches and sweeping views of the Aegean Sea.
Atlantis is one of the most distinctive bookshops that I've been to, and you should not miss it.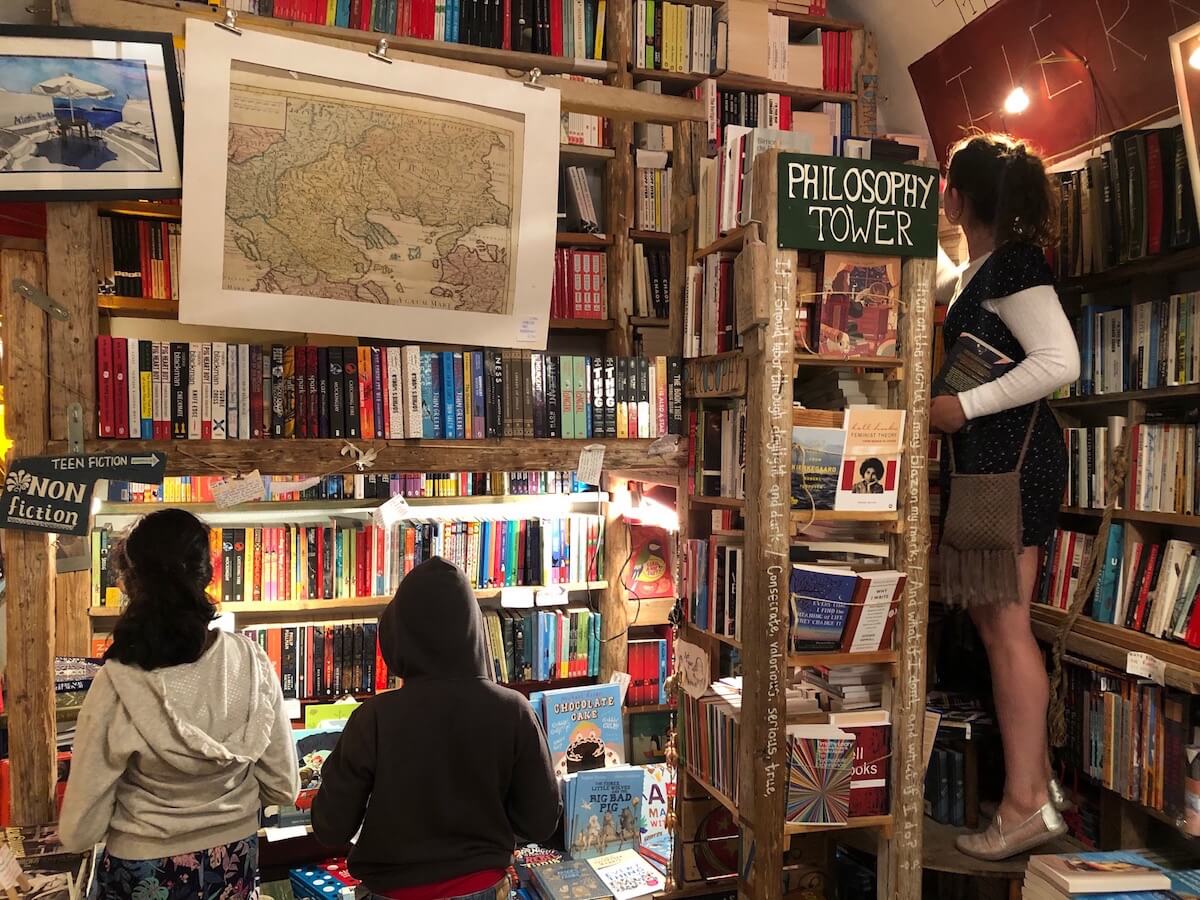 8 – Plunge into the public pool
One of the most glamorous things to do in Oia is relax on an infinity swimming pool and enjoy the dazzlingly views of the Aegean Sea.
But if you're on a budget and your hotel doesn't have a pool with a view, worry no more because there is a "public" pool with fascinating views you can enjoy.
At Lioyerma Lounge Cafe Pool Bar, you can have breakfast, swim in the pool, have special cocktails, unwind and watch the sunset from a very privileged spot, at the edge of the caldera.
There are free sunbeds, tables and umbrellas and no entrance fee is required.
A minimum of 10 euros spend per person applies, but the prices are reasonable.
Lioyerma Lounge Cafe Pool Bar is a true Santorini hidden gem that I stumbled upon during my first visit in 2014.
It's a great place for a sunset drink and to have fun with friends!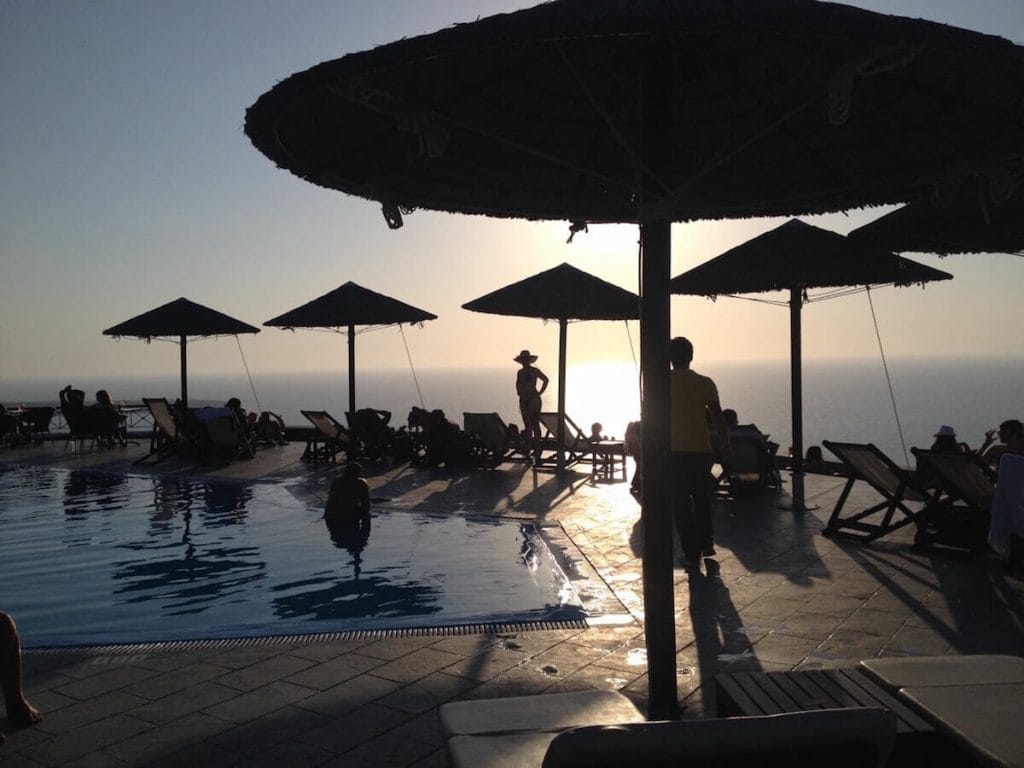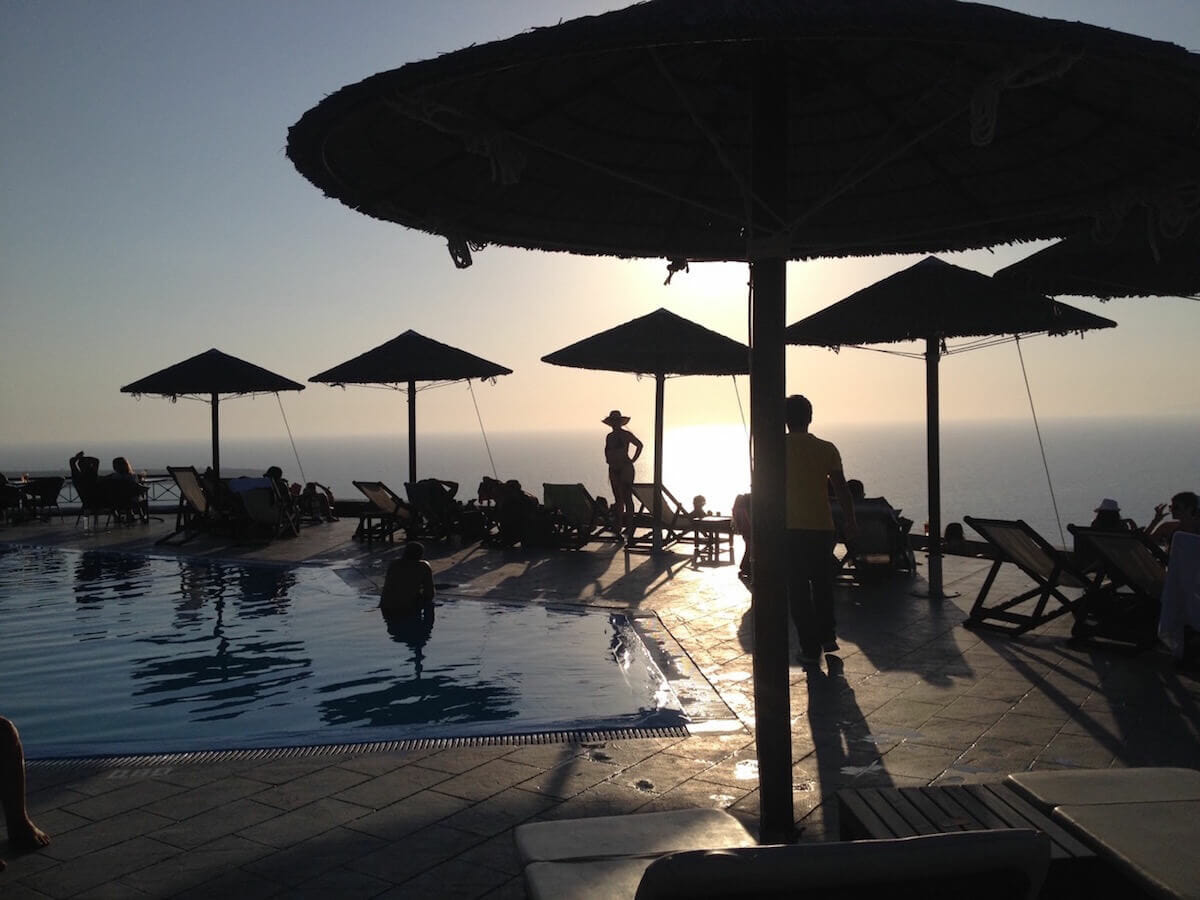 9 – Try the delicious Greek cuisine
When visiting a new destination, besides the desire to see famous tourist attractions and have memorable experiences, there is also the curiosity to taste local and different dishes.
While in Oia, you must not miss the opportunity to taste the Greek cuisine!
If Greek salad, Souvlaki, Gyro, Moussaka and Honey Baklava taste delicious, imagine consuming them overlooking the blue waters of the Agean Sea.
Some of Oia best restaurants are: Katina's Taverna (Ammoudi Bay), Lauda Restaurant (at Andronis Boutique Hotel), Ambrosia, Roka, Lotza and Pitogyros. Reservations are highly recommended, especially during the summer.
I love Moussaka, sliced aubergine with minced beef in a creamy bechamel sauce, and every time I'm in Greece I have some.
Don't forget to put delicious Greek cuisine on your "Things to do in Oia" list.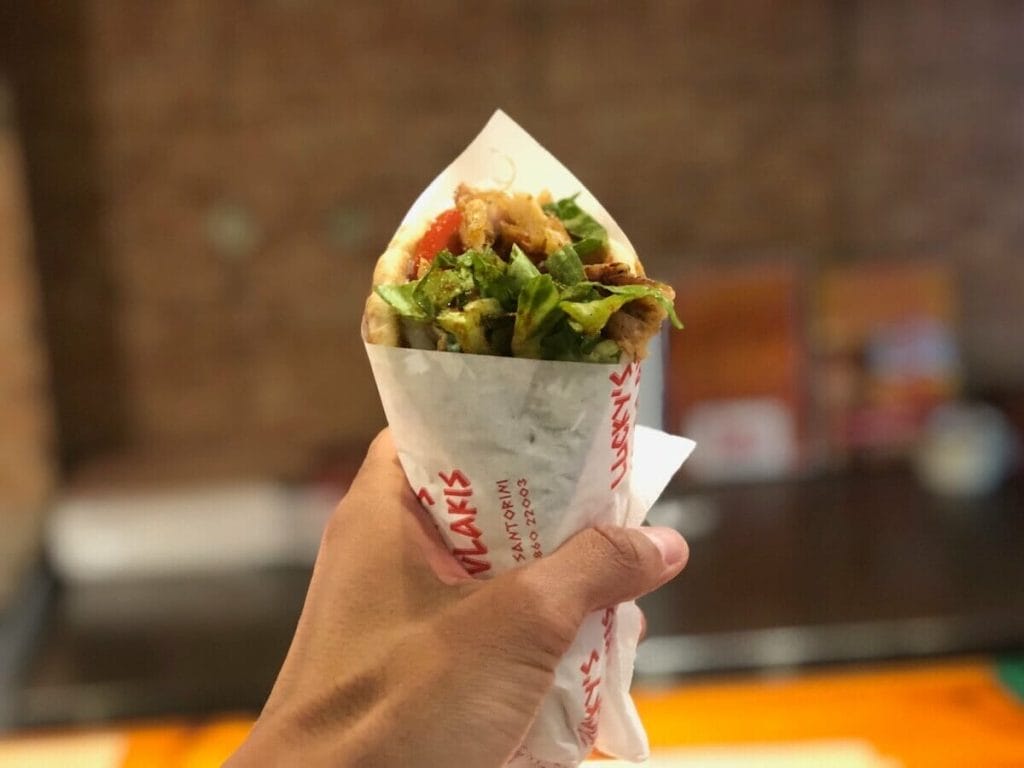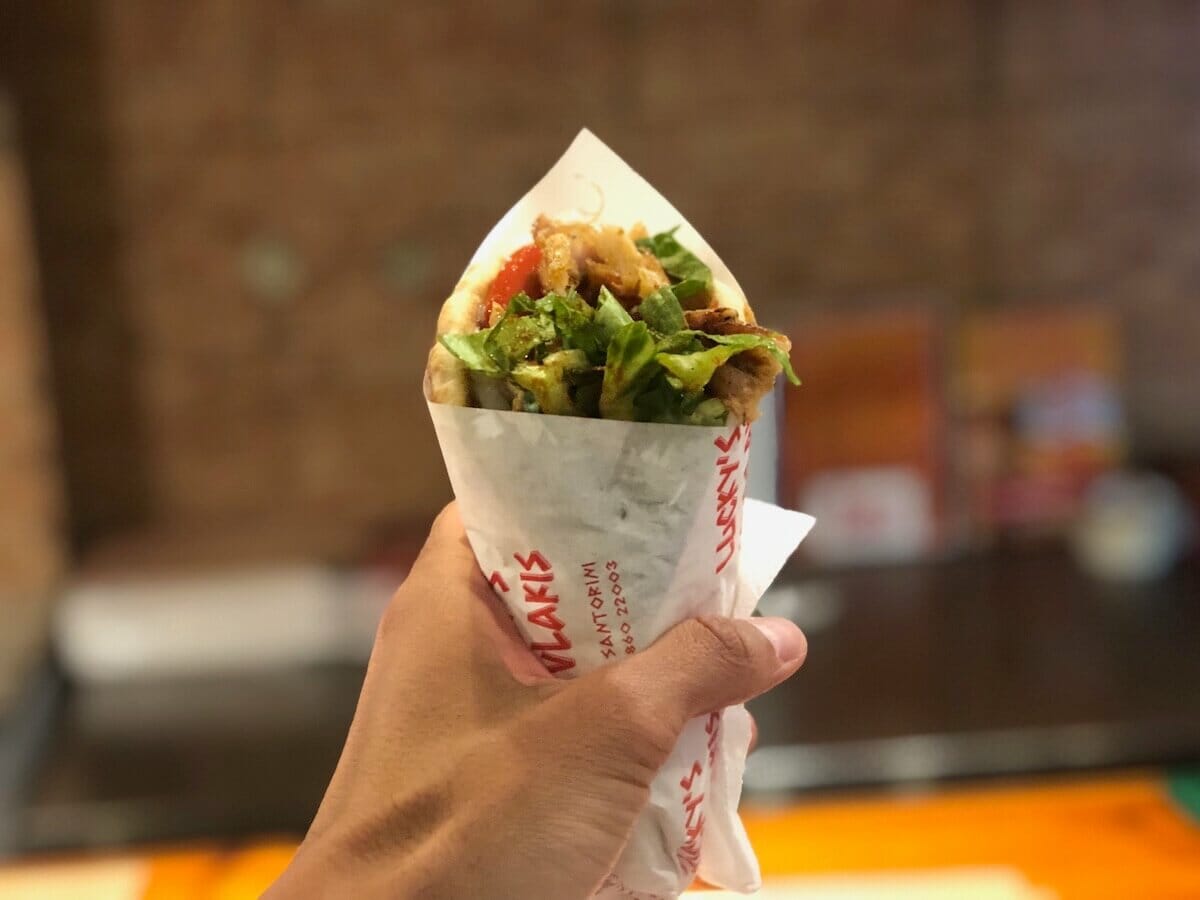 10 – Visit Art Galleries
If you don't want to make your way down to Fira to enjoy its nightlife and are looking for things to do in Oia at night or a cloudy day, my suggestion is visiting some art galleries.
In addition to upscale hotels and boutique shops, Oia has a great number of art galleries.
Ak Oia Art Gallery, Oia Treasures and Opera are just some of the few where you can find intriguing sculptures, beautiful paintings and many other artworks made by local artists.
You can also find handmade designer jewelry, pottery, temporary art exhibitions and events.
The galleries combine sophisticated aesthetics with the beauty of the town and even if you're a not an art connoisseur you should visit some of them.
They are open until midnight in the summer months and offer worldwide shipping.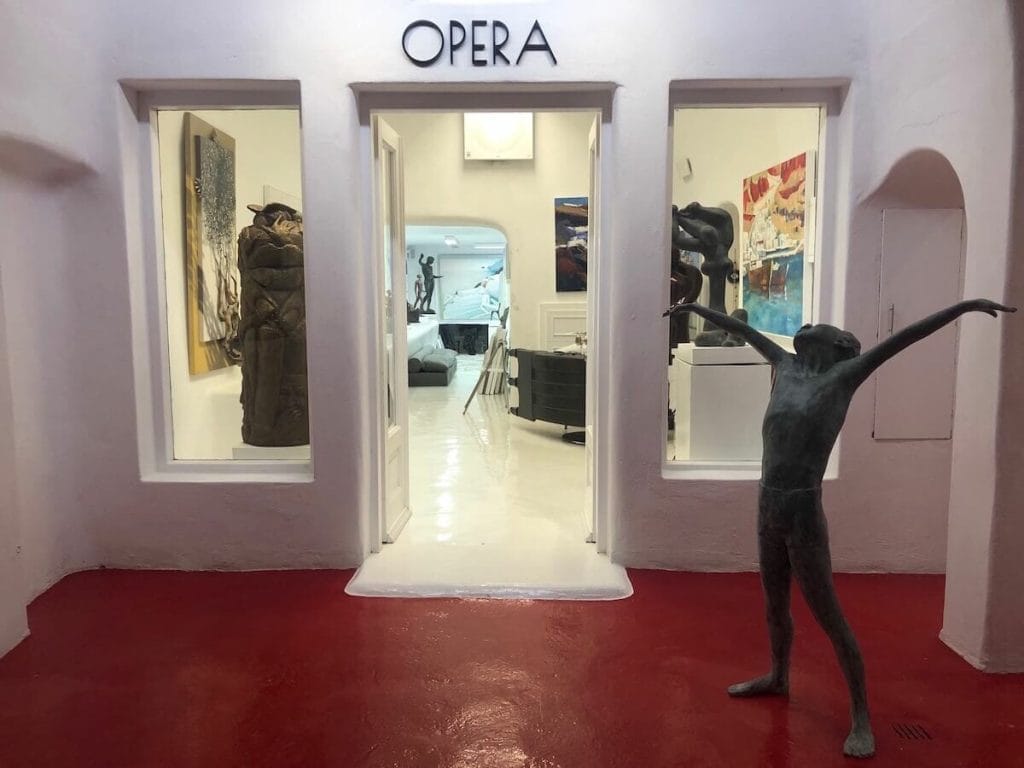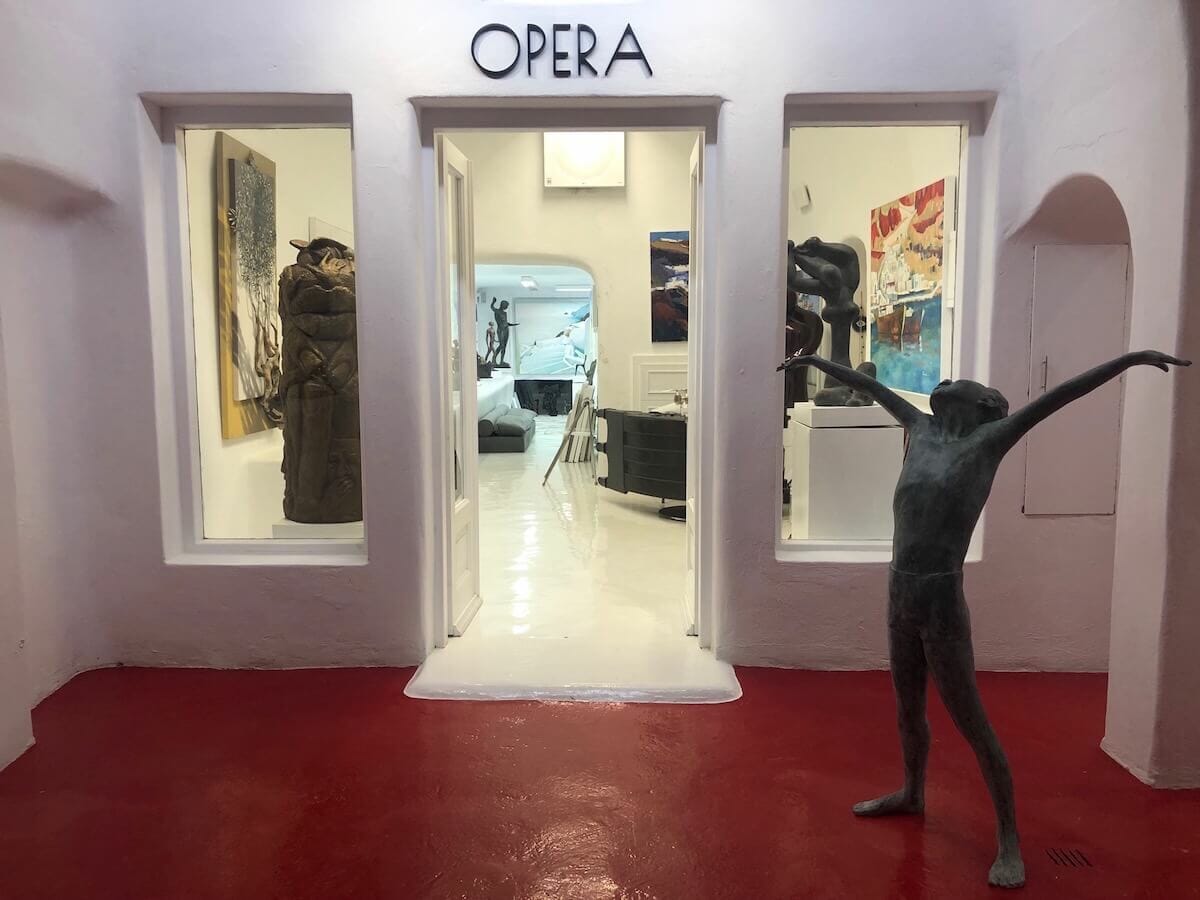 This is my list of the 10 Best Things to do in Oia and I bet you will find some more.
Safe travels and enjoy Santorini.
MORE CONTENT ABOUT GREECE:
Enjoying the Best Things to Do in Oia
Where is Oia?
Oia is situated 10 Km of the north of the island capital Fira (see exact location here)
How to get to there?
There are only two ways to get to Santorini: by boat or airplane.
∗ There are ferryboats connecting Santorini to other Greek islands. The most common routes from / to are: Athens, Crete and Mykonos.
From and to Athens: the conventional ferry takes around from 6h to 8h and the high speed one takes between 4h to 5h. I recommend that you buy your tickets online in advance. You can check the prices and timetable here.
∗ By airplane: there is an international airport in Santorini that receives flights from Athens during the whole year, and international flights during the high season.
The companies that operate from Athens to Santorini airport are: Aegean Air, Ryan Air and Volotea (only high season).
You can book your flights with Skyscanner, that is the website that I use and trust.
You can book your shared arrival transfer from Santorini National Airport to your hotel or cruise port with a discount here; and your Private Departure Transfer: Santorini Hotels to Airport or Ferry Port here from US$ 16,50 .
Best time to visit Oia?
The best time to visit Imerovigli (Santorini), is from May to September, when the sun is shining, the temperatures are high and chances of rain are minimum.
To avoid crowds pick the months of May and September, and no worries because the weather in Santorini is still good at this time of the year.
Where to stay in Oia?
The cheap hotels in Oia that I recommend are: Anemomilos, Heliophos Boutique and Maryloujohn Villas
If you prefer a mid-range one, check: Kastro Oia Houses and Aperanto Suites
If you would like to book a luxury hotel in Oia, my recommendations are: White Pearl Villas, Canaves Oia Suite & Spa, Katikies Hotel, Kirini Santorini, Charisma Suites and Mystique
Oia Tours That I Recommend
Don't forget to save these pins 😉
Travel Planning Resources
For every booking made through my site I donate US$ 1 for a charitable organization.
Safe travels ☺