Things to in Fira? Here are the ten best ones and many other tips 😉
Fira is Santorini's capital and the biggest, busiest and most cosmopolitan city on the island.
It has a great combination of natural beauty and social activities, with plenty of restaurants, cafes & bars, important museums, many boutiques, souvenir shops, entertainment venues and lively nightlife. To top it all, Fira is located in the very center of Santorini and everything is close by.
In Fira you can find whitewashed villas, blue domed churches, cave style hotels with terraces and infinity pools on the edge of the cliff that provide astonishing views of the Agean Sea.
I do like Fira, although it's quite commercial and touristy.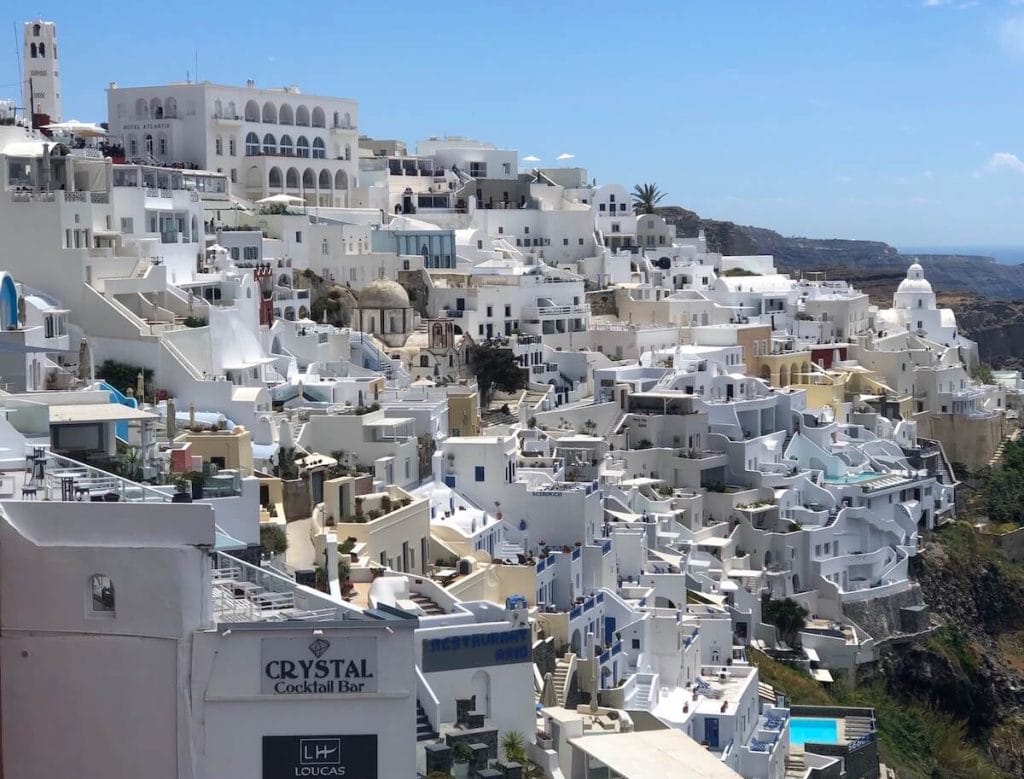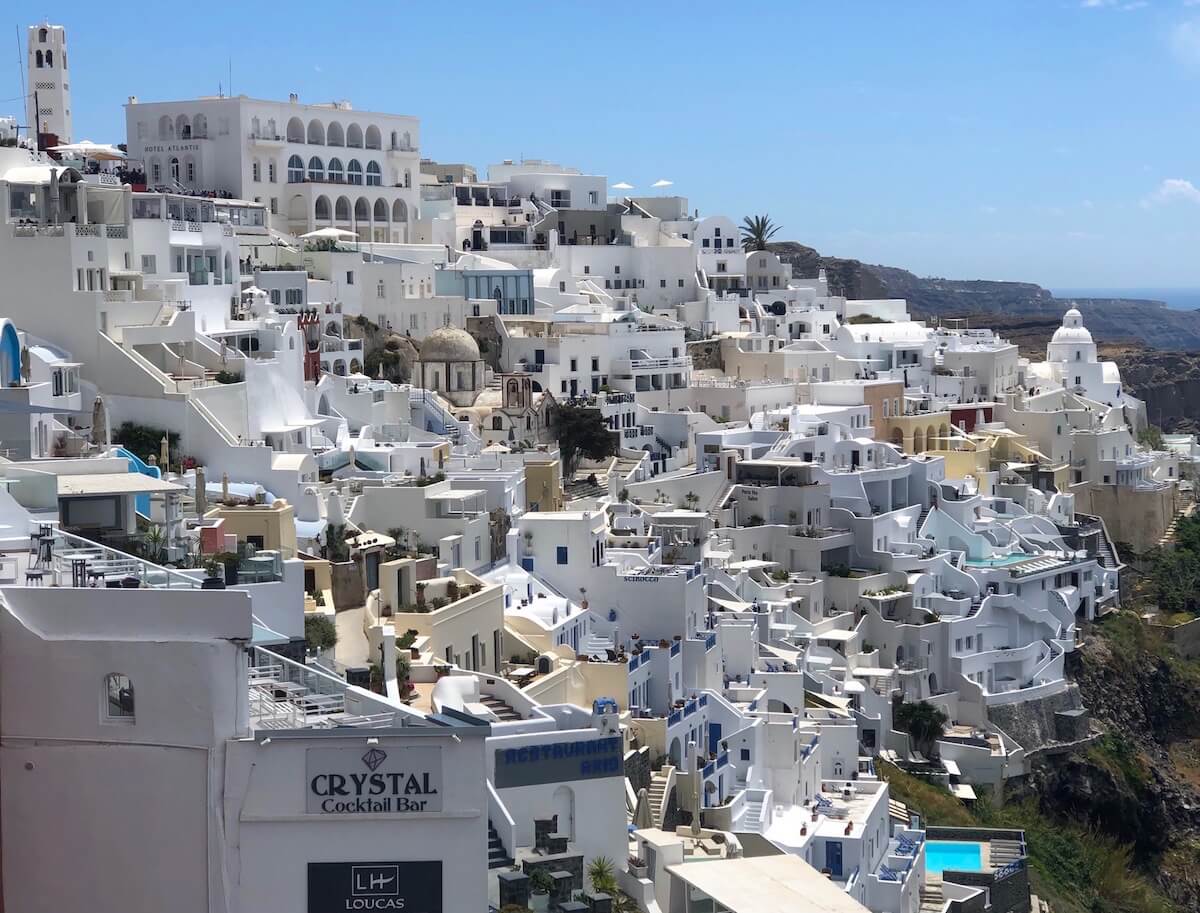 During my second visit to Santorini, I decided to stay in Fira for a few nights and explore this part of the island a bit more.
There are several interesting things to do in Fira and I compiled a list of the ten best ones below.
* Affiliate disclosure: Some of the links below are affiliate links, meaning at I earn a small fee if you click through and make a purchase. There is never any additional cost to you, and I use some of these earnings for my monthly charitable donations.
The 10 Best Things to do in Fira
1 – Watch the sunset
A visit to Santorini cannot be complete without watching the sunset!
Of course, one of the best things to do in Fira is taking in this glorious spectacle.
The island claims to have the most beautiful sunset in the world. And it might just be true.
Sunset in Santorini is like a cult event and every day, visitors and locals alike stop and watch it.
You can see it from the main street, bars, restaurants, viewpoints and even from your hotel, if you're staying in a hotel with a sunset view.
The most popular place in Fira to watch the famous Santorini sunset is the promenade near the Orthodox Cathedral.
But if you want to grab a drink while taking in the sunset, my recommendations are Café del Mar (fancy and a bit pricey though – don't mistake it for Café del Mar e Sol in Perivolos), PK Cocktail Bar and Argo Restaurant.
No matter where you go, this spectacle of nature will not disappoint you. I guarantee you!!
2 – Go shopping
Being Santorini's capital and the largest town on the island, Fira has a plethora of hotels, restaurants and shops, as well as an exciting nightlife.
With a great variety of boutiques, souvenir and gift shops, jewelry stores, bookshops and also the largest shopping center on the island, you'll feel very tempted to go shopping. And you should, as it is one of the best things to do in Fira.
The stores are everywhere in town and some of them even provide splendid views of the blue Agean Sea.
You can buy some clothing for yourself or as a gift, beach accessories, such as hats and sunglasses, handmade bags, watches, designer jewels, magnets, soaps made of olive oil or black lava and many other things.
Some of the best boutiques in Fira are: Bazaar, Ilias Lalaounis, The White Santorini and Ammos.
During my first time in Santorini I fell in love with a bust of Pericles and took one home with me. The second time, I wasn't planning on buying anything, but I couldn't resist and got a t-shirt for a gift and a lovely magnet.
3 – Walk the path from Fira to Oia
Fira is easily accessible from the airport, ferry terminal and other Santorini towns.
In fact, there is a 10Km hiking trail connecting the villages of Fira, Firostefani, Imerovigli and Oia.
Even though some adventurous people could decide to hike the entire path, my suggestion is to walk only from Fira to Imerovigli. This part is very pleasant, much shorter, 3Km (35min walk), and interesting.
After Imerovilgi, there isn't that much to see and there are some hills and unpaved parts of the path until you get to the scenic Oia.
You will pass by numerous hotels, restaurants, picturesque houses and churches along the way.
The path provides impressive caldera vistas, especially from Fira to Firostefani, where you face the caldera constantly.
I love walking this hiking trail and it's one of my favorite things to do in Fira.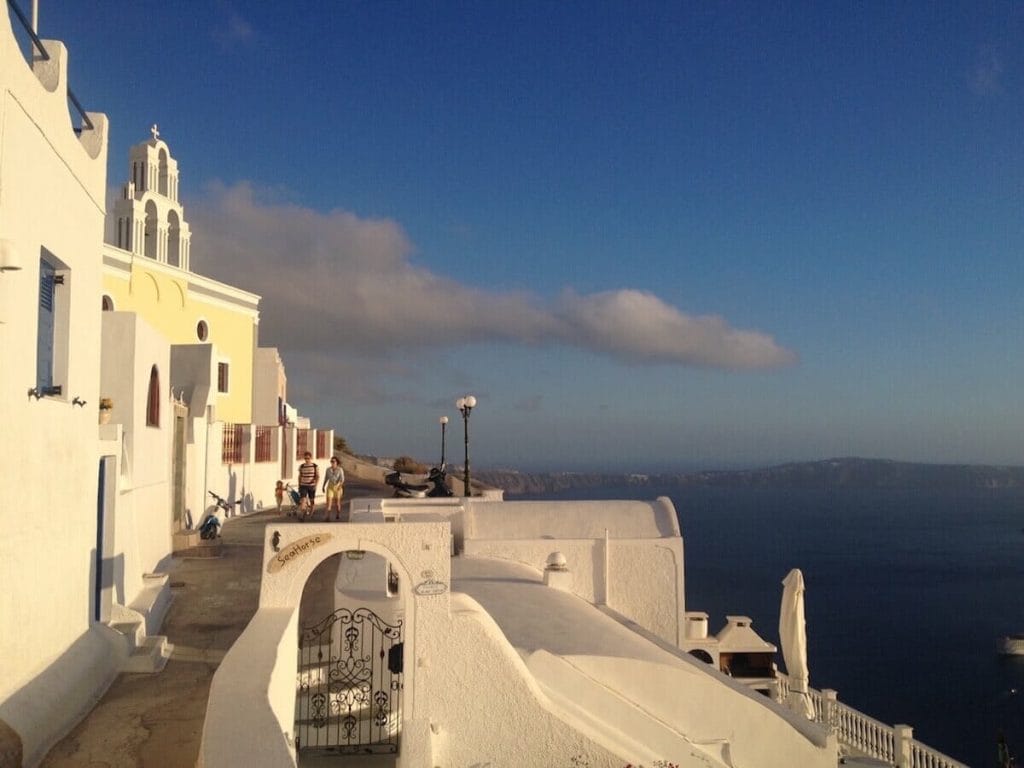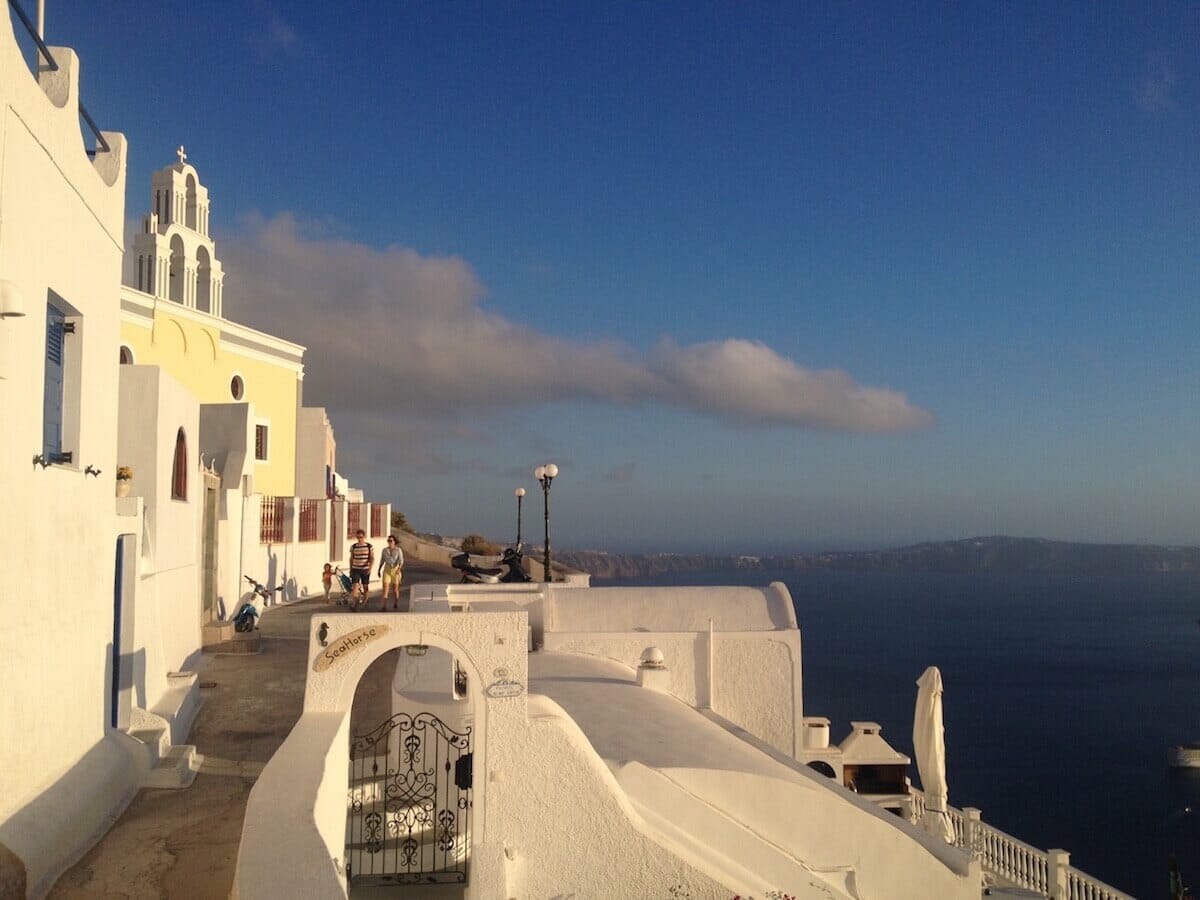 4 – Go exploring
While in Fira, you must take advantage of its central location and explore Santorini's top beaches and towns.
Some of the villages that you can't miss are: Oia (the most picturesque and famous) and Imerovigli (my most beloved). If you want to go off the beaten track, the best option is Pyrgos, a very pretty and non-touristy village.
The beaches to put on your "Things to do in Fira" list are: Perissa and Kamari (Santorini's best beaches), the Red Beach (the most exotic) and Vlychada (my favorite).
From Fira, everything is quickly reachable, whether you decide to go on foot, to Firostefani and Imerovigli for example, by boat to Oia, or catch a bus at the terminal in Fira to go to the other villages.
However, I do recommend that you hire a car while in Santorini. It's easier, much more convenient and it is not expensive. But do it in advance please! You can hire your car online here at no extra costs for you.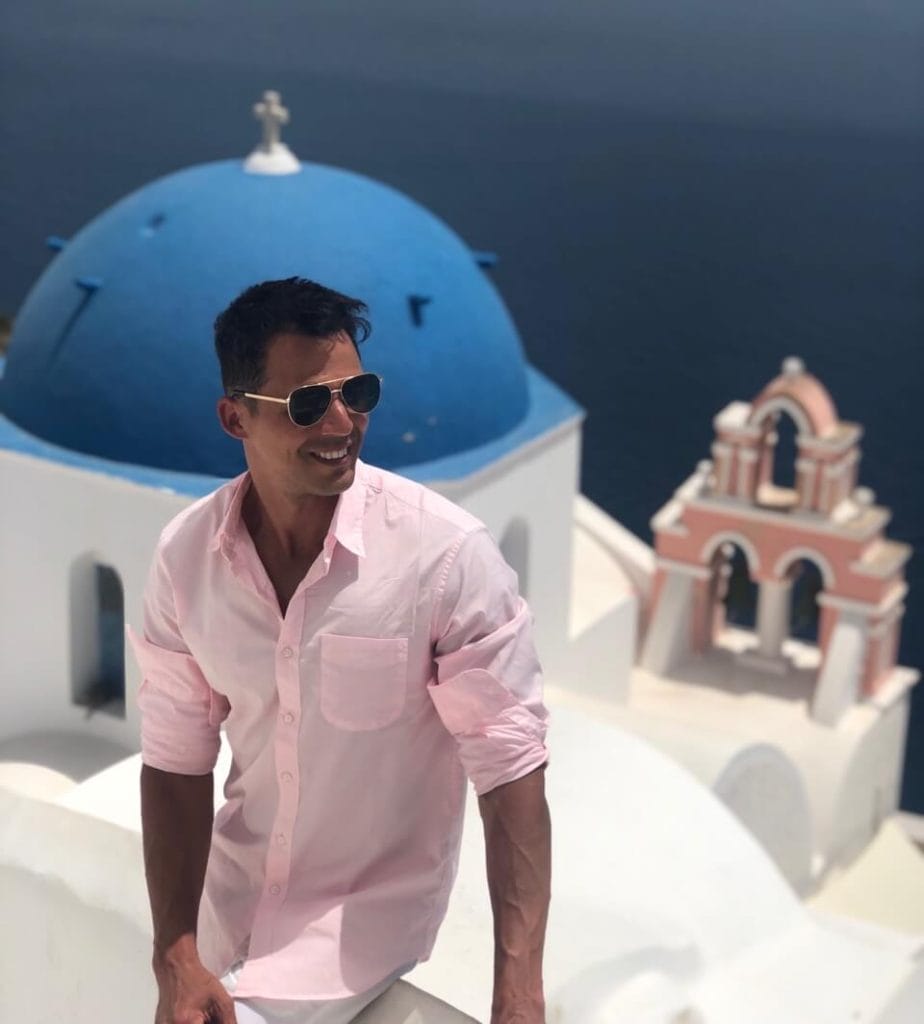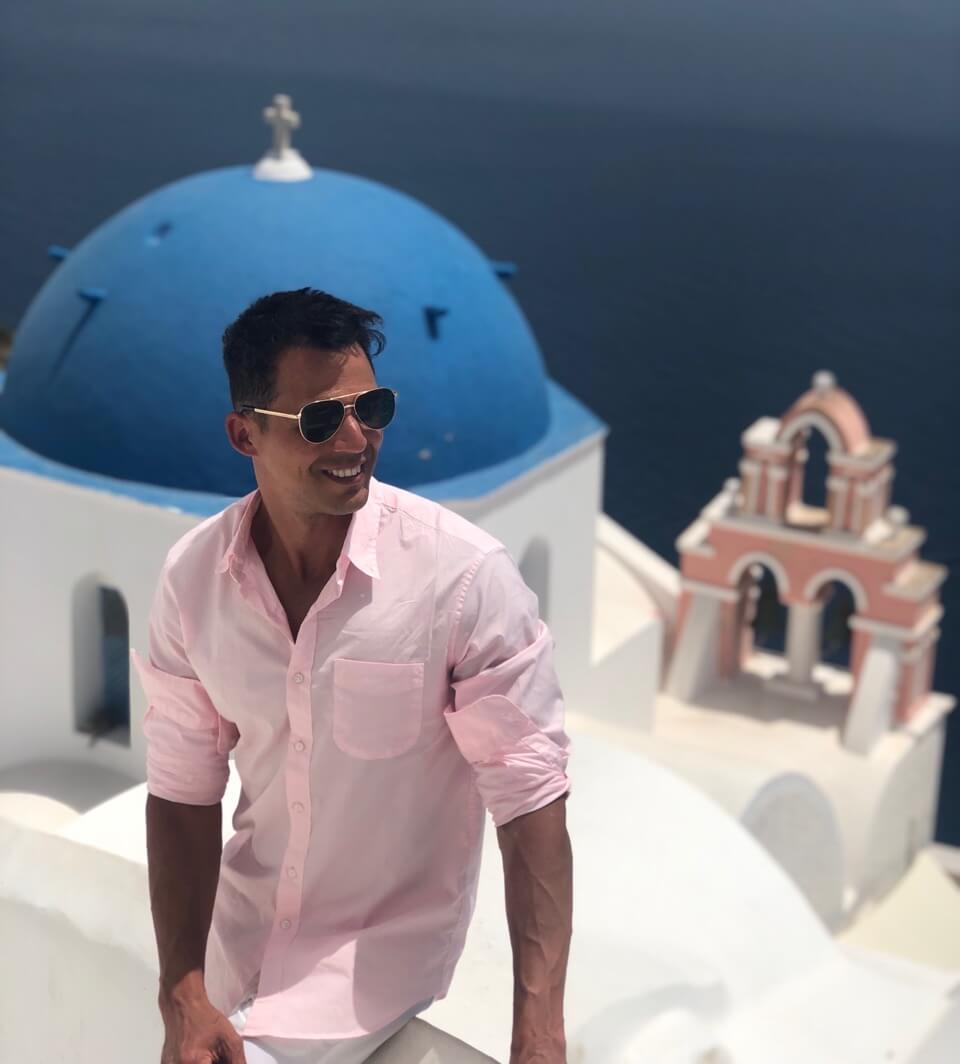 5 – Enjoy Fira's nightlife
One of the best things to do in Fira is enjoying its bustling nightlife.
You can go for a drink with friends or party like there is no tomorrow listening to reggaeton and the big hits of the moment.
Murphys, Town Club, The Highlander and Two Brothers are the best bars in Fira. The first three provide you with loud music, dance floors and bartop dancing; the last and smaller one only has tables and chairs, and is more appropriate if you prefer drinking and chatting.
The clubs in Fira have stunning cozy outdoor areas that are perfect for hot nights.
The best ones are Koo Club and Enigma. Koo has three outdoor bars where you can relax under the stars and palm-trees and it's the ideal place for honeymooners. On the other hand, Enigma, built in a stylish Cycladic building, has more of a "proper club" vibe with an impressive lighting system, and should appeal more to singles and groups of friends.
Most of them are free and the drinks are reasonably priced.
While in Fira, you should definitely go out at least once and enjoy the hottest nightlife in Santorini.
6 – Admire the sweeping views
Located at the western edge of the island, atop of a 220m (722ft) cliff, Fira provides stunning views of the two volcanic islands, the deep blue sparkling Aegean Sea, and other Santorini villages.
From Fira you can take in the dramatic Santorini landscape, from Cape Akrotiri to northern Cape Ag. Nikolaos, and also Thirassia Island.
And there are plenty of places where you can appreciate the superb vistas in Fira, from the main square, to the cable car, cafes, bars, restaurants, streets and even from your balcony, in case you're lucky enough to stay at one of the hotels with a caldera view.
For me the most beautiful views are from the north of Fira, towards Firostefani. They are completely unobstructed and you're just across the two volcanic islands, Palaia Kammeni and Nea Kammeni, at the center of Santorini caldera.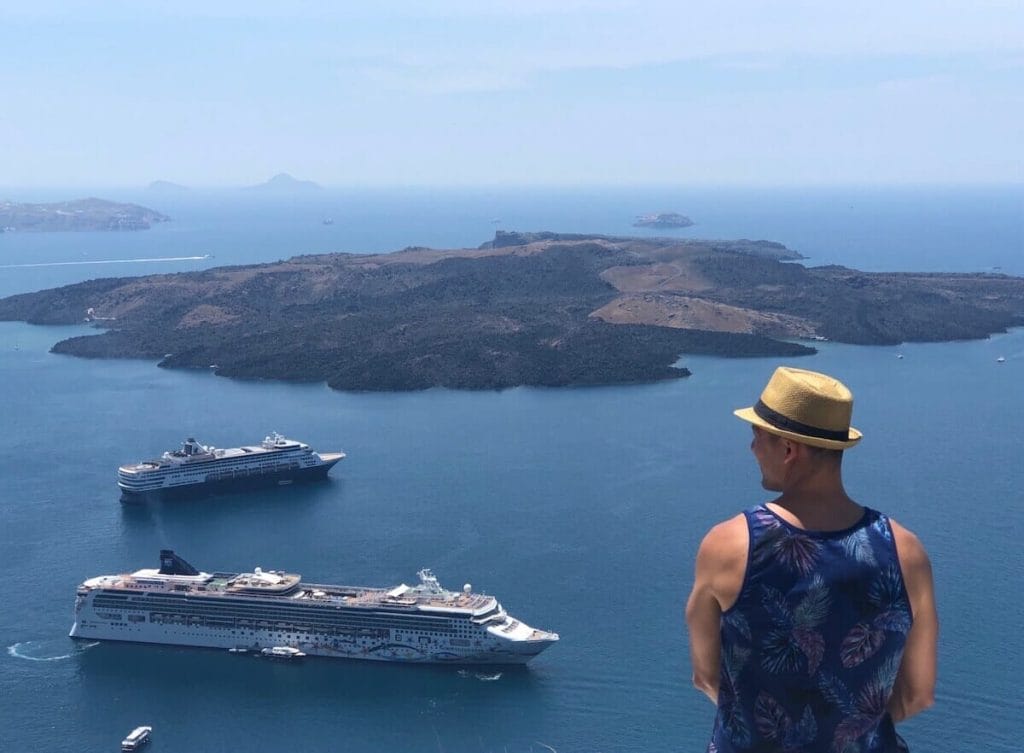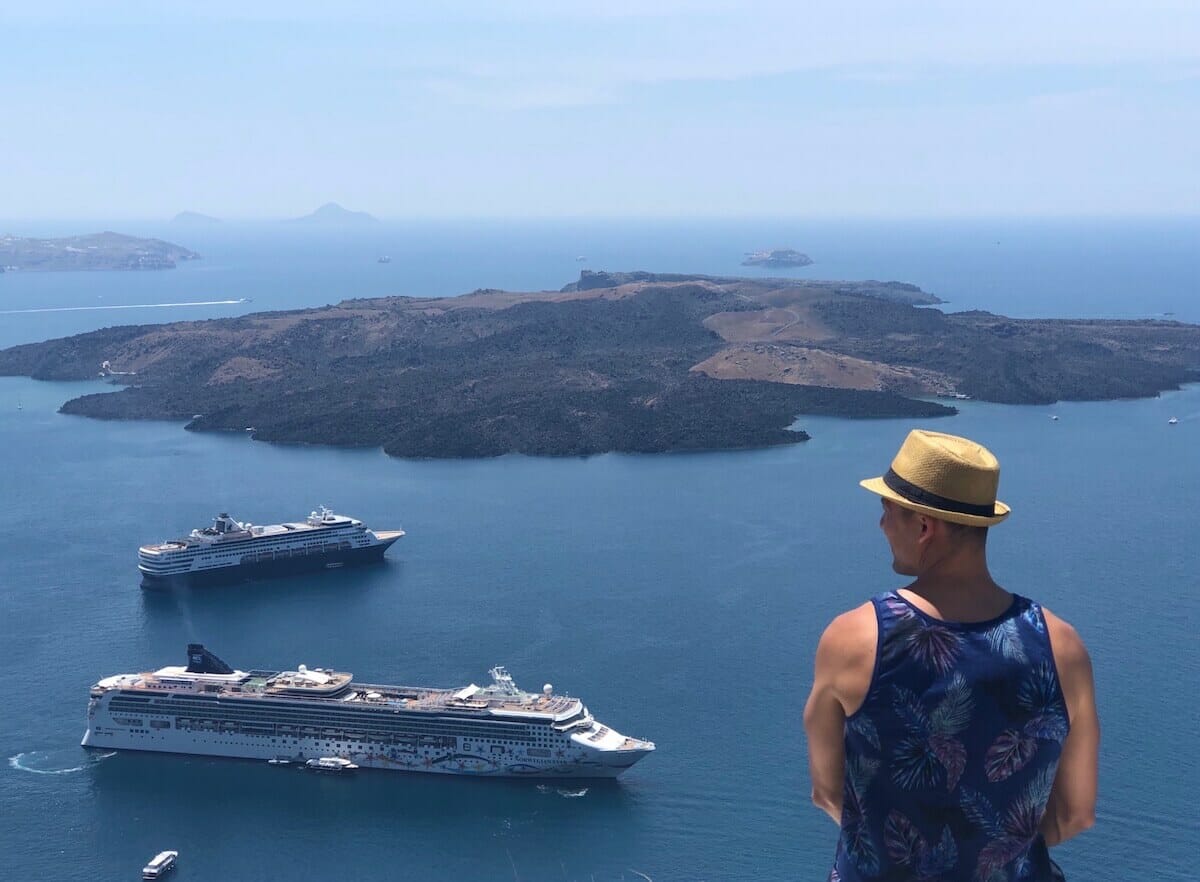 Admiring the sweeping views is the six of the ten best things to do in Fira.
7 – Try the delicious Greek cuisine
With so many restaurants serving appetizing dishes, you just can't leave Fira without tasting the Greek cuisine.
If Greek salad, Souvlaki, Gyro, Moussaka and Honey Baklava sound delicious, imagine consuming them overlooking the blue waters of the Agean Sea and admiring the astonishing caldera view.
If you'd ask me where to eat in Fira, I'd recommend: Naoussa, Argo, Nikolas Tavern, Volkan on the rocks, and Lucky's Souvlaki. Reservations are highly recommended, especially during the summer.
I love Moussaka, sliced aubergine with minced beef in a creamy bechamel sauce, and every time I'm in Greece I have some.
Don't forget to put delicious Greek cuisine on your "Things to do in Fira" list.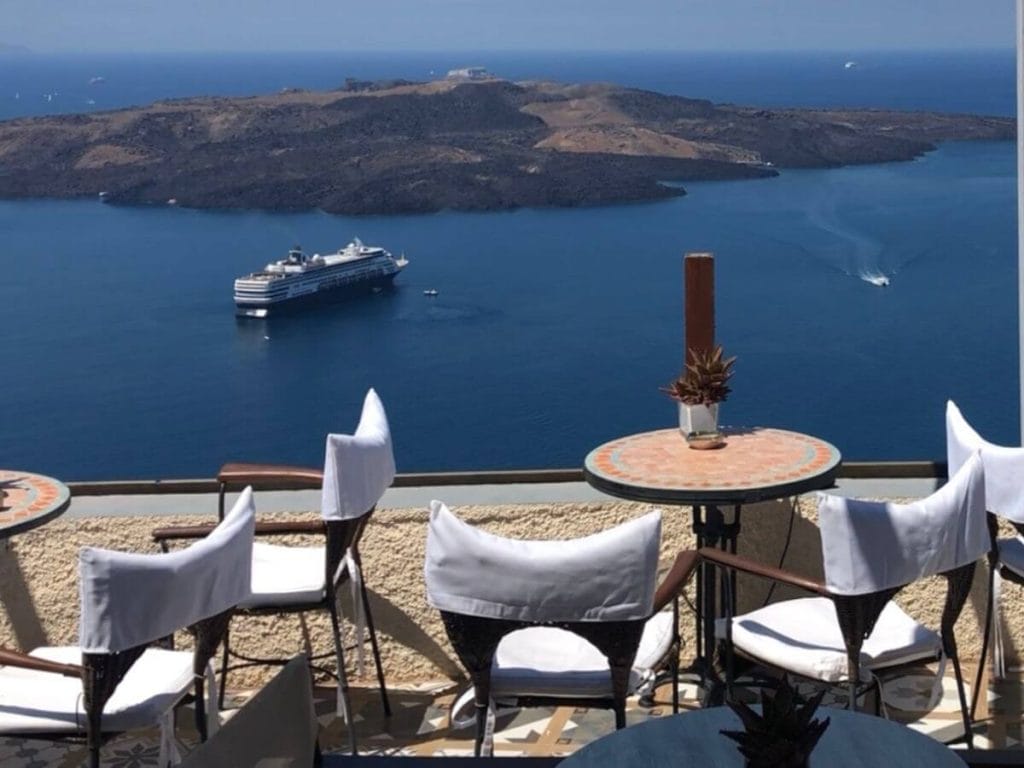 8 – Visit the Prehistoric Thera Museum
One of the most popular things to do in Fira among history lovers is visiting one of the most important museums in Greece.
Located in the heart of Fira, close to the bus terminal, the Museum of Prehistoric Thera reveals treasures and the evolution of the old civilization of the Cycladic Islands.
The exhibition is structured in four different units: the first one refers to the history of research at Thera, the second one to the geology of the island, the third one to the island's history from the Late Neolithic to the Late Cycladic I Period and the last one to the heyday of the city at Akrotiri (mature Late Cycladic I Period, 17th century BC).
The two-story building houses some extraordinary pieces from the excavations at Akrotiris, Potamos and other parts of the island, and the collection includes pottery from the Neolithic to the Middle Cycladic period, marble figurines, metal artefacts, etc.
It's open daily, except Tuesdays, and tickets cost 3 euros.
The museum is very small, yet interesting. It's a good option for a cloudy day and the visit won't take more than one hour.
I loved the wall paintings from Akrotiris and the small golden goat statue that was found recently.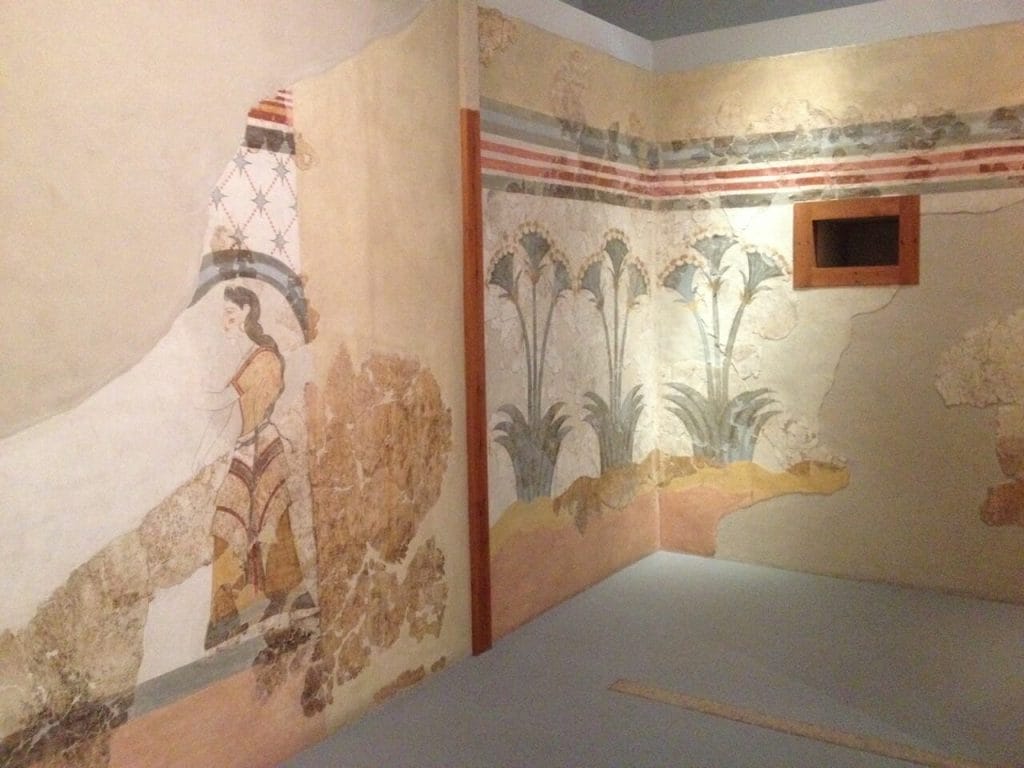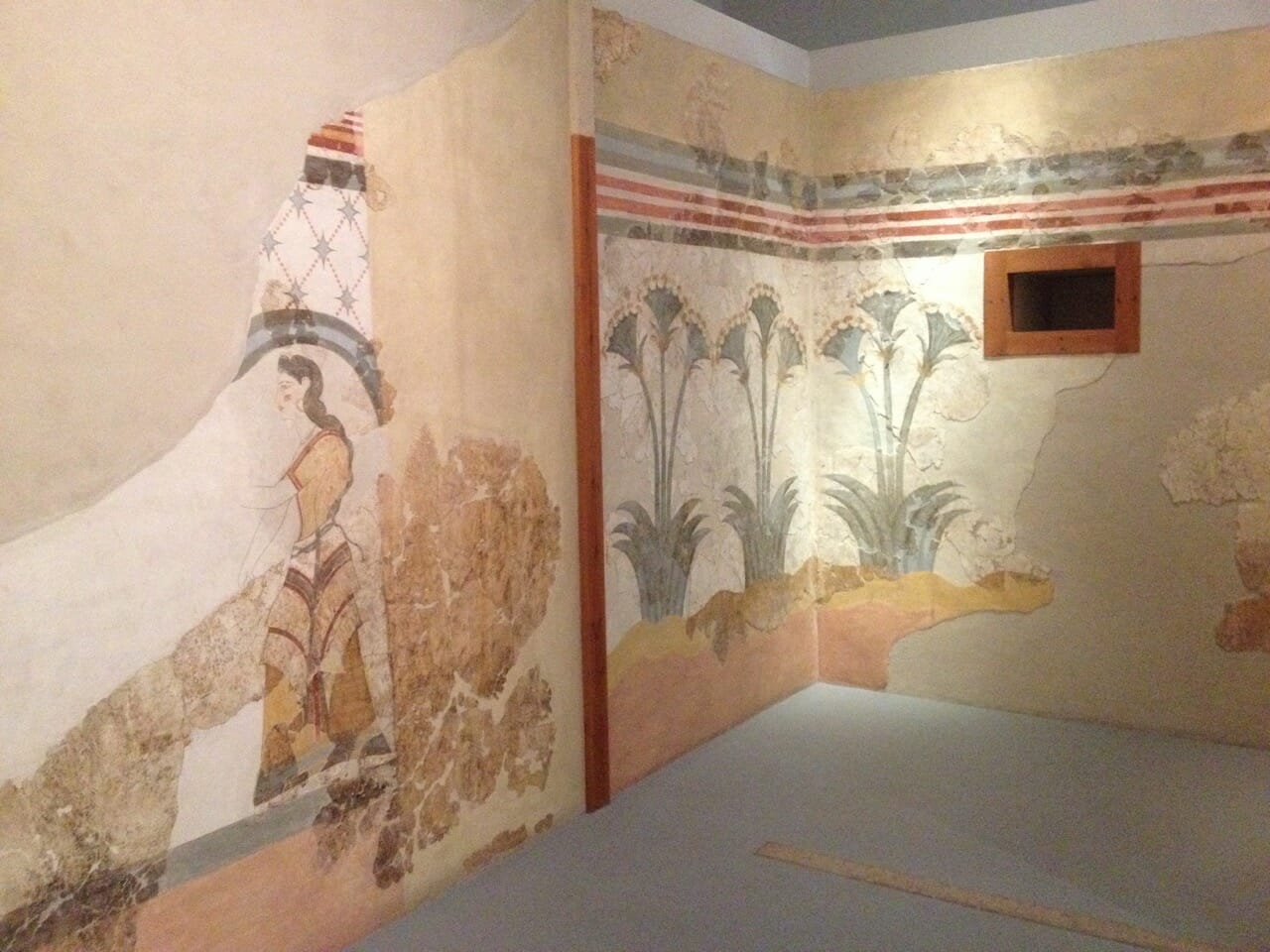 9 – Take the cable car
To deal with the increasing number of ships and tourists arriving in Santorini since the 1970's, a cable car was built between 1980 and 1982 to connect the old port to the capital.
The journey takes around 3min, each way, provides amazing views from another perspective of the stunning caldera and is one of the top things to do in Fira.
It's a convenient method of transport, saving time and energy for those who arrive in Santorini by cruise ship or wish to take a volcano tour (a must-do experience).
At the old port you can also take a boat to Oia and visit the old market.
The one-way ticket costs 6 euros for adults and 3 for children, and the cable car is open every day of the week (time and frequency vary according to the season).
If you don't want to take the cable car both ways, you can ride a donkey or, if you don't approve of that, you can take the 587 steps down (and keep your step count up).
10 – Find beautiful churches
Santorini has dozens of churches, and their blue domes are iconic images of the island.
But not all churches were created equal!
The Orthodox and Catholic churches in Santorini have different architectural styles, colors, bell towers and types of crosses.
With over 600 temples, monasteries, churches, chapels, etc on the island, I have no doubt you will fall in love with at least some of them.
There are glorious churches and extraordinary cathedrals in Santorini, and this is the reason why one of the coolest things to do in Fira is to find beautiful churches.
The most notorious church in Fira is the Orthodox Metropolitan Cathedral, located at the main square. It was built in 1827 and reconstructed after the destructive 1956 earthquake. Both exterior and interior are imposing, with elaborate arches, a staggering bell tower, beautiful frescoes and mosaic flooring. It is entirely whitewashed, including the dome, and it's open to the public.
One of my favorite churches in Fira is the outstanding Catholic Cathedral of Saint John the Baptist. Constructed in 1823 in baroque style, and also restored after the 1956 earthquake, this cathedral has an elegant combination of pale blue, grey and beige colors. This graceful cathedral has an elegant clocktower and is open daily from 10h to 13h and 17h to 20h.
Another beautiful church in Santorini is the Catholic Church of St. Stylianos located on the walkway to Firostefani. It's a little church, closed to visitors, but is very colorful and picturesque. It was love at first sight!
Make sure to visit some of these churches when you're in Fira.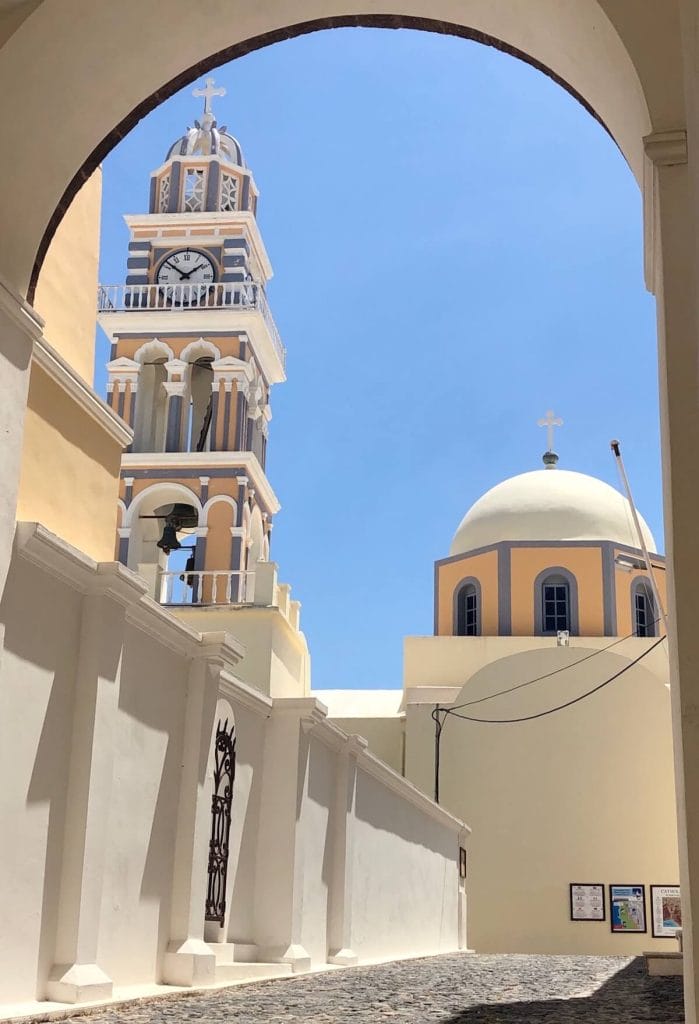 This is my list of the 10 Best Things to do in Fira and I bet you will find some more. And if you do, please leave a comment below 😉
Safe travels and enjoy Santorini.
More Santorini posts that you should not miss:
I always recommend that you buy a travel insurance! It can literally be your lifeline if your luggage is lost or stolen. I always use World Nomads Travel insurance for independent travelers.
It's easy to buy, extend & claim online, even after you've left home. Get yours here.
Enjoying the Best Things to Do in Fira
Where is Santorini?
Santorini is an island in the southern Aegean Sea, about 200 km (120 mi) southeast of Greece's mainland (check map here).
How to get to Santorini?
There are only two ways to get to Santorini: by boat or airplane.
There are several companies offering tours as it's one of best things to do in Santorini in one day. I recommend booking your tour online in advance with Viator, a TripAdvisor company, or Get Your Guide, that offer many different tours.
Some interesting Santorini tours are:
∗ There are ferryboats connecting Santorini to other Greek islands. The most common routes from / to are: Athens, Crete and Mykonos.
From and to Athens: the conventional ferry takes around from 6h to 8h and the high speed one takes between 4h to 5h. I recommend that you buy your tickets online in advance. You can check prices and timetable here.
∗ By airplane: there is an international airport in Santorini that receives flights from Athens during the whole year, and international flights during the high season.
The companies that operate from Athens to Santorini airport are: Aegean Air, Ryan Air and Volotea (only high season).
You can book your shared arrival transfer from Santorini National Airport to your hotel or cruise port with a discount here; and your Private Departure Transfer: Santorini Hotels to Airport or Ferry Port here from US$ 16,50.
Best time to go to Santorini?
The best time to visit Santorini is from May to September when the sun is shining, the temperatures are high and chances of rain are minimum.
To avoid crowds pick the months of May and September, and no worries because the weather in Santorini is still good at this time of the year.
Where to stay in Fira?
I stayed at San Giorgio and if you're looking for hotels in Fira, I can also recommend: my recommendations are:
Santorini Tours

that I Recommend

More tours options with Get Your Guide

Don't forget to save these pins 😉
Travel Planning Resources
For every booking made through my site I donate US$ 1 for a charitable organization.
Safe travels ☺