Visiting the beaches in Lagos? Below you will find the 7 best and most beautiful ones 😉
After exploring Albufeira, I headed to Lagos to visit its world-class beaches.
Apart from Praia da Dona Ana, which was considered the most beautiful beach in the world by Condé Nast Traveller Magazine in 2013, there are other breathtaking beaches in Lagos that you must see when visiting the Algarve.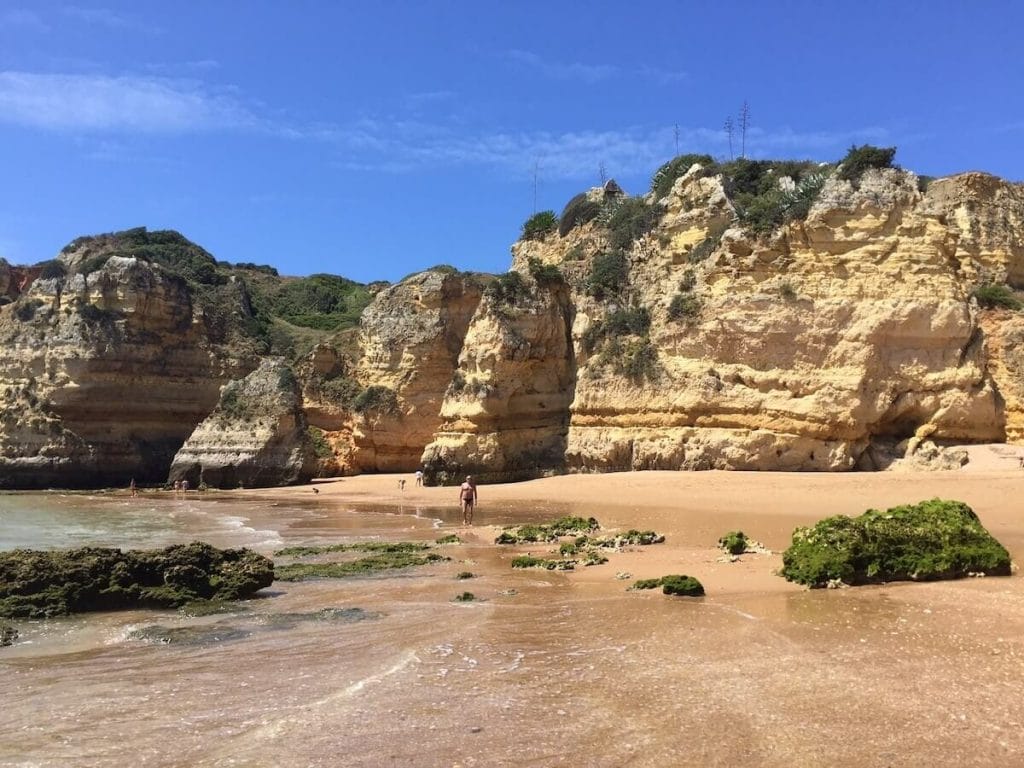 Lagos is an ancient marine town, whose history stretches back more than 2000 years. It was occupied by the Phoenicians, Romans, Visigoths, Byzantines and Moors, who in the 8th century fortified and walled the city and built a medieval castle that can still be seen today.
After the Christian Reconquista of the Iberian Peninsula in 1189, Lagos played an important role in Portuguese discoveries due to its strategic harbor position. Under the expansionist project of King Sebastian, Lagos became a city, and the capital of the Kingdom of the Algarve, in 1573. Lagos had the very first African slave market in colonial Europe which was built in 1444.
Nowadays, Lagos is one of the most visited cities in the Algarve due to its stunning and famous beaches, incredible rock formations, great variety of hotels, bars, restaurants and spirited summer nightlife.
* Affiliate disclosure: Some of the links below are affiliate links, meaning I earn a small fee if you click through and make a purchase. There is never any additional cost to you, and I use some of these earnings for my monthly charitable donations.
7 Must-see Beaches in Lagos
Lagos has many interesting natural sites with the beaches being the most renowned ones.
From the city center to Ponta da Piedade, on the western edge of the city, here are 7 must-see Lagos beaches.
1 – Ponta da Piedade
Ponta da Piedade (Mercy Point) is one those places that is hard to believe exist! Located around 3 Km from Lago's city center, it's probably the most incredible shoreline in the world and according to the Huffington post, the most beautiful beach in the world.
Featuring a stunning combination of majestic rock formations, sea arches, caves, ochre cliffs and crystal-clear green water, Ponta da Piedade will certainly take your breath away.
I've been to the Algarve often but even I was completely in awe the first time I saw Ponta da Piedade . OMG!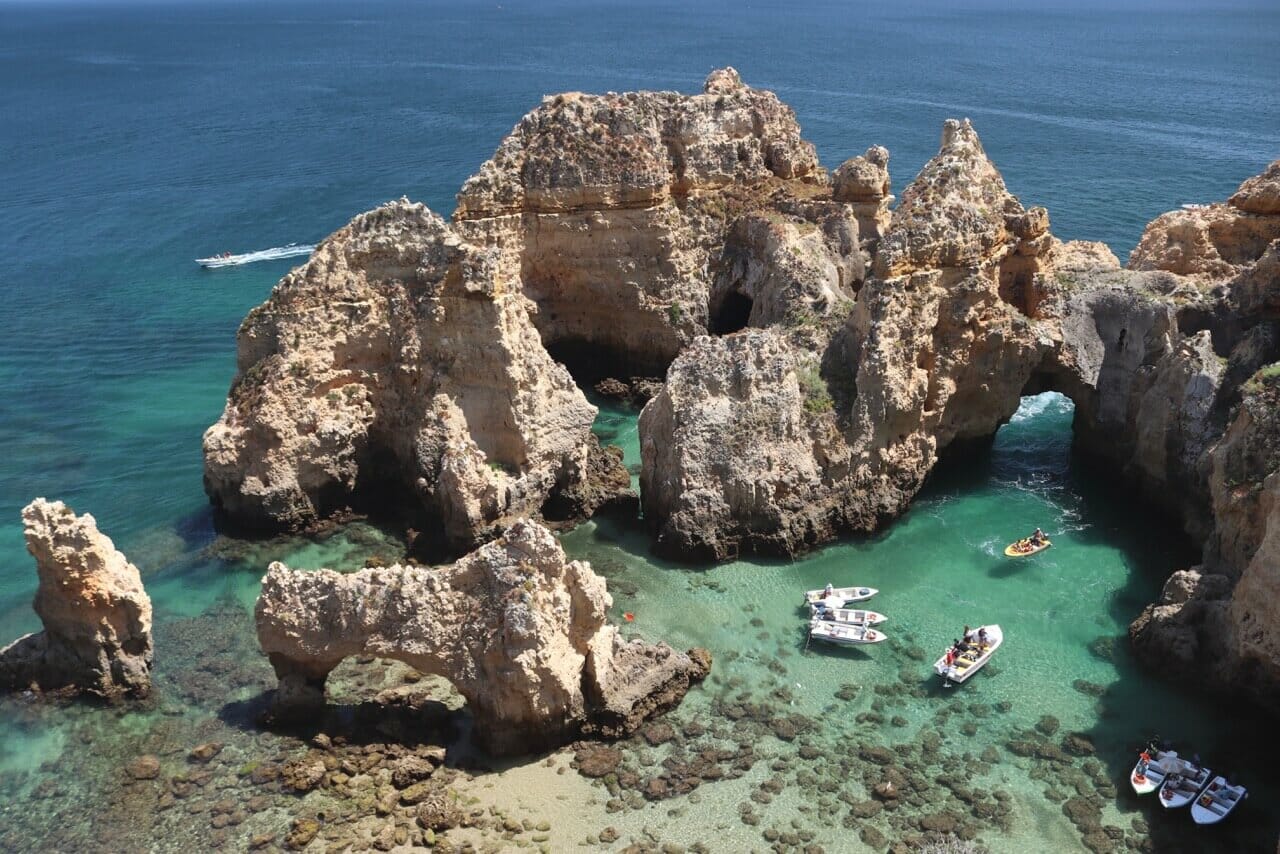 The beach is accessed by road then on foot along a cliff-top path, by boat or even better, by kayak. From the 20m (65ft) height cliffs you can take in all of Ponta da Piedade's beauty, but you should definitely take the 182 steps down the ravine and get near the water to have another view of it.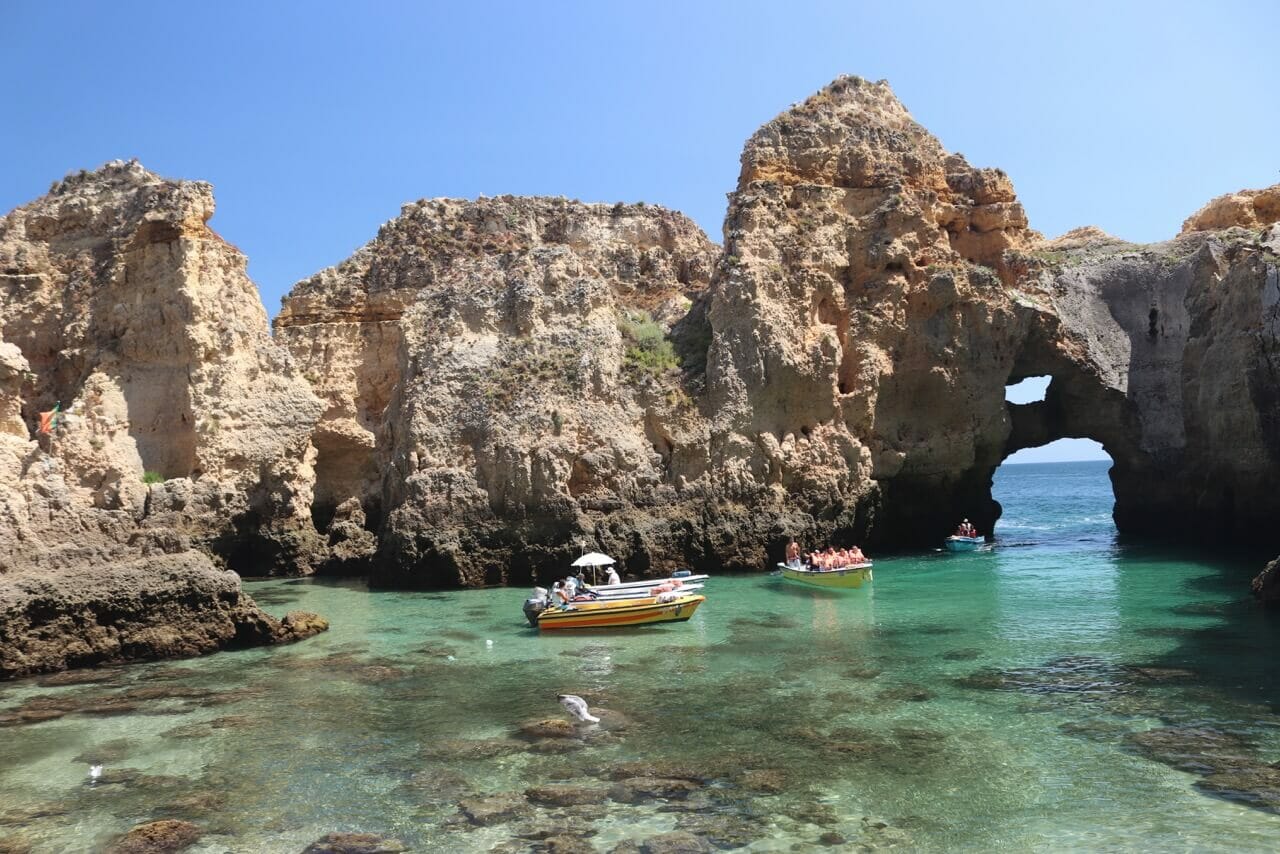 If you visit Ponta da Piedade during the peak summer season you won't be allowed to get into the water because of intense boat and kayak traffic; unless you go early in the morning or in the end of the afternoon when the boatmen aren't there. But you can embark on a boat trip to visit nearby beaches and grottoes.
Ponta da Piedade is one of my favorite beaches in Lagos and you just can't miss it!
Book your Ponta da Piedade tour online in advance here with Viator without any extra costs for you.
There's a parking lot, public restrooms a restaurant, souvenir shops, and lighthouse (closed to the public) at the end of the road.
Quick Tip: Please be careful when you climb the cliffs and the steep stairway to take pictures because in some parts there isn't a hand- or guardrail.
2 – Praia do Camilo
One of the most beautiful beaches in Lagos and in the whole Algarve, Praia do Camilo is a very scenic beach framed by impressive limestone rocks.
The tiny beach surrounded by orange, yellow and red cliffs, has crystalline green-blue water, amber sand and is accessed by a long wooden staircase.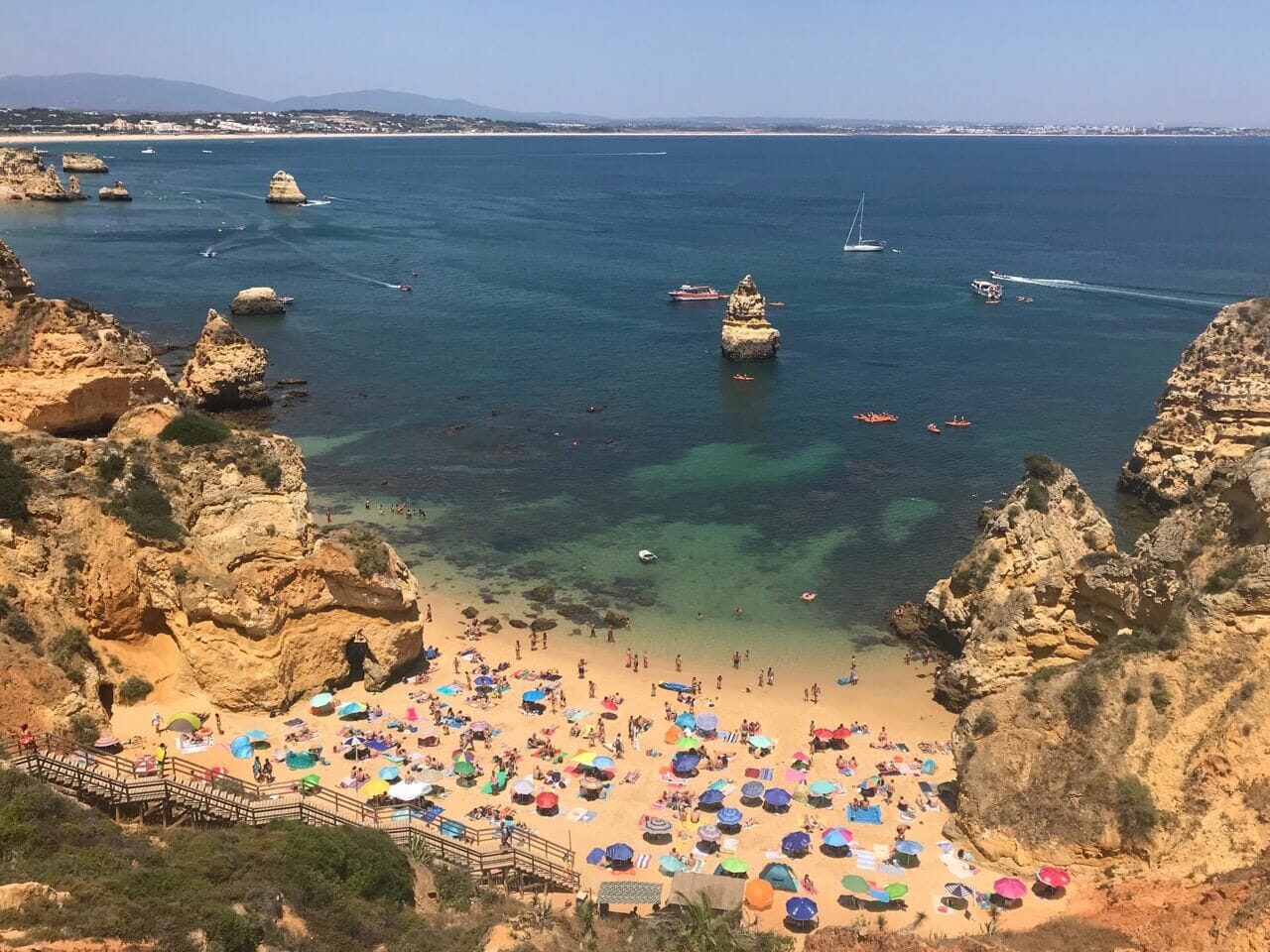 What I like most about Praia do Camilo is that it's so picturesque, whether you see it from the cliffs, the stairway, the sand and even from the water.
The infrastructure is very basic and there is only one restaurant on the top of the cliff close the stairway, which is really nice by the way. There are lifeguards on duty but there are neither kiosks nor beach amenities, so be prepared to take a cooler with water, booze and snacks.
Quick Tip: This beach has two sections and at high tide you need to use a tunnel to access the second part.
3 – Praia da Dona Ana
Once you arrive at Praia da Dona Ana, you understand why it's considered to be one of the most beautiful beaches in the world.
At one side, a long and uneven wall, formed by ravishing orange cliffs covered in low vegetation, merges with the azure water and disappears in front of your eyes. On the other side, the cliffs shelter the beach and form a bay that is perfect for swimming in its tranquil waters.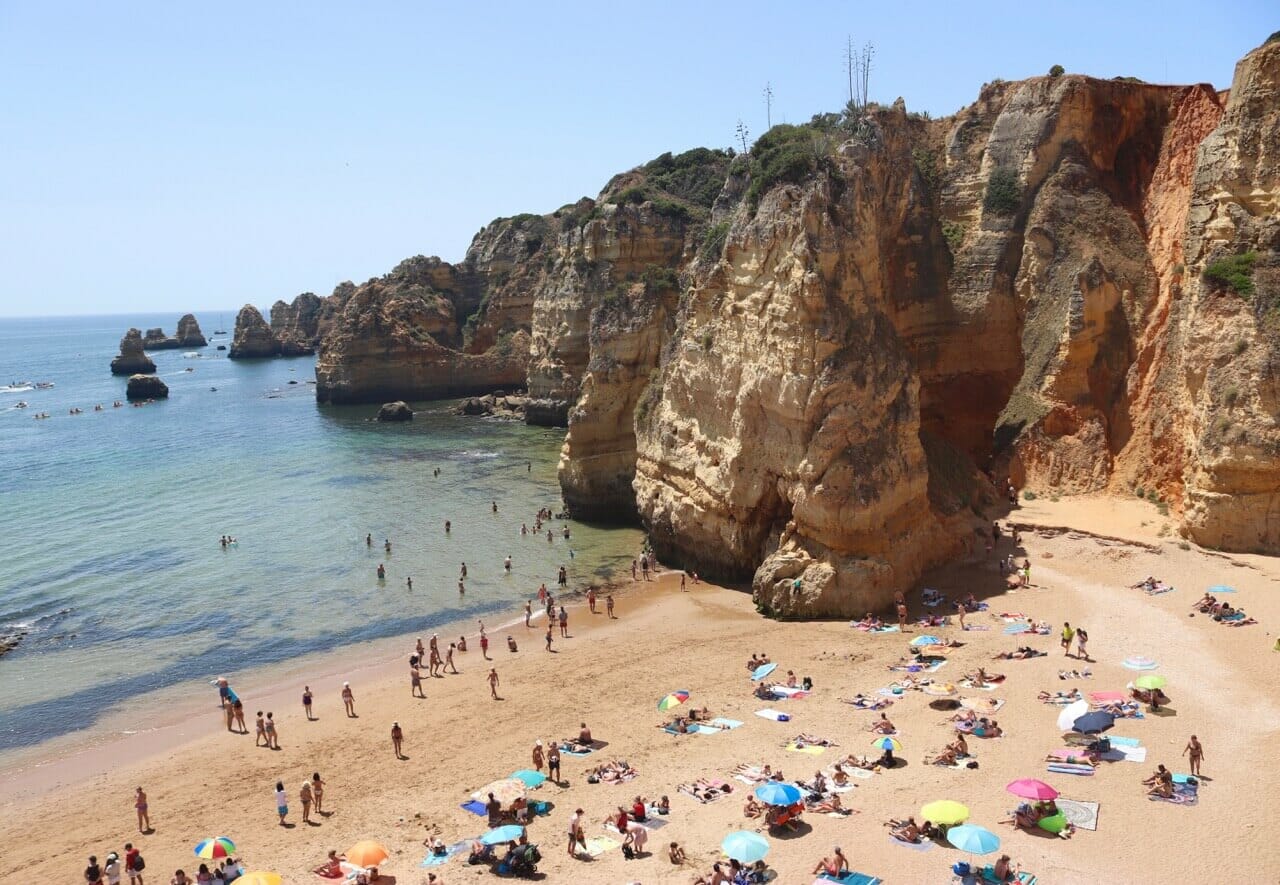 Access to this beach is by stairway and there is a parking lot, wooden boardwalks, beach amenities, a restaurant and a masseur and lifeguards on duty.
Praia de Dona Ana is very popular among tourists and locals and it has been enlarged to better attend everyone.
Even though the beach can get very crowded during the summer, it's totally worthwhile a visit.
You must see Praia de Dona Ana as it's one of the most famous and best beaches in Lagos.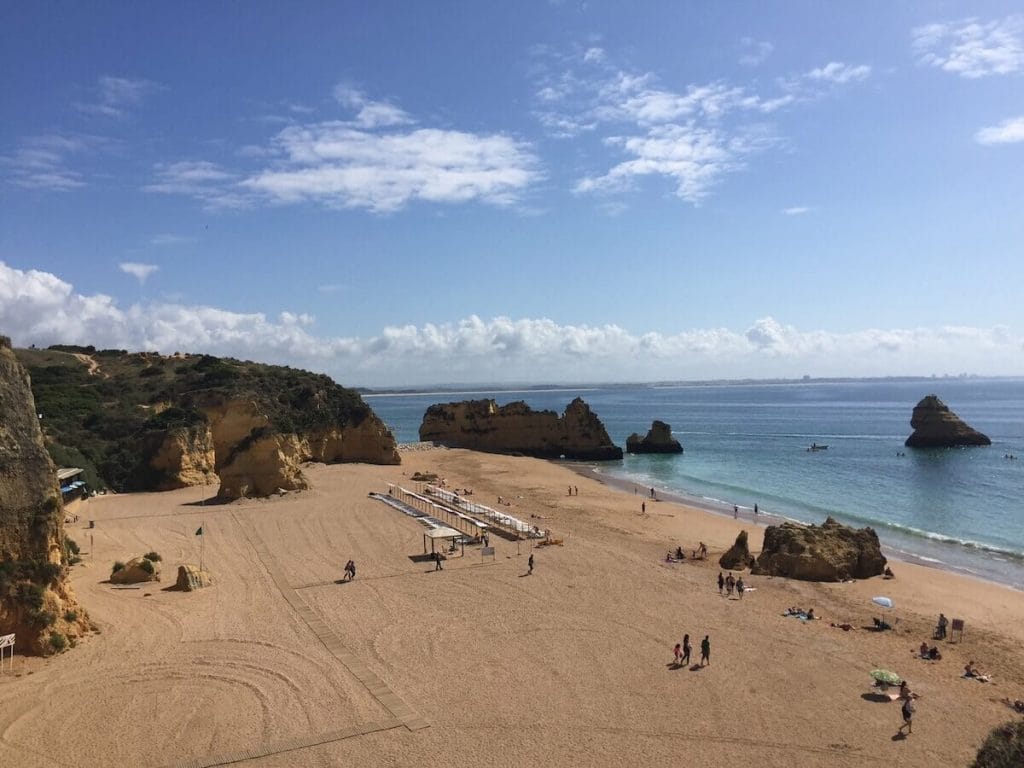 4 – Praia dos Estudantes
Students' Beaches probably has the most interesting history of all the Lagos beaches because there is a small bridge that was part of a fortress.
The tiny sandy beach is nestled among rock formations that extend into the sea, making the water very calm and perfect for swimming!
The beach is accessed through a small staircase or a handmade tunnel that connects Praia dos Estudantes with Praia da Batata. There is also a second hand-dug tunnel from where you can go to another nearby beach at low tide.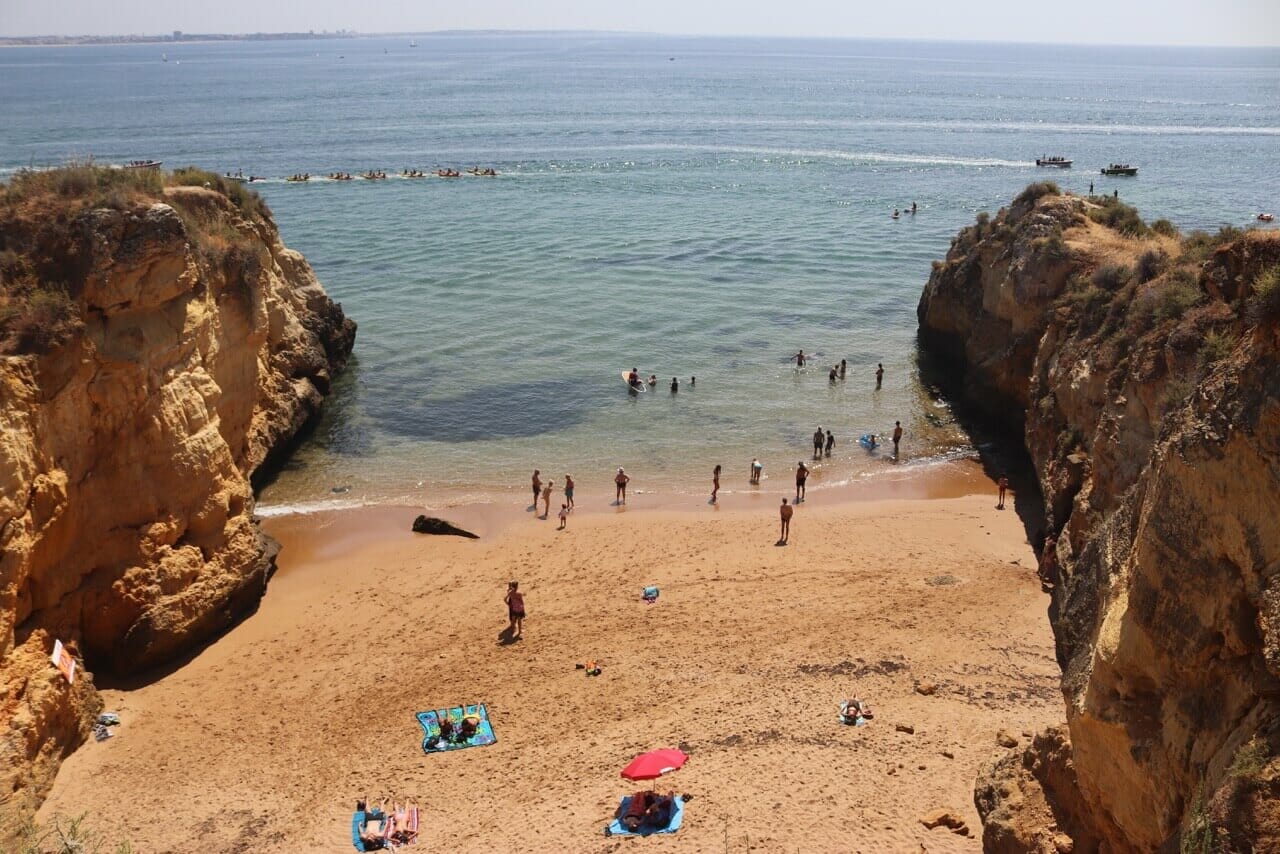 The second area of Praia dos Estudantes is very photogenic because there is a charming bridge linking the rock to the main land. This bridge was part of the Pinhão Fortress which was almost completely destroyed by a tsunami following an earthquake in 1755.
Praia dos Estudantes is mostly frequented by younger people and very quiet compared to the other beaches in Lagos.
There aren't amenities or lifeguards, but it's located very close to the city center so you can reach bars, restaurants and supermarkets easily from there.
5 – Praia do Pinhão
Located between Praia dos Estudantes and Dona Ana, Pinhão is another gorgeous Lagos beach with crystal-clear azure water, yellow and orange towering cliffs and amber sand.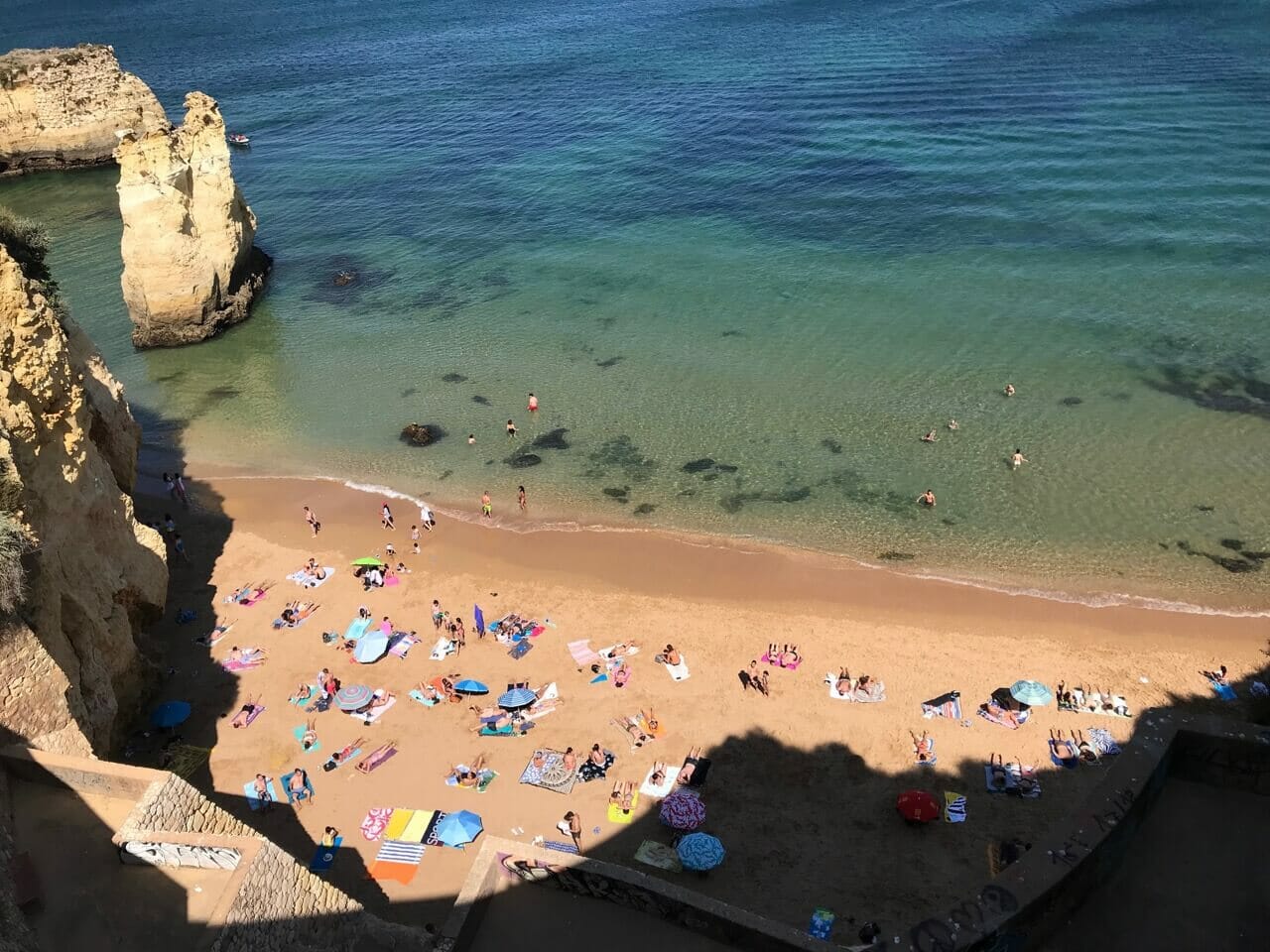 The beach is accessed by a steep stone stairway and also via Praia dos Estudantes at low tide.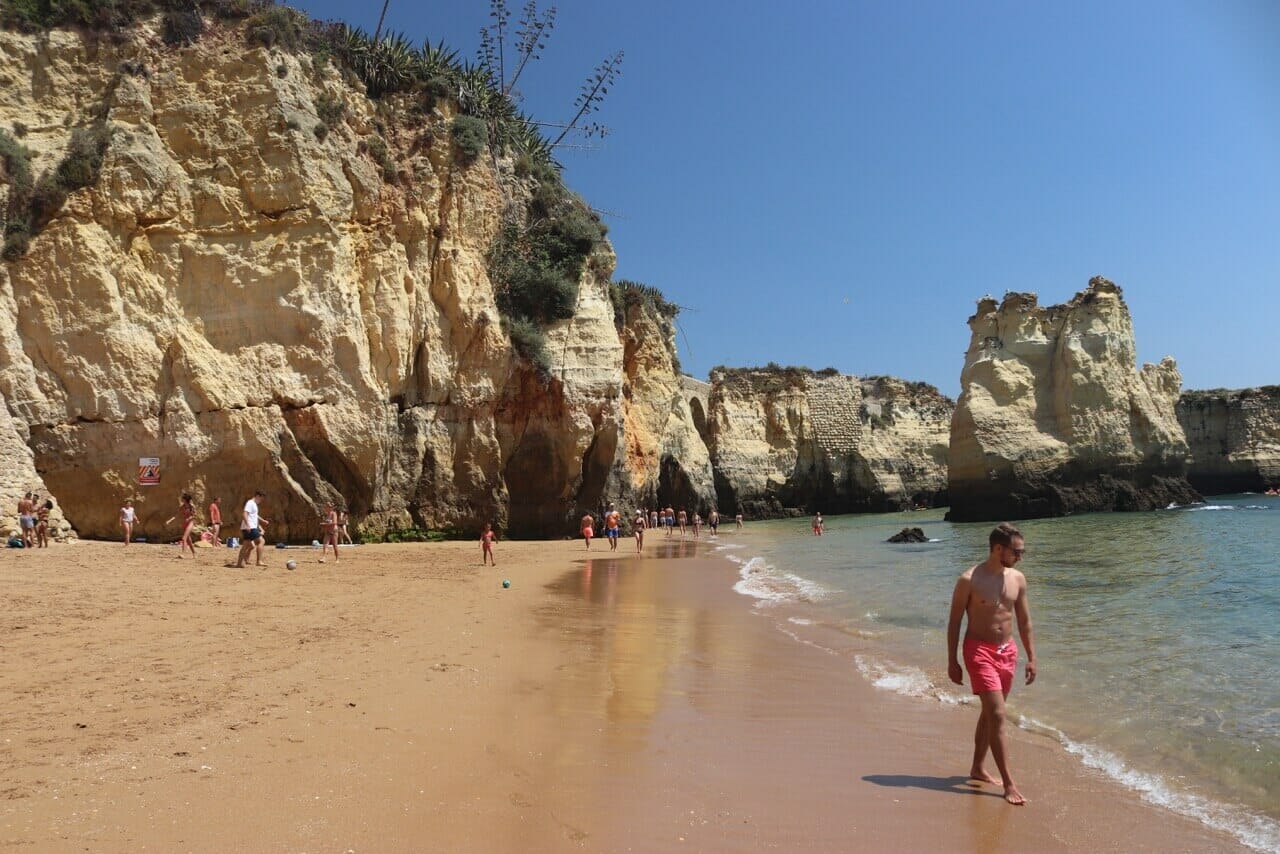 Praia do Pinhão is frequented by families and young people and the second part, closer to Dona Ana Beach, is much larger and usually busier than the first one.
The nicest thing about Pinhão is that it's secluded and untouched without the commercialism you may see in other beaches in Lagos.
So be prepared to bring towels, umbrellas and a thermal bag with drinks because there aren't amenities here.
6 – Praia Grande
If you're looking for an extra dose of adventure with the reward of a peaceful and striking spot, Praia Grande is your beach.
The access to this beach is challenging because you need to go down on the cliffs holding on to a rope, then squeeze yourself between the cliff walls. No worries though, because it isn't actually rock climbing and doesn't take more than 10min to get there.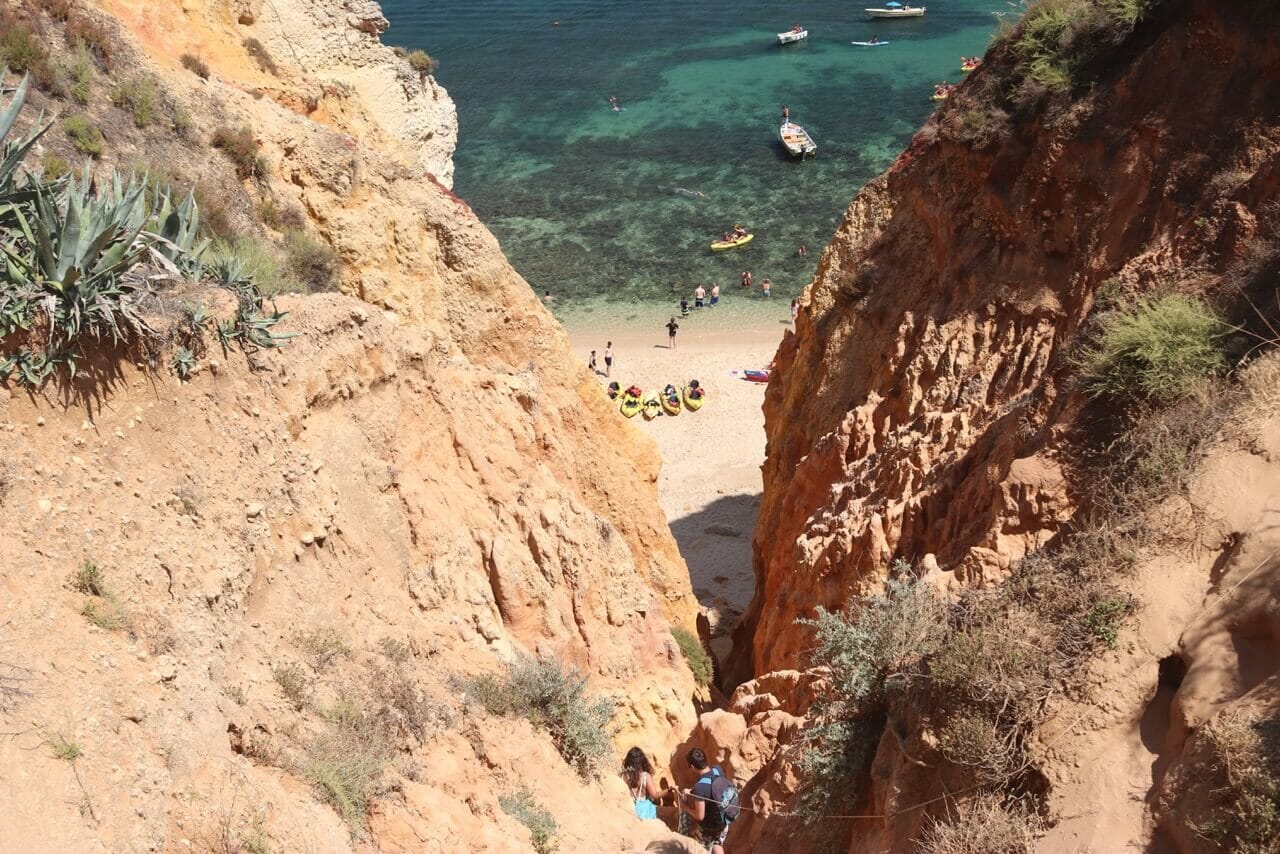 Praia Grande is surrounded by tall orange-yellow cliffs, has light golden sand, grottoes and caves begging to be explored and incredible crystal-clear turquoise water.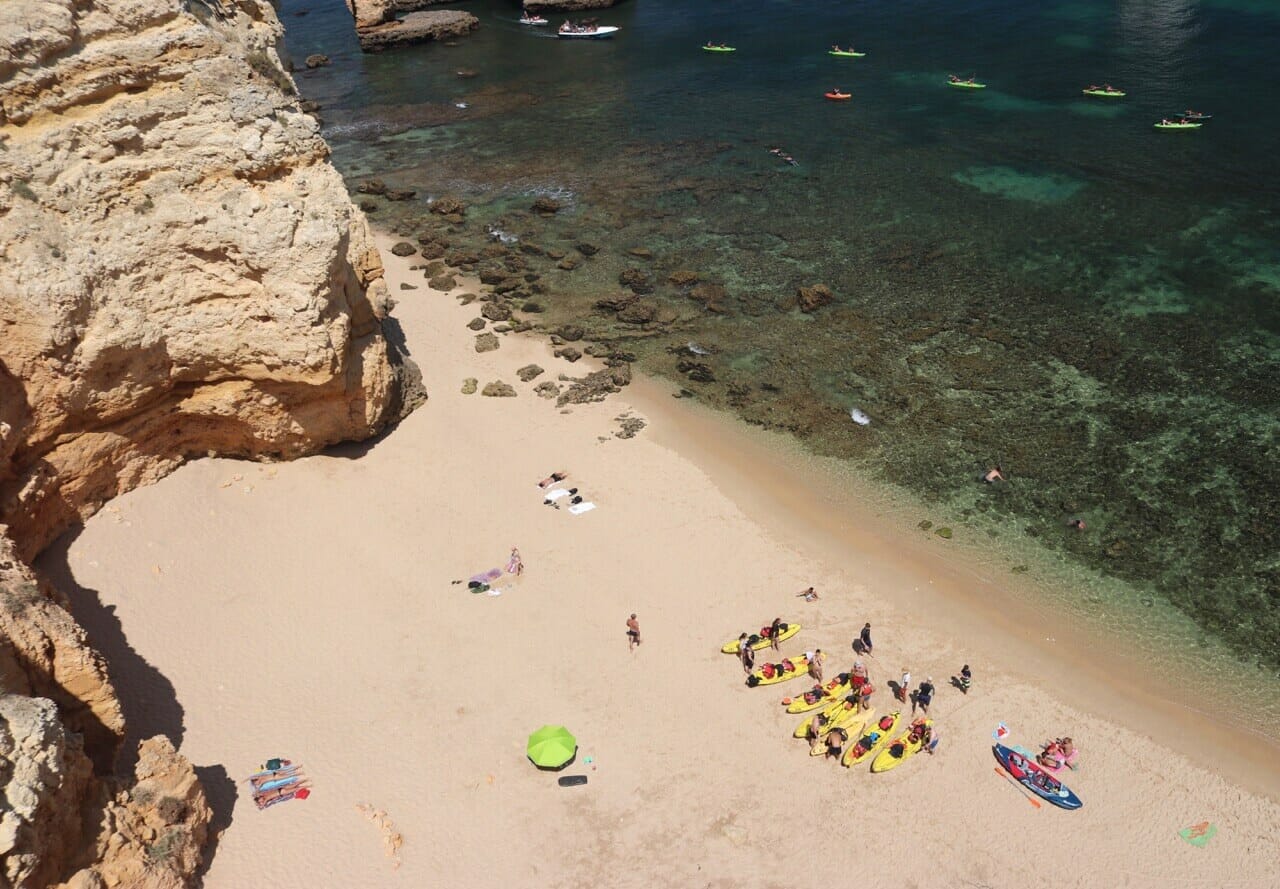 Despite its name "Big Beach", Praia Grande is relatively small and only a few people would venture to visit it. In fact, most of the visitors come by kayak and boat as it's a popular spot for taking a break during kayak excursions.
But even so, the beach is quiet and the water perfect for snorkeling due to the many coral reefs.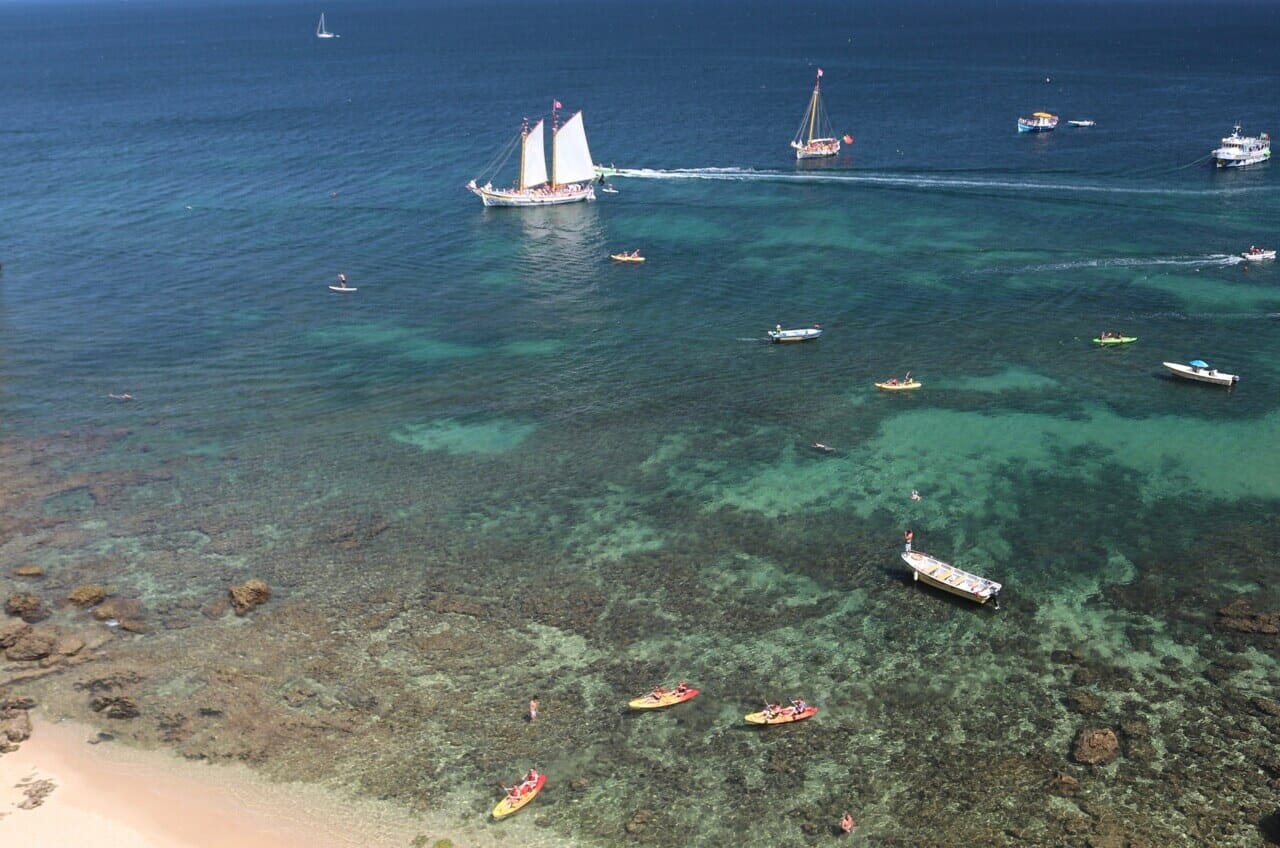 Quick tip: If you don't want to go to Praia Grande but still want to visit a beach away from the crowds, there is a clothing optional beach nearby with easier access, called Praia dos Pinheiros, which is one of only two naturist beaches in Lagos.
7 – Praia da Batata
The closest beach to the city center, "Potato Beach" has an excellent infrastructure with public bathrooms, showers, restaurants, lifeguards, chairs, umbrellas and Stand Up Paddle Boards for hire and is one of only four beaches in Lagos that is wheelchair accessible.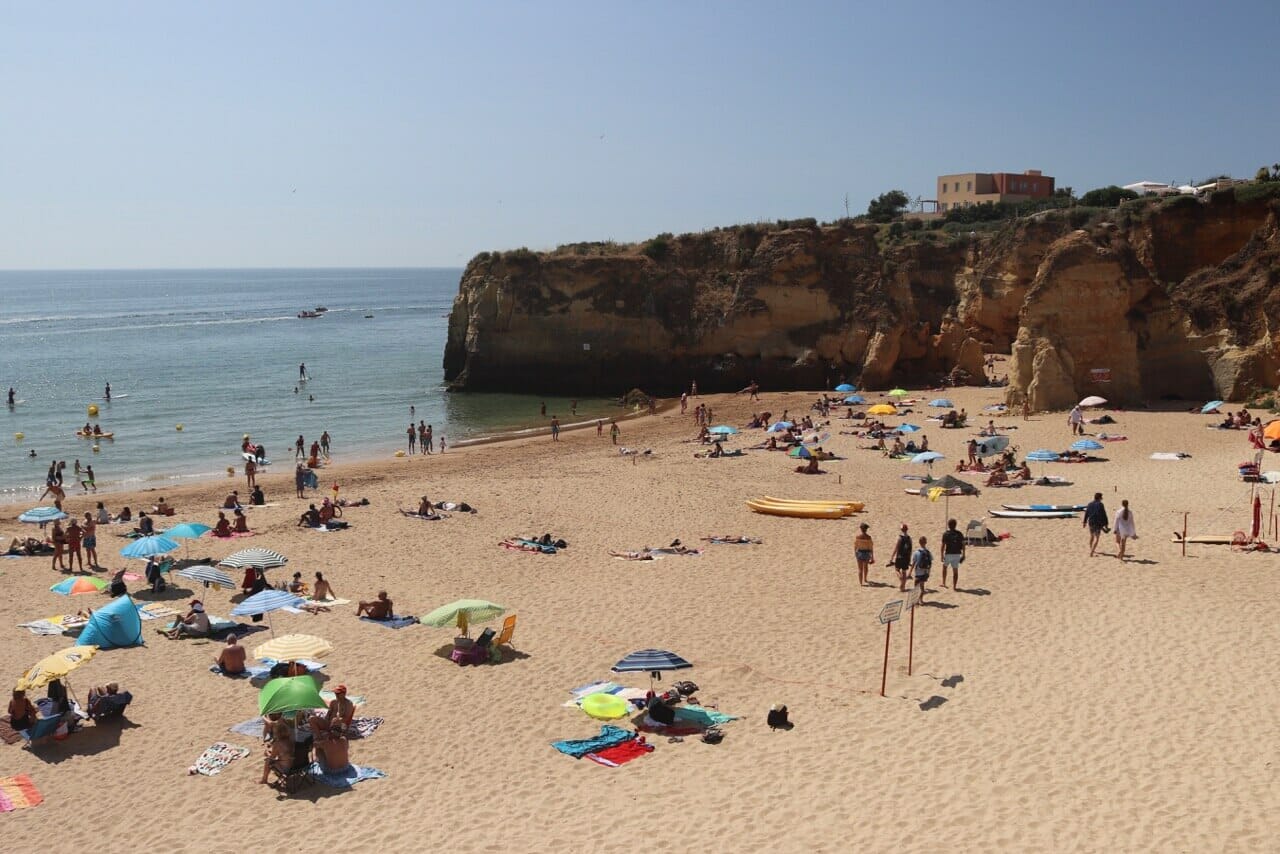 At the entrance you can see the historic beachfront fortress Ponta da Bandeira that was completed in 1690, the Cais da Solaria, a breakwater that protects the mouth of the River Bensafrim, and Lagos' marina and harbor.
When you walk towards the southern end of the beach with the familiar ochre Algarvian cliffs, Praia da Batata gets much more beautiful, quieter and nicer.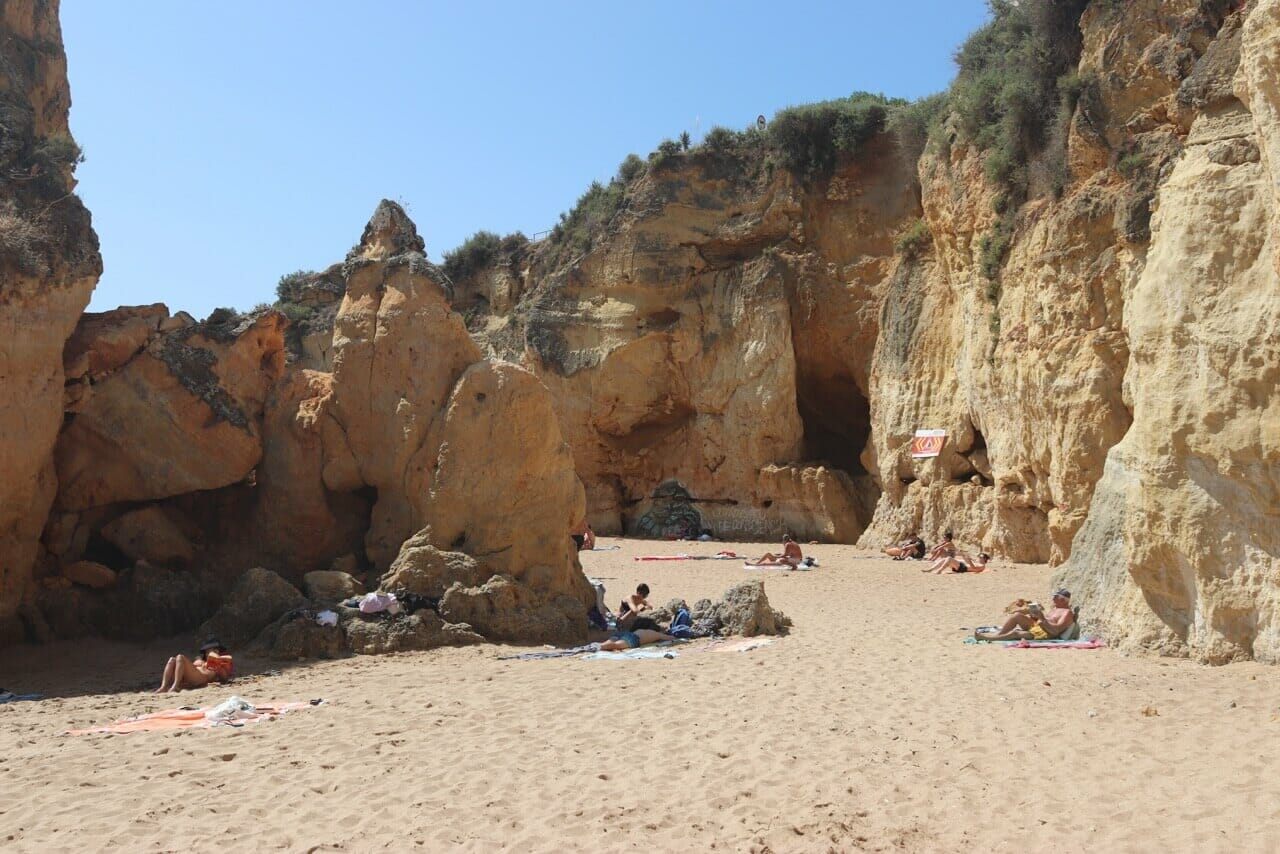 For me, Batata is not as good as the other beaches in Lagos, but because of its convenient location, it's perfect for combining with a visit to the historic center, and for those who don't have too much time in the city but wanted to take a quick dip.
Those are the 7 Lagos beaches that I believe you must not miss when you're in the city and you can visit all of them in three or even two days.
Safe travels and enjoy the beaches in Lagos 😉
You may also be interested in:
I always recommend to buy a travel insurance, which can literally be your lifeline if something happens to you and if your luggage is lost or stolen.
I always use World Nomads Travel insurance for independent travelers. It's easy to buy, extend & claim online, even after you've left home. Get yours here.
Visiting the Beaches in Lagos
Lagos is a coastal town in southern Portugal's Algarve region (check map here).
There is an international airport in Faro, but the most popular is the one in Lisbon.
From Lisbon you can take a bus or a train to the Algarve. The prices are basically the same and they take around 2h and half to get there.
Some of the companies that fly to Faro are: Easyjet, British Airways, Ryanair and TAP.
You can book your flights with Skyscanner, that is the website that I use and trust.
Definitely during the summer and specially July and August. But if you don't like crowds and heat, you should go June or September.
Budget: Guest House Casa Sousa, Olive Hostel Lagos and Bela Vista Guest House.
Great Value for Money: Lagos Uptown Bed & Breakfast, Don Manuel I Charming Residence, Baluarte Da Vila Apartments and Aldeia Azul Resort.
Luxury: Villas Don Dinis, Cascade Wellness & Lifestyle Resort and Belmar Spa & Beach Resort
Hotels.com is having a 48h sale where you can save up to 50%. Check it up before it ends.
If you're only staying in Lagos you don't need a car because you can walk to all those beaches. You need just to book a transfer from Faro's airport and you can do it here.
If you want to visit other beaches in the Algarve (I really recommend you to do that), you must rent a car because the public transportation in the Algarve isn't good.
You can rent a car with Rental Cars here with no extra costs for you.
More Lagos Tours that I recommend
Extra Tips
You can walk from Praia da Batata to Pinhão following the trails atop the cliffs, or passing through the beach tunnels at low tide, which is much quicker and delightful.
Be careful when you're visiting those beaches, specially when taking pictures, because the cliffs are unstable and there is risk of falling rocks.
Don't forget to bring sunscreen, hats, towels and plenty of water.
The sea is in general very calm but sometimes the water isn't as clear and you see in this post.
Don't expect warm water because it's not warm at all.
Helpful Links
For more information about the Algarve visit the page: Visit Algarve.
For the bus schedule between Lisbon and the Algarve visit Rede Expressos website.
Travel Planning Resources
For every booking made through my site I donate US$ 1 for a charitable organization.
Safe travels ☺