Lagos, an ancient marine town, is one of the most visited cities in the Algarve due to its renowned beaches, incredible rock formations, great variety of hotels, bars, restaurants and spirited summer nightlife.
The city has also a very rich history that stretches back more than 2000 years. It was occupied by the Phoenicians, Romans, Visigoths, Byzantines and Moors, and became the capital of the Kingdom of the Algarve in 1573.
Nowadays there are no queens or kings in town, but instead, thousands of tourists who come to discover its extraordinary beauty and enjoy one of the best summer destinations in Europe.
I've visited the city several times, and that's why I decided to write this post to help you plan your trip.
From wandering the alleys and streets of the Old Town to visiting historical sites, beach exploring, dolphin watching and taking boat trips, here are the 18 best things to do in Lagos, Portugal.
* Affiliate disclosure: Some of the links below are affiliate links, meaning I earn a small fee if you click through and make a purchase. There is never any additional cost to you, and I use some of these earnings for my monthly charitable donations.
18 Best Things to Do in Lagos
1 – Be in awe of Praia Dona Ana, the most beautiful beach in the world
Considered the best beach in the world by Condé Nast Traveller Magazine in 2013, Praia da Dona Ana is one of the most famous tourist attractions in Lagos.
When you arrive at Dona Ana Beach you'll be completely in awe!
At one side, a long and uneven wall, formed by ravishing orange cliffs covered in low vegetation, merges with the blue water and disappears in front of your eyes.
On the other side, the cliffs shelter the beach and form a "bay" with tranquil waters that are perfect for swimming.
Access to this beach is by stairway and there is a parking lot, wooden boardwalks, beach amenities, a restaurant, a masseur and lifeguards on duty.
Praia de Dona Ana is very popular among tourists and locals and even though it can get crowded during the summer, it's totally worthwhile visiting as it's one of the best things to do in Lagos.
2 – Take a boat trip/kayak to Ponta da Piedade
While in Lagos, you shouldn't miss the opportunity to take a boat trip/kayak to Ponta da Piedade.
The boat takes you on a memorable journey along the breathtaking coastline and you can get an amazing perspective of several Lagos beaches until you get to the spectacular rock formations of Ponta da Piedade.
On this 75min thrilling adventure, you'll sail through fascinating sea caves, hidden grottos with crystal-clear water and incredible sandstone cliffs.
If you prefer to take a kayak to Ponta da Piedade, you'll be able to enter some caves and grottoes that boats can't access and have free time to go swimming and relax on a calm beach.
It's a trip for the whole family and the price is very reasonable, from 20 euros per person. I've done both and I loved it!
Pro tip: As it's one of the coolest things to do in Lagos, I recommend booking your grotto trip online in advance. This one has excellent reviews, and if you prefer a half-day cruise with lunch and beverage included, book this one.
P.S.: Don't miss the chance to also see Ponta da Piedade from above, because the view is spectacular.
3 – Hike the Lagos Coastal Walk
Once you're at Ponta da Piedade, what about hiking a path with breathtaking views?
The brand-new Ponta da Piedade boardwalk is a phenomenal 2.5Km (1.5mi) trail that starts at Farol da Ponta da Piedade and finishes at Praia do Canavial.
During this 1h30min hike, you can peruse the unique geological formations and fauna and flora of the Algarvian ecosystem and discover beautiful hidden beaches and coves.
Because of the heat, my recommendation is to hike the "Passadiços da Ponta da Piedade" during the sunset. If you're a hiker lover, you can go all the way to Luz (11Km – 6.8mi).
4 – Wander around the Old Town
A trip to Lagos cannot be complete without visiting its Old Town!
Featuring lovely cobblestone streets with different patterns, whitewashed and tiled houses, museums, lovely alleys, picturesque churches, lively squares and a myriad of restaurants, stores, bars and pubs, Lagos's Old Town is the heart of the city.
And there are many things to do in Lagos Old Town (Cidade Velha), such as sightseeing and taking a walking tour. You can also visit the very first African slave market in colonial Europe which was built in 1444, the Museu Municipal Dr. José Formosinho, Lagos Castle and see the remains of the ancient city walls.
But I also suggest that you wander around and find narrow and quieter streets for a more relaxed atmosphere.
I loved exploring Lagos Old Town!
5 – Visit Praia do Camilo, the most picturesque beach in Lagos
Among all the beaches in Lagos, my favourite is Praia do Camilo, a very scenic beach framed by impressive limestone rocks.
The tiny beach, surrounded by orange, yellow and red cliffs, has crystalline green-blue water, and amber sand. It's accessed by a long wooden staircase.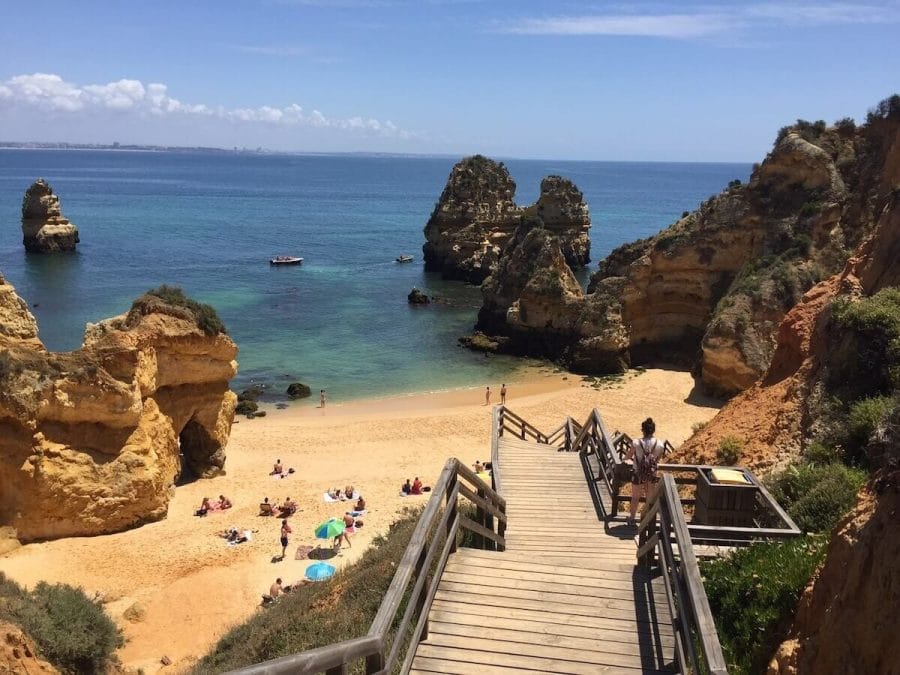 The infrastructure is very basic. There's only one really nice restaurant close to the stairway, with toilets available to everyone, a kiosk selling snacks and beverages at reasonable prices, lifeguards on duty and SUP rentals.
Bear in mind that Praia do Camilo gets very crowded in the summer and finding a place to lay down your towel can be challenging.
Praia do Camilo is very picturesque whether you see it from the cliffs, the stairway, the sand and even the water. For me, it isn't only one of the most beautiful beaches in Lagos but also in the whole Algarve.
6 – Visit Igreja de Santo Antônio, a baroque masterpiece of gilded wood
Igreja de Santo Antônio was constructed in 1707 and rebuilt after the great earthquake of 1755. This single-nave church in the baroque style has a vaulted ceiling, covered with coloured and intricately drawn paintings, and two bell towers of differing heights.
The church interior has lower walls decorated with traditional blue and white azulejos and above the tiles is one of the finest examples of carved gold-plated woodwork ever found in Portugal.
The gilded altar has a statue of St Anthony holding baby Jesus and a rare statue of St Eloi (Eligius), the patron saint of goldsmiths.
Igreja de Santo Antônio, one of the most breathtaking and important churches in Portugal and a National Monument, is open from Tuesday to Sunday and the entrance ticket costs only 3 euros.
7 – Stroll along Avenida dos Descobrimentos
If you ask me what to do in Lagos at the end of the afternoon, my top suggestion is to go for a gentle stroll on Avenida dos Descobrimentos, one of the most emblematic avenues in the city.
On one side there's a lovely 1.4Km (0.9mi) palm-fringed promenade with street vendors selling handmade products and souvenirs.
On the other side, you can find a great choice of bars, restaurants, shops and the Mercado Municipal de Lagos, a marketplace featuring a huge assortment of local seafood & produce, plus a small cafe.
From Avenida dos Descobrimentos you can reach Lagos Marina, where you can find several types of restaurants, bars, shops, a kids club, an art academy & gallery, a farmer's market and even a resort.
8 – Go beach exploring
I love beaches, and one of my favourite things to do in Algarve is beach exploring.
The greatest thing about Lagos is that some of its best beaches are very close to each other, so you can take in a few in one go.
You can start at Praia da Batata, the closest beach to Lagos's city centre, and walk all the way to Ponta da Piedade, approximately 2.5Km (1.55mi). When walking along the beaches, only at low tide, you'll pass through some hand-dug tunnels along the way.
During your beach exploration, you'll have the opportunity to visit Praia dos Estudantes, a picturesque beach with a charming Roman arch, Praia do Pinhão, a secluded beach surrounded by orange towering cliffs until you get to the world-famous Praia Dona Ana.
From Dona Ana to Camilo and Ponta da Piedade, the safest way is to walk along the road, although the views from the cliffs are outrageously beautiful.
9 – Discover the nearby cities and towns
Albufeira, Lagos, Vilamoura, Carvoeiro, Loulé and Portimão are generally considered to be some of the best places to visit in Algarve.
But the Golden Coast, which extends for an area of 4,997 Km2 (1,929 sq mi), has many other attractions.
If you're looking for things to do near Lagos, you shouldn't miss the opportunity to discover the nearby towns and beaches.
If you like history, you should visit Loulé, Faro or Silves. If you prefer unique beaches don't miss Lagoa and Portimão, two of the most breathtaking beaches in the Algarve are in these municipalities.
But if you're more into the off-the-beaten track, my top recommendation is Costa Vicentina Natural Park, where you find a bit of history and gorgeous beaches.
10 – Fall in love with Luz
Located 6Km west of Lagos, Luz (Light), is an enchanting former fishing village.
It boasts charming cobblestone streets, picturesque churches, beachfront restaurants and one of the best beaches in the Algarve.
Praia da Luz is a large Blue Flag beach, and you can expect all kinds of facilities, such as wooden boardwalks, toilets, umbrellas and chairs for hire, lifeguards on duty, and wheelchair access.
You can spend the entire day exploring the village of Vila da Nossa Senhora da Luz, sunbathing, swimming, and lounging on the beach.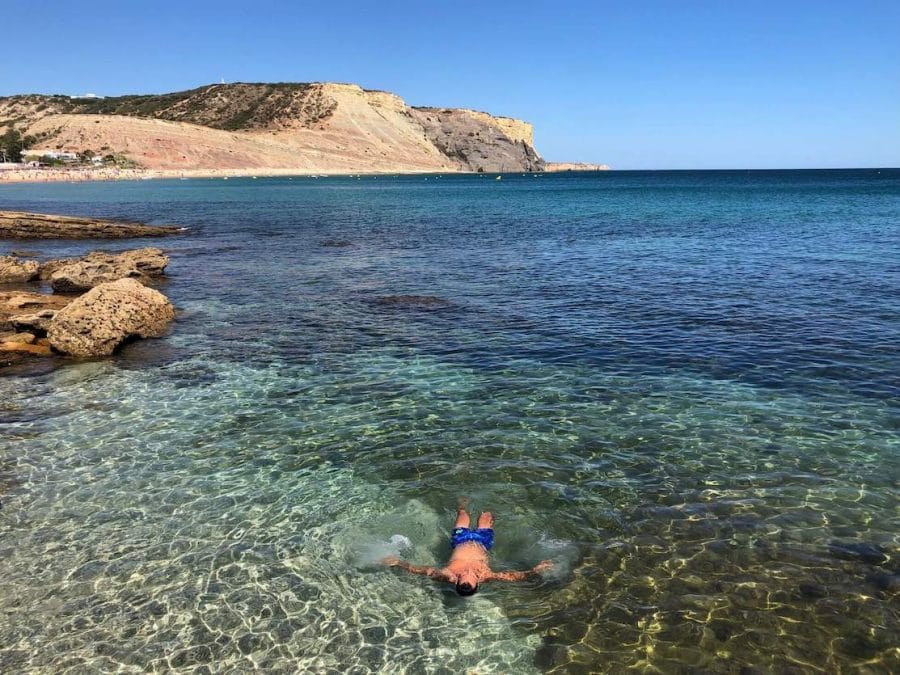 11 – Explore the Algarvian coast by boat
The best way to explore the breathtaking Algarvian coastline is definitely by boat. So when you're in the Algarve, you should take a boat trip.
You'll sail along with beautiful scenery and discover sea caves, grottoes, hidden gem beaches and magnificent rock formations from the perspective of the boat.
There are several boat trips that you can take while in Lagos and the more popular choices are: 3-Hour Algarve Cruise by Fun Catamaran, 2-Hour Boat Trip to the Benagil Caves and Algarve Golden Coast 4-Hour Cruise.
12 – Enjoy Lago's nightlife
If you ask me what to do in Lagos at night, my answer is to enjoy its lively nightlife.
The city has some spirited bars full of travellers and surfers, most of them located in the Old Town.
When the sun goes down, the pedestrian-only street 25 de Abril becomes the hottest nightspot in Lagos and attracts locals and tourists alike.
You can find many eateries and bars with outside tables and a great atmosphere on this adorable street. My top suggestions are Mynt Bar, Inside Out, Three Monkeys, Black Cat, Bon Vivant and Grand Café. If you feel like dancing, the best options are Six Night Club and Whytes Bar.
13 – Try the Algarvian cuisine
When visiting a new destination, besides the desire to see famous tourist attractions and have memorable experiences, there is also the curiosity to taste local and different dishes.
While in the Algarve, you must not miss the opportunity to taste Portuguese cuisine.
Some of the food you should try when visiting the Algarve are:
Bacalhau à Brás (fried potatoes, codfish and parsley mixed together with eggs);
Cataplana de mariscos (mix of seafood with herbs, tomatoes and white wine);
Enchidos (smoked sausages filled with different ingredients);
Grilled sardines;
Pastéis de nata (the famous Portuguese custard tarts).
I love Bacalhau espiritual (Spiritual Cod fish), Cataplana de mariscos and Pastéis de Nata. Every time I'm in Algarve I eat a lot of it.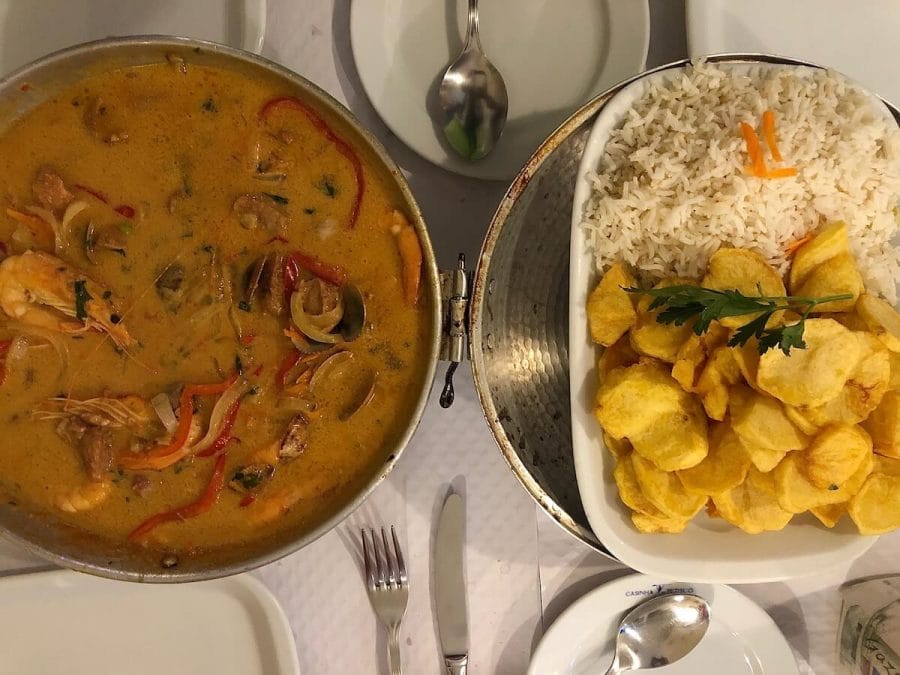 14 – Go dolphin watching
Dolphins are constantly seen in the Atlantic Ocean, particularly in the Algarve.
These adorable and playful creatures are some of the most liked marine animals and nothing is better than seeing them in their natural habitat, swimming and jumping in front of you.
Dolphin tours are offered in Algarve from March to November, although the best months to spot dolphins are from June to September.
Most of the dolphin tours depart from the Lagos Marina, and I highly recommend booking your tour online in advance.
15 – Take your kid to a waterpark
Have you ever been to a waterpark?
With plenty of slides, tunnels, inflatable mattresses, giant buoys, wave pools and fountains, spending the day at one of the Golden Coast waterparks is certainly one of the most fun things to do in Lagos, for kids and adults alike.
The four best waterparks in the Algarve are: Slide & Splash, Aqua Show, Zoomarine and Aqualand.
Zoomarine, in Guia, municipality of Albufeira, is probably the best and most beautiful, also offers live performances, a dolphin show and interactions.
The first time I went to a waterpark was in July 2019. My family and I went to Slide & Splash and we had a blast.
16 – Visit Lagos Zoo
Wondering what to do in Lagos with kids that are not beach related? What about visiting a zoo?
With over 140 different animal species from 5 continents set in natural habitats, Lagos Zoo is undoubtedly the best option.
There's a wide range of birds, and mammals, including big cats, reptiles, fish and amphibians. There are also playgrounds, a swimming pool, a pet farm, an educational room, a lovely picnic area around lakes and lawns, a restaurant, etc.
The zoo participates in several conservation programs, is open all year round and is one of the best Lagos tourist attractions.
You can buy your ticket online in advance here.
17 – Do water sports
The Algarve is blessed with fantastic conditions for water sports, with over 300 days of sunshine a year and regular thermal winds.
So, naturally, one of the top things to do in Lagos is taking a dip in the sea and doing water sports.
Some of the beaches in Lagos that offer water sports are: Praia da Batata, Dona Ana and Meia Praia.
From inflatable rides to kayaking, surfing, Stand-Up Paddle Boarding, kite– and windsurfing, etc, there is no reason not to engage in some sort of water activity while you're there.
I love water sports. Every time I've been to the Algarve, I've done some of the above and last year I did also coasteering and flyboarding.
18 – Visit Forte da Ponta da Bandeira
Ponta da Bandeira, one of the most important historical places to visit in Lagos, was built in the late 17th century to protect the important harbour from Corsairs, pirates and the Spanish raids.
The well-preserved Fortress of Nossa Senhora da Penha de França, aka Ponta da Bandeira, lies beyond the city walls, where the Bensafrim River enters the sea, overlooking Praia da Batata.
The fortress was entirely restored in the 1960s and the complex includes a chapel dedicated to Saint Barbara, with walls lined with traditional tiles, a restaurant, a small museum and an exhibition area.
It provides magnificent panoramic views of the city and seafront, is open from Tuesday to Sunday, costs 2 euros and the visit doesn't take more than 30min.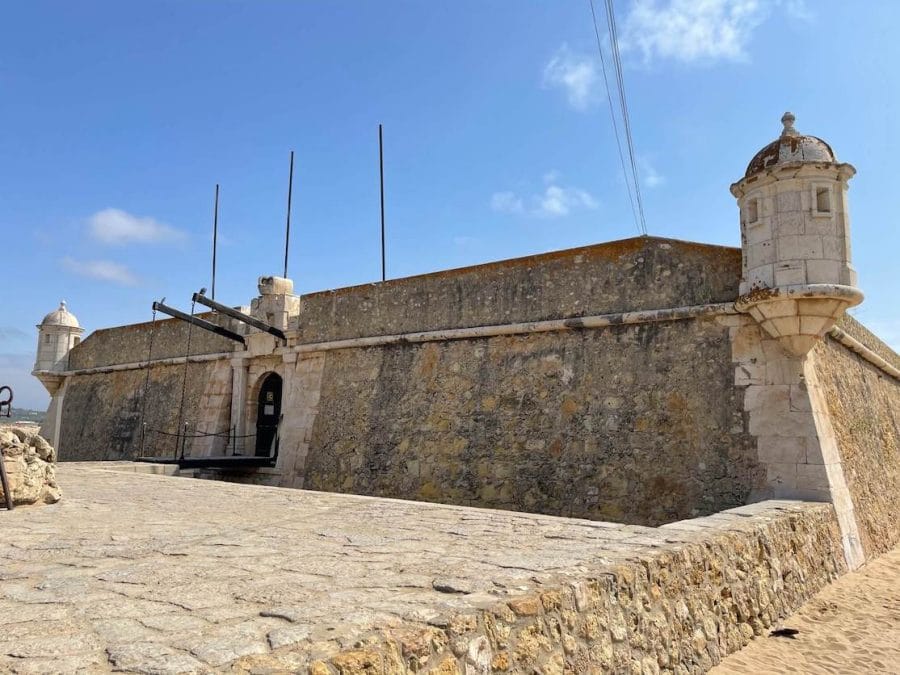 Have you been to Lagos? What do you think of my list?
Leave a comment below 😉
Safe travels and have fun in Portugal.
More posts about the Algarve that might interest you:
Don't forget to save these pins to check this post again later 😉
Tips for Planning a Trip to Lagos, Portugal
Where is Lagos located?
Lagos is a city in the south of Portugal, located 301Km (187mi) from Lisbon and 90Km (56mi) from Faro, Algarve's capital (check the exact location here).
How to get there?
There is an international airport in Faro, but the more popular choice for travellers from outside of Europe is the one in Lisbon.
From Lisbon, you can take a bus or a train to Lagos. The prices are basically the same and they take around 3h to get there.
You can find the best deals on airlines tickets at Skyscanner. This is the website that I use, trust and recommend.
Best time to visit Lagos?
The best time to visit Lagos is definitely during the summer and particularly in July and August. But if you don't like crowds and heat, you could go in June or September.
How many days do you need in Lagos?
At least 3 full days. For me, the perfect Lagos itinerary is 5 days. With it, you can see several points of interest, including the most famous beaches and some historical sites. You can also take a day trip.
Where to stay in Lagos?
If you want to stay in a central location, I would suggest anywhere between the Old Town and Praia Dona Ana.
If you prefer a quieter area, I would suggest near Praia do Camilo or Ponta da Piedade.
Some Lagos hotels that I recommend are:
Budget: Guest House Casa Sousa, Olive Hostel Lagos and Bela Vista Guest House.
Great Value for Money: Lagos Uptown Bed & Breakfast, Don Manuel I Charming Residence, Baluarte Da Vila Apartments and Lagos Avenida.
Luxury: Villas Don Dinis, Cascade Wellness & Lifestyle Resort and Belmar Spa & Beach Resort.
How to get around?
The best thing is to hire a car because public transportation in the Algarve isn't good.
Intercity buses stop running around 9 PM, or even earlier, depending on the company. Trains don't run very often, and neither do the local buses.
You can take a transfer from Faro airport and once you're in Lagos you can use Uber, but it isn't cheap.
If you're visiting only Lagos and staying in a central location, you may not need a car, however, it is easier to get around and much more convenient with a car.
You can hire a car with Rental Cars here at no extra cost to you.
Travel Planning Resources
For every booking made through my site I donate US$ 1 for a charitable organization.
Safe travels ☺