Tours are the best way to explore a new destination!
You have the opportunity to discover extraordinary points of interest, learn about the place that you're visiting, experience different activities, develop new skills, create memories that will last forever and yet have a lot of fun.
Whether you're an adventure-seeker, history lover, foodie or want to practice a new sport, you can do it all in the Algarve. But with a plethora of options, it can be hard to decide which activities, excursions and tours in the Algarve you should choose.
I've been going to the "Golden Coast" regularly since 2008 and it's the reason I decided to write this post to help you have an unforgettable Algarve trip.
From cruising inside hidden caves to kayaking along beaches and grottoes, dolphin watching, flyboarding, coasteering, ziplining between two countries and taking exciting day trips, here are the 15 best Algarve tours, excursions and activities.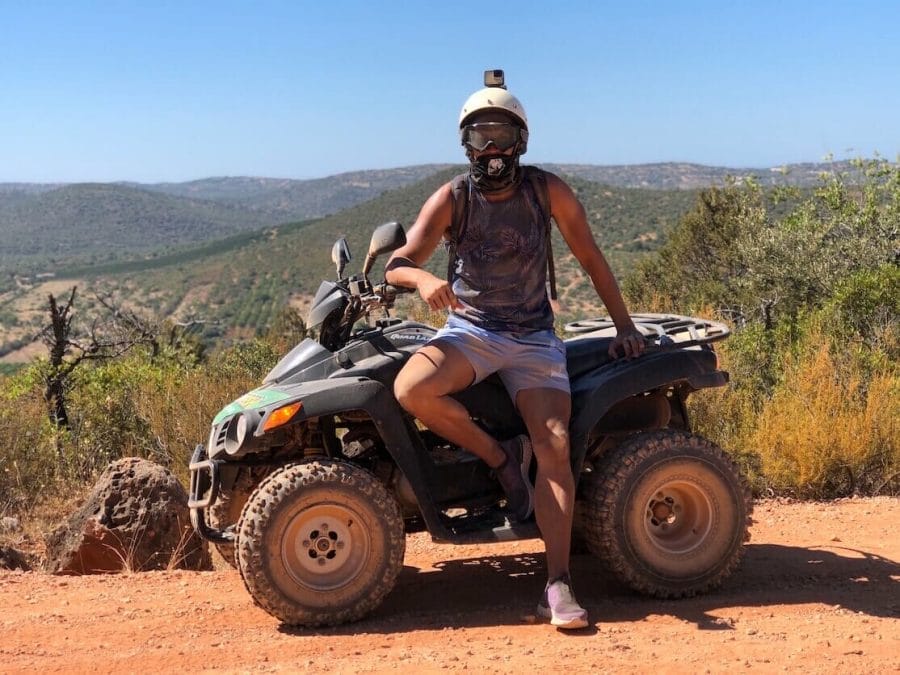 * Affiliate disclosure: Some of the links below are affiliate links, meaning I earn a small fee if you click through and make a purchase. There is never any additional cost to you, and I use some of these earnings for my monthly charitable donations.
15 Best Tours in the Algarve
1 – Dolphin Watching and Caves Cruise
Dolphins are constantly seen in the Atlantic Ocean and one of the greatest Algarve tours to take is dolphin watching and caves cruise.
These adorable and playful creatures are some of the most liked marine animals and nothing is better than seeing them in their natural habitat, swimming and jumping in front of you.
Dolphin tours are offered in Algarve from March to November, although the best months to spot dolphins are from June to September.
I took a Dolphin Watching and Caves Cruise Tour in Albufeira with Dream Wave and I loved it! Apart from spotting many dolphins, we explored some caves and passed by famous Algarvian beaches.
You can also take a dolphin tour in Lagos, Vilamoura, Portimão and Faro. It's one of the most popular Algarve activities and booking in advance is highly recommended.
Book your tour here, and to find out about other Albufeira boat trips click here.
2 – Benagil Cave Tour: One of the Best Boat Tours in Algarve
Located in the little fishing village of Benagil, in the municipality of Lagoa, Algar de Benagil is a stunning cave just around the corner to the left side of Benagil Beach.
There're many Benagil Cave Tours departing from different Algarvian cities. But before booking your tour, it's important to know that:
Big boats cannot get into the cave;
Small boats can sail inside the cave, but they aren't allowed to drop off/pick up passengers;
Benagil Cave Tour is one of the best boat tours in Algarve. I took mine with Trident Boat Trips and it was brilliant. The highlight was obviously Benagil Cave, but we sailed along stunning beaches and went inside hidden grottoes and small caves that big boats can't access.
It was one of the most surprising Algarve cave tours that I've ever taken! Book your Benagil Cave tour from Albufeira here and the same one that I took here.
3 – Ponta da Piedade Grottoes & Beaches
Taking a boat trip to Ponta da Piedade in Lagos is an exhilarating experience and definitely one of the coolest things to do in Algarve.
The boat takes you on a memorable journey along the breathtaking coastline and you can get an amazing perspective of renowned beaches such as Dona Ana and Praia do Camilo until you get to the spectacular rock formations of Ponta da Piedade.
On this 75min thrilling adventure, you'll sail through sea caves, hidden grottos with crystal-clear water and incredible sandstone cliffs.
It's a trip for the whole family and the price is very reasonable, around 20 euros per person.
If you prefer kayak tours instead of boat trips, when kayaking to Ponta da Piedade (no previous experience needed), you're able to enter some caves and grottoes that boats can't access and have free time to go swimming and relax on a calm beach.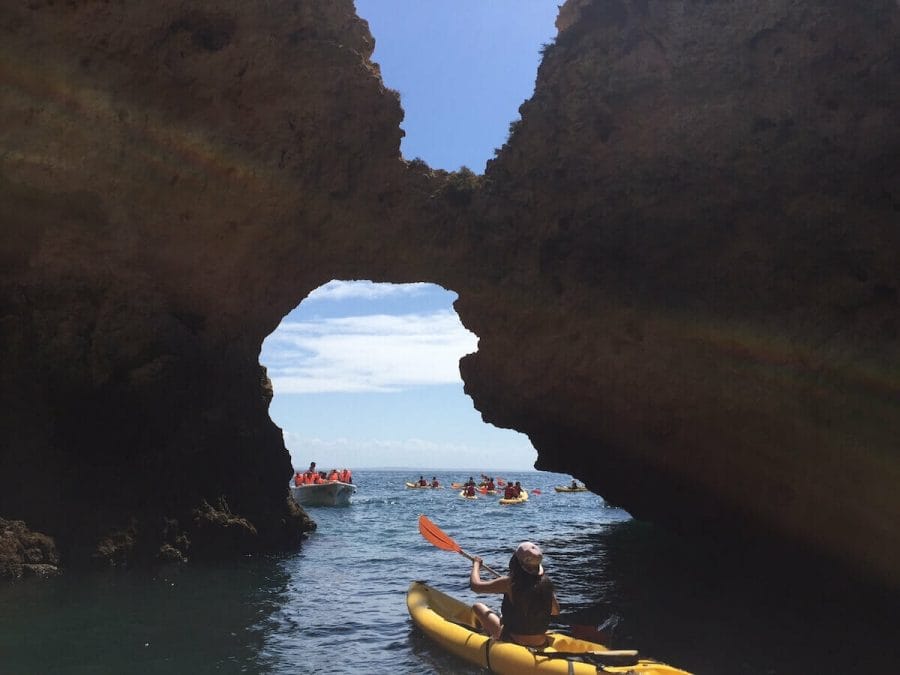 Pro tip: There're plenty of Lagos boat tours, but I recommend this one that has excellent reviews.
4 – Algarve Countryside & Villages Jeep Safari
Jeep safari, one of the most popular Algarve tours, is the perfect opportunity to explore the Algarvian countryside and see a world apart from the beach resorts that the Algarve is famous for.
There're several Jeep Safari tours, but my recommendation is to take this one to Silves and Monchique.
Silves, one of the oldest cities in Portugal and the ancient capital of the Kingdom of the Algarve, is a delightful fortified town with an imposing red brick Moorish castle.
Leaving Silves and driving through the foothills of Monchique Mountains you'll cross old villages, taste some regional products, discover interesting handcrafts and venture out to the highest peak in the Algarve, Mount Fóia, at 902m.
Breathtaking views and lunch are included, such as pick up and drop off. Throughout the day you'll be entertained by your driver with fascinating historical information.
I adored Silves and Monchique!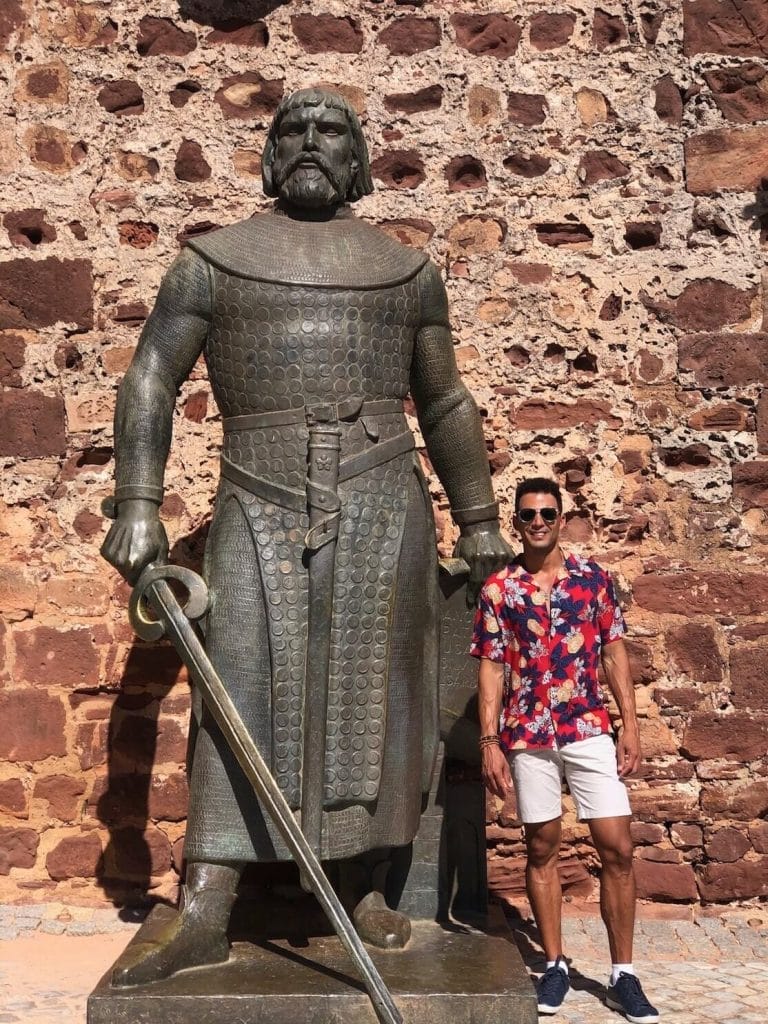 5 – Day trip to Vicentina Coast
There're several Algarve excursions that you can take during your trip, but my favourite is to Costa Vicentina, an unspoiled paradise on the western coast of the Algarve.
Stretching from Odeceixe to Burgau, near Lagos, the area is a protected Natural Park with 74,000 hectares of rolling hills, marshland, imposing cliffs, rocky coves and pristine beaches.
Costa Vicentina is very different from the beach resorts between Lagos and Albufeira and it's the reason you should take a day trip to get a better sense of the Algarve coast.
On this Full-Day Guided Sightseeing Tour with Lunch, you'll visit Silves, Caldas de Monchique, make a stop in the small village of Marmelete to enjoy a traditional lunch in one of the local restaurants, marvel at the picturesque Cape of Saint Vicent, the southwestern end of Europe, and finish in Sagres.
There's also this Wild and Wonderful West Coast Full-Day Tour departing from Lagos.
6 – Parasailing: One of My Favorite Algarve Activities
Have you ever thought about getting a bird's-eye view of the beautiful Algarve coast?
Going on a parasailing adventure you can reach up to 80 meters, feel the adrenaline rush as you fly above the ocean, and take in the extraordinary panoramic views of Portugal's southern coastline.
The overall boat ride lasts up to 1.5 hours depending on the number of guests and each person has the chance to fly for around 10min.
Parasailing is one of the most exciting Algarve adventure activities to do with family and friends.
Feeling the wind in your face while flying over the water, and enjoying the stunning Algarvian scenery from a bird's-eye view is an unforgettable experience.
We felt completely safe and I highly recommend this activity. Book your parasailing experience in Albufeira here.
7 – Off-Road Quad Bike Tour
When was the last time that you did something for the first time? I rode an ATV for the very first time on my 2020 Algarve trip.
I took an off-road quad bike tour with Yellowfish Adventure that departs from Albufeira and ventures out along roads and dirt tracks of the Algarvian countryside.
We visited typical Portuguese villages and places of historical and cultural interest, such as Paderne Castle, enjoyed picturesque bucolic landscapes dotted with vineyards and orchards, and took a refreshing dip in the natural pools of Alte.
I had so much fun on this tour!! In the beginning, I was a bit scared, but in the end, I was even standing up on the ATV.
I finished the tour entirely covered with dust and overwhelmingly delighted.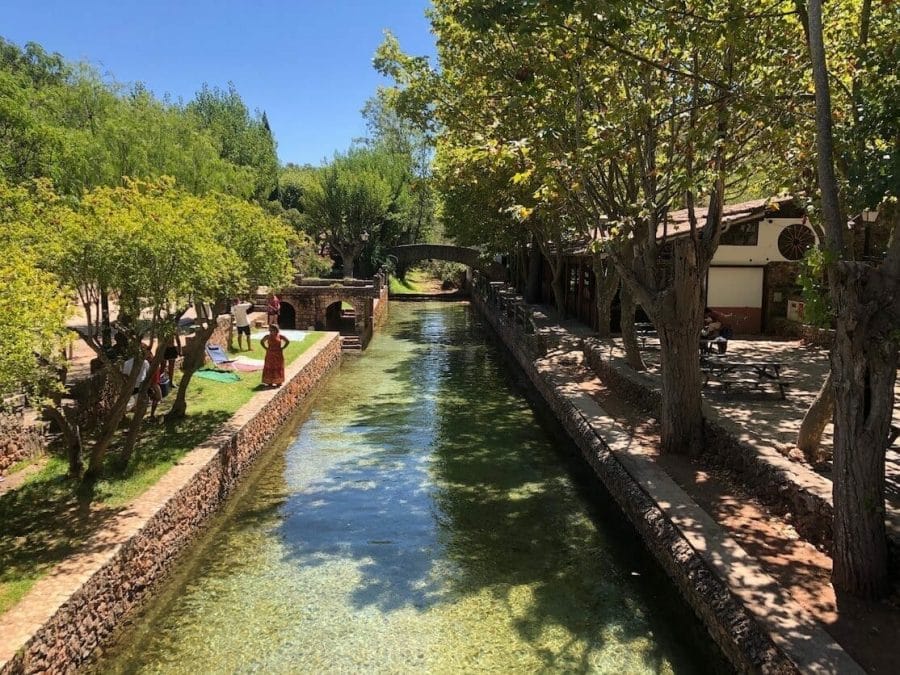 8 – Flyboarding Algarve Experience
You may not be familiar with the word flyboard, but you might have seen pictures and videos of people flying over the sea on a powered board connected to a jet ski by a hose.
Flyboard was created in 2012 and the design allows riders to climb out of the water and be stable in the air by underfoot propulsion and hand stabilization.
I always wanted to try flyboard, so I partnered with Moments Watersports, located in Armação de Pera, to do it.
After some instructions, a few attempts and several fallings, I was flyboarding over the azure waters of the Algarve. It was amazing! I felt extremely happy and accomplished.
There're a few places in the world that offer flyboarding experiences, so don't miss the chance to do it in the Algarve!
9 – Zip-line from Spain to Portugal: the Most Unique Algarve Adventure
Never in your wildest dream, have you thought that you could cross a border on a zip-line, have you?
While in the Algarve you have the chance to do the only zip-line in the world between two countries.
During this unique Algarve adventure offered by Limite Zero, you whizz along 720m over the River Guadiana at speeds between 70 and 80 km/h.
Zip-lining over the River Guadiana provides incredible views of the landscape between Spain and Portugal and the two frontier cities.
You literally fly through time and gain one hour because of the time zone change between both countries.
It was exhilarating and I loved it!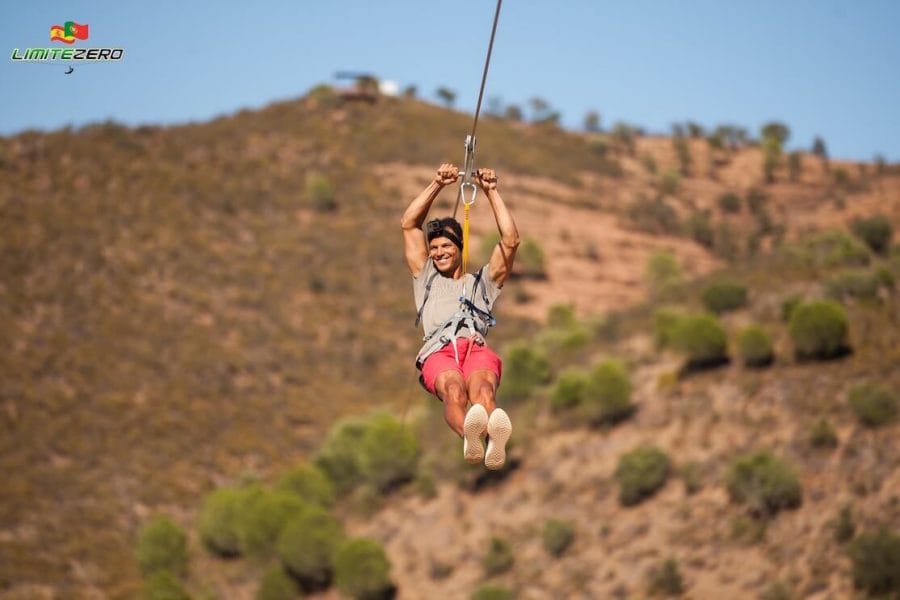 Pro-tip: I recommend doing this activity in the morning because of the heat. You should also make a stop in Vila Real de Santo António, a lovely Algarvian town.
10 – Coasteering Algarve
If you're looking for exceptional Algarve adventures, you should try Coasteering.
This activity encompasses movement along the seashore of a rocky coastline combining adventure swimming with climbing, scrambling, sea-level traversing, jumping and diving.
I did Coasteering with Coastline Algarve in one of the most beautiful and untouched areas of the Algarve, the Costa Vicentina Natural Park, located between Sagres and Lagos.
We went exploring the coastline, discovered hidden beaches, jumped from cliffs and learned about the marine environment and some local traditions. It was fantastic!
If you are an adrenaline junkie you should definitely do Coasteering while in the Algarve. Check prices and availability here.
11 – Ria Formosa and its Islands
Ria Formosa, one of the 7 Natural Wonders of Portugal, is a maze of canals, freshwater lagoons, marshes and barrier islands that stretches 60Km along the Algarve coast through the municipalities of Loulé, Faro, Olhão, Tavira and Vila Real de Santo António.
These natural islands with pristine beaches and crystal-clear water have some of the best beaches in the Algarve.
If you're looking for relaxing and unusual things to do in Algarve, you should take a Ria Formosa Tour.
Booking this 4 Islands Tour departing from Faro, you'll board a comfortable Catamaran, take in the fauna and flora of the Natural Park of Ria Formosa, swim at Deserta Island and discover Farol Island's lighthouse.
You'll also sail to Hangares to see the culture of oysters and the military reserve and spend 1.5 hours exploring Culatra Island's traditional fishing village.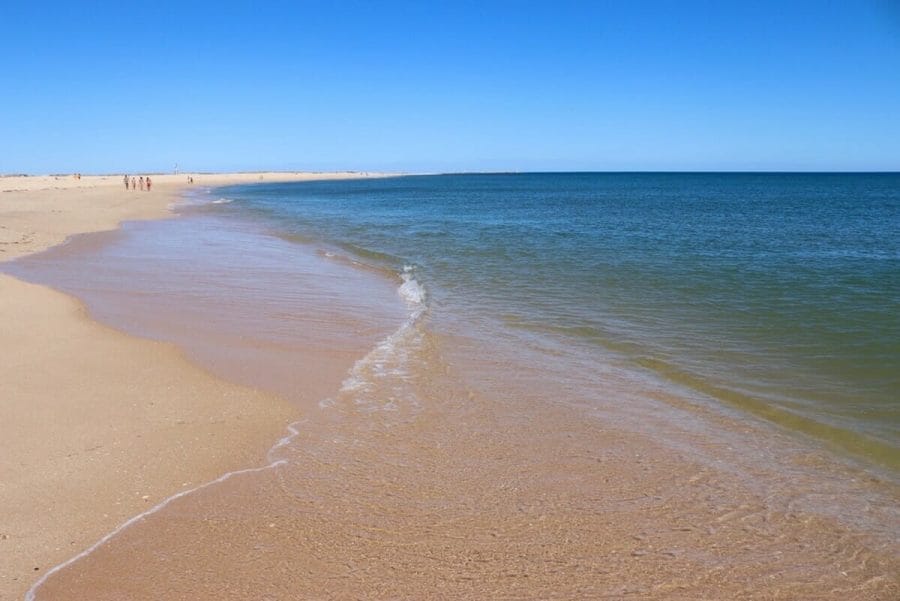 12 – Catamaran Cruise
There is no better way to explore the stunning Algarvian coast than by boat!
There're many catamaran cruises departing from different cities, but among all of them, I recommend this one.
You'll explore the southwestern Algarve on a 4h round-trip cruise from Lagos to Cabanas Velhas. You'll pass magnificent beaches of golden sand, cliffs of staggering rock formations, the sea caves of Ponta da Piedade and the iconic black rock of Praia da Luz.
The catamaran will drop anchor in a secluded bay near the fishing village of Burgau where you can enjoy a complimentary meal.
You can jump into the inviting water for a swim and snorkel among the marine life, sip a cocktail on the deck or grab a paddleboard for a little adventure.
13 – 3-Hour Algarve Classic Food Tour
Are you a history lover and have the curiosity to try local and different dishes? What about putting these two passions on a single tour?
This Lagos 3h Algarve Classic Food Tour is an excellent opportunity to taste the varied cuisine of the city, as well as traditional Algarvian and Portuguese dishes.
You'll visit four restaurants and taverns, and taste around 10 of the most traditional Portuguese dishes, with a drink at each stop. If you book the morning tour you will also enjoy a short visit to the Mercado Municipal de Lagos.
You will discover a little bit more about the charming town of Lagos, its small cobbled streets, lovely city centre and turbulent past. You'll also have the opportunity to learn about Lago's history, take pictures, taste, eat or drink in a relaxed environment.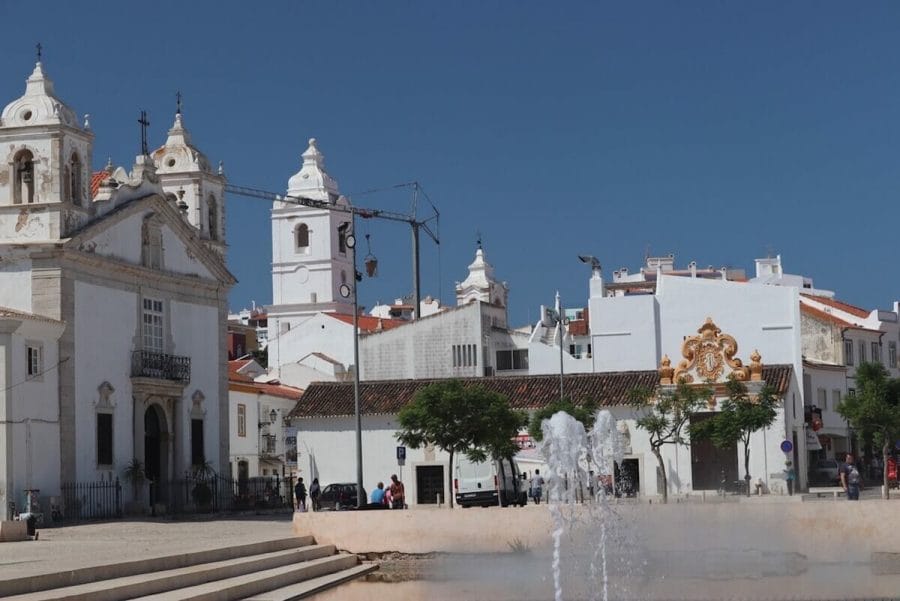 14 – Lagos Walking Tour
Lagos, one of the best places to visit in the Algarve, has a fascinating history and some of the most beautiful beaches in the world.
This ancient marine town, whose history stretches back more than 2000 years, was occupied by the Phoenicians, Romans, Visigoths, Byzantines and Moors, who in the 8th century fortified and walled the city and built a medieval castle that can still be seen today.
After the Christian Reconquista of the Iberian Peninsula in 1189, Lagos played an important role in Portuguese discoveries due to its strategic harbour position.
On this fun Walking Tour, visit statues, churches, and beaches whilst giving a rundown on the historical influence of this town along with plenty of local tips on restaurants and bars.
To finish the tour you'll sample some Portuguese delicacies.
15 – Excursion to Olhão, Tavira and Faro
If you want to discover the lovely towns of the eastern Algarve, the best way is to take this full-day minivan tour to Faro, Tavira and Olhão.
You'll pay a morning visit to the bustling market in Olhão and get to know the biggest fishing community in the Algarve. Enjoy a guided tour and taste the fresh produce sold here including fruit, regional products, and meat.
You'll visit the pretty town of Tavira to look at the typical houses and Roman bridge that connects the banks of the River Gilão and taste the regional food at lunch in nearby Santa Luzia.
The tour will end in the capital city, where you can choose to explore the historic city centre on foot to discover the amazing Faro Cathedral or cruise around the barrier islands of the Ria Formosa for an hour.
This is a private excursion. Booking in advance is highly recommended.
These are the 15 best activities, excursions and tours in the Algarve.
I can guarantee that if you follow my recommendations, you'll have an unforgettable trip!
Safe travels and have fun in Portugal.
More posts about the Algarve that might interest you:
Don't forget to save these pins for later 😉
Planning a Trip to the Algarve
Where is Algarve located?
Algarve is the southernmost region of Portugal (check the map here).
Best time to visit the Algarve?
Definitely during the summer. But if you don't like crowds and heat, you should go in June, September or even until the middle of October.
How to get there?
There is an international airport in Faro, but the most popular is the one in Lisbon.
From Lisbon, you can take a bus or a train to the Algarve. The prices are basically the same and they take around 2h and a half to get there.
Some of the companies that fly to Faro are: Easyjet, British Airways, Ryanair and TAP.
You can book your flights with Skyscanner, which is the website that I use and trust.
If you prefer, you can take one of these Algarve tours from Lisbon.
How to Get Around?
I really recommend that you hire a car while in the Algarve, because the public transport isn't good.
You can rent a car with Rental Cars or Discover Cars here at no extra cost to you.
To use public transport, here are some important links:
For the train schedule between Lisboa and the Algarve visit the Trainline webpage.
For the bus schedule between Lisbon and the Algarve visit the Rede Expressos website.
For the bus company to Praia da Marinha visit EVA website.
Where to stay in the Algarve?
Some Algarve hotels that I recommend:
In Albufeira:
In Lagos:
Travel Planning Resources
For every booking made through my site I donate US$ 1 for a charitable organization.
World Nomads provides travel insurance for travelers in over 100 countries. As an affiliate, we receive a fee when you get a quote from World Nomads using this link. We do not represent World Nomads. This is information only and not a recommendation to buy travel insurance.
Safe travels ☺