Albufeira, a former fishing village, is now the largest resort town in the Algarve and during the summer holidays, the population grows to around 300,000 residents.
The city has a charming old town with white-washed and tiled houses sporting traditional Algarvian chimneys, restaurants, bars, hotels and gift shops.
Albufeira has also some breathtaking beaches surrounded by red-orange-and-yellow cliffs with crystal-clear water, that figure among some of the best beaches in the Algarve.
But it's not all! 25 Albufeira beaches are awarded as Blue Flag. Which makes the town with the largest number of Blue Flag beaches in Europe. No wonder why it's a very popular beach destination.
I've been going to The Golden Coast of Portugal since 2008 and I've explored all beaches in Albufeira throughout these 15 years. The seven best and most beautiful ones, I compiled on this post. When you plan your Algarve itinerary, make sure to include some of them.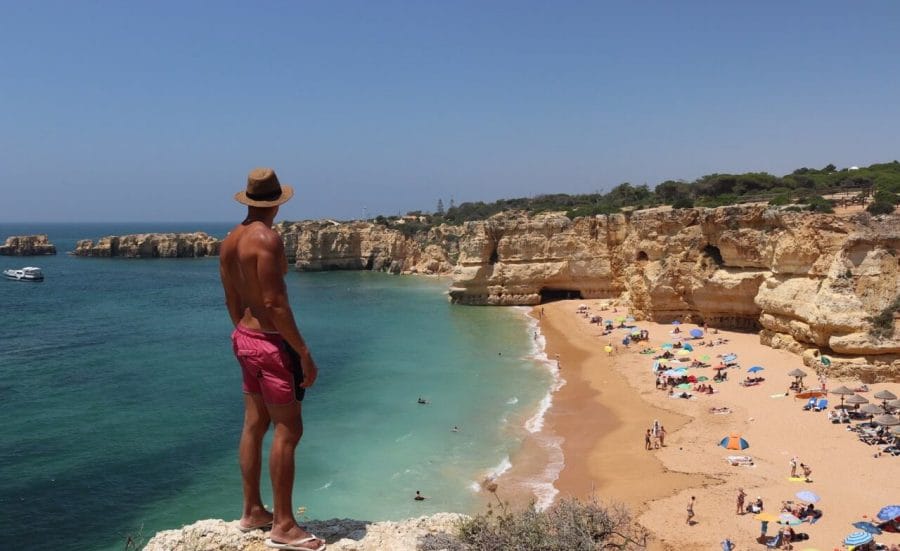 P.S: Unfortunately, public transportation isn't good in the Algarve and if you want to visit these seven beaches listed below you'll have to travel quite extensively. My recommendation is to get a car. You can rent yours with Rental Cars or Discover Cars without any additional costs to you.
But if you wanted to go to an Albufeira beach that is more central, you could visit Praia dos Pescadores and Peneco while in the Old Town.
Some of the most popular tours in Albufeira
* Affiliate disclosure: Some of the links below are affiliate links, meaning I earn a small fee if you click through and make a purchase. There is never any additional cost to you, and I use some of these earnings for my monthly charitable donations.
7 Most Beautiful Beaches in Albufeira
1 – Praia da Coelha
Located around 6 Km (3.7 mi) west of Albufeira Old Town, Rabbit Beach is a breathtaking beach surrounded by yellow cliffs and has fine golden sand with seashells and crystal-clear blue water.
The beach is a 10 min walk from the parking lot and has calm water, extraordinary rock formations and very picturesque scenery.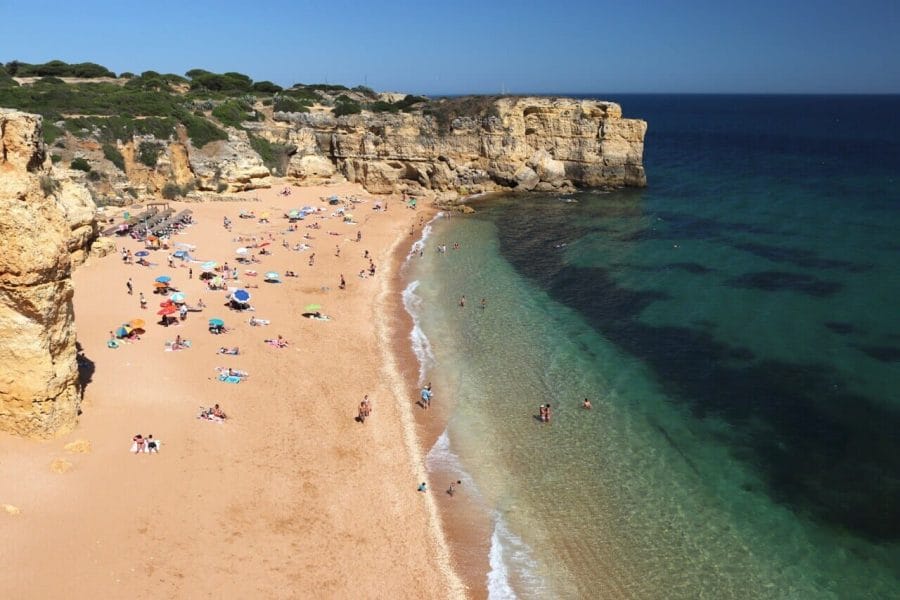 Raised wooden walkways take you to the western part of the beach from where, along the water's edge, you can reach the sections of Praia da Coelha that are more secluded and quiet.
You can also walk on the trail path along the hilly landscape around it to explore the magnificent viewpoints, find hidden coves and especially see the beauty of Praia da Coelha in all its glory.
There are also some coral reefs, making this beach perfect for snorkelling.
I felt like I found a real treasure while walking along the cliffs of Praia da Coelha. I was completely in awe!
Praia da Coelha is a Blue Flag beach, with lifeguards on duty, Stand Up Paddle Boarding and beach chairs and umbrellas for hire. There's a restaurant at the entrance with Wi-Fi, reasonable prices, and bathrooms. Pets and balls aren't allowed, though.
Praia da Coelha is not only one of the most beautiful beaches in Albufeira but also in the whole Algarve.
You just can't miss it!
2 – Praia de São Rafael
Prior to my visit to Praia da Coelha, Sao Rafael was my favourite Albufeira beach. The two beaches are within walking distance of each other (25min).
Praia de São Rafael is another gorgeous beach surrounded by bright orange cliffs with golden sand and crystal-clear blue water.
The principal difference between Coelha and São Rafael is that there are some cliffs in the middle of the beach in São Rafael that you need to pass through to get to another section.
There are viewpoints providing breathtaking vistas, a huge parking lot, a restaurant, a kiosk selling beachwear and souvenirs, water sports with good prices, beach chairs and umbrellas for hire, and even a masseur. Pets, caravans, and camping are not permitted.
São Rafael is wheelchair accessible, and very popular among locals and tourists. Every time I visited it there were many families with kids.
But you can also stay in the second section, which has more shade because of the cliffs and is much quieter.
What I like most about Praia de São Rafael are the splendid cliffs and views that they provide. It, of course, has to be on my list.
3 – Praia da Falésia
At almost 6 Km, Praia da Falésia is the longest Albufeira beach and extends from Olhos d'Água, on the east side of the city, to the municipality of Vilamoura.
No matter where you access this beach, it will blow your mind away.
The contrast between the dark red and white sandy cliffs topped by green pines against a blue sky is incredibly beautiful and makes it one of the most unique beaches in Albufeira.
Falésia Beach is perfect for long walks, sunbathing, and practising water activities including surfing, jet skiing, and parasailing. There's also a trail above the cliffs where you can hike or bike all the way to Vilamoura.
I've been to Praia da Falésia several times and this beach always impresses me. Seeing the very "long wall" formed by the differently coloured cliffs of different shapes and heights makes me appreciate even more Mother Nature's grandeur.
Praia da Falésia is a Blue Flag beach and has been ranked several times by Trip Advisor as one of the best beaches in Portugal and Europe alike.
4 – Praia dos Arrifes
From the parking lot, you can already imagine that you're arriving at a very special beach. Walk across green grass through dozens of pine trees, and you come to one of the wildest beaches in Albufeira.
Praia dos Arrifes, locally known as Praia dos Três Penecos, is a small beach with three massive isolated rock formations emerging majestically from the water. It dominates the line of the horizon and makes this beach feel very exotic and miles away from reality.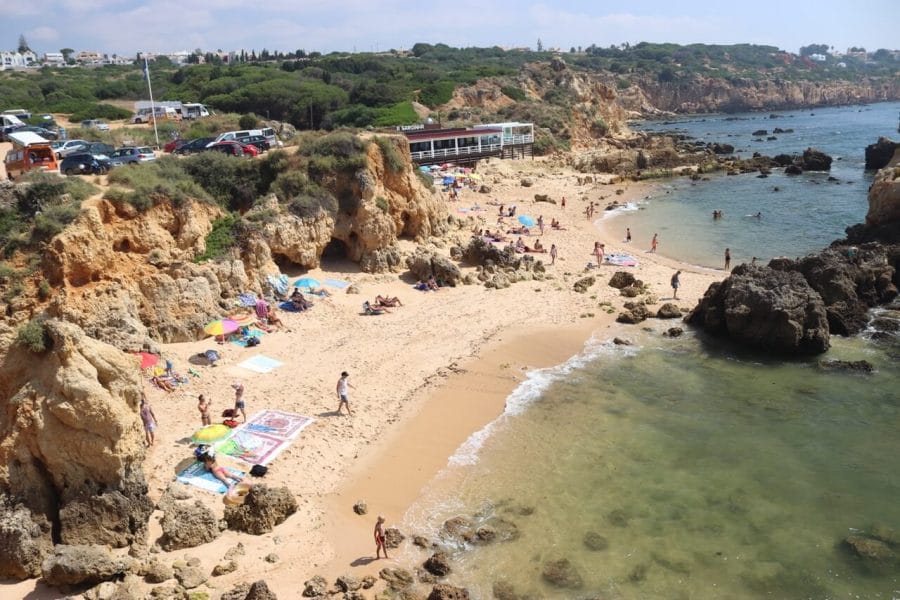 The sheltered bay among rugged rocks is one of the smallest bays in the Algarve. To access the beach, there's a wooden stairway.
The second section, accessible only from the beach, has many interesting rock formations and fossilized bedrocks.
The third part, a satellite beach nestled among craggy rocks, is accessible only from the cliffs and is larger and more peaceful than the other two.
This Blue Flag beach is great for snorkelling, because of the coral reefs, has a restaurant on stilts with great views, bathrooms, lifeguards on duty, and chairs and umbrellas for hire.
The main disadvantage of Arrifes Beach is that there isn't much space for sunbathing, especially at high tide, when access to the second section becomes very difficult.
I loved Praia dos Arrifes at first sight. It has very unique rocky scenery and seems completely untouched.
5 – Praia da Vila Joya (Xiringuitos)
Located at the end of Galé East, 7 Km (4.4 mi) from the Albufeira's Old Town, the former Praia dos Xiringuitos is one of the smallest beaches on this list.
Despite the hotel complexes, Praia da Vila Joya still preserves its natural look.
The small bay dotted with cliffs topped with lush vegetation has azure water, soft golden sand, and exquisite rock formations.
It's truly a hidden gem and definitely one of the most beautiful beaches in Albufeira!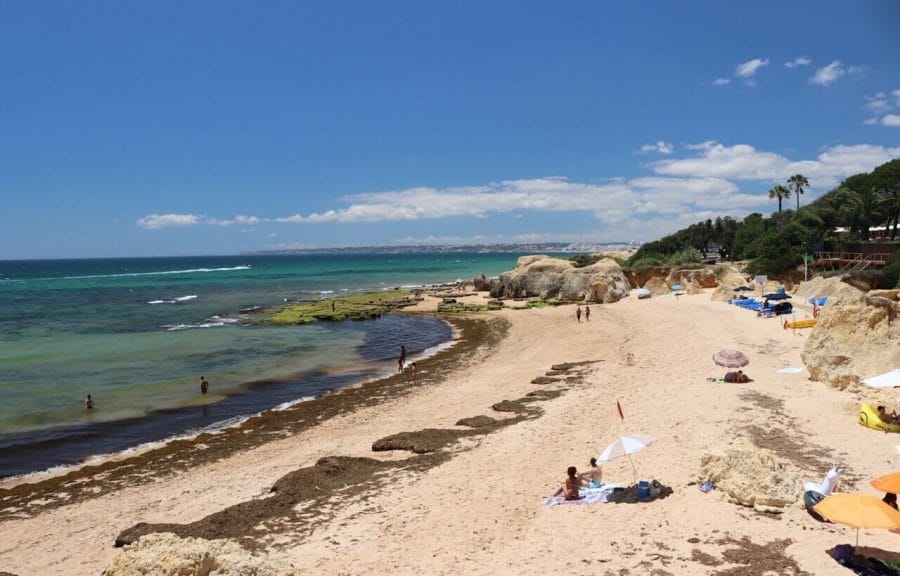 Because many people don't know Praia da Vila Joya, it's very serene and you get a feeling of peace the minute you arrive.
In the second section, there are some pools formed by the rocks on the shore that you can enjoy at low tide.
If you want a superb beach to relax away from the crowds, Praia da Vila Joya is your beach.
There are lifeguards on duty, chairs and umbrellas for hire, and a two-starred Michelin restaurant hidden among the pine trees.
6 – Praia do Castelo
Yet another gorgeous beach located on the west of Albufeira's Old Town. In fact, Praia do Castelo is right next to Praia da Coelha.
This beach is surrounded by cliffs and has a wide stretch of thick golden sand, rocks covered with seaweed, and incredible crystal-clear bright green-blue water.
When I arrived at Praia do Castelo I was completely speechless. The water is definitely the highlight of this beach. It's so clear and enticing, but unfortunately just as cold as at the other beaches.
Praia do Castelo is a Blue Flag beach, that has a restaurant with Wi-Fi, bathrooms, lifeguards on duty, chairs and umbrellas for hire, and a masseur.
7 – Praia de Santa Eulália
The last beach on my list is located 3km (1.86 mi) east of the city centre.
Praia de Santa Eulália has fine light golden sand and calm water that makes it good for swimming.
What makes Santa Eulália one of Albufeira best beaches is that it's surrounded by cliffs with lush pine gardens that can be admired from anywhere on the beach. And the most interesting fact is that on one side the cliffs are red and on the other they are yellow.
Despite being close to the city centre and highly ranked on Trip Advisor, Praia de Santa Eulália is relatively quiet. However, during the peak season, it can get crowded and you may need to park on a very steep hill close to the beach.
Praia de Santa Eulália is wheelchair accessible, Blue Flag ranked and has a restaurant, lifeguards, bathrooms, lots of water activities available, sunbed and parasols for hire, and a very large area to set up your towel.
This is my list of the 7 most beautiful and best beaches in Albufeira and you can separate them into two groups, east, and west, to organize your visit.
There's a map below so you can have a better idea of the exact location of each beach listed in this post.
Safe travels and enjoy Albufeira.
Watch Video: 7 Best Albufeira Beaches
More posts about the Algarve that might interest you:
I always recommend buying travel insurance, which can literally be your lifeline if something happens to you and if your luggage is lost or stolen.
World Nomads offers simple and flexible travel insurance. Buy at home or while travelling and claim online from anywhere in the world.
Get yours here.
Don't forget to save these pins for later 😉
Visiting Albufeira
Where is Albufeira?
Albufeira is a coastal city in the southern Algarve region of Portugal (check the map here).
Best time to visit Albufeira
Albufeira is a year-round destination, but the best time to visit it's from mid-May to June and September to mid-October. July and August it gets too hot and crowded.
How to get there?
There's an international airport in Faro, but the most popular is the one in Lisbon.
From Lisbon, you can take a bus or a train to the Albufeira. The prices are basically the same and they take around 2h and a half to get there.
Some of the companies that fly to Faro are: Easyjet, British Airways, Ryanair and TAP.
You can book your flights with Skyscanner, which is the website that I use and trust.
Where to stay in Albufeira?
Some of the hotels that I recommend in Albufeira are:
Budget: Apartamentos Turísticos Novochoro, Água Viva and Albufeira Beach Hotel.
Great Value for Money: Hotel Topázio, Rocamar Exclusive Hotel & Spa, Hotel do Cerro and Grande Real Santa Eulalia Resort & Hotel Spa.
Luxury: Salgados Dunas Suites, Pine Cliffs Residence a Luxury Collection Resort, Aqua Pedra dos Bicos and Auramar Beach Resort.
Extra Tips for Visiting the Beaches in Albufeira
Be careful when you're visiting those beaches, especially when taking pictures because the cliffs are unstable and there is a risk of falling rocks.
Don't forget to bring sunscreen, hats, towels and plenty of water.
The sea is in general very calm but sometimes the water isn't as clear as you see in this post.
Don't expect warm water because it's not warm at all.
Albufeira Tours I recommend
Travel Planning Resources
For every booking made through my site I donate US$ 1 for a charitable organization.
World Nomads provides travel insurance for travelers in over 100 countries. As an affiliate, we receive a fee when you get a quote from World Nomads using this link. We do not represent World Nomads. This is information only and not a recommendation to buy travel insurance.
Safe travels ☺