Looking for Santorini hotels can be stressful and overwhelming. With a plethora of charming villas and breathtaking infinity pools to choose from, deciding where to stay might be hard, but don't worry because I'm here to help you.
Santorini has been repeatedly voted the most beautiful island in the world by travelers and travel experts alike. It's undoubtedly the jewel in the crown of Greek islands, with its unique setting, fascinating history, alluring energy and dramatic landscape.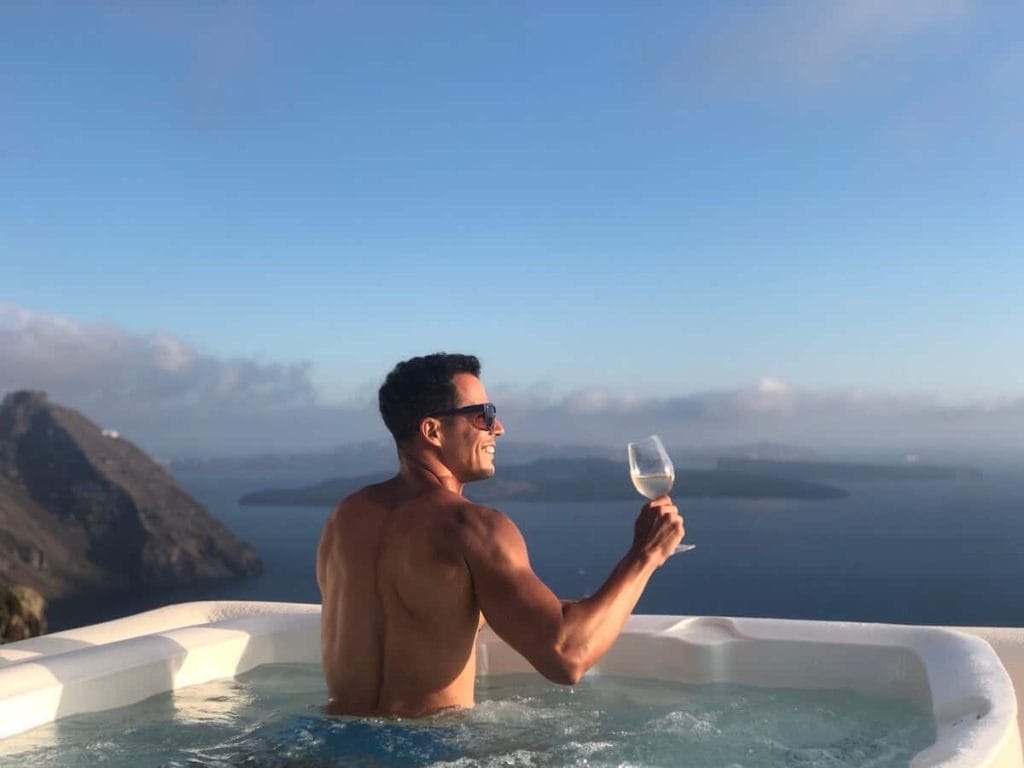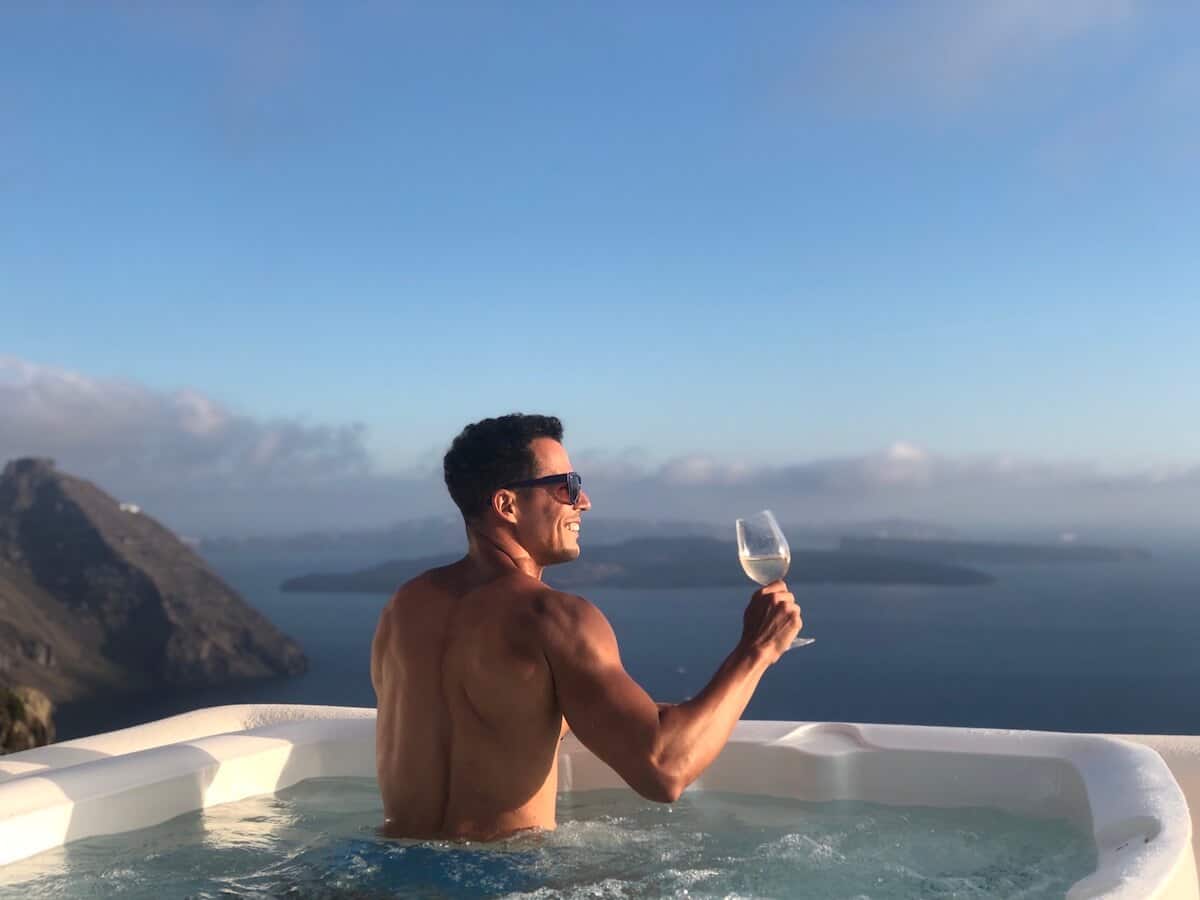 * Affiliate disclosure: Some of the links below are affiliate links, meaning I earn a small fee if you click through and make a purchase. There is never any additional cost to you, and I use some of these earnings for my monthly charitable donations.
Santorini Hotels: What you Need to Know
Santorini is known for its luxury boutique hotels with glamorous infinity pools providing extraordinary views of the Agean Sea. There are no all-inclusive resorts or big hotel chains on the island, only small privately-owned hotels.
The hotels in Santorini are quite expensive, especially during the high season, and also if they offer a view of the volcano.
However, the hotels located on the beach side are less costly and much better value for money than the ones located on the caldera side.
The rooms sell out quickly and the secret to finding good rates is to book in advance and travel in the months of May and September, when the weather is still good but the island is less crowded.
But if you want to visit Santorini in the summer and dream about staying in one of those luxury Santorini Hotels with an infinity pool and a room with a view, you should definitely go for it.
If there is a place that you can justify splurging money in a hotel room, it's Santorini. In other big cities, such as New York, London and Paris, you will spend the majority of your time sightseeing. But in Santorini, with its enchanting views and romantic atmosphere, you will want to spend more time at the pool or in a jacuzzi staring at the caldera, as I did.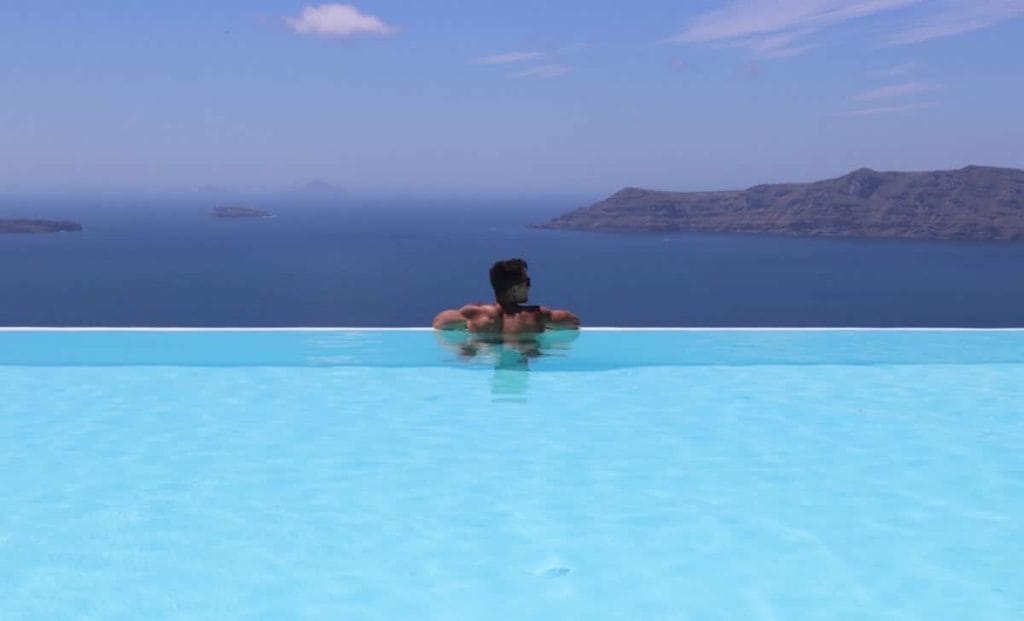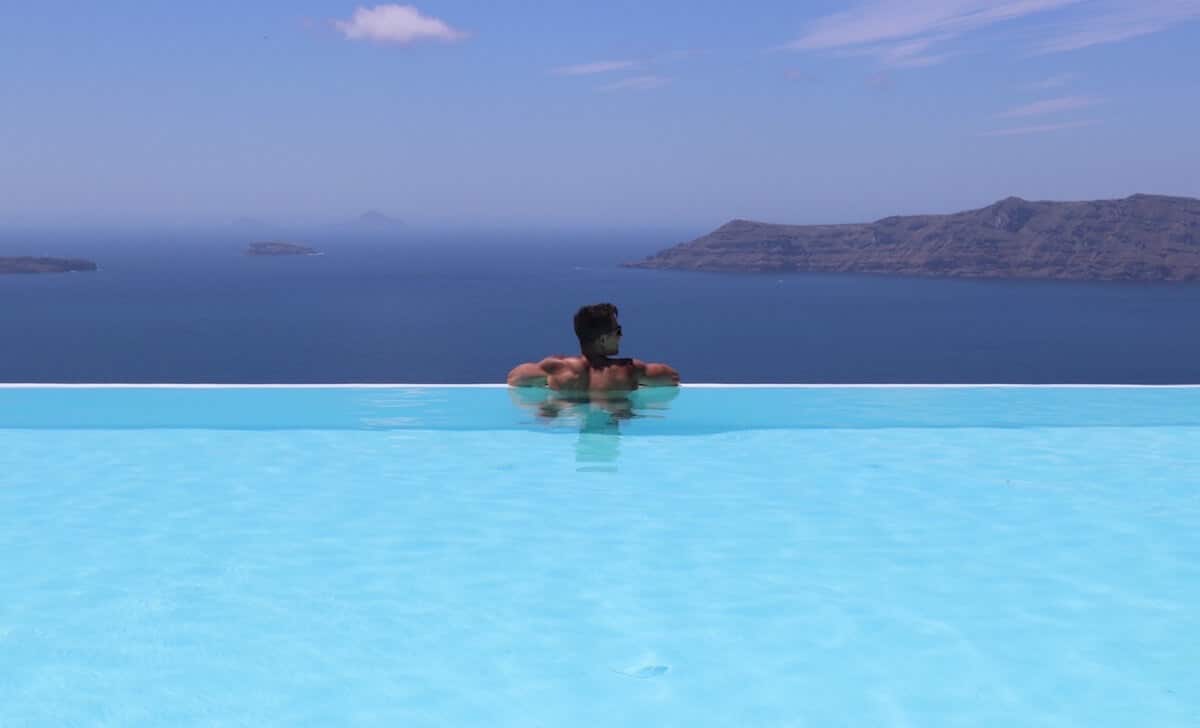 * If this is your first time on the island, I highly recommend that you read my post Where to stay in Santorini: A Guide to the Best Places. Where you can find thorough information about the best places to stay in Santorini and also other hotel recommendations.
7 Reviews of Santorini Hotels
I stayed at seven highly rated Santorini hotels in the most popular towns on the island during my last ten-day visit.
Fira, Firostefani, Imerovigli, Oia, Kamari and Perissa are home to the majority of Santorini hotels and are the towns where I stayed. Each one of them has advantages and disadvantages and a selection of cheap, middle-range and luxury hotels.
The seven Santorini hotels reviewed here range from budget to luxury, apartments to private villas, with a volcano / beach view or no view at all, and with a private plunge pool to a shared one.
Bellow you find the reviews as well as other other options.
1 – Kasimatis Suites – Imerovigli
Imerovigli is a dream village and home to many luxury Santorini hotels and upscale restaurants. It provides one of the best caldera and sunset views.
Kasimatis Suites is a four-star family owned suite complex in a great location in a very quiet area of Imerovigli, overlooking the famous Santorini caldera and the serene Agean Sea.
Offering six types of room, from cave room to a deluxe suite with outdoor hot tub, Kamisatis was my choice when I stayed in Imerovigli.
I booked a "Cave double room with pool view", that's 13m2, has a private bathroom with shower and a veranda with pool view above the room accessed from the hotel's main stairs.
The room was a reasonable size for one person, clean and tidy, the bed a bit soft but comfy and the toiletry products excellent.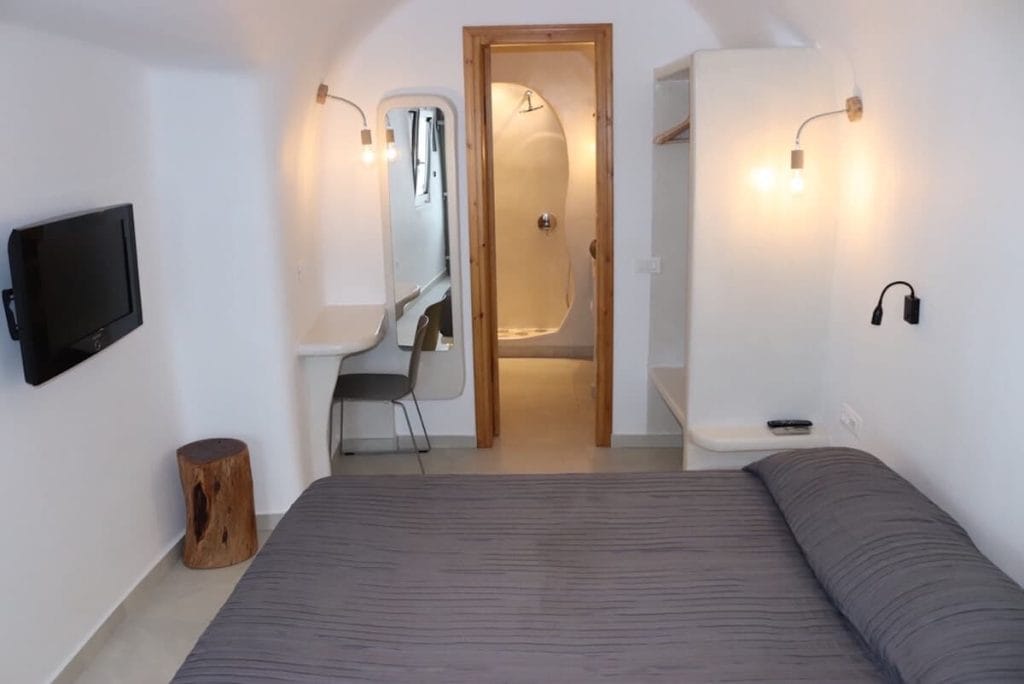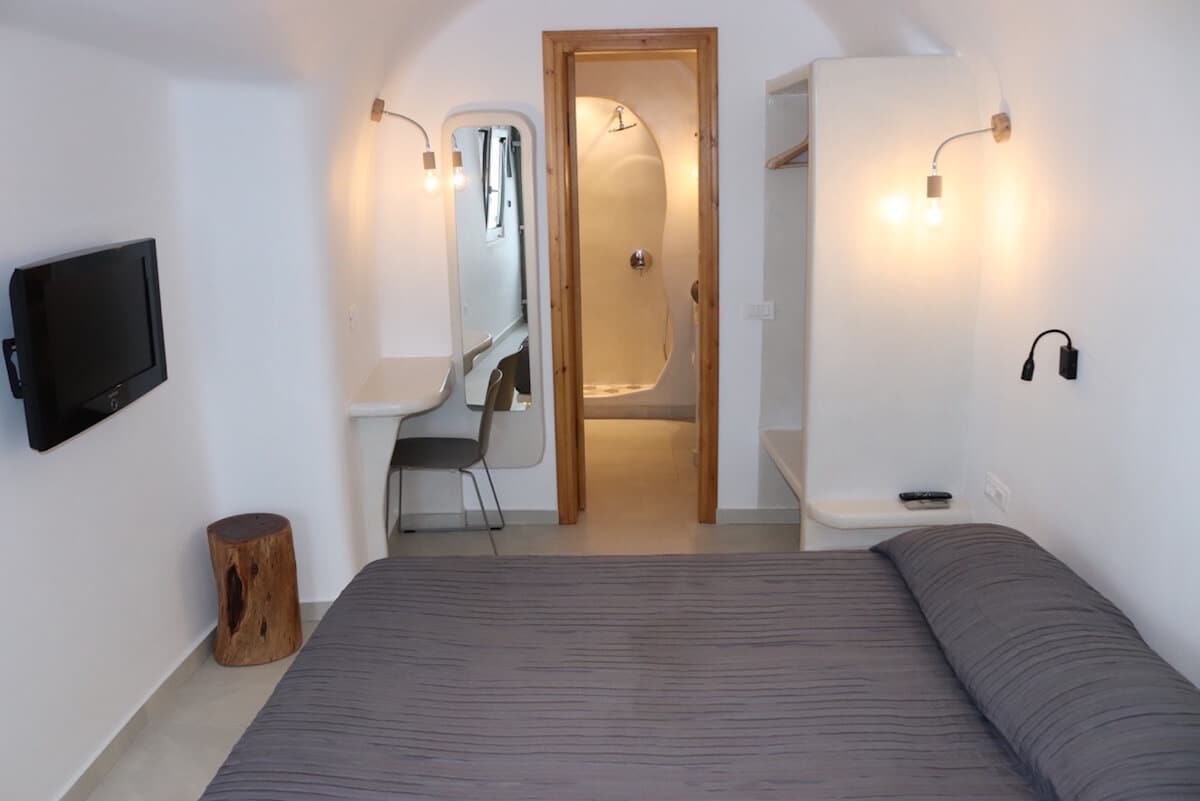 They offered a breakfast menu and I chose the Greek one. It was one of the best breakfasts I had during my whole trip to Greece.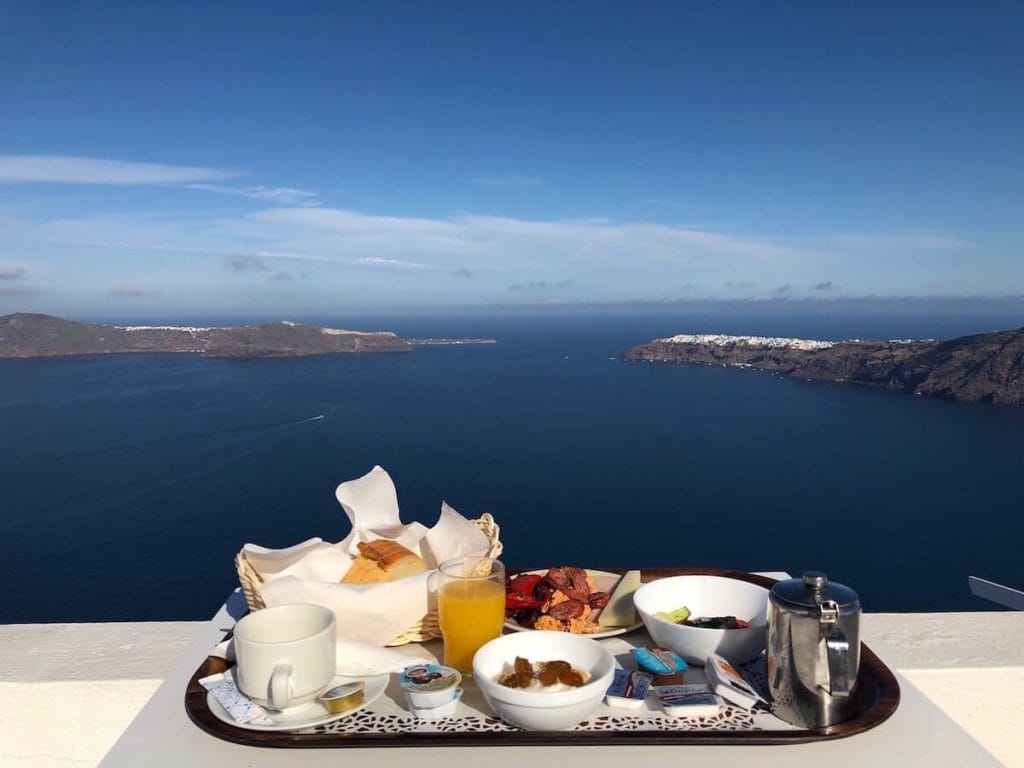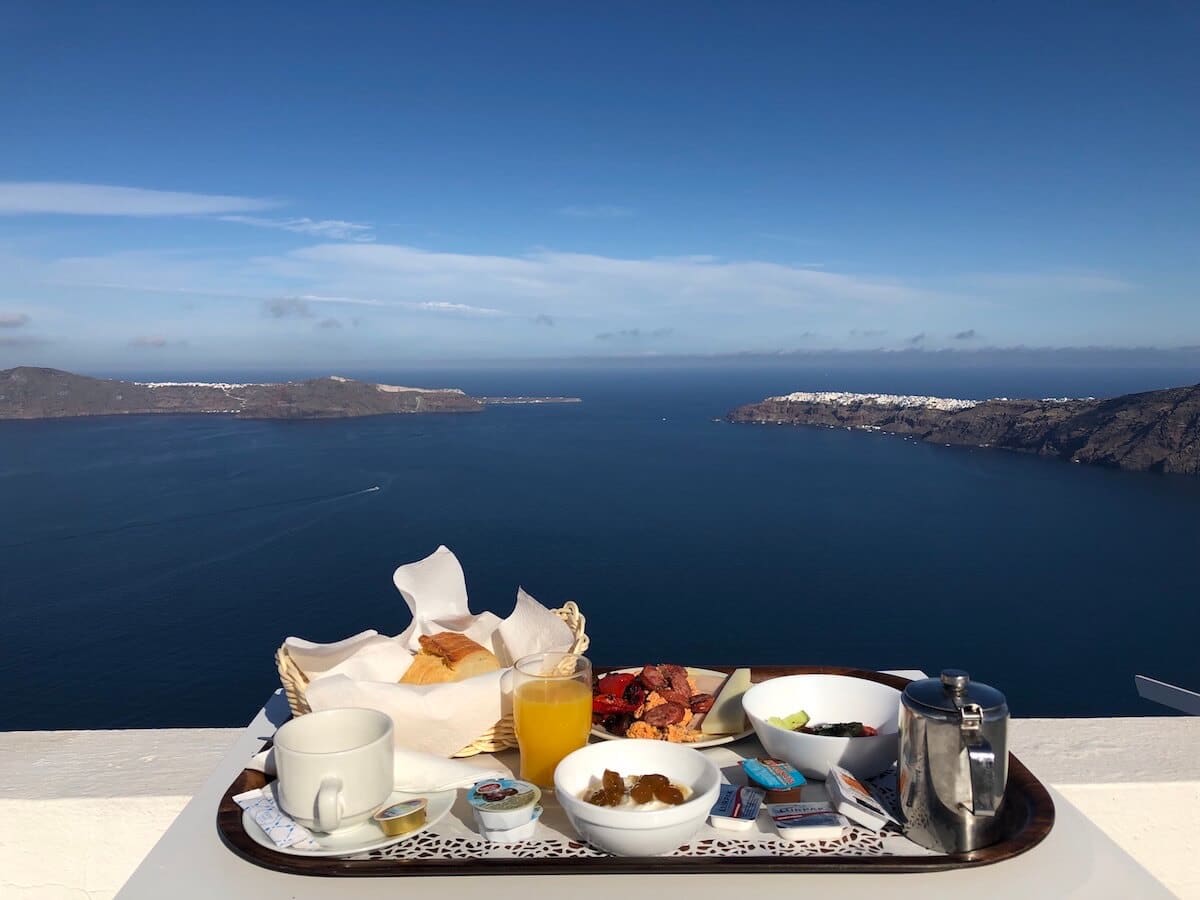 However, considering the cost, I don't think it was the best value for money and the service could have been warmer.
But you should still consider the Kasimatis Suites. It might be better if you opt for a Premier Suite or a Deluxe Suite with a private hot tub. Just remember that Imerovigli is considered the best place to stay in Santorini, and the prices will be high.
Other Santorini Hotels in Imerovigli
If you would like to book another mid-range hotel in Imerovigli, my recommendations are: Aliko Suites, Whitedeck Santorini and Honeymoon Petra Villas
If you prefer a better quality Imerovigli hotel, the best options are: Cavo Tagoo, Grace Hotel, Chromata Hotel, Astra Suites and Iconic Santorini
If you prefer a cheaper hotel one, check: Merovigliosso, Ampelonas Apartments, Rhapsody Apartments and Burned Rock Suites
2 – San Giorgio – Fira
Considered one of the best budget Santorini hotels, San Giorgio offer rooms, suites, apartments and studios beautifully decorated with modern amenities, including central heating and air-conditioning.
The hotel also has a nice pool and it's located on a noiseless street in the center of Fira, close to a public parking lot, and dozens of restaurants and shops.
I booked a double room, that was smaller than the Kasimatis's one. But it was very nice and tidy, with its own Wi-Fi router and one of the best beds I slept in in Santorini. And no wonder, since I was informed that they change the mattress every two years.
The service was excellent and the staff super friendly.
The hotel doesn't serve breakfast, but there is a good bakery nearby.
I really liked my stay at San Giorgio. The location is very handy, close to everything.
San Giorgio is the perfect place to stay in Santorini if you: are on a budget; plan on taking public transport; want to focus on sightseeing; would rather party and not spend too much time in your room.
If you're on a budget and don't want to stay at San Giorgio, there are many other good hostels in Santorini.
Other Hotels in Fira
Other budget hotels in Fira that I recommend are: Antonia Apartments, Costa Marina Villas, Pelican Hotel and Kavalari Hotel.
Luxury: Cosmopolitan Suites, Anteliz Suites and Athina Luxury Suites
Mid-range: Evgenia Villas & Suites, Oasis Hotel and Hotel Thireas
3 – Hotel Sofia – Firostefani
Hotel Sofia is one of the best value for money Santorini hotels.
It's in a wonderful location, was recently renovated and offers spacious and fully equipped rooms (with shower, TV, air conditioning, hairdryer and refrigerator) at reasonable prices.
There is a charming swimming pool surrounded by sunbeds and umbrellas in the hotel's garden overlooked by a blue-domed church. There is also a windmill in front of the hotel.
I loved my stay at Hotel Sofia. The setting is amazing, the service very friendly and there was a complimentary bottle of water and small bottle of white wine waiting for me upon arrival. To top it all, my room had a captivating view that wowed me and made me feel very happy.
Hotel Sofia doesn't serve breakfast, but there are cafes and restaurants nearby, although prices can be a bit expensive.
There are two parking lots close by that are very handy in case you rent a car.
Firostefani was my choice the first time I visited the island. I adore this village and considered it one of the best places to stay in Santorni!!
Other Hotels in Firostefani
Other hotels in Firostefani that I recommend are:
Luxury: Homeric Poem, Tsitouras Collection and Belvedere
Mid-range hotels: Ira Hotel and Spa, Agali Houses and Mirabo Villas
Budget Hotels in Firostefani: Villa Maria Damigou, Ellinon Thea Boutique Hotel, Ambience Suites and Afrodete Hotel
4 – Nissia Beach Apartments & Suites – Kamari
Kamari, a family-friendly coastal town, is home to many beachfront Santorini hotels that offer good accommodation that is great value for money.
Nissia Apartments, a seaside complex, is located right in front of Kamari's unique black sand beach. It provides great views of Santorini's magnificent sunrise and the Aegean Sea.
This self-catering hotel offers a swimming pool, a hot tub and a variety of accommodation types, all with fridge, kitchenette and air conditioning.
You can choose between traditional studios (with seating area), spacious apartments (with living room) and maisonettes (with second bedroom upstairs).
I booked a 30m2 apartment that sleeps up to 4 people, fully equipped with a balcony and outdoor furniture, flat screen TV, radio, dining area, kitchenware, fridge, stovetop, coffee maker, wardrobe, air-conditioning, etc.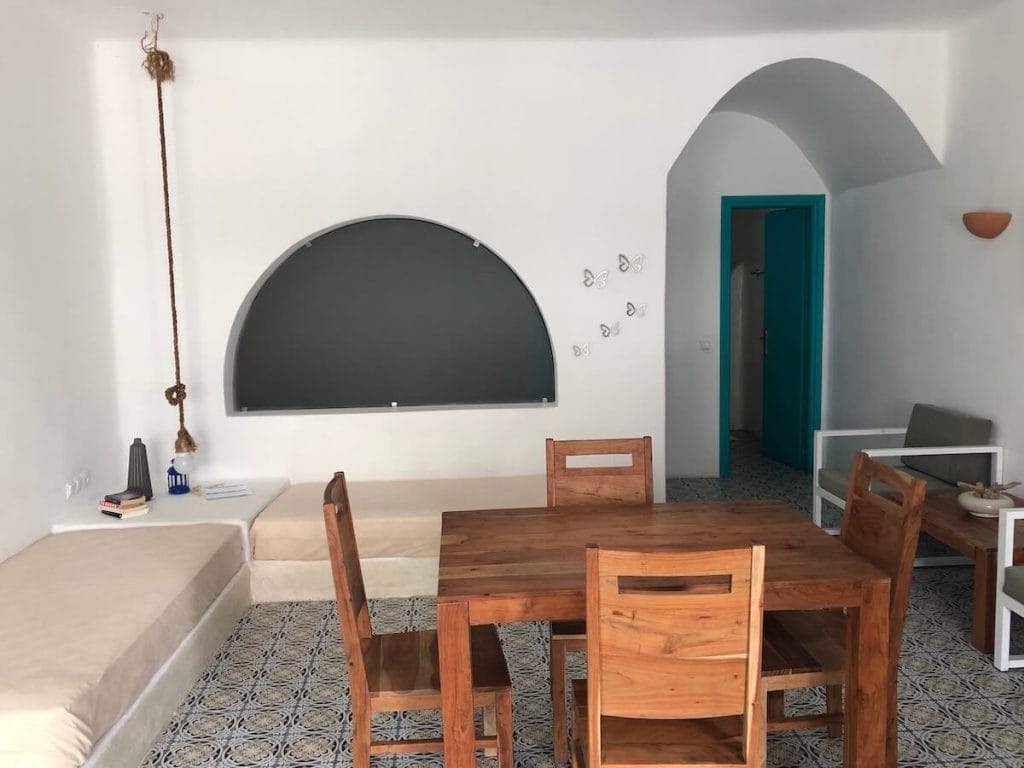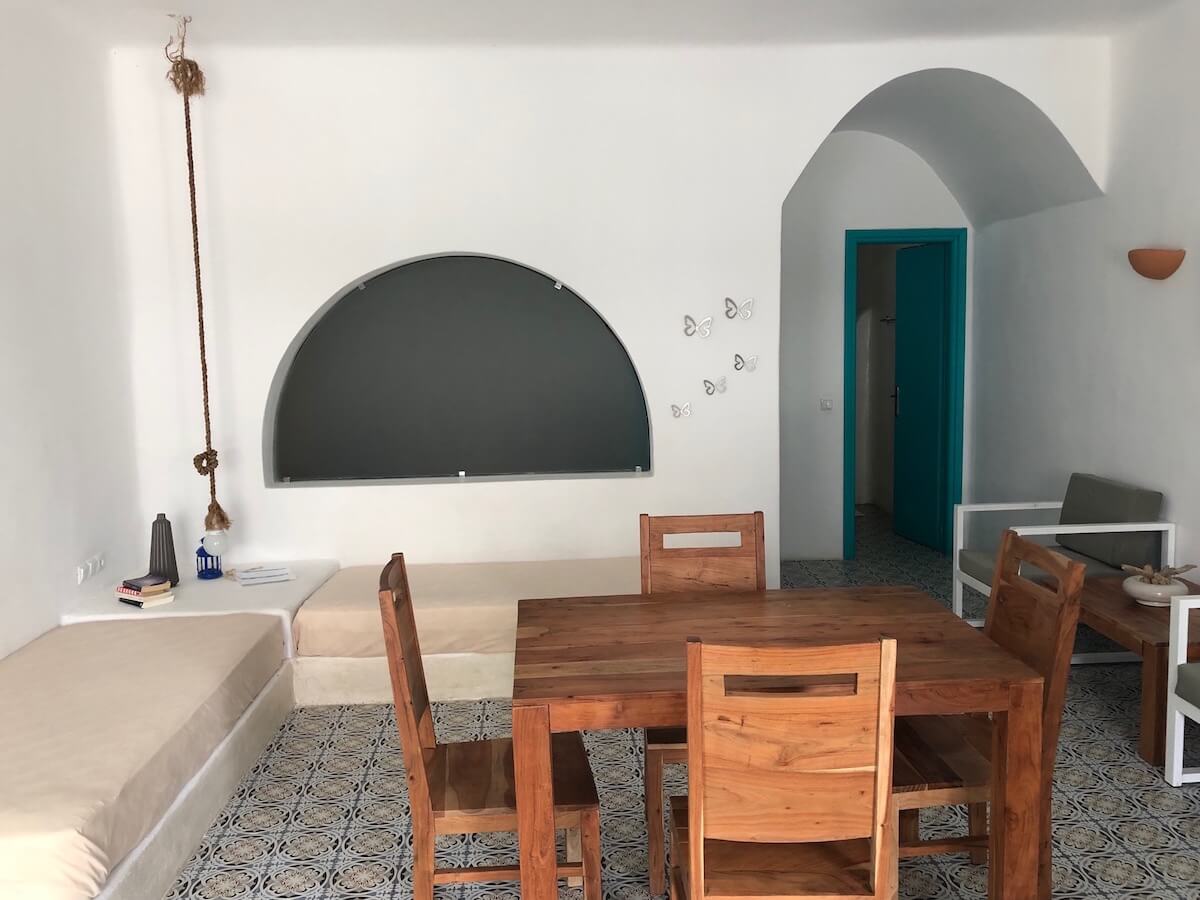 The outdoor area of my apartment was adorable and I loved it. The breakfast served on the beach was a must.
The location is great, close to supermarkets, restaurants and bars and the hotel also offers sunbeds and umbrellas on the beach for its guests.
Nissia Apartments is excellent value for money and has very helpful staff. It is the perfect choice for those who will spend a bit more time in the hotel complex.
Other Santorini Hotels in Kamari
Other hotels in Kamari that I recommend are:
Luxury: La Bellezza Eco Boutique, Cavo Bianco and Tamarix Del Mar Suites.
Mid-range hotels: Bellonias Villas, Kamari Beach Hotel, Sea Side Beach Hotel and Dioskouri Art Villas.
Budget Hotels in Kamari: Hotel Matina, Santellini Hotel and Makris Beach
5 – Aqua Blue Beach Hotel – Perissa
Perfectly located on the famous Perissa Beach, Aqua Blue is one of the most beautiful luxury Santorini hotels and features three outdoor pools, including one for kids, and a private beach with sunbeds and umbrellas.
Rooms at Aqua Blue are bright and modern, with air conditioning, flat-screen TV, fridge, private bathroom, hairdryer, balcony or veranda, double-glazed windows and safety boxes.
The hotel has a buffet restaurant for breakfast and dinner, as well as a lounge bar serving drinks by the pool.
The reception area is decorated in an elegant and sophisticated style and is open 24 hours.
I fell in love with Aqua Blue as soon as I walked through the door.
The staff is polite, the pool area featuring white washed houses and a colossal mountain as backdrop is gorgeous and my standard double room was chic, comfy and had a balcony with a sea view.
Aqua Blue was one of my favorite Santorini hotels and I wished I could've stayed there longer.
It's great value for money and should be a desired destination for families, groups of friends, honeymooners or anyone who desires a high standard in their accommodation.
Other Hotels in Perissa
Other luxury hotels in Perissa that I recommend are: Antoperla Luxury Hotel & Spa and Istoria.
If you would like to book a mid-range hotel in Perissa, my recommendations are: Meltemi Village Hotel and Anastasia Princess Luxury Hotel & Suites.
And if you prefer a budget one, check: Villa Kastelli, Margarenia Studios and Stelios Place
6 – Anemomilos – Oia
Located in the famous and picturesque town of Oia, Anemomilos offers well-equipped and spacious rooms, studios and private villas.
The hotel facilities include a restaurant, a seasonal swimming pool, children's pool and a TV room. A parking area and a lounge are also available.
Although Anemomilos is not in the center of Oia, it's super convenient, close to a supermarket and a public bus station with every corner of the village still within walking distance.
I booked a budget double room decorated in traditional Cycladic style, with a sitting area, private bath and shower, flat-screen TV, wardrobe, refrigerator and air-conditioner.
The room as very spacious and had a beautiful pool view.
The staff was very courteous, helpful and friendly and the private parking is very handy.
Anemomilos is a great option for those who want to stay in Oia and are on a budget.
7 – White Pearl Villas – Oia
Among all the Santorini Hotels that I stayed at, White Pearl Villas was my favorite one.
The villas are nestled against the cliffs of Oia, with striking architecture and they provide spectacular caldera views.
Each is carved into the volcanic rocks, has a unique layout, a jacuzzi or plunge pool; hidden fiber optic lighting and an ultra-romantic ambiance.
The decoration and the amenities are also outstanding!
My villa had a queen size bed, spacious sitting area, mini-fridge, espresso maker, a vintage style amplifier that you can connect to your hand held device, hairdryer, bath and beach towels, high quality toiletries and even a handy phone that work as a city guide and a hotspot.
An outdoor area with sunbeds and an umbrella and a table with two seats are very enticing and the perfect place to relax and admire the vistas.
Words are not enough to explain how much I loved my villa.
Watching the boats floating peacefully on the cobalt blue waters from my plunge pool was unforgettable.
I felt like I never wanted to leave but would just stay there staring at the sea forever.
I was so moved and blessed!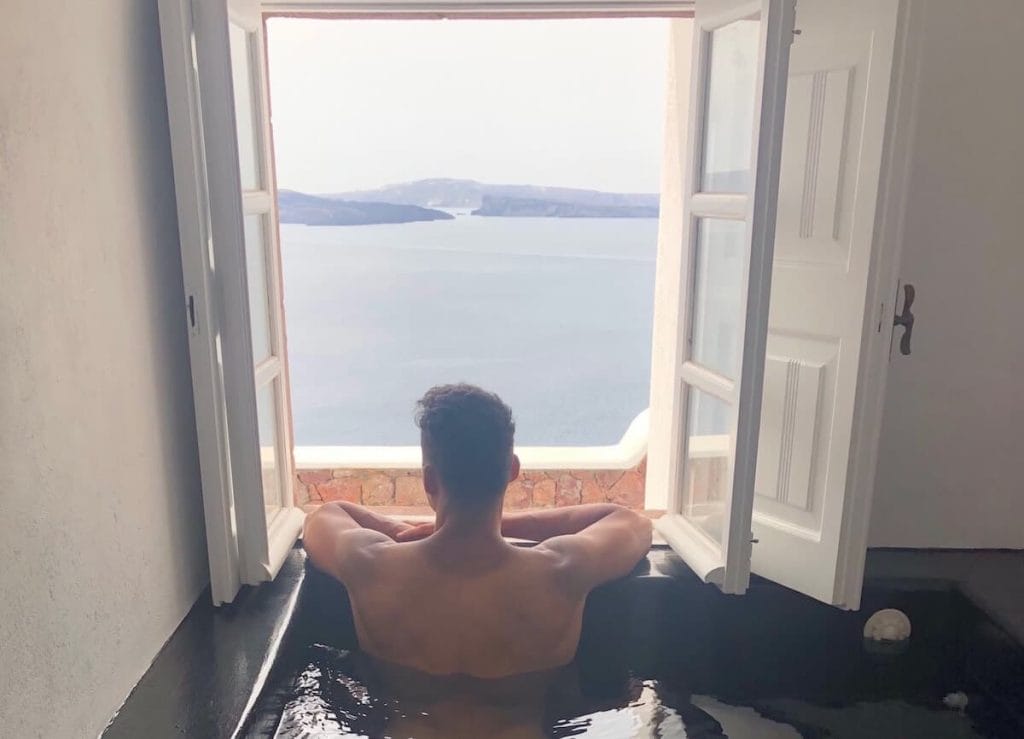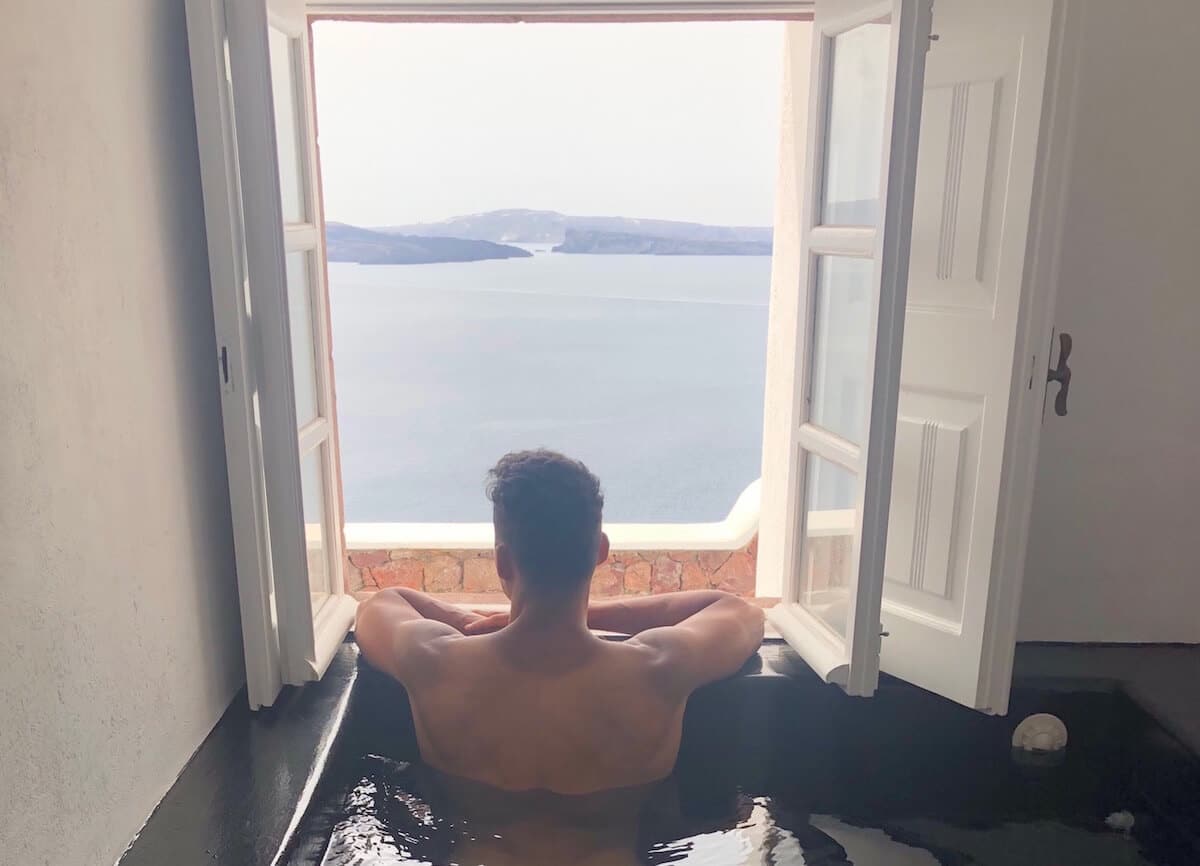 To top it all, the staff is unbelievably friendly. Anastasia, the hostess who took me to my villa and explained everything about it, was so welcoming and warm that I felt like I was talking to a friend.
Upon my arrival there was a bottle of white wine waiting for me and after our conversation, she left some red wine for me with a very sweet message.
And one of the best things about my Aurora Grace Villa, is that it's located in a very secluded and peaceful part of Oia, close to other luxury Santorini hotels.
If you're looking for villa accommodation in Santorini, whether for two or four people, look no more. White Pearl Villas is superb and offers everything you need for a remarkable holiday.
Other Santorini Hotels in Oia
The cheap hotels in Oia that I recommend are: Heliophos Boutique and Maryloujohn Villas
If you prefer a mid-range one, check: Kastro Oia Houses and Aperanto Suites
If you would like to book another luxury hotel in Oia, my recommendations are: Canaves Oia Suite & Spa, Katikies Hotel, Kirini Santorini, Charisma Suites and Mystique
Book your room in one of the Santorini Hotels with Booking.com.
Needless to say, these are honest reviews, as always! I didn't receive any discount, or complimentary stay from any property listed here.
You should definitely consider booking one of these seven Santorini hotels when you plan your trip to this dream island.
In the end, no matter where you stay, one thing is certain: wandering around the streets and cobbled alleys of Santorini will leave you completely in awe!!
Safe travels and have fun in Greece.
MORE POSTS ABOUT GREECE:
I always recommend that you buy travel insurance! It can literally be your lifeline with something happens to you, or if your luggage is lost or stolen.
I always use World Nomads, travel insurance for independent travelers. It's easy to buy, extend & claim online, even after you've left home. Play safe and get yours here.Image
Planning a Trip to Santorini
Where is Santorini?
Santorini is an island in the southern Aegean Sea, about 200 km (120 mi) southeast of Greece's mainland (check map here).
How to get to Santorini?
There are only two ways to get to Santorini: by boat or airplane.
∗ There are ferries connecting Santorini to other Greek islands. The most common routes from / to are: Athens, Crete and Mykonos.
From and to Athens: the conventional ferry takes around from 6 to 8h and the high speed ferry takes between 4-5h. I recommend that you buy your ticket online in advance. You can check prices and timetable here.
∗ By airplane: there is an international airport in Santorini that receives flights from Athens during the whole year, and international flights during the high season.
The companies that operate from Athens to Santorini airport are: Aegean Air, Ryan Air, Volotea and Sky Express (only high season).
You can book your flights with Skyscanner, the website that I use and trust.
You can book your shared arrival transfer from Santorini National Airport to your hotel or cruise port with a discount here; and your Private Departure Transfer: Santorini Hotels to Airport or Ferry Port here from US$ 16,50.
I highly recommend that you hire a car while in Santorini!! It's much easier, faster and convenient.
Best time to go to Santorini?
The best time to visit Santorini is from May to September when the sun is shining, the temperatures are high and chances of rain are minimal.
To avoid crowds pick the months of May and September, because the weather in Santorini is still good at this time of the year.
Santorini Tours
There are several companies offering tours as it's one of best things to do in Santorini in one day. I recommend booking your tour online in advance with Viator, a TripAdvisor company, or Get Your Guide, that offer many different tours.
Some interesting Santorini tours are:
More tour options with Get your Guide:
Are planning to visit Santorini? What did you think of the Santorini hotels that I stayed? Leave a comment below 😉
Travel Planning Resources
For every booking made through my site I donate US$ 1 for a charitable organization.
Safe travels ☺