I've never heard of Langkawi until I saw a picture and a video of two friends parasailing above emerald water, surrounded by mountains covered with lush vegetation.
Visiting Koh Lipe, Thailand, for the first time, I couldn't miss the opportunity to go to Langkawi, as it's just a 90min ferry ride away.
Langkawi, known as the jewel of the Andaman Sea, is an archipelago of 99 islands in the Andaman Sea, on Malaysia's Southwest coast, that offers beautiful beaches, mangroves rich in fauna and flora, and many adventures.
* If you like adventure, beach, romantic, hill stations, waterfalls, wildlife and are planning a trip to India, you should check 65 places to visit near Bangalore.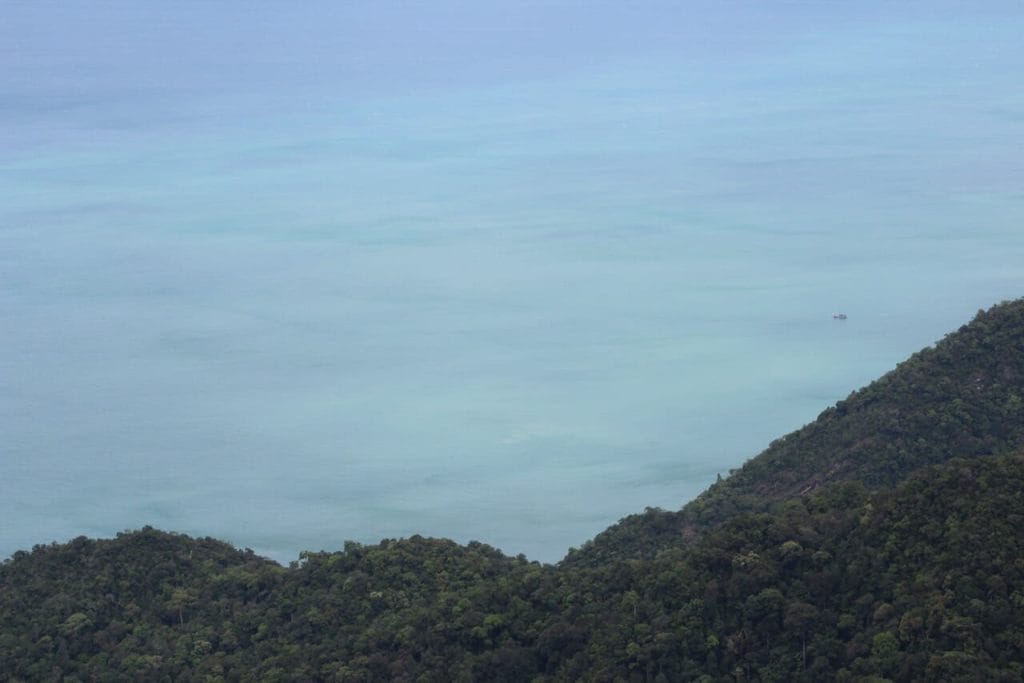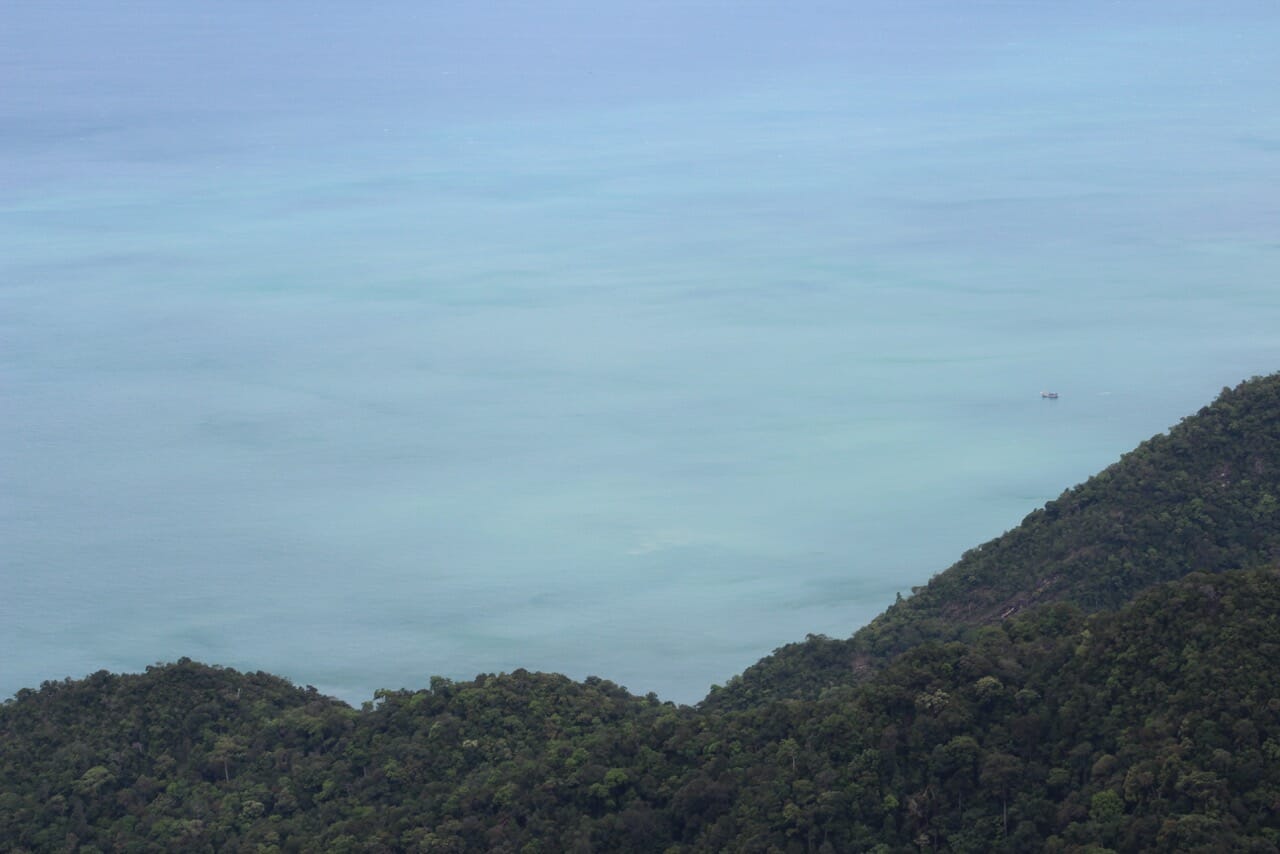 When I started planning my trip to Langkawi, I knew I wouldn't be able to do everything I wanted because I was only staying for a short while during the busiest time of the year, around New Year's Eve. Even so, I tried to get the most out of it and this post is just to give you an idea of what to do in Langkawi during a two- or three-day trip.
Ride the steepest cable car in the world
SkyCab is the most popular attraction in Langkawi, and the scariest cable car I've ever ridden.
Located in Mount Mat Cincang, Langkawi's second highest mountain, this cable car provides the exhilarating experience of a 1,700m journey at 650m above sea level!
The ride is really nice because you hover over mountains covered with extraordinary vegetation, and enjoy a breathtaking view of the entire main island and beyond. But on my ride, the wind was blowing, causing the car to shake, and at the high altitude, this ride gave me butterflies in my stomach.
There are two viewpoints from where you can admire the beautiful flora, Langkawi islands, and even Southern Thailand. And once you're at the Top Station, you can also access the Sky Bridge, which is claimed to be the longest suspended bridge in the world. It measures 125m in length, and is suspended from a 82m high single pylon but, to be honest, I wasn't that impressed with the bridge.
SkyCab is fun and certainly one of the best things to do in Langkawi. I just wished I had better weather, so the view would've been even more spectacular.
Do some Water sports
With Langkawi surrounded by the sea and calm waters, there are various water activities around the islands, which makes Langkawi the perfect place to get that adrenaline rush.
From jet skiing to parasailing, kayaking to standup paddle boarding (SUP), you can't leave Langkawi without indulging yourself in some of those activities.
In fact, one of the most popular tours is via jet ski, where you visit 8 islands and can go jungle trekking, kayaking, snorkeling, and paddling boats.
Unfortunately, during my stay, all the jet ski tours were fully booked, and I had to amuse myself by riding a jet ski around the resort. But of course I had a lot of fun!
Another popular attraction in Langkawi is parasailing, and you can do it at many beaches.
My recommendation is to do it as soon as you arrive if the weather is good, because the weather conditions can change anytime and you may have to leave the island without doing it.
I went parasailing at Pantai Tengah beach, because it was one of the few places that did not suspend their activities that day because of the wind. But as there were many customers, the instructors were rushed, and as a result, didn't give me full instructions.
My ride started with me falling down on the beach (I was supposed to run but wasn't clear on it). The sail pulled me into the air, and as I was getting higher and higher, I also started to feel a bit scared.
I wasn't feeling safe because it felt as if the harness wasn't supporting me properly and that I could fall at any moment. However, after a while I realized that I wouldn't fall down, so I was able to relax and enjoy the ride.
The adventure lasted less than five minutes (it was supposed to be 10min), and the awe-inspiring view of the huge limestone mountains surrounded by emerald water that I dreamed of, flashed by in under 30 seconds…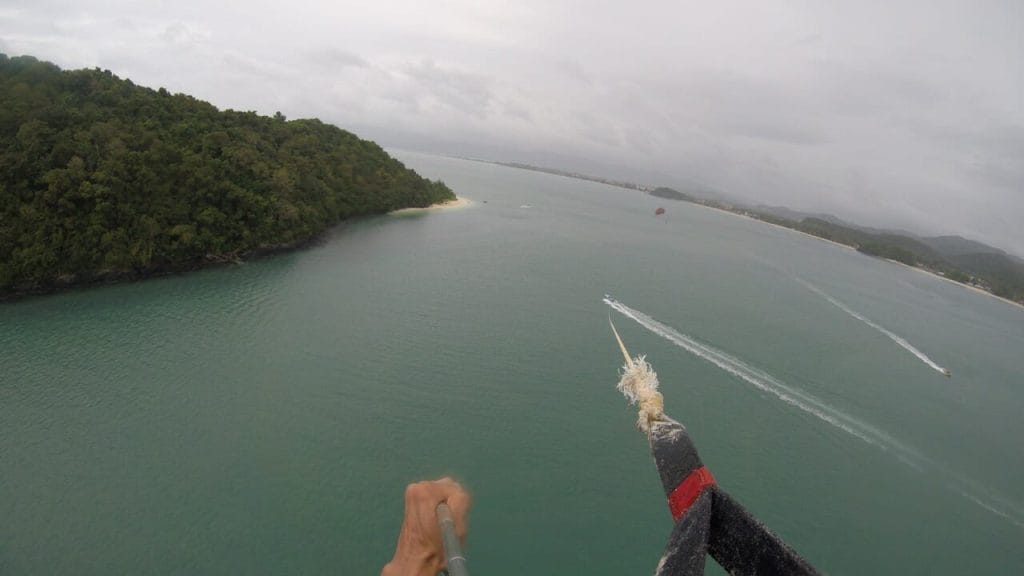 But even with my misadventure, parasailing in Lankgawi was thrilling, and you should definitely do it. Just choose a reliable company that will prioritise your safety.
I also went kayaking and did SUP, but if I had more time I would've gone kayaking in the Geopark because it seems very interesting and unique.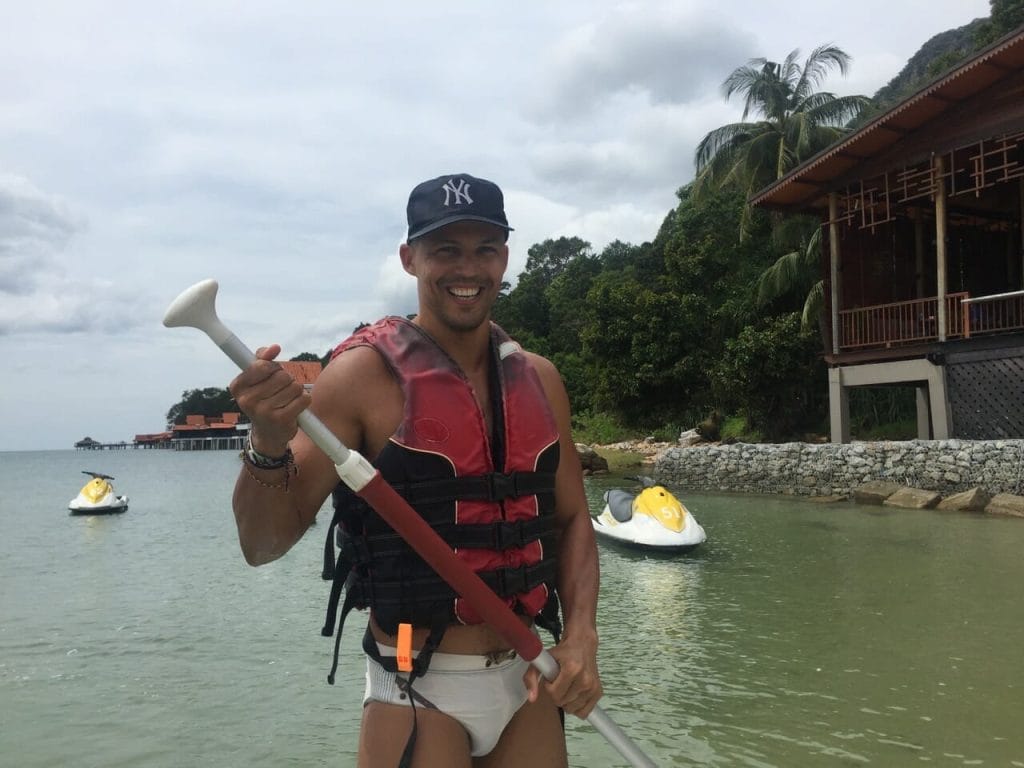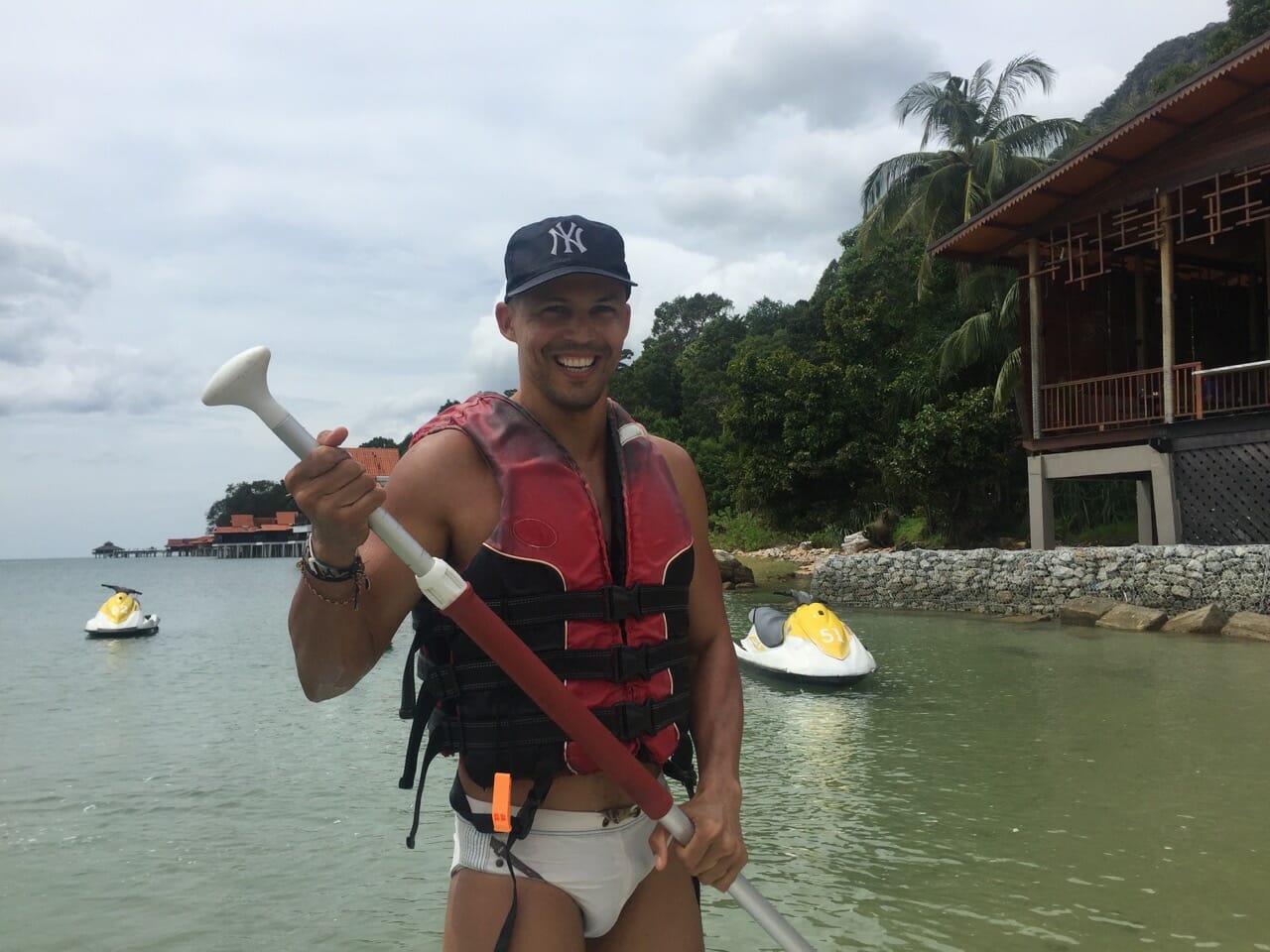 Grab some food in one of the Night Markets
During my short stay in Langkawi I did not miss the opportunity to visit one of Langkawi's night markets. There are many of them every day of the week at different locations and of different sizes.
I went to Padang Matisirat Night Market, which happens every Wednesday and Saturday, on Kampung Raja, Mukin Padang Matsirat. This is a small market, with food and clothes stalls, frequented mostly by locals, and with very few tourists.
It's impossible to resist the tempting food when you arrive. From chicken satay, to Malaysian delicacies, Indian food, fresh juices, and dishes that you may have never seen before, you can't leave the market without eating something.
And the best is that the food is so good and so cheap!
I had some very tasty chicken satay (more than one helping!), some cakes, pancakes, and coconut juice, and spent less than US$ 3.
So during your visit, go eat like a local by visiting one of Langkawi's night markets.
Other Things to Do  
If you spend more time in Langkawi, here is a list of other things to in Langkawi:
– Mangrove river tour: where you have a chance to visit the Geopark and go to the crocodile cave, bat cave, do eagle watching and go to the floating restaurant.
– Jungle trek: three hours trekking in the rainforest.
– Bird watching: five hours tour to admire different kinds of birds.
– Nature cycling: cycling through paddy fields, forests and along riverbanks.
– Cruising: whether during the day or sunset.
– Snorkeling at Pulau Paya Marine Park: the best spot for snorkeling and diving in Langkawi.
– Skytrex: an adventure park where you can climb, swing, crawl or glide through the jungle.
– Rice fields: wander around the rice fields and also visit the Rice Museum.
– Art in Paradise: the largest 3D Museum in Malaysia.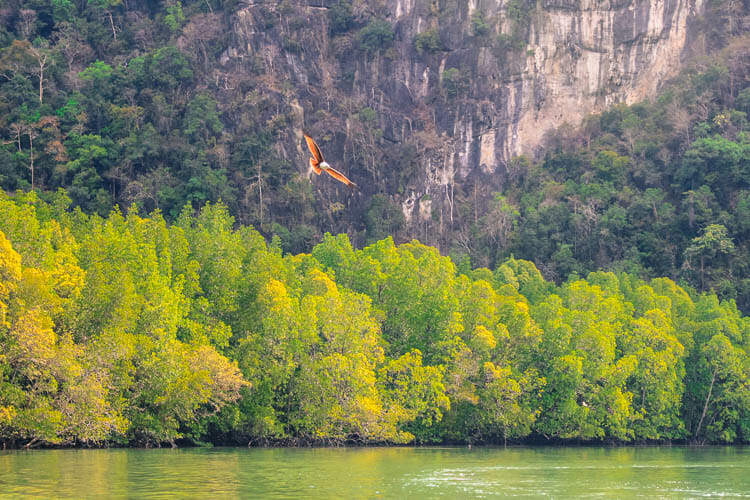 To find out which are the Top things to do in Langkawi, read this post from Love and Road.
With all those things to do in Langkawi, combined with its extraordinary beauty, I would consider visiting Langwaki again.
Safe travels!
Visiting Langkawi
Langkawi is a district of the state of Kedah in Northern Malaysia and lies approximately 51 km west of Kedah (check the map here).
There are two options to go to Langkawi:
• By ferry: from Kuala Kedah and Kuala Perlis in Malaysia, and Satun, or Koh Lipe, in Thailand. You can buy online tickets with Langkawi Ferry Services and Koh Lipe Ferry&Speed Boat Schedules.
• By airplane: There is an international airport in Langkawi, and some of the airlines that operate are Malaysia Airlines and AirAsia.
Because its geographic position, near to equator, Langkawi is hot and humid all-year-round.
From November to April there is a good balance between sunshine and light rainfall, and the temperature ranges from 28C (82F) to 35C (95F).
When I was there the weather was exactly like this: hot, humid, cloudy with light rainfall.
The mid-season (neither dry nor rainy) is from mid April until August, and the rainy between September and October.
The best time to visit Langkawi is from January to March, when you can do a lot of activities and tour.
I stayed at Berjaya Langkawi Resort and I will still write the review.
Too book your accommodation you can use Booking or Agoda that are the sites that I use, and my hotel recommendations are:
∗ Luxury: The Danna Langkawi, Four Seasons Resort, St Regis Langkawi and Tanjung Rhu Resort.
∗ Great Value for Money: Ombak Villa Langkawi, Meritus Pelangi Beach Resort And Spa, Ambong-Ambong Langkawi Rainforest Retreat and Bay View Hotel.
∗ Budget: Langkawi Seaview Hotel, Malibest Resort, The Fint Hus Langkawi, Casa Loma at Airis Sanctuary and NR Langkawi Motel.
∗ Five months travel insurance: US$ 256 with World Nomads
∗ SkyCab: US$ 10
∗ Parasailing: US$ 27
∗ Ferry from Koh Lipe: US$ 28
∗ Ferry to Satun: US$ 10
Extra Tips
For more information about Langkawi visit www.malaysiatravel.com
For tours I recommend:
Jetski Tours: MegaWaterSports.
Mangrove Tour: HBS Evergreen Tours
Parasailing: Naam
Day and Dinner Cruise: Crystal Yacht
Travel Planning Resources
For every booking made through my site I donate US$ 1 for a charitable organization.
Safe travels ☺