Are you visiting South Africa for the first time? Below are 10 things you should know before going 😉
A trip to South Africa can be considered a once-in-a-lifetime experience!
Getting close to lions, buffalos and rhinos, learning about Apartheid from the people who lived it and visiting extraordinary places such as Cape Town, Blyde River Canyon and the winelands will make you fall in love with this country forever and understand why South Africa is considered one of the best countries to visit in Africa.
Before visiting South Africa for the first time I didn't know much about the country. I didn't know that the Portuguese were the first Europeans to arrive in South Africa or that Jozi, the nickname for Johannesburg, isn't one of the capitals, for instance.
I spent nearly 40 days in the country and decided to write this post with some tips and things to know before going to South Africa, in order for you to be more prepared when visiting it.
10 Things to know before going to South Africa
1 – There are three official capitals
I believe that many people don't know that South Africa has three official capitals. And as I mentioned previously, Johannesburg isn't one of them.
The three capitals are strategically located throughout the country and host different branches of the government.
Pretoria, in the northeast, is the administrative capital and the home of the president.
Cape Town, located in the southwest corner of South Africa, is the legislative capital, which includes the parliament and the National Assembly.
And the third is Bloemfontein, in the centre of South Africa, considered the judicial capital and the home of the Supreme Court of Appeal (the second-highest court in the country).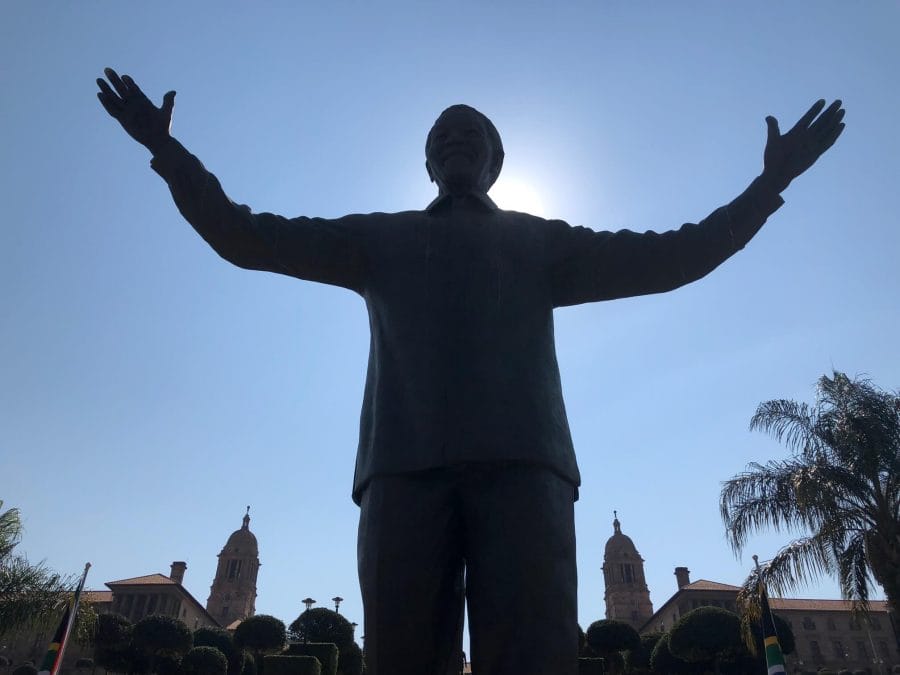 2 – There are 11 official languages
An important thing that you should know before going to South Africa is that there are 11 official languages in South Africa: English, Afrikaans, Zulu, Xhosa, Southern Sotho, Tswana, Northern Sotho, Venda, Tsonga, Swati and Ndebele.
According to the 2011 census, Zulu, spoken by 23% of the population, is the most common language in South Africa, followed by Xhosa, 16%, Afrikaans, 13%, and English, 10%.
Most South Africans speak more than one language and while English isn't the most spoken one, it's widely used throughout the country and is the primary language of the government, business, commerce and tourism.
During my stay, I was lucky enough to meet someone who could speak all 11 official languages and who even knew some Portuguese words.
For me, the most interesting one is Xhosa, because they make unusual click sounds with their tongues.
3 – The first concentration camps in the 1900s were in South Africa
You might be as surprised as I was when I discovered that there were concentration camps in South Africa.
In fact, the British Empire was the first to use concentration camps in the early 1900s during the Second Boer War. After not being able to beat the Boers (descendants of Dutch farmers), British soldiers reacted by putting the fighters' family members into concentration camps, so they could not provide food or help to the Boer fighters.
Between 1900 in 1902 there were 45 concentration camps for whites and 64 for blacks in South Africa. More than 20.000 blacks and 27.000 whites died, most of them women and children.
If you want to visit a concentration camp, the most popular one among locals is in Bethulie in the Free State, which was the largest of the camps used by the British. I visited the one in Irene in Gauteng, which was at that time 2,5 Km long x 1 Km wide, and caused the death of 1610 people.
4 – Apartheid is over but segregation is not
How familiar are you with Apartheid? This former system of social segregation and political and economic discrimination originated in South Africa in 1948 and lasted until the early 1990s.
During the apartheid era, the government created laws forcing different racial groups to live separately and so tried to stop all inter-marriage and social integration between racial groups. In fact, mixed marriages were outlawed in 1949 and black people were placed in townships outside of the towns.
The centres of the cities were considered "white only areas" and blacks, Asians and mixed-race people (or "coloured" people as they are called in South Africa) needed special permits to run businesses and professional practices in those areas.
The segregation was very strong and there were "white toilets", "white buses and trains", "white hospitals and ambulances, and so on. Most restaurants and hotels in white areas were not allowed to admit blacks except as staff.
Thank God Apartheid is over but unfortunately, its economic legacy and social effects continue to the present day.
It's common to see black people still living in ghettos at the furthest edges of the cities, working in hotels, restaurants, shopping malls, gas stations etc. But the most interesting fact for me was to see that in those business establishments, you only see black people working. There aren't whites. And when you see a white person working with a black one, they generally have a higher position.
5 – South Africa has the only street in the world where two Nobel Peace Prize winners had lived
Talking about Apartheid, we can't neglect Nelson Mandela, who had a pivotal role in South African history. He became politically involved in 1942, joined the ANC (African National Congress) party in 1944, spent 27 years in prison, won a Nobel Peace Prize in 1993 and was South Africa's first black president, elected in 1994.
Mandela lived in Soweto, a township in Johannesburg on the same street as Desmond Tutu, an Anglican cleric and human-right activist who also won a Nobel Peace Prize in 1984.
The block where they lived is known now as the "Nobel Laureate Walk".
The Mandela Family's House was converted into a National Museum and is open to the public daily. Desmond Tutu's house isn't open to visitors though.
6 – Winter is the best safari season
One of the reasons people visit South Africa is to go on a game drive, as locals refer to safari.
So it's important to know before traveling to South Africa that the best season for safari at Kruger and most wildlife parks is during the dry season (from May to September).
During this time of the year, there is less vegetation and animals gather around rivers and waterholes, which makes wildlife easier to spot. There are also fewer mosquitos, the skies are clear and most days are sunny.
I went on safari in several parks and noticed the big difference the vegetation can make while spotting animals…
You may also be interested in:
7 – Johannesburg is quite dangerous but is worth visiting it
Many people decide to skip Johannesburg when travelling to South Africa for the first time because they think that the city is too dangerous and not interesting.
One important thing to know before going to Johannesburg is that the city has a very high crime rate in part caused by immense poverty and inequality.
During my trip, some friends told me to be careful while in Jozi.
To be honest, I didn't take their advice seriously and almost paid a high price because of that. In my first 5min in the city, people tried to rob me twice… So, always be vigilant, and keep your valuables out of sight if you can. Even though that happened, I still loved Jo'burg!
People are very friendly; the tourist attractions, such as the Apartheid Museum, Soweto and Constitution Hill, are extraordinary; and the vibe is very different to anywhere else in South Africa.
While in Johannesburg you can also visit the Cradle of Humankind, a paleoanthropological UNESCO World Heritage site about 50 km (31 mi) northwest of Johannesburg, and Pretoria.
Book Your tour Online in Advance here
8 – South Africa has one of the largest and greenest canyons on Earth
Located in the Blyde River Canyon Reserve in Mpumalanga province, the second largest canyon in Africa, 25 Km (16 mi) in length, is formed mostly of red sandstone covered with subtropical foliage.
Apart from the impressive lush scenery with many beautiful waterfalls and scenic viewpoints, Blyde River Canyon Reserve is home to over 1000 floral species, including endemic ones that are not found anywhere else in the world, and a great variety of wildlife such as hippos, crocodiles, antelopes, monkeys, etc.
I drove a huge part of the Blyde River Canyon and the vistas are spectacular. The Three Rondavels (three huge spirals of dolomite rock rising out of the far wall of the Blyde River Canyon) is one of the most beautiful places I've ever seen in South Africa.
This canyon is part of the Panorama Route, which starts at the town of Graskop and can be combined with a trip to Kruger National Park because of its proximity. Book your Panorama Tour in advance here.
9 – The country has 4 different climates
South Africa has climatic conditions that range from the Mediterranean to the temperate, subtropical and desert climates. And the main factors influencing the weather conditions are altitude and the surrounding oceans (Atlantic and Indian).
Most of the country has warm sunny days and cool nights.
Rain falls mainly in the summer months with brief afternoon thunderstorms. The exception is the Western Cape and its capital city Cape Town where the climate is Mediterranean and it rains more in the wintertime (May to August).
It means that if the main focus of your trip is safari, you should definitely go in the winter months. However, it's important to know before travelling to Cape Town that it might be raining this time of the year.
If you want to enjoy the Cape Town beaches and the winelands, go during the summer but be prepared to get wet if you go on a game drive in Kruger Park.
10 – Public transportation basically doesn't exist
South Africa is a very large country, approximately double the size of France, and the big cities such as Cape Town, Johannesburg and Durban, have many similarities to Western countries.
However, public transport in South Africa can't be compared to that of developed countries. The country doesn't have a metro railway and intercity buses aren't commonly used by tourists.
So, the best options for travelling around South Africa are renting a car, taking taxis or uber, hop on hop off buses, and booking tours and trips with pick up and drop off.
I travelled extensively in South Africa and I barely saw buses running in the cities and only a few railways.
Hire your car here without any additional costs for you; just remember that South Africans drive on the left.
I believe that these are 10 of the most important things you should know before going to South Africa.
I could also add that most of the ATMs charge a 50 rand (US$ 3.50) fee to withdraw money, you might need a visa and yellow fever certificate, the food is very good and prices are reasonable, watch your belongs, don't be flashy and read some books and/or watch some movies to learn valuable lessons about South Africa history and society.
Safe travels and enjoy South Africa.
You may also be interested in:
Don't forget to save these pins for later 😉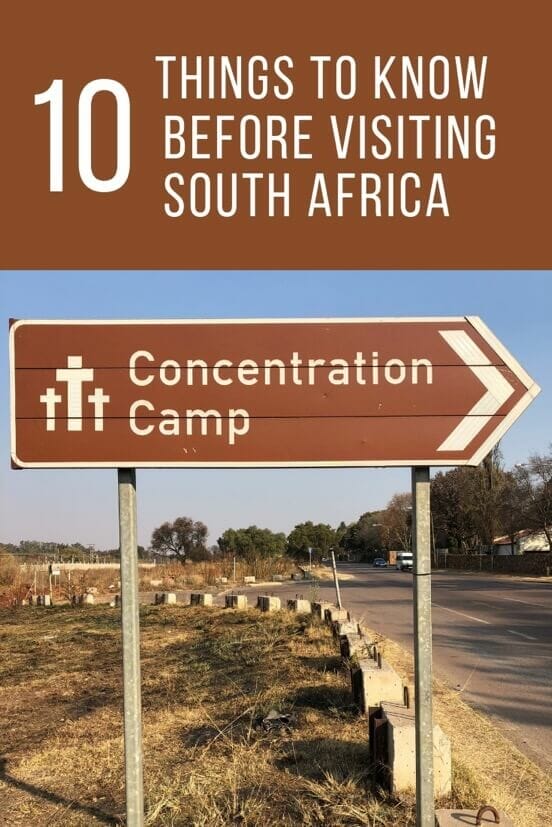 Don't forget to buy travel insurance, which can literally be your lifeline if something happens to you and if your luggage is lost or stolen.
I always use World Nomads Travel Insurance for independent travelers. It's easy to buy, extend & claim online, even after you've left home.
Get your travel insurance here.
Visiting South Africa
Where's South Africa?
South Africa is located on the southernmost tip of the African continent (check the map here).
How to get South Africa?
There are three major international airports in South Africa: OR Tambo, which serves Johannesburg and Pretoria; Cape Town International Airport and King Shaka International Airport in Durban. 
Nelspruit International Airport and Skukuza Airport are also very useful for those who want to fly directly to the game parks in Mpumalanga.
You can book your flights with Skyscanner, which is the website that I use and trust.
Best Time to Visit South Africa
South Africa is a year-round destination, with hot summers, mild winters and a climate that varies dramatically across the country.
The best time to visit South Africa will depend on whether you're heading to Cape Town or Kruger, seeking wildlife or wildflowers, whale watching in Hermanus, hiking the Drakensberg or driving the Garden Route.
April, May, September and October are the best months to combine destinations across the country.
Where to stay?
I spend most of my time in Cape Town and stayed at the V&A Marina – Waterfront Apartments and really loved it.
You can book your accommodation in South Africa here, without any additional cost for you.

Book Your South Africa Tours Online Here
Extra Links
Travel Planning Resources
For every booking made through my site I donate US$ 1 for a charitable organization.
Safe travels ☺