If you're visiting the city of Port Elizabeth and want to go on a game drive, read on what to expect from an Addo Elephant Park safari.
Located in a malaria free area just 40Km from the coastal city of Port Elizabeth, Addo Elephant is the third largest national park in South Africa with an area of 180,000 hectares.
It's the world's first "Big 7" conservation area, home to the traditional Big 5 (rhino, elephant, leopard, buffalo and lion) and also the great white shark and southern right whale.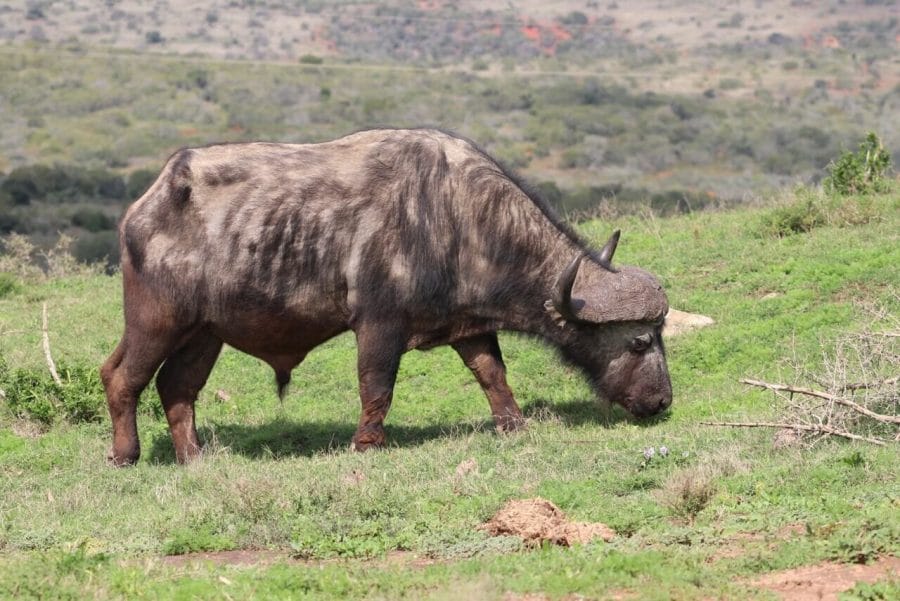 Addo Elephant National Park
Addo Elephant National Park (AENP) was created in 1931 to protect the 11 remaining elephants in the area.
The original size of the park was around 2000 hectares and there were no fences, which resulted in a number of conflicts between elephants and farmers until 1954, when the park was finally enclosed.
Nowadays the park is a sanctuary to a multitude of wild- and birdlife, including more than 600 elephants, 400 Cape buffaloes, black rhinos, lions, spotted hyenas, leopards, zebras, 400 species of birds, a variety of antelope species and the unique flightless dung beetle.
The park encompasses five of South Africa's nine biomes, from the vast Darligton Lake across the stunning Zuurberg Mountains, through the dense thicket of the breathtaking Sundays River Valley, to the verdant indigenous forests of Woody Cape, which shelter the largest coastal dune fields South of the Equator, ending in the park's marine area at Bird Island and St Croix Island in Algoa Bay.
Addo Elephant Park has a 64 Km (40mi) internal road network with two tarred big loops and other small gravel ones; a main camp featuring a swimming pool (only for overnight visitors), restaurant, gift shop, flood lit water hole, picnic area and a wide variety of accommodation; four other rest camps and four camps run by concessionaires.
A part from the game drive, visitors can also go on horse trails, hiking (including a 32 Km long), whale watching, shark cage diving, bird watching and even visit important historical sites.
My Addo Elephant Park Safari Experience
I visited Addo in the beginning of September 2018, when I was traveling along the Garden Route with Hot Spots 2 C, a renowned company that I'm working with as a travel ambassador.
We left Jeffrey's Bay around 4:00 AM to be at Addo Elephant Park for the early morning game drive (from 6:00 to 8:00).
We hopped on a 4×4 open safari vehicle just before dawn and drove along the main game viewing area at Addo Main Camp.
Right from the start I realized that spotting animals in Addo would not be easy because of the dense vegetation, a mix of bushes and trees. And I wasn't wrong.
This 2h safari was very quiet and we just saw three hyenas, some kudus and zebras. It was very disappointing!!
Only when we took our own vehicle and did a self-game drive, did we see more wildlife.
We drove around the park for almost four hours, visiting different sections, including the picturesque Zuurberg Mountains, and spotted herds of kudus, red hartebeest (the first time I saw this animal), warthogs and elephants, flightless dung beetles, a cape buffalo, and even a black-backed jackal and caracal.
One of the greatest things about doing an Addo Elephant Park safari, apart from the diversely beautiful landscape, is that you can get very close to the animals.
We drove near zebras and elephants without disturbing them.
In fact, we saw so many elephants of all sizes and ages that more than once we were completely surrounded by them. It was amazing!!
Because of the heat, more elephants had come out of the bushes to eat and bathe.
Some people saw lions that day but we didn't.
We left the park around 1:00 PM and on the way to the gate we saw a huge elephant zigzagging down the hill.
It was quite interesting seeing this beautiful, smart and heavy animal walking softly and elegantly without making any noise just in front of us.
We left Addo Elephant Park very happy and pleased about having had the opportunity to take a closer look at South African's wildlife and getting close to all those African safari animals. And it was possible because of the extra 4h self-game drive we did.
Nature is unpredictable and you can spend less time at Addo and see more animals than we saw, but from my experience, I recommend spending at least half a day at the park.
Overall, doing an Addo Elephant Park safari is a great option for those who are in Port Elizabeth and want to see herds of elephants and few more animals.
Just don't expect to see the "Big Five" because leopards and rhinos are very rare though.
Tips for Visiting Addo Elephant National Park
– The Addo National Elephant Park's main reception is open daily from 7:00 to 19:00 and Matyholweni reception is open from 07:00 to 17:00 daily, while the gate is open until 18:30.
– The park is situated in an area where rainfall occur all year-round, with peaks in February/March and October to November, and less rain between June and September. The period from April to September is excellent for game viewing.
– The park not only provides guided game drives (sunrise, morning, afternoon, midday, sundowner and night), but also hop-on guides (guiding services for visitors in the comfort of your own vehicles). Advanced booking is required though.
– Self-drive wildlife viewing in the main game area and Colchester area on 120 km of tourist roads is suitable for normal sedan cars.
– You must remain in your car at all times, except in designated areas.
– Addo Standard Conservation Fee: R 344 (US$ 23.20) / per adult and R 172 (US$ 11.60) / per child
– Daily visitors can enjoy other activities at no extra cost (except the entrance fee), such as:
– Zuurberg hiking trails: 1-hour and 3-hour trails available in the Zuurberg Mountains;
– PPC Discovery Trail: a short walk in the main camp, one loop suitable for wheelchair users and visually-impaired visitors.
– SASOL Red Bishop Bird Hide: in the main camp (suitable for wheelchair-users)
– Underground viewing hide at main camp (suitable for wheelchair-users).
– If you're staying in the park and like hikes, you should definitely do the Alexandra Hike Trail, a 36 Km, 2-day trail though the largest dune field south of the Equator. The views are breathtaking.
– Don't forget to bring along binoculars, cameras, walking shoes and wildlife reference books. If this is your first time on a safari, here is a detailed list with more information of what to pack for safari.
Book your trip to the Garden Route + Addo with Hot Spots 2 C online and get 5% off using my promo-code.
Book your tour now!
You may also be interested in:
Watch video: Safari at Addo Elephant Park National Park
Don't forget to buy a travel insurance, which can literally be your lifeline if something happens to you and if your luggage is lost or stolen.
I always use World Nomads Travel Insurance for independent travelers. It's easy to buy, extend & claim online, even after you've left home.
Get your travel insurance here.
Don't forget to save these pins for later 😉
Travel Planning Resources
For every booking made through my site I donate US$ 1 for a charitable organization.
World Nomads provides travel insurance for travelers in over 100 countries. As an affiliate, we receive a fee when you get a quote from World Nomads using this link. We do not represent World Nomads. This is information only and not a recommendation to buy travel insurance.
Safe travels ☺