Cape Town is definitely one of the most beautiful cities not only in South Africa, but also in the entire world!
If you want to get the best view of this magnificent city during your visit, you can't miss the Lions Head Hike, one of the most rewarding and popular hikes in Cape Town.
I have visited Cape Town twice and climbed Lions Head three times: for sunrise, sunset and in the middle of the day.
On this post I will tell you everything that you need to know about hiking Lion's Head.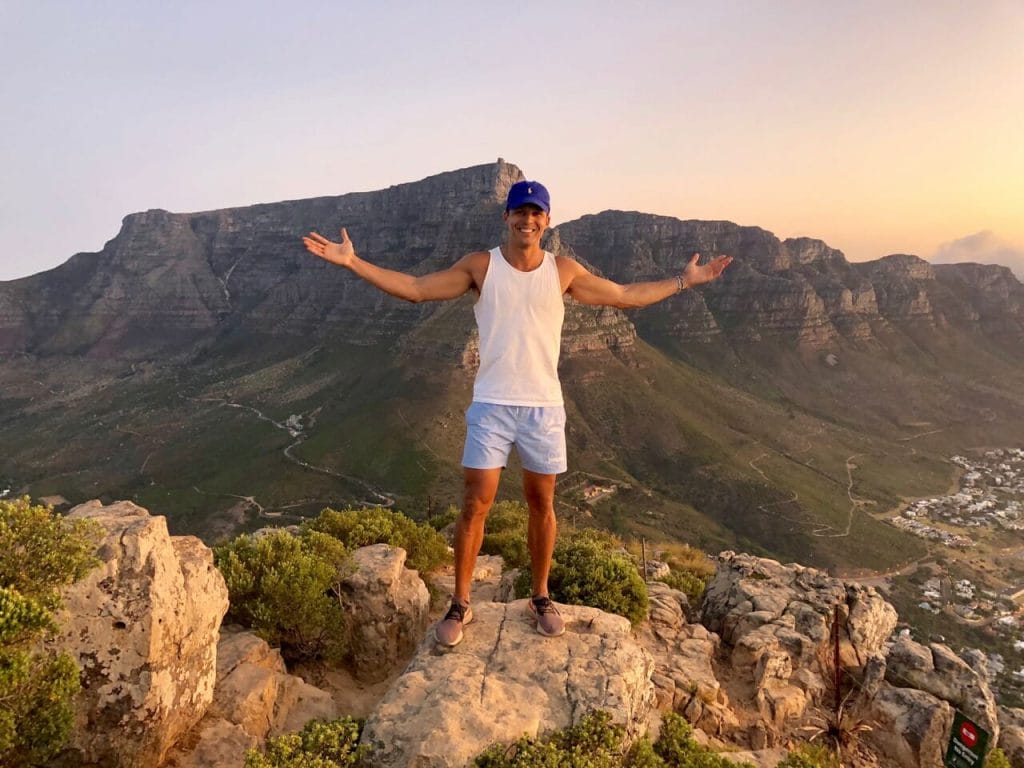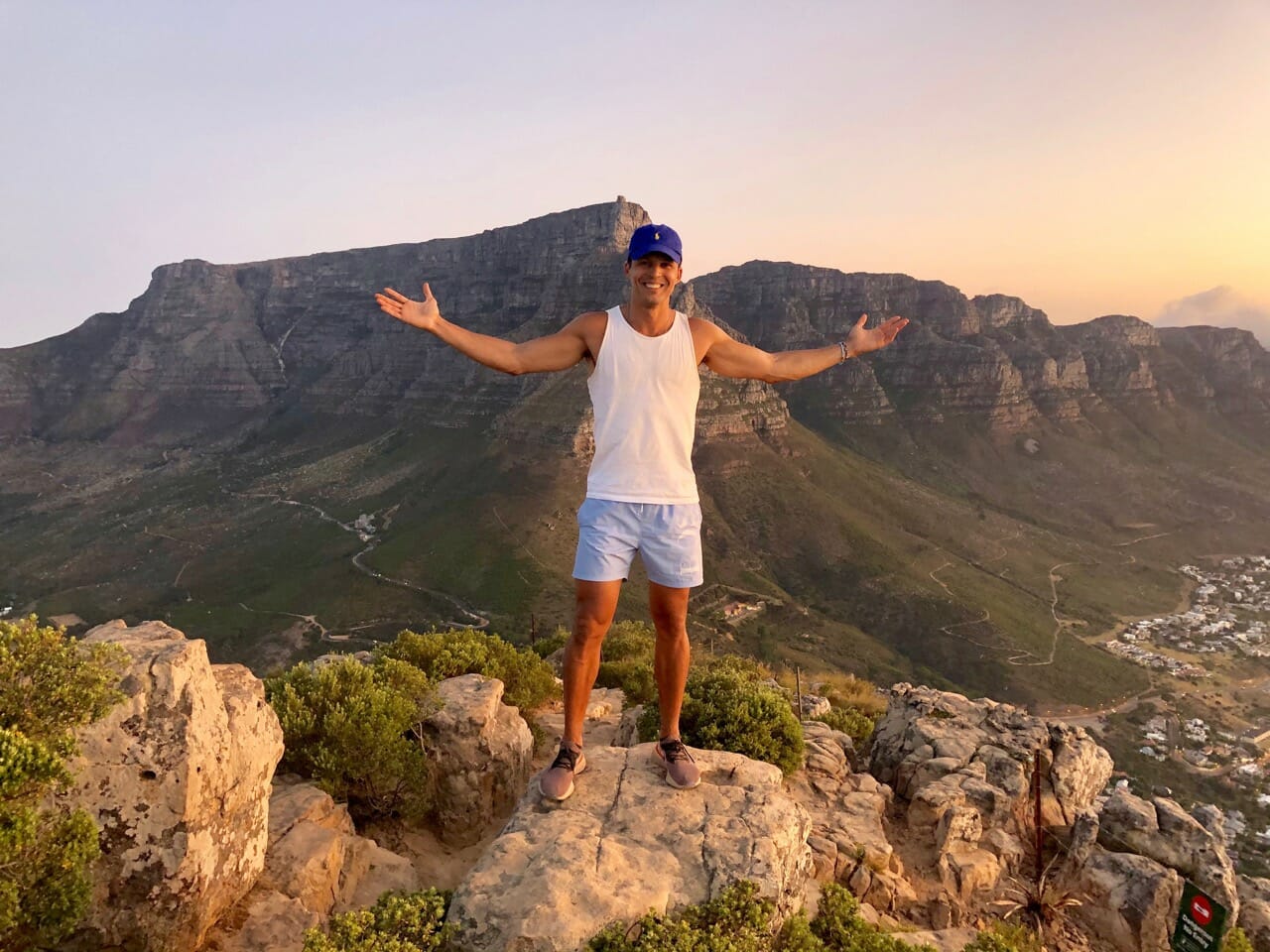 * Affiliate disclosure: Some of the links below are affiliate links, meaning at I earn a small fee if you click through and make a purchase. There is never any additional cost to you, and I use some of these earnings for my monthly charitable donations.
Lions Head Hike: Everything You Need to Know
Lion's Head Mountain is an iconic piece of Cape Town topography, located between the dramatic Table Mountain and Signal Hill, as part of the Table Mountain National Park.
The upper part of Lion's Head peak consists of flat-lying Table Mountain sandstone and the lower slopes, formed by the Cape Granite and the Malmesbury formation, are older Precambrian rocks.
Lion's Head is covered with fynbos (indigenous Cape vegetation) and its peak stands at 669m (2,195 ft) above sea level.
Two interesting facts about Lion's Head are:
It was first called Sugar Loaf, like the mountain in Rio, by the British in the 17thCentury. But later the same century, the Dutch changed it to Leeuwin Kop (Lion's Head), as the shape resembles a crouching lion.
Gold was found in Lion's Head in 1886 and a gold mine was established just after that, but was closed in 1892 due to lack of investment.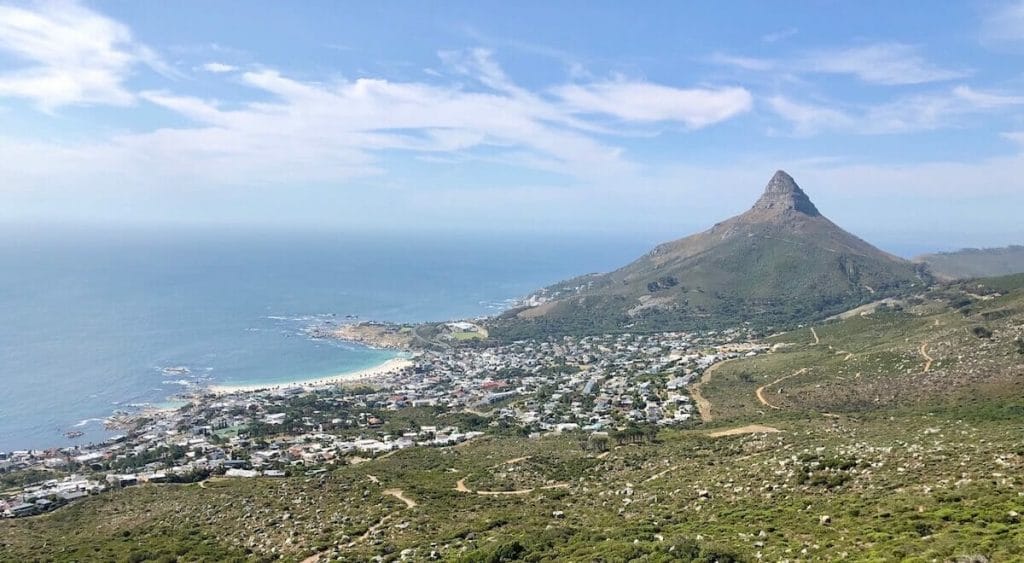 There are many reasons why you should do the Lions Head hike:
It provides unparalleled 360 degrees views of Cape Town, which includes Table Mountain, the city bowl, the Atlantic Ocean and its beaches, the Twelve Apostles, Robben Island, even as far as Blouberg Beach on the other side of Table Bay.
It's a relatively easy hike and you don't need a guide.
You can do it all in about two hours, or even less.
It's a great workout and you can burn up to 800 calories.
You can make new friends and experience Cape Town as Capetonians do, as many of them hike Lions Head on a daily basis.
There are many photo opportunities to boost your Instagram account and provoke social media envy.
Where does the Lions Head hike start?
The hike starts across from the Lion's Head parking lot, which can be reached via the Lion's Head / Signal Hill turn off from Kloof Nek Road.
At the start pointing you will see a sign with some information and the red gravel path that gives access to the top of Lion's Head.
The Lion's Head hiking trail is a round loop, so you will be circling the mountain to get to the top.
It provides different views of the city. Starting with Table Mountain followed by the Twelve Apostles and Camps Bay, the city bowl, Clifton beach and the Atlantic Ocean.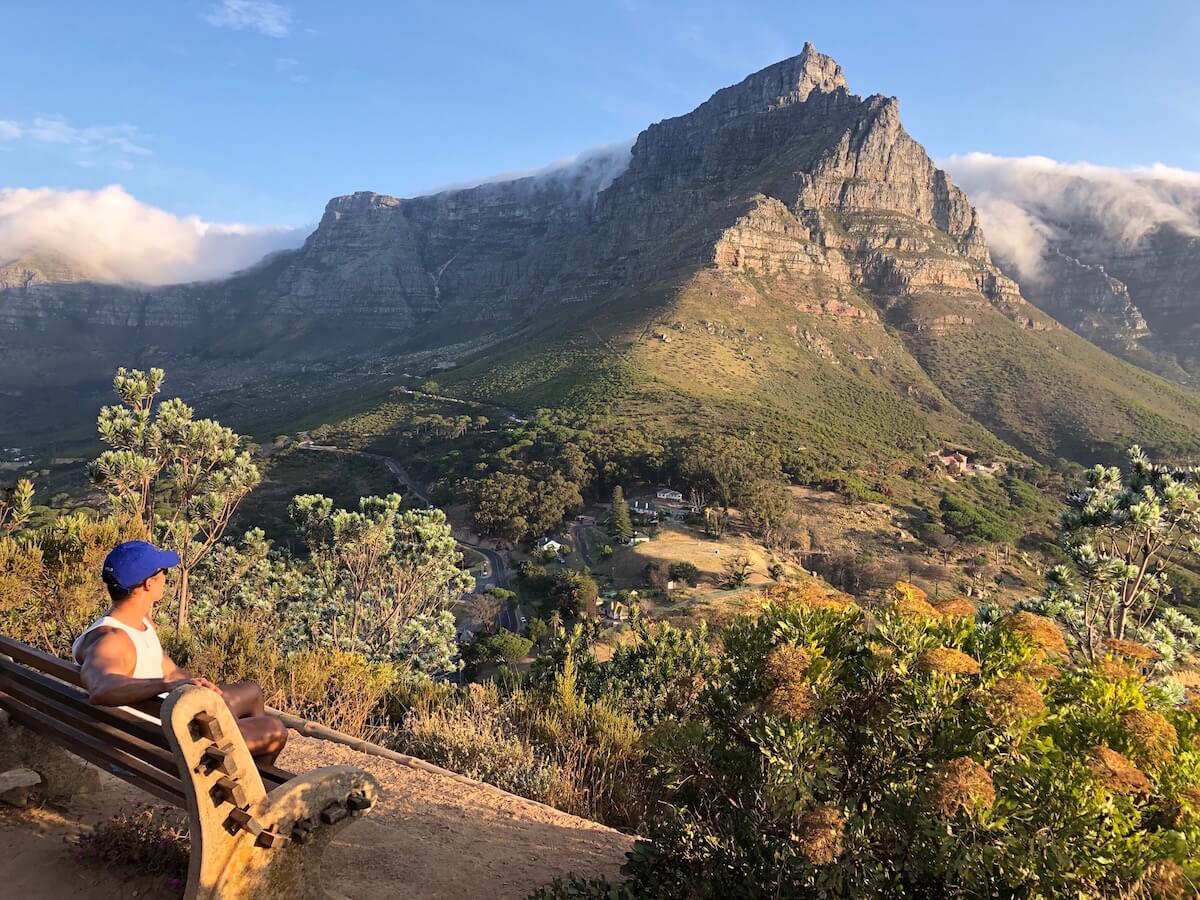 How many km is the Lions Head hike?
The Lion's Head hiking trail is 5 Km (3.1 mi) both ways and the elevation gained is 369m.
The trail has basically three different parts: a steep gravel path (the easiest part), followed by wide steps (gravel and then rocks) and finally the ladders, staples and chains (the most demanding part).
How long does it take to walk up Lion's Head?
It takes between 45 and 90 min. It all depends of your fitness level and pace.
How difficulty is to hike Lion's Head?
Lion's Head hike is easy to moderate. But if you aren't an adventure seeker and an active person, you might find some parts a bit challenging.
The steep path is undemanding, however you might need to slow down or stop once in a while to catch your breath. The gravel and rocky steps may be slippery because of the sand and you need to watch your step not to hurt yourself.
After the steps there are some ladders, staples and chains that you need to climb and hold on to in order to get to Lion's Head summit.
If you are scared of the chains and staples, there's an alternative footpath to reach the top that will add 5min to your Lions Head hike.
P.S.: Even if you choose the alternative path, there is still one ladder to climb.
Is it Safe to Hike Lion's Head alone?
Yes it is! I've done it twice. The trail is easy to follow and there are always tourists and locals alike hiking up Lion's Head.
However, if you are not used to hikes and don't exercise regularly I don't recommend doing Lions Head hike alone. And if you are scared of heights, please don't do it! As always, be aware and keep your valuables close to you.
How much does it cost to hike Lion's Head?
It's totally free. There is no kind of fee to enter the Table Mountain National Park and walk up Lion's Head.
But, if you want to hire a guide to do the Lions Head hike, it will cost from R 630 (US$ 45) to R 1145 (US$ 80). Check prices and availably here.
When is the best time to hike Lion's Head?
You can walk up Lion's Head any time of the year and any time of the day, as long as it's relatively clear and not too windy.
The most popular times are for the sunrise and sunset and there's even a full moon walk!
I've done the Lions Head hike for sunrise, sunset and in the middle of the day.
I would say that the best time is for sunrise, because the temperatures are lower, the views on a clear day go as far as your eyes can see, and watching the sun rises behinds the mountains is truly breathtaking.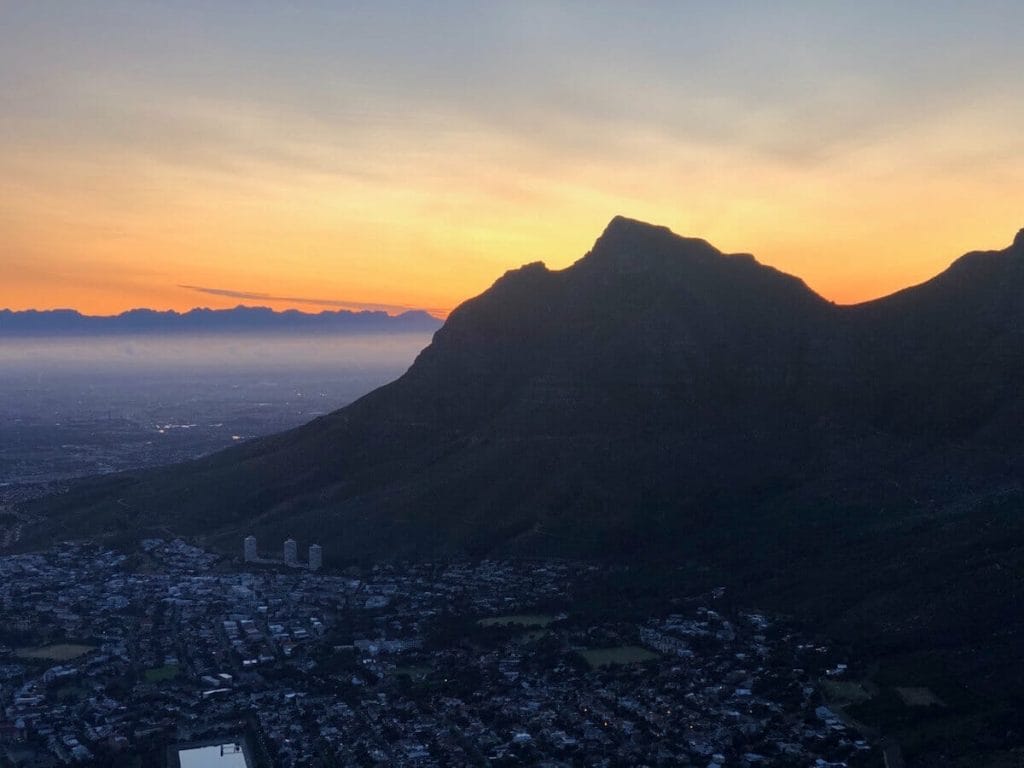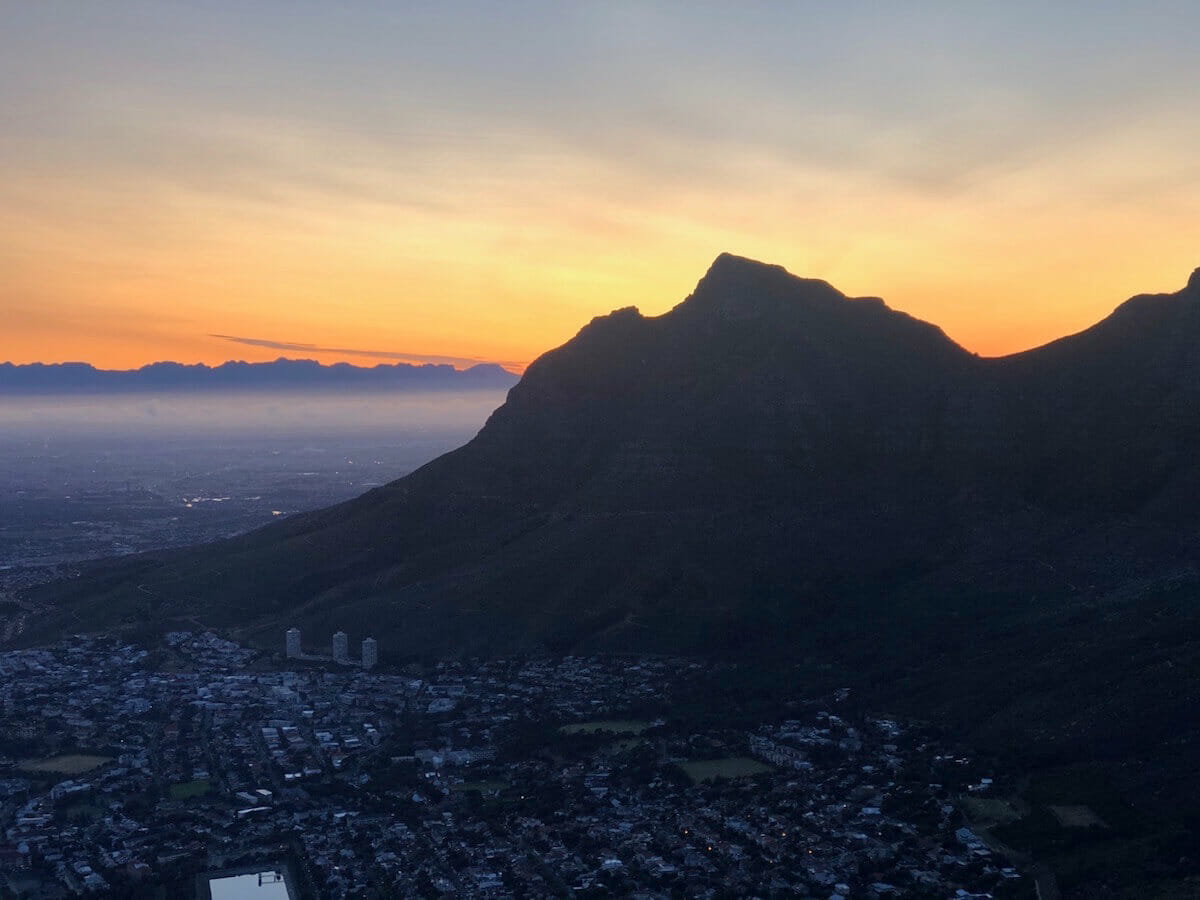 On the other had, the sunset is great for photography because the light is just perfect!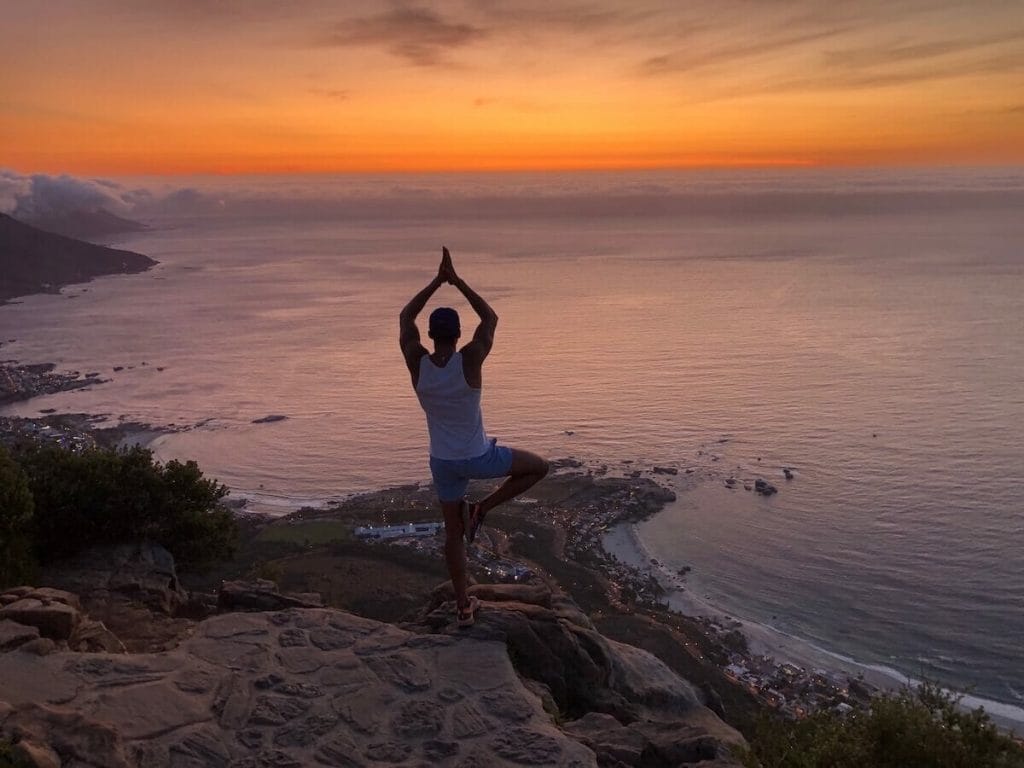 If you're hiking Lion's Head during the summer, go early in the morning or late afternoon because of the heat. During the other seasons, any time of the day should be fine.
Whatever you decide, always check the weather forecast, as the weather changes quickly in Cape Town, wear appropriate clothes and bring plenty of water.
P.S.: Avoid doing the hike in high winds and rain because of falling rocks and slippery wet surfaces.
What to wear / bring for the Lions Head hike?
If you are wondering what to wear to hike Lion's Head, think about the clothes you would wear to go to the gym or do any kind of exercise.
So, wear shorts, tank tops and t-shirts on warm days, and tights, long sleeves and jackets on cold days.
Sunglasses and hats are highly recommended and avoid wearing rubber-based / plastic-based materials and denim clothes because they can be uncomfortable.
Wear hike shoes or trainers and bring a backpack along with water bottles, snacks, sun blocker and a small towel.
P.S.: Be prepared to get dirty and sweaty.
My Experiences of Hiking Lion's Head
I did the Lions Head hike for the first time at the end of winter in 2018.
It was a sunny and beautiful day with some scattered clouds and I decided to take an Uber to Lion's Head parking lot and finally do this hike.
I started it at 2:45 PM. The sun was shining and the sky bright blue.
The view was so clear that I could see Table Mountain on my left hand side as I walked up the hill. I felt fortunate and excited as I feasted my eyes on the iconic South Africa landmark and one of the new 7 Wonders of the World and I couldn't wait to get to Lion's Head summit.
For about 15min, the trail was easy, like walking up a hill, and I wondered why people told me that it is difficult, and I should be careful.
Suddenly the clouds started to envelop Lion's Head and the visibility reduced drastically.
I came to the wide steps, then the first ladders and chains and finally I understood while I should take caution.
But the ladders and chains didn't scare me. All I needed to do was to climb step-by-step holding the ladder or the chains. In some parts I did need to open my legs widely and pay a bit more attention to where I place my feet.
The last bit of Lion's Head hike may also seem frightening to many people. It is completely different from the beginning and there isn't a trail, but instead a lot of rocks and a single ladder that will help you to reach the summit. Yet, it isn't very hard and there is no reason to be afraid. You just need to step on the rocks carefully and use your hands. And it was exactly what I did.
After one hour I reached the top and was in the middle of the clouds. I couldn't see anything. I was happy being on Lion's Head summit for the first time, but also very frustrated because I couldn't see anything.
My second time doing the Lion's Head hike was in January 2020.
Some Capetonian friends invited me to see the sunrise from Lion's Head and I couldn't refuse.
We started at 5:00 AM under the brilliance of the full moon. Sunrise that day was supposed to be at 5:47.
Before even arriving at the top, we could see the mountain range around Cape Town and a mix of golden, yellow and orange colors behind it.
After 42min, I was again on top of Lion's Head. And this time, I could see everything! Not the sun though. It was still behind the mountains, but I can tell you that it was the best moment of the hike.
The shades of yellow and orange behind the silhouette of the mountains were splendid and I was full of joy and gratitude.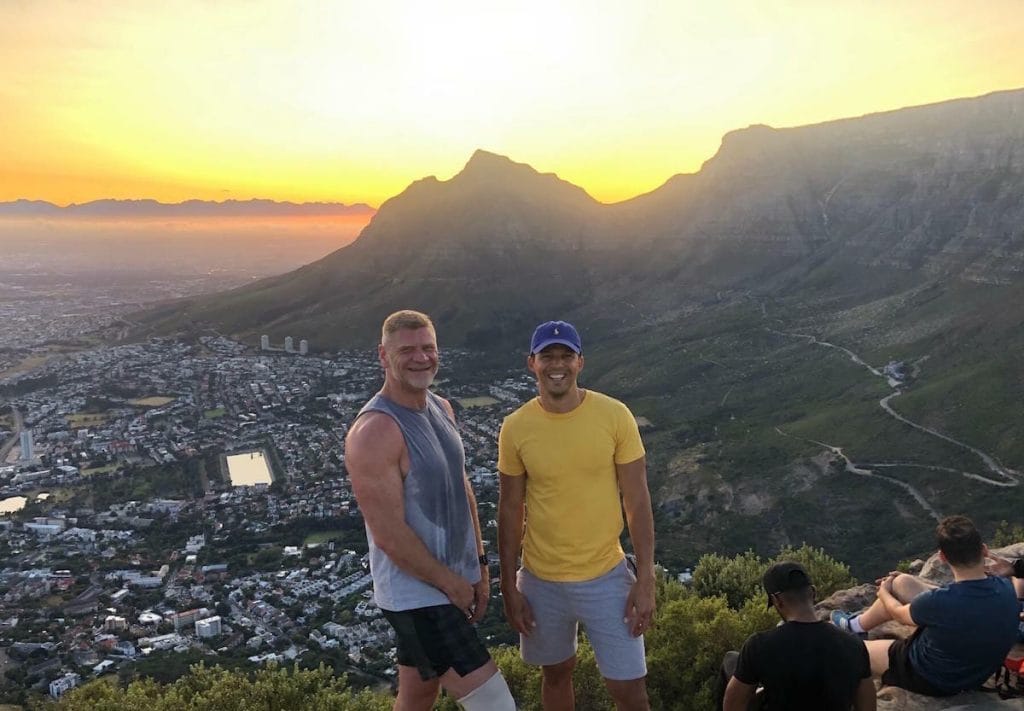 Believe or not, in the next day I went back to see the sunset. But before doing the Lions Head hike for third time, I decided to climb Table Mountain.
So I hiked Table Mountain from 3:30 PM to 6:30 PM and at 6:50 PM I started walking up Lion's Head.
This time I was walking facing the sun, so everything behind me, Table Mountain and part of the Twelve Apostles included, were bathed in a golden light that was great for photography.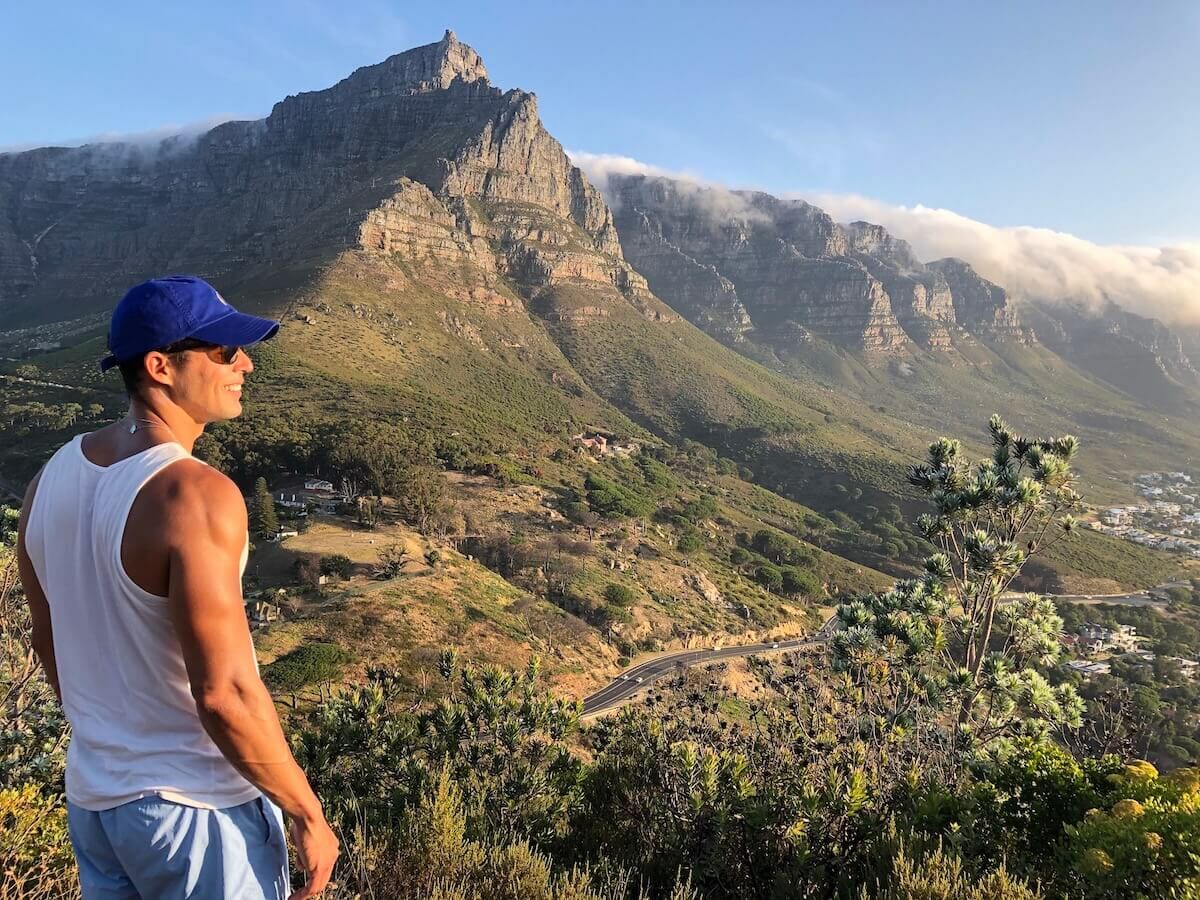 As the day before, there were many people doing the hike, and some of them were even running…
I reached the summit few minutes before the sun set on the sea. It was nice, but not a "one of kind" sunset to be honest.
However, the view of Table Mountain and the Twelve Apostles was superb.
I took the opportunity to take some pictures while it was getting less crowded.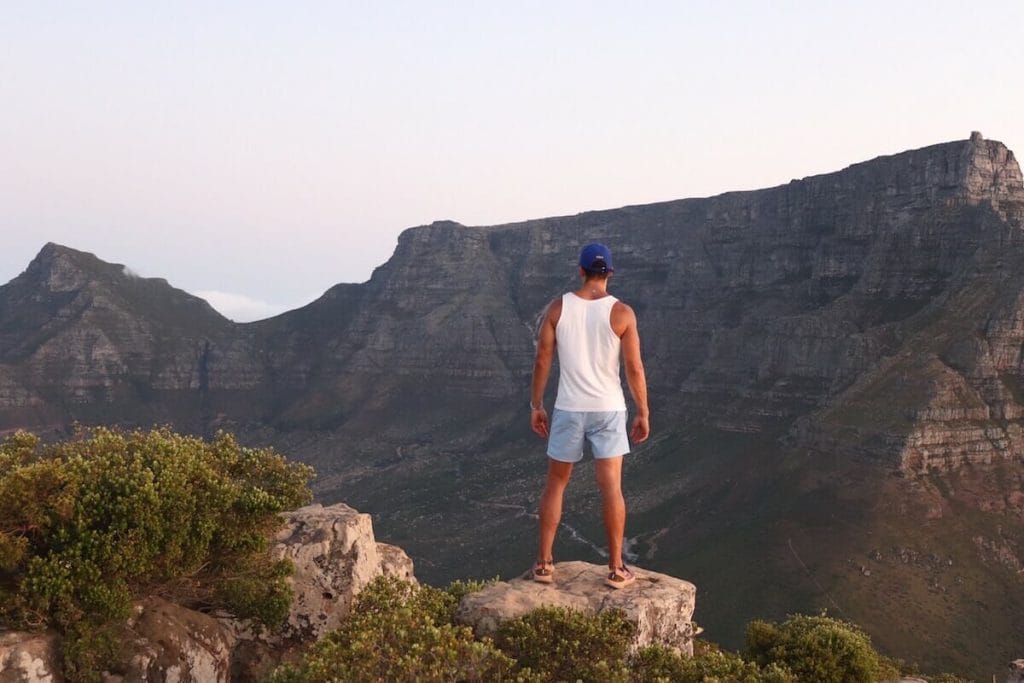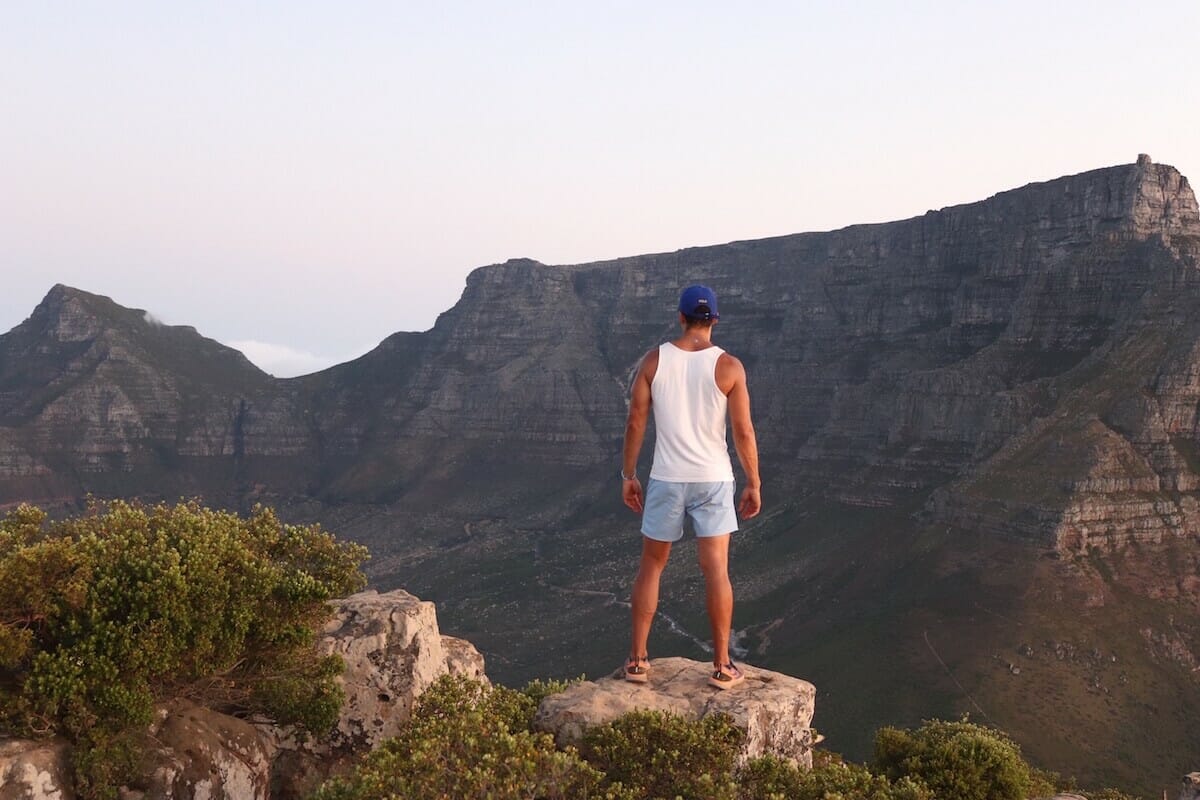 I still lingered a bit because there was a group of teenagers singing evangelical songs under the orange-yellowish sky. It was magical and I felt like I should do the Lions Head hike once again.
And I will probably do it next time I'm back to Cape Town…
Safe travels and have a marvelous time climbing Lion's Head.
Lions Head Hike Summarized
Why you should go for: to get astonishing views of Cape Town and exercise
Difficulty: easy to moderate
Distance: 5 Km (3.1mi) both ways
Lion's Head summit: 669m
Elevation gained: 369m
Guide required: no
Price: free
Price with a guide: from US$ 45 to 80
Dog friendly: yes
Kids friendly: yes
When: any time of the year
Go for Sunrise: to get the best views and start your day feeling awesomely good
Go for Sunset: to take good pictures and boost your Instagram account
Wear: comfortable and appropriate hiking clothes and shoes, sunglasses and hat
Bring: cellphone, plenty of water, snacks and sun blocker.
Picnic: why not? Just remember to take your trash with you
Do's: talk to people, take tons of pics and appreciate the panoramic views
Don'ts: litter, play loud music, smoke, pick flowers and plants, stay overnight and make bonfires.
Don't forget: to take note of the emergency number in case you need it (0861106417)
More South Africa content that might interest you:
Planning a trip to Cape Town
Where's Cape Town?
Cape Town is a port city on South Africa's southwest coast, on a peninsula beneath the imposing Table Mountain (check exact location here).
How to Get to Cape Town
You can get to Cape Town by car, bus, air place and cruise ship.
There are flights by all the major airlines from around the world to Cape Town International Airport and you can find the best deals at Skyscanner, that website that I use, trust and recommend.
There is hop on hop off bus from Johannesburg to Cape Town and it's a very good option if you're a solo traveler. Check prices and conditions here.
Best Time to Visit Cape Town
Cape Town is a year-round destination, but December, January and February are the best time to visit Cape Town thanks to the excellent weather conditions.
If you want to skip the crowds and high accommodation prices, you can visit Cape Town during the shoulder seasons (from March to May and September to November). The weather is still good this time of the year.
Where to Stay in Cape Town?
I stayed at V&A Waterfront Luxury Apartments and loved it. If you're looking for a place to stay, I also recommend:
Book your Lion's Head Hike with a Guide here
Don't forget to save these pins 😉
Travel Planning Resources
For every booking made through my site I donate US$ 1 for a charitable organization.
Safe travels ☺