I've been to Rio de Janeiro many times, however most of the time I only visit its famous beaches, Christ Redeemer, Sugar Loaf and downtown. But the city is so dynamic and diverse, with so many options especially for nature lovers, that I committed myself to strive for new experiences in the "Cidade Maravilhosa" (Wonderful City as locals call Rio de Janeiro) in my next visit.
Despite being a huge city, the second biggest city in Brazil, Rio de Janeiro offers some beautiful beaches such as: Copacabana, Ipanema, Barra da Tijuca, Grumari, and Prainha. Since I am a committed beach lover, the first day I decided to spend time with some friends at Copacabana and then for a long walk on its famous sidewalk all the way to Ipanema (around 7Km). Those two beaches are in the middle of the city and great places to enjoy the sun; although during weekends and holidays it is hard to find a single pocket of white sand, especially in the summer… However, once you rent your chair and umbrella, you will get "five star" service with dozens of vendors passing by selling caipirinhas, açai, ice cream, snacks, hats, sunglasses, sunscreen, and even bikinis.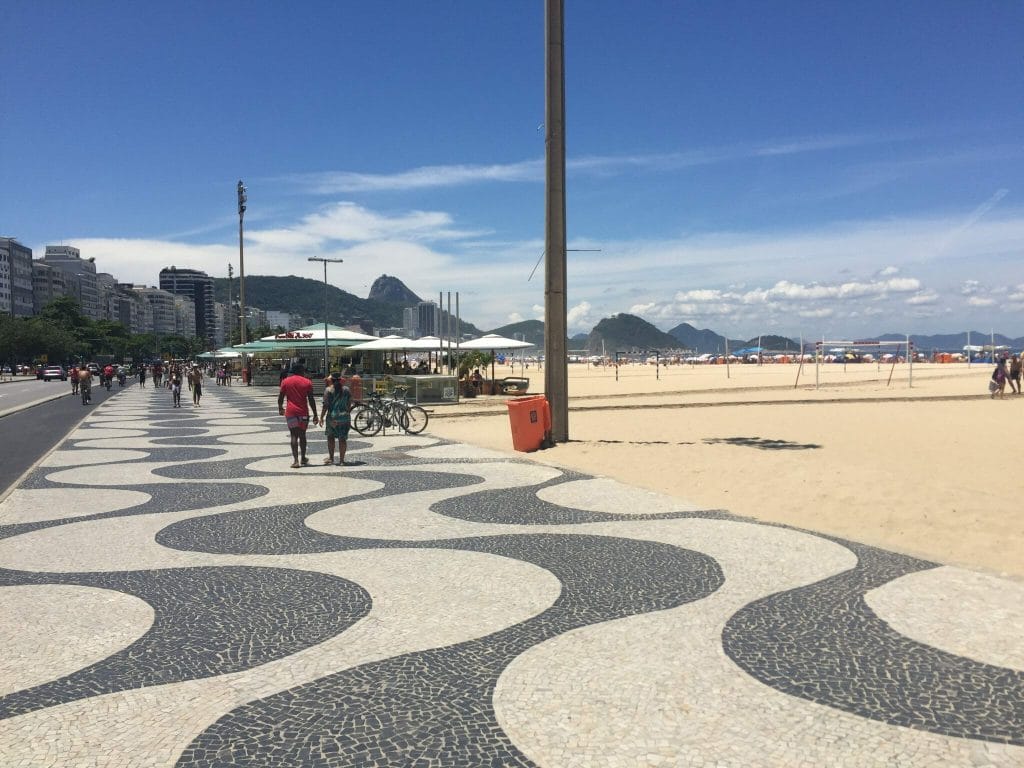 At the end of the afternoon everyone gathers at Pedra do Arpoardor, the most famous hotspot to watch the sunset. It was a perfect night for socializing so I joined in with my friends.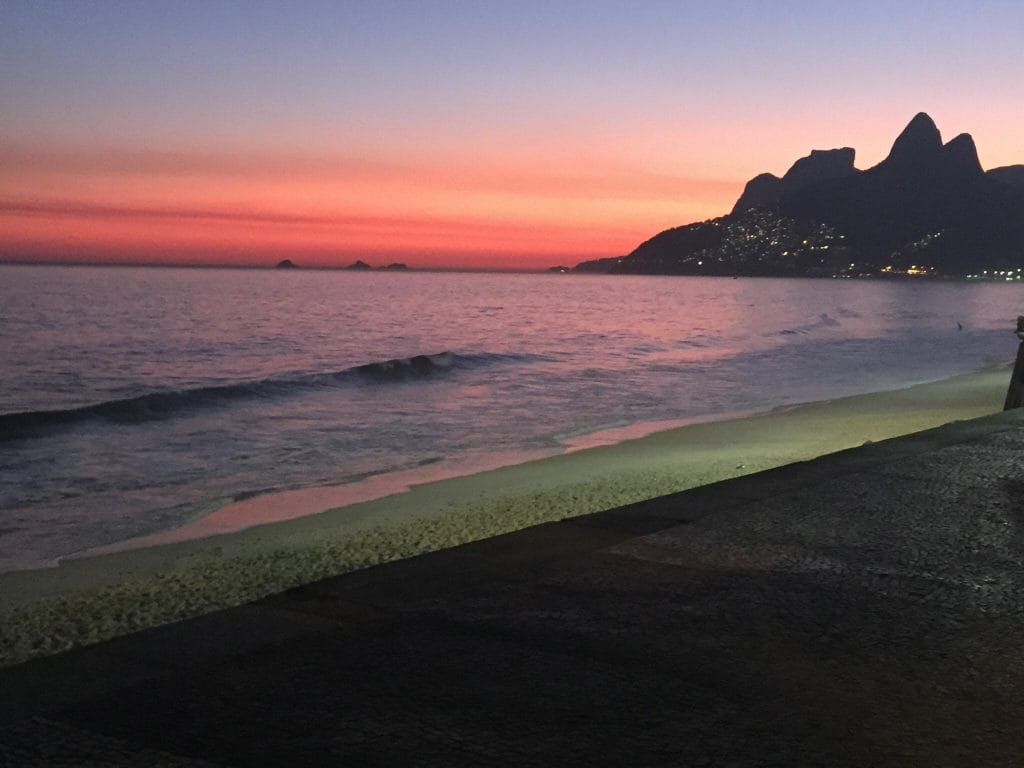 A most important Botanical Garden
Rio de Janeiro has the largest urban forest in the world, Floresta da Tijuca, with tons of hikes, waterfalls and steep hills. Mountains surround the city, some of them are reachable by foot and provide stunning vistas, such as: Pedra da Gávea, Morro Dois Irmãos, Pedra do Leme and Pedra do Telégrafo. Rio is a mecca for nature lovers!!
On my second day in Rio de Janeiro, I visited the Botanical Garden. Rio Botanical Garden is close to Lagoa Rodrigo de Freitas, a huge lake in the middle of the city that is very popular with joggers, families and fitness fiends. I arrived there early in the morning and the line was still small. The ticket was very cheap (less than US$ 2) but they only accept local currency. This UNESCO site was created in 1808 and has over 6,500 species of plants and 140 species of birds.
One of the best parts of the Botanical Garden is dedicated to preserve endangered species from the Atlantic Forest, where you can take a 600m path and admire some species that you may not have seen before. Some of the trees are really huge, impressive and intricate like this Sumaúma (Ceiba pentranda) in the middle of the park.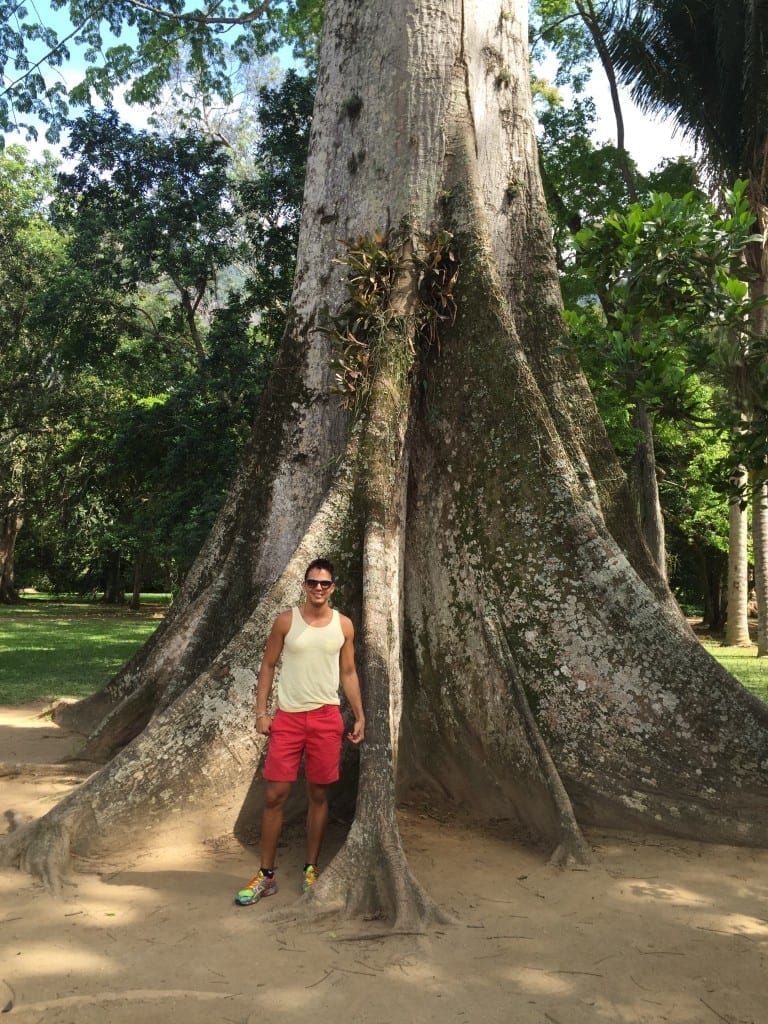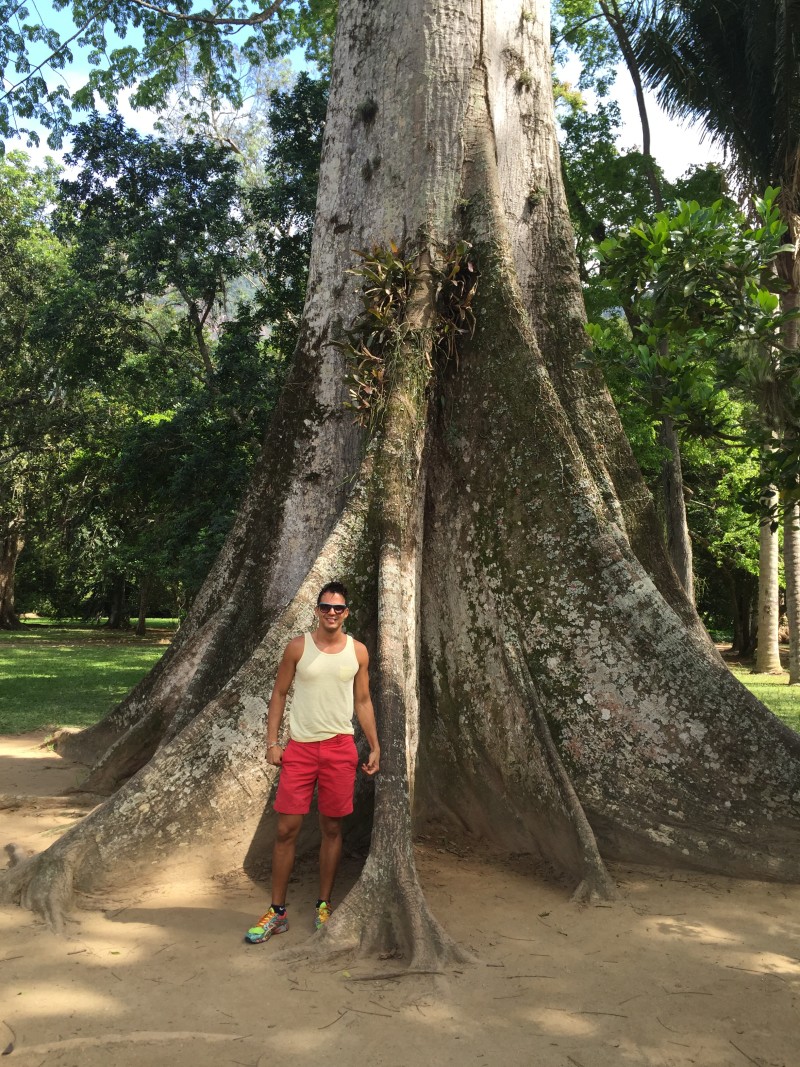 Another highlight of the Botanical Garden is its giant Imperial Palm trees lining a 750m path enchanting visitors from all over the world. There is also a herbarium, a Japanese garden, a bromeliarium, museums, a research center and free-guided tours.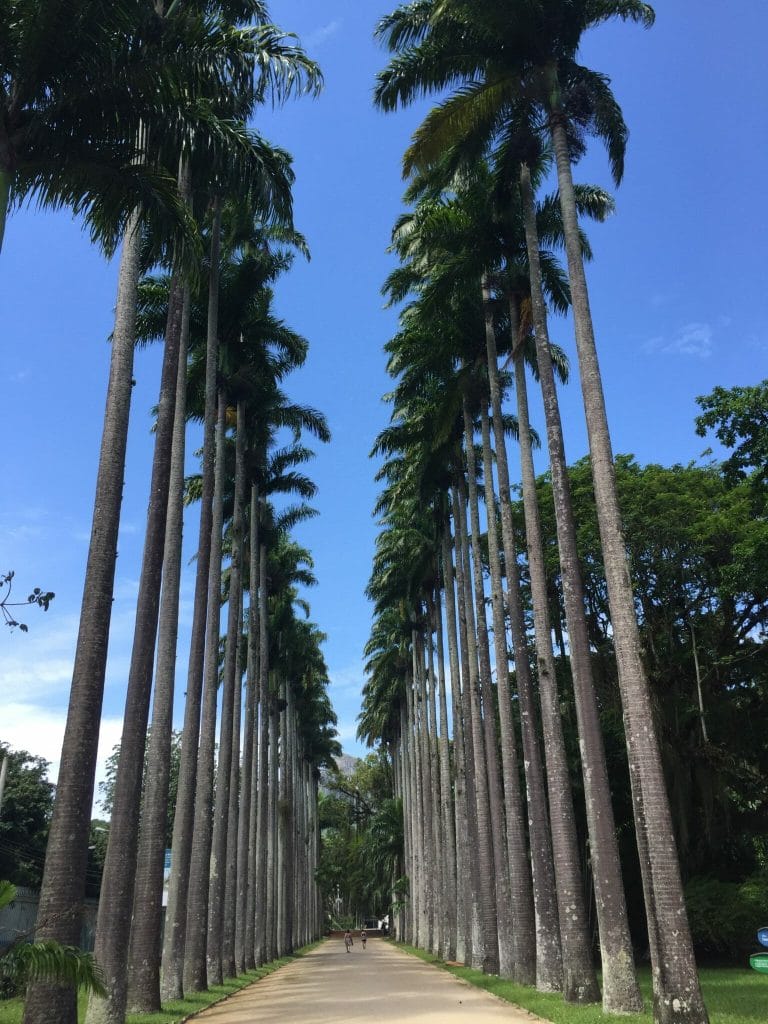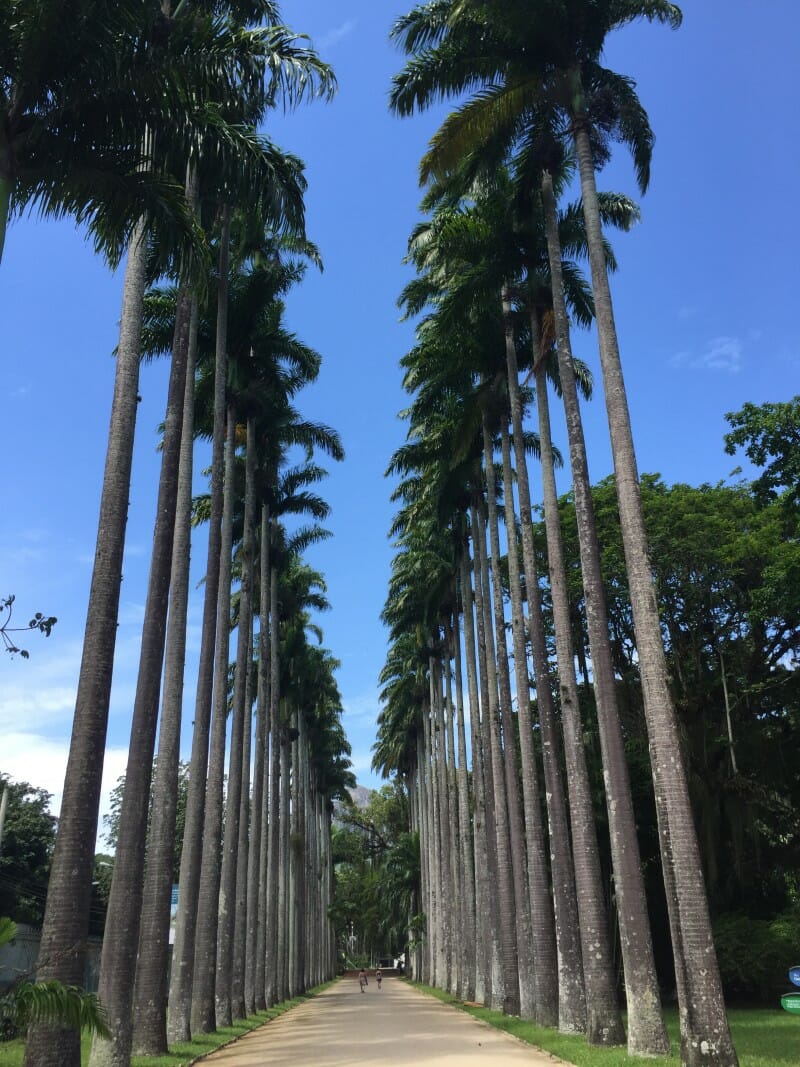 I spent around one and half hours at the Botanical Garden and when I left there was a huge line trying to get in. It was almost noon and the sky had cleared and the sun was shining bright. I took a bus back to Copacabana to have lunch, change my clothes and depart to hike the Morro Dois Irmãos (Two Brothers Hill).
Hiking Morro Dois Irmãos
I can confess that I was pretty hesitant to do this hike, first because you have to go through a favela (a sometimes dangerous urban slum) to get there and second because I heard that some people got their pockets picked on the trail. I was a little apprehensive but I wanted to do it at any cost…
I left my sunglasses and wallet in the hostel and took a bus to São Conrado. I got off at Vidigal favela and it was there that my ideas of a favela started to change. There was a police car at the bottom of the hill, many tourists taking "motor taxis", and many people going up and down… From the van I realized that the favela was full of life! After a 15min ride uphill on a winding and narrow asphalted avenue I arrived at the start point of the hike and saw another police car. The start point is a little hidden and I found it only because of two guys who were on the van with me.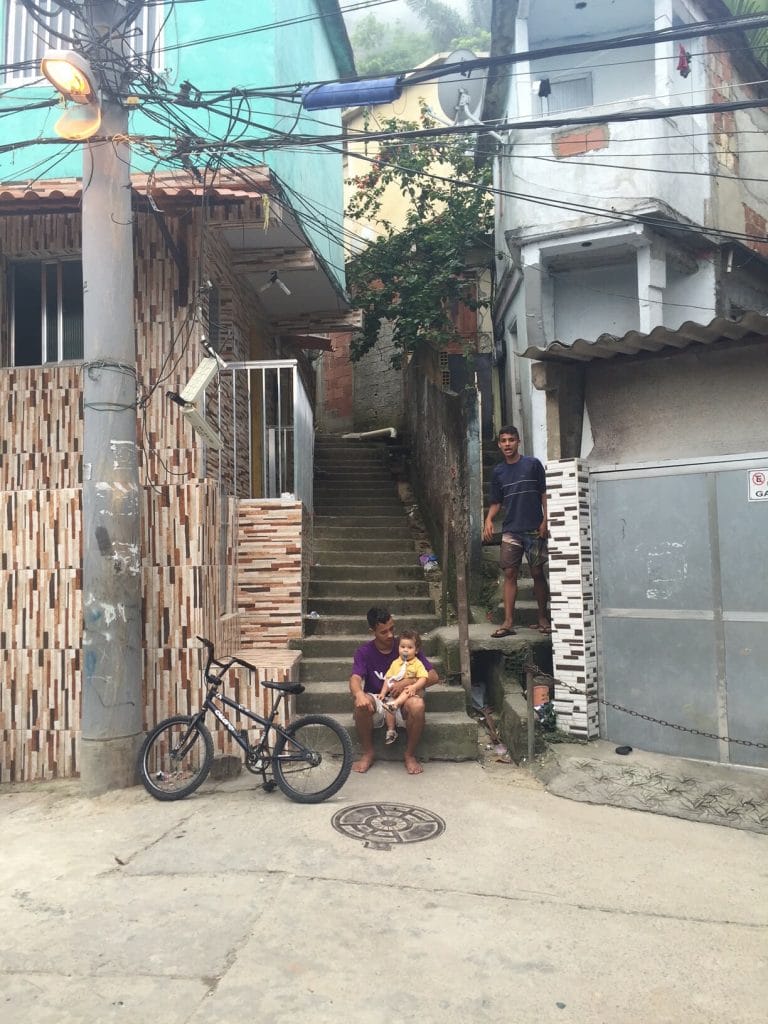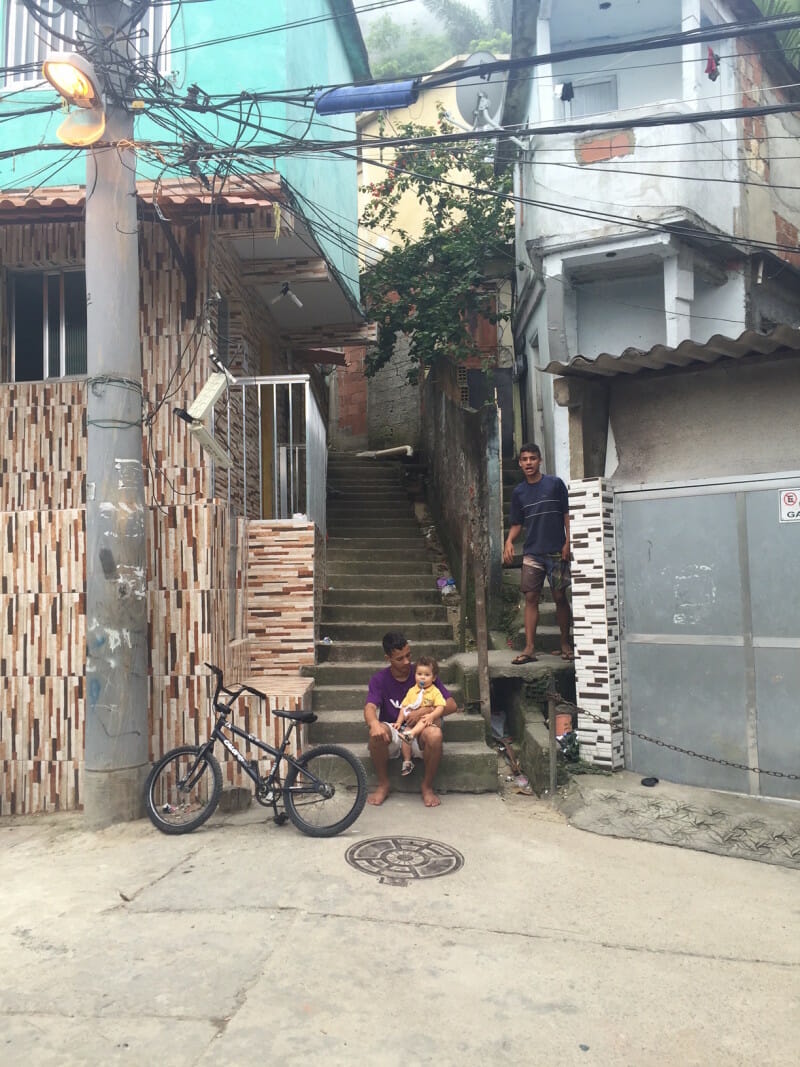 The trail is 1.5Km (1 mile) long, in the middle of the rain forest and most of time you walk on the shady side of the trees. The trail is also very easy to follow, completely safe and full of Brazilians and foreigners.
Ascending is a constant in this hike, and sometimes I had to hold some trees and stretch my legs completely in order to keep going up. At some points when I looked back I could see Sao Conrado neighborhood and its beautiful beach with Pedra da Gavea (another huge hill which provides stunning views) in the background. From there I also could see Rocinha, the biggest favela in Rio de Janeiro.
The weather in Rio changes a lot and so fast. So, it is important to do these hikes with blue sky without any clouds. After 30min I reached the summit. The view was just astonishing!! There was a panoramic view with all the famous tourist points: Corcovado (Christ the Redeemer), Lagoa Rodrigo de Freitas, Leblon and Ipanema Beaches, and even the Sugar Loaf. From there I could confirm that Rio de Janeiro is really a "wonderful city" and definitely one of the most beautiful cities in the world.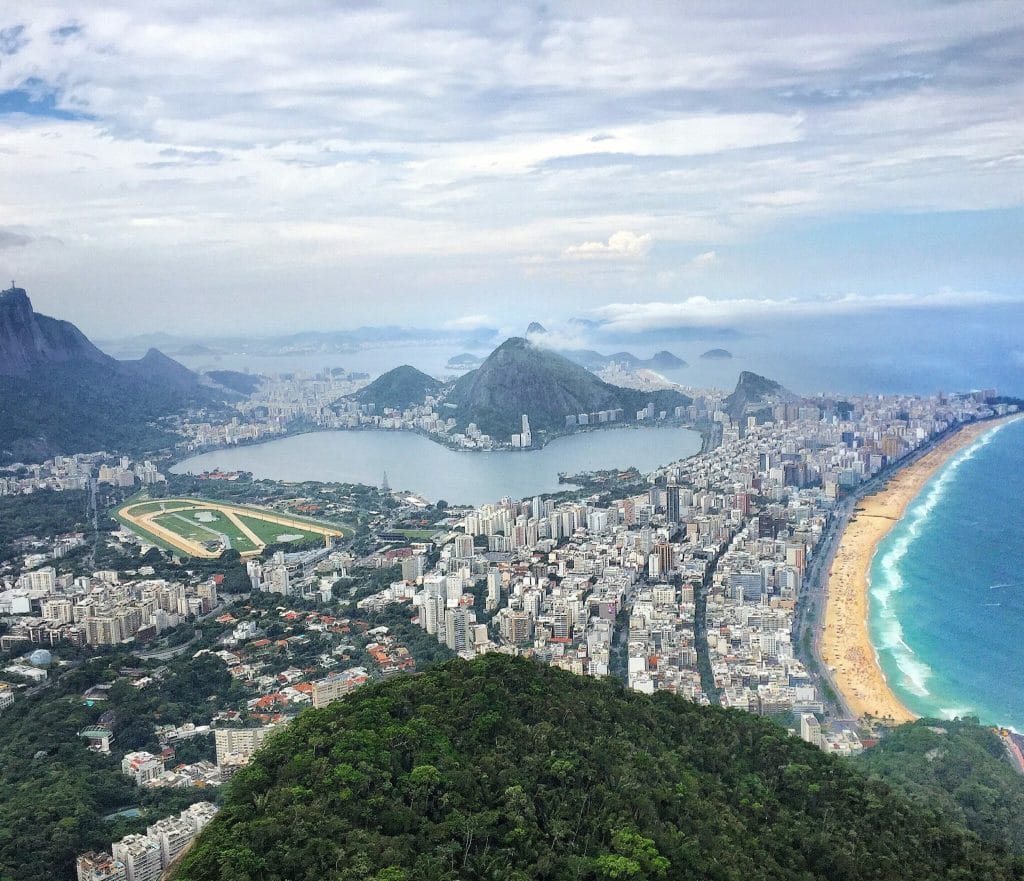 I was so lucky and just had time to take a few pictures and then the weather changed completely to the point that I could not see anything besides clouds. I took the opportunity to talk to two guys from the community who were selling beverages. They told me that the hike is safe and the favela has changed a lot after the government started a program called UPP (Pacifying Police Unity), and the cops who I talked to also confirmed it. They also told me that people get there early in the morning to see the sunrise and others to see the sunset.
It took me 20min to go down the hill and after talking to the cops, I got an açai ice cream bowl (a berry from the Amazon that is very rich in antioxidants). The weather was still cloudy so I could not enjoy the Bar da Laje, a rooftop bar that became very trendy and attracts people from everywhere because it's in a favela and has incredible views.
I felt so safe that I decided to walk all the way down to the bottom of the hill. Forget the favela that you saw in City of God or Police Squad. Vidigal nowadays seems just like a regular poor neighborhood with children playing around, people playing cards, people listening to music and everyone enjoying one more Sunday afternoon. Yet it is still not the best place to hang out, but I also believe that it should be part of the experience when you visit a city full of contrasts such as Rio de Janeiro.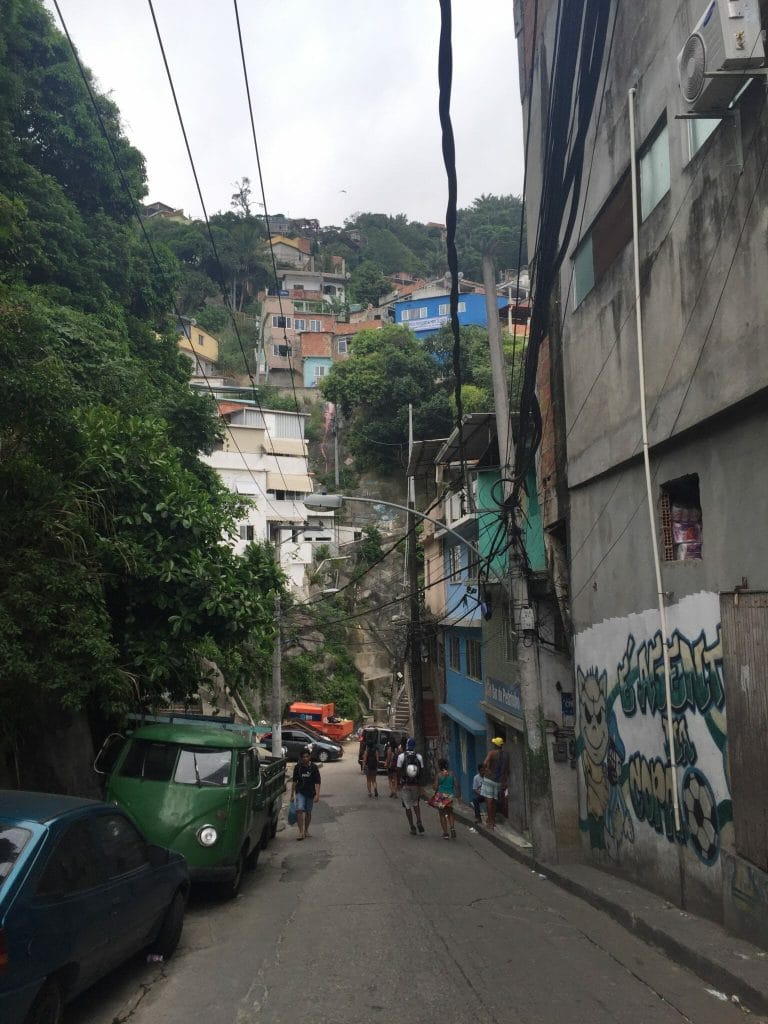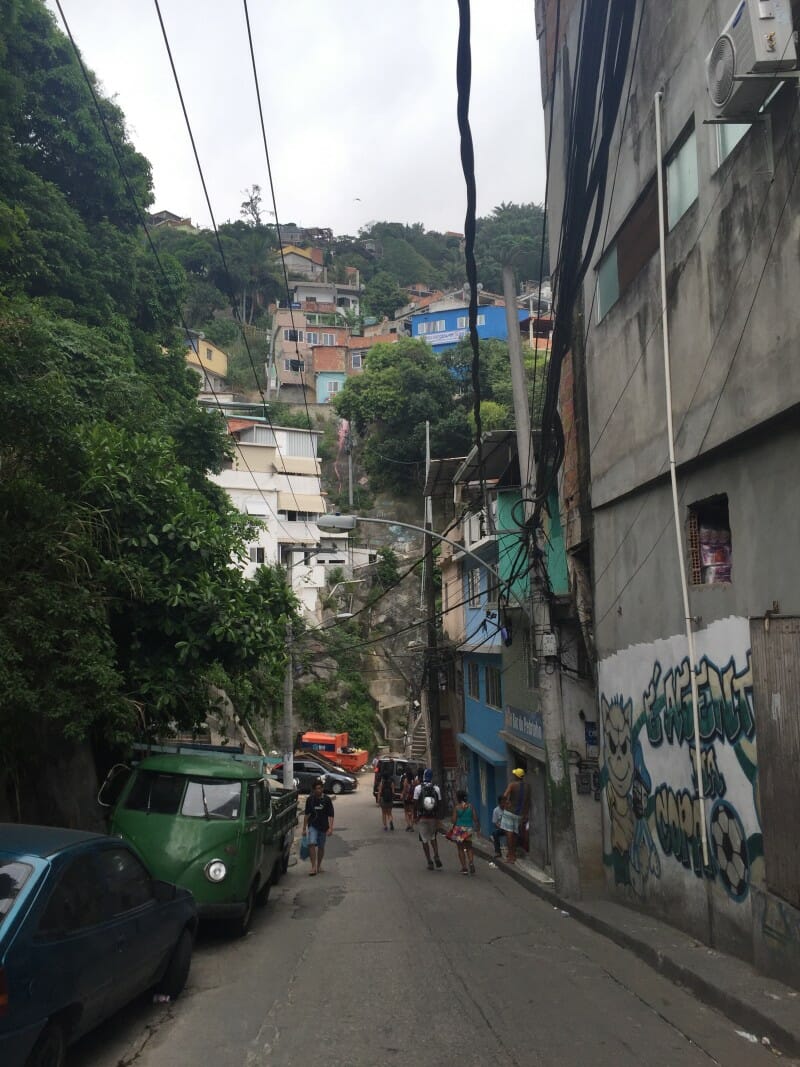 Visiting downtown Rio
My last day in Rio de Janeiro I decided to wander around the downtown area, and fortunately I bumped into a walking tour group that was just about to start. I love walking tours and I believe it is one of the best ways to learn about a destination. There are free walking tours in many cities all over the world…
The walking tour started at Largo da Carioca, where one of the first Portuguese settlements is, including one Monastery constructed in 1617. From there we went to a very charming and most traditional coffee place in Rio: Confeitaria Colombo. The place opened in 1894 and brings visitors back to the Belle Époque when Rio de Janeiro was the capital of Brazil. It has Art Nouveau influences and its giant crystal mirrors came from Belgium and were framed with jacarandá (Brazilian rosewood). Confeitaria Colombo is considered one of the ten most beautiful coffee places in the world and it was chosen by Queen Elizabeth to have some tea during her last visit to Rio de Janeiro.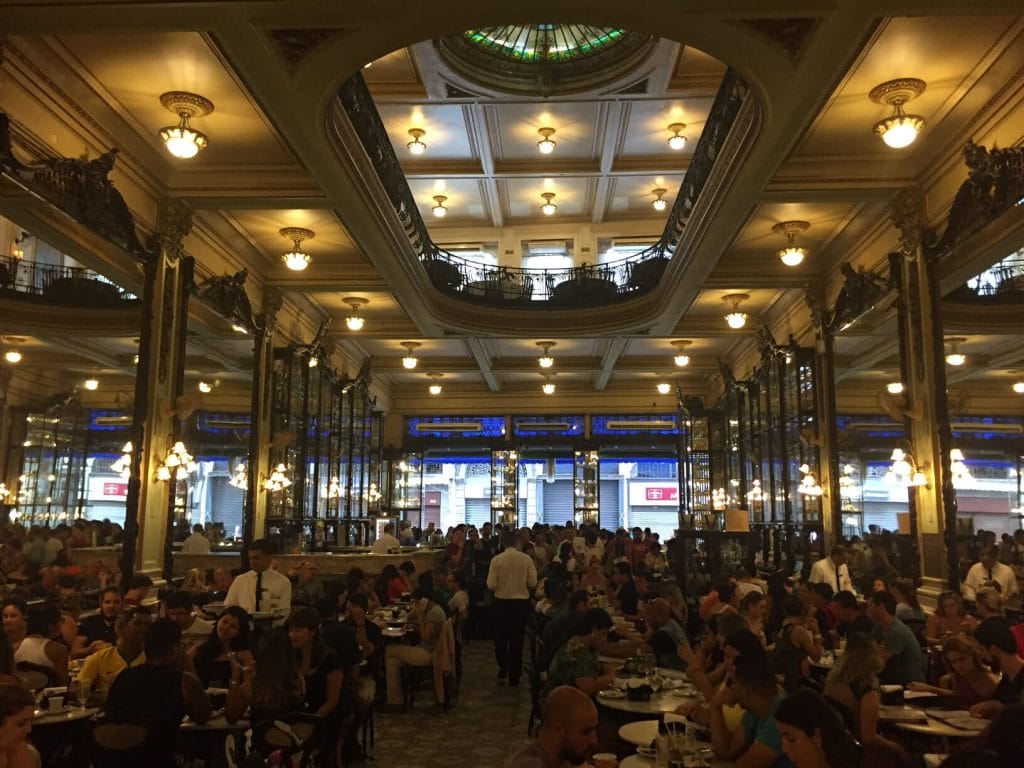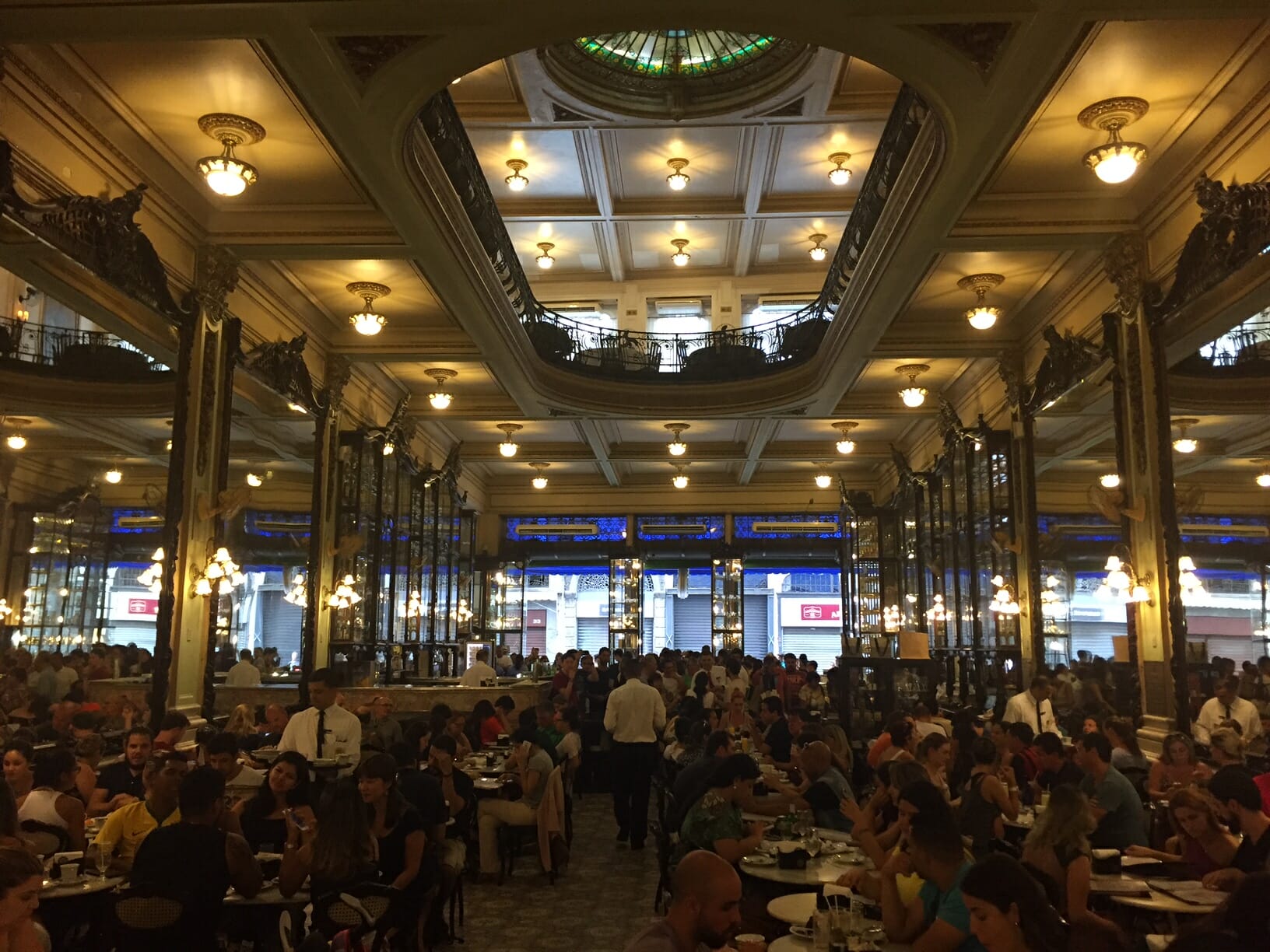 After having some brigadeiros (a Brazilian chocolate truffle) we headed to some historical sites including the Royal Palace, Palacio Tiradentes, Arcos da Lapa, and some important streets and churches. Rio de Janeiro downtown is well preserved and you can still see the European influence, especially Portuguese and French ones, in many old houses and buildings.
The tour finished in one of the most recent tourist points in Rio de Janeiro: Selaron Steps. This place became trendy after the Chilean painter and ceramist Jorge Selaron started to cover the steps with ceramic tiles in Lapa. He took twenty years to finish it with tiles donated by people and supporters worldwide. His stairs became a city landmark in 2005 and attract thousands of visitors and famous artists.
After the tour our guide and some of the tourists decided to have feijoada (the famous Brazilian dish made with beans and meat) in a restaurant by the stairs, but I decided to climb up Selaron stairs to Santa Teresa. Santa Teresa is an old aristocratic neighborhood founded during the 19th century, and it is full of old mansions and Portuguese style houses. Nowadays it has become a favorite one for artists and tourist alike.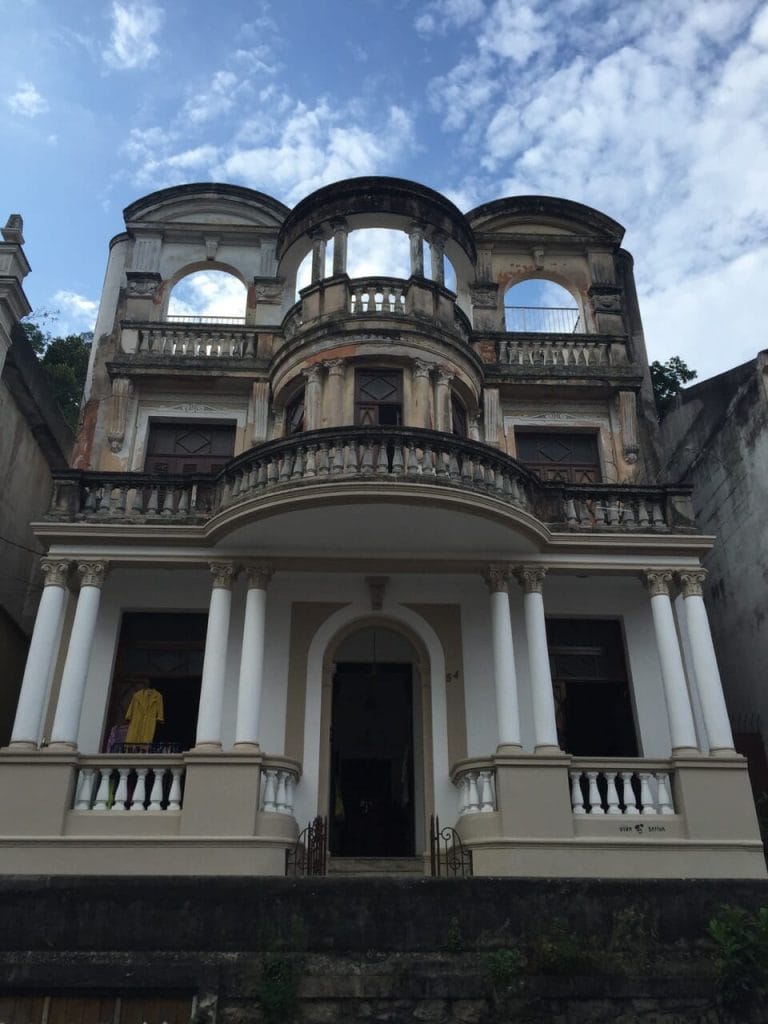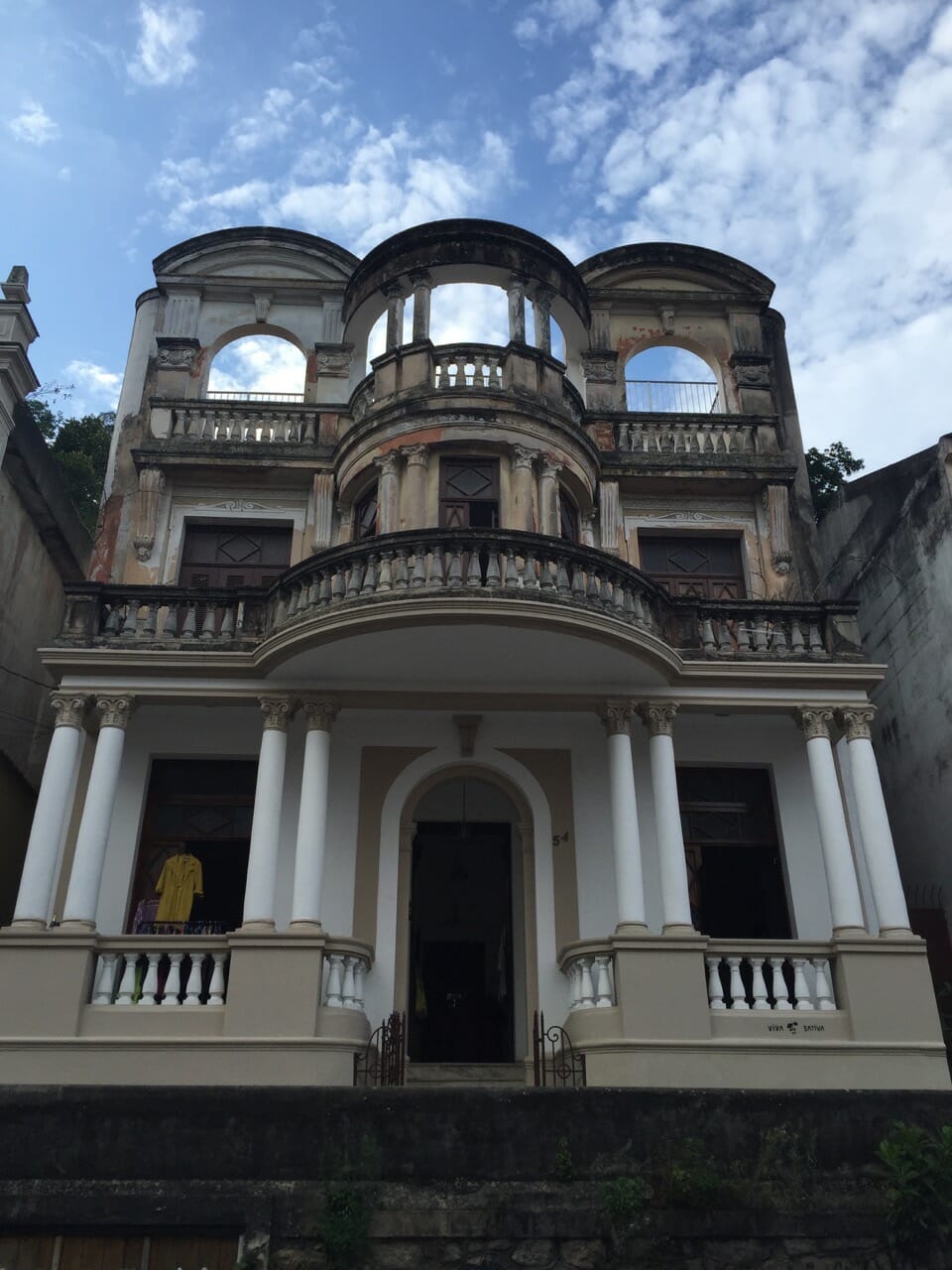 In Santa Teresa I went to two quite interesting places: Chácara do Céu Museum (showing case furniture, books and European paintings of the former owner) and Parque das Ruínas Cultural Center (a space temporary exhibitions and events). The archives are small but both buildings are odd old mansions with extraordinary gardens and vistas, located on the top of the hill surrounded by beautiful trees. It is a perfect place to immerse yourself in Rio's atmosphere.
After visiting the museums I wandered around Santa Teresa and its winding and narrow cobblestone streets full of good restaurants, cafes, stores and art studios. From there I could have taken the Bondinho de Santa Teresa (Santa Teresa Tram) one of the oldest street railway lines in the world to Carioca Station in the downtown area, but the tram was running only till 4:00 PM.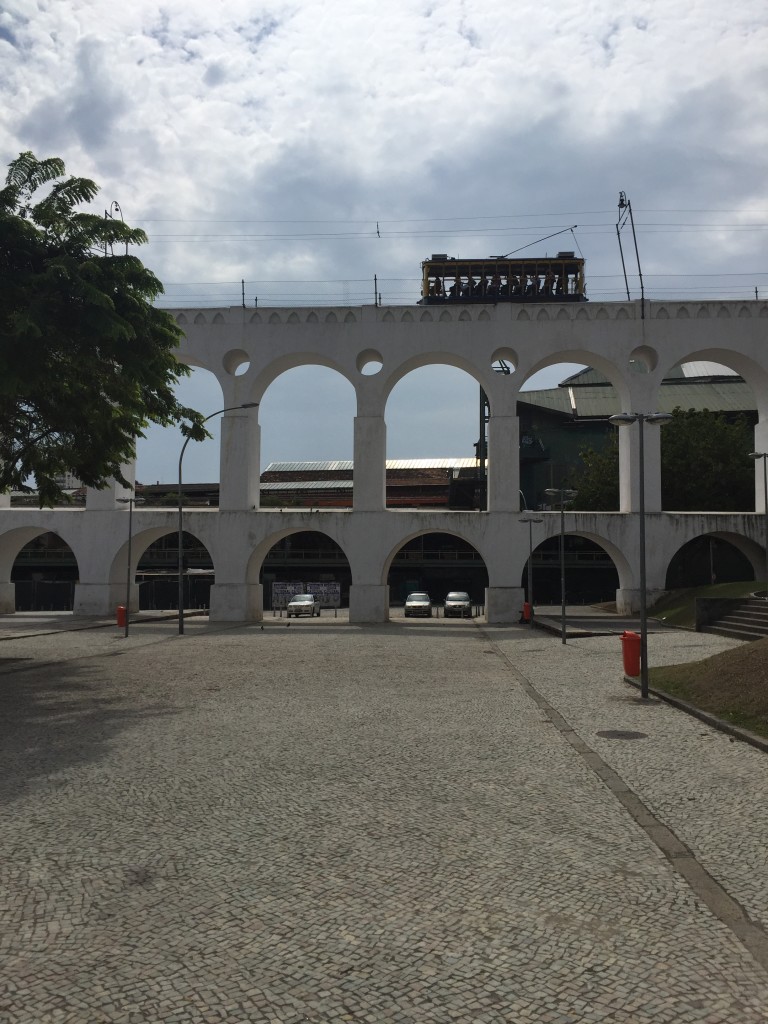 Due to the Summer Olympic Games in August of 2016, Rio de Janeiro is exploding with new construction, especially in the old port zone. The Museu do Amanhã (Museum of Tomorrow) designed by Santiago Calatrava just opened and the new MIS (Museum of the Moving Image) is still under construction in Copacabana, but the building designed by Diller Scofidio and Benfro, is already outstanding.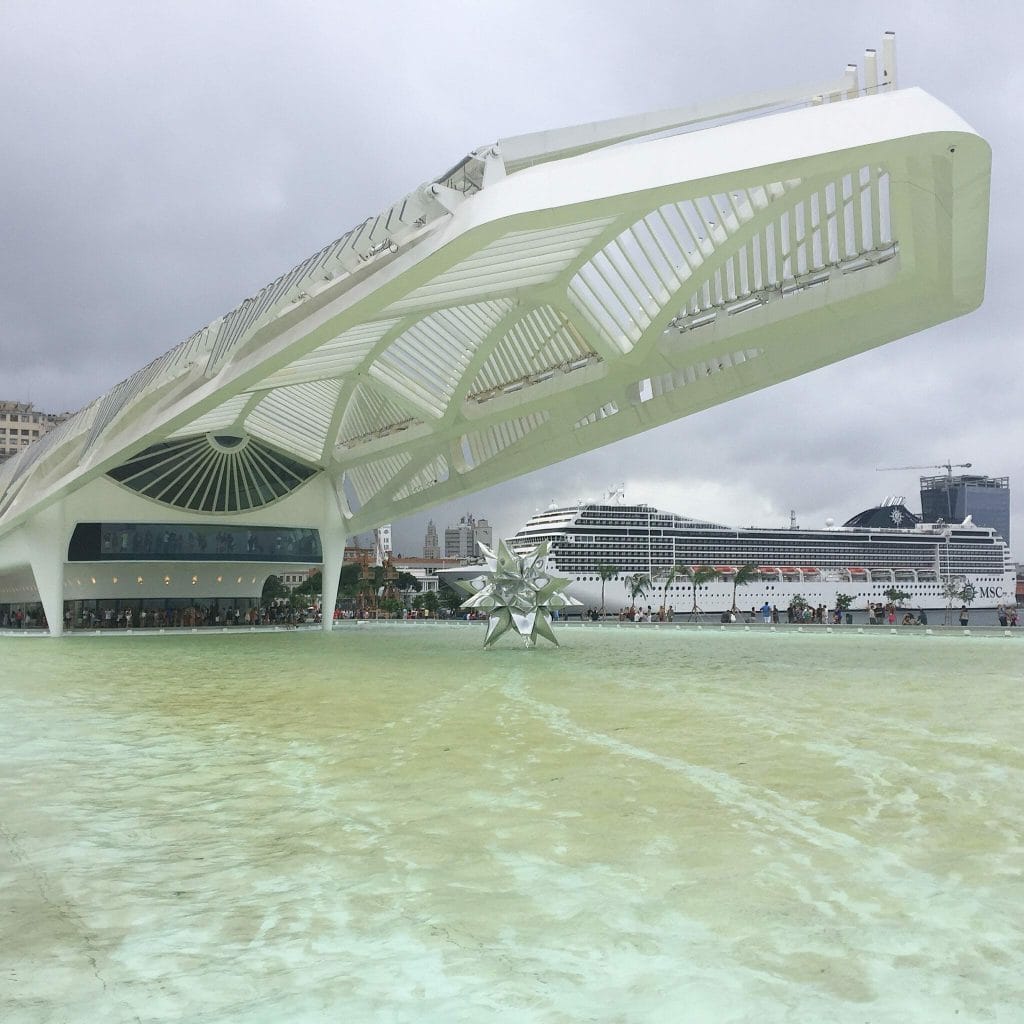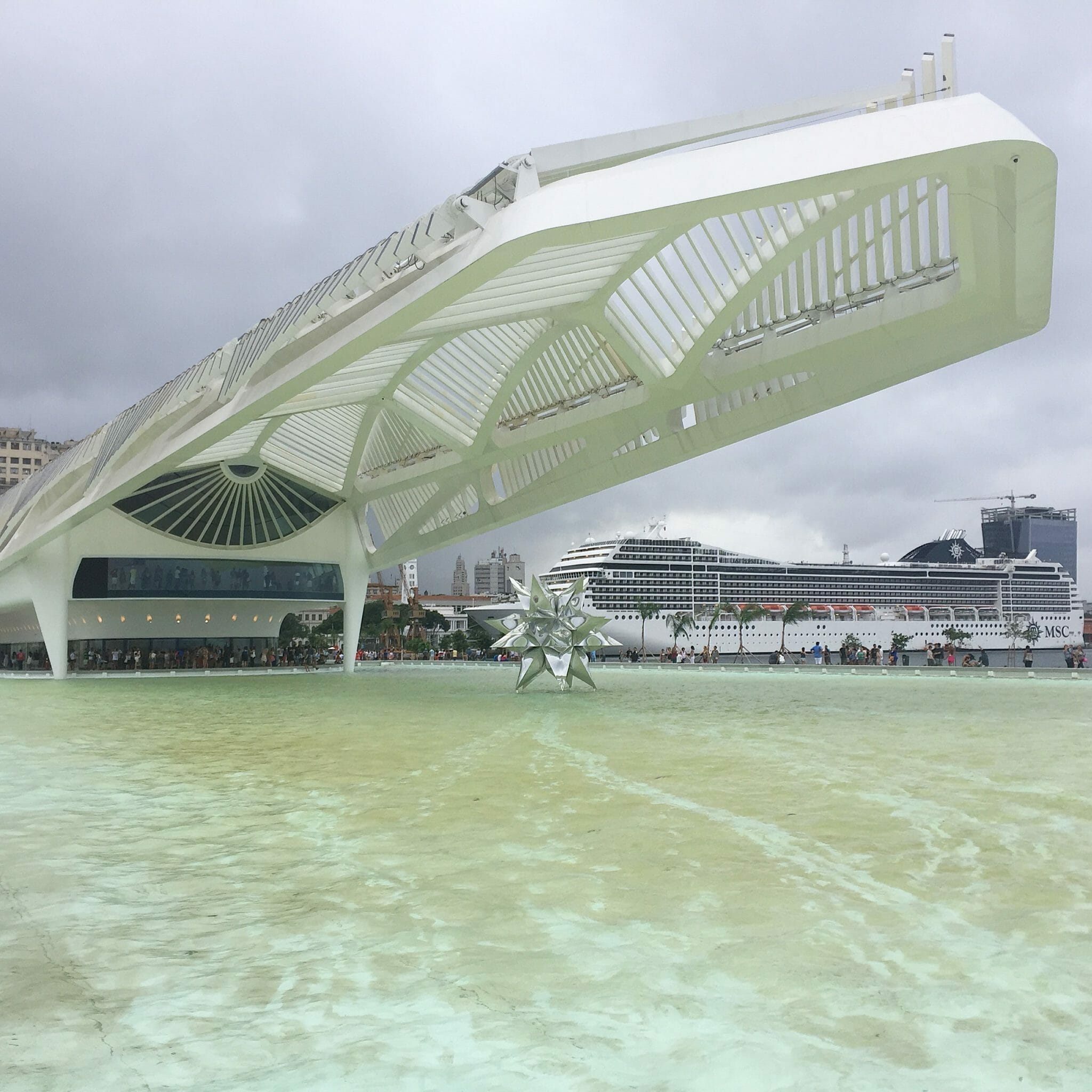 Rio de Janeiro is a very vibrant city full of attractions to please everyone, from gorgeous beaches, to rainforest, hikes, museums, churches, landmark buildings and especially stunning vistas. When visiting Rio visitors should take advantage of its multiply diverse options and explore every corner of this unique city.
Visiting Rio de Janeiro
Rio de Janeiro, or just Rio, is the capital of Rio de Janeiro (state) and is located on the Southeast of Brazil, distant 1,162 Km (720 miles) of Brasilia, Brazil's capital, and 436 Km (272 miles) of Sao Paulo, the biggest city in Brazil.
∗ There are two airports in Rio: Galeão, GIG (the international) and Santos Dumont, SDU (the domestic).
∗ Over 12 airlines fly to Rio, some of then are: Delta, AirFrance, KLM, British Airways, Aerolíneas Argentinas, Iberia and Emirates.
∗ For domestic flights: Avianca, Tam, Gol and Azul (they also operate internationally).
∗ The bus terminal, Novo Rio, provides buses for basically all capitals and big cities in Brazil and also nearby countries.
∗ From Copacabana to Vidigal Favela: local bus number 523.
∗ Rio can be visited all year-round. Summers are hot with high humidity, and winters are the time with least rain and the perfect one to enjoy other attractions besides beaches.
∗ I would say that the best time to visit Rio is between December and March when there are two big events (New Years and carnival), but this time is also the busiest and hottest season with some rain showers. Temperatures can reach 40C (100F).
∗ The shoulder seasons, April/May and October/November are also good and the weather is mild.
I stayed at Copa Hostel in Copacabana and if you're looking for accommodation check these 7 Best Party Hostels in Rio de Janeiro.
∗ Bus São Paulo-Rio with Expresso Brasileiro: R$ 84.00 (US$ 22), each way.
∗ Botanical Garden ticket: R$ 9.00 (around US$ 2)
∗ Local Bus:  R$ 3.40 (less than US$ 1).
∗ Three nights at Copa Hostel: R$ 146 (US$ 36.50) with continental breakfast included.
Helpfull Links
∗ This article was converted into an app and you can get it here.
Travel Planning Resources
For every booking made through my site I donate US$ 1 for a charitable organization.
Safe travels ☺