If you only know Copacabana and Ipanema beaches in Rio, is time to take the Wild Beaches tours !
After six years I'm back to one of my favorite cities to spend the New Year's Eve: Rio. Everyone is wearing white from head to toe and thinking positively. This creates a unique atmosphere that you can only find in certain cities and in certain circumstances.
I watched a 16min fireworks display on the beach that gave me goose bumps and hope for the upcoming New Year. My celebration finished at 7:00 AM after a crazy party on Ipanema beach, making it an epic New Year's Eve.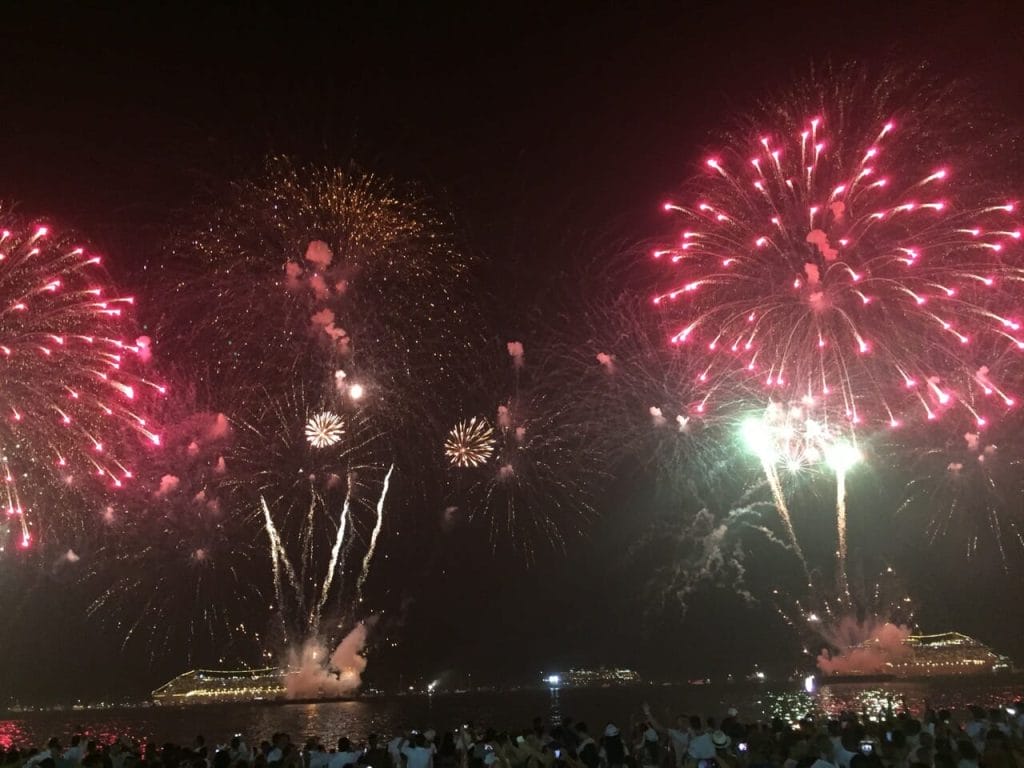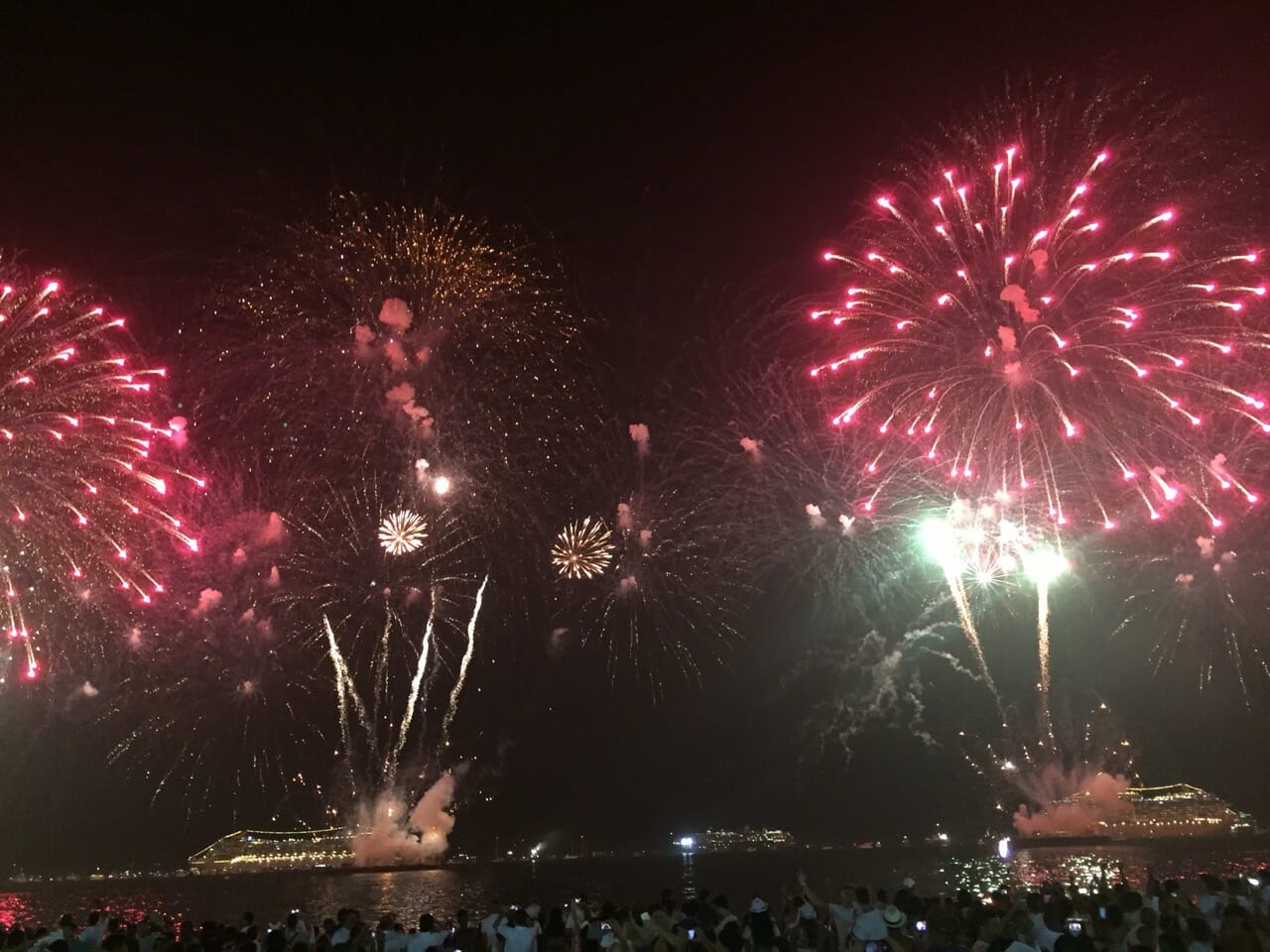 Less than seven hours later I was back on Ipanema, this time to enjoy the beach. The weather was good, not that hot and a bit cloudy, and the beach was packed. I could barely walk on the sand because of the amount of chairs and umbrellas, and only by the water could I take a walk.
I really like Copacabana and Ipanema beaches, but during the summer and especially on the weekends it is over crowded, plus the fact that both beaches are in the middle of the city, with traffic and buildings as a background.
This time I wanted to explore some isolated and less packed beaches in Rio. And this was when I found out about the Wild Beaches. But, to get to those beaches you need a car or you need to book a day tour since there are no buses running in this part of the city.
So, I decided to book the Wild Beaches tour on Monday, January 4th, because the weather on Saturday and Sunday following the New Year would not be good (this time of the year in Rio there are frequently some rainy and cloudy days).
The price of the tour was pretty fair, R$120 (around US$30), it would range from 7:00 AM to 7:00 PM, and take me to the three Wild Beaches and two other ones. The meeting point was in front of Barra Shopping Mall, located on Barra da Tijuca on the west part of Rio.
At 7:00 AM an Argentinian couple, the guide and me left our meeting point and started to drive towards our destinations. As soon as we left Barra the landscape started to change: buildings and construction became rare and there was endless coast on one side and vegetation on the other side.
First stop: Praia da Reserva
The first stop was Praia da Reserva (Reserve Beach) located in an environmentally protected area. This beach is very long, with soft sand, and very quiet. The water was rough and not as clear as it usually is because of the rain of the last two days. The best thing of this beach is that you can just relax on the sand and enjoy the stunning landscape, whether you face right or left you can see some chain of mountains that is so common in Rio.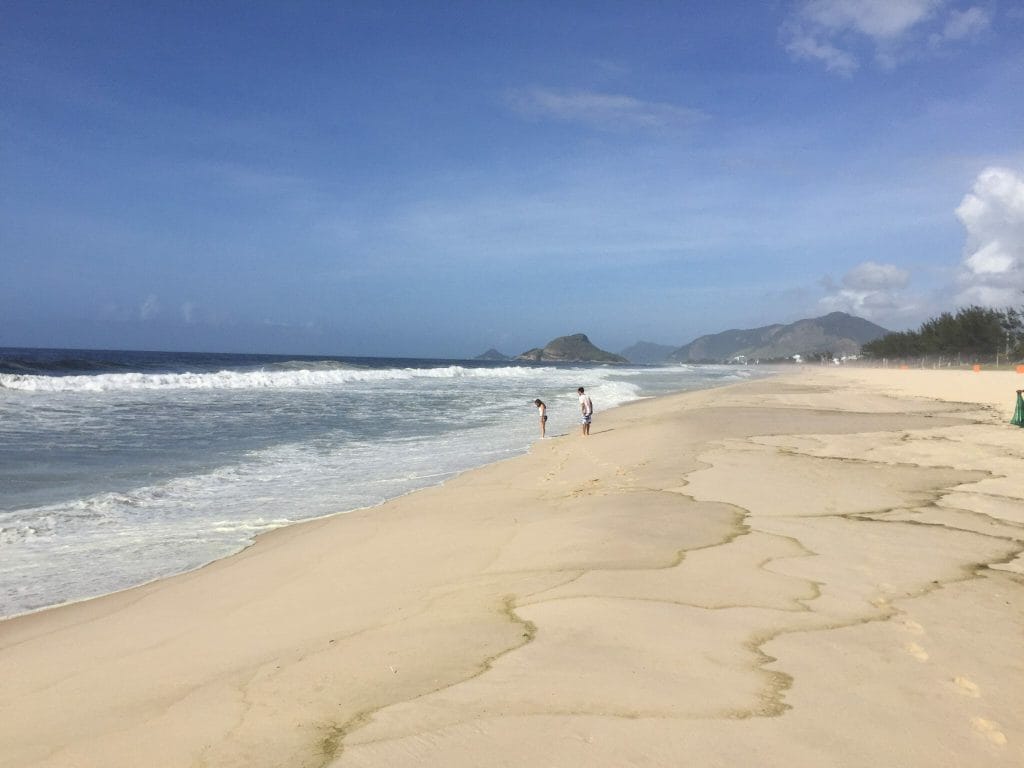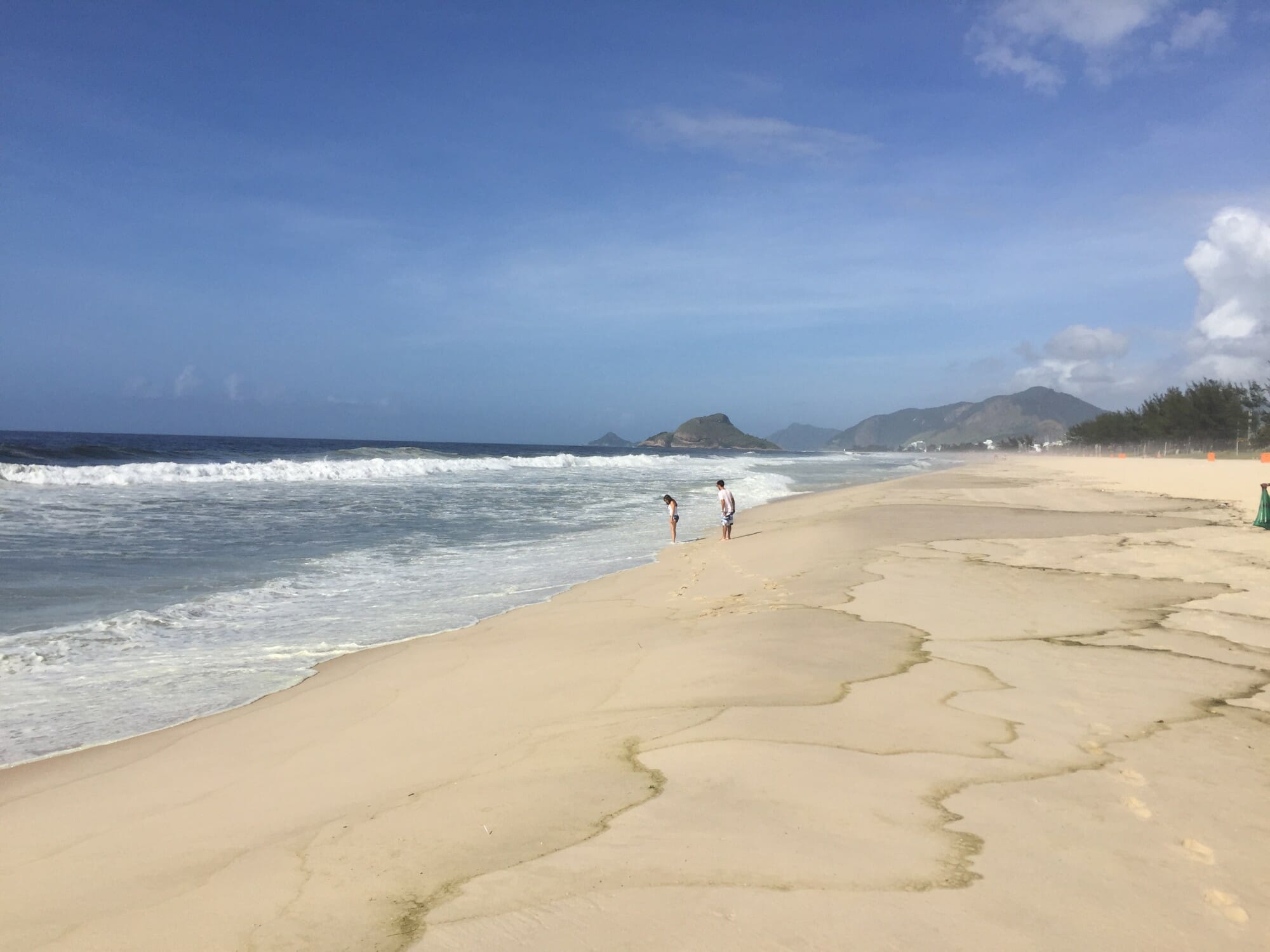 The next beach, Recreio, was pretty similar to the first one and because of that we didn't want to stop there. On this beach we could still see some buses running and a few construction sites. We were getting closer to our main destinations and I was really looking forward to reaching the Wild Beaches. Once we crossed the gate I got so excited! Mauricio, the guide, explained that during the weekend the gate is closed from 8:00 AM to 3:00 PM to limit the number of cars in the area (the park's space issue).
The road was narrow, full of mountains on one side, beaches on the other, and beautiful views. It seemed almost as if I were leaving Rio…
Prainha
A few minutes later we arrived at the first Wild Beach: Prainha. The beach is nestled in mountains of a dense rain forest (Atlantic forest), with rich and diverse fauna, hosting around 270 species of birds. From the viewpoint the white sand contrasted with the huge mountains covered with exuberant vegetation, the blue sky and the green water, it all compounding into a picture-perfect scene.
I spent two hours on this beach, just relaxing, talking to the Argentinian couple and Mauricio, and people watching and walking around.
The weather was perfect, the beach wasn't crowded at all, and I had that magic feeling of, "I just found what I was looking for…" Prainha became not only my favorite beach in Rio but also one of the most beautiful beaches I had seen in the city. I felt so glad and grateful that I had booked this excursion.
Mauricio was very friendly and flexible and let us decide how long we wanted to stay in which beach. So, we decided to stay 30 more minutes on this beach before heading to the next one. In total, it was around two and a half hours of complete pleasure for me.
The road is quite scenic also, with some viewpoints, parts of asphalt and others of cobblestone, tree canopies and amazingly there is a big rock in the middle of the road in one part. What an impressive rock by the way! We drove around the rock and headed to the second Wild Beach.
Grumari
Yet another beautiful beach with white sand, huge mountains, and the best: quiet and peaceful. The only part of Grumari beach that is busy is on one end where they have more kiosks.
All along the coast, there are just a few kiosks and people. When we stopped close to one of them, the Argentinian couple grabbed their cooler bag filled with beers, while Mauricio and I grabbed our chairs and umbrella.
While I was on the powdery white sand admiring the landscape I thought what a blessed city Rio is. It really deserves the title of Cidade Maravilhosa (Wonderful City)! The geographic formations of Rio provides one of the best skylines I've ever seen…
Under the strong sun of Brazil's summer, we took our stuff back to the car and drove along the coast looking at the awesome view of the beaches, passing underneath tree canopies and finally reaching the parking lot close to our last stop.
Abricó
From the parking lot it looked like Abricó was the busiest beach of this tour. But once we arrived, I could see that the beach was very small, which made it look busier. There were a few people parked there visiting Grumari.
We stopped at a restaurant on the beach to have lunch. On the menu: caipirinhas, appetizers, salads, seafood and a great variety of fishes. We ordered, relaxed, talked and enjoyed the nice view.
Abricó has a pocket of sand full of big rocks with people climbing it all the time, and I would say it's more of a family beach. However, crossing some rocks, there is a part that is clothing optional during the week and nude on the weekends. This part is much bigger and quieter. It is also surrounded by vegetation; we stayed there after lunch.
From all the beaches we visited, Abricó was the one that I liked least. Yet this beach is lovely but if you are not a naturist you might spend your time on the other two wild beaches.
After few hours we took the road back. The sun was almost setting and we stopped again at some viewpoints to appreciate once more Rio's skyline. We watched the sunset at Reserva and the beach was as quiet as earlier in the morning. The sun painted the sky with shades of orange, gold and amber, and the mountains in the background seemed even more picturesque. What an amazing way to finish the day!!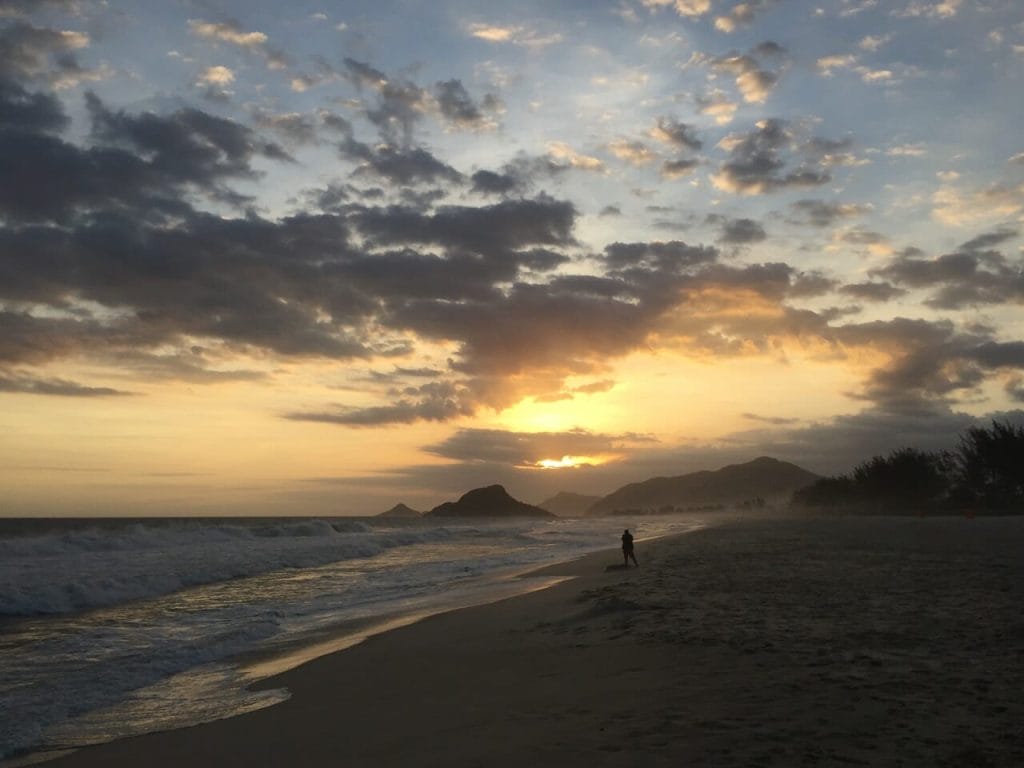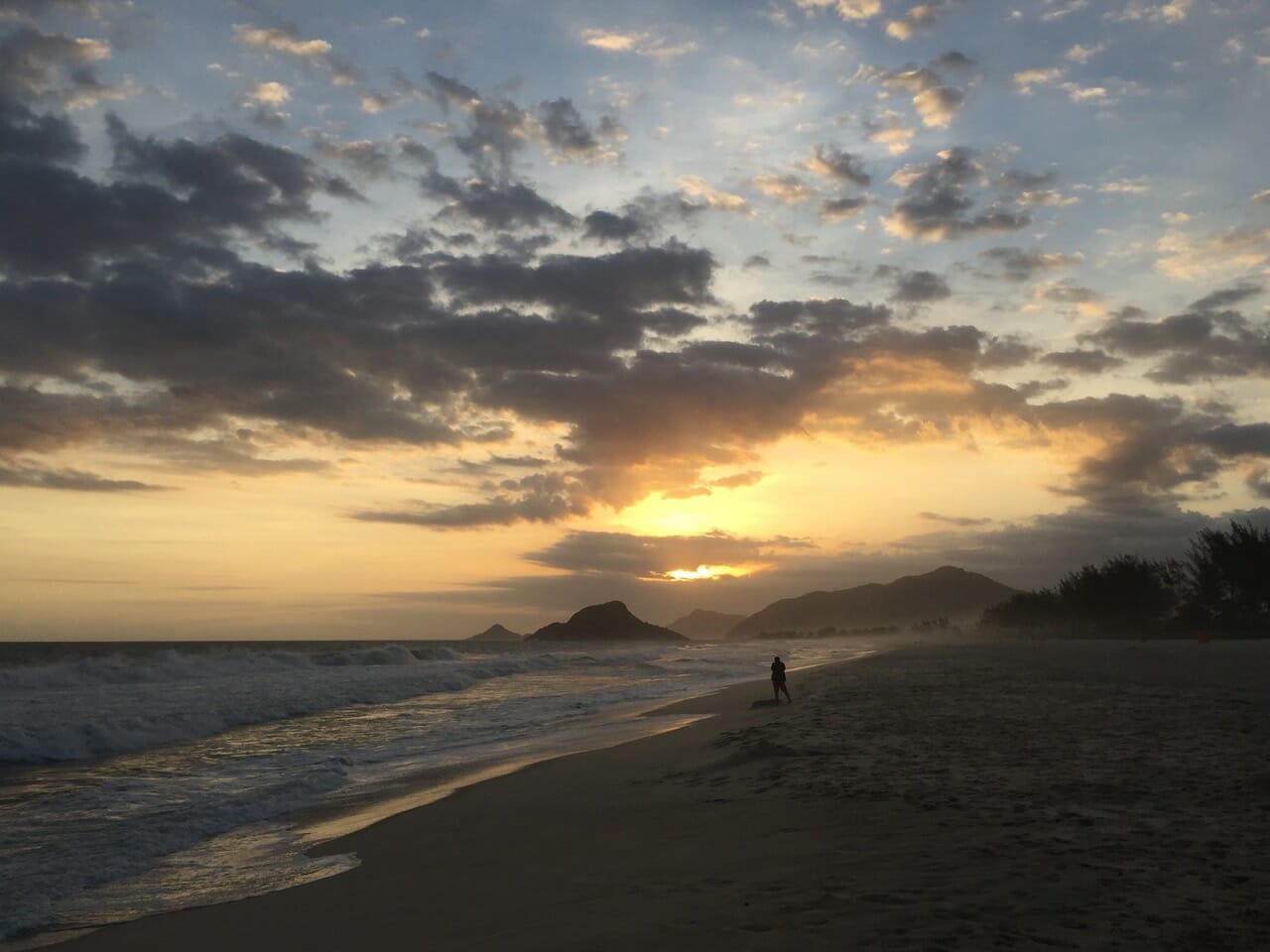 I got home around 9:00 PM that day feeling so good and amazed.
Rio is a city full of surprises, even for someone who has been there many times. So, next time you are in Rio you should take a break from Copacabana and Ipanema beaches and visit some of the most beautiful beaches in town: the Wild Beaches. The Wild Beaches: Prainha, Abricó and Grumari, are absolutely stunning, secluded and surrounded by mountains and lush vegetation. The crystal-clear water and the soft sand attract surfers, locals and tourists alike. Copacabana and Ipanema are prestigious and famous worldwide and "cariocas" love those beaches. But, a visit to the Wild Beaches can give you a feeling of leaving Rio, the second biggest city in Brazil, and arriving in a more remote and exclusive area. This is a feeling that you cannot find everywhere in Rio.
Visiting Rio
Rio de Janeiro, or just Rio, is the capital of Rio de Janeiro (state) and is located on the Southeast of Brazil, distant 1,162 Km (720 miles) of Brasilia, Brazil's capital, and 436 Km (272 miles) of Sao Paulo, the biggest city in Brazil.
∗ There are two airports in Rio: Galeão, GIG (the international) and Santos Dumont, SDU (the domestic).
∗ Over 12 airlines fly to Rio, some of then are: Delta, AirFrance, KLM, British Airways, Aerolíneas Argentinas, Iberia and Emirates.
∗ For domestic flights: Avianca, Tam, Gol and Azul (they also operate internationally).
∗ The bus terminal, Novo Rio, provides buses for basically all capitals and big cities in Brazil and also nearby countries.
∗ Rio can be visited all year-round. Summers are hot with high humidity, and winters are the time with least rain and the perfect one to enjoy other attractions besides beaches.
∗ I would say that the best time to visit Rio is between December and March when there are two big events (New Years and carnival), but this time is also the busiest and hottest season with some rain showers. Temperatures can reach 40C (100F).
∗ The shoulder seasons, April/May and October/November are also good and the weather is mild.
∗ Bus São Paulo-Rio with Expresso Brasileiro: R$ 84,00 (US$ 22), each way
∗ Wild Beach Tour with Trilhas e Aventuras: R$ 120 (US$ 30).
∗ Meat at the restaurant: R$ 44 (US$ 11).
For more information about the Wild Beaches Tours visit the portal

Trilhas e Aventuras

.
∗ I was invited by Trilhas e Aventuras to do the tour, but all the opinions are on my own and unbiased. 
Travel Planning Resources
For every booking made through my site I donate US$ 1 for a charitable organization.
Safe travels ☺