Morro de Sao Paulo, Bahia
Morro de Sao Paulo (Saint Paul's Hill), or just Morro, is an island located in the south of Bahia, 60 Km of Salvador (Bahia's capital).
The island is part of the Tinharé Archipelago, which is composed of 26 islands and was discovered in 1531 by the Portuguese navigator Martim Afonso de Sousa.
During the 1970s the fishing village was still very undeveloped and it did not have electricity 24 hours a day, which only came in 1985. Since then, Morro de Sao Paulo has been discovered by tourists, starting with hippies and backpackers who spread the word and vacationers from nearby towns who visit the island to explore its gorgeous beaches with clear and warm water surrounded by Atlantic forest.
Nowadays Morro is full of foreigners, especially Israeli and Argentinians who come to enjoy this so-called "Tropical Paradise".
I visited Morro in February of 2016 and liked it a lot! Even though the village seems changed with the tourism it still preserves some old landmarks. The nature, and especially the beaches are extraordinary.
Some of the attractions are:
The village: Morro de Sao Paulo was founded in 1535 by Francisco Romero and suffered
numerous attacks by Dutch and French ships during colonial times because of its importance as a supply chain to the capital Salvador.
The village has a fortress and walls that were completed in 1728, it has the largest water supply system of colonial Bahia, Fonte Grande, constructed in 1746, and also a lighthouse built in 1855.
Today the village boasts restaurants, stores, and hotels: and although the main street was modified "to look good for visitors," the village is still charming.
The beaches: the beaches in Morro are in numerical order.
First beach: is the closest beach to the village, with some natural pools, hotels and restaurants. I felt like I was in the "middle of the city" on this beach with a lot of construction in the background.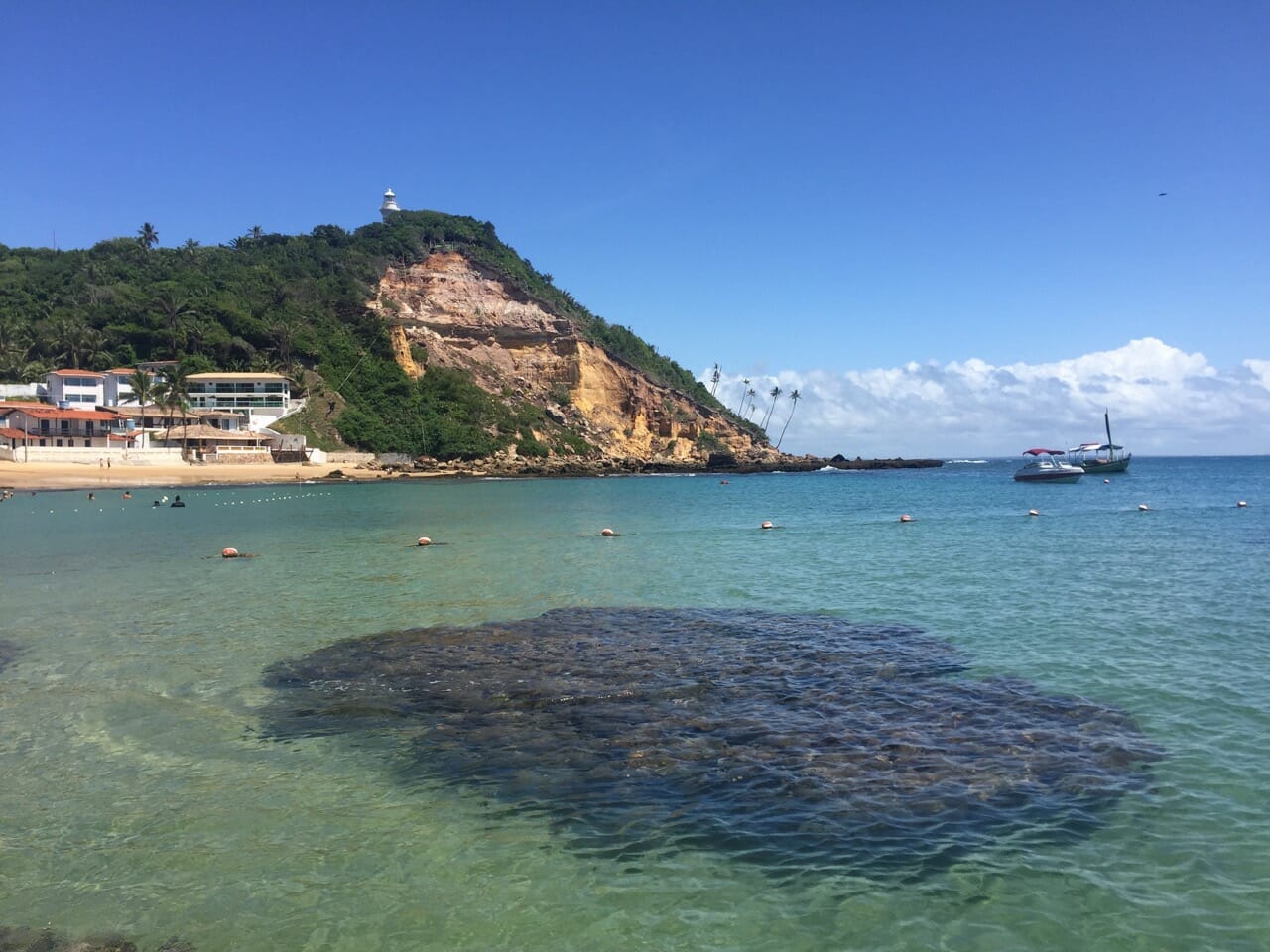 Second beach: the busiest beach with lots of restaurants, cafes, hotels and parties.
Everyone gathers here whether during the day to enjoy the pools or practice sports (more family oriented though) or at night to enjoy live music and beach luaus. You can practice SUP and even play footvolley with locals.
Third beach: from the third beach everything starts to calm down, with fewer people and less construction and fine accommodations. This beach has huge pools and it is very beautiful. It is also nice to practice kayaking, SUP, snorkeling and there is an island close by where you can go diving.
Fourth beach: my favorite one in Morro de Sao Paulo! This beach is very long, 4 km (2.5mi) and is perfect for someone who prefers quiet areas. The water is very warm like all the others, there are a lot of natural pools, but the best thing is that the only part with construction is the beginning and after that just lush vegetation and few kiosks.
On this beach you can take a carriage to the fifth beach, R$ 30 (US$ 8) per person, and horse back for R$ 40 (US$ 10) per hour.
Fifth beach: a very exotic beach dotted with many mangrove and dead trees. Because of its remote location, around 7 Km (4.3mi) from the village, it is basically empty.
It's a long walk to get there, but the visit is totally worth it; this beach looks very different from the others.
Just be aware of the tide and that there are very few kiosks (one or two).
Zip-line: Morro de Sao Paulo has the highest zip-line in South America: 70m (230 ft.) and 300m
(0.2mi) long. It provides an awesome view!
Price: R$ 40 (US$ 10)
From 10:00 AM to 5:00 PM.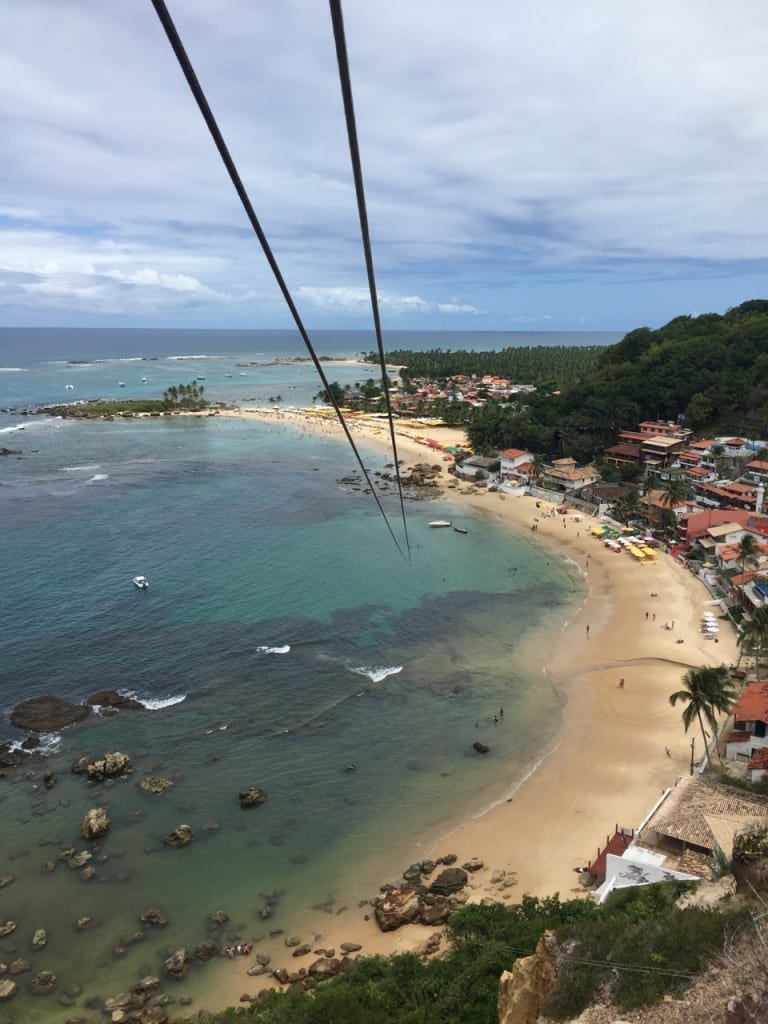 Watching the sunset: the famous spot to watch the sunset is the lighthouse and every afternoon
dozens of people gather on its hills to enjoy this golden moment.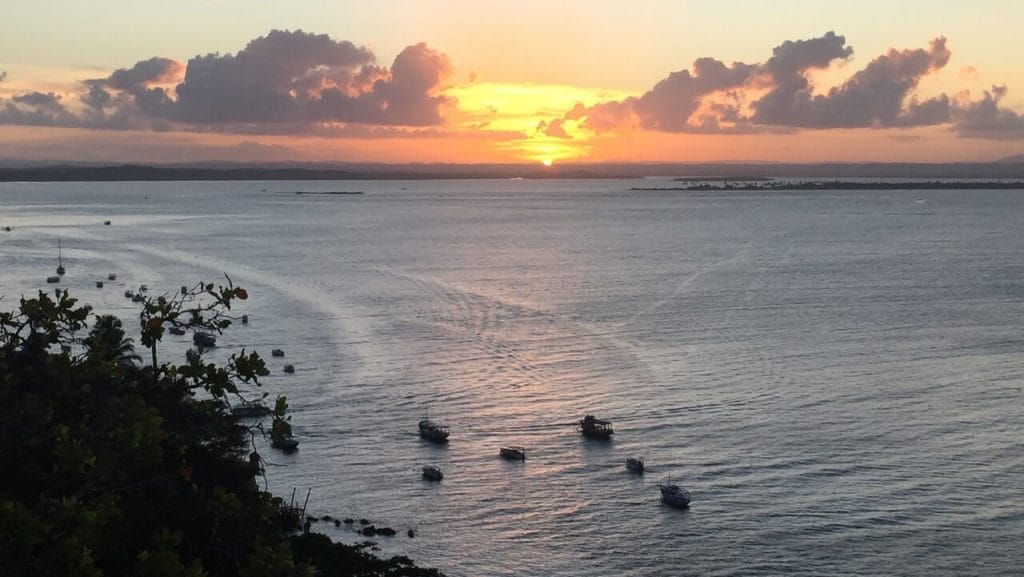 Nightlife: Morro is also known for its parties and attracts a lot of young people because of that.
The most frequented parties are:
Beach Luau: every Monday and Thursday after midnight at the second beach. During the high season a lot of people attend the luaus and everyone is on the beach dancing, drinking caiprinhas and making friends. Smoking weed is also common in those parties.
Teatro do Morro (The theater): the most traditional party in Morro happens on a hill in the middle of the jungle, every Wednesday and Sunday and has live music, DJ's, performances and capoeira. It starts at 9:00 PM and goes all night long.
Toca do Morcego: this is one of the busiest clubs in the village with parties every Tuesday, Friday and Sunday during the high season (Fridays and Sundays in low season). This club has a very privileged location on a cliff-side and provides stunning vistas; because of that it also has Sunset parties with DJ, live music and the restaurant is open at this time.
Pulsar Disco Club: every Saturday with different thematic parties.
There are also boat parties in Morro de Sao Paulo, and the most popular one is Sereia Boat (schedule depends on the time of year but the boat departs at least twice a week).
Tours
Around the island: this is the most popular tour and takes you to Boipeba (Moreré natural pools, Cueira and Boca da Barra beaches), Canavieira (a boat parked in the middle of the river that serves fresh oysters) and the city of Cairu (to visit historical landmarks).
From 9:30 AM to 5:00 PM.
Price: R$ 100 (US$ 25) during the high season, and R$ 80 (US$ 20) during the low season.
Contact: Pedro: +55 (75) 98285-4609 (WhatsApp)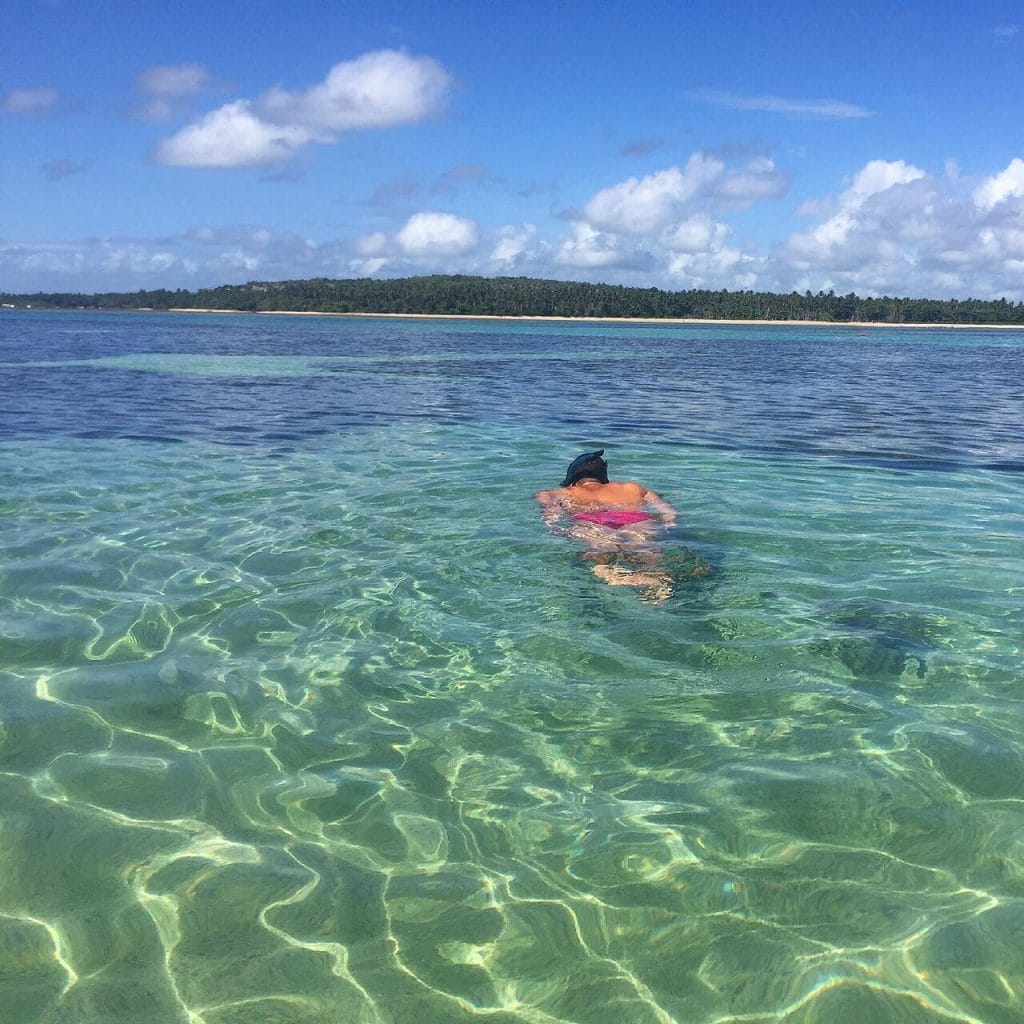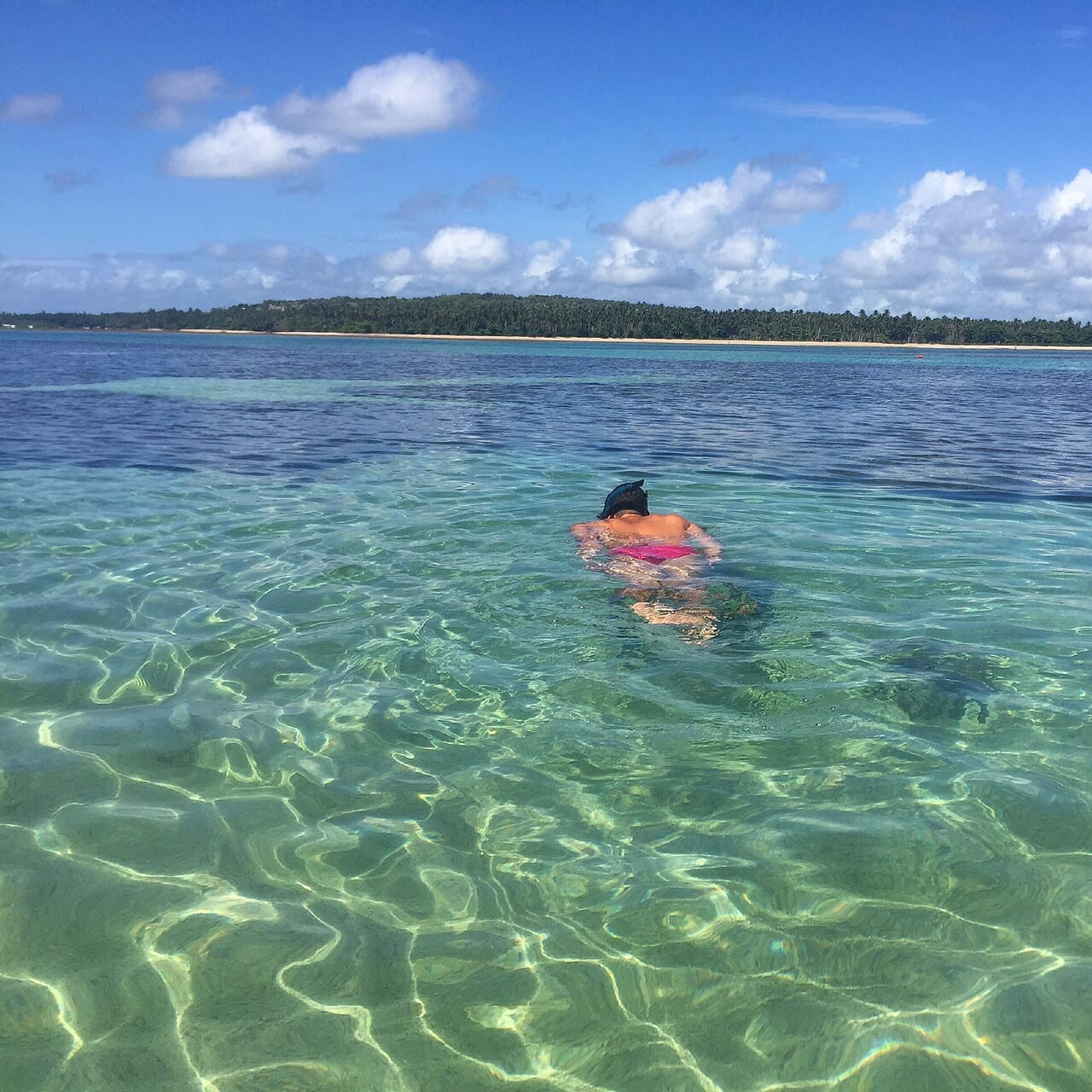 Gamboa: visiting Gamboa, its village and beach with medicinal mud.
Departs at 10:30 AM.
Price: R$ 50 (US$ 12.50) during the high season and R$ 40 (US$ 10) during the low season. Contact: Pedro: +55 (75) 98285-4609 (WhatsApp)
Garapuá: visiting Garapuá beach and its natural pools, considered one of the most beautiful beaches in the Tinharé Archipelago.
The tour starts by Land rover driving through the "Ecologic road", followed by a boat to the pools.
From 9:30 AM to 2 – 3:00 PM (depends on the tide).
Price: R$ 60 (US$ 15)
Contact: Ney Assunção Agência Miranda Tur, +55(75)9186-7985 (WhatsApp)
Fonte do Céu hike: a hike through an ecological trail to visit a waterfall and Gamboa. It takes around one and half hours and costs R$ 30 (US$ 8).
Discount for groups.
Contact: Ney Assunção Agência Miranda Tur, +55(75)9186-7985 (WhatsApp)
On the second beach:
SUP: R$ 30 (US$ 5.50) for 30min.
Kayaking: R$ 20 (US$ 5) for 30min.
Contact: Moleke Surf School
On the third beach:
SUP: R$ 30 (US$ 5.50) for one hour.
Kayak + snorkeling: RS 15 (US$ 4) per person for one and half hours to an island close by.
Dive: RS 140 (US$ 35) per tank at Ilha do Caetá (an island close by).
Contact: Zimbo Dive Tour.
On the fourth beach:
Snorkeling: R$ 15 (US$ 4), unlimited time.
Side trip: Gamboa is a fishing village very close to Morro de Sao Paulo. The infrastructure is
completely different, very simple and primitive. It's a good option for someone who prefers a more authentic experience.
The beaches are nice and the hot spot is by the cliffs where you can submerge yourself in the pink mud that is rich in sulphur and has medicinal properties that makes your skin very soft.
Because of its proximity to Morro, it is very common for people to spend the whole day there, and during the summer there are also night parties.
You can visit Gamboa by yourself, whether walking by the beach (from 30min to 1h), only with low tide; taking a boat that costs R$ 5 (around US$ 1.25) and takes 15min; or booking a tour.
There are also some hotels and restaurants in the village and beach kiosks.
∗ I will still post two more articles about Morro: Hotels and Restaurants; Three days in Morro de Sao Paulo.
Visiting Morro de Sao Paulo
[huge_it_maps id='9′]
There are only two ways to get in Morro de Sao Paulo:
By boat
∗ From Salvador: the BioTur ferry departs at 9:00 AM and 10:30 AM (all year around); and 8:30 AM and 2:30 PM (from July to April). It costs R$ 85 (US$ 22)
∗ From Valença: you can use the conventional way (boat + bus); it departs 6:10, 6:40, 7:00 AM, after that every hour during low season and every 30min during the high season, until 6:00 PM.
Cost: R$ 10 (US$ 2.50), from Mondays do Saturdays; R$ 12 (US$ 3), on Sundays and holidays.
Travel time: 1:30
The other option is the speed boat, that departs every hour from 7:00 AM to 6:00 PM.
Cost: R$ 22 (US$ 21), from Mondays to Saturdays; RS 25 (US$ 6.50), on Sundays and holidays.
∗ From Boipeba: You can also get in Morro from Boipeba taking the boats of the tours that are not completely filled with people. It cost R$ 60 (US$ 15), and the best price is with Dainel: +55(75) 3653-6065; or take a boat plus a Land Rover (R$ 90 – US$ 22.50)
By airplane
There are two different companies that fly from Salvador to Morro with very small airplanes (6 to 12 passengers): Aerostar and Addey.
Both fly three times a day, take between 15 to 25 min, and cost around R$ 400 (US$ 100).
The island can be visited all year round just consider two things:
∗ From Christmas to Carnival is the busiest time.
∗ From April to July is the rainy season.
The best time for me is from September to December or two weeks after the carnival.
Helpfull links
For more information about Morro de Sao Paulo and Costa do Dendê region visit BahiaTursa webpage.
You can book you flight using this link;  and other transfers using Cassi Turismo.
∗ If you are planning a trip to Morro, you should visit Boipeba as well and I've also written an article that you can find here.
Travel Planning Resources
For every booking made through my site I donate US$ 1 for a charitable organization.
Safe travels ☺