Boipeba, situated in the south of Bahia, is considered one of the best islands in Brazil.
It is known for its gorgeous beaches with warm water and endless coconut trees. It is the perfect place for someone who is looking to relax and unwind in the middle of luscious natural surroundings.
The island also has a very simple and charming village with colorful houses and cobblestone streets with a very simple infrastructure.
I visited Boipeba in February of 2016, and here is a list of different kinds of restaurants and hotels in Boipeba to please every pocket.
Hotels in Boipeba
This is a list of six hotels in Boipeba, starting with the simplest and cheapest to the most expensive:
Pedra Coral: situated very close to the main square, this budget hotel is perfect for someone who wants to stay in the city center to enjoy its facilities (restaurants, supermarkets…) and save money.
All the rooms have AC, minibar and hot water.
Prices range:
∗ Double room: R$120 (US$ 30) during the low season; and R$150 (U$$37.50) during the high season (from March to November).
∗ Triple rooms: R$150 (US$ 37.50) in the low season; R$180 (US$ 45) in the high season.
Breakfast included.
Caminho de Pedras: located also close to the main square and two minutes from the beach, this property has really good cost/benefit and nice rooms with AC, TV, minibar, hot water and blow dryer. It also has a good breakfast with typical Bahian food included on the room rate, that is served in a really nice area.
Prices range:
∗ Double room: R$150 (US$ 37.50) low season, and R$180 (US$45) high season.
∗ Triple room: R$180 (US$ 45) low season and R$220 (US$ 55) high season.
There are bigger rooms available.
Villa da Barca: located on Boca da Barra beach. This beachfront hotel is perfect for those who are looking for staying away of, but also close to, the city center. It has a very nice front yard with beach chairs, umbrellas and hammocks.
My only concern about this hotel is mosquitoes; there is a big wet green area surrounding it.
Prices range:
∗ Double room: with fan R$180 (US$45); and AC R$ 195 (US$48).
∗ Bungalow: R$250 (US62.50)
Breakfast is not included and costs R$30 (US$ 7) /per person.
Vila da Barra: located on the shopping mall at Boca da Barra beach, this hotel offers fine accommodation with reasonable prices. The apartments are very cozy, and come with living room with couch, table, LED TV, fan and AC; completed kitchen, and bedroom with wardrobe, AC and bathroom.
The backyard of this property is just gorgeous!!
Prices start at: R$290 (US$ 72.50) until June of 2016, after that R$315 (US$ 79).
O Céu de Boipeba: on the top of a hill, this hotel provides one of the best views of Boipeba, where you have a 360 degrees of the whole island and can see the ocean, rivers and the exuberant vegetation.
The apartments have fine amenities made with wood and glass, terrace, and some of then even have a bathtub.
Price range from: R$325 (US$ 81) and R$ 425 (US$ 106).
Breakfast included.
Pousada Mangabeiras: one the finest hotels in Boipeba, also located on the top of a hill and providing stunning vistas, this is one of the few properties with a pool on the island.
The hotel is in the middle of the jungle and it is perfect for someone who is looking for tranquility and luxury accommodation.
Bungalows come with, minibar, safe, LCD TV, DVD, AC, SKY HD, terrace with hammock and king size bed. And the master bungalow comes with a bathtub.
Prices start at: R$ 465 (US$ 116).
Restaurants
Boipeba has an exquisite cuisine rich in seafood, palm oil and coconut milk. The main dish, and the must-try, is moqueca de peixe (fish stew).
Some of the good restaurants are located in the village, however some of the best ones are on the beaches.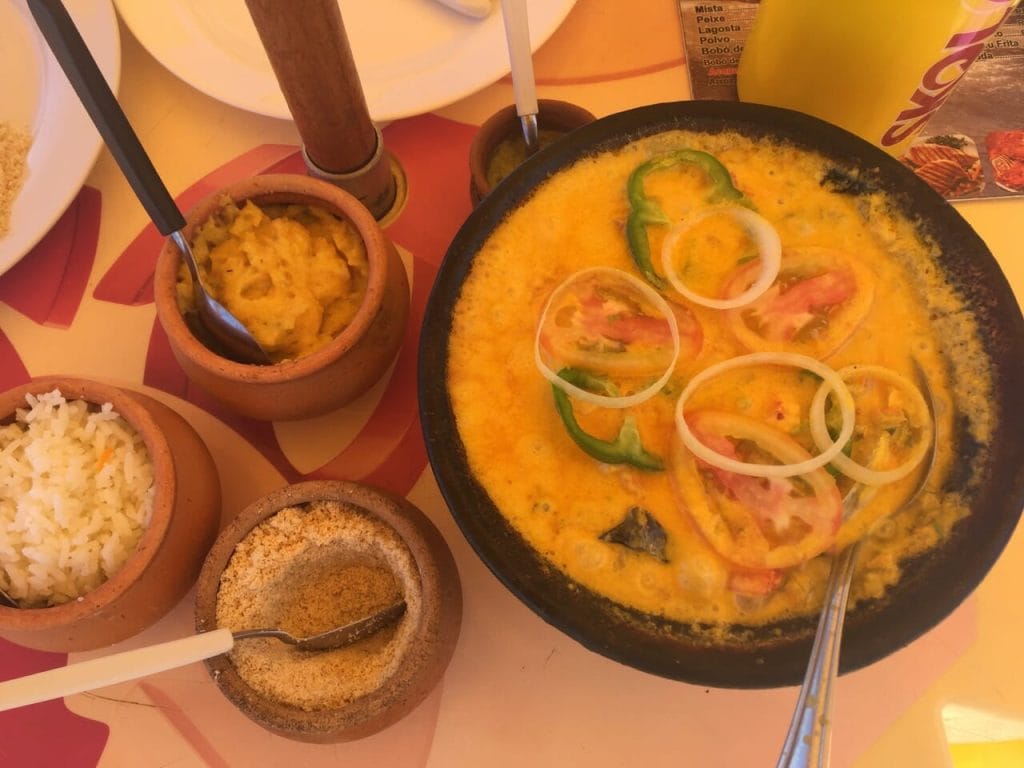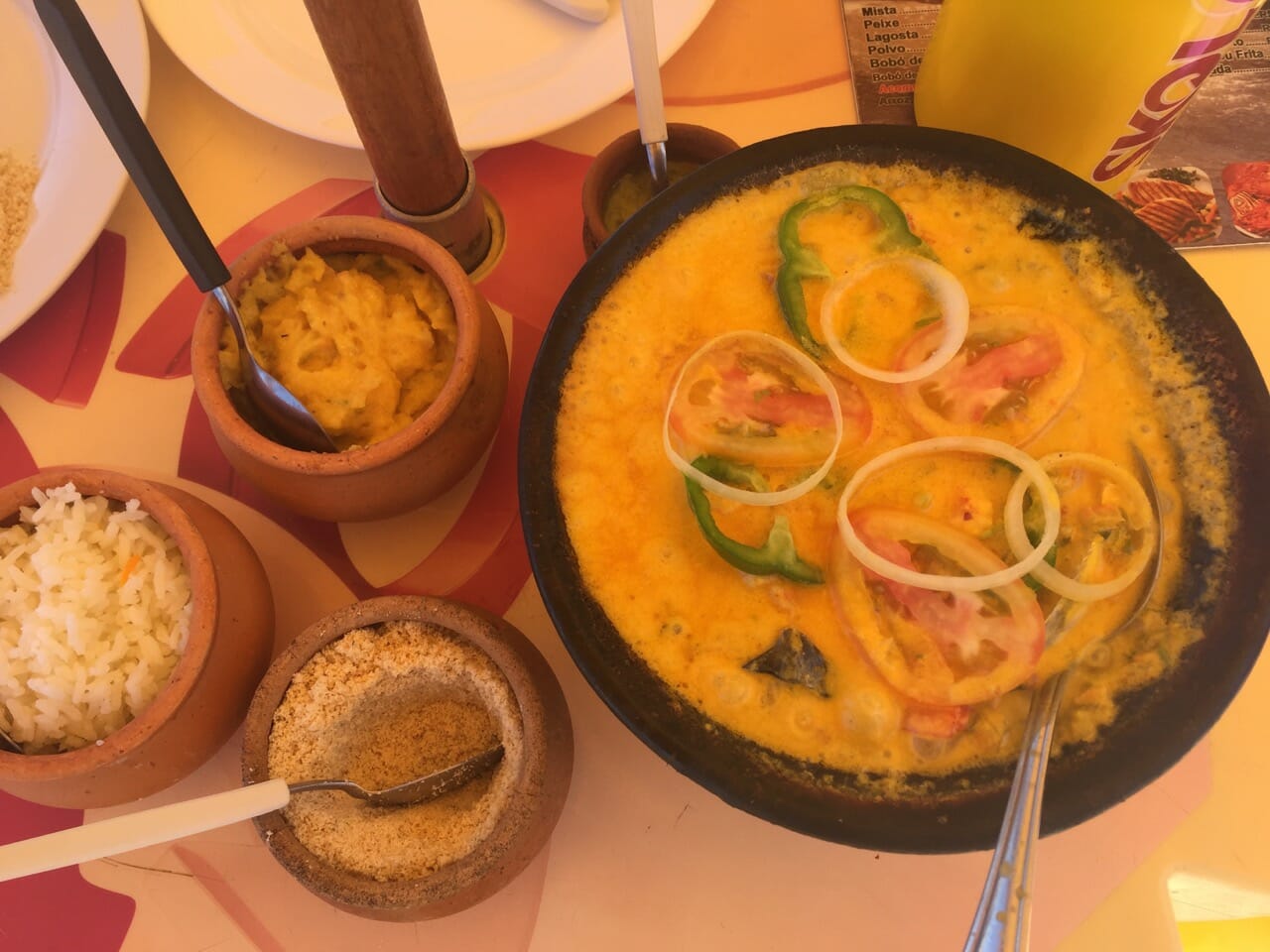 Jorge Som: located in the main square. This very simple restaurant has outside tables and serves a very good moqueca with affordable prices, R$ 60 (US$ 15); served for two.
If you are on a budget, order a PF (beans, rice, salad, and meat or chicken); R$ 20 (US$ 5).
Panela de barro: homemade Bahian food restaurant with reasonable prices, also located in the village.
Cantina Varanda: in case you are tired of Bahian food, this Italian restaurant has a nice atmosphere with outside tables on the main square.
Pimenta Arriba Saia: Dona Anália runs the most famous restaurant in the village and serves exotic and delicious Bahian food.
The lobster and Moqueca de Camarão with banana (shrimp stew with banana) are among their signature dishes.
Paraíso: this restaurant is located in Moreré Beach and is among the best restaurants on the island, it has one of the best cost/benefit, and has served celebrities such as the owner of the French newspaper Le Monde.
Restaurante do Guido: located in Cueira Beach is considered the best restaurant in Boipeba and also is one of the most expensive.
It is known for its' lobster.
∗ There are some affiliate links in this post and if you make a reservation using any of these links I receive a small commission. Thx for your help!
Travel Planning Resources
For every booking made through my site I donate US$ 1 for a charitable organization.
Safe travels ☺