First time in Asia
In February 2014 I went to Asia for the first time. I started my Thailand itinerary in Bangkok and after a few days in the capital of Thailand I headed up to the southern part of this incredible country.
The flight from Bangkok to Krabi was short and very cheap, around US$50 with AirAsia, one of the low cost companies in Asia.
After around 1h20min I arrived in Kabri airport and from there I took a shuttle bus to the city center in order to take the 1:30 PM ferryboat to Koh Phi Phi.
The ferry was full of tourists, especially Australians and Europeans, and some of them were on the deck enjoying the sun and the smooth ride.
My friend and I were in the last two seats of the second row separated from a Spanish couple who was backpacking Thailand by the aisle, when suddenly a light bulb fell down among us four. We immediately started to laugh and chat with the Spaniards. At the moment we didn't realize that the light bulb was the spark for a great friendship…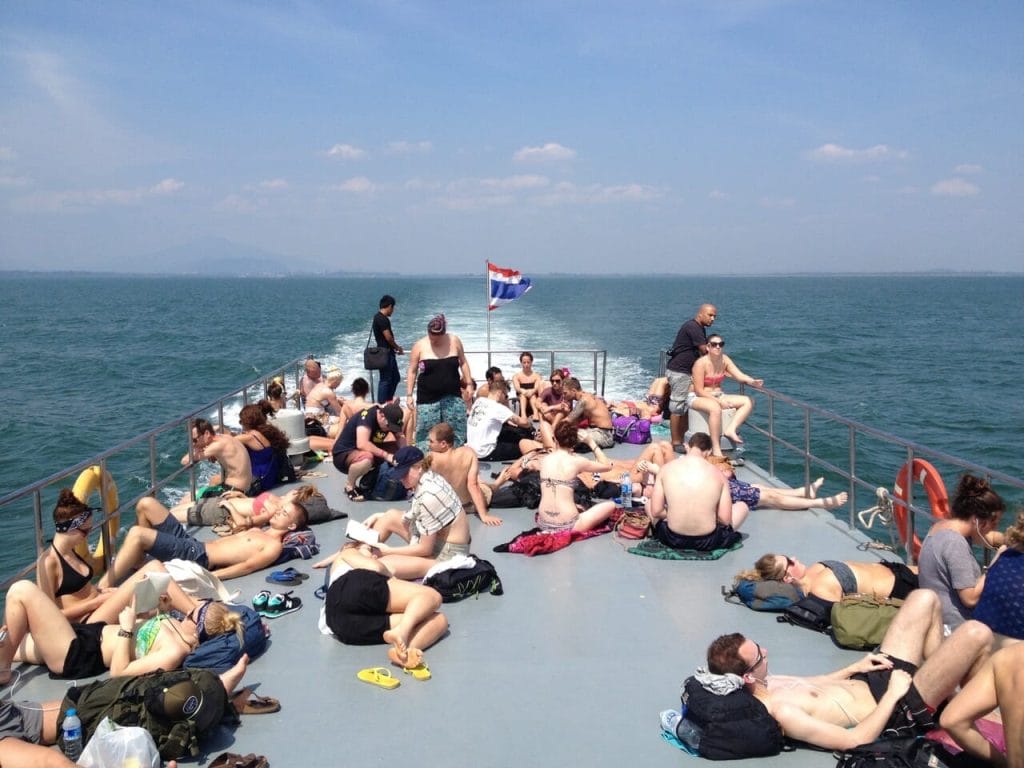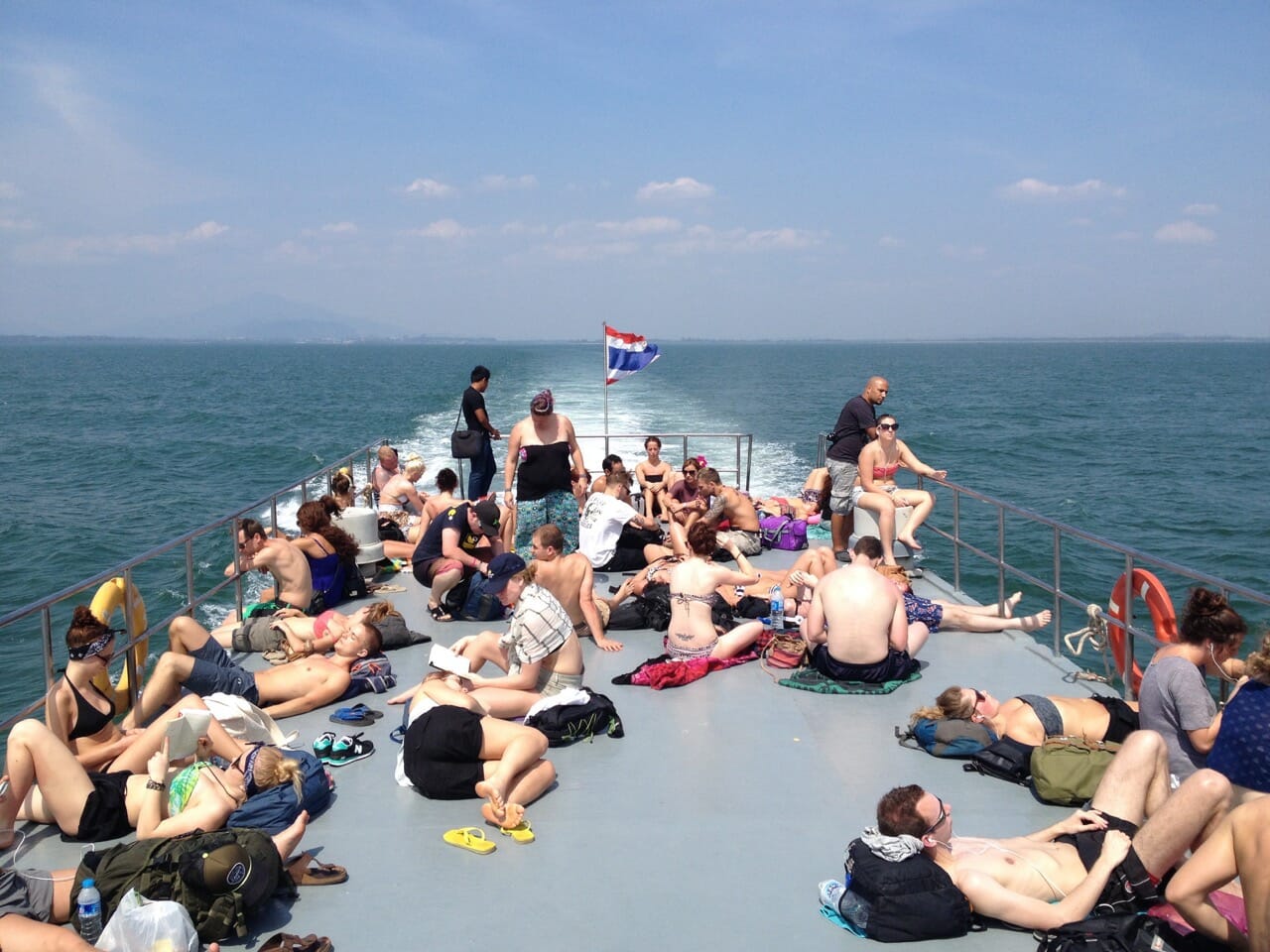 Phi Phi Island
After 1:30 minutes we arrived at Tonsai Pier, Koh Phi Phi Don. From the boat I could envision what we could expect: a small-desolate island with lush vegetation and crystal clear turquoise water surrounded by huge limestone rocks. I was delighted!
The little village is undeveloped yet pleasant and interesting.
The main street is very narrow and boasts souvenir shops, bar, restaurants, massage spas and travel agencies. Cars are not allowed on the island and the only "traffic sound" you hear is "beep beep" from local bikers.
While my two new friends, Mari and David were looking for accommodations, my friend Gustavo and I were looking for a restaurant and we found one with a stunning ocean view and the best pineapple fried rice with prawns that I have ever had.
We left the restaurant and searched for our hotel in the outskirts of the town. Our room was kind of small and disappointing and despite the receptionist barely speaking English, I managed to get an upgrade.
We left the hotel and went to the Pee Pee Viewpoint to watch the sunset.
The viewpoint is on top of a hill on private property, you have to pay a small fee to get there, but it provides an excellent view of the island.
A sandbar separates the island in two U shaped beaches with emerald water and there are towering Limestone Mountains in the distance.
The sun set exactly behind those huge mountains and painted the sky with a burnt umber hue.
My stay in Koh Phi Phi Don had just started and I already was gifted with this idyllic scenery. I felt so blessed!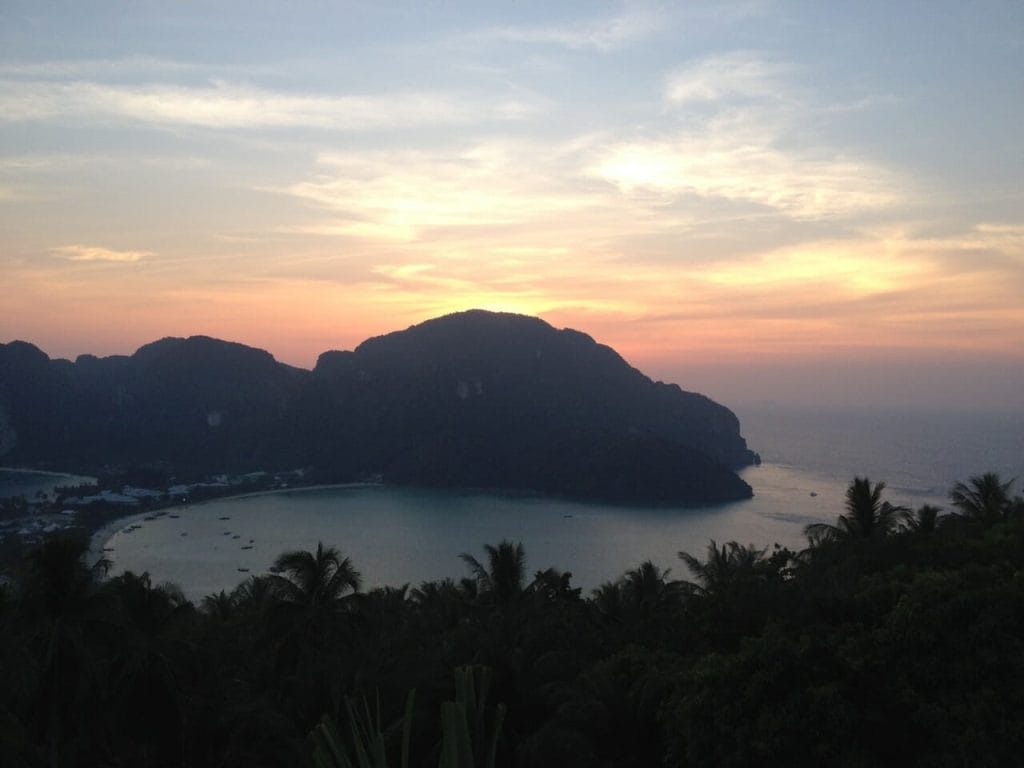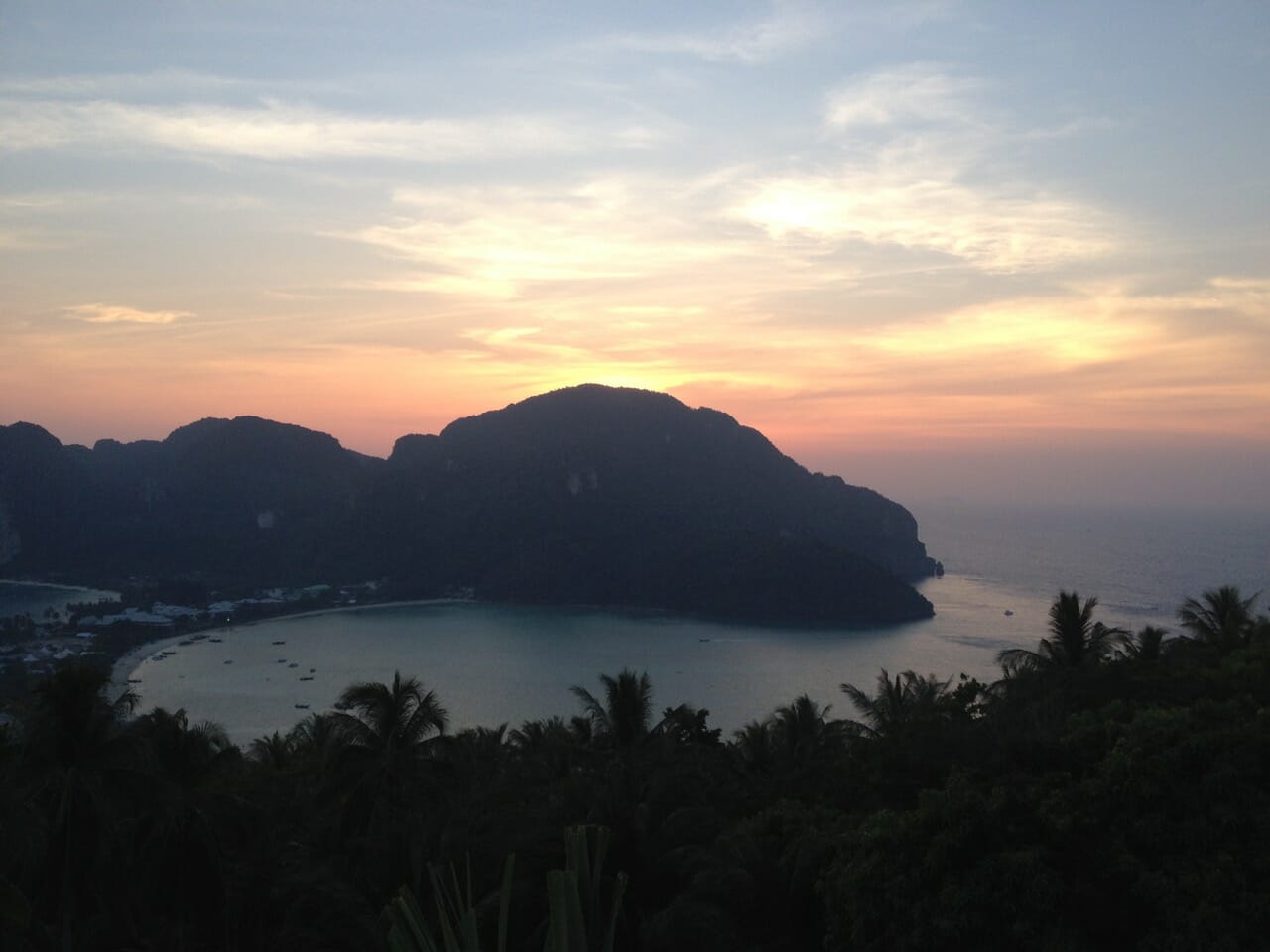 We met up with our new friends Mari and David for dining and negotiating a boat for the next day. There were some captains by the port area and when I saw one guy with a Brazilian jersey I thought it has to be this one.
The negotiation is based on where you want to go and how long you want your trip to last. Thais are very friendly but once they get mad, forget it… Our bargain was not easy but finally we agreed with one of the guys to take us to three islands, from 7:00 AM to 2:00 PM, for something around US$80. I went to bed happy, excited and already dreaming of Maya Bay.
When we left the hotel early in the morning the sun was still rising and the island was dead silent.
By the pier tons of boats floated on the calm water while our captain set up our long-tail boat, a traditional Thai boat.
The sun was already out when the Spanish couple arrived. Gustavo had a speaker and as soon as the boat left the pier we put some music on.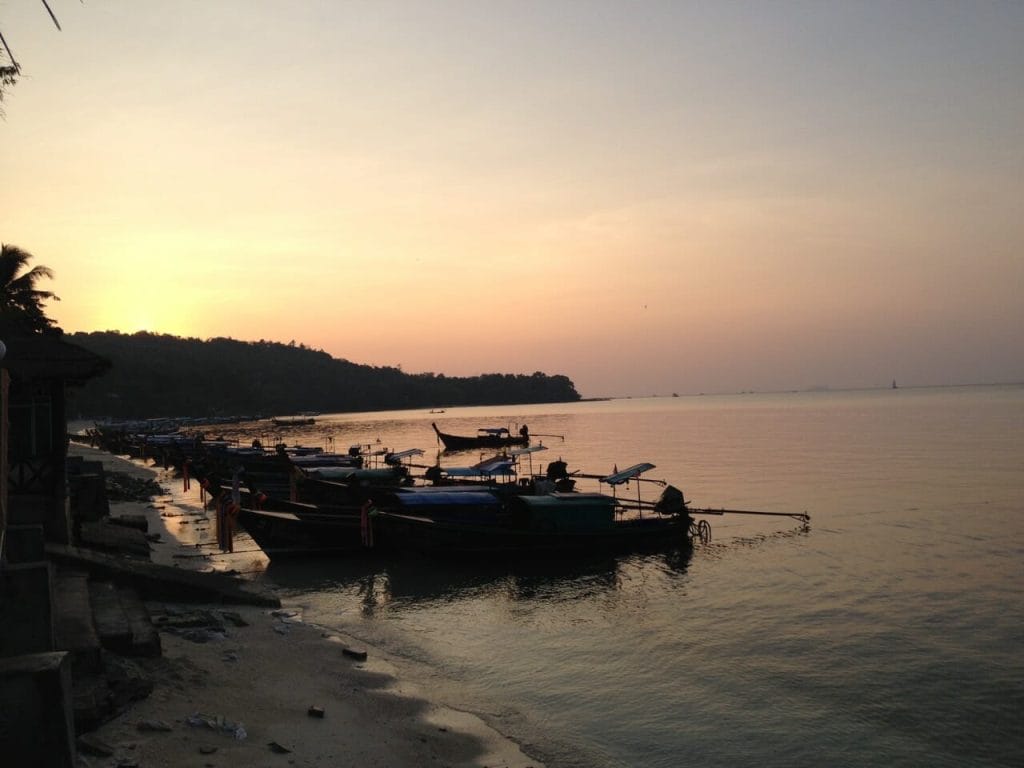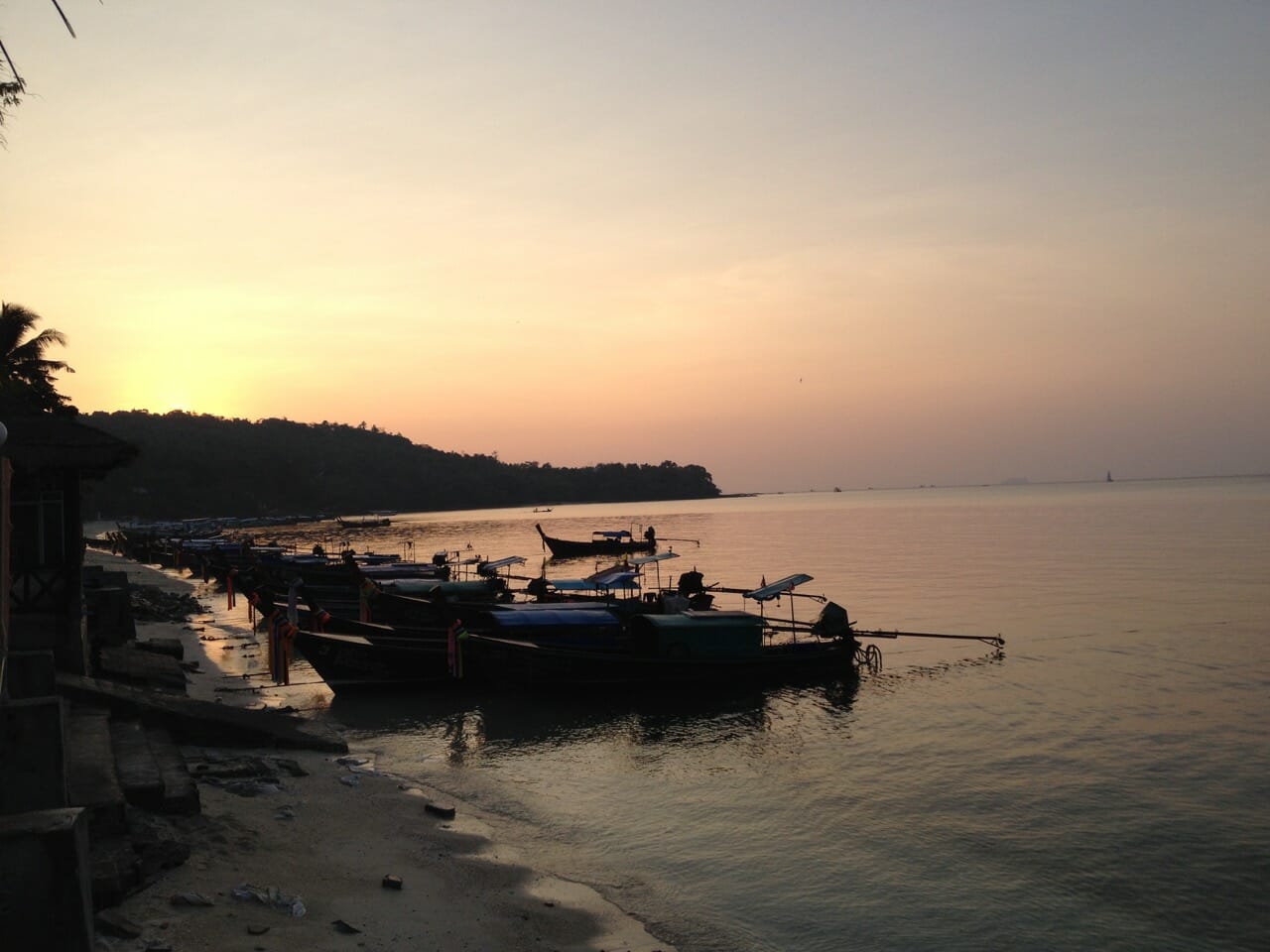 Maya Bay (The Beach)
After a 20min ride we started to approach Koh Phi Phi Le, where Maya Bay is located.
The limestone rocks surrounding it were huge and we were getting so euphoric. We could not really listen to the music though because the boat's engine was so loud…
After around 40min we started to sail into Maya Bay and I was enthralled. The 100-meter high cliffs on three sides splendidly shelter "The Beach" and when we got there the sun was still behind it, but the pristine emerald water was already gleaming and welcoming its visitors, which at that time of the morning were just a few.
I couldn't believe that one of the world's most iconic stretches of sand-beaches was there just for us!
We hopped off the boat exhilarated and feeling like children on a playground for the first time. We took tons of pictures with different poses and angles, walked and swam in the tranquil water of this world-renowned beach.
Little by little more visitors came in and Maya Bay was losing its paradise status; it was time for us to leave and conquer a new one. When we were about to leave the sun was out, the crystal-clear emerald water was sparkling and Maya Bay became even more gorgeous.
We put the music on and started to dance on the boat like there was no tomorrow. Despite that some people stared at us strangely, we departed overflowing with happiness…
We left "The Beach" and went to an island close by for snorkeling. The water was unbelievably clear that even from the boat we could see some fishes. Mari seemed not to believe in what she was seeing, especially when our captain threw in some pieces of bread and tons of fish showed up.
Snorkeling there was pretty amazing!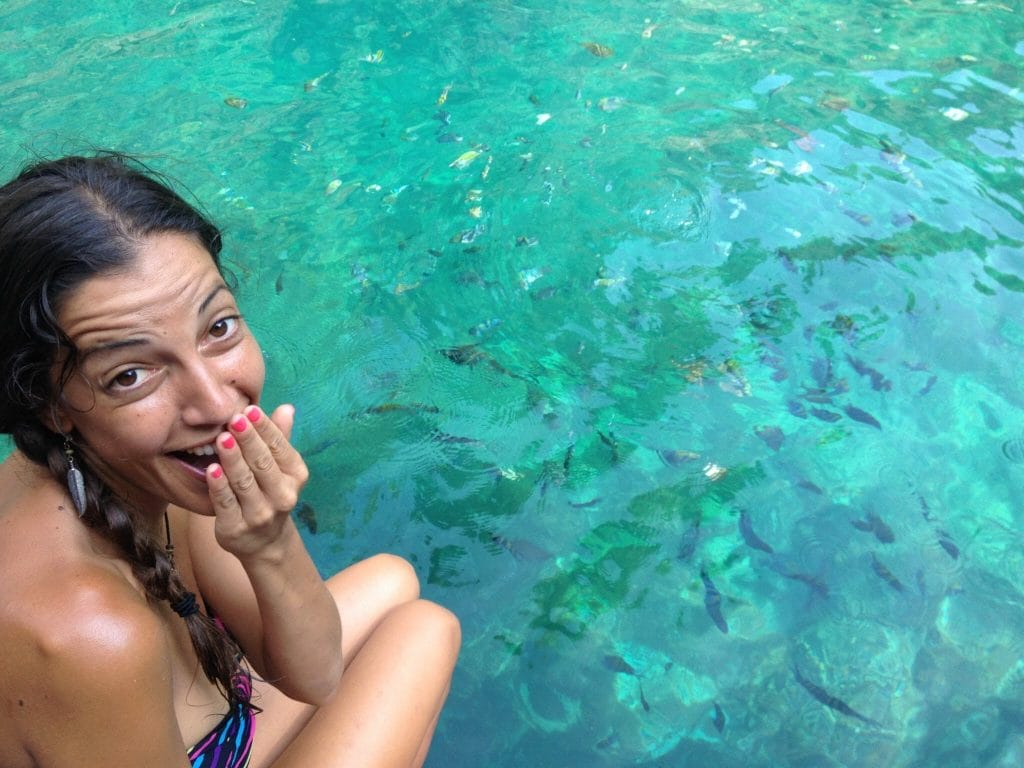 Our last stop was Mosquito island another "you've got to be kidding me" island with unspoiled landscape dotted with limestone cliffs surrounded by dazzling water.
Because of its coral reefs the island provides one of the best snorkel spots in Koh Phi Phi.
At this point we had become such great friends with the Spanish couple that it seemed like we had known them forever not just met one day ago…
When we arrived in the village we were so tired and just wanted to have lunch and rest. The two beaches separated by the sandbar have opposite schedules: Tonsai Bay is busy with tourist arriving and leaving the island from its port during the day and is extremely quiet in the evening; Loh Dalum Bay is pleasantly quiet during the day and loud at night.
So we went to the quiet bay and were just there lolling on the soft sand under the trees, unwinding and getting to know each other better.
A fisherman who saw us there invited us to see the sunset from his boat but we were reluctant until my friend made a conversion and we realized that it would cost less then US$20 and he said: It's on me!
We smiled like children and jumped on the boat. The sunset from the boat was unbeatable and we could not be happier.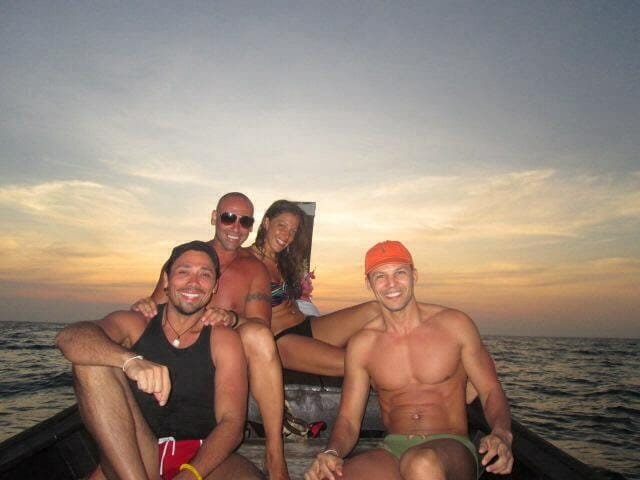 We were having dinner together and a friend of mine who saw us on Facebook realized that one of his friends was also on the island; he put the two of us in contact and the Belgian guy, Thierry, joined the group.
After the whole day under the sun we were exhausted and just shared a meal and booked an excursion for the next day.
Boat Trip
The following day the boat ride was very different and we shared it with 8 more people.
In the first stop for snorkeling Thierry stepped on a sea urchin and our captain magically took the stingers out with a knife. Despite the tragic beginning we still had a great time visiting some paradisiacal islands.
One of then was Bamboo Island, a breathtaking island, and one of the most beautiful, where the sugary sand contrasts with the bright blue water and the green vegetation.
We had a lot of fun snorkeling and chasing a fish snake without knowing that it could've killed us in less than two minutes… Still this island looked surreal!!
From there we went to Monkey Beach, a beautiful island full of monkeys and unfortunately some litter left behind by tourists. We had lunch there and we were warned to be aware of getting lunch stolen by the monkeys…
Our next stop was Maya Bay, and it was completely different but yet hypnotizing. It was packed with tourists and boats, including dozens of speedboats all parked on the shoreline sadly blocking partially the ocean view.
That time another person joined the group, a Chilean lady, Camilla, that we met on the boat, and we took more pictures and had more fun in Maya Bay. Thailand must be the "land of happiness" as Thai people say…
One of the most memorable parts of the day was when the boat left Maya Bay and entered a blue lagoon surrounded by limestone cliffs with amazingly clear water that we could even see the ground.
The captain stopped the boat in order to cut some pineapple for us and we jumped in the water screaming like fools. I was extremely happy and having the time of my life… Our boat ride finished with another astonishing sunset on the Strait of Malacca.
Phi Phi Nightlife
Later that day I had dinner with my new friends at my favorite restaurant and from there we went partying.
The quiet beach during the day holds crazy parties every night regardless of the day of the week, with fireworks, colorful neon, electronic music, and cheap drinks sold in buckets.
We had a wonderful time dancing, drinking, celebrating life and our friendship, watching the show and seeing people losing control…
 Last Day in Phi Phi
My last morning in Koh Phi Phi I woke up already feeling melancholy and after breakfast I checked-out, left my luggage in the restaurant, (by that time I was their friends as well), and met my friends.
They decided to by some souvenirs and I headed for the beach. On my way to Loh Dalum Bay I spotted the Tsunami Garden Memorial (the village was heavily damaged by the Indian Ocean Tsunami in December 2004).
The beach was extremely different from last night: very quiet, with few boats on its calm turquoise water and the bluebird colored sky composing a bucolic paradise.
I plugged in my earphones, put the music on for around one hour and I began dancing to celebrate this jaw-dropping landscape. I was immensely happy but also kind of sad because I knew that in a few hours I would leave Phi Phi Island and my friends as well…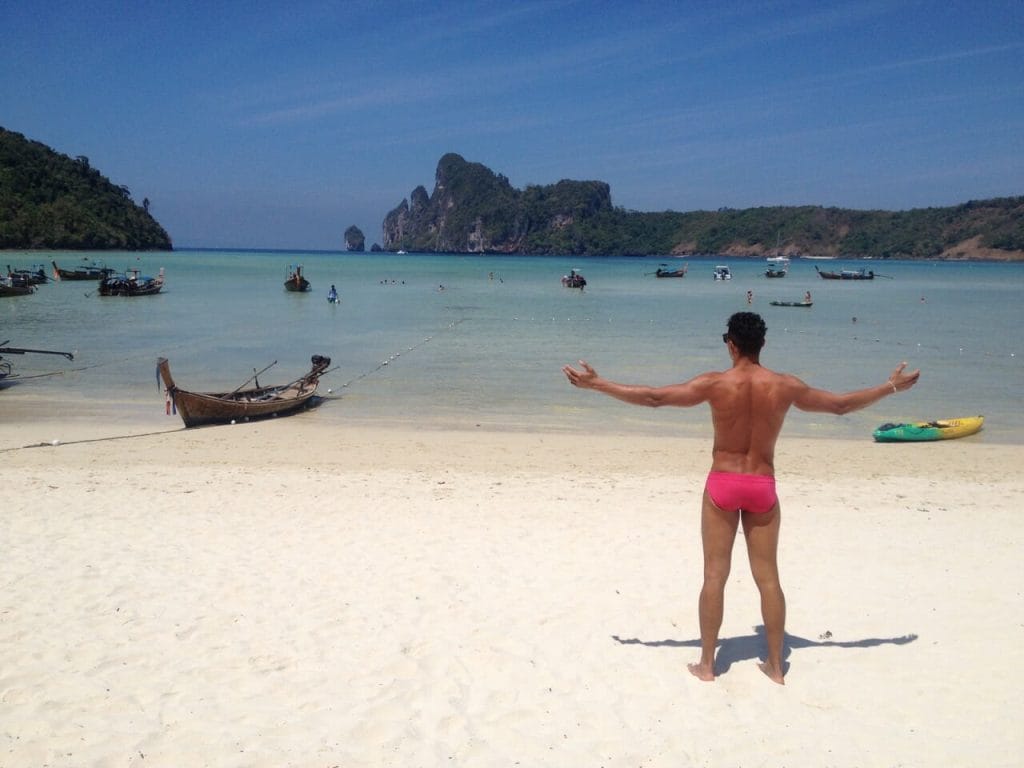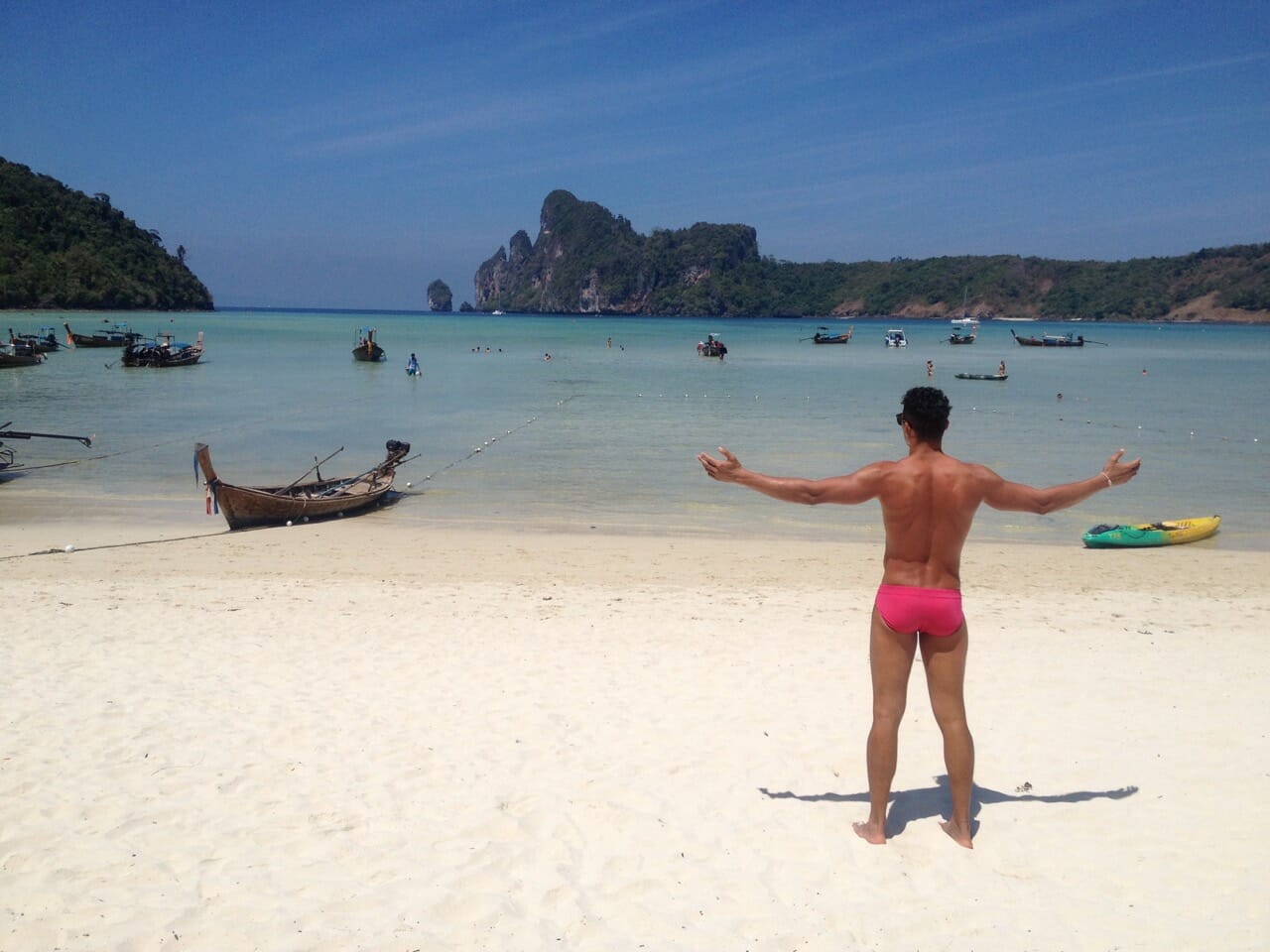 When my friends got there we were still able to spend some time at the beach before we had lunch and had to take the ferry.
At the port Mari and David took a ferry to Ao Nang, and Gustavo, Thierry and I took another to Krabi. I was absolutely sure that I would cry, and when I walked towards my friends to say goodbye I started…
I hopped on my ferry and on the deck I started to call Mari and wave to her…Maaaarrrriiiiiii, Mariiiiiiiii….
The ferry departed and I cried like a child… I left Koh Phi Phi absolutely convinced that I had just lived some of the happiest days of my life there and I would cherish my new friendships forever!
Visiting Phi Phi Island
The Phi Phi Islands are an island group in Thailand, between the large island of Phuket and the Straits of Malacca coast of Thailand (see exactly location here)
The only way to get to Phi Phi Islands is by ferryboat. There are ferries departing from Krabi, Ao Nang, Lanta, Railay, Koh Samui, Koh Tao and Phuket.
You can buy your tickets on the ports or online.
The best time to go to Phi Phi is from November to March when the humid is lowest and temperatures averages 28 C (82 F) with cool breezes.
I stayed at Phi Phi Chang Grand Resort.
∗ Ferry from Krab town to Phi Phi: US$ 20
∗ Three nights at Phi Phi Chang Resort: US$ 232 (double room).
∗ Private boat: US$ 80 (from 7:00 AM to 2:00 PM).
∗ Boat trip: US$ 20.
Travel Planning Resources
For every booking made through my site I donate US$ 1 for a charitable organization.
Safe travels ☺