Looking for things to do in Algarve with kids? Below you will find the 10 best and many other tips 😉
Known for having some of the most beautiful beaches in the world and being one of the sunniest places in Europe, the Algarve has many features that make it the ultimate family beach holiday.
There is an array of exciting activities for all ages, the sea is calm (most of the beaches don't have waves), it has a vibrant atmosphere and immense natural beauty. To top it all, it's a safe and relatively cheap destination.
Whether you want to just relax in the shade while the kids create grand sandcastles, or take a boat trip to explore sea caves and grottoes, you can do it all, and more, in the Algarve.
Every time I visit the Golden Coast I endeavor to find new and fun things to do with friends and family.
From dolphin watching, to waterparks and walking in the tree tops, here is a list of the 10 best things to do in Algarve with kids.
* Affiliate disclosure: Some of the links below are affiliate links, meaning I earn a small fee if you click through and make a purchase. There is never any additional cost to you, and I use some of these earnings for my monthly charitable donations.
10 Best Things to Do in Algarve with Kids
1 – Enjoy the breathtaking Algarvian beaches
With over 100 beaches stretching across 200Km of coast, there is no doubt that one of the best things to do in Algarve with kids is to enjoy the tranquil waters of its gorgeous beaches.
Bordered by cliffs in shades of yellow, red and orange and lapped by crystal clear water, the beaches in Algarve are constantly ranked as some of the best in the world.
And there are so many beaches with tranquil water that are perfect for the whole family that you don't really need to worry about choosing the right one.
If you prefer beaches with better infrastructure, life-guards and plenty of water sports to keep the little ones busy, my recommendations are: Praia da Oura, Pescadores, Falésia, Santa Eulália and São Rafael (Albufeira); Meia Praia and Praia da Batata (Lagos); Praia de Vilamoura (Vilamoura): Praia da Rocha and Três Irmãos (Portimão); Praia da Senhora da Rocha and Carvoeiro (Lagoa).
Enjoying the breathtaking Algarvian beaches is just the first of the 10 best things to do in Algarve with kids.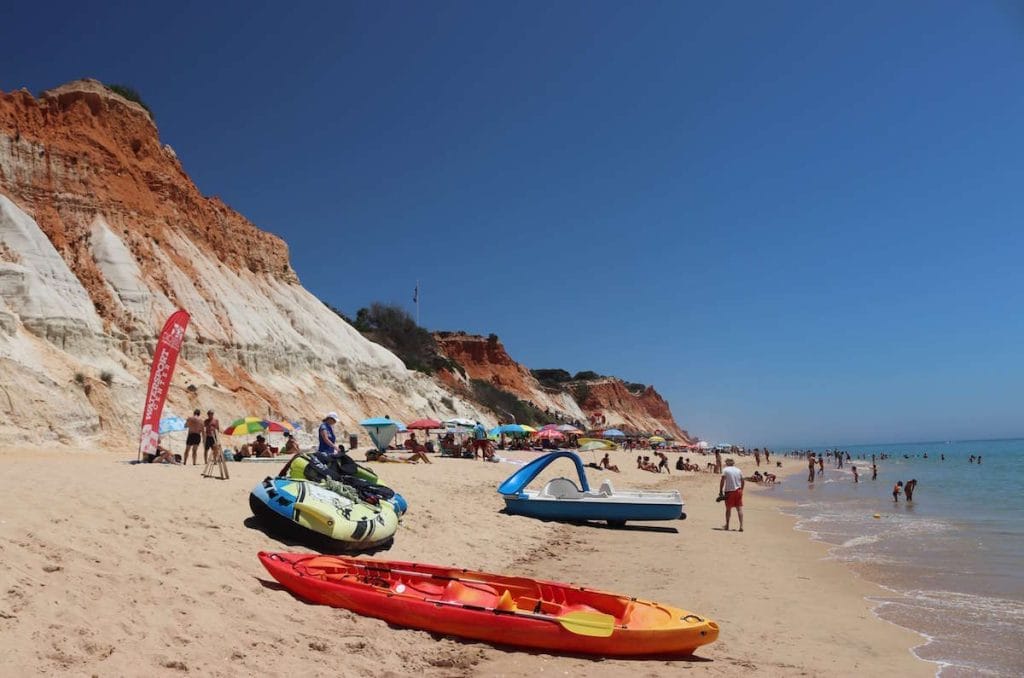 2 – Explore the Golden Coast by boat
The best way to explore the breathtaking Algarvian coastline is definitely by boat. And this is the reason that when you're in the Algarve, you should not miss the opportunity to take a boat trip.
You will sail along beautiful scenery and discover sea caves, grottoes, hidden gem beaches and magnificent rock formations from the perspective of the boat.
There are several boat trips that you can take while in the Algarve, such as: Ponta da Piedade, Benagil Cave, Ria Formosa, BBQ cruises, Sea life observation, etc.
But if you're looking for entertaining things to do in Algarve with kids, my recommendation is to take the Pirate Ship.
The wooden ship with billowing sails is unlike any other boat trip in the Algarve. The crew dress up in pirate outfits and tell curious facts about the coast to keep everyone entertained. And there are costumes on board available for young kids too.
Taking a boat trip is an activity for the whole family and the prices start as low as 20 euros per person.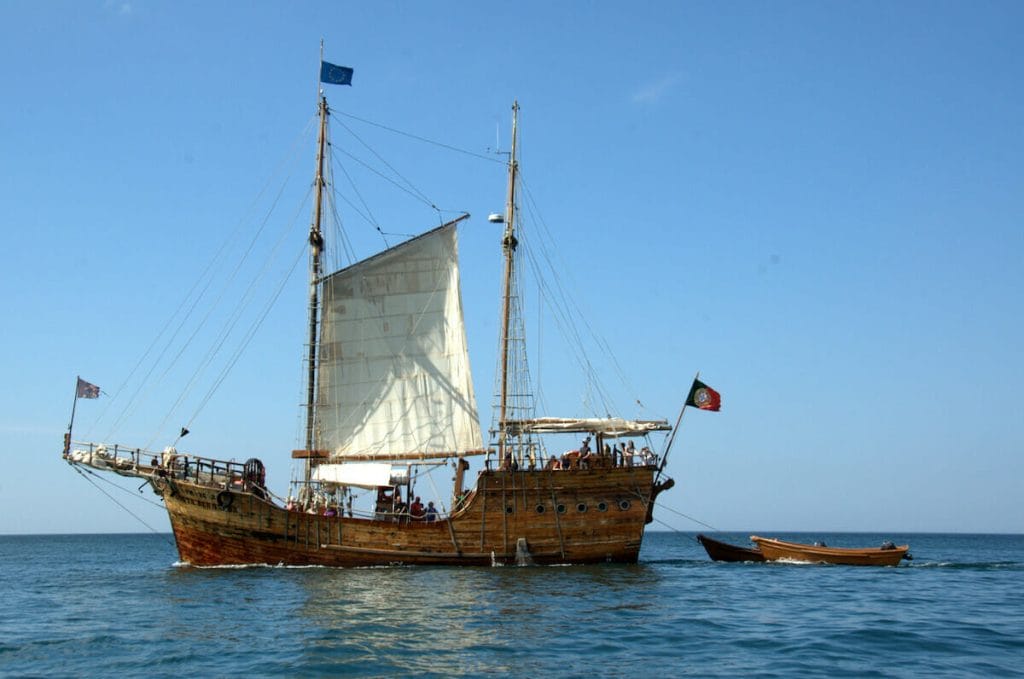 3 – Go dolphin watching
Dolphins are constantly seen in the Atlantic Ocean and one of the greatest things to do in Algarve with kids is dolphin watching.
These adorable and playful creatures are some of the most liked marine animals and nothing is better than seeing them in their natural habitat, swimming and jumping in front of you.
The most common species of dolphin that can be found around the Algarve coast are: Bottlenose, Common, Striped, Harbor Porpoise and Risso.
Dolphin tours are offered in Algarve from March to November, although the best months to spot dolphins are from June to September.
A tour costs an average of € 35 and takes between 1 and 3 hours. Children usually pay a lower price.
You can take a dolphin tour in Albufeira, Lagos, Vilamoura, Portimão and Faro. Booking in advance is highly recommended.
4 – Marvel at the Sand Sculptures of Sandy City
Looking for fun things to do in Algarve with kids? Visiting FIESA Sandy City, the largest sand sculpture theme park in the world, is an excellent option.
The Sandy City Park is a mega exhibition of sand sculptures held since 2003 in Pêra, where talented artists use the unique sand found in this area to build gigantic sculptures that you can wander around, marvel at and take pictures of.
Each new edition is dedicated to a different theme and you can find sculptures of famous personalities, movie characters, cartoons, etc.
The park offers a range of activities to keep kids busy and live entertainment and music performances to delight everyone.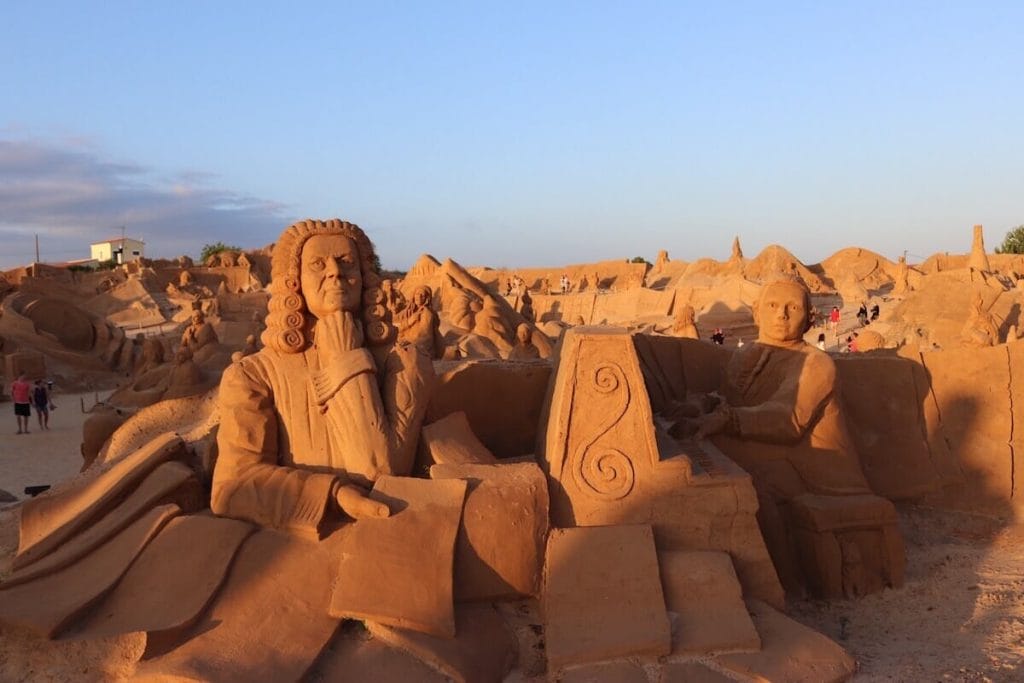 5 – Walk in the treetops
If you're looking for adventure things to do in Algarve with kids, my top suggestion is Parque Aventura.
This 2500m2 park inside a forest offers thrilling high rope courses, where you can walk in the tree tops, find rope nests, cross bridges, and use giant zip lines.
You can also have a paintball match in a field that is filled with natural and artificial obstacles.
My niece loved walking in the treetops and whizzing through the forests of the Parque Natural of Albufeira.
There are also parks in Figueira da Foz, Lagos and Vila Real de Santo António. Check their websites for more info.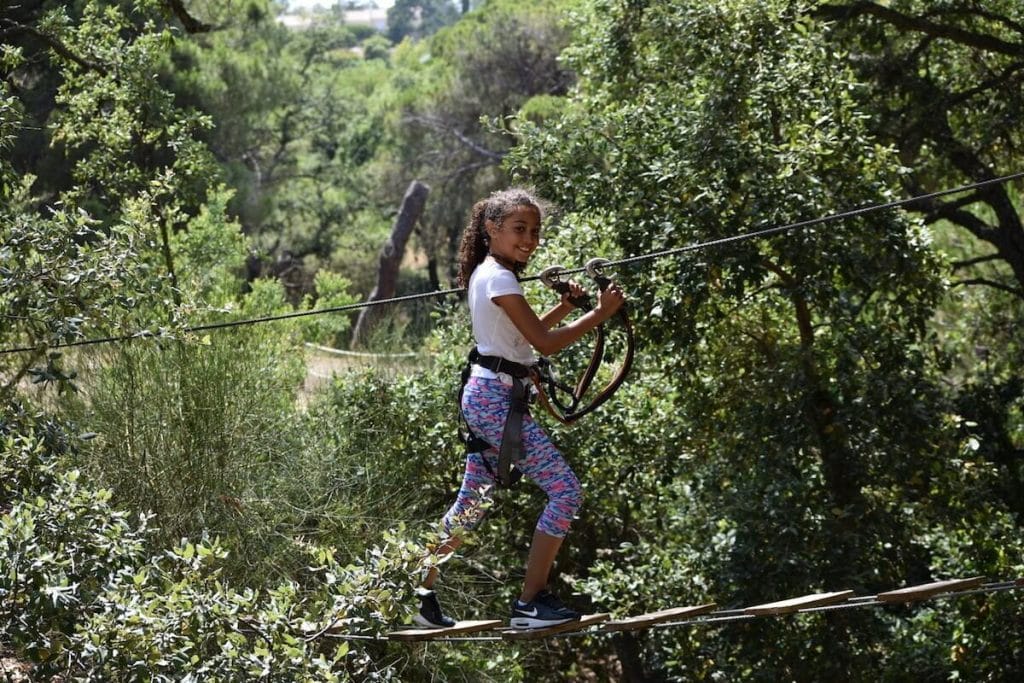 6 – Take your kid to the waterparks
Have you ever been to a waterpark?
With plenty of slides, tunnels, inflatable mattresses, giant buoys, wave pools and fountains, spending the day at one of the Golden Coast waterparks is certainly one of the most fun things to do in Algarve with kids.
The four best waterparks in the region are: Slide & Splash, Aqua Show, Zoomarine and Aqualand.
Zoomarine, probably the best and most beautiful, also offers live performances, a dolphin show and interactions.
The first time I went to a waterpark was in July 2019. My family and I went to Slide & Splash and we had a blast.
Take your kid to a waterpark while in Algarve, because I'm sure he(she) is going to treasure this moment forever.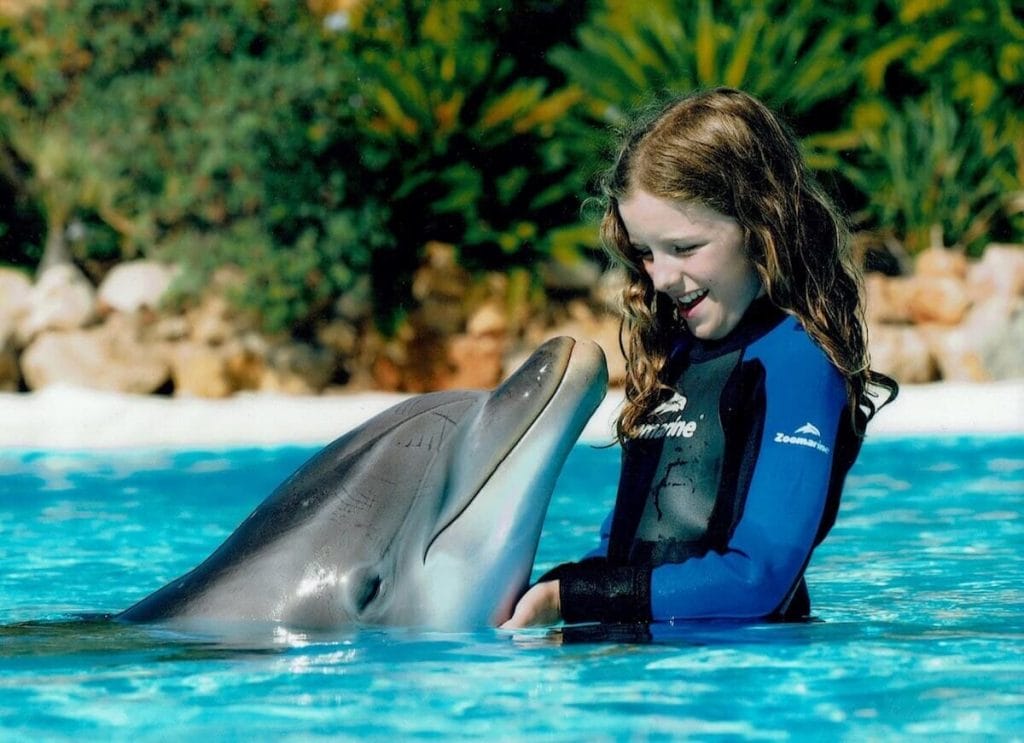 7 – Do water sports
The Algarve is blessed with fantastic conditions for water sports, with over 300 days of sunshine a year and regular thermal winds.
So, naturally, one of the best things to do in Algarve with kids is taking a dip in the sea and doing water sports.
And there are activities for the whole family.
From inflatable rides to kayaking, banana boat, surfing, parasailing, Stand-Up Paddle Boarding, and flyboard, etc, there is no reason not to engage in some sort of water activity while you're there.
Your kids can do water sports in many Algarvian beaches, such as: Praia da Luz and Porto de Mós (Lagos), Praia da Cova Redonda (Lagoa), and in basically every beach in Albufeira, Vilamoura and Portimão.
During my last time in the Algarve, my family and a group of friends hired some kayaks and paddle boards. We had a great time exploring the beaches in Albufeira.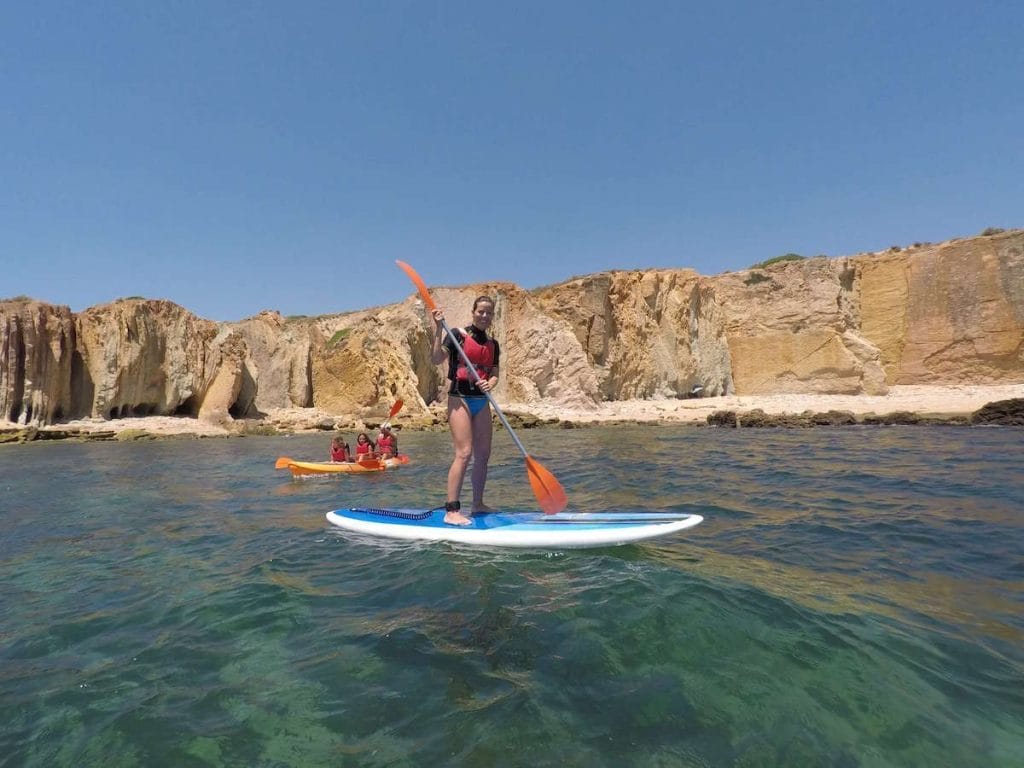 8 – Visit Lagos Zoo
Wondering what to do in Algarve with kids that is not beach related? What about visiting a zoo?
With over 140 different animal species from the 5 continents set in natural habitats, Lagos Zoo is undoubtedly the best option.
There is a great variety of birds, including pelicans, flamingos and parrots; mammals, including big cats; reptiles; fishes and amphibians.
There are also playgrounds, a swimming pool, pet farm, educational room, incubation room, where baby birds are hatched, and the "create room" in which animals are reared by hand, a lovely picnic area around lakes and lawns, restaurant and etc.
Lagos Zoo participates in several conservation programs, is open all year around and is one of the best things to do in Algarve with kids.
You can buy your ticket online in advance here.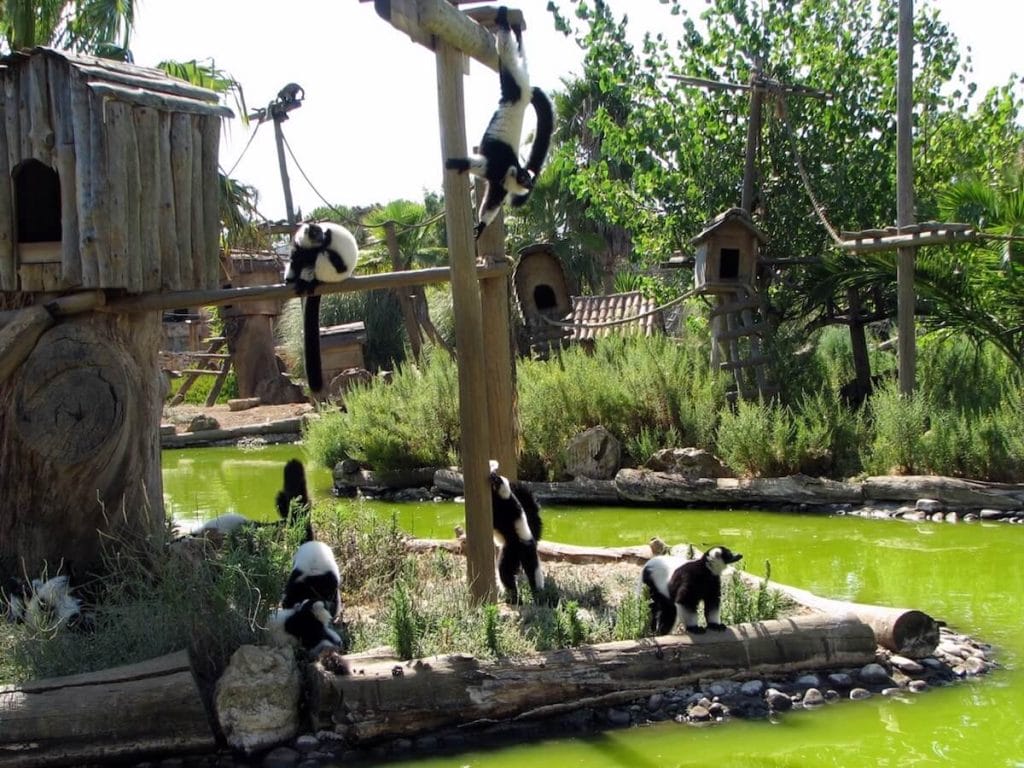 9 – Feed & interact with animals at Krazy World Zoo
If you're looking for a more intimate zoo that provides also other experiences, Krazy World is an interactive zoo with activities for the whole family.
Visitors have the opportunity to feed and interact with dwarf goats, llamas, deer, lemurs, turtles and birds.
They can explore the dinosaur exhibit at the Terra Exótika, see the biggest snake in Europe, take a refreshing swim in the swimming pool, jump down the water slide and enjoy other activities such as: tree climbing, pedal karts, pony rides, etc.
There is a large indoor area with a restaurant, inflatable bouncy castle, and stage for animal presentations
Visiting the Krazy World Zoo is of the most unique things to in Algarve with kids and reservations are highly recommended.
10 – Go souvenir shopping
With a great variety of boutiques, souvenir and gift shops, jewelry stores, bookshops, shopping centers and gypsy markets, you'll feel very tempted to go shopping. And you should, as it is one of the best things to do in Algarve with kids.
You can buy some clothing for yourself or as a gift, beach accessories such as hats and sunglasses, handmade bags, watches, designer jewels, magnets, tiles, etc.
I usually buy magnets, tablecloths and tea towels for gifts when I'm in the Algarve and people always love it.
Pro tip: The best place to find some fun and cheap tea towels are the gypsy markets.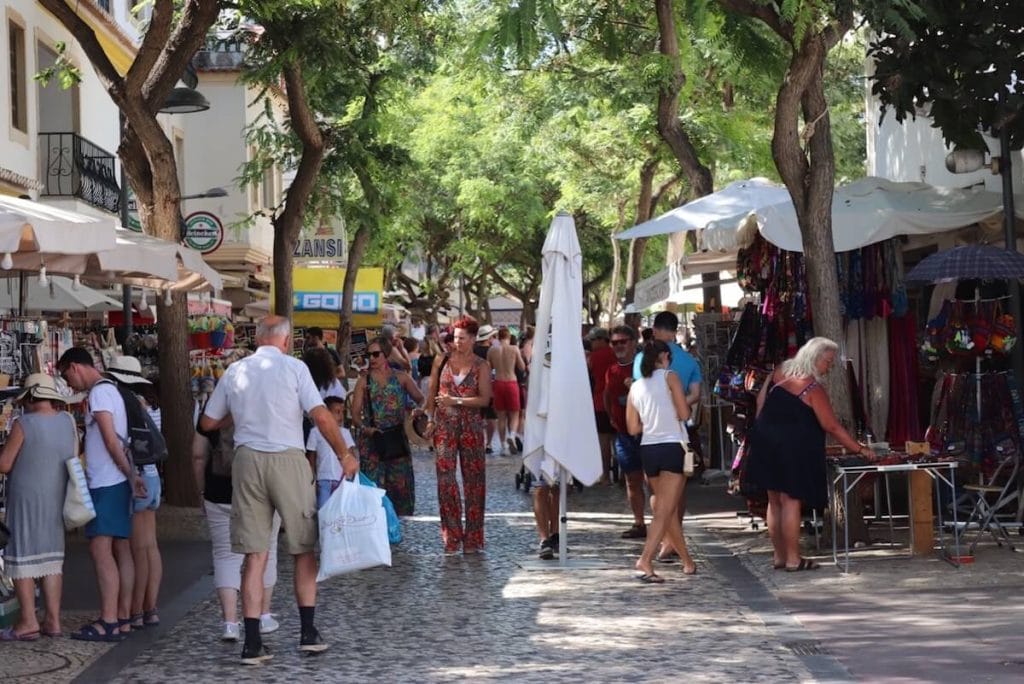 This is my list of the 10 things to do in Algarve with kids, and if you find some more, please leave a comment below 😉
Safe travels and have fun in Portugal.
More posts about the Algarve that might interested in:
Enjoying the Best Things to do in Algarve with Kids
Where is Algarve located?
Algarve is southernmost region of Portugal (check map here).
Best time to visit Algarve
The best time to visit the Algarve is definitely during the summer and particularly July and August. But if you don't like crowds and heat, you should go June or September.
Some of things to do in Algarve with kids listed here can be done all year, but is much better in the summer.
How to get there?
There is an international airport in Faro, but the most popular for those who are not in Europe is the one in Lisbon.
From Lisbon you can take a bus or a train to the Algarve. The prices are basically the same and they take around 2h and half to get there.
Some of the companies that fly to Faro are: Easyjet, British Airways, Ryanair and TAP.
You can book your flights with Skyscanner, that is the website that I use and trust.
To get around the best thing is to hire a car because the public transportation in the Algarve isn't good.
You can rent a car with Rental Cars here with no extra costs for you.
Where to stay in Algarve?
If you want to stay in a central location from where you can find most of the things to do in Algarve with kids listed here, I would suggest staying in Albufeira or Lagos.
Some Algarve hotels that I recommend are:
Albufeira Hotels:
Budget: Apartamentos Turísticos Novochoro, Água Viva and Albufeira Beach Hotel.
Great Value for Money: Villa Alegria – Happy Home, Hotel Topázio, Rocamar Exclusive Hotel & Spa, Hotel do Cerro and Grande Real Santa Eulalia Resort & Hotel Spa.
Luxury: Salgados Dunas Suites, Pine Cliffs Residence a Luxury Collection Resort, Aqua Pedra dos Bicos and Auramar Beach Resort.
Lagos Hotels:
Budget: Guest House Casa Sousa, Olive Hostel Lagos and Bela Vista Guest House.
Great Value for Money: Lagos Uptown Bed & Breakfast, Don Manuel I Charming Residence, Baluarte Da Vila Apartments and Aldeia Azul Resort.
Luxury: Villas Don Dinis, Cascade Wellness & Lifestyle Resort and Belmar Spa & Beach Resort.

Helpful Links to Visit the Algarve
For more information about the Algarve visit the page: Visit Algarve.
For the train schedule between Lisboa and the Algarve visit Rail Europe webpage.
For the bus schedule between Lisbon and the Algarve visit Rede Expressos website.
Don't forget to save these pins 😉
Travel Planning Resources
For every booking made through my site I donate US$ 1 for a charitable organization.
Safe travels ☺