Picture yourself taking a Stellenbosch wine tour where you sample award-winning wines in South Africa's most picturesque wine growing region.
You'll meander through beautiful fruit orchards and rolling vineyards, do wine pairings that awake your taste buds and reveal unusual combinations that work much better than you could've imagined.
You'll wander around oak-shaded streets lined with cafes, boutiques, art galleries and marvel at the unspoiled Stellenbosch Cape Dutch architecture.
Are you ready for an exquisite Stellenbosch wine tour?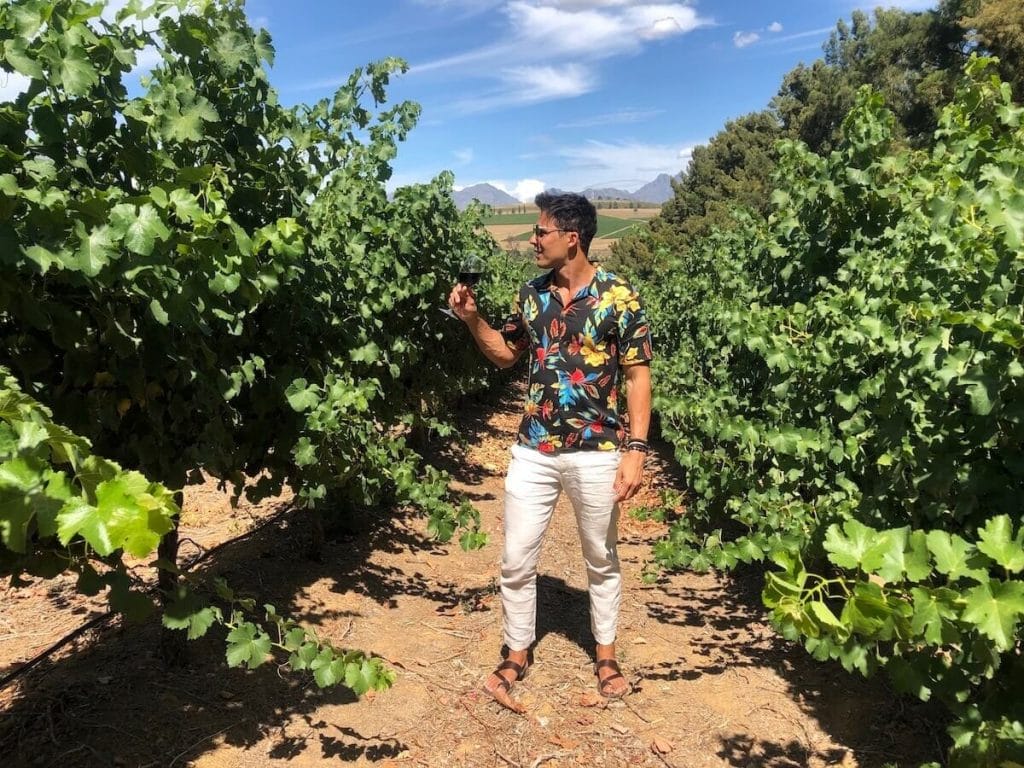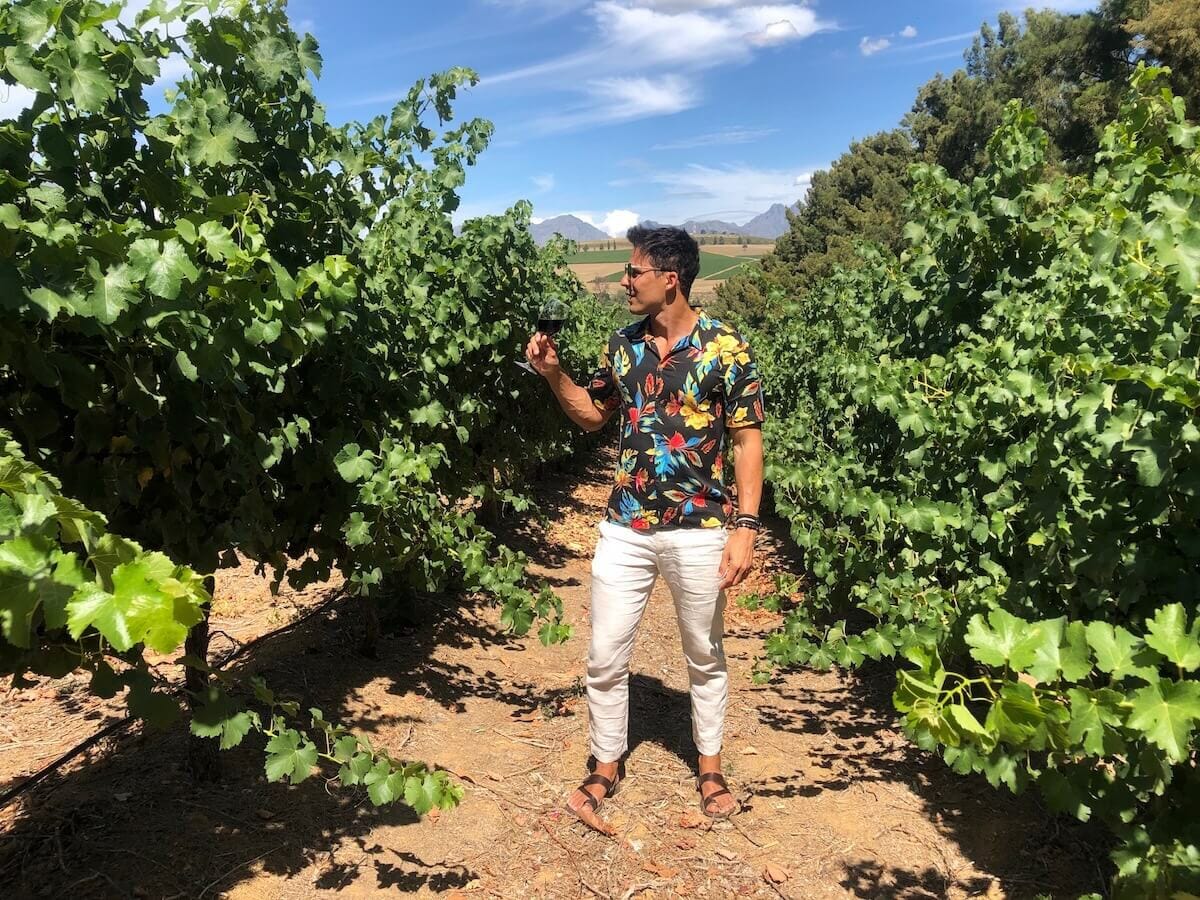 Taking a Stellenbosch wine tour should definitely be on your list when you visit South Africa.
Stellenbosch, the second oldest town in South Africa, is known for its natural beauty, oak-lined avenues, well preserved Cape Dutch architecture, university, history, culture and of course its wine route – the oldest and largest in the country.
Situated about 50 Km (31 mi) east of Cape Town and home to more than 150 wine farms and estates, Stellenbosch is a popular day trip from Cape Town for connoisseurs, wine enthusiastic and nature lovers alike.
Visiting Cape Town again in January 2020, I couldn't miss the opportunity to return to the Cape winelands and taste some of the best South African wines.
There are many reasons why you should take a Stellenbosch wine tour instead of driving:
The legal blood alcohol limit for driving in South Africa is less than 0.05g / 100ml. It means that you can only drink two small glasses of wine (175ml) in four hours.
You will have a guide who will explain every single part of the journey.
You will do some of the best wine tastings in Stellenbosch.
Pick up and drop off are included.
And you can drink as much as you want 🙂
* Affiliate disclosure: Some of the links below are affiliate links, meaning at I earn a small fee if you click through and make a purchase. There is never any additional cost to you, and I use some of these earnings for my monthly charitable donations.
Stellenbosch Wine Tour with HotSpots2C
Among the myriad of companies that offer Stellenbosch wine tasting tours, I chose HotSpots2C, a company that I toured the Garden Route with in 2018 and highly recommend to my readers and friends.
They offer small group tours, with a maximum of 13 people, led by locals and excellent English-speaking guides.
During my Stellenbosch wine tour with HotSpots2C I would visit three wine farms: Babylonstoren, one of the oldest Cape Dutch farms; Marianne Wines Estate, to savour one of the best known South African delicacies (biltong), paired with red wine; and Clos Malverne, to do the most anticipated wine tasting, an exquisite pairing of artisan ice cream with fine wine
I would also have some free time to explore Stellenbosch and have lunch.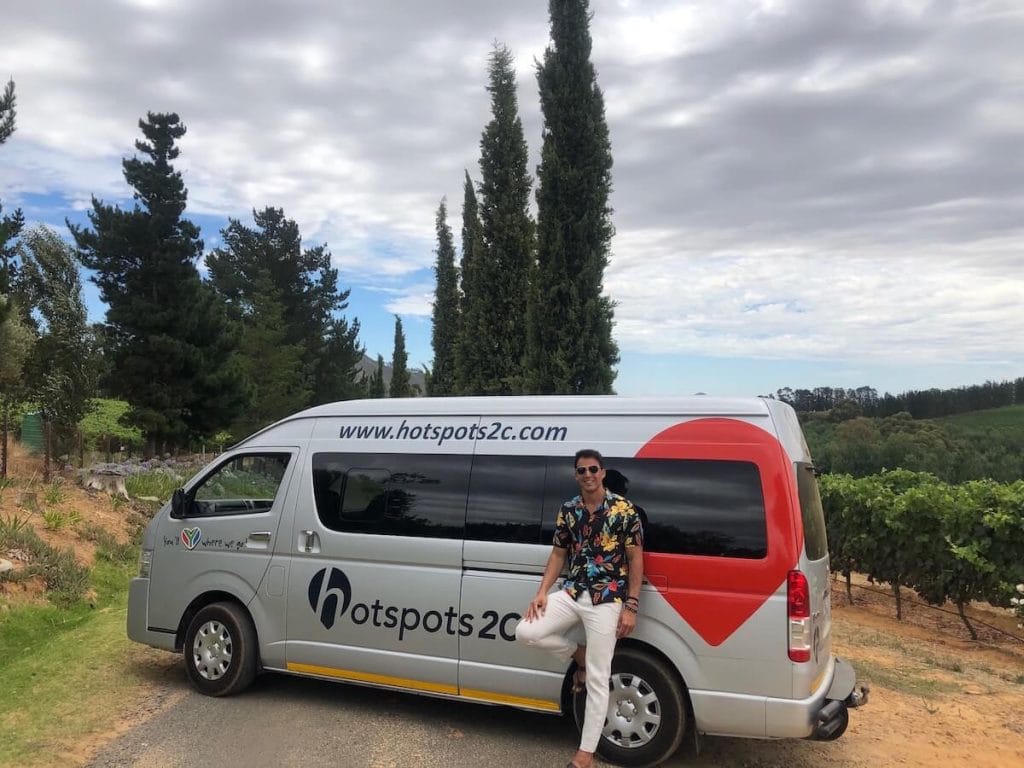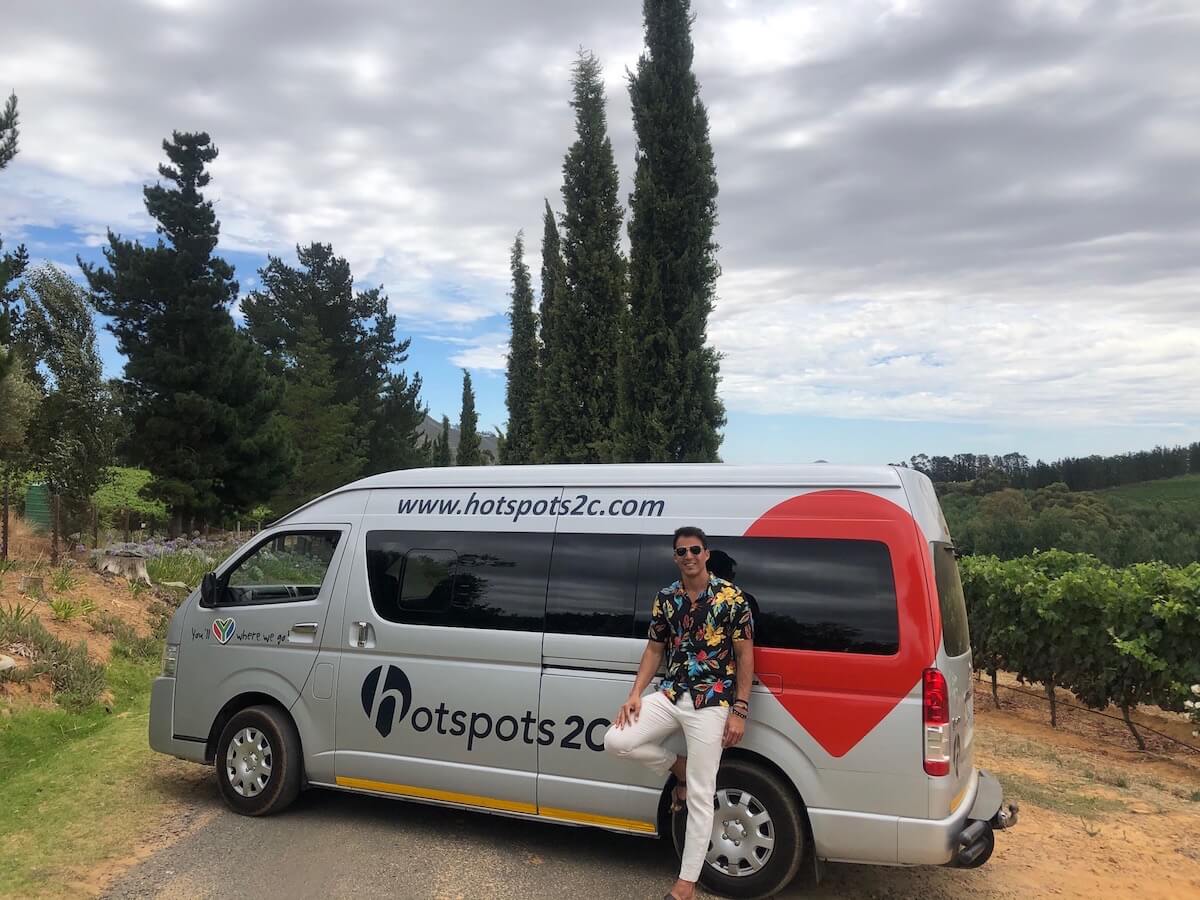 My Stellenbosch wine tour started at 8:30 when my driver/guide Neville, came to pick me up.
As soon as I entered the van, Neville introduced me to the other fellow tourists and started telling us interesting facts about Cape Town during the Apartheid regime and some insights of South African modern life.
When we drove by the Old Customs House Building (also known as Old Home Affairs Department), Neville explained the building's importance during apartheid to us. It was there where racial identity tests took place during the regime.
He explained that the tests were primarily based on appearance — skin color and facial features. But there were also the infamous "pencil test", the Afrikaans words pronunciation test (language only spoken by whites at that time), etc.
I was surprised because I've passed by that building numerous times and never knew about it. This is one of the reasons I love guided tours: you have the opportunity to learn about the history of the place that you're visiting.
Neville's stories were so entertaining and enjoyable that the ride went smooth and fast. After around 50min we arrived at Babylonstoren, the first winery of our Stellenbosch wine tour.
Babylonstoren: One of the Oldest and Best Wines Farms in Stellenbosch
Dating back to 1692, this 200-hectare farm lies in the Drakenstein Valley in the heart of the Cape Winelands. It has an immense and outstanding fruit and vegetable garden, probably the farm's main attraction, a modern wine-tasting center, bakery, farm shop, two restaurants, a serene spa and a stylish hotel.
After parking the car underneath a grape vine trellis, we had some free time to explore the 3.5-hectare garden on our own.
I was completely delighted wandering around Babylonstoren's lavish garden! It has more than 300 varieties of plants, some donkeys, chickens, ducks and an omnipresent sense of tranquility that follows you everywhere.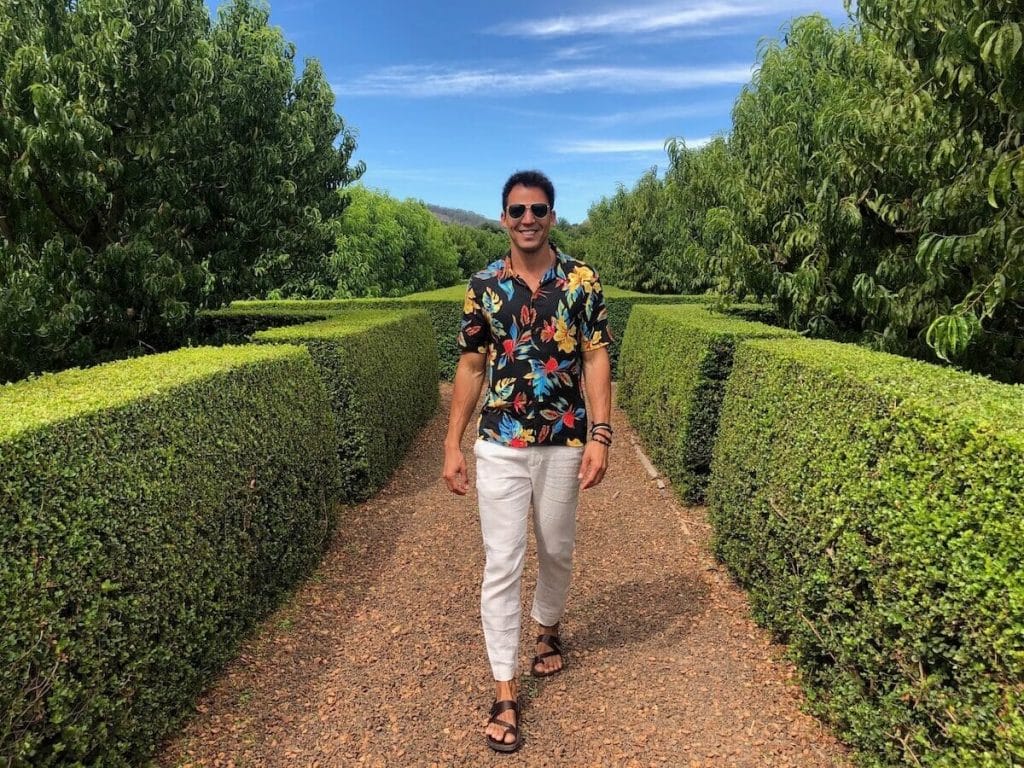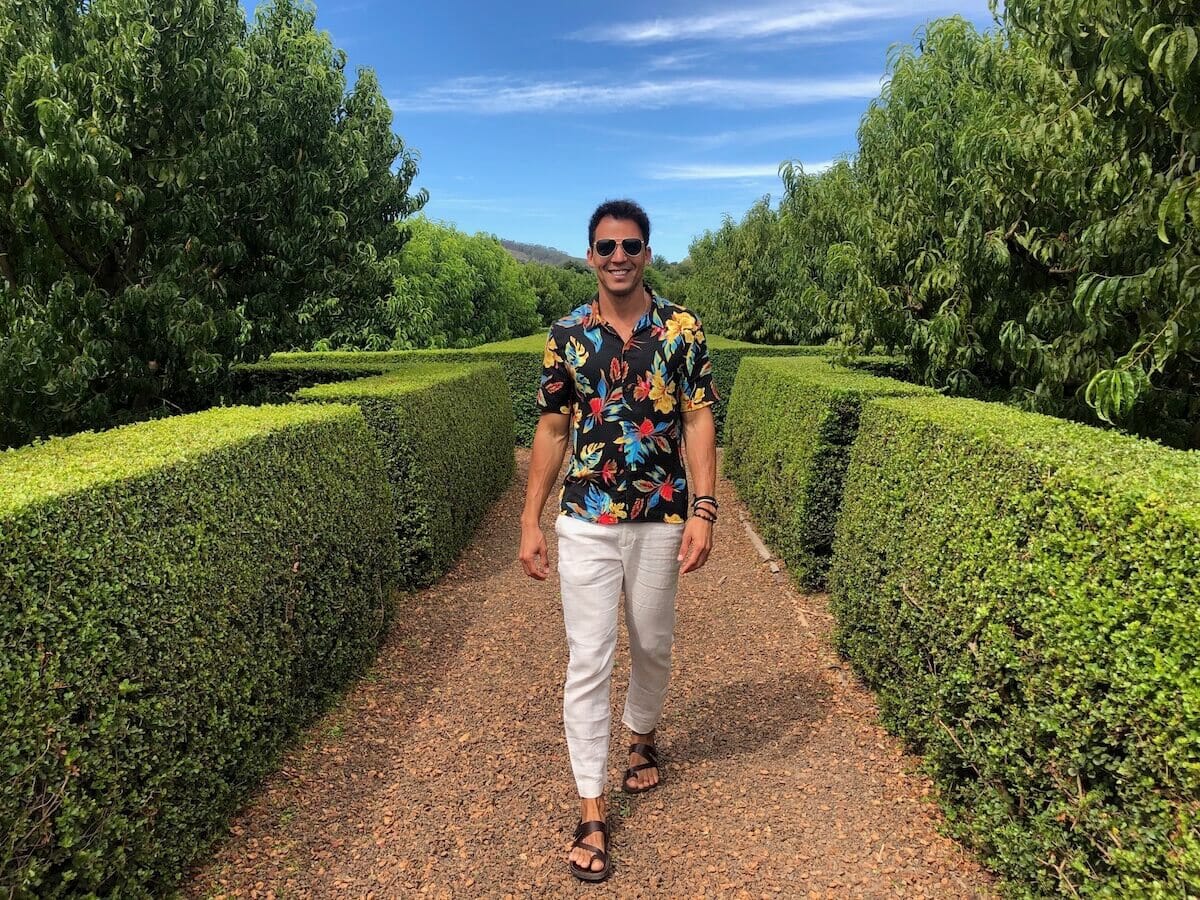 Everything is well kept and appealing and I could stay there relaxing and listening to the birds chirping the entire morning…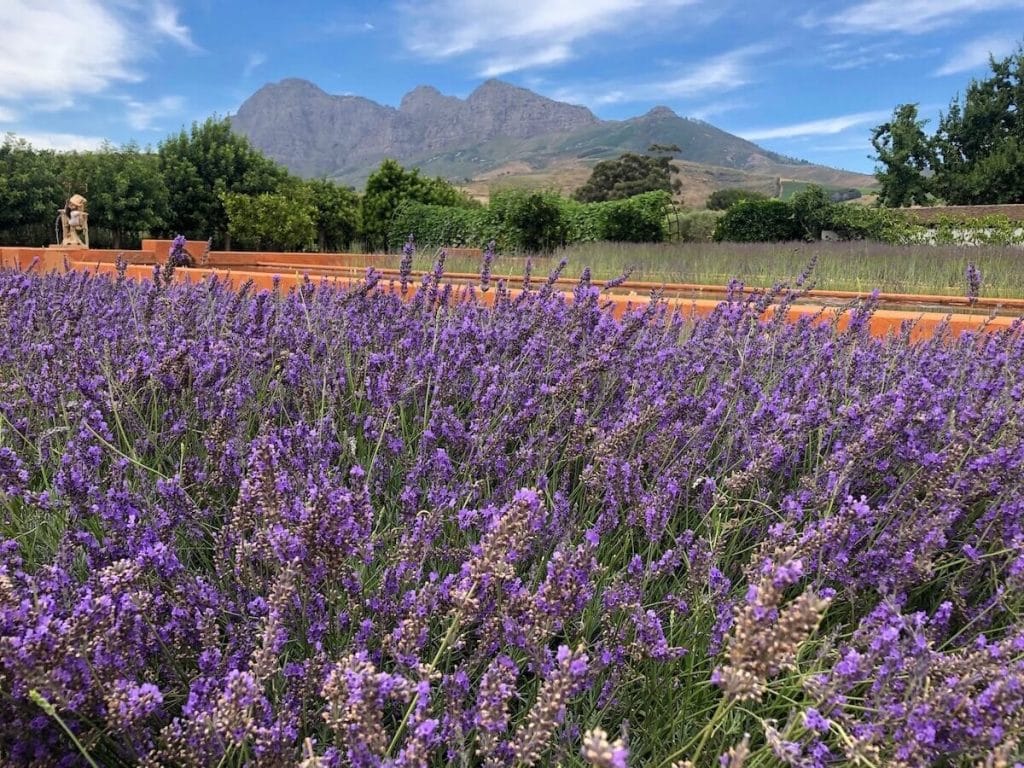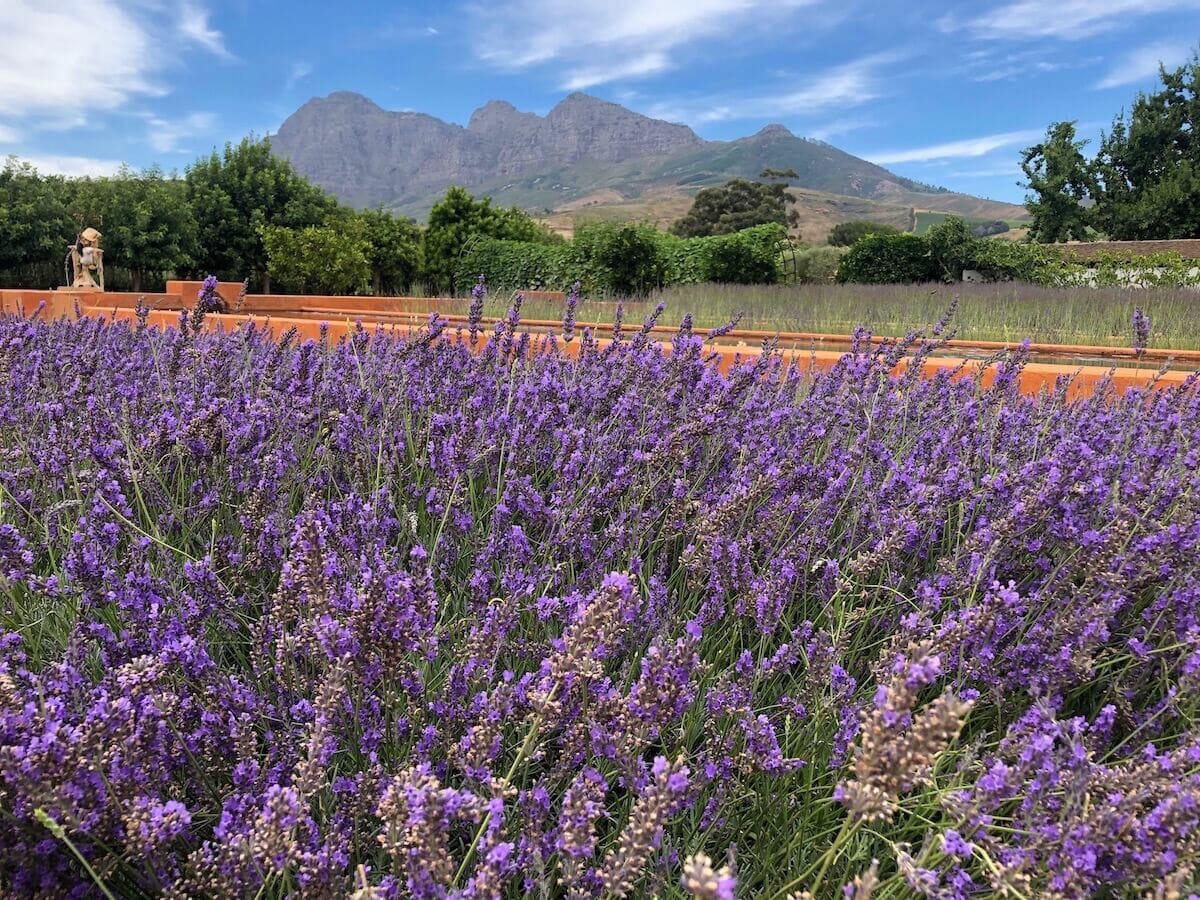 Babylonstoren offers two wine tasting options: Seven wines from the Babylonstoren range (3 whites, 1 rosé and 3 reds) or an express tasting of Chenin Blanc, Mourvèdre Rosé & Babel Red that are served in a modern tasting centre, with floor-to-ceiling glass panes.
It was the first tasting of our Stellenbosch wine tour and we were really looking forward to tasting 7 of the excellent Babylonstoren wines.
A waiter came to talk about the wines and served a lovely 2019 Chenin Blanc with guava, pineapple and melon notes with a hint of fresh gooseberries and Packham pear undertones.
The second wine served was an intriguing white blend (Chenin Blanc, Viognier, Chardonannay & Sémillon) with tropical (peach, lime and litchi) flavors that is perfect for summer.
After the three whites and the rosé, we had the chance to try an award-wining red wine. Yet another exquisite blend of seven grapes (Shiraz, Cabernet Sauvignon, Malbec, Merlot, Petit Verdot, Cabernet Franc and Pinotage) with a fusion of dark red berry and chocolate flavors. It was the first time that I heard of the grape variety Petit Verdot and tried such a complex blend.
It wasn't even noon and I had already seven glasses of wine…
Babylonstoren is undoubtedly one of the best wines farms in Stellenbosch and I loved it!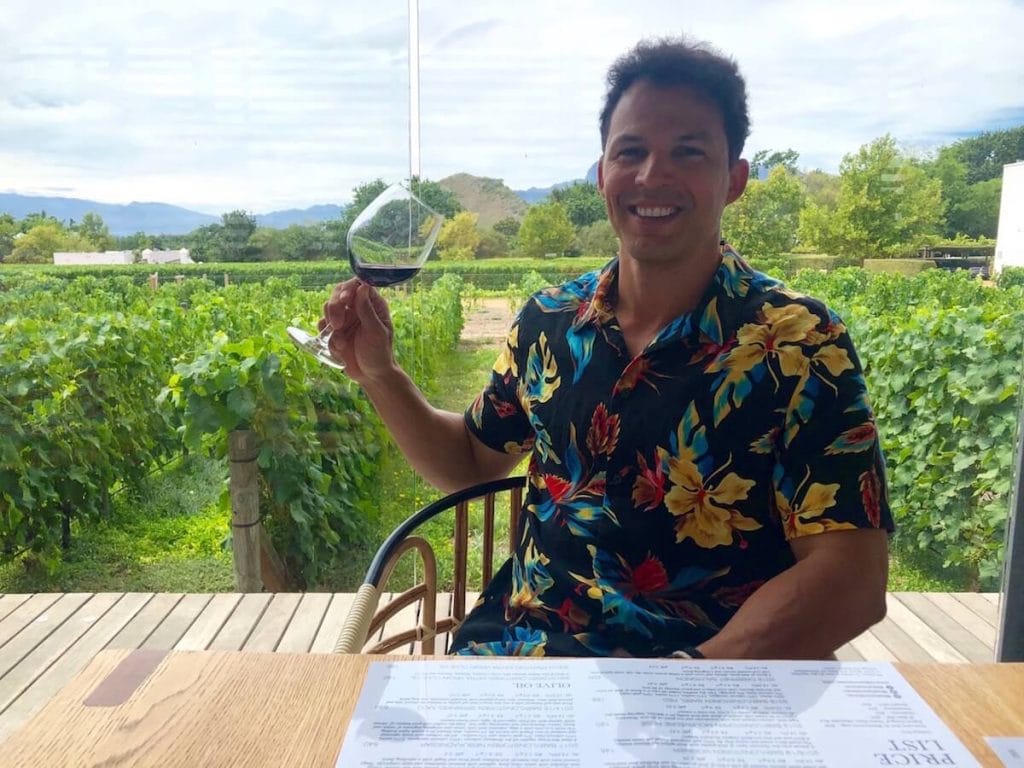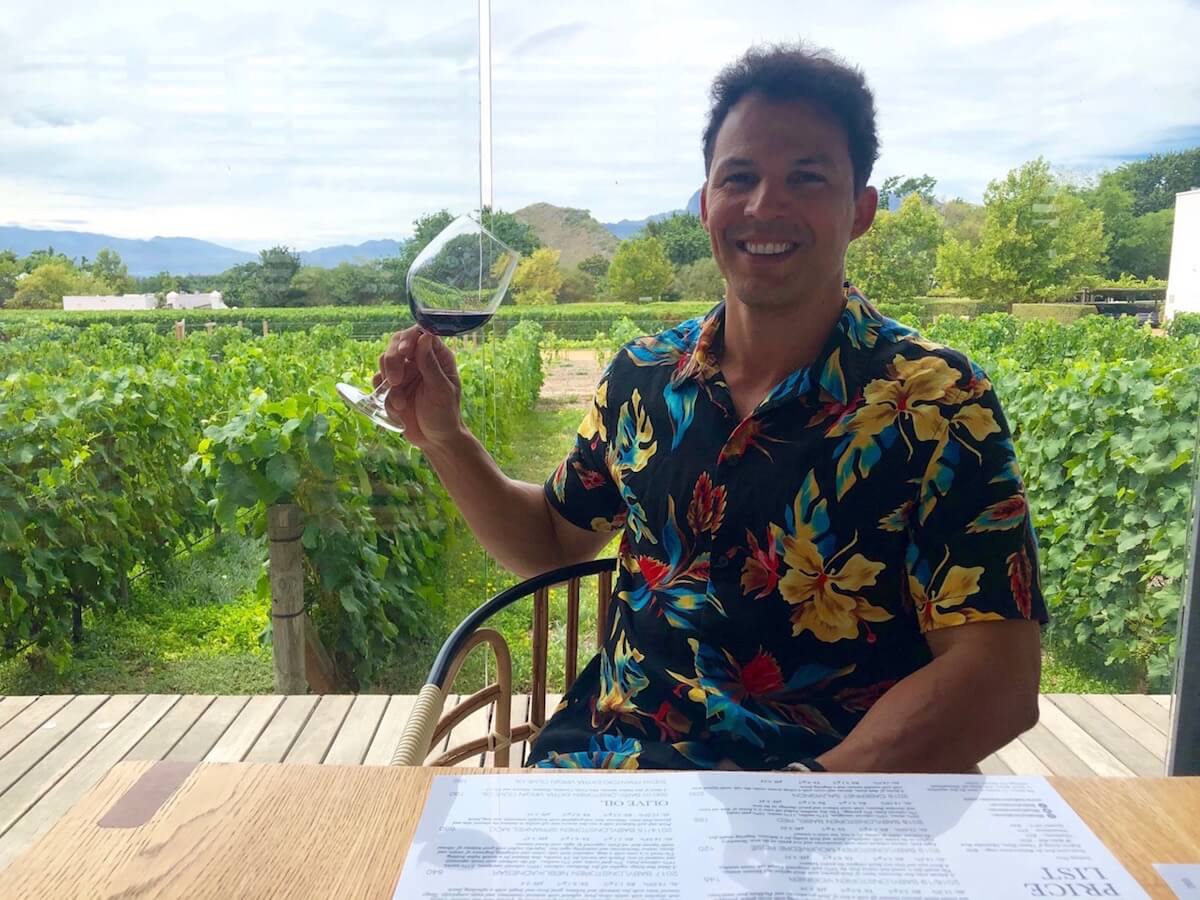 Marianne Estate: My Favorite Wines
Our Stellenbosch wine tour continued at the Marianne Estate, a boutique winery in the foothills of the Simonsberg Mountain.
This time we sat on an open deck with an endless view of the vineyards and mountains around us to try five meticulously selected wines paired with three premium cuts of biltong (a cured dry meat often enjoyed as a snack by South Africans).
Again, a waiter came to explain the wines and pairings.
Firstly, we had a rosé with subtle fruit and floral notes on the nose and palate and secondly, an extraordinary Sauvignon Blanc, the best white wine that I had that day.
Next we had the first red wine, a 2016 Pinotage paired with springbok biltong. It's so interesting to see how the biltong enhances the taste of the wine and vice-versa.
Last but not least, we had an award-wining 2010 red wine, Floreal, a blend of Carbenet Sauvignon, Merlot and Shiraz, that features a complex nose with aromas of dried black fruits, hints of black pepper corns and floral after-tones, paired with beef biltong.
The very first vintage Floreal produced in 2004 was chosen by Gordon Ramsay to serve at Nelson Mandela's 90th birthday at Buckingham Palace.
I loved this wine. It's rich in color and structure with beautiful fruit expression.
The biltong and wine pairing at Marianne was super cool, not only because of the distinguished wines, but also because we felt so cheerful guessing the wine notes during the tasting.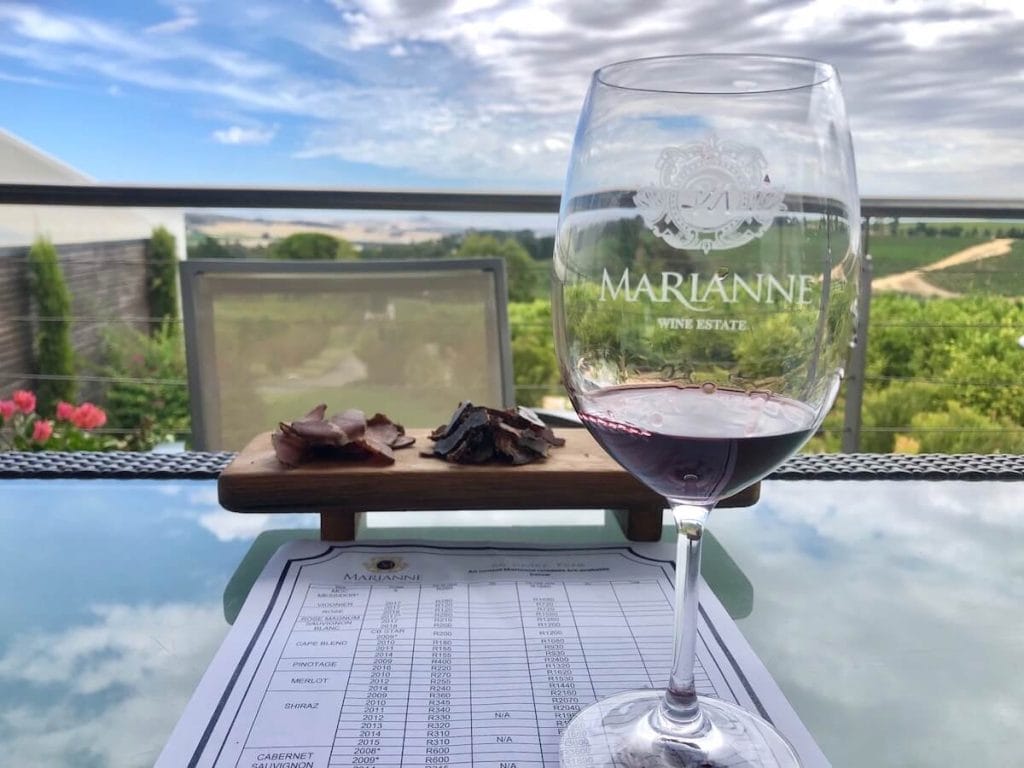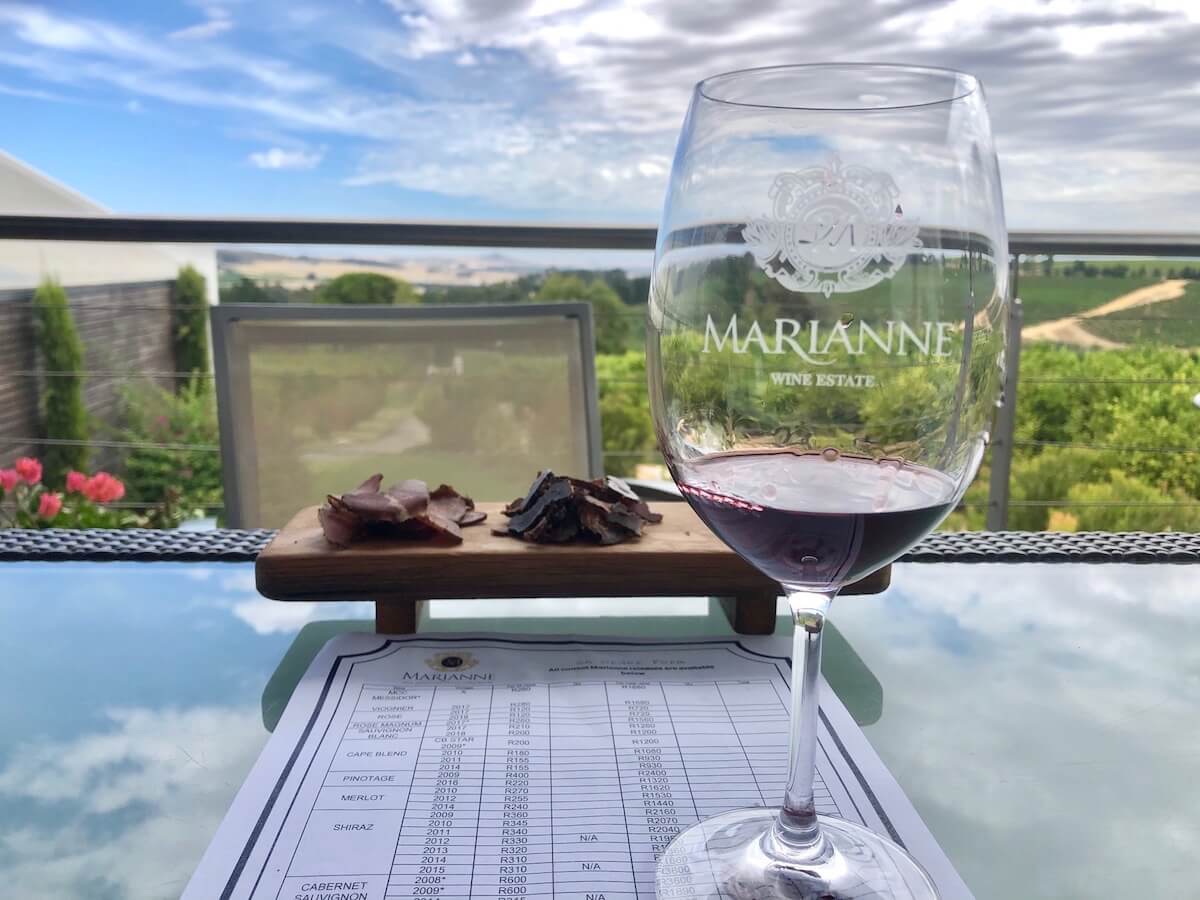 We left Marianne Estate and went to Stellenbosch for lunch.
Nev dropped us at a busy avenue with plenty of oak trees, restaurants, art galleries, stores and charming Cape Dutch buildings.
Clos Malvern: The Most Exquisite Wine Tasting Experience
After around one hour we left the city center and headed to Clos Malverne, for the last and most expected part of our Stellenbosch wine tour, an ice cream and wine pairing.
Clos Malverne is a 27-hectare family wine farm shrouded in the misty veils of the Devon Valley that makes traditional handcrafted wines.
We sat underneath some trees, and a waiter came to explain the pairings. We would have a Sauvignon Blanc Brut paired with Mixed Berry and Peppercorn Ice Cream, Chardonnay with Milk Tart (a traditional South African dessert) Ice Cream, Pinotage le Café with Coffee Chocolate Ice Cream and Honeydew (a dessert wine) with Apricot Ice Cream.
I was salivating at the mere thought of these pairings.
I first tried the Sauvignon Blanc Brut with Mixed Berry Ice Cream. An explosion of berries highlighted the tropical notes of the Sauvignon Blanc, with a refreshing ending coming from the smoky pink peppercorns that cuts the crispness of the Brut.
The Milk Tart Ice Cream aromatics allowed the wooded Chardonnay flavors to linger a little longer. And the fruity and delicious Apricot Ice Cream enhanced the tropical notes of the wine while the velvety texture went hand in hand with the syrupy wine coat on the palate.
But the Coffee and Chocolate Ice Cream paired with Pinotage, OMG, was a heavenly combination! It melted into a wonderful rich creamy mouthful felt in every sip and spoonful. The smoky undertones of the coffee highlighted the sweetness of the wine and the chocolate complimented the roasted coffee bean and mocha flavor of the wine.
It was ridiculously good and I was astonished!
I felt like doing the taste again but, by that time, I have already had 16 glasses of wine…
Ice cream and wine paring is a brilliant idea and you should definitely try it!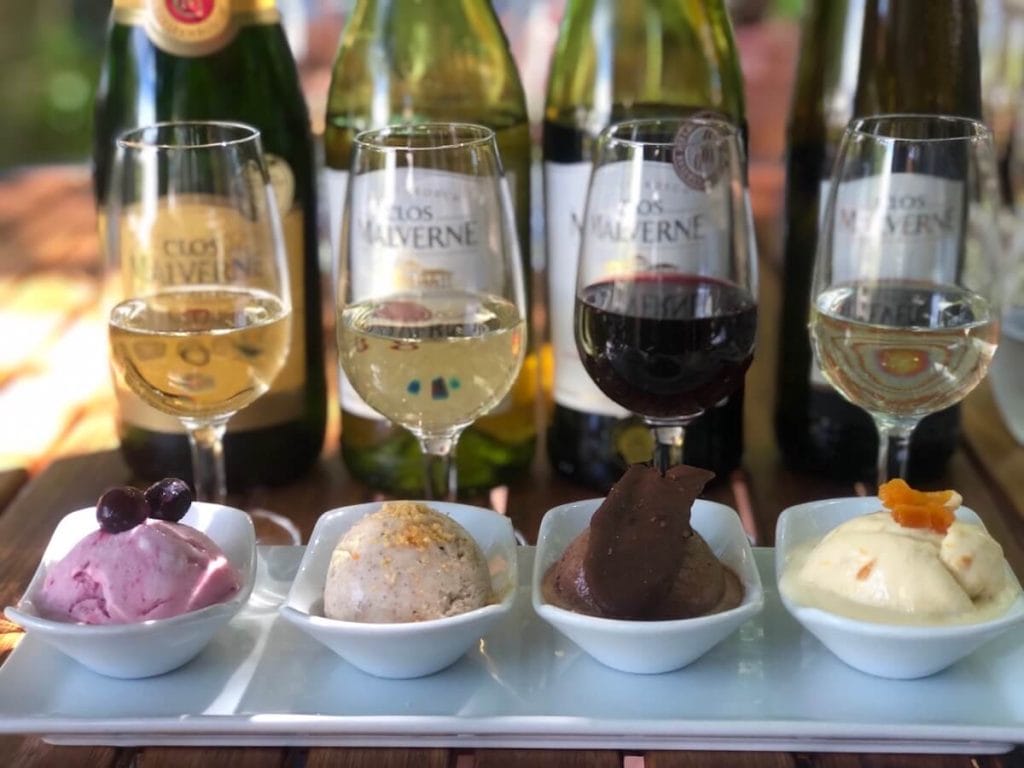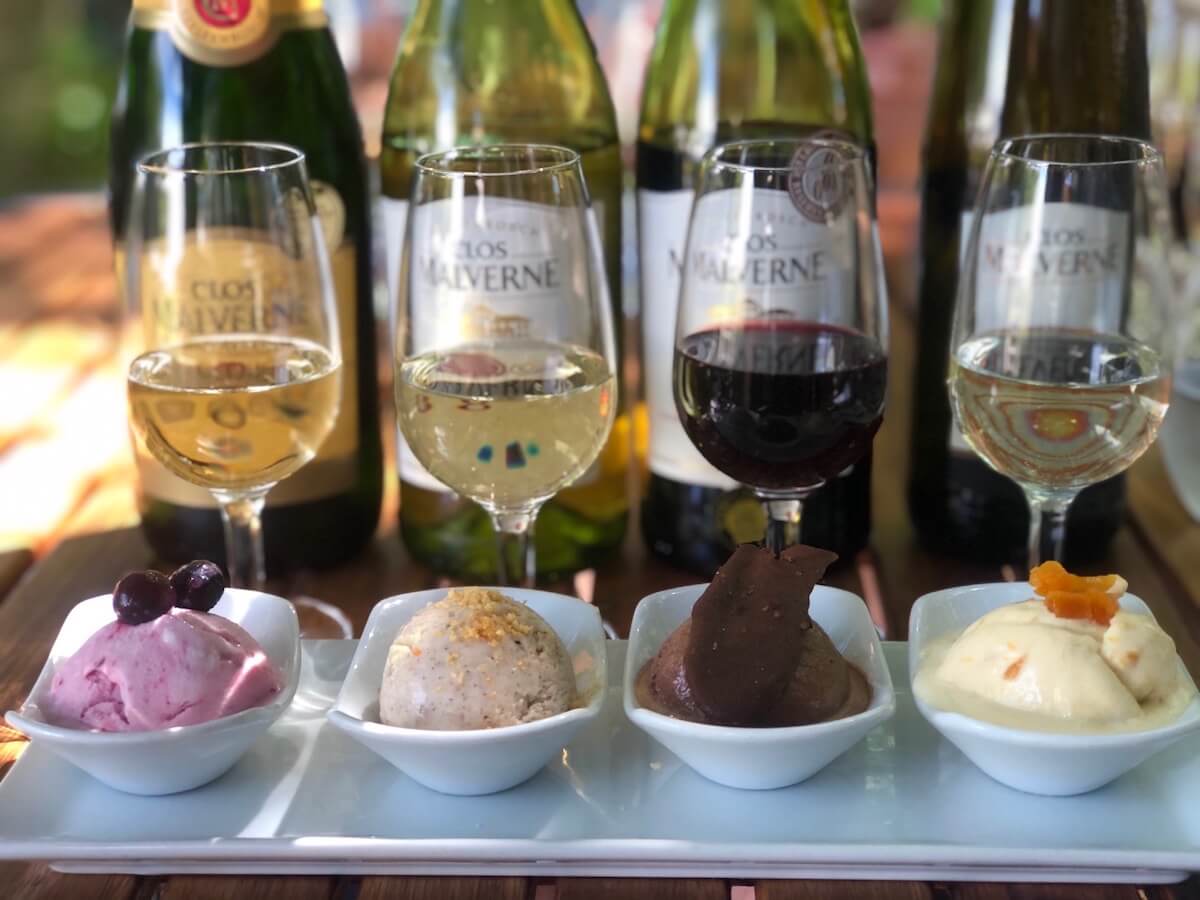 We had some free time to walk around the winery before going back to Cape Town.
I took advantage of Nev's photographic skills to snap some pictures for my Instagram accounts.
Around 17h30min I was back home and feeling extremely happy for having had such a remarkable Stellenbosch wine tour.
I genuinely recommend touring with HotSpots2C and I bet you will adore it as much as I did.
Safe travels and don't get(too) drunk 😉
Cheers.
How to Book Your Stellenbosch Wine Tour
All my readers have 5% off when booking a Stellenbosch wine tour through my site.
You just need to click on this link and use my promo code, 7CONTINENT1PAS, to get your discount.
More South Africa content that might interest you:
Planning a trip to Cape Town
Where's Cape Town?
Cape Town is a port city on South Africa's southwest coast, on a peninsula beneath the imposing Table Mountain (check exact location here).
How to Get to Cape Town
You can get to Cape Town by car, bus, air place and cruise ship.
There are flights by all the major airlines from around the world to Cape Town International Airport and you can find the best deals at Skyscanner, that website that I use, trust and recommend.
There is hop on hop off bus from Johannesburg to Cape Town and it's a very good option if you're a solo traveler. Check prices and conditions here.
Best Time to Visit Cape Town
Cape Town is a year-round destination, but December, January and February are the best time to visit Cape Town thanks to the excellent weather conditions.
If you want to skip the crowds and high accommodation prices, you can visit Cape Town during the shoulder seasons (from March to May and September to November). The weather is still good this time of the year.
Where to Stay in Cape Town?
I stayed at V&A Waterfront Luxury Apartments and loved it. If you're looking for a place to stay, I also recommend:
Don't forget to save these pins for later 😉
Travel Planning Resources
For every booking made through my site I donate US$ 1 for a charitable organization.
Safe travels ☺