I don't remember exactly when it was the first time I heard about Jack the Ripper, but I'm sure I was still living in Brazil.
I'm not a big fan of horror movies and stories! I grew up being terrorized by Jason from Friday the 13th, Chucky, the killer doll, and Jack, a ripper that I didn't have any idea if he existed or where he was from…
Many years have passed, and I moved not only to the city but also to the neighbourhood, where this world-famous serial killer cruelly assassinated his victims.
After seeing tourists flocking daily to retrace the steps of Jack the Ripper and his unfortunate victims at my doorstep, I became eagerly intrigued to find out why Jack the Ripper Tour was so popular and if it was really worth it.
To do so, I decided to partner with Viator to take one of the most sought-after and, indeed, creepiest tours in London.
Jack the Ripper – World's Most (In)Famous Serial Killer
Jack the Ripper was an unknown English serial killer who between 31/08 and 09/11 of 1888 murdered five women, all prostitutes, in the impoverished districts in or near Whitechapel in the East End of London.
The murderer, offering to pay for sex, would attract most of his victims onto a secluded street or square and cut their throats. *He would then brutally disembowel them with a knife, disfigure their face and leave their internal organs outside of their bodies.
* Not all of them.
His five victims were Mary Ann Nichols, Annie Chapman, Elizabeth Stride, Catherine Eddowes, and Mary Jane Kelly. They were all friends and married in their 40s, except for the last one, a 25-years-old who had just become single.
Jack the Ripper, a pseudonym created by a journalist for the Whitechapel murder, was never identified or arrested. He disappeared after killing his fifth victim.
More than one hundred years later Jack the Ripper murderers remain one of the most famous and notorious mysteries inspiring a whole industry of books, films, graphic novels, and TV shows. Not to mention the numerous Jack the Ripper tours, which attract thousands of horror story aficionados, and curious tourists to East London.
Jack the Ripper Tour Review
On a Saturday afternoon, I left home super excited to join a Jack the Ripper walking tour.
I met Andre Price, a Ripperologist (a person who studies Jack the Ripper) for over 30 years and a tour guide for more than 20 years, in front of the Whitechapel Gallery. He was dressed like an inspector ready to solve a conundrum.
We followed Andre through an archway leading to a backstreet in Whitechapel. As soon as he started telling the stories I could see that everyone was transfixed and at the same time curious to learn more about the anonymous ripper and his unlucky victims.
Our Jack the Ripper walk continued on the dimly lit streets and alleys of Whitechapel and Spitalfields where the crimes took place. Andre depicted the scenes using pictures and an innovative hand-held projector to recreate Victorian London's atmosphere through spooky images, film clips and moving images.
He also told us many interesting facts about the killer, his victims, and life in this neighbourhood in the 19th century.
A fact that caught our attention was that Jack's victims were married and worked as prostitutes. Andre explained that there weren't many job opportunities for women around that time in this area. So, they were exchanging sex for money with the consent of their husbands.
Other facts were that all the victims used to be drinking at The Ten Bells pub and were sporadically lodging at the Providence Row Refugee, an old convent on Crispin Street. I've been living in Shoreditch for over a year, and I never knew that these two places were related to Jack the Ripper's crimes…
During this fascinating and spine-chilling Jack the Ripper tour, we discovered that there were more than 200 suspects (among them Prime Minister William Gladstone and Queen Victoria's grandson), but the real "Jack" was never discovered.
Despite the horrific true stories and some distressing images, when the tour finished, I was enthralled! I know it may sound odd and cold-hearted, but the tour is very interesting and well-planned. Andre is an excellent guide, friendly and super knowledgeable.
I had never thought that one day I would take a Jake the Ripper tour and become fascinated by a horror story. Now I can understand why it's one of the most popular tours in London.
Are Jack the Ripper tours worth it?
Without a doubt!
You will not only hear harrowing tales and conspiracy theories of the world's most notorious serial killer and visit the gruesome murder locations, but also get a glimpse of London's society at that time.
Furthermore, Jack the Ripper tour is reasonably priced and compelling, and the end is shockingly surprising.
How long is Jack the Ripper walk?
The Jack the Ripper walking tour meets in front of the Whitechapel Art Gallery, which is located outside of Exit Three of Aldgate East tube Station and finishes near Spitalfields Market.
The distance walked is approximately one mile and the tour lasts an average of 1h45min.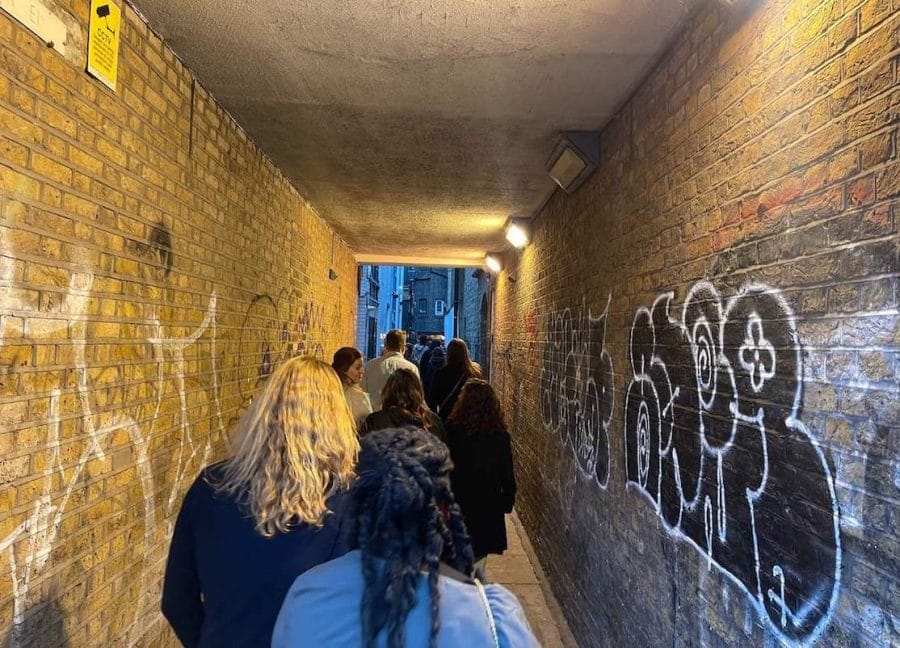 How to book the tour?
You can book your tour with Viator, a Tripadvisor Company that offers several tours, activities, and experiences all over the globe.
I've booked several tours with Viator over the years and I'm happy to recommend it.
If you want to discover the dark legacy of Jack the Ripper and visit the grisly murder sites, you shouldn't miss it.
The Jack the Ripper Tour with "Ripper-Vision" runs daily at 07:30 PM. Check price and availability here.
This tour is a great option for the spooky Halloween season and an unusual gift for Londoners and cinephiles as well.
If you're looking for some Halloween-themed tours, you can find some inspiration here.
Safe travels and have fun in London.
More posts that migh interest you:
If you like it, pin it 😉
Travel Planning Resources
For every booking made through my site I donate US$ 1 for a charitable organization.
Safe travels ☺