I love street art! And since I moved to Shoreditch in 2021, I feel like I'm in heaven.
The Shoreditch Street Art scene is huge, one of the biggest and most popular in London and worldwide.
The whole area is covered with a diverse range of artwork, from vibrant graffiti to captivating street art murals, appealing stickers, provocative paste-ups, and interesting sculptures glued onto buildings.
The walls, buildings, tunnels, bridges, and shutters of this East London neighbourhood are the greatest canvases for renowned local and international artists, such as Banksy, Ben Eine, CPWon, and Jimmy C.
With so many brilliant pieces of art at my doorstep, I decided to write this post to help you to find the coolest street art murals in Shoreditch.
To learn more about Shoreditch Street Art history and get to know some of the artists, I booked a Shoreditch Street Art Tour with Viator, and you can find the review below.
* Affiliate disclosure: Some of the links below are affiliate links, meaning I earn a small fee if you click through and make a purchase. There is never any additional cost to you, and I use some of these earnings for my monthly charitable donations.
Where can you find street art in Shoreditch?
You can find street art almost everywhere in Shoreditch. There isn't a shortage of spetacular and unique artworks in this area.
But the best places to find street art in Shoreditch are:
Brick Lane
Fashion Street
Hanbury Street
Princelet Street
New Inn Yard
Fournier Street
Redchurch Street
Box Park Area
Allen Gardens
Buxton Street
Pedley Street
Rivington Street
Great Eastern Street
Grey Eagle Street
10 Best Street Art Murals in Shoreditch – 2023
1 – Connectivity Matters
Colt Technology's London Head Quarter on New Inn Yard and King John Court streets, is home to UK's largest and the most striking mural.
Eight pairs of graffiti artists and street artists from all over Europe worked on allocated sections and covered the three-storey building with geometric shapes, cubist faces, and colourful characters.
This epic Shoreditch Street Art mural was finished in August 2018. It's the most awe-striking and beautiful piece of street art I've ever seen in the UK.
2 – Boris, the clown
Boris, the clown, is a collaboration between Ante_ltd and Uncool Sam. The two artists didn't use sketches and didn't plan in advance the colours they'd use to create this fantastic piece.
The result was a defiant mural, that has been on Fashion Street for over three years. It has faded and been vandalised a bit but hasn't lost its impact and significance.
It's one of my favourite street art murals in Shoreditch.
3 – The Whitby Street Lady
James Cochran aka Jimmy C, an amazing Australian street artist based in London, painted this captivating mural on Whitby Street over 10 years ago.
The lady, with eyes cast upwards, seems to be filled with naïve amazement, and the spheres seem like moving toward the beholder, which gives perspective and depth to the work.
The Whitby Street Lady was revitalised by Jimmy C in 2018.
4 – Adore and Endure
This is probably one of the most famous and iconic bits of East London Street Art.
The surreal image is composed of a pastel colour building with four windows with random faces that seem like billboards still being put onto the wall.
At the top of the building, on the left corner, there are two abandoned train carriages, covered in graffiti by Sime and Wendy perched atop two containers. On the right corner, there's a Cristhiaan Nagel oversized yellow mushroom.
There's still the paradoxical message 'Let's Adore and Endure Each Other' by Stephen Powers.
5 – I DON'T LIKE THIS ANYMORE
Among all Shoreditch graffiti murals, my favourite is the one done in February 2021, by Ben Eine, a typography artist, and his friend, The Dotmaster.
Located on Ebor Street, just off Shoreditch House, this 45-metre-long multi-coloured mural is impossible to be missed.
It's big and vibrant and there are always people snapping some pictures with beamingly bright letters in the background.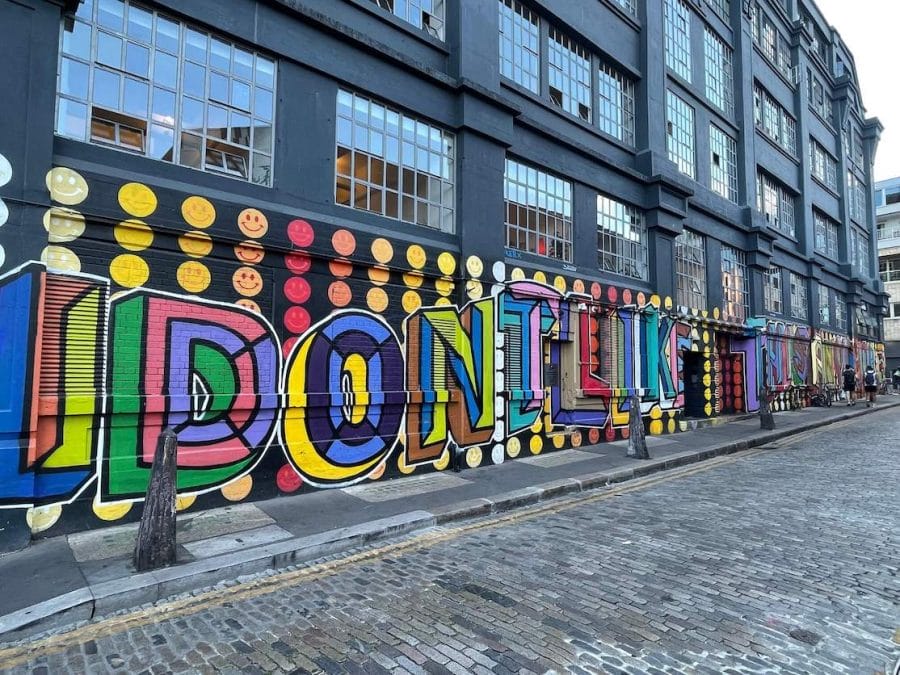 6 – Hanbury Street "collective" mural
Almost on the corner of Brick Lane and Hanbury Street, you find one of the most recognizable Shoreditch Street Art murals.
The crane was painted by the highly respected Belgium street artist ROA in 2010, and the upside-down breakdancing Coldstream Guard by the Argentinian Martin Ron in 2013.
But 'Homesick', inspired by an image of a sculpture in the British Museum by an unknown French artist, was just painted by the Miami-based artist Claudio Picasso, CPWon, at the beginning of July 2022.
7 – A Ukrainian tribute
Searching for the best street art murals in Shoreditch, I stumbled upon this stunning mural on Redchurch Street.
This photo-realistic portrait, painted by Woskerski, just after the war started, in February 2022, it's a "little tribute to the Ukrainian people".
The image of a lady proudly wearing a hat with Ukrainian flag colours is vivid and deep. The woman's face has a mix of emotions… a bit of disbelief, and despair but also determination.
8 – The neon pink portraits
Walking on the streets of Shoreditch, you'll find not only one but a series of neon-illuminated portraits and animal paintings by David Speed.
There are horses, dogs, a tiger, and several realistic portraits scattered throughout Shoreditch, where the artist is based.
If you have the opportunity to see them in the evening, you'll be delighted.
9 – High 5
A four-storey building almost on the corner of Brick Lane and Pedley Street was a massive canvas for a collaboration between the artists Jim Vision and Fanakapan.
It was painted in 2019 as part of the Graffestival, a Graffiti Mural festival in Shoreditch.
The mural of a woman with watery eyes holding a birthday balloon is an explosion of colours. As Jim stated: "Everyone deserves a bit of colour in their life".
10 – Joe's Kid
Another lovely artwork created by Jimmy C, in which he also makes a clear stylish reference to the history of the art, specifically to the work of post-impressionist painters.
The affectionate father carrying a cute little girl first appeared on Fashion Street in 2016 and was restored by the artist in 2018.
The mural is on Fashion Street, just off Brick Lane.
To find the exact location of each mural, I created a Shoreditch Street Art map below.
Shoreditch Street Art Tour
Before starting to write this post, I decided to take a tour to learn more about the artists and the meaning behind the murals.
The tour started at 10h00 and the meeting point was just a few steps from my house.
Dave, our guide, is genuinely passionate about street art and knows interesting facts about the artists.
During this Shoreditch Street Art Walking Tour, we navigated through several streets, including Brick Lane, Hanbury and Princelet, to find the best street art in Shoreditch.
We found a plethora of incredible artworks, from paste-ups to a small piece of art set into a brick wall. I was impressed and surprised by how Dave found this bit of street art that I hadn't seen before, even living in the area.
Dave finished the 2h30min tour unveiling two murals of the most famous figure in street art today, Banksy.
Taking this street art tour in Shoreditch made me realise how important, varied, immense, and unique the street art scene in Shoreditch is.
I booked the tour with Viator, a Tripadvisor Company that offers a myriad of tours, activities and experiences all over the globe.
Viator is the site that I use, trust and recommend.
If you want to learn how to interpret different pieces of art and hear insider stories about local artists, you shouldn't miss it.
The Shoreditch Street Art tour runs from Friday to Sunday and is very reasonably priced.
Where to find Banksy in Shoreditch?
Unfortunately, much of Banksy's work has been covered up over the years. However, you can still find two of his pieces in the courtyard of the former nightclub Cargo, at 83 Rivington Street.
The two Banksy murals in Shoreditch are His Master's Voice and Guard Dog. Both pieces date around 2001, when the British artist was active in this area and where his first exhibition was held on May 31 of that same year.
Are you also a street art lover? Which of these murals did you like most? Let me know in the comments below 😉
For more things to do in London this summer, have a look at what is on offer at Viator!
Safe travels and have fun in England.
More posts that might interest you:
Don't forget to save these pins for later 😉
Travel Planning Resources
For every booking made through my site I donate US$ 1 for a charitable organization.
Safe travels ☺