Scotland's capital isn't as popular as Paris, Barcelona or Rome but it is the United Kingdom's second most popular tourist destination after London and attracts over a million overseas visitors annually.
There are many interesting things to do in Edinburgh and the city, which actually comprises two cities (Old Town and New Town), is nestled among seven hills, one of which is an extinct volcano.
Edinburgh has a very well-preserved castle and other historic sites, stunning scenery and striking architecture, great restaurants and hosts the Fringe, the world's largest annual international arts festival.
Since I was spending some time in London, and Edinburgh is only a flight away, I couldn't miss the opportunity to visit this city, which is considered one of the most beautiful European capitals.
Just after coming back from Scotland's capital, I wrote this itinerary to give you some tips on what to do in Edinburgh in 3 days.
What to do in 3 Days in Edinburgh
1st Day – Visiting the castle and exploring the Old Town
Scotland's most famous landmark and one of Britain's most visited tourist attractions is Edinburgh Castle, one of the best castles in Scotland to visit. If this is your first time here, you must visit this exciting place.
Some highlights of the visit to the castle are: The Great Hall, The Royal Palace, The Stone of Destiny, Crown Jewels, St. Margaret's Chapel, Mons Meg, One O'Clock Gun, Half Moon Battery, National War Museum, Regimental Museums, and Prisons of War.
The ticket is £18 and the visit takes at least two hours.
Visiting the castle is one of the unmissable things to do in Edinburgh and I highly recommend going in the morning to avoid crowds.
You can start around 10:30 – 11:00, so you can see the talk and music at the Great Hall (every day at 12:15, 2:00 and 3:00), and the firing of the One O'Clock Gun (a tradition that dates back to 1861).
Remember that Edinburgh Castle is the most popular tourist attraction in the city. Lines are long and if you want to save time walking around the Old Town, you should buy a skip-the-line ticket.
Since you're already in the Old Town the best way to explore it is to follow the Royal Mile, just straight on from the castle's exit.
The Old Town was a walled medieval burgh from the 12th to the 16th centuries and is full of landmark buildings. George Heriot's School, recognized as an important and outstanding example of Scots Renaissance architecture, is visible from Castle Hill and open to the public on Saturdays.
Gladstone's Land is the most important example of 17th-century high-tenement housing to survive in Edinburgh and nearby Laid Stair's Close is the location of a very picturesque townhouse which is now the Scottish Writer's Museum.
There is also the Mound Head Office of the Bank of Scotland, constructed in 1806, and Saint Giles Cathedral, a gothic church with an outstanding crown steeple.
After a whole day of walking plus the fact that you've arrived from another city, I believe that you'd just want to have dinner and sleep, right?
There are some really good restaurants in Edinburgh's Old Town including: Wedgwood (Scottish food), Thing Thai Caravan (cheap and marvellous dishes), Mother India's Café and Maison Bleue.
2nd Day – Visiting some Museums and Exploring the New Town
Scotland's capital has world-class museums and during your 3 days in Edinburgh, you should definitely visit some of them.
My favourite is the Scottish National Gallery, which is the home of a sensational collection of fine art that spans a period from around 1300 to the early 20th century.
Here you will find wonderful paintings by Scottish artists along with works by Leonardo da Vinci, Vincent Van Gogh, and Goya, among others.
You should also visit the Scottish National Portrait Gallery. The collection is good, the temporary exhibitions are amazing, and the net-gothic building in red sandstone is breathtaking.
Both museums are free and open from 10:00 to 5:00.
If you visited the Old Town during your first day, you should now explore the New Town, a masterpiece of Georgian town planning, to understand why Edinburgh provides clarity of urban structure unrivalled in Europe.
By the way, these two distinctive townscapes provide an exceptional historic and architectural interest and were declared UNESCO World Heritage sites in 1995.
Wandering around the city centre you should pay close attention to George and Princes streets, which have some gorgeous buildings and astonishing skylines.
You should also see the Scott Monument, a Victorian Gothic monument and the largest monument to a writer in the world; Saint Andrew Square and its column, The Dome, the Royal Scottish Academy Building, and The Balmoral, a luxury Victorian landmark hotel.
A few blocks beyond the Balmoral Hotel on Princes Street is Calton Hill, my favourite Edinburgh viewpoint and the best spot to watch the sunset.
In fact, one of the top things to do in Edinburgh is watching the sunset from Calton Hill.
In addition, other sites to visit are the Nelson Monument, the Dugald Stewart Monument (the cutest one), the National Monument of Scotland, and the Regent Gardens.
From Calton Hill, you can marvel at the astonishing Edinburgh skyline, and also feel glad that you visited this city.
If you still have the energy you can visit the Grassmarket area at night which is full of restaurants and pubs.
The 3rd and last one
The last day of your 3 days in Edinburgh is going to be dedicated to visiting a museum and a palace to learn more about Scotland's history, and also some outdoor activities.
The last museum to visit is the National Museum of Scotland. This huge museum wasn't my favourite, to be honest, but it opens at 10:00 AM, there is no entrance fee, and it's perfect for families with kids.
After the museum, you can visit The Palace of Holyroodhouse. The King's official residence in Scotland is a very nice palace and offers free audio guides.
A visit takes about 1 and a half to 2 hours and the best part is the Holyrood Abbey, a ruined abbey with impressive Gothic facades at the back of the palace.
The tickets are £18.00 and I really recommend you buy your ticket in advance here.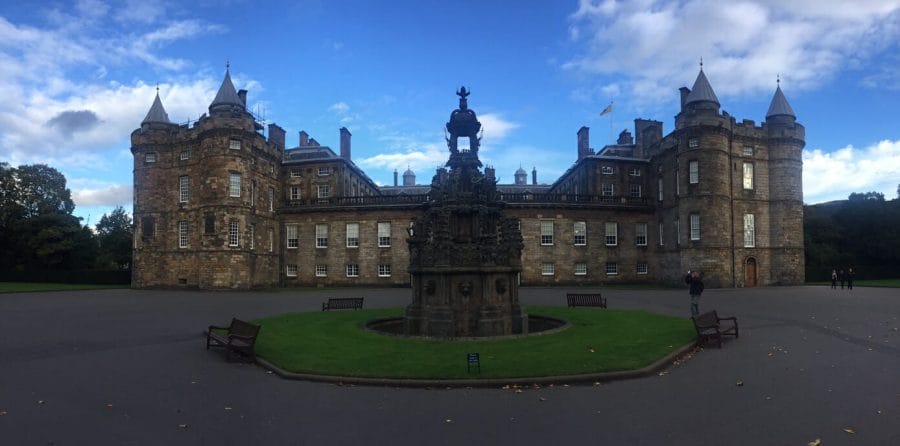 You can also visit the Scottish Parliament building, just in front of the Palace of Holyroodhouse, there is a guided free tour of the building, it takes one hour; or Dynamic Earth, an interactive tourist attraction that's really good for kids.
After visiting those places, I highly recommend that you go to Holyrood Park and hike Arthur's Seat, an extinct volcano in Edinburgh.
The hike is relatively easy, takes in general about 30 min and offers unmatched views of the city skyline. It is also a good spot for watching the sunset or sunrise.
And if you want to finish your 3 days in Edinburgh in grand style, there are two good options for fine dining in case you still have some money left.
Chaopraya, a Thai restaurant, has a good atmosphere, Castle views, and excellent drinks and food.
Paul Kitching 21212 offers Michelin-star dining at affordable prices (three-course menu from £55) and dishes to die for.
These are just some suggestions of what to do in 3 days in Edinburgh.
Although I didn't see all of the city or the famous Royal Yacht Britannia, I strongly believe that if you follow this itinerary you will have a wonderful time when you visit Scotland's capital.
Other posts that you might be interested:
After spending 3 days in Edinburgh, I highly recommend that you hire a car and go to Loch Ness and the Scottish Highlands, two of the best places to visit in Scotland. This was what I did and I loved it.
You can hire a car in Edinburgh with Discover Car Hire, a comparison site in which you find the best deals on car rentals for your trip.
I always recommend that you buy travel insurance!
It can literally be your lifeline with something happens to you, or if your luggage is lost or stolen.
I always use World Nomads, travel insurance for independent travellers. It's easy to buy, extend & claim online, even after you've left home.
Play safe and get yours here.
Planning your 3-Day in Edinburgh Itinerary
Where is it located?
Edinburgh, the capital city of Scotland, is located in Southern Scotland on the East coast (Map here).
How to get to Edinburgh?
∗ There's an international airport in Edinburgh which is very well connected with many European capitals and other cities around the world. Some of the airlines are: RyanAir, EasyJet, British Airways, Flyby, Emirates, Delta and TAP.
From the airport, you can take the tram to the city centre.
You can book your flights with Skyscanner, the website that I use and trust.
∗ There are also trains from London and other cities in the UK. You can check the National Rail for more info.
∗ The cheapest way to get to Edinburgh is by bus, and some of the companies are: MegaBus, National Express and CityLink.
Best Time to Visit Edinburgh
You can visit Edinburgh all year round, but keep in mind that January is the coldest month, October is the month with the most rainfall and the driest months of the year are in spring and early summer.
August is considered by many people the best month to visit Edinburgh because of the festivals that happen in the city and also the days are longer and the weather is good. However, this is also the busiest month so accommodation tends to be more expensive.
If you want to avoid the crowds you can go from April to June.
Where to Stay in Edinburgh
I stayed at The George Hotel Edinburgh and you can read the review here.
If you're looking for accommodation, Edinburgh has some of the best Airbnbs in UK and also great hotels. Below are some options for your stay:
Tours and Tickets
Pin it for later 😉
Travel Planning Resources
For every booking made through my site I donate US$ 1 for a charitable organization.
Safe travels ☺