Qatar tourism is booming! The country has earned its place on the tourist's radar as a safe destination in the Middle East with a blend of tradition and modernity.
The whole infrastructure that was built to host the FIFA 2022 World Cup attracted millions of tourists and football fans and put the country in the world's spotlight.
When travelling to a conservative Islamic country with very strict laws such as Qatar, you might be asking yourself questions like: Can I wear a bikini in Doha? Is alcohol in Qatar illegal? What are the latest Doha travel requirements?
No worries, I know your concerns. It's the reason I decided to write this blog post with 15 practical Doha travel tips to help you plan your trip to Qatar.
In June I spent a week in Doha and despite the extreme heat, I had a great time. People are friendly, the city has extraordinary tourist attractions, and the desert is a must.
* Affiliate disclosure: Some of the links below are affiliate links, meaning I earn a small fee if you click through and make a purchase. There is never any additional cost to you, and I use some of these earnings for my monthly charitable donations.
The most popular tours in Doha
15 Useful Doha Travel Tips
1 – Take advantage of Qatar Airways stopover deals
It's not new that Qatar Airways, the state-owned flag carrier of Qatar, is one of the best airlines in the world. The company has been awarded seven times the 'Airline of the Year' by Skytrax.
What many people don't know is that Qatar Airways offers stopover deals, where you can visit more than one destination on the same trip. You can visit Dubai or Southeast Asia, for example, and do a quick stop in Doha.
You can decide the length of your stopover in Qatar and book amazing packages starting from US$14/per person at 4-star and 5-star hotels. You can choose from Standard, Premium and Luxury stopovers. Check prices and conditions here.
2 – Winter is the best time to visit Qatar
Qatar is on the Northeastern coast of the Arabian Peninsula and has a desert climate. The country experiences long summers, from May to September, characterized by intense and mostly dry heat, with temperatures rising above 48°C (118°F).
So, the best time to visit Doha, Qatar, is from December to February when the weather is pleasant and suitable for all kinds of activities with averages heights ranging between 22°C (72°F) and 25°C (77°F).
I was in Qatar in June and the heat was almost unbearable. I was always soaked, and my phone shut down several times because of the heat just by using Google maps on the streets.
3 – Pre-departure COVID test isn't necessary anymore
Qatar changed its COVID travel policy on the 1st of November and since that day visitors are no longer required to bring a Polymerase Chain Reaction (PCR) or Rapid Antigen test certificate before traveling to the State of Qatar.
Regarding vaccination status, you're immune-vaccinated if you received a second dose of Pfizer, Moderna or Astra Zenica COVID-19 vaccines within nine months or 12 months after the booster. The same applies to the 1st dose and booster of Jansen & Jansen.
Anyone who had a medically confirmed COVID-19 infection is considered to have immune status valid in Qatar for 12 months from the date of the infection. Check the latest Qatar travel restrictions here.
4 – Download the Ehteraz App
I'd say that one of the most important Doha travel tips is to get the Ehteraz. This contact tracing app is mandatory for all citizens, residents, and visitors.
You need to create an account in the pre-entry online registration system through the website at least three days before arrival. All relevant documents need to be uploaded including certificates of COVID-19 vaccination or recovery.​
Only activate the app when you arrive in Qatar though. To do so, you need an internet connection and your visa number. Because data roaming is crazy expensive, I recommend buying a local SIM card (Ooredoo or Vodafone). You can do it at Hamad International Airport.
5 – Be culturally sensitive
When visiting any country, particularly an Arab one with stringent rules, you should respect local traditions, customs, laws, and religions always.
You should also be aware of cultural sensitivities when filming or photographing people on religious, military or construction sites. Qatari people don't like to be photographed without consent, especially women.
Bear in mind that things that aren't illegal in your country, might be illegal in Qatar, such as swearing, noise disruptions and making rude gestures. They are considered obscene acts and offenders can be jailed and/or deported. Take care, especially when dealing with the police and other officials.
6 – Dress appropriately
When travelling to Doha one of the most asked questions is: What to wear in Qatar?
You should dress modestly when in Qatar. Women must cover their shoulders and avoid wearing short skirts and shorts. Both men and women are advised not to wear shorts or sleeveless tops when going to government buildings, healthcare facilities or malls.
If you're visiting Doha in the summer, remember that the best fabrics for hot weather are linen, chambray, and cotton. Avoid fabrics like rubber, leather, polyester, acrylic and denim.
And you can pack your bikini/beach shorts but wear them on your hotel beach or beach clubs. If you go to Katara Beach, a popular beach in Doha located in Katara Cultural Village, for example, speedos and bikinis aren't allowed.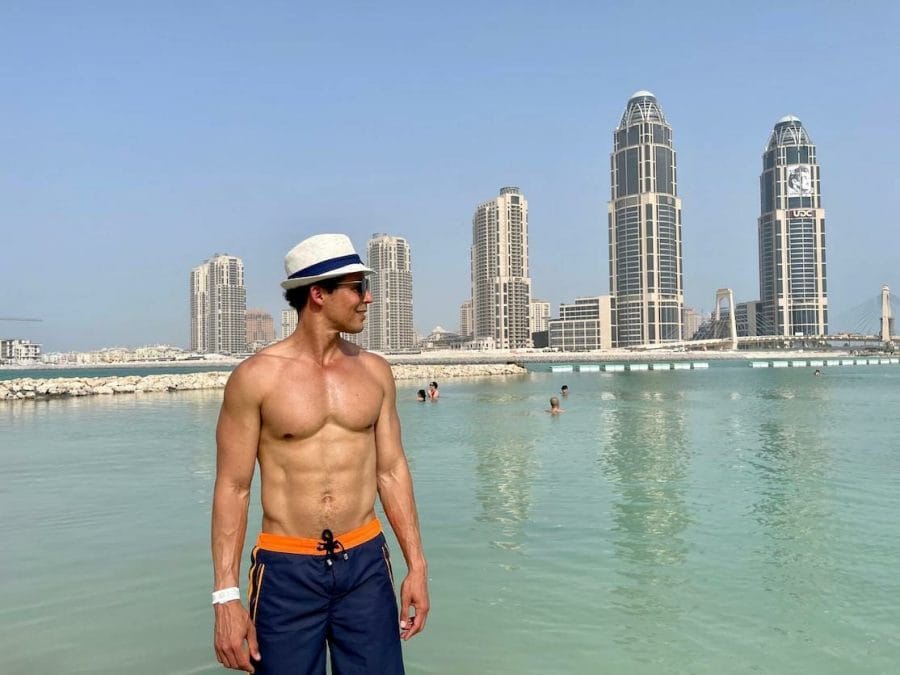 7 – Alcohol is strictly regulated
Similar to other Islamic countries, alcohol isn't illegal in Qatar, but it's available only at licensed hotel restaurants, bars, and clubs, and is relatively more expensive.
Do not drink alcohol or be drunk in public in Qatar. It's an offence and could result in a prison sentence of up to 6 months and/or a fine of up to QAR3,000 (£715 – US$825).
You cannot import, under any condition, alcoholic beverages. It will be subject to penalties by customs laws. And you can only buy alcohol at Qatar Duty-Free if you're a transit passenger.
8 – PDA is not permitted
Another sensitive subject that you should be aware of and it's the reason it's included in my Doha travel tips post. Public displays of affection aren't allowed in general in Qatar and they should be minimal.
Any intimacy in public between men and women can get you in trouble. Holding hands with your partner is acceptable, but kissing, hugging, and canoodling are not.
9 – Gender-separated queues are common
One thing that called my attention in Doha was to see that men and women have separate queues and waiting areas in Qatar. It's very common to see it in restaurants, salons, and spas.
There are some women-only beaches and parks that offer 'ladies' day. Watch out for "ladies only" or "women only" signs and follow the rules.
10 – Qatar is one of the richest countries in the world!
If you examine the gross domestic product per capita (GPD) of each country around the globe, Qatar will not be among the richest nations in the world. But, if you take into consideration only the gross national income (GNI), Qatar ranks in the 9th position, according to World Population Review.
This tiny country, at only 11,571Km2, has the third largest natural gas reserve in the world. You can see Qatar's wealth in its futuristic skyscrapers, ultramodern architecture, and luxury shopping malls.
The prices for tourists in Qatar are reasonable. But of course, it all depends on your travel style. It can be expensive with you stay in luxury hotels and eat in fine dining restaurants, and affordable with you stay in simple hotels and eat in food courts or budget restaurants.
11 – AC in outdoor spaces is a reality
With all the money and the increase in the temperature in recent years, Qatar has found a solution to beat the scorching heat and bring more people together during its long summer months.
If Air Conditioning in open-air spaces sounds surreal, in Qatar it's already a reality. There are many air-conditioned open spaces in Doha, such as Galleries Lafayette, Souq Waqif, and Al Gharrafa Park.
It has to be seen to be believed!
12 – Weekends are different
The workday in Qatar and in other countries of the Gulf is from Sunday to Thursday, and the weekend is on Friday and Saturday.
Fridays are when they have mass prayers and spend time with their families. Most establishments are open on Fridays, but they close typically between 11:00 am to 1:00 pm for congregational prayers.
If you want to take the metro in Doha, it only runs from 2:00 pm to 11:59 pm on Fridays. Some museums are also closed (partially or totally) that day.
13 – Qatar is extremely safe
Qatar has a very low crime rate. Violent crimes are extremely rare, especially towards foreigners.
The country is the 23rd most peaceful nation in the world according to the Global Peace Index 2022. So, whether you're a travel group member or a solo traveller, safety should not be a concern when planning a trip to Qatar.
I met some expats while in Doha and they all said that the thing they liked most about living in Qatar is the safety. "You can leave the key in your car, and the phone unattended and there is no problem".
14 – Doha is a multicultural city
Qatar has about 2.6 million inhabitants, but only less than 12% of the residents are Qatari nationals.
This rich nation ranks among the top 10 destinations for expats to live and work according to HBSC Expat Explorer 2021 survey. There are thousands of workers from India, Sri Lanka, Nepal, Bangladesh, the Philippines, and Kenya.
You can meet foreigners everywhere you go in Doha, and English is widely spoken in Qatar.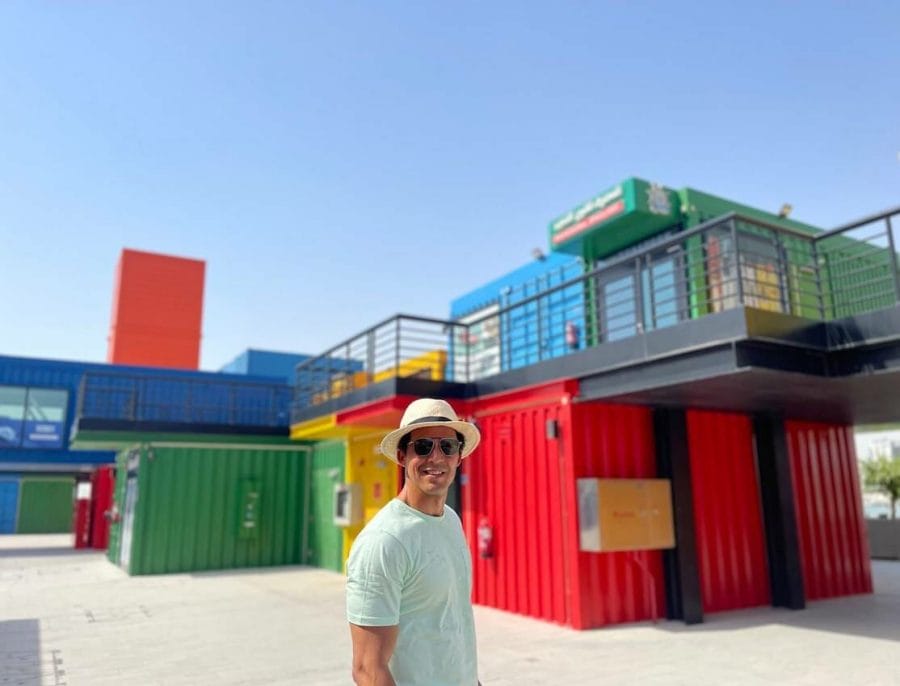 15 – Don't miss the desert!
Doha can be easily considered the best place to visit in Qatar. Lusail, a planned city located 23Km away from the capital that was constructed for the World Cup, is another place that you should visit. But the desert, it's unmissable!
Desert safaris are very popular in Dubai, but also a bit touristy. I found the experience much better in Qatar.
Firstly, Qatar is one of the very few places in the world where the sea encroaches on the desert. Secondly, the Mesaieed dunes falling abruptly into the water are so beautiful and picturesque. Thirdly, you can go swimming in the turquoise water of the Inland Sea, a sea inlet of the Persian Gulf between Qatar and Saudi Arabia.
I believe these are the 15 most useful Doha travel tips and things that you should know before travelling to Qatar.
If you want to add some more, leave a comment below.
Safe travels and enjoy Doha.
Don't forget to save these pins for later 😉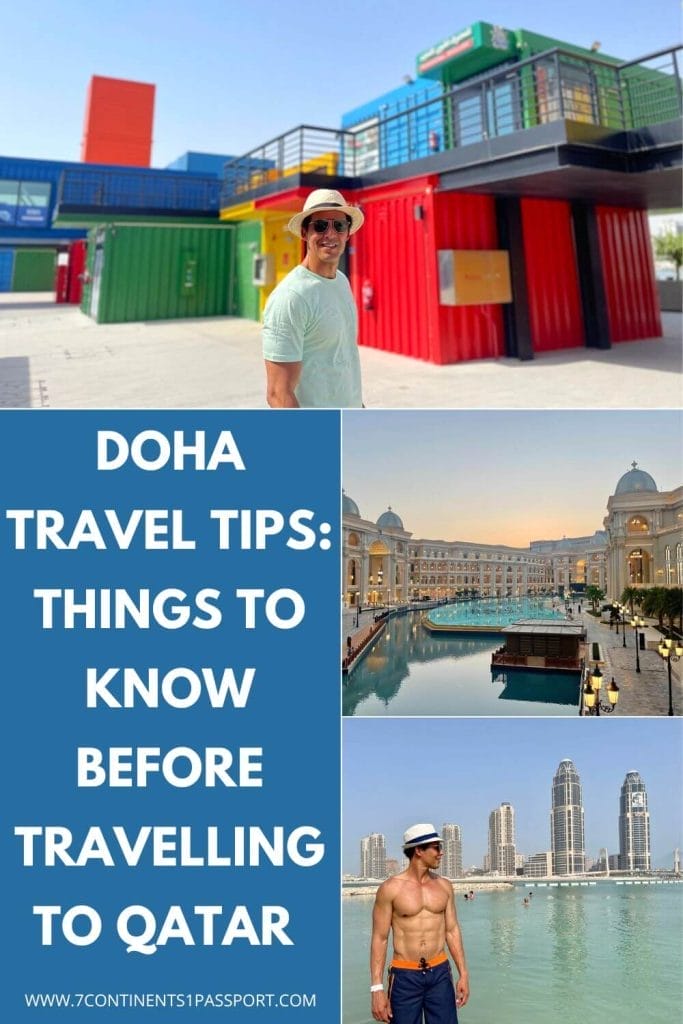 Travel Planning Resources
For every booking made through my site I donate US$ 1 for a charitable organization.
Safe travels ☺