Are you ready to start drawing up your Algarve itinerary and have a spectacular time in Portugal?
With splendid scenery along the Atlantic Ocean, the Algarve is home to some of the best beaches in the world and the most incredible rock formations that I've ever seen in my life.
There are also several charming towns, exquisite fishing villages, important historical sites, picturesque medieval castles, vibrant nightlife and delicious cuisine.
To top it all, it's a safe and relatively cheap destination.
I've been going to the Algarve regularly for over 12 years so, needless to say, I absolutely love it.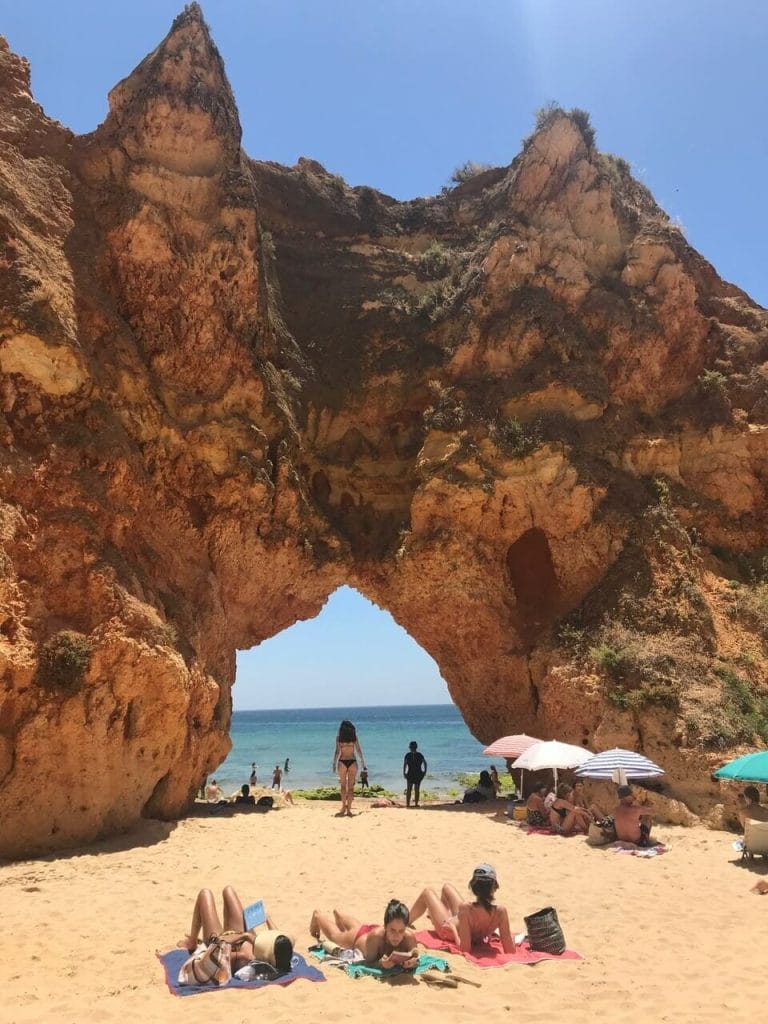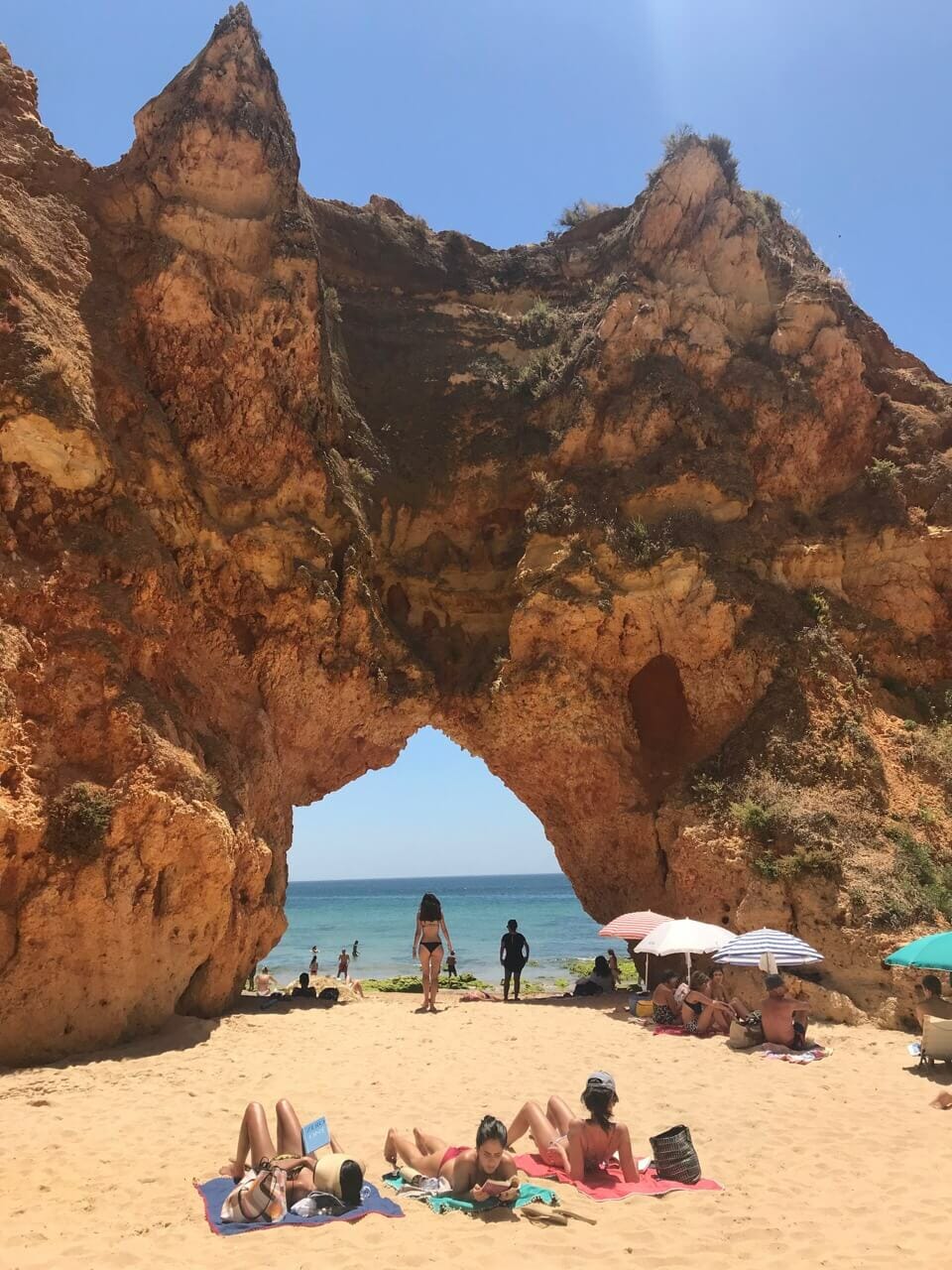 * Affiliate disclosure: Some of the links below are affiliate links, meaning I earn a small fee if you click through and make a purchase. There is never any additional cost to you, and I use some of these earnings for my monthly charitable donations.
A Perfect Algarve Itinerary for 3,5 & 7 days: Must-see Beaches & Towns
Planning an Algarve itinerary can be very exciting, but also a bit overwhelming!
With so many things to do and see, amazing places to visit and a myriad of tours to take, it can be hard to decide how many days you should spend in the Algarve and what you cannot miss.
To help you I've put together some itineraries and tips to enjoy my most beloved Portuguese region.
Algarve Itinerary for 7 Days
Day 1: Albufeira: Best Beaches and city center
Day 2: Praia da Marinha and Benagil Cave
Day 3: Portimão: Praia dos Três Irmãos and Rocha
Day 4: Lagos: Old Town and its world famous beaches
Day 5: Sagres, Cape of San Vincent and Costa Vicentina Natural Park
Day 6: Silves and Monchique or Loulé and Faro
Day 7: Albufeira
Don't forget to save these pins to check this post again later 😉
Helpful Tips to Plan a Trip to the Algarve
Where is the Algarve located?
Algarve is the southernmost region of Portugal (check exact location here).
How to get there?
There is an international airport in Faro, but the more popular choice for travelers from outside of Europe is Lisbon.
From Lisbon you can take a bus or a train to the Algarve. The prices are basically the same and they take around 2h30min to get there.
You can find the best deals on airlines tickets at Skyscanner. This is the website that I use, trust and recommend.
Best time to visit Algarve?
The best time to visit the Algarve is definitely during the summer and particularly July and August. But if you don't like crowds and heat, you could go in June or September.
How many days to spend in Algarve?
At least 3 full days. For me the perfect Algarve itinerary is 5 days. With it, you can see several points of interest, including the most famous beaches and also some historical sites.
Where to stay in Algarve?
If you want to stay in a central location from where you can easily reach most of the places to visit in your Algarve itinerary, I would suggest Albufeira, Portimão or Lagos.
Some Algarve hotels that I recommend are:
How to get around?
The best thing is to hire a car because public transportation in the Algarve isn't good.
Intercity buses stop running around 9PM, or even earlier, depending on the company. Trains don't run very often, and neither do the local buses.
You can take a transfer from Faro airport and once you're at your destination you can use Uber, but it isn't cheap.
Believe me, a car is the easiest way to navigate an Algarve itinerary and get around.
You can hire a car with Rental Cars here with no extra cost to you.
Algarve Itinerary for 3 Days
Day 1 – Albufeira: City center and best beaches
Day 2 – Praia da Marinha, Benagil Cave and Portimão
Day 3 – Lagos: Old Town and its famous beaches
On this Algarve 3-day itinerary you will base yourself in city of Albufeira, but if you prefer you can choose Lagos instead.
Albufeira, a former fishing village, is now the largest resort town in the Algarve and during the summer holidays, the population grows to around 300,000 residents.
The city has a delightful old town with whitewashed and tiled houses sporting traditional Algarvian chimneys, restaurants, bars, hotels and gift shops.
Albufeira has also some extraordinary beaches and the hottest nightlife in the Algarve.
First day – Albufeira Old Town and its beaches
If you arrive in the morning, you can start your Algarve itinerary for 3 days by visiting Praia da Coelha, the most breathtaking beach in the city.
Located around 6Km (3.7 mi) west of Albufeira Old Town, Rabbit Beach is surrounded by yellow cliffs and has fine golden sand with seashells and crystal-clear turquoise water.
You can spend your time sunbathing and relaxing, hire a kayak or a paddle board to explore the beaches nearby and also walk on the trail along the hilly landscape to discover magnificent viewpoints from where you can admire the beauty of Praia da Coelha in all its splendor.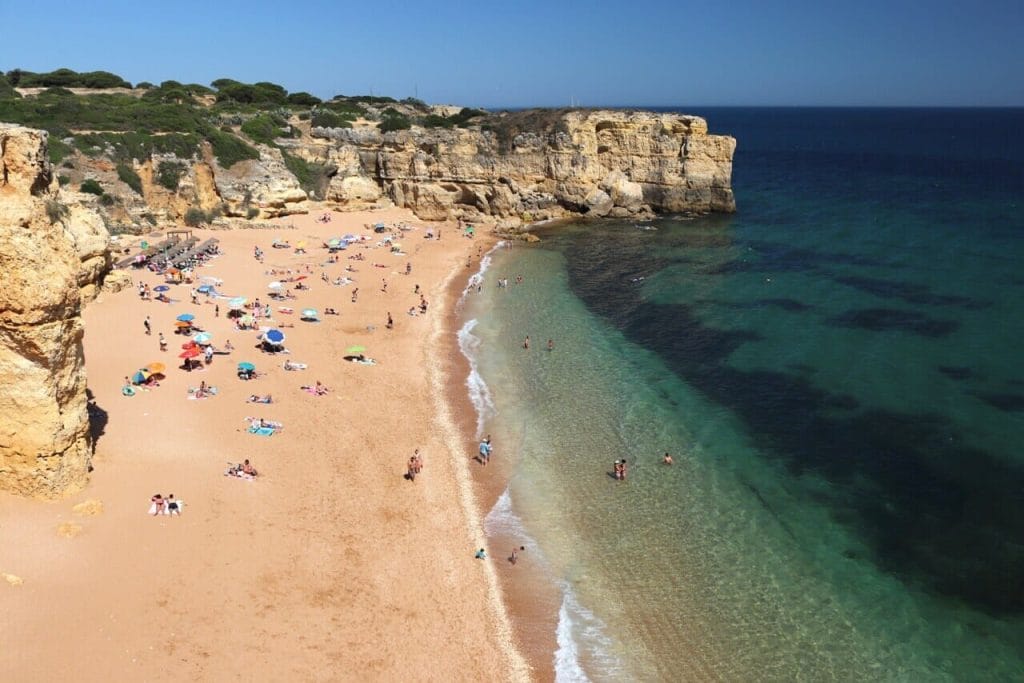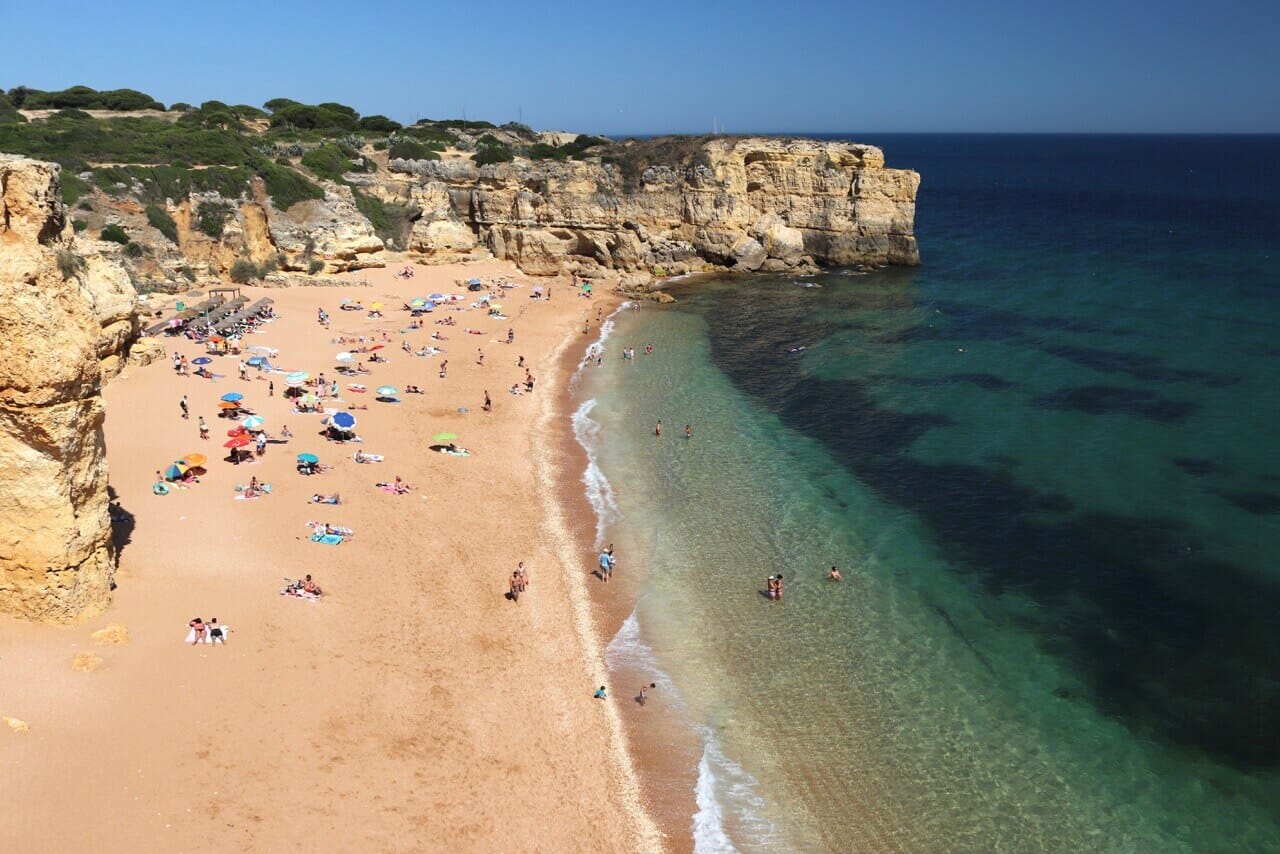 There is a nice restaurant with friendly staff and if you want to visit another beautiful beach, you can go to São Rafael, 25min walk or 6min drive, or the nearer one, Praia do Castelo.
To finish the first day of your Algarve itinerary for 3 days, head to the Old Town to wander around its streets and alleys and taste the delicious Algarvian cuisine.
However, if you arrive after noon, you can start your 3-day itinerary by visiting the Old Town and its beaches, Praia do Peneco and Pescadores.
Those two aren't my favorite beaches in Albufeira, but they're in the heart of the city, so you can get a taste of it and also sunbathe and rest after spending part of your day traveling.
Alternatively you can take the Hop-on Hop-off bus to get a great overview of the city.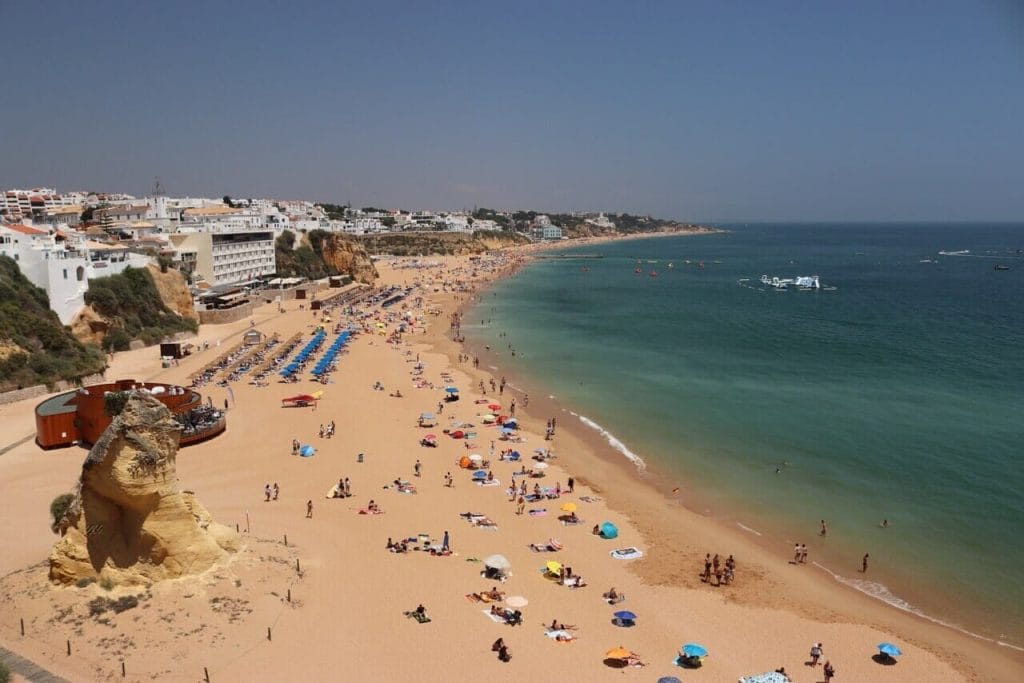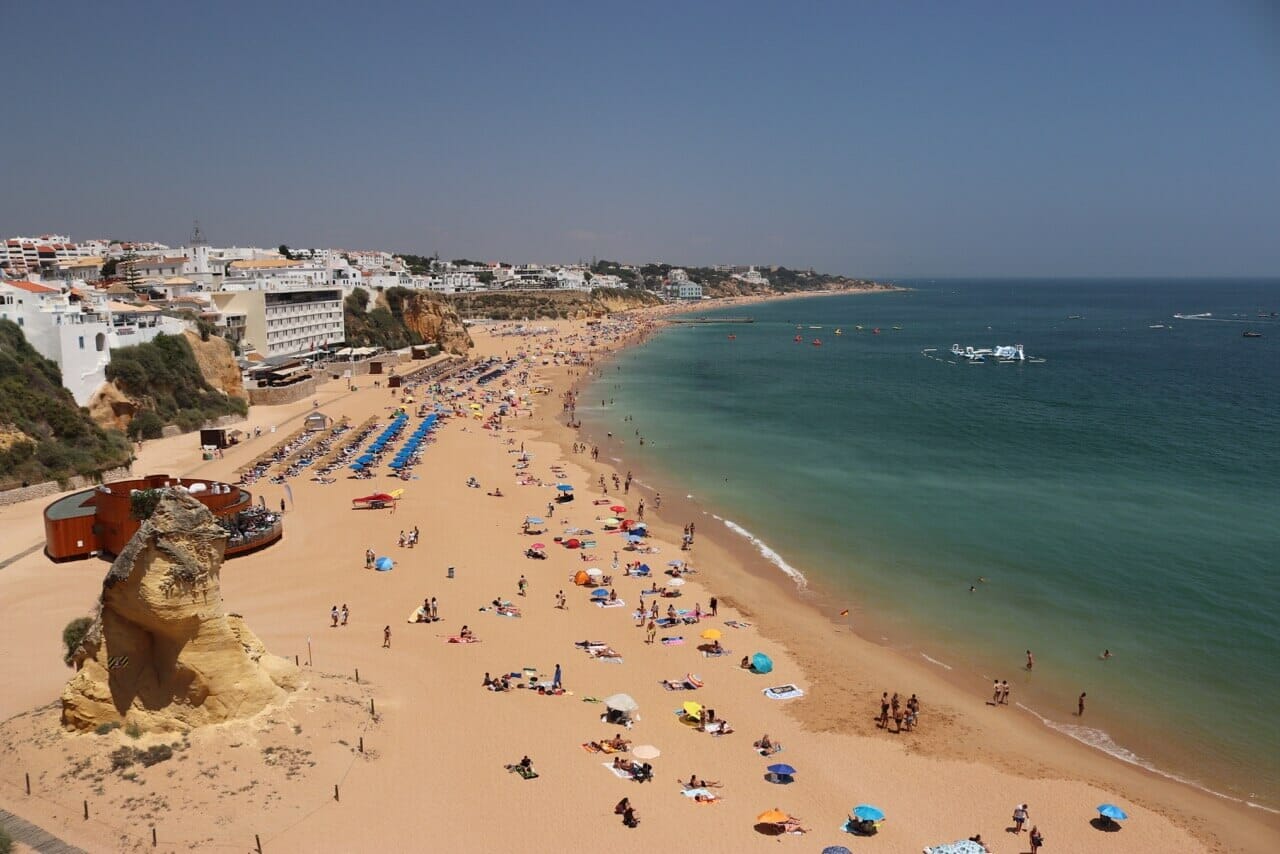 Second day – Praia da Marinha, Benagil Cave and Praia dos Três Irmãos
On the second day of your Algarve itinerary for 3 days, you will visit one of the most famous points of interest in the Algarve and two of the best beaches.
You will drive around 30min from Albufeira do Praia da Marinha, in Carvoeiro (Lagoa's municipality).
This emblematic beach has been featured in many Portuguese guidebooks and advertising campaigns, and for me it isn't just one of the most beautiful beaches in the Algarve, but the whole world.
Praia da Marinha has amazing orange-yellowish limestone cliffs, golden sand and crystal-clear blue water.
There aren't beach amenities, only a restaurant and a café right at the entrance. So, bring towels, a cooler with some beverages and snacks.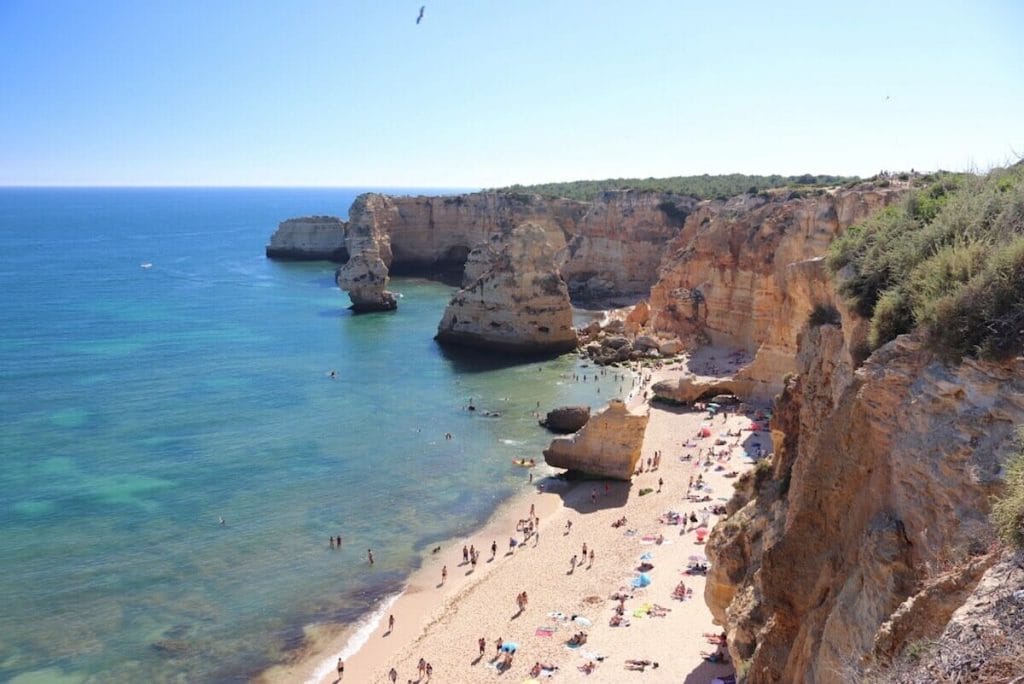 At Praia da Marinha you can take a kayak to visit Algar de Benagil, one of the highlights of your Algarve itinerary for 3 days.
Benagil is a very picturesque cave with golden-colored walls, a round hole in the ceiling and two beautiful archways.
Kayaking from Praia da Marinha to Benagil takes around 25min. If there aren't kayaks available, you can always drive to Praia de Benagil. It's less than 10min drive and much closer to the cave.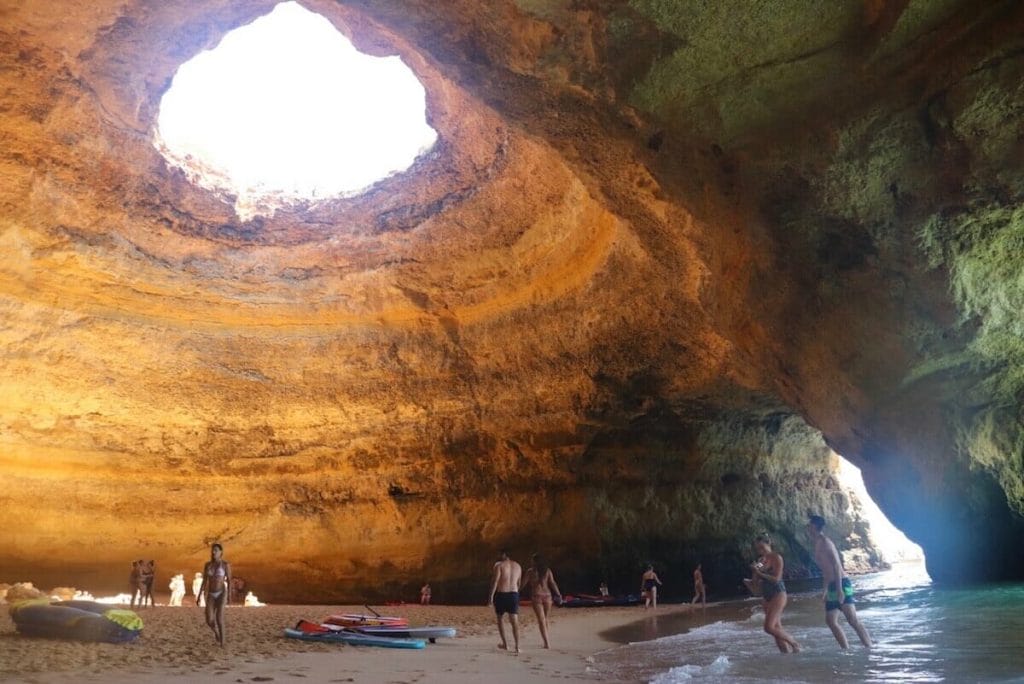 For the next part of Day 2 of your Algarve itinerary for 3 days, you will drive around 30min to Alvor, in the municipality of Portimão, to visit another mind-blowing beach, Praia dos Três Irmãos.
This beach is framed by huge ochre colored limestone cliffs with incredible rocky outcrops that divide it into further little sandy bays, each with their own rock arches, sea stacks and caves.
I love Praia dos Três Irmãos! It has the most magnificent rock formations I've ever seen in the Algarve.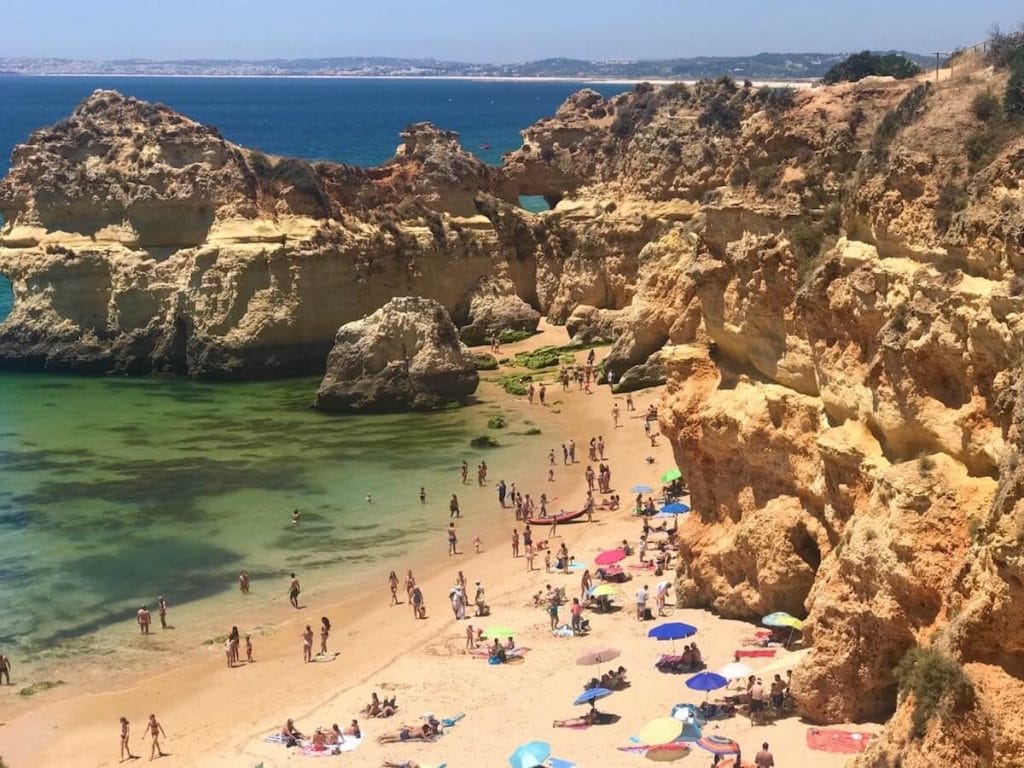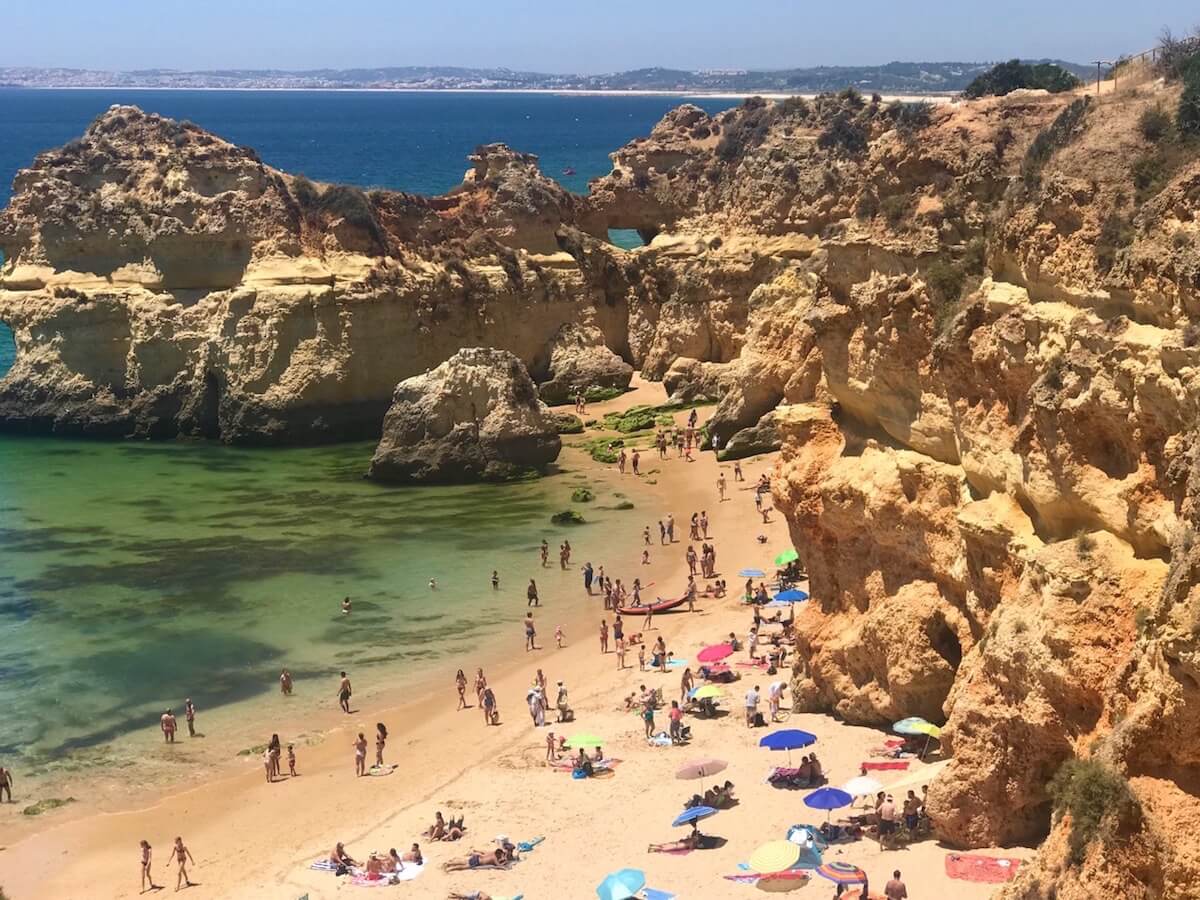 After leaving Alvor, you can drive for 10min until you reach Praia da Rocha, the most famous beach in Portimão.
My suggestion is just to wander around this area. There are some really cool beach bars, such as Sopt 3 and NoSoloAgua, and plenty of restaurants.
If you prefer, you can return to Albufeira, rest and then enjoy its nightlife. You can just go to the Old City and walk around, see live performances on the streets and sing along. It's fun. But if you feel like partying hard, go to the Strip instead.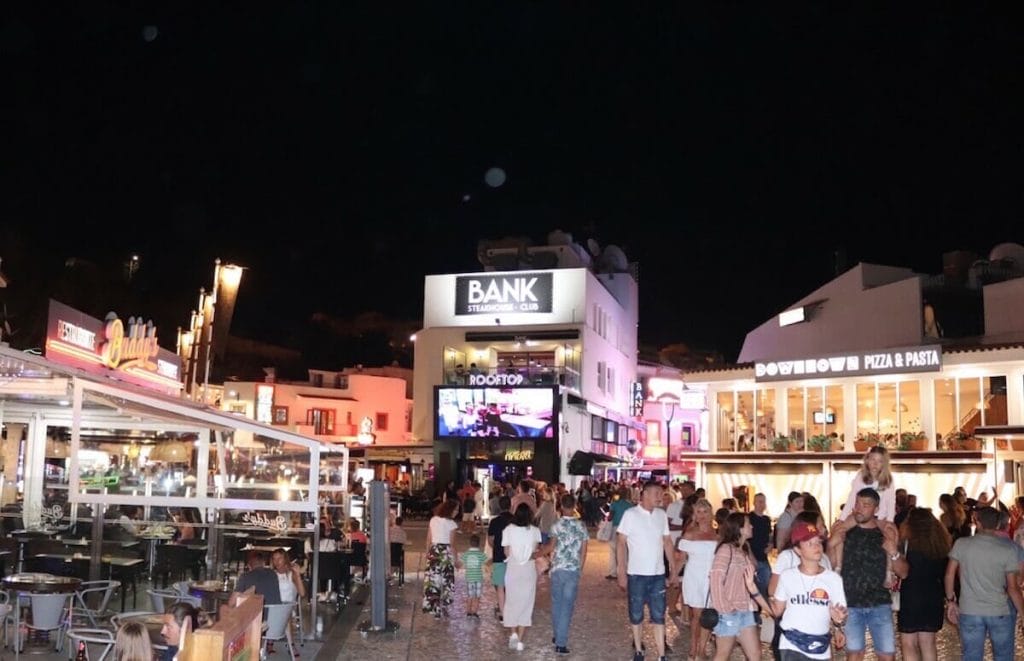 Third day – Lagos: Old Town and its famous beaches
Start the last day of your Algarve itinerary for 3 days by driving to Lagos (if you based yourself in Lagos, visit Albufeira on your last day).
After around 45min, you will arrive in one of the best places to visit in the Algarve.
Lagos is an ancient marine town, whose history stretches back more than 2000 years. It was occupied by the Phoenicians, Romans, Visigoths, Byzantines and Moors, who in the 8th century fortified and walled the city and built a medieval castle that can still be seen today.
You can explore the charming and historically important Lagos Old Town, visit the Mercado de Escravos, the first slave market in Europe, the Baroque church of Saint Anthony, which has one the finest wood carvings in Portugal, the charming Forte da Bandeira, Lagos's Castle and see the remains of the ancient city walls.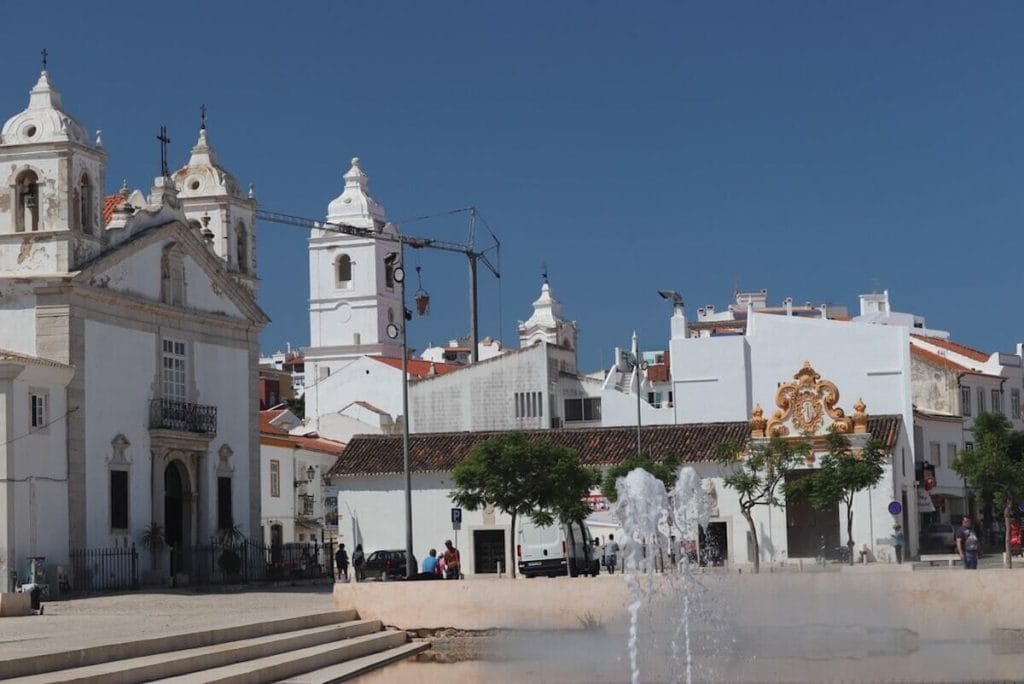 After visiting the city center, it's time to explore one of the greatest shorelines in the world.
I highly recommend taking a 75min boat trip to Ponta da Piedade. It costs around 20 euros and departs from Lago's Marina, located in the city center. If you prefer, you can take a kayak tour. I've done both and liked it a lot.
If you don't want to take the tour, you can go straight to Praia Dona Ana, which is considered one of the most beautiful beaches in the world.
You can stay on Dona Ana, which has a parking lot, wooden boardwalks, beach amenities, a restaurant, a masseur and lifeguards on duty, or just take pictures and head to the picturesque Praia do Camilo, one of my favorite beaches in Lagos.
These two beaches are within walking distance, or a 5min drive.
Note, that there aren't amenities at Praia do Camilo, only a restaurant on the top of the cliff close to the stairway, and it can get very crowded in summer.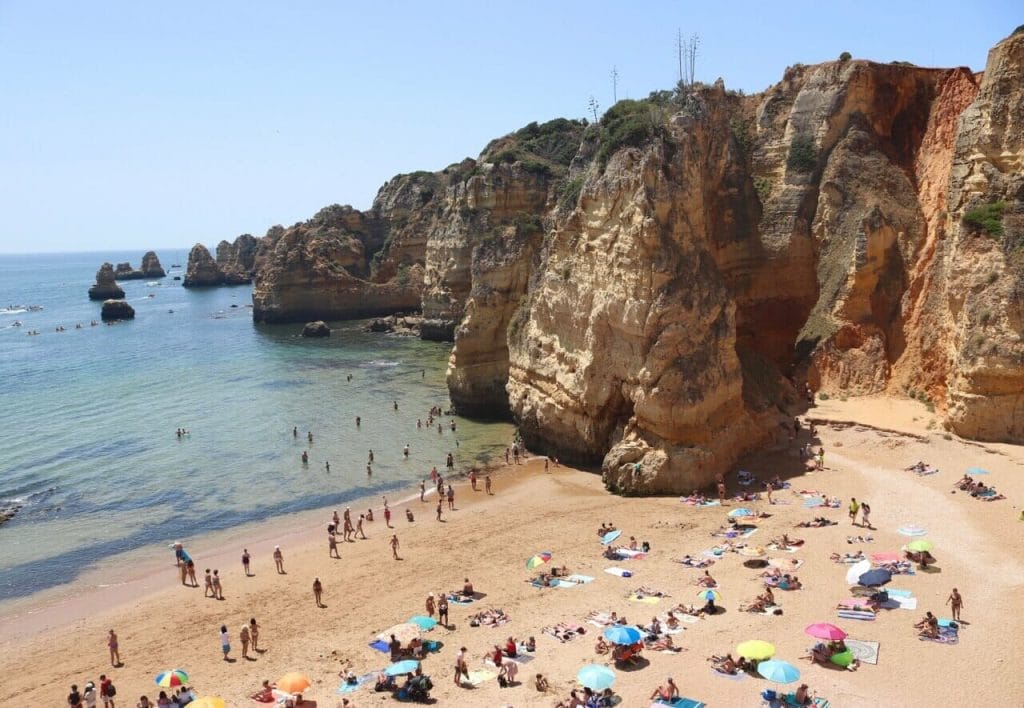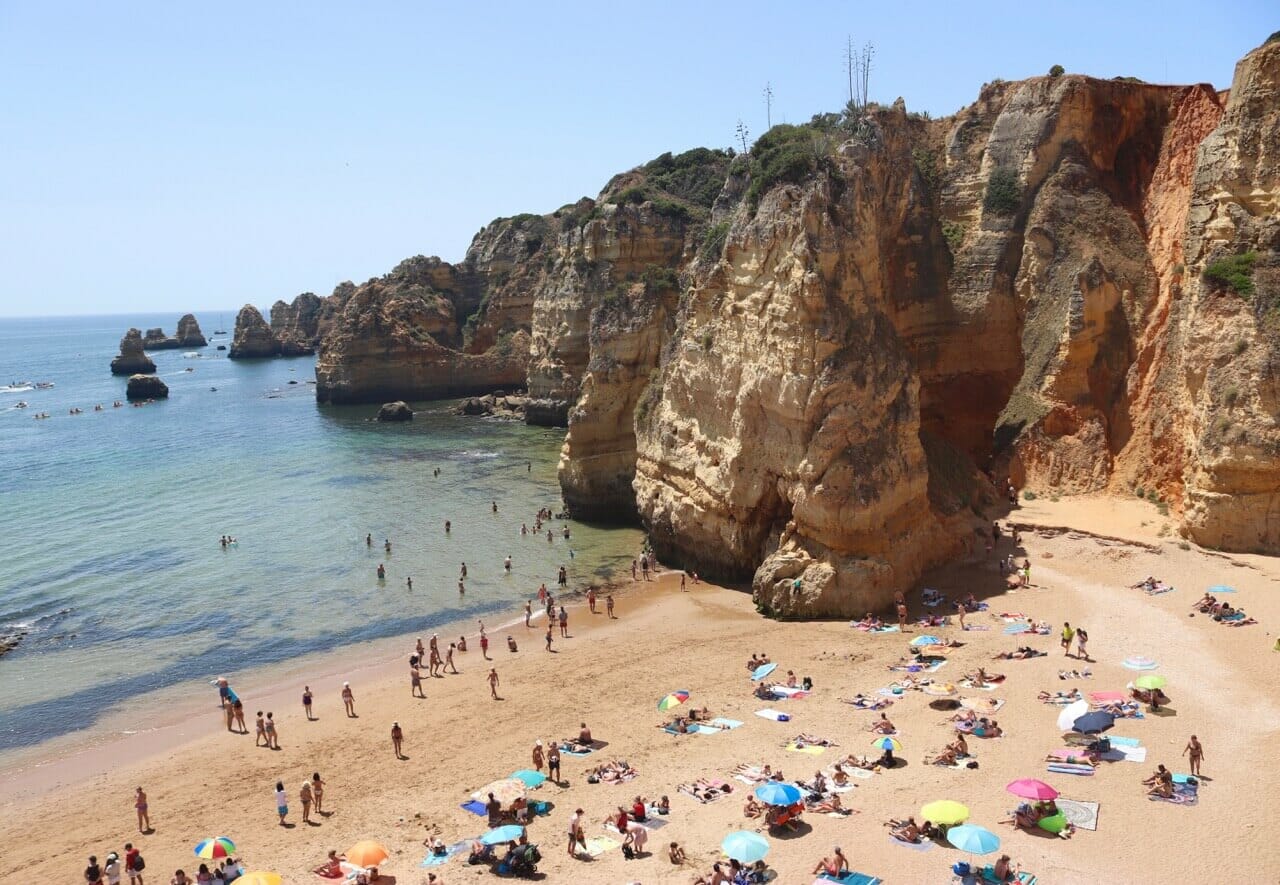 Whether you stay on Dona Ana or Camilo, you just can't miss Ponta da Piedade (Mercy Point), another award-wining beach in the Algarve.
Featuring a stunning combination of majestic rock formations, sea arches, caves, ochre cliffs and crystal-clear green water, Ponta da Piedade will certainly take your breath away.
The beach is accessed by road then on foot along a cliff-top path and takes less than a 5min drive from Praia do Camilo.
From the 20m (65ft) high cliffs you can take in all of Ponta da Piedade's beauty, but you should definitely take the 182 steps down the ravine and get near the water to have another view of it.
During the high season you won't be allowed to swim at Ponta da Piedade, but you can embark on a boat trip to visit nearby beaches and grottoes.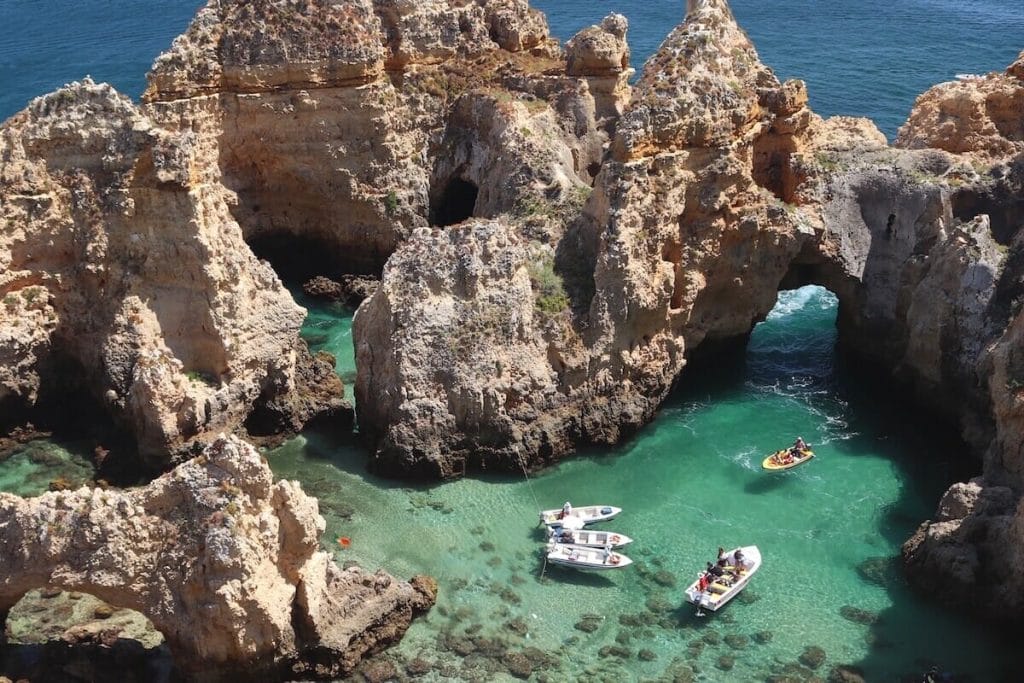 To finish your Algarve itinerary for 3 days, you can walk on the lovely promenade before heading back to Albufeira.
If you still have energy and feel like spending the whole night dancing, go to Lick, one of the largest clubs in Portugal.
P.S: Alternatively on your last day you can take a Western Algarve Small Group Tour from Albufeira, to visit Lagos and Sagres.
Final Considerations
The number of activities will depend on the time you arrive and depart. If on the last day you will leave in the afternoon, go to Lagos on the second day, and on the third visit only one of these three places (Praia da Marinha, Benagil or Praia dos Três Irmãos).
Even if you arrive at Praia dos Três Irmãos around 16h, it's still worth visiting it. Remember that in summer, sunset is at around 20-20h30min.
There are very good and cheap restaurants in Lagos on the promenade. If you take the boat /kayak tour and visit the Old Town, as I suggested on this Algarve itinerary for 3 days, you can have lunch there before going to the beaches. Try Bacalhau à Brás (fried potatoes, codfish and parsley mixed together with eggs) or the Cataplana de mariscos (mix of seafood with herbs, tomatoes and white wine);
5 Days in Algarve
Day 1 – Albufeira: Praia da Coelha, São Rafael and City Center
Day 2 – Praia da Marinha and Benagil Cave
Day 3 – Portimão: Praia dos Três Irmāos and Rocha
Day 4 – Lagos: Old Town, Praia Dona Ana, Camilo and Ponta da Piedade
Day 5 – Sagres, Cape of San Vincent and Costa Vicentina Natural Park
This Algarve itinerary for 5 days will be similar to my previous 3-day itinerary, but at a slower pace.
First Day – Albufeira
As I said before, your options will depend on when you arrive: either just the Old Town and its beaches or the Best Beaches during the day and the Old Town in the evening.
Second Day – Praia da Marinha and Benagil Cave
On the second day you will visit Praia da Marinha and Benagil Cave. You can kayak from Marinha to Benagil, but because you have more time, you should drive to Praia de Benagil and take a guided tour.
Check this Benagil Cave Kayaking Experience and this 2.5-Hour Stand-up Paddle Boarding Tour of the Algarve Coast to see which one you prefer.
If you are an adventurer, you can walk the 2.5Km trail that separate these two beaches. In fact, it's part of the Seven Hanging Valleys Trail, one of the most famous hikes in the Algarve.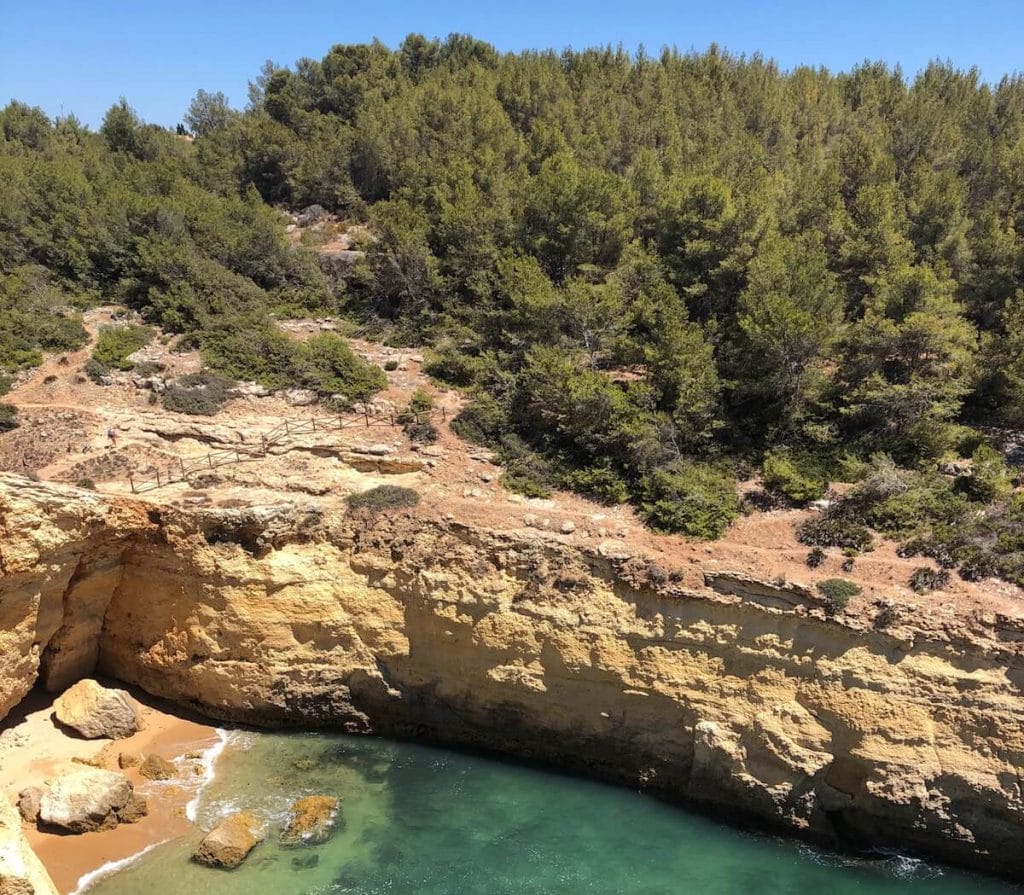 Third Day – Praia dos Três Irmãos and Praia da Rocha
You can spend the morning at Praia do Três Irmãos and the afternoon at Praia da Rocha area.
There are some really cool beach clubs where you can relax and have some drinks, Spot 3 and NoSoloAgua are my suggestions. Or you can visit the beaches nearby, as this area is very nice for beach exploration.
Fourth Day – Lagos and its famous beaches
Exactly like my 3-day Algarve itinerary.
Fifth Day – Sagres, Cape of Saint Vincent and Costa Vicentina Natural Park
On the last day, you will explore Algarve's best-kept secret, Costa Vicentina.
The coast is very different from the beach resorts between Lagos and Albufeira and you'll encounter tiny villages practicing ancient agriculture and fishing traditions.
After 1h drive from Albufeira, you will arrive in Sagres, a small, isolated and very simple town known for being the mecca of surf in the Algarve. 5 Km away from Sagres is Cabo de São Vincente, the most southwestern tip of Europe.
Known to the Romans as "the end of the world", the Cape of Saint Vincent is an important Algarve's point of interest, full of history and myths.
There's a fortress constructed in the 16th century to protect the coast from pirate attacks on top of the 60-80m tall cliffs. And within the fortress, there is a very picturesque lighthouse, open only on Wednesdays, and a small maritime museum, open from Tuesday to Sunday.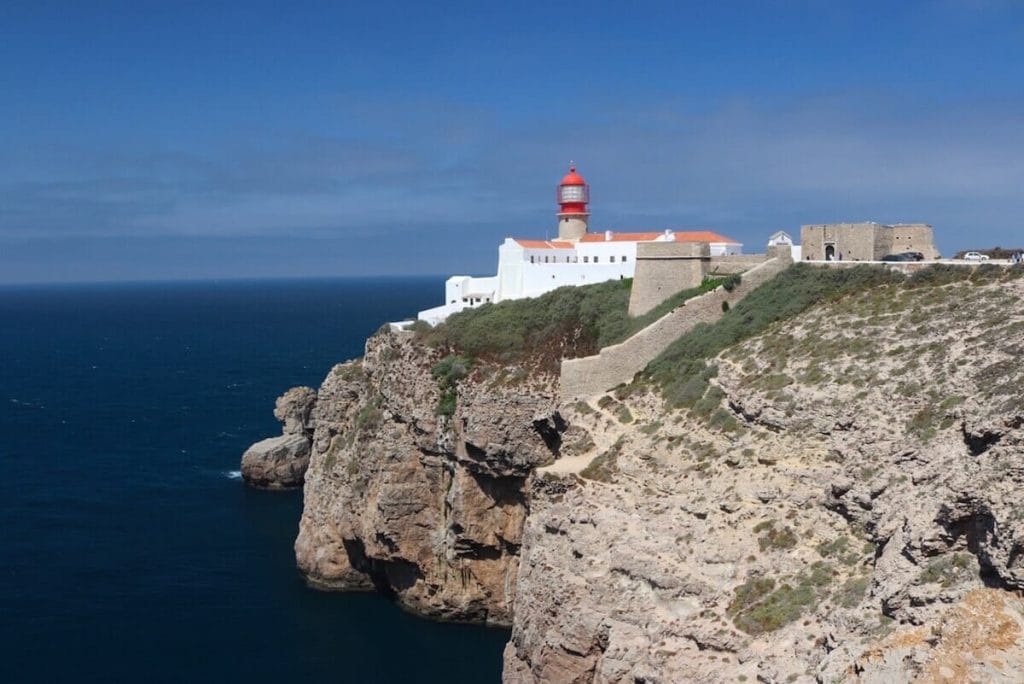 Continuing your 5-day Algarve itinerary, you can stop by at Praia do Beliche, yet another stunning beach with crystalline water, on your way to Sagres town.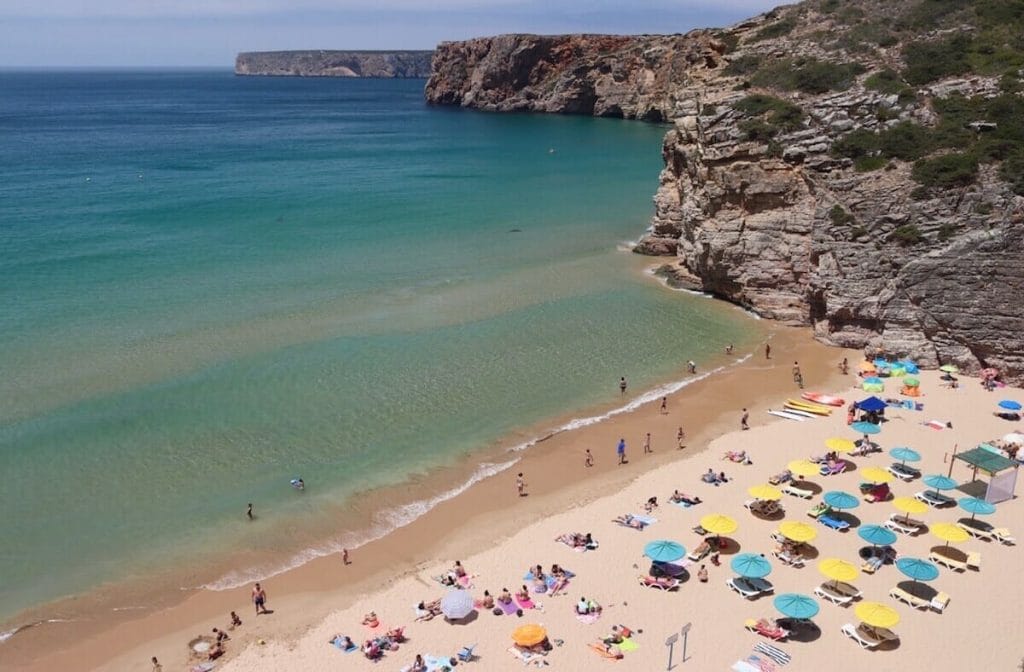 In Sagres you can visit Sagres Fortress (Sagres's Castle), see the fishing harbor, have lunch in the center, go for a walk along the coast, take a surfing lesson or drive through the deserted Vicentine Coast Natural Park up to the Praia Da Bordeira or Praia do Amado.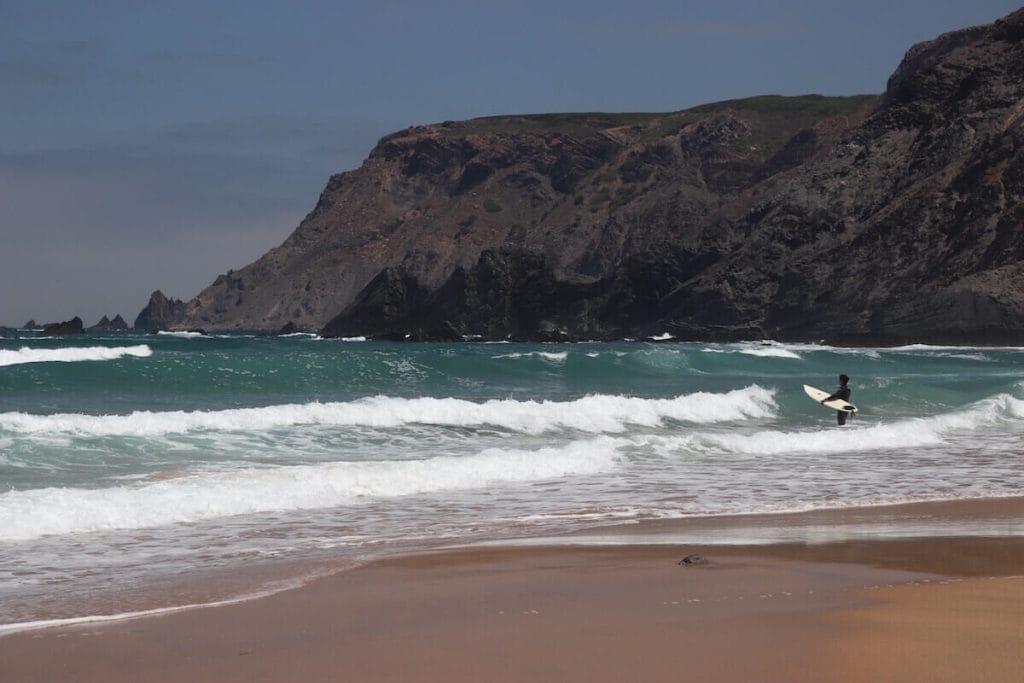 If you're staying in Lagos and don't want to drive, you can take this Wild and Wonderful West Coast Full-Day Tour.
I really liked visiting Sagres and the Cape of Saint Vincent, and I think that this is the best way to finish your 5 days in Algarve.
Final Consideration
If you don't want to visit the Costa Vicentina, take a day trip to Silves & Monchique or Loulé & Faro. Or just spend the day in one of the nicest Algarvian waterparks, or on the beach.
7 Days in Algarve
Day 1: Albufeira: Best Beaches and City Center
Day 2: Praia da Marinha and Benagil Cave
Day 3: Portimão: Praia dos Três Irmãos and Rocha
Day 4: Lagos: Old Town and its world famous beaches
Day 5: Cape of San Vincent, Praia do Telheiro and Costa Vicentina Natural Park
Day 6: Silves and Monchique or Loulé and Faro
Day 7: Albufeira
For this Algarve itinerary for 7 days, you will follow the previous 5-day itinerary and on the sixth day, my recommendation is to take a day trip to Silves & Monchique, or Loulé & Faro.
Silves, one of the oldest cities in Portugal and the ancient capital of the Kingdom of the Algarve, is a delightful fortified town located in the Monchique Mountains among citrus groves and vineyards.
The highlight of a trip to this scenic town is Silves Castle, an imposing red brick Moorish castle, from where the Moors ruled over the entire Algarve. Other attractions are the city walls and the Sé Cathedral, which was built on the site of a grand mosque.
Leaving Silves and driving 30min through the foothills of Serra de Monchique, you will arrive at Monchique, another charming and picturesque town, set amongst a pine, oak and eucalyptus forest.
After spending some time exploring the peaceful town and its cobbled streets, you can head to the highest peak in the Algarve, Mount Fóia, at 902m. It provides spectacular panoramic views of the entire region and its diverse vegetation.
Visiting Silves and Monchique you have an opportunity to admire the Algarvian countryside and see a world away from the beach resorts that the Algarve is famous for. You can do it by car, or book one of these day trips below.
The other option for your 7-day Algarve itinerary is visiting Loulé and Faro.
Loulé, a traditional Portuguese market town located 30min drive from Albufeira, is one of the best places to visit in Algarve for a day trip.
Visitors are drawn to Loulé for its characterful historic center, genuine Portuguese atmosphere and particularly the lively market, one of the most unique Algarvian points of interest.
The picturesque neo-Arab covered market was constructed in 1908 and renovated between 2004 and 2007. It has stalls selling regional handicrafts, souvenirs, wines, spices, fresh fruit and vegetables, fish and much more.
It is open daily, except on Sundays, from 7h to 15h, and the best time to visit is on Saturday morning, when there are a lot more stalls, as well as an open-air market.
Once in Loulé, you can also visit other historical sites in the city, including the only Islamic baths in Portugal, and Loulé Castle, or take a 3h Food and Historical City tour.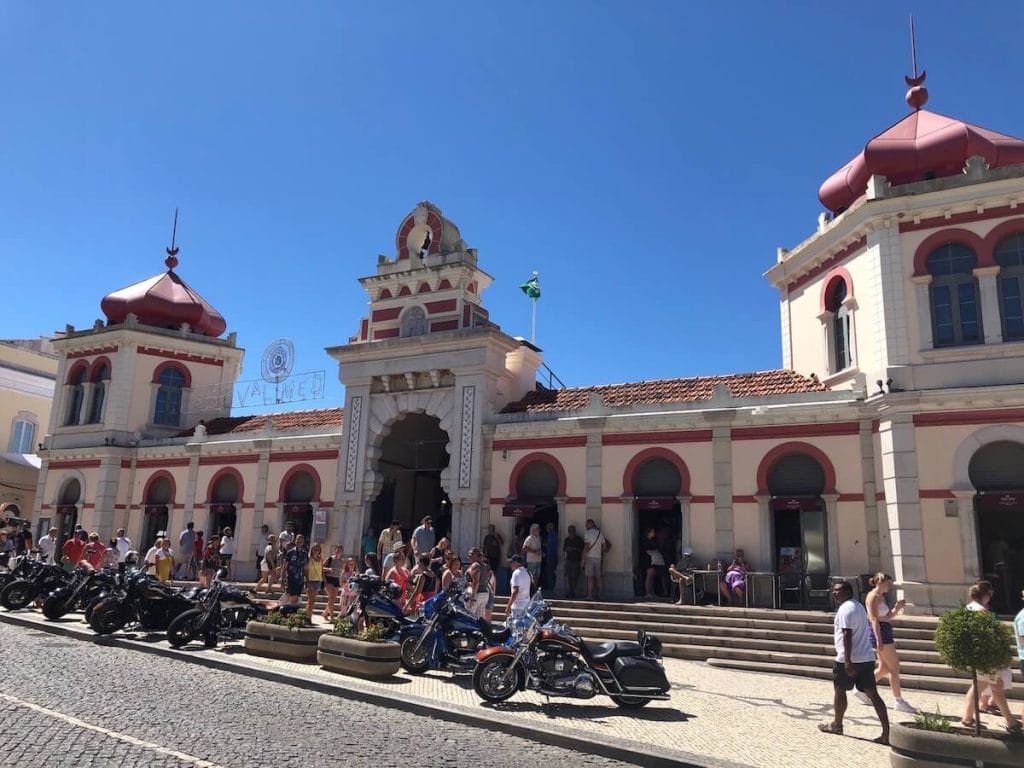 After visiting Loulé, you will drive 20min to Algarve's capital.
Faro has a well-preserved old town with a fascinating history. In fact, visiting Faro Old Town is one of the finest things to do in Algarve if you're interested in history.
There are many important cultural and historical monuments to see, such as: Largo da Sé, with its enchanting Gothic architecture; Paço Episcopal; São Pedro Church, with its magnificent baroque main altar; the magnificent city archway, built at the entrance of a medieval castle in the 19th century, and many others.
If you still have time, you can take a boat trip to Ria Formosa, one of the 7 Natural Wonders of Portugal.
After leaving Faro, you can stop by at Marina Vilamoura to have a drink or two, while the sun goes down. Or just head straight to Albufeira.
The last of your 7 days in Algarve, you will spend in Albufeira.
In case you have time before departing, my recommendation is to go to Praia da Falésia, the longest Albufeira beach, dotted with dark red and white sandy cliffs topped by green pines.
If you feel like getting an adrenaline kick, go quad-biking. It's a great opportunity to see the Algarve beyond the beaches and explore the Algarvian countryside. Check prices and availability here.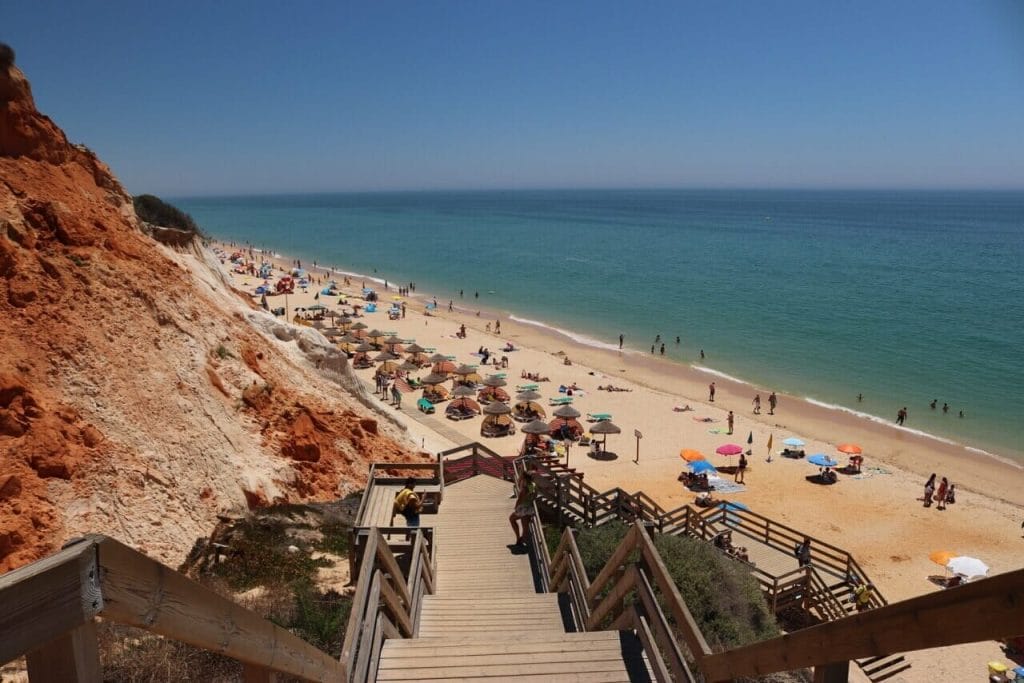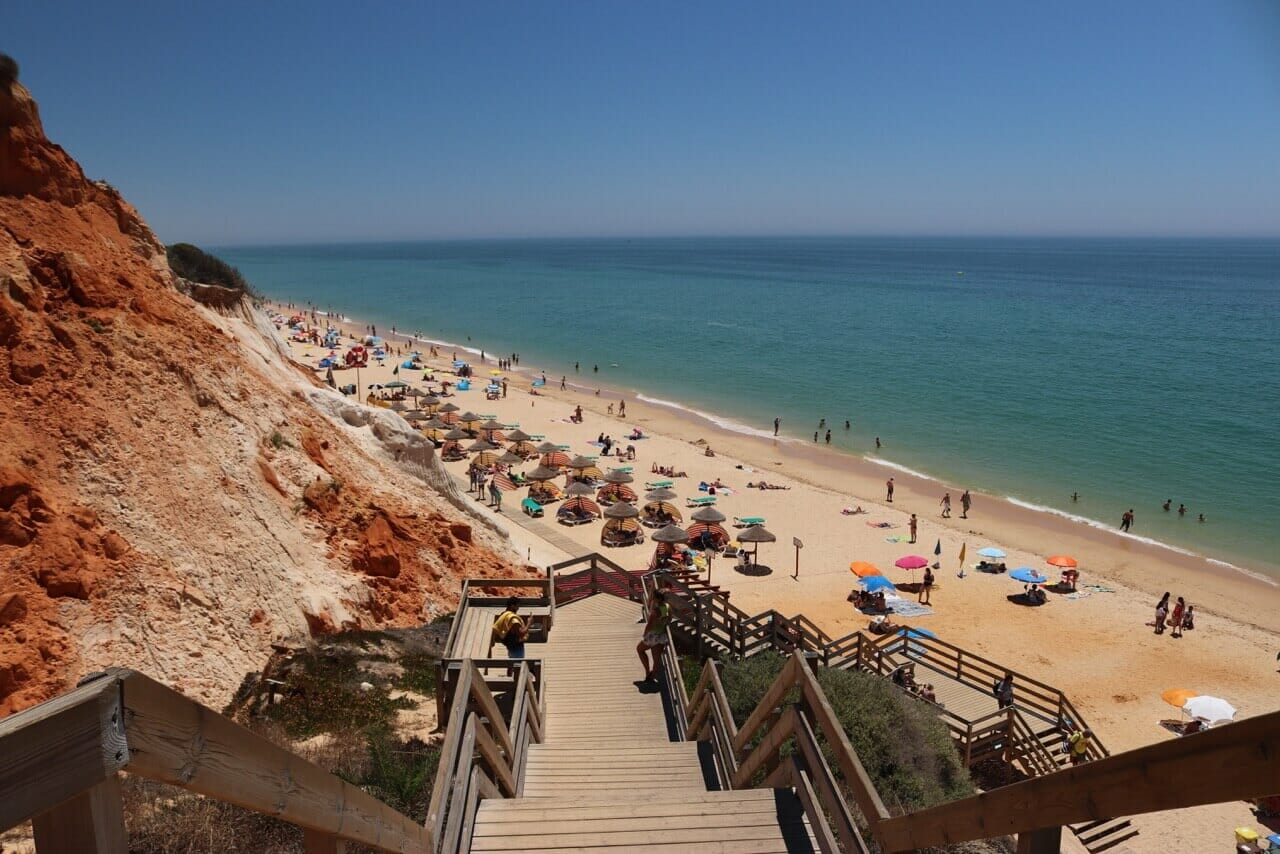 Final consideration
On your way from Loulé to Faro, you can visit Igreja de São Lourenço, one of the most distinctive churches in the Algarve.
If you don't want to do a day trip, you can go to a waterpark or spend the day on a beach.
After visiting the Algarve, you will understand why I love it.
Of course, these are just suggested itineraries for 3, 5 and 7 days in Algarve, and you can change it according to your interests, budget and time.
I believe that following these directions will make your trip much easier to plan and more enjoyable.
Safe travels and have fun in Portugal.
More Algarve posts that might interest you:
Have you been to Portugal? What do you think of my Algarve itinerary? Leave a comment below 😉
Travel Planning Resources
For every booking made through my site I donate US$ 1 for a charitable organization.
Safe travels ☺