Looking for adventurous things to do in Algarve? Below are the 10 best ones and many other tips 😉
The Algarve, Portugal's southernmost region, stretches over an area of 4,997 km2 (1,929 sq mi), incorporating 16 municipalities with 451,006 permanent residents.
It's known for having some of the most beautiful beaches in the world and being one of the sunniest places in Europe.
With over 300 days of sunshine a year and regular thermal winds, the Golden Coast is blessed with fantastic weather conditions for outdoor activities.
I'm an Algarve habitué and I've been going to this region at least every other year since 2008. Every time I endeavor to find new and fun things to do with friends and family.
And because I'm an adventurer, I decided to write this post with 10 outdoor activities to give you some ideas when you visit this superb Portuguese region.
From kayaking in the sea grottoes, to coasteering and paragliding, here is a list of the 10 best adventurous things to do in Algarve.
10 Best Adventurous Things to Do in Algarve
1 – Take surf lessons
Its picturesque golden coast, year-round sunny days and consistent Atlantic waves makes the Algarve one of the hottest places for surfing in Europe.
And if you don't know how to surf, no problem, there is always time to develop a new skill.
You will get an introduction to surfing, learn the basics about waves, tides, currents, equipment, how to paddle and handle the surfboard in the water in a safe manner.
Once you start catching waves and standing on the board, you'll discover a new passion.
Taking surf lessons is one the coolest adventurous things to do in Algarve and some of the best surf schools are: Algarve Surf Shop & School, Future Surfing School and SW Surf Shop.
If you prefer, you can book this surf tour that departs from Lagos.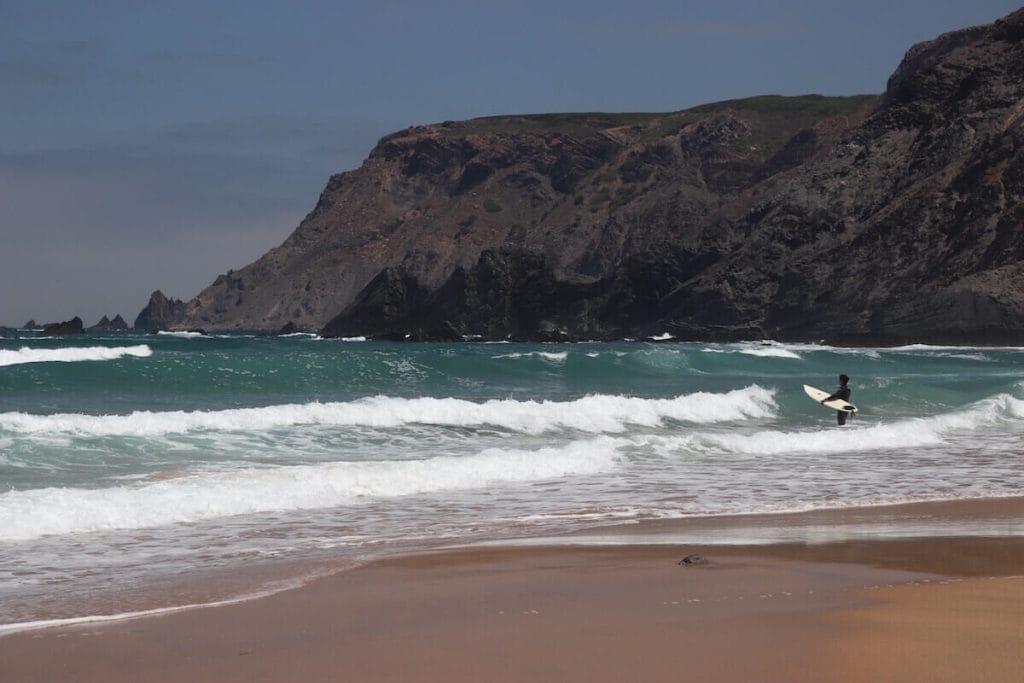 2. Go skydiving in Portimão
The Algarve is considered one of the most spectacular drop zones for skydiving in Europe, due to its breathtaking coastal views and mild Mediterranean climate.
If you're an adrenaline junkie and is looking for adventurous things to do in Algarve, skydiving in Portimão should be at the top of your list.
You will jump from 10,000 to 15,000 feet, free fall for 20 to 70 seconds and get stunning views of the Algarve and coastal towns and villages.
If you have never gone skydiving, it's an once-in-a-lifetime experience and the ultimate adrenaline rush.
3 – Take a Kayak Cave Trip
If you're looking for adventurous things to do in Algarve, a kayak cave trip tour should also be on your list.
The tour departs from the Marina de Lagos, and you will paddle on the azure water past several stunning beaches and marvel at the ancient Algarvian rock formations.
To top it all, you will be able to enter some caves and grottoes that boats can't access, have free time to go swimming and relax on a calm beach.
You paddle for around one hour, with stops for the guide to explain interesting facts about the coast.
This tour is a thrilling adventure and you don't need previous kayaking experience.
You can book your tour online in advance here.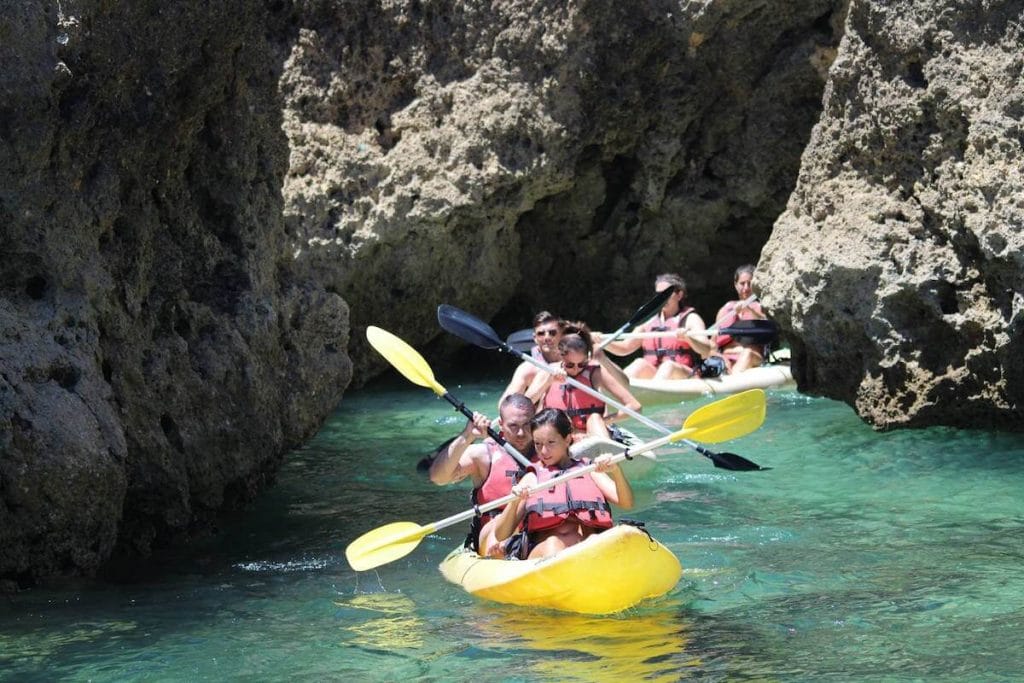 Pro tip: My recommendation is to do it early in the day because of the heat.
4. Go kite- or windsurfing at Ilha de Tavira
Tavira, one of the most charming towns in the Algarve, has an interesting mix of Portuguese heritage with deep-rooted Moorish influences.
Located 28Km (17mi) east of Faro and 25Km west of the Spanish border, Tavira lies along the Gilão River, which meanders into the shallow waterways and mudflats of the Ria Formosa Nature Park.
Beyond the Ria Formosa lagoons is the Ilha de Tavira, a sandbar island which is the location of Tavira's beautiful beaches and heaven for migratory birds and sun seekers. But they are not the only ones…
Because of its moderate winds and safe spacious beach area, Tavira Island is very popular with kite- and windsurfers.
In fact, kite- and windsurfing is one the top adventurous things to do in Algarve, and if you practice these sports, Tavira should be on your radar.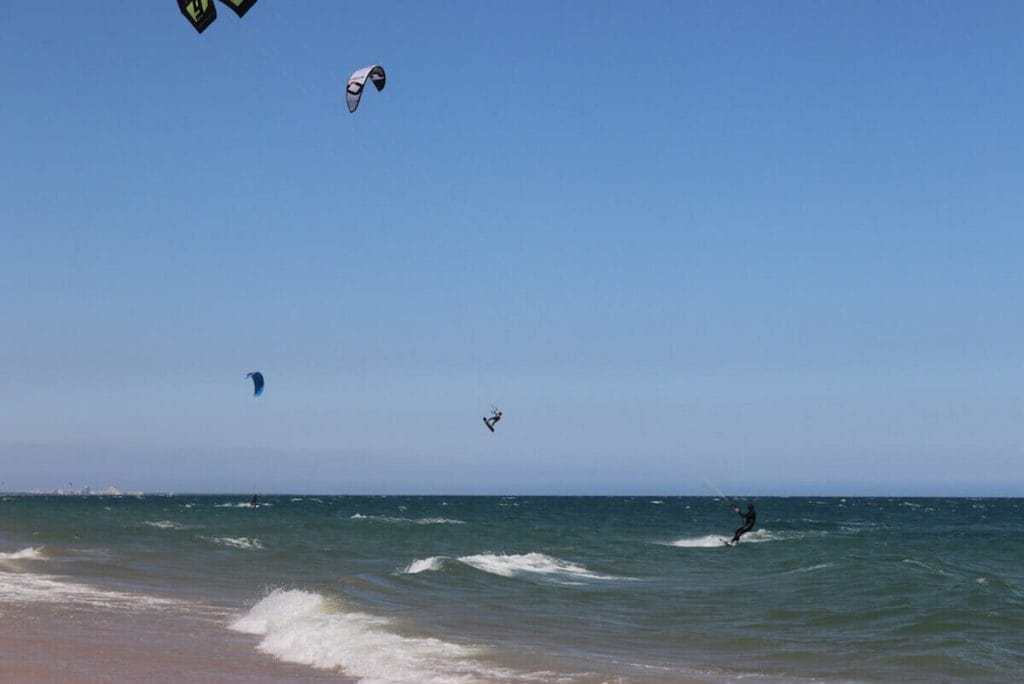 If you prefer you can take windsurfing and kiteboarding lessons in Lagos. Check prices and availability here.
5. Walk along the seaside cliffs
One of my preferred adventurous things to do in Algarve is walking along the coastal cliffs.
Whether you're a hiker or an occasional stroller, there are many mapped trails to choose from and it'll be easy to find some that suit you.
Some of the most popular coastal trails in the Algarve are: Trail of headlands (Lagoa), São Lourenço Trail (Quinta do Lago) and Pontal da Carrapateira Trail (Vicentine Coast Natural Park).
The best and most famous is undoubtedly the Seven Hanging Valleys Trail, which is considered one of the best hikes in Europe.
On this impressive 6Km trail, you see secluded beaches, magnificent sea caves, a working lighthouse, unique fauna and flora and amazing rock formations. It's suitable for all ages and takes between 3 – 5 hours.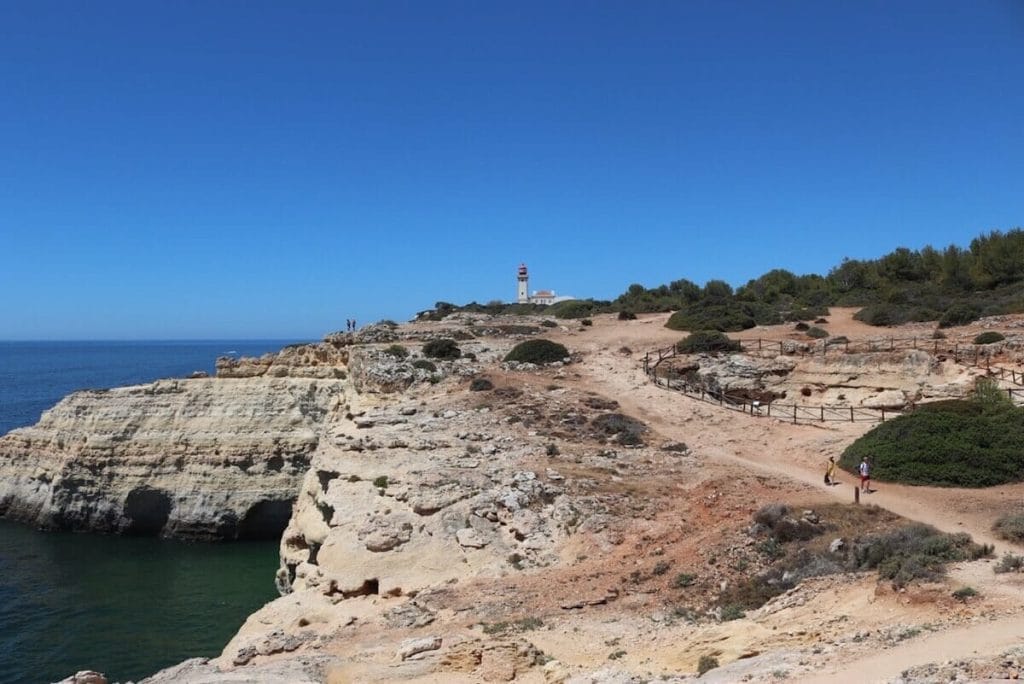 Pro tip: The Seven Hanging Valleys Trail is not difficult, but the heat can make it hard. Do it early in the morning, bring plenty of water and a hat because there isn't much shade.
6. Go hiking at Serra de Monchique
If you prefer hiking in the mountains instead of coastal areas, Serra de Monchique, a chain of mountains in the western part of the Algarve, is the place to go.
At 902m, Serra de Monchique has the highest peak in the Algarve, Mount Fóia, with its spectacular panoramic views of the entire region and diverse vegetation. As far as trees go, you can find pine, cork oak, orange, eucalyptus and chestnut, as well as many flowers and shrubs of rosemary, heath, oleander, arbutus and rockroses.
This peaceful and quiet area is perfect for bird watching, long walks, biking and hiking.
There are several hikes that you can do in Serra de Monchique, such as Rota dos Moinhos, Serra da Picota, etc. But the most popular is Mount Fóia, a moderate 11 Km (7mi) hike that takes around 3h to complete.
Hiking in Serra de Monchique is one of the best adventurous things to do in Algarve and a great way to admire nature in all its beauty.
7 – Sail through the channels of Ria Formosa Natural Park
Often overshadowed by the stunning Algarvian beaches, Ria Formosa Natural Park is one the best places for outdoor activities in the Algarve.
This wetland of international importance is one of the 7 Wonders of Portugal. Its maze of canals, freshwater lagoons, marshes and barrier islands stretches 60Km along the Algarve coast through the municipalities of Loulé, Faro, Olhão, Tavira and Vila Real de Santo António.
There are many things you can do at Ria Formosa Natural Park, such as kayaking, mountain biking, snorkeling, boat trips, bird watching (this is one of the most important areas for aquatic birds in Portugal), etc.
Sailing through the beautiful channels of Ria Formosa, you will learn about the hundreds of native birds and plant life, visit islands and have plenty of opportunities for swimming.
Don't forget to put visiting Ria Formosa Natural Park on your "Adventurous Things to do in Algarve" list.
8 – Go quad biking
One of the most exciting and coolest adventurous things to do in Algarve is quad biking.
You will explore the serene Algarvian countryside and experience the natural beauty of the Algarve from another perspective.
You will also get an adrenaline rush while driving along gravel paths, across streams, through mud puddles and up high hills.
In the Algarve there are quad biking tours around Albufeira; in Monchique, a beautiful mountainous region with the highest Algarvian peak; and in Alte, one of the Algarve's prettiest villages.
The tours take an average of 3 hours, cost approximately 50 euros per person, and include pickup & drop-off.
Quad biking is a great opportunity to see the Algarve beyond beaches and explore the Algarvian countryside.
9 – Try coasteering for the first time
If you're looking for unusual adventures things to do in Algarve, you should try coasteering.
The activity encompasses movement along the seashore of a rocky coastline combining adventure swimming with climbing, scrambling, sea level traversing, jumping and diving.
Its goal is to explore along the very edge of the coastline where the ocean meets rock, seeking out places that are otherwise inaccessible through any other methods.
It sounds exciting, doesn't?
If coasteering is for you, there is a 3.5h tour in one of the most beautiful and untouched areas of the Algarve, the Costa Vicentina Natural Park, located between Sagres and Lagos.
You will explore the coastline, discover hidden beaches, admire cliffs with incredible rock formations and learn about the marine environment and some local traditions. You will also swim in the ocean and inside sea caves, climb and walk along the rocky shoreline.
If you are an adrenaline junkie you should try coasteering in the Algarve.
10 – Fly over the iconic Algarve coast on a paraglide
And the last, but not least, of my adventurous things to do in Algarve list, is paragliding.
Flying over the stunning Algarvian coast, you have the opportunity to admire its incredible landscape from a very privileged view.
You can go paragliding in Albufeira, Loulé, Lagos, Aljezur and Vila do Bispo, near Sagres.
The flight takes around 20 to 30min and the altitude reaches varies between 150 and 400m, depending on the location.
Whether you choose to fly over Praia das Falésias, one of the most beautiful beaches in Albufeira, or Praia da Cordoama, a beach that is popular with paragliders from all over the world, paragliding is the ultimate sensation of flying.
And if you're an adventurer, you should not miss it.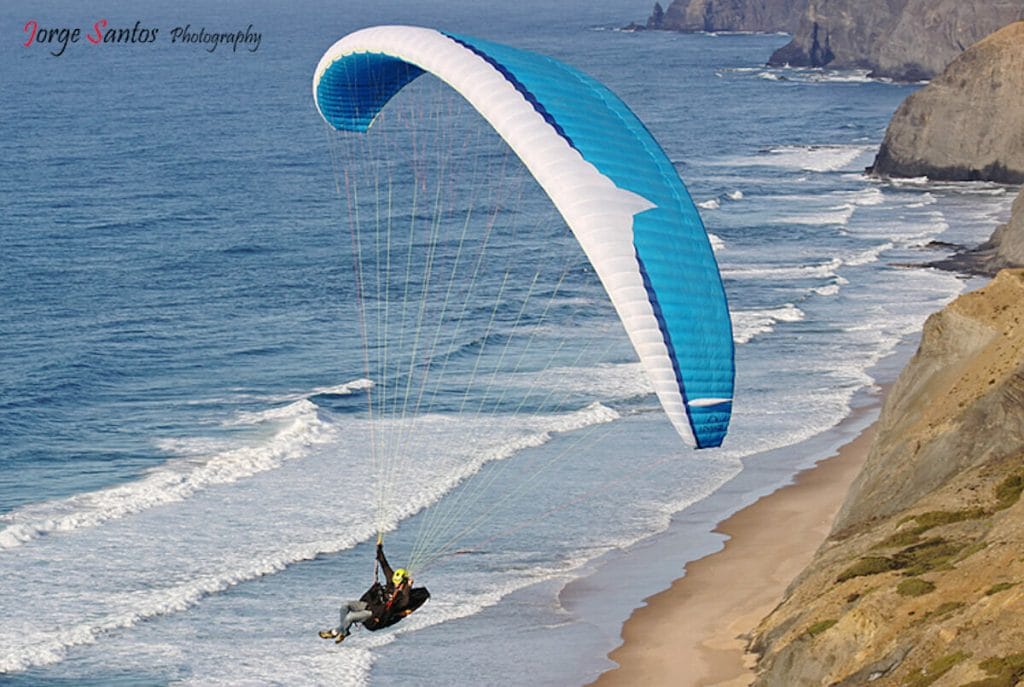 This is my list of the 10 best adventurous things to do in Algarve, and if you find some more, please leave a comment below 😉
Safe travels and have fun in Portugal.
More posts about the Algarve that might interested in:
Enjoying the Adventurous Things to do in Algarve
Where is Algarve located?
Algarve is southernmost region of Portugal (check map here).
Best time to visit Algarve
The best time to visit the Algarve is definitely during the summer and particularly July and August. But if you don't like crowds and heat, you should go June or September.
Most of these adventurous things to do in Algarve listed here can be done all year, but is much better in the summer.
How to get there?
There is an international airport in Faro, but the most popular for those who aren't in Europe is the one in Lisbon.
From Lisbon you can take a bus or a train to the Algarve. The prices are basically the same and they take around 2h and half to get there.
Some of the companies that fly to Faro are: Easyjet, British Airways, Ryanair and TAP.
You can book your flights with Skyscanner, that is the website that I use and trust.
To get around the best thing is to hire a car because the public transportation in the Algarve isn't good.
You can rent a car with Rental Cars here with no extra costs for you.
Where to stay in Algarve?
If you want to stay in a central location from where you can find most of the adventurous things to do in Algarve listed here, I would suggest staying in Albufeira or Lagos.
Some Algarve hotels that I recommend are:
Albufeira Hotels:
Budget: Apartamentos Turísticos Novochoro, Água Viva and Albufeira Beach Hotel.
Great Value for Money: Hotel Topázio, Rocamar Exlusive Hotel & Spa, Hotel do Cerro and Grande Real Santa Eulalia Resort & Hotel Spa.
Luxury: Salgados Dunas Suites, Pine Cliffs Residence a Luxury Collection Resort, Aqua Pedra dos Bicos and Auramar Beach Resort.
Lagos Hotels:
Budget: Guest House Casa Sousa, Olive Hostel Lagos and Bela Vista Guest House.
Great Value for Money: Lagos Uptown Bed & Breakfast, Don Manuel I Charming Residence, Baluarte Da Vila Apartments and Aldeia Azul Resort.
Luxury: Villas Don Dinis, Cascade Wellness & Lifestyle Resort and Belmar Spa & Beach Resort.

Helpful Links to Visit the Algarve
For more information about the Algarve visit the page: Visit Algarve.
For the train schedule between Lisboa and the Algarve visit Rail Europe webpage.
For the bus schedule between Lisbon and the Algarve visit Rede Expressos website.
Don't forget to save these pins 😉
Travel Planning Resources
For every booking made through my site I donate US$ 1 for a charitable organization.
Safe travels ☺