While planning my trip to Qatar, I can confess that I didn't know much about the country and, particularly, what to do in Doha.
The city, located on the coast of the Persian Gulf, was founded in 1820. It was officially declared Qatar's capital when the country gained independence after the termination of the treaties with Great Britain in 1971.
Nowadays Doha is a thriving city and home to over 2 million inhabitants, more people than the rest of Qatar combined. It offers an intriguing mix of modern wonders and ancient traditions to explore.
I spent a week in Qatar in June 2022, and I was really surprised to discover that there are several amazing things to do and places to visit in Doha.
To help you plan your trip, I've compiled the 25 top things to do in Doha in this post. Whether you're doing a layover or spending a few days in the city, you'll find attractions to please every visitor.
* Affiliate disclosure: Some of the links below are affiliate links, meaning I earn a small fee if you click through and make a purchase. There is never any additional cost to you, and I use some of these earnings for my monthly charitable donations.
25 Best Things to Do in Doha, Qatar
1 – Be in awe of the National Museum of Qatar
There are five places that you can't miss while in Doha! The National Museum of Qatar is one of them.­
The 350m-long unparalleled museum, designed by Jean Nouvel, houses 11 striking galleries dedicated to the history of Qatar, from the formation of the peninsula, over 700 million years ago, to the current days.
What I liked most about the NMOQ, apart from its unique architecture, is that some of the galleries feature films that are projected at immense scale against the curving walls creating immersive experiences with unique spectacles of light, sound, and image.
The National Museum of Qatar has two cafes, and a fine restaurant serving Qatari cuisine and holds temporary exhibitions. It's open daily from 9:00am to 7:00pm (on Fridays from 1:30pm to 7:00pm) and costs QAR 50 (US$ 14 – £13).
Visiting the NMOQ is one of the best things to do in Doha and I loved it! The "Your brain to me, my brain to you" exhibition, by the Swiss artist Pipilotti Rist, was the cherry on the cake.
2 – Discover the multicoloured Box Park
If you've been to London, you might be familiar with Box Park, a food and retail park made of shipping containers. But did you know that there's a Box Park in Doha?
Box Park Qatar, situated near Doha Port, a 25-min walk from the National Museum of Qatar, is filled with colourful and vibrant metal boxes that have been repurposed as shops, cafés, dining outlets and commercial spaces, with various food trucks nearby.
You can grab some snacks, do water sports (including jet skiing and diving), take a boat ride, and enjoy the scenic panoramic views. Not to mention taking Instagram-worthy pictures.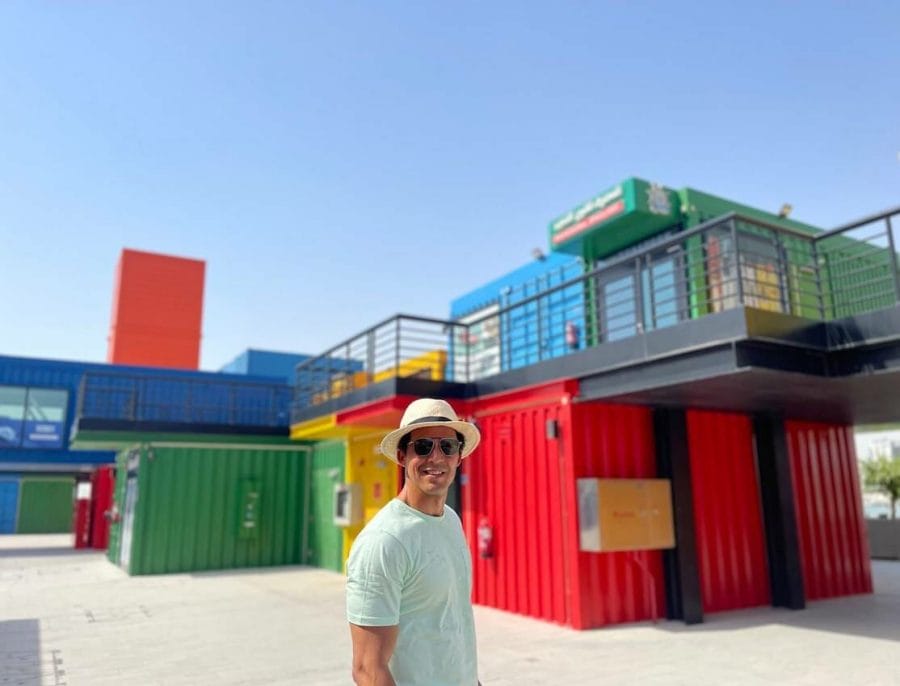 3 – Visit MIA Park & the Museum of Islamic Art
A 10-minute walk from Box Park will take you to MIA Park, the most beautiful green space along the Doha waterfront.
The park offers a wide range of family-friendly activities, including sports events, film screenings and art workshops. MIA Park is one of the best places for outdoor activities in Doha and you can rent bicycles, paddleboards, kayaks, go running, etc.
Built on an artificial island connected to MIA Park is another Doha must-see attraction, the Museum of Islamic Art.
It houses one of the greatest collections of Islamic art in the world, including ceramics, glasses, manuscripts, metalwork, textiles, and more. The museum is open daily from 9:00 am to 7:00 pm, (on Fridays from 1:30 pm to 7:00 pm).
Visiting MIA Park and the Museum of Islamic Art is one of the top things to do in Doha with family.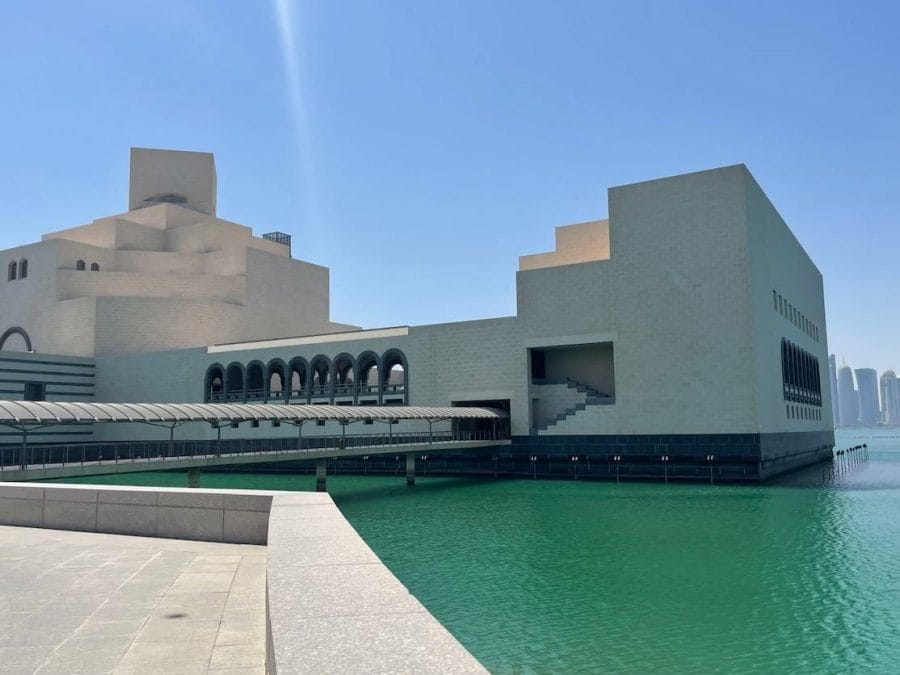 4 – Stroll along the Al-Corniche
If you're looking for things to do during a layover in Doha one of my top suggestions is the corniche.
The gorgeous 7-kilometre-long coastal palm-fringed promenade along Doha Bay is one of the most popular attractions in Qatar for tourists and locals alike.
Strolling through Doha Corniche you can get a good sense of the city. You can go sightseeing, watch the sunset, take pictures of the Pearl Monument, gaze at Doha's modern skyline, take a Dhow boat cruise, etc.
5 – Take a Dhow Boat Cruise
While on the Corniche, why not take a boat ride on a dhow?
Dhows are traditional wooden sailboats historically used by merchants and fishermen. You'll have the opportunity to learn about Qatar's historical relationship with the sea, from pearl diving to fishing, and soak in the vista of the city skyline from the boat.
You can take a dhow cruise in the glowing dusk of the sunset or in the evening when the ultra-modern skyscrapers come alive with dancing lights. My recommendation is to book this cruise with a guide for a much richer experience.
6 – Get lost at Souq Waqif
If you're looking for places to visit in Doha where you can interact with the Qatari culture, Souq Waqif, the city's oldest souq, is the best option.
Nestled in the heart of the city, this renovated Arabic marketplace housed in traditional Qatari-style buildings sells garments, tapestries, spices, beautifully intricate handcrafts, souvenirs, etc. It's also home to art galleries, restaurants, cafés, and shisha loungers.
What I liked most about Souq Waqif, apart from its picturesque buildings, it's that I had the chance to observe the Qatari way of life and see things that I had never seen before, such as the desert rose.
You can get lost easily in the maze-like corridors stuffed with dozens of tiny stores.
Souq Waqif is another place that you can't miss, whether you're doing a stopover or staying in the city for a few more days.
7 – Learn about falconry
Falconry has been practised for over 4000 years and is more than a social and recreational practice, it's a living human heritage and a UNESCO Intangible Cultural Heritage of Humanity.
Falcon is Qatar's national bird, and it plays an important part in the Qatari culture. If you want to learn more about it while in Doha, you should visit the Falcon Souq, at the edge of Souq Waqif.
Inside the arcaded buildings, you'll find majestic birds standing still on wooden perches, accessories, and hunting equipment. There's even a Falcon hospital and public auctions during the high season (from October to March).
8 – Wander around Msheireb Downtown
Following a friend's recommendation, I went to Msheireb Downtown, which is located near Souq Waqif.
This old commercial district, revamped with a new architectural concept, comprises more than 100 buildings. You can find entertainment venues, four hotels, lovely al fresco dining options, cafés, and the biggest open-air covered pedestrian square in the region.
If you're into architecture or looking for a cool place to meet friends, Msheireb Downtown is the place to go.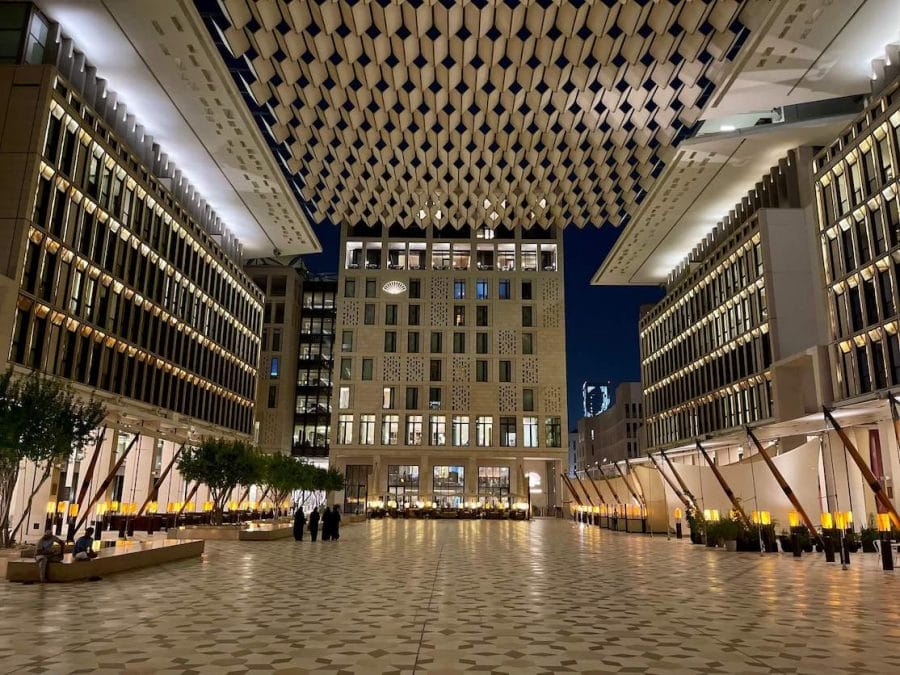 9 – Take a look at the Spiral Mosque
The Spiral Mosque, another place to check out in the souq areas, is one of Doha's most famous landmarks and the tallest mosque in Qatar.
The mosque is part of the Qatar Islamic Cultural Center and is a replica of the Great Mosque of Samarra in Iraq. The Spiral Mosque is a popular Doha attraction as it allows entry for non-Muslins and has a sermon on Fridays in English.
10 – Take a desert safari
Desert safari tours are very popular in Dubai, but also a bit touristy. I found the experience much better in Qatar!
You can ride a camel, go dune bashing, sandboarding, and the best, swim in the warm turquoise waters of Inland Sea, a sea inlet of the Persian Gulf between Qatar and Saudi Arabia.
I loved my Desert Safari Tour, and it was one of the highlights of my trip to Doha.
You can't miss the opportunity to take a desert safari, as it's one of the best things to do in Qatar.
Book your desert safari tour on-line in advance.
The most popular desert safari tour is this one. I booked a private tour with some friends and you can watch the video here.
If you're on a budget, this tour has good value for money.
If you prefer a luxury experience, in which you can use the facilities of a luxury beachfront resort, this is your tour.
11 – Go shopping at Galleries Lafayette
You might be familiar with Galleries Lafayette, an iconic Parisian luxury department store. But do you know that there's one in Doha?
Oui oui mademoiselle and it's outrageously stunning! The opulent buildings, the exquisite domes, the colourful Murano glass trees, and the AC in the outdoor area, all left me completely in awe.
The Galleries Lafayette Doha, located in the Katara Cultural Village, opened its doors in 2019. You can shop from over 400 high-quality brands, have a coffee at the French-style café and dine in one of its two top-notch restaurants.
12 – Explore Katara Cultural Village
Located on the western coast between West Bay and The Pearl, Katara Cultural Village is a dazzling cultural hub and one of the most popular Doha tourist attractions, opened in 2010.
In this 'ancient-like walled city' you can admire the design of Katara Mosque, check out pieces of art, discover the classical Greek style amphitheatre, taste local flavours, explore Al Thuraya Planetarium, catch a performance at the Opera House, enjoy the nearby beach, and walk to Katara Hills.
13 – Take in the scenic views from Katara Hills
When visiting Katara Village, don't miss the opportunity to get a bird's eye view of the city from Katara Hills, one of the largest parks in Doha.
Situated just across the cultural village, it features a lush landscape with trees from different continents and beautiful gardens. It also has running paths, water streams, and restaurants.
Climb atop the hills, catch your breath, and take in the panoramic views of Doha, the sea, and beyond, especially as it is aglow at sunset.
14 – Go to the beach
Featuring golden sand beaches with crystalline water, the beaches in Doha may not be on the tourist's radar yet.
The best sandy beaches are in hotels or a short drive away. If you want to go to a public beach, Katara is the only centrally located. It's public, but you must pay a small fee to get in (QAR 10/£ 2.40/US$ 2.75). A much better option is the Four Seasons Beach, where you can buy a day pass if you're not a guest (QAR 295/£ 71/US$ 81).
If you're driving, some beaches that are worth checking out include Al Wakrah, Sealine, and Inland Sea.
15 – Go to a beach club
If you want to upgrade your beach experience in Doha, go to a beach club.
Some of the best beach clubs are Monkey Tale, La Mar, Kaia, Nammos and Sushisamba. They boast crystal-clear swimming pools, luxury cabanas, comfy loungers, and DJs, and offer a great selection of food and drinks to choose from.
Spending the day at a beach club is one of my favourite things to do in Doha. I went to Monkey Tale on a Friday afternoon and loved it. A DJ was playing and the vibe was awesome.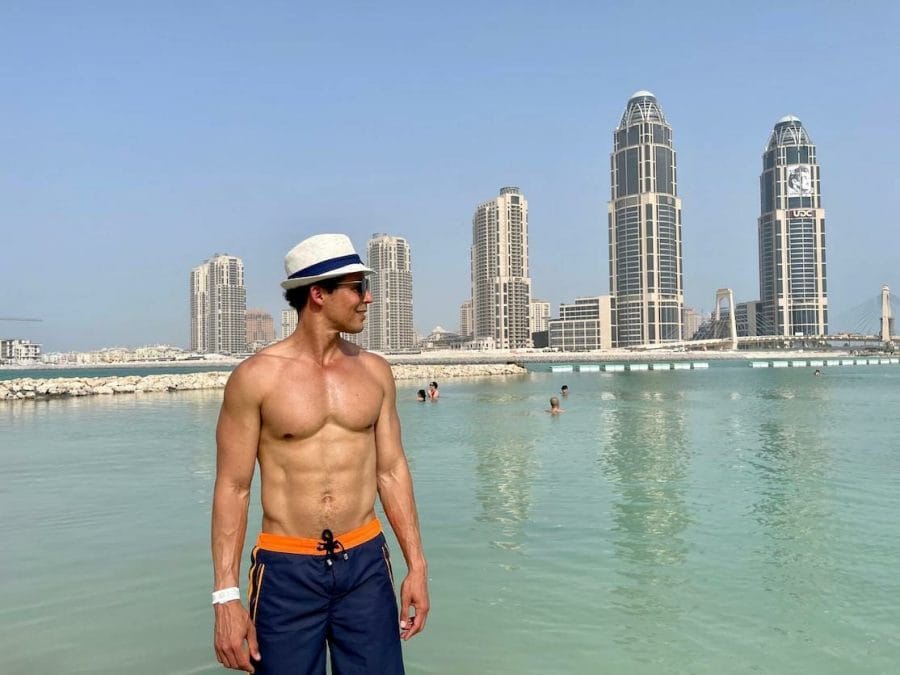 16 – Stroll around The Pearl
The Pearl, Doha's answer to Dubai's Palm Island, is a man-made island, whose shape resembles a string of pearls, spanning approximately four million sqm. It's one of the best free things in Doha and attracts over 15 million visitors yearly.
You can find a variety of charming restaurants and cafes, an iconic marina, cinemas, five-star hotels and luxury boutiques.
My recommendation is to go to the vibrant Medina Centrale, a town square inspired by the fascinating ambience of the Mediterranean, with a mixture of public plazas, gardens, terraces, canopies, and a piazza.
17 – Enjoy Doha nightlife
If you want to go partying, you might be surprised, like me, to find out that Doha has a bustling nightlife.
Before you hit the floor, you should know that most bars and clubs in Doha are restricted to five-star hotels as they have a liquor license to serve alcohol. They are open until 2:00 am.
Some of Doha's best bars and clubs are: Aqua Lounge, Krossroads Clubs, Black Orchid, Oxygene Club, Sky View, and Vertigo.
18 – Take your kid to Villagio Mall
Located within the Aspire Zone, Villagio is one of the most unique shopping centres not only in Doha but in the whole world.
The mall offers a large and diverse shopping experience and is home to many western stores and restaurants. What's special about Villagio is that it's designed to look like Venice with blue sky ceilings, and bridges. There's even a canal where you can take gondola rides.
If you're travelling to Qatar with kids, you should take them to Villagio as it's one of the best things to do in Doha for families. There are plenty of entertainment options, including a multiplex cinema, karts, and an ice rink. But the best is Gondolania, a theme park with rides, bowling, paintball, etc.
20 – Renew your faith at Qatar State Grand Mosque
Imman Abdul Wahhab Mosque, aka Qatar State Grand Mosque, is the largest mosque in the country and can house over 30,000 worshipers.
This imposing sandstone mosque with a succession of graceful arches, 93 domes, earth-coloured marble floors, round chandeliers and a red carpet is open to all visitors, regardless of religion, during non-prayer times.
When visiting this mosque, remember to dress conservatively, covering your shoulders and knees. Women must wear a scarf to cover their heads. Even if you don't get inside, it's a great place to take photographs.
21 – Visit the Arab Museum of Modern Art
Founded in 2011, MATHAF, the Arab Museum of Modern Art houses a unique collection of more than 9,000 modern and contemporary artworks from the Arab world and other regions that are historically and geographically connected to the Arab Peninsula, such as Iran, Turkey and India.
There are beautiful paintings, lovely and interesting sculptures, art installations, and more. The visit shouldn't take more than 1h and it's free of charge. Tickets must be booked in advance.
22 – Explore Lusail City
Located about 23Km (14mi) from Doha, Lusail is a planned coastal city full of attractions that became a popular Qatar destination. It's home to the Lusail Iconic Stadium, which will host the 2022 FIFA World Cup final, and the Formula One race track.
If you want to go to Lusail, my suggestion is to spend half a day in this futuristic and 'smart' city. You can go for a stroll along the palm tree-lined Marina Promenade, grab something to eat or drink at Lusail Marina Food Arena, check out the unique-looking buildings, and then go to Place Vendôme.
23 – Discover Place Vendôme
One of the most common things to do in Qatar in the summer is to go to shopping malls. It's the reason that during my visit, in June 2022, I went to check out the brand-new Place Vendôme.
This Parisian-inspired leisure, entertainment, and luxury retail hub features a canal running through the venue directly from the sea, two five-star hotels, as well as luxury apartments, restaurants, and coffee shops.
The gorgeous mall, inspired by classic French-style architecture, features four floors with a mix of 580 high-end and mid-range stores, food courts, restaurants, cafes, head-spinning domes, and a fantastic water fountain show.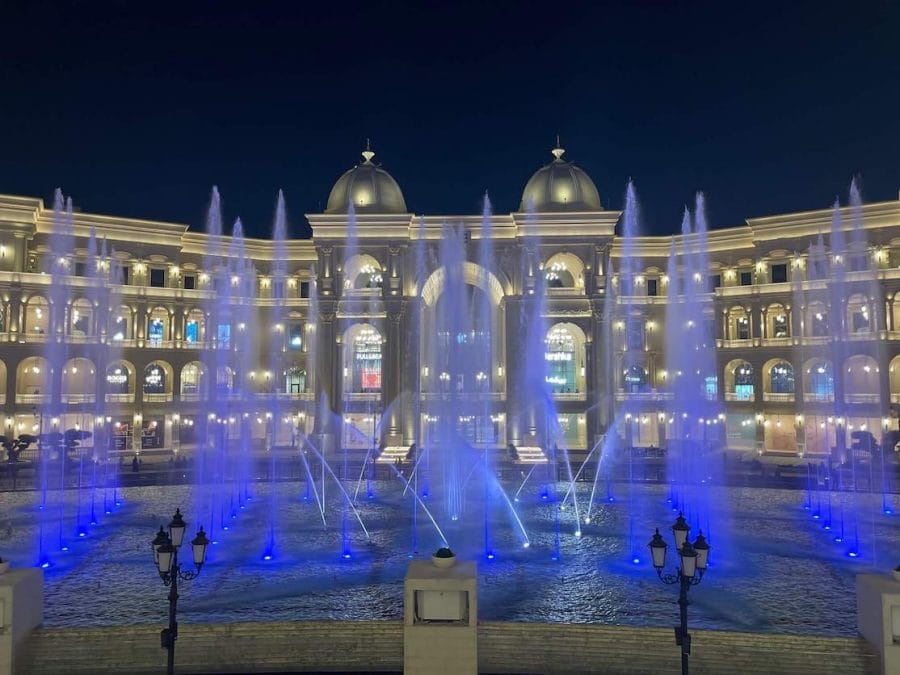 24 – Go Fine Dining
There isn't a shortage of fine dining restaurants in the most populous city of Qatar! From Iranian to Persian and French to Chinese, you find cuisines to please every palate.
Most of Doha's finest restaurants can be found in the city's luxurious hotels, such as Spice Market (W Doha Hotels and Residences West Bay), Three Sixty (on the 47th floor of the Torch), and Nobu Doha (Four Seasons Hotel).
Other excellent restaurants that are worth the money are Parisa (Souq Waqif), IDAM by Alain Ducasse (Museum Islamic of Art), and the lavish Yasmine Palace (The Pearl).
25 – Explore Qatar beyond Doha
If you want to discover other parts of Qatar while in Doha, my suggestion is to head to the North of the country or the West Coast.
Northern Qatar is famous for pearl diving and fishing and is known as the historical place of Qatar. During this half-day North of Qatar tour, you'll visit many historical attractions and UNESCO sites including Al Zubara Fort, Purple Island and Barzan Towers.
If you choose this half-day West Coast tour, you'll visit the fascinating ruins of Zekreet Fort, drive around Umbrella Rock Mountain and gaze in awe at a spectacular desert sculpture, by Richard Serra. In this one, you'll also visit a camel racing track.
This is my list of the 25 best things to do in Doha and, if you find something else, let me know in the comments below, please.
I hope this post will help you plan your trip and that you'll have a great time in Qatar.
Safe travels and have fun in Doha.
Don't forget to save these pins for later 😉
Travel Planning Resources
For every booking made through my site I donate US$ 1 for a charitable organization.
Safe travels ☺