Looking for unusual things to do in Algarve? Below you will find the 12 best ones and many other tips 😉
The Algarve, Portugal's southernmost region, is known for being one of the best beach holiday destinations in Europe.
With up to 12 hours of sunshine per day during the summer and some of the most beautiful beaches in the world, The Golden Coast and its many cities along the Atlantic Ocean receive tons of sun seekers and beach goers every year.
I've been going to the Algarve regularly since 2008 and there are many other things to do and see besides beaches.
From visiting a cork factory, to exploring historic towns, local markets and even castles, here are 12 cool and unusual things to do in Algarve.
12 Cool and Unusual Things to Do in Algarve
1 – Go wine tasting
Portuguese wines have gained fame, recognition and multiple awards across the globe.
Better known for Port, the fortified wine that is produced in the Douro region (north of the country), Portugal also produces other brilliant types of wines.
Even though the Algarve has only started to revitalize its wine sector in the past few years, you should go on a wine tour and discover the best wineries in the area.
During your wine tasting tour you can also explore the scenic Algarvian countryside, historical sites and even some beaches. There are plenty of options, and you can check them all here.
Wine tasting is just the first of my 12 cool and unusual things to do in Algarve.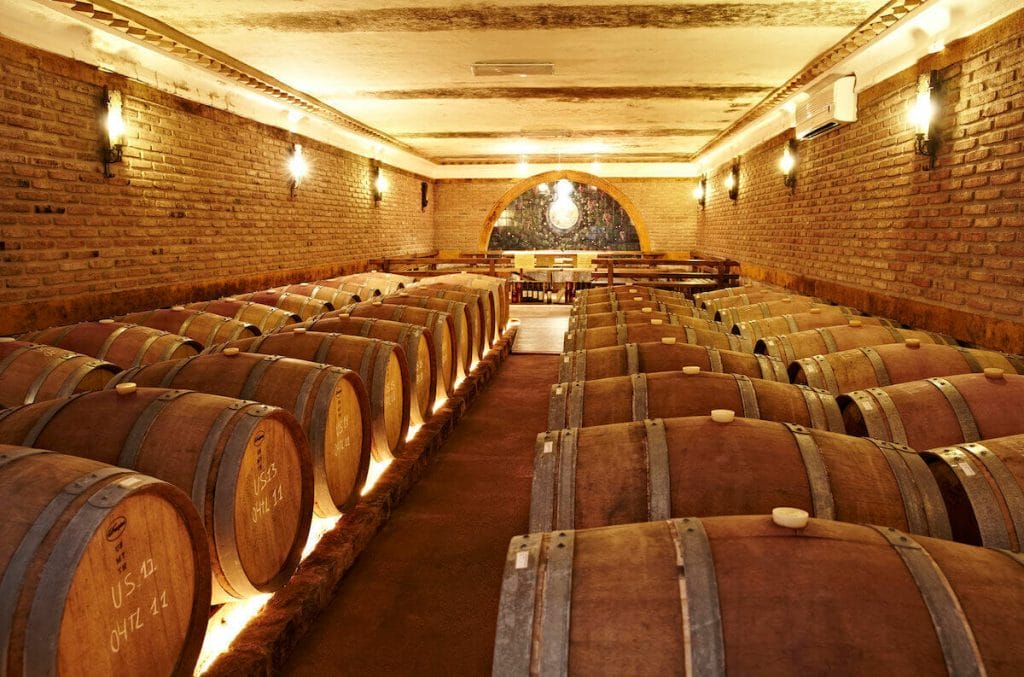 2 – Visit a pottery workshop in Porches
The history of decorative tiles in Portugal date back to Moorish times. In fact, the word azulejo, the Portuguese word for "tile", derives from the Arabic az-zulayj that means "polished stone".
Azulejo has been one of the strongest cultural expressions in Portugal since the fifteenth century and is commonly used in façades of churches, palaces and manor houses.
If you want to get a glimpse into the art of keeping this old tradition alive and are looking for unusual things to do in Algarve, you can visit Porches Pottery.
Since 1968 the Swift family has been creating the most distinctive ceramics to be found in Algarve, including elegantly hand-crafted plates, bowls, jugs, mugs, azulejo murals, tile panels, etc.
At Porches Pottery you can see artisans at work, purchase an original souvenir of Algarve, and enjoy a light lunch at the Bar Bacchus café.
It's open throughout the year, Monday to Friday from 09h to 18h, and Saturdays from 10h to 14h. It's free of charge.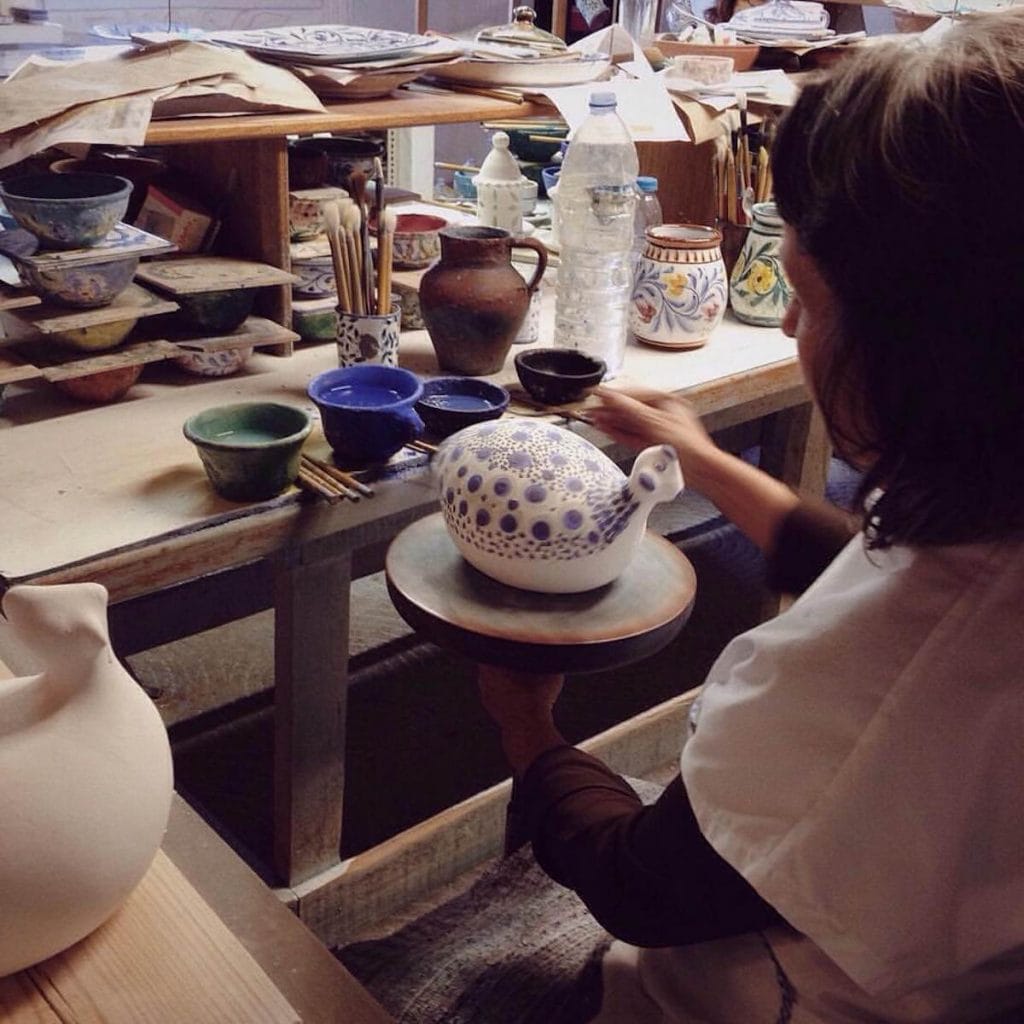 3 – Shop for local products at Loulé Market
Loulé, a traditional Portuguese market town, is of the best places to visit in Algarve for a day trip.
Visitors are drawn to Loulé for its characterful historic center, genuine Portuguese atmosphere and particularly the lively market, one of the most unique Algarvian points of interest.
The picturesque neo-Arab covered market was constructed in 1908 and renovated between 2004 and 2007. It has stalls selling regional handicrafts, souvenirs, wines, spices, fresh fruit and vegetables, fish and much more.
It is open daily, except on Sundays, from 7h to 15h, and the best time to visit is on Saturday morning, when there are a lot more stalls, as well as an open air market.
I enjoyed going to Loulé Market. The building is stunning, the goods are reasonably priced and it's certainly one of the coolest and unusual things to do in Algarve.
Once in Loulé, you can also visit other historical sites in the city, including the only islamic baths in Portugal, or take a 3h Food and Historical Center Tour.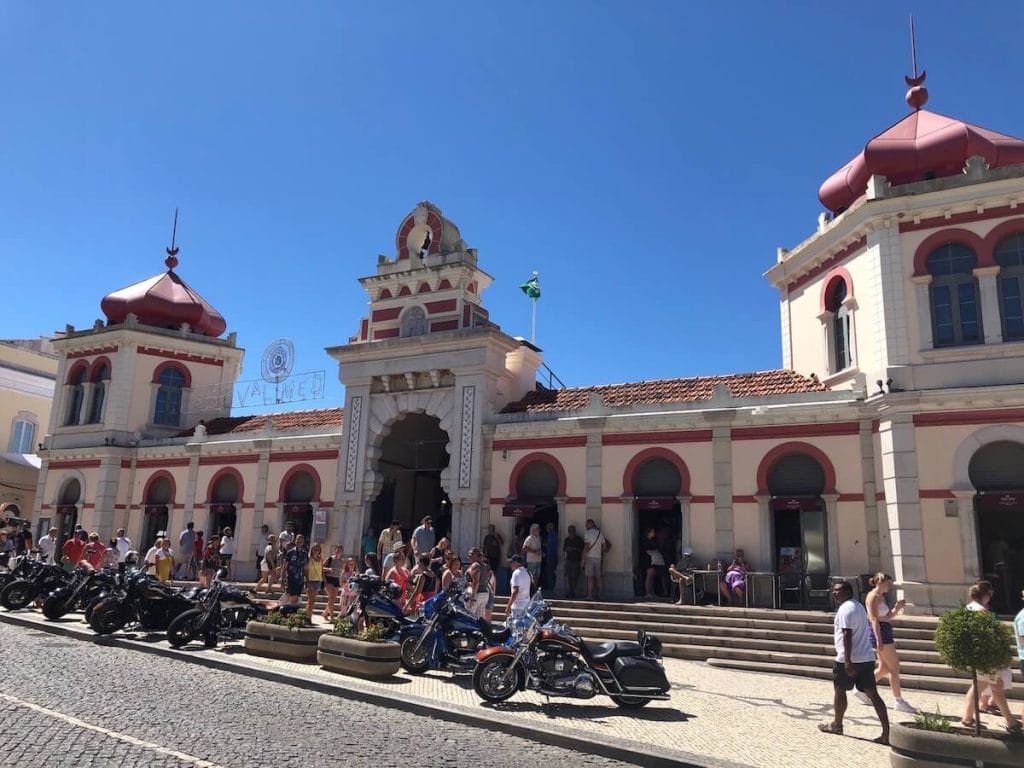 Pro tip: If you go on a Saturday, don't confuse it with the gypsy market that is on the western side of the city.
4 – Visit a traditional cork factory
One of the most unexpected and unusual things to do in Algarve is visiting a cork factory.
A little-known fact is that Portugal is the world's largest cork producer, responsible for over 50% of global production.
When you come to the Algarve, you have the opportunity to visit a traditional cork factory and learn more about the processes involved in preparing and packing cork with an audio guide tour.
You can also visit a cork shop and see some of the latest uses of cork in fashion accessories, such as bags, hats, furniture and even soap.
The Cork factory tour takes around 75min at a very reasonable price.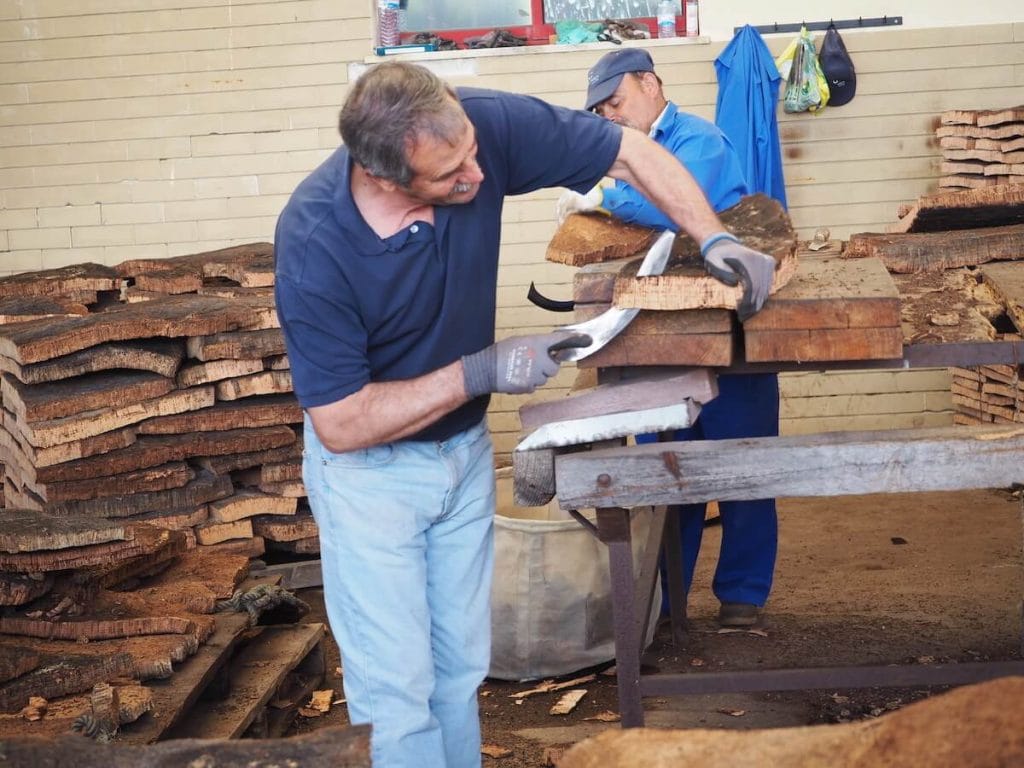 5 – Visit Olhão and its municipal market
If you're looking for unusual things to in Algarve and love bustling markets, you can't miss Olhão.
Located only 15min drive from Faro, Olhão has grown from a fishing village, into a town with around 45,000 inhabitants and the biggest fishing port of the Algarve.
Olhão has a peaceful pretty center with little streets, whitewashed houses with Moorish influences and beautiful churches. It doesn't have any beaches, but you can take a boat trip to visit several islands that are part of the Ria Formosa Natural Park.
A trip to Olhão is not complete without its municipal market. Held in two large and charming red brick buildings, one sells fruits and vegetables and the other a large variety of freshly caught fish and shellfish.
The market is mostly frequented by locals, except on Saturdays, when there's a market on the street with a good selection of local goods.
A visit to Olhão's market will surely overwhelm your senses.
Don't forget to try the local cuisine.
6 – Go partying at Casino Vilamoura
If you thinking that gambling is the only thing you can do at Casino Vilamoura you're wrong. You can grab a drink, dine, watch a show and even go clubbing.
The Casino Vilamoura is a major entertainment venue and has two ballrooms, a huge bar (The Big Bar) with a planetarium screen, restaurant and club.
In fact one of the greatest unusual things to do in Algarve at night is going partying at the elegantly renovated Dice Club.
The stylish club has an impressive lightning system, go-go dancers, theme nights and regularly invited special guest performers.
Put on your fancy clothes, book your table in advance and get ready to rock.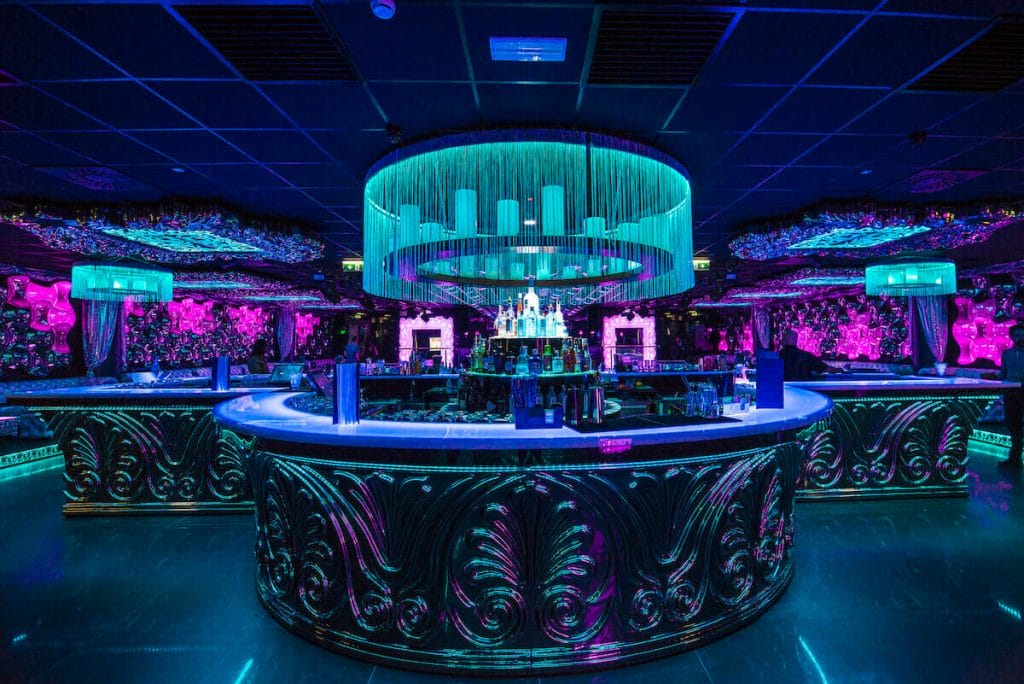 7 – Visit the Church of São Lourenço
One of my favorite unusual things to do in Algarve is visiting churches. Among them, the Church of São Lourenço, located in Amancil, municipality of Loulé, is the most distinctive one.
This single nave Roman church in the Baroque style is covered from walls to ceiling in traditional blue and white tiles that date back to 18th century.
The eight panels of azulejos designed by Policarpo de Oliveira Bernardes are very impressive and depict scenes from St Lawrence's life and martyrdom.
The striking gilded Baroque altarpiece, with the image of the saint is believed to be crafted by the Algarve's greatest sculptor and carver Manuel Martinez.
A visit to the Church of São Lourenço doesn't take more than 10min, but it's worthwhile.
I was completely speechless during my visit and I believe it's of the best hidden gems in Algarve.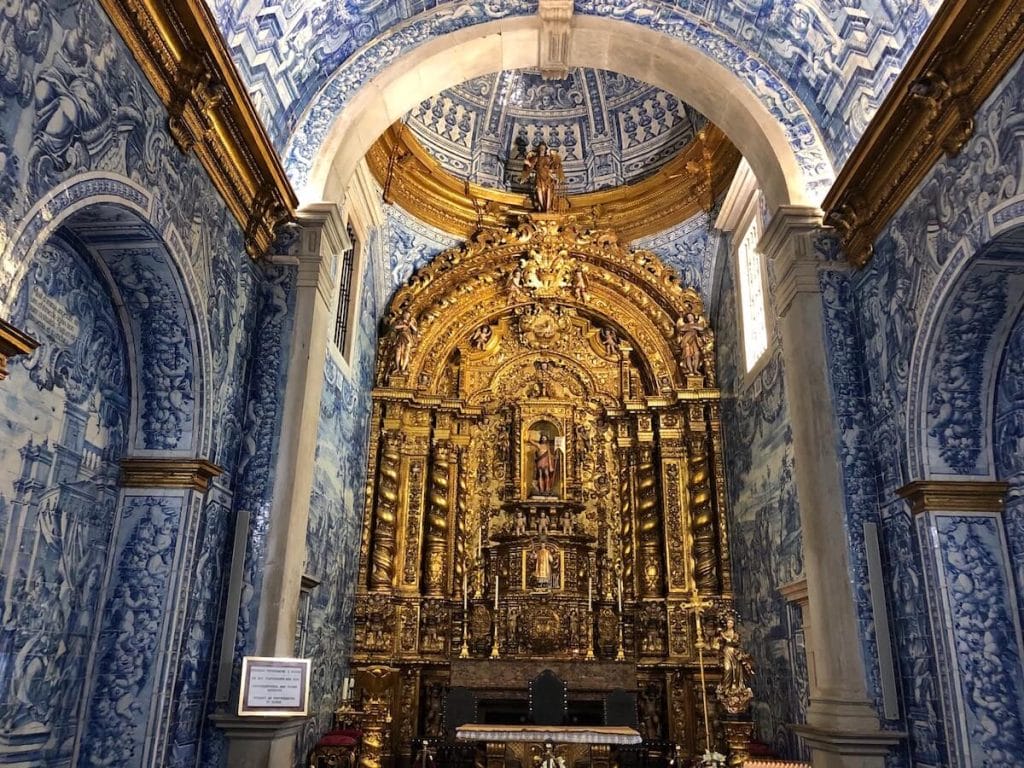 8 – Conquer the Moorish Castle of Silves
When you think of the Algarve, medieval castles is not a thing that comes to mind. But Algarve does have castles and one of them is located in Silves.
It's believed to have been built by the Romans or Visigoths, although it was the Moors that developed and expanded it between the 8th and 13th century.
The Castle of Silves is one of the best-preserved examples of Moorish Castles in Portugal and the visit takes between 1h and 2h.
During the summer there is a medieval fair and visitors can take part in different activities, including processions, shows in the castle, etc.
Don't forget to put Silves Castle on your Unusual Things do in Algarve list.
9 – Get your cultural fix at Faro Old Town
The capital of the Algarve and main getaway to the region is generally overlooked by most visitors who head to more popular resort towns.
But Faro has a well-preserved old town with a fascinating history. In fact, visiting Faro Old Town is one of the finest unusual things to do in Algarve if you're interested in history.
There are many important cultural and historical monuments to see, such as: Largo da Sé, with its enchanting Gothic architecture; Paço Episcopal; São Pedro Church, with its magnificent baroque main altar; the magnificent city archway, built at the entrance of a medieval castle in the 19th century, and many others.
Visiting Faro Old Town is better with a guide, and you can find options here.
10 – Go bird watching at Ria Formosa
Often overshadowed by the stunning Algarvian beaches, Ria Formosa Natural Park is one the best places for outdoor activities in the Algarve.
This wetland of international importance is one of the 7 Wonders of Portugal. Its maze of canals, freshwater lagoons, marshes and barrier islands stretches 60Km along the Algarve coast through the municipalities of Loulé, Faro, Olhão, Tavira and Vila Real de Santo António.
There are many things you can do at Ria Formosa Natural Park, but I recommend bird watching, as it is one of the most important areas for aquatic birds in Portugal.
Sailing through the beautiful channels of Ria Formosa, you will learn about the hundreds of native birds and have the opportunity to see birds from Northern and Central Europe, as well as the ones migrating between Europe and Africa.
Don't forget to put bird watching at Ria Formosa Natural Park on your "Unusual things to do in Algarve" list.
11 – Dip in the fresh waters of Pego do Inferno
One of the most unusual things to do in Algarve is to visit Pego do Inferno (Pit of Hell), a small waterfall and lake located in the parish of Santo Estevão, in Tavira.
This "secret waterfall" hidden away in the Asseca Valley, and previously only known to locals, has recently gained popularity for being one of the very few waterfalls in the region.
Pego do Inferno, the largest of the sequence of three waterfalls, flows into a beautiful emerald lagoon with tranquil waters that is surrounded by dense vegetation.
To get to the "Pit of Hell" isn't easy because of the lack of signs and you will need to use Google maps to find it. After parking, just follow the rugged footpath to a wooden stairway, where the pedestrian walkway starts, descending for about 300 – 400m.
At the lake there is not much space for sunbathing. So, most people will swim or cliff jump.
I enjoyed Pego do Inferno, but due to lack of space, it's not likely that you'll spend more than a few hours there.
12 – Drink a cold one, or more, on a craft beer tour
If you're a cerevisaphile (a beer lover or enthusiast) and is looking for cool and unusual things to do in Algarve to satisfy your taste buds, you should go on a craft beer tour.
You will learn about the local history and culture, visit one of the best craft beer producers in the region, and taste some exquisite beers accompanied by Portuguese tapas.
The brewery, Quinta dos Santos, produces Pilsner, Ales, Larger, IPA and Stout using the traditional German Purity Law method of 'Reinheitsgebot'. It has a lovely setting and you can enjoy cold beers overlooking the beautiful vineyard or in its open air courtyard.
The tour takes around two hours and includes pick-up and drop-off.
This is my list of 12 cool and unusual things to do in Algarve and make sure to them add them on yours 😉
Safe travels and have fun in Portugal.
More posts about the Algarve:
Enjoying the Unusual Things to do in Algarve
Where is Algarve located?
Algarve is southernmost region of Portugal (check map here).
Best time to visit Algarve
The best time to visit the Algarve is definitely during the summer and particularly July and August. But if you don't like crowds and heat, you should go June or September.
Most of these unusual things to do in Algarve listed here can be done all year around though.
How to get there?
There is an international airport in Faro, but the most popular for those who aren't in Europe is the one in Lisbon.
From Lisbon you can take a bus or a train to the Algarve. The prices are basically the same and they take around 2h and half to get there.
Some of the companies that fly to Faro are: Easyjet, British Airways, Ryanair and TAP.
You can book your flights with Skyscanner, that is the website that I use and trust.
To get around the best thing is to hire a car because the public transportation in the Algarve isn't good.
You can rent a car with Rental Cars here with no extra costs for you.
Where to stay in Algarve?
If you want to stay in a central location from where you can find most of the unusual things to do in Algarve mentioned here, I would suggest Albufeira or Lagos.
Some Algarve hotels that I recommend are:
Albufeira Hotels:
Budget: Apartamentos Turísticos Novochoro, Água Viva and Albufeira Beach Hotel.
Great Value for Money: Hotel Topázio, Rocamar Exlusive Hotel & Spa, Hotel do Cerro and Grande Real Santa Eulalia Resort & Hotel Spa.
Luxury: Salgados Dunas Suites, Pine Cliffs Residence a Luxury Collection Resort, Aqua Pedra dos Bicos and Auramar Beach Resort.
Lagos Hotels:
Budget: Guest House Casa Sousa, Olive Hostel Lagos and Bela Vista Guest House.
Great Value for Money: Lagos Uptown Bed & Breakfast, Don Manuel I Charming Residence, Baluarte Da Vila Apartments and Aldeia Azul Resort.
Luxury: Villas Don Dinis, Cascade Wellness & Lifestyle Resort and Belmar Spa & Beach Resort.

Helpful Links to Visit the Algarve
For more information about the Algarve visit the page: Visit Algarve.
For the train schedule between Lisboa and the Algarve visit Rail Europe webpage.
For the bus schedule between Lisbon and the Algarve visit Rede Expressos website.
Don't forget to save these pins 😉
Have you been to Portugal? What do you think of my 12 Cool and Unusual Things to Do in Algarve list? Let me know in the comments below 😉
Travel Planning Resources
For every booking made through my site I donate US$ 1 for a charitable organization.
Safe travels ☺