Doing the Poon Hill Trek? Below you find everything you need to know 😉
I never thought I'd see the Himalayas or do the Ghorepani Poon Hill Trek in my lifetime. But visiting Nepal for the first time, I couldn't miss the opportunity to go to one of Nepal's most famous viewpoints and marvel at the greatest mountain range in the world.
So, after spending a few days in the chaotic and dusty, Nepalese capital, Kathmandu, I booked a 4-day 3-night Ghorepani Poon Hill trek and headed to Pokhara, the closest main town to the Annapurna Himalaya range.
Known as the capital of the adventure of Nepal, Pokhara is surrounded by beautiful snow-capped mountains, has a magnificent lake with crystal-clear water and plenty of hotels and restaurants. There are many things to do in Pokhara such as: paragliding, hiking, boating, trekking, pony rides, visiting temples, etc.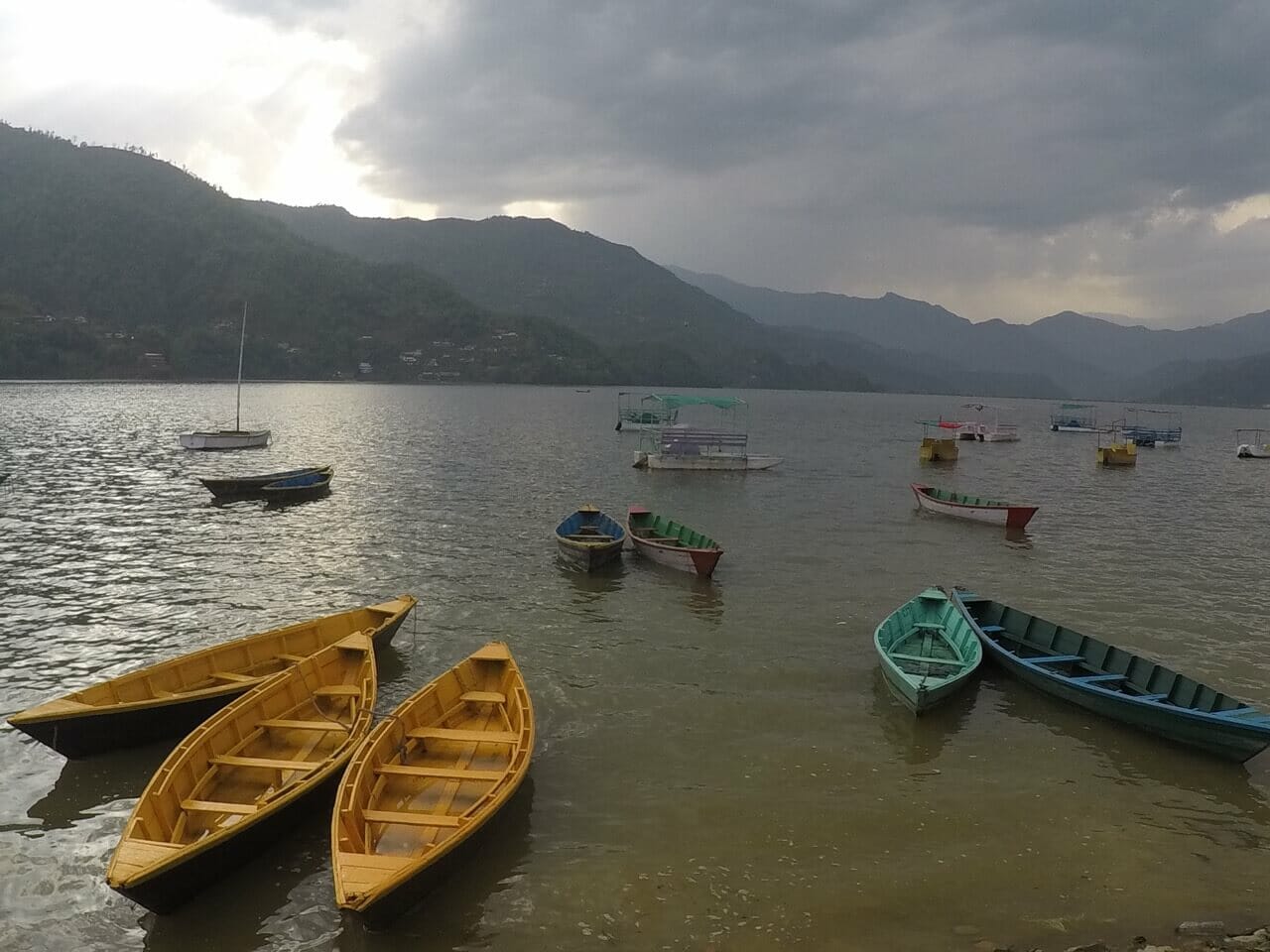 What to Expect of the Ghorepani Poon Hill Trek
The Ghorepani Poon Hill trek, one of the most popular and easiest treks in Annapurna region, is suitable for every age, requires only a moderate level of fitness to complete, the max elevation is 3,210 meters (the risk of altitude sickness is minimum), the distance is around 51 km (32 mi), and it can be done all year round.
Apart from the breathtaking sunrise view from Poon Hill, you will pass by delightful villages, rivers, waterfalls, rice terraces and rhododendron forests and will be able to particularly admire the spectacular mountain scenery.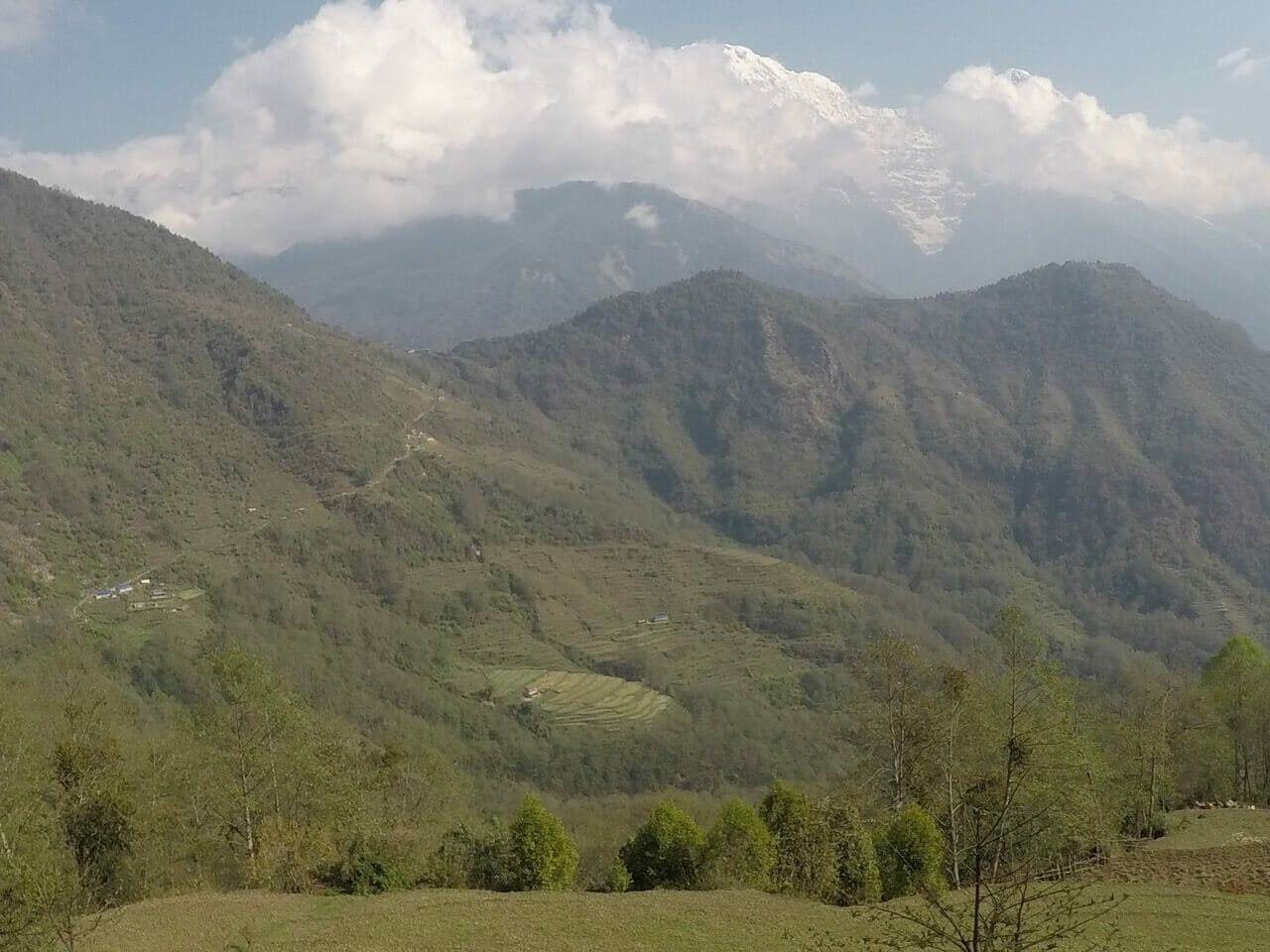 Below you can find out how my experience trekking Poon Hill for the first time was, and also some guidance and tips for beginners.
My Ghorepani Poon Hill Trek Experience
The morning after my arrival in Phokara, I met Diwan, my guide, who took me around the city center to show me the city and help me rent some clothes for the trek.
We then took the 1:30 taxi from Pokhara to Nayapul, the starting point of the Ghorepani Poon Hill trek. In Nayapul, you can choose your itinerary, but you have to get a permit at the Annapurna Conservation Area's checkpoint first.
My Ghorepani Poon Hill trek itinerary for 4 days was: Nayapul to Ghandruk; Ghandruk to Ghorepani; Ghorepani to Poon Hill; Gorepani to Tikhedhunga; Tikhedhunga to Nayapul and Nayapul to Pokhara. It also can be done on the other way around.
1st Day: Nayapul to Ghandruk
We started the trek around 1:00 PM and the weather was very pleasant. We passed other trekkers, locals and farmers, and I was full of energy.
In the beginning it seemed very easy (a 2h walk on a road with moderately inclined slopes) but things started to get harder once we approached Ghandruk village. There were thousands of seemingly endless stone steps and I wondered if we would ever reach out our first hotel. But the view was impressive , and I couldn't believe how far we'd already walked…
Ghandruk, located at 1940m above sea level, is surrounded by huge mountains, and is the kind of place where, once you arrive, you feel calm and relaxed, and don't want to leave.
After climbing up the steps for two hours, only stopping for a bit because of hail, we arrived at the hotel just minutes before the sunset.
It was when I had the best reward of the day: the sunrays were illuminating the highest snow-capped mountains just in front of my hotel.
I couldn't stop staring at the breathtaking scenery and was completely mesmerized by Nepal's incomparable beauty. I felt very happy doing the Poon Hill trek for the first time!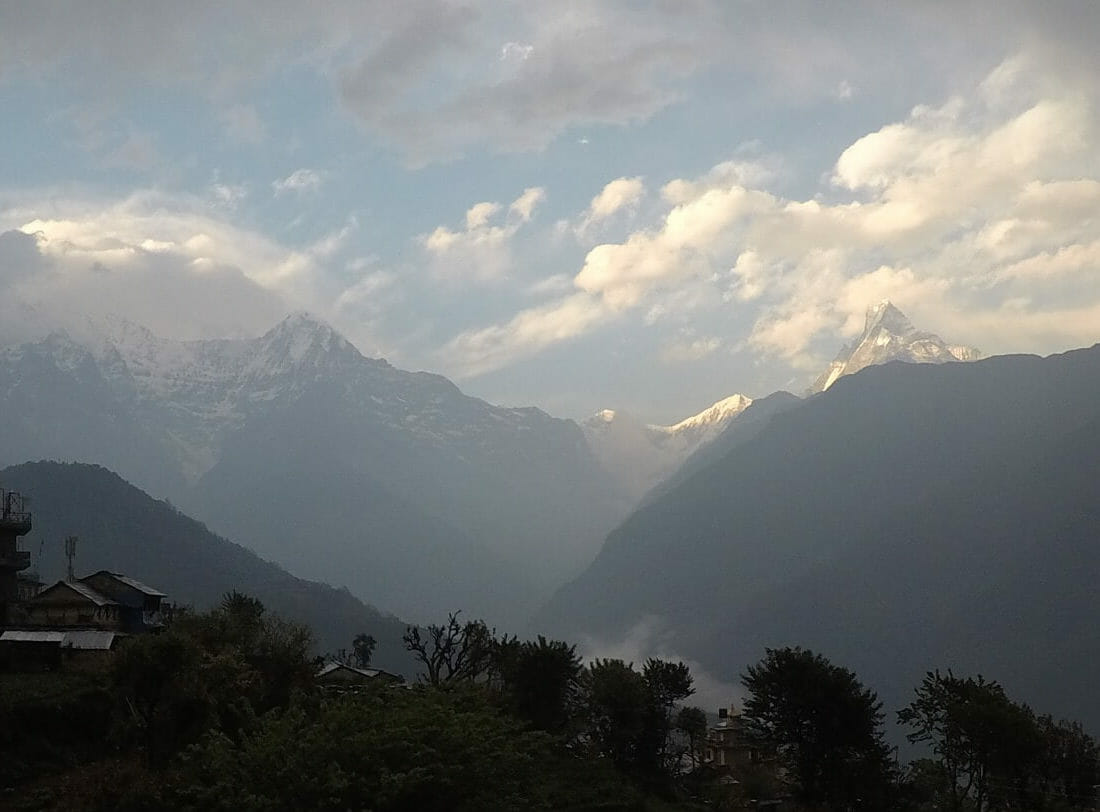 Duration: 4:30, Altitude: 1940m (6365 ft)
2nd Day Ghandruk to Ghorepani
The next day we left Ghranduk at around 09:00. The weather was nice and the most of the trail was laid out with stones that were very easy to follow.
We passed by many trekkers of all age groups and potters carrying heavy bags,and crossed streams, waterfalls and a stunning forest.
For me, the hardest part of the trek was immediately after the forest. We had to go climb down dozens of steps and then climb up dozens more… But while I was complaining to my guide that they should construct a bridge to connect the two hills, I saw a 75 year old man climbing up the steps, carrying his heavy backpack and a can. We chatted a bit, and I said that he was an inspiration and congratulated him.
After trekking for 3:30, we arrived at Banthanti for lunch. The view from the restaurant was extraordinary, however the fog was too dense at times to see anything…
We continued through the forest, up and down more hills, when the most unexpected and unusual moment happened: I got stuck in the middle of a herd of goats.They were all being herded back home by their shepherd and I couldn't move… To top it all, it was raining and I had to wait for them to move… It was fun though.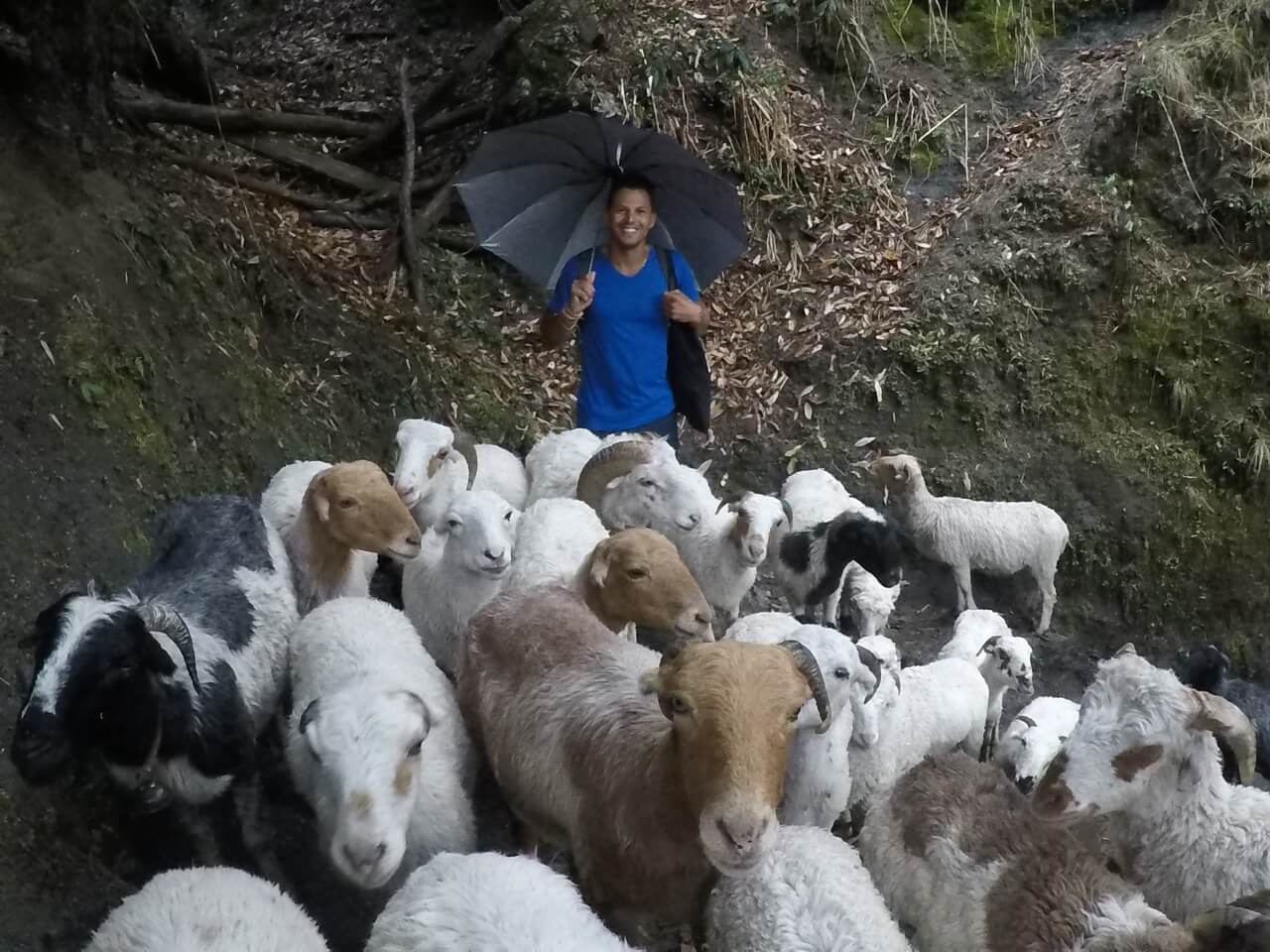 Finally they moved up hill, and the rain continued to pour down. At least we were able to reach a teahouse and wait for the rain to finish.
The weather cleared up and we continued on our way to Ghorepani. Thankfully, the last part was very easy and I was thrilled to see a yak for the first time in my life. Like a child, I ran to get closer to it, but I confess that I was a bit scared, too.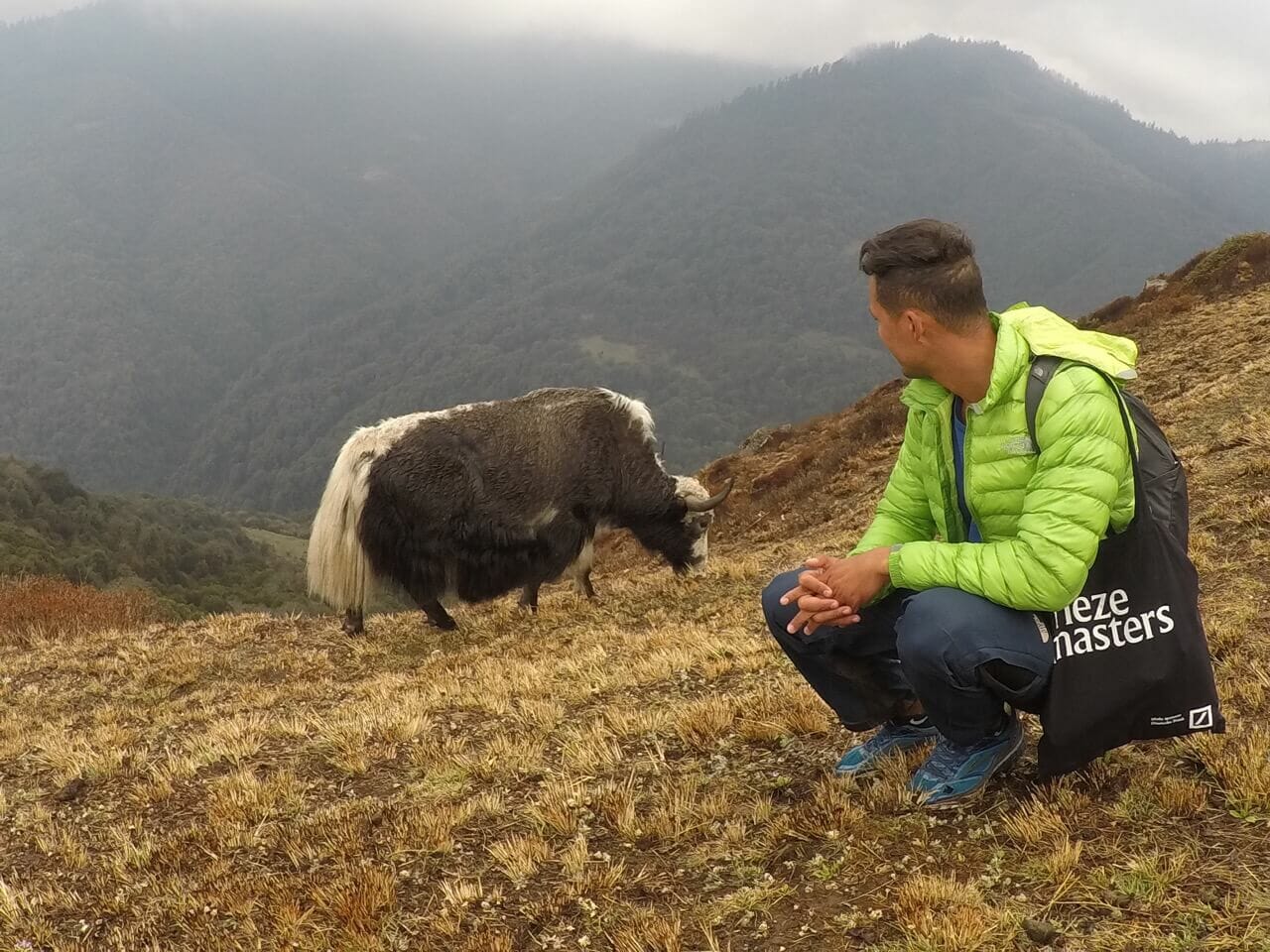 A few minutes later we arrived at Ghorephai, a small village surrounded by huge mountains with many guesthouses, stores and people selling arts and crafts in the center.
Duration; 7h, Altitude: 2874m (9429 ft)
3rd Day Ghorepani to Poon Hill, Ghorepani to Tikhedhunga
The hotel in Ghorepani, as in all the other places was very basic: small rooms with single beds, an area for socialization where people gather to talk, have dinner and breakfast, and also to get close to the heater; there wasn't toilet paper in the bathroom, and hot water was limited.
The next day I woke up at 4:30 to see the sunrise from Poon Hill. We left the hotel completely in the darkness, armed only a with a flashlight and joined other trekkers on the way.
We rushed to the top of Poon Hill Mountain even though I couldn't see 2 feet in front of me. I had the impression that thousands of people were doing the same… Everyone wanted to be there first in order to get a good spot. After 45min, we reached the top.
There's a big platform at Poon Hill's viewpoint and also a wood tower for those who wants to get a privileged view. And what a spectacular panoramic view!!
More than ten colossal snow-capped jagged mountains, including Dhaulagiri, the 7th highest mountain in the world at 8167m. They were all in front of my eyes, and I was completely in awe!!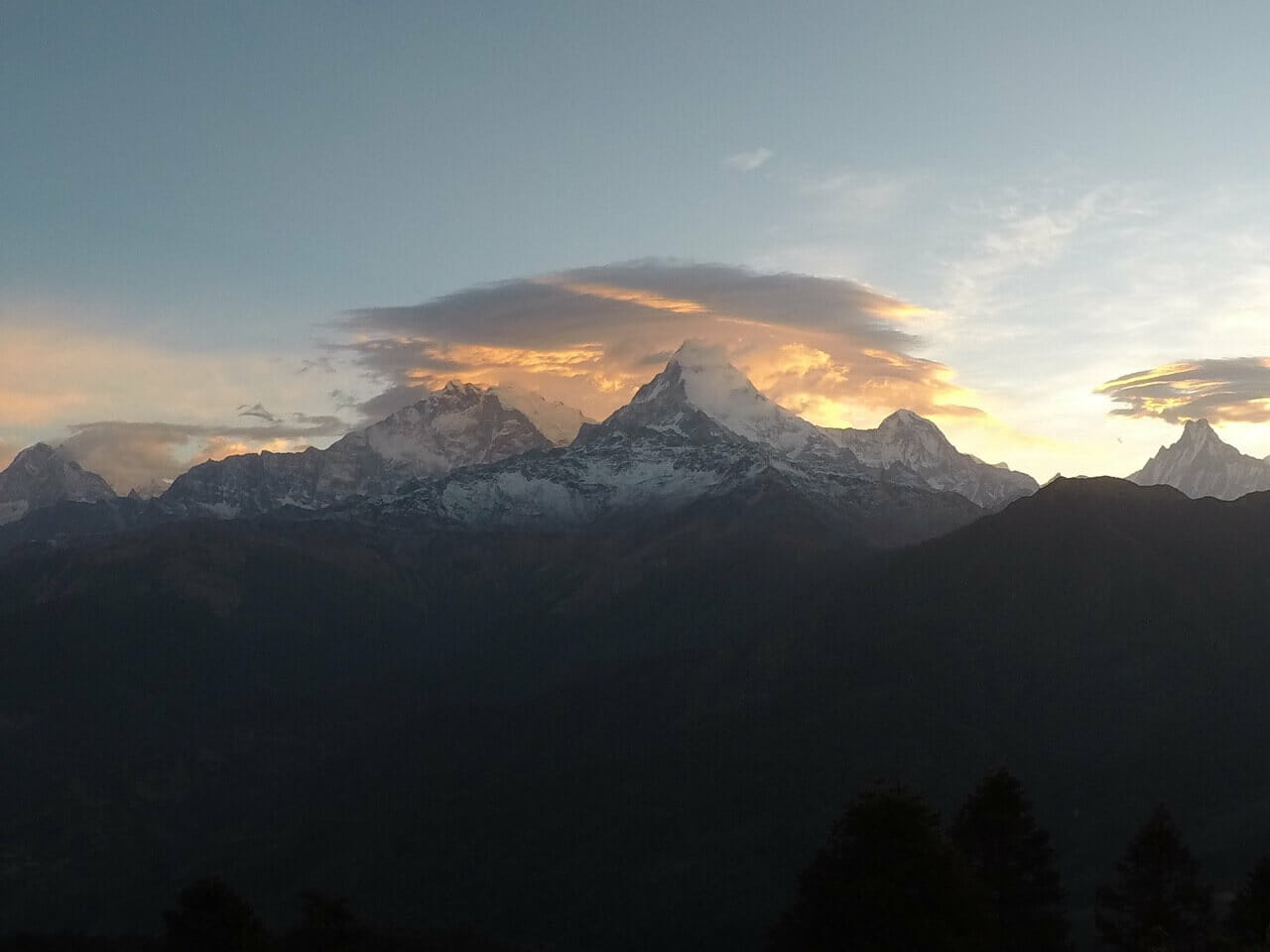 After trekking for 2 days, I was standing at the top of Poon Hill at 3120 m (10531 ft), one of Nepal's most famous viewpoints, surrounded by an exceptional beauty.
With the sun out on the blue sky, potters started singing and dancing Nepalese songs creating am exhilarating vibe. Everyone was so cheerful and happy, so I was too.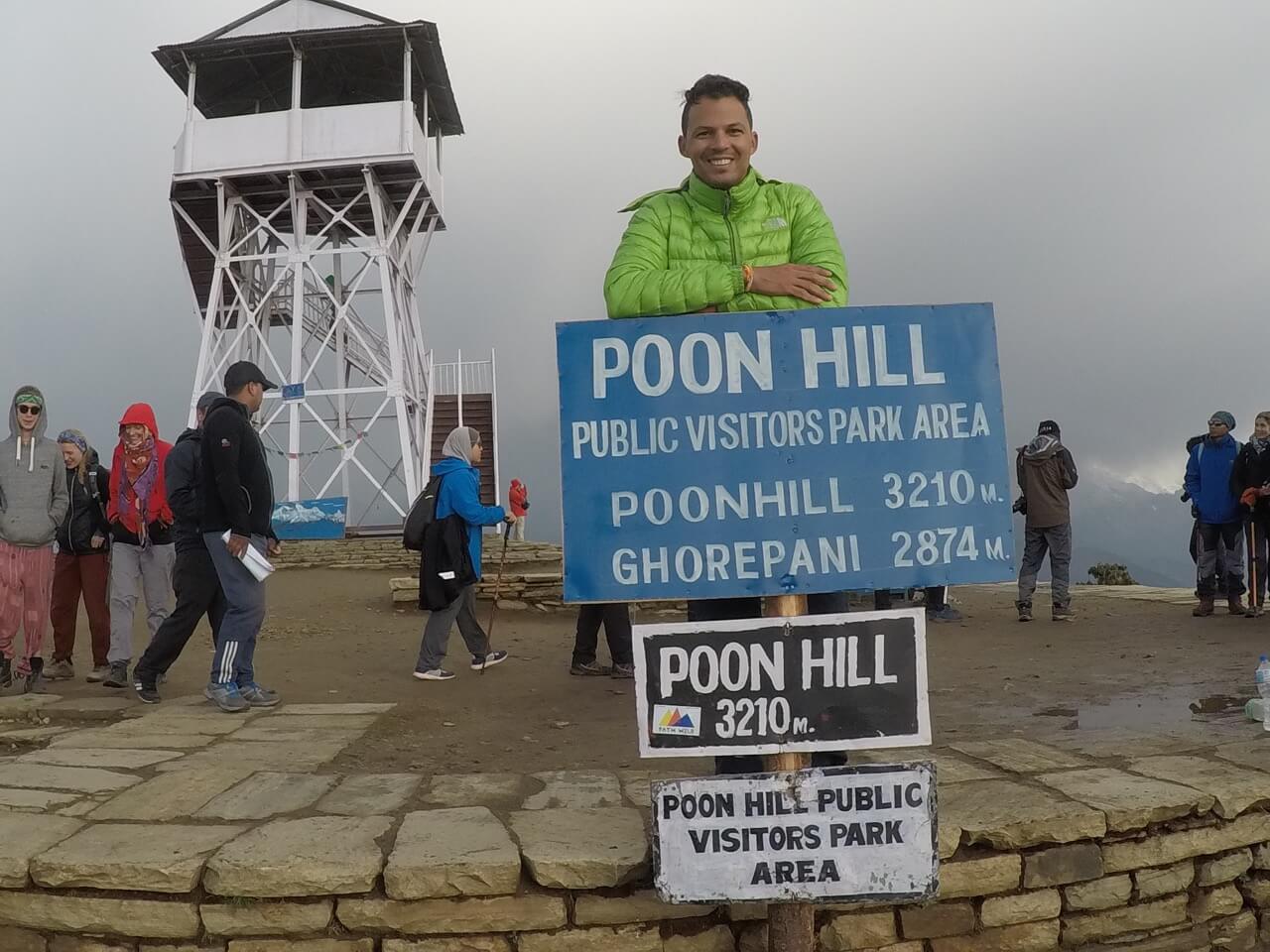 Duration: 45min, Altitude: 3210m (10531 ft)
We went back to the hotel to have breakfast, pick up our backpacks and continued the trek to the next location, Tikhedhunga.
For the following three hours, the trail in the forest was very easy. We passed some villages and stopped at a restaurant with a breathtaking view in Ulleri. I was very happy and felt a great sense of accomplishment at doing this trek.
After having lunch, chatting with other trekkers and taking some pictures with locals, I faced the second most difficult part of the trek: another set of steps, 3300 to be precise, equivalent to 1500m of altitude.
I passed by many exhausted people who were climbing up all those steps, even the young ones. I thanked my guide Diwan who chose this itinerary, so we had to climb down those 3300 steps rather than up.. It still took me 1:30.
Tikhedhunga, the village where we spent our last night, was just after those steps, so we had the rest of the afternoon and the whole night to rest after this exhausting walk.
Duration: 4:30
4th Day: Tikhedhunga to Nayapul, Nayapul to Pokhara
We left Tikhedhunga, crossing a suspension bridge over a river with some waterfalls close by, and passed by villages with people working in rice fields, until we reached the road that connects Tikhedhunga to Nayapul.
Another easy day with beautiful views of the mountains surrounding us, trees with flowers and the river flowing by my side.
After 3:45 trekking, we arrived in Nayapul and had to stop again by the Annapurna Conservation Area's check point to register our exit.
I was exhilarated and extremely delighted to finish the trek .
It was an incredible experience with astonishing scenery that left me with the desire to come back to Nepal, one of the richest countries in the world in terms of bio-diversity and fastest growing travel destination, and do another trek.
Hopefully to the famous Annapurna Circuit (also know as ABC) or even the more challenging Everest Base Camp.
I always recommend to buy a travel insurance, specially when you will get some adventure. It can literally be your lifeline with something happens to you, or if your luggage is lost or stolen.
I always use World Nomads, a travel insurance for independent travelers. It's easy to buy, extend & claim online, even after you've left home. Play safe and get yours here.
Poon Hill Trek Extra Tips for Beginners
To hire a guide or not
One of the first things to consider when you're doing the Poon Hill trek for the first time, is if you should hire a guide or not. Even though I saw some people trekking by themselves, including solo female travelers, I personally think that is much easier, more secure and enjoyable hiring a guide.
The trail is well marked for most of the trek, but there are parts where it's not clear which way to go. So, you either have to carry a map and have a good sense of location, wait for someone to ask, or trust your gut.
Guides aren't expensive in Nepal (mine, Diwan, cost only US$ 25 /day). They provide you with some company and their expertise will help you . Moreover, if something should happen, you will have someone to help you.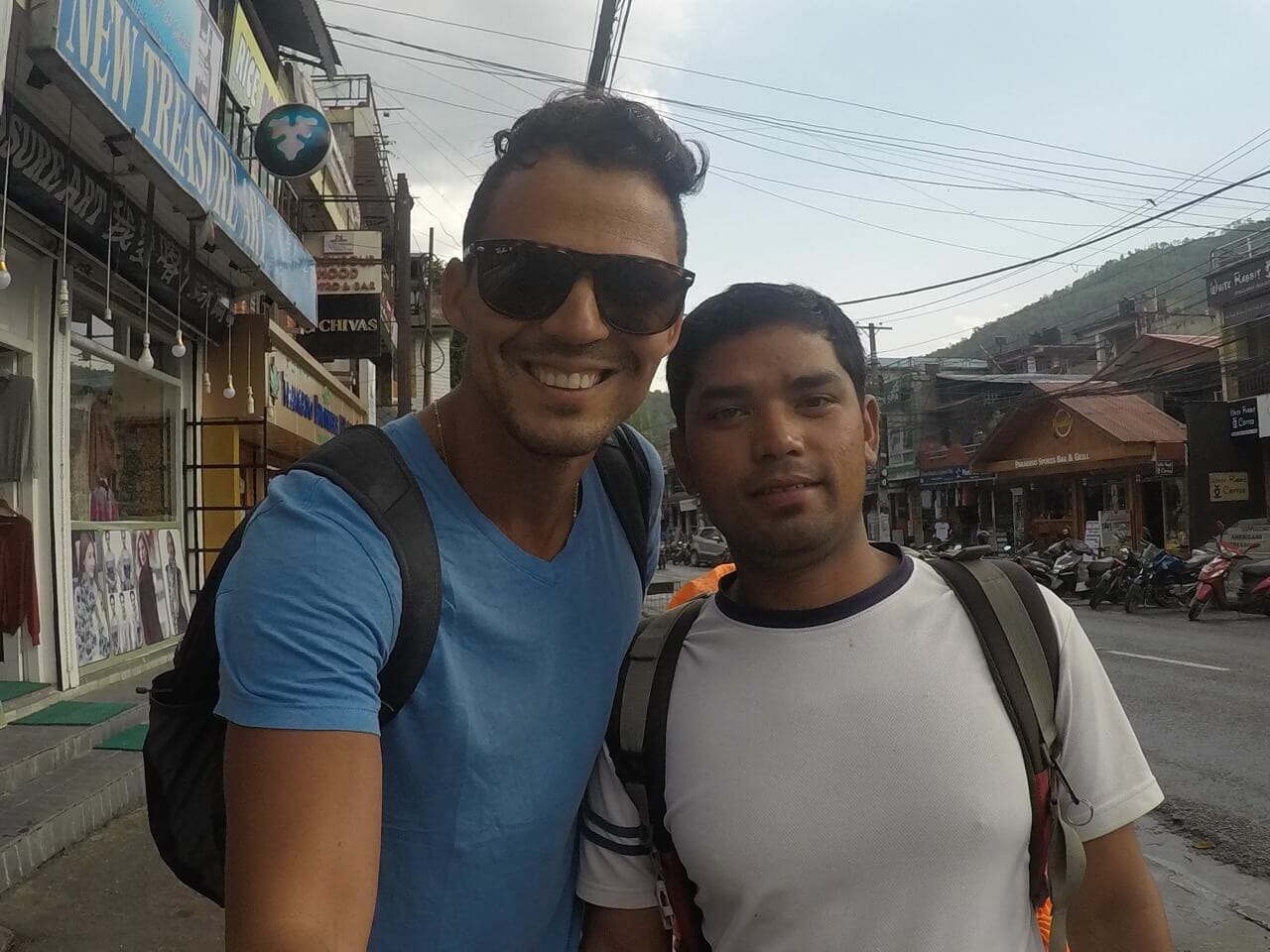 A package with an agency or book everything yourself?
You can book a Poon Hill trek package through an agency, with everything included: accommodation, transportation, guide, licenses and even food.
If you book in Kathmandu, as I did, it's going to be more expensive than in Pokhara, but they will also take care of the transportation for you.
However, I would recommend booking hotels through Booking.com before you arrive in Pokhara, and hiring a guide or even buying a Ghorepani Poon Hill trek package there. It's because of two reasons: you can select the hotel and the bus you want (agencies might put you on a very old bus).


Bus or flight from Kathmandu to Pokhara?
The distance from Kathmandu to Pokhara is just 210 Km (130 mi), so the bus should not take that long, right? At least that was what I thought. Wrong!!
The hilly road from Kathmandu to Pokhara is quite dangerous with many curves and old trucks overtaking buses and cars at high altitude. So, despite the short distance between the two cities, the travel time is around 6 – 7h.
On the top of it, the buses are old and can break down at any time (like mine did) and make your travel time even longer.
If you can, you should definitely take a 45 min flight! Even though it's more expensive than the bus, you will be safer and save your precious time.
You can book your flights with Skyscanner or Momondo, which are the websites that I use and trust.
Accommodation and food on the trek
Most of the guesthouses, hotels and teahouses in this area are very basic and provide minimum comfort.
The bathrooms are communal, with no toilet paper, and in some of the hotels hot water is limited.
The average price for a single bedroom in most of the hotels range from 500 – 1000 rupees (US$ 5 – 10), but you can find some as low as US$ 3.
Restaurants and hotels serve mostly vegetarian meals, the most popular dish is Dal Bhat (steamed rice and lentil soup that is generally served with vegetables), but you can also find dishes with beef or chicken.
The average price of a lunch is US$ 4 – 5 / vegetarian and US$ 6 -7 / non-vegetarian.
TIMS Card + Permit
All trekkers in Nepal must acquire the Trekkers' Information Management Systems (TIMS) Card. The TIMS Card is mandatory to ensure the safety and security of trekkers in the general trekking areas.
Fees, a copy of your passport, and two passport-size photographs are required to obtain a TIMS Card.
The fees are as follows – Group trekker: NRs. 1,000 (US$ 10); Free individual trekker (FIT): NRs. 2,000 (US$ 20), per trekking route per person.
In addition to the TIMS Card, you also need a to get a permit to do the Ghorepani Poon Hill trek. This fee is around US$ 20, and you can get both in Kathmandu or Pokhara.
There is also another extra fee at Poon Hill's viewpoint, but this is only 50 rupees (US$ 0.50)
Best Time for Poon Hill trek
The trek can be done all year round, however it's easier when there isn't rain or snow on the trails.
So, the best time to do the Poon Hill trek is from March to May, and September to November. In these months, the weather is clearer and the temperature moderate, when only the morning and evenings are a bit chilly, leaving the days perfectly clear for splendid views of the mountains.
I was in Nepal in the first week of April and the weather was good. I got some rain on the trek, but only for short periods.
What to bring for the trek?
In case that you're travelling just with a carry-on luggage or backpacking in Southeast Asia, you don't need to worry about the clothes you need to bring for the trek because you can rent everything you need in Pokhara. And the prices are really good.
I rented a pair of trousers for US$ 1 / day and a brand new jacket for US$ 1.50 / day.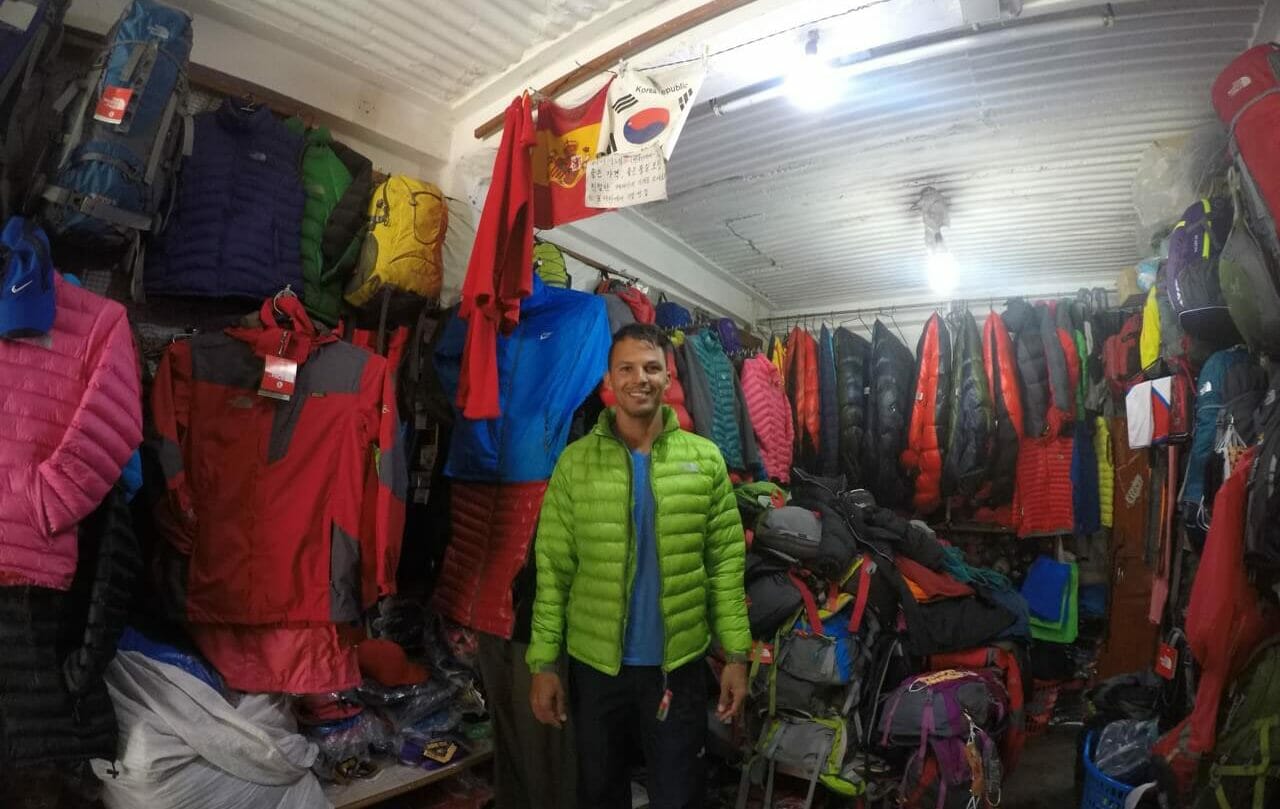 But you must bring:
1. Sunglasses, hat, scarves and sunscreen
2. T-shirts and shorts
3. Comfortable trekking shoes (preferable old ones to avoid blisters)
4. Hiking Socks
5. Water bottle
6. Snacks
7. Headlamp or a flashlight
8. First aid kit that fulfil your personal medical requirements
9. Daypack
10. Toiletries
11. Toilet paper
Extra Tips for trekking Poon Hill
1. There is an ethnic group, Gurungs, with a rich culture and history in Ghandruk, if you get chance take a look around and meet some of them.
2. According to local regulations, you can't buy a plastic water bottle on the trek. You can only refil yours.
3. There is no phone coverage neither internet in most of this area.
4. Charging your phone and camera can be challenging because of the lack of infrastructure in some properties. So be prepared and take some extra batteries with you.
5. This trek can also be done in 5 days / 4 nights if you prefer.
Safe trek and enjoy Nepal !
Travel Planning Resources
For every booking made through my site I donate US$ 1 for a charitable organization.
Safe travels ☺