For many years I wanted to ride a hot air balloon in Bagan. Watching the sunrise from the basket of a hot air balloon and flying over thousands of temples in Bagan was like a dream come true for me.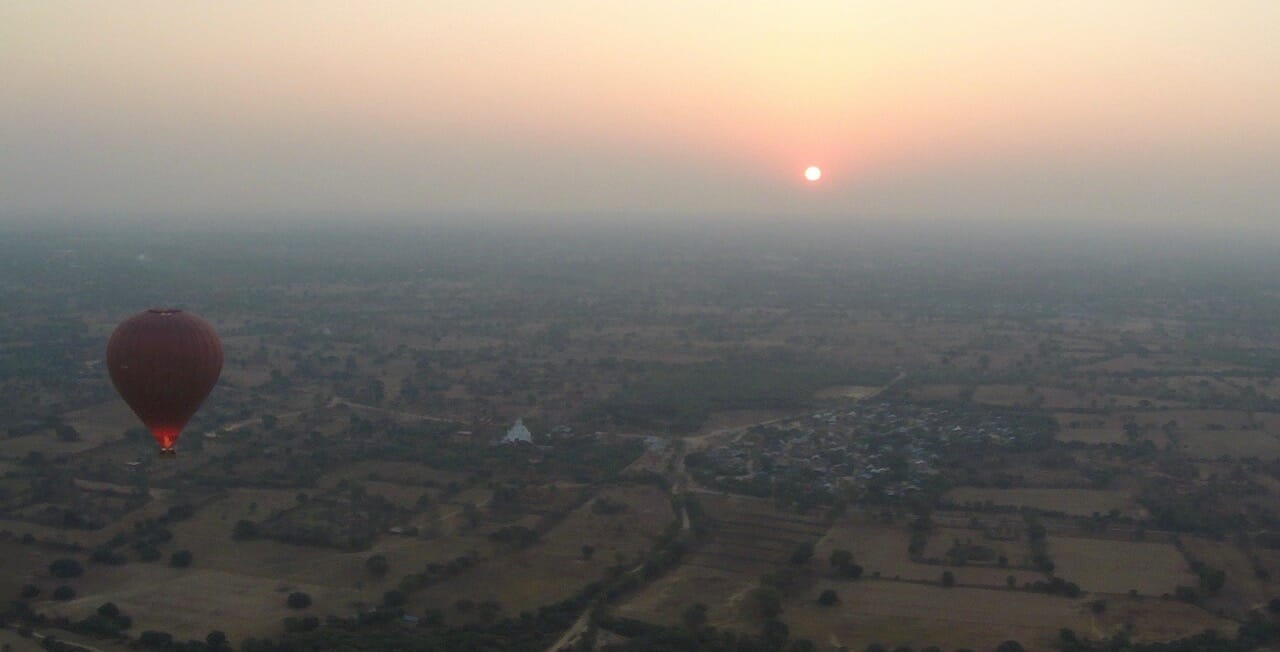 Hot Air Ballon in Bagan
Bagan, located in the Mandalay region of Myanmar, was the capital, and cultural, political and economical hub of the kingdom of Pagan from the 9th to 13th centuries. The kingdom was the first to unify the area now called Myanmar, and during the 11th to 13th centuries, over 10,000 religious monuments (temples, stupas and monasteries) were constructed in Bagan.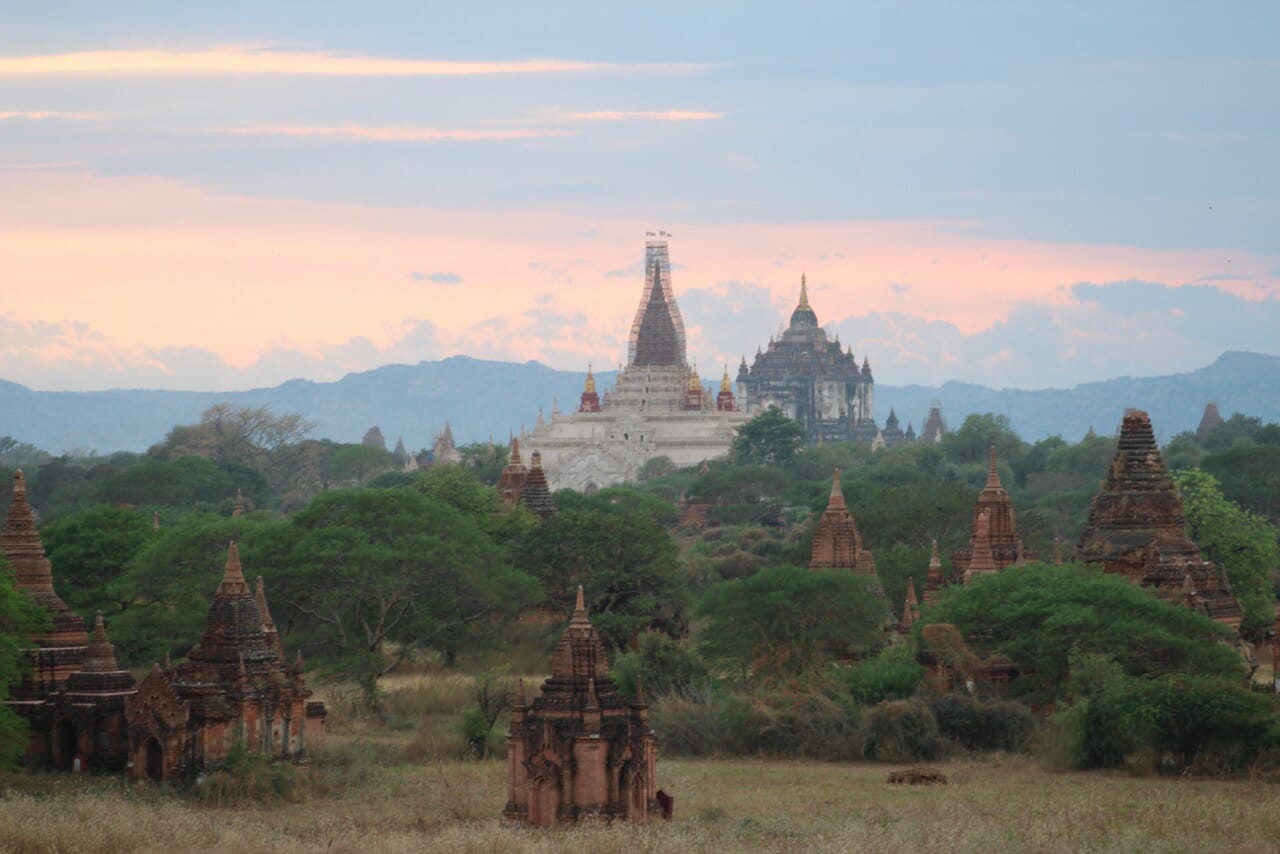 Today there are around 2,220 temples and pagodas remaining in Bagan, and since Myanmar opened its doors to mass tourism, the sight of hot air balloons flying over Bagan has become one of its most iconic and emblematic images.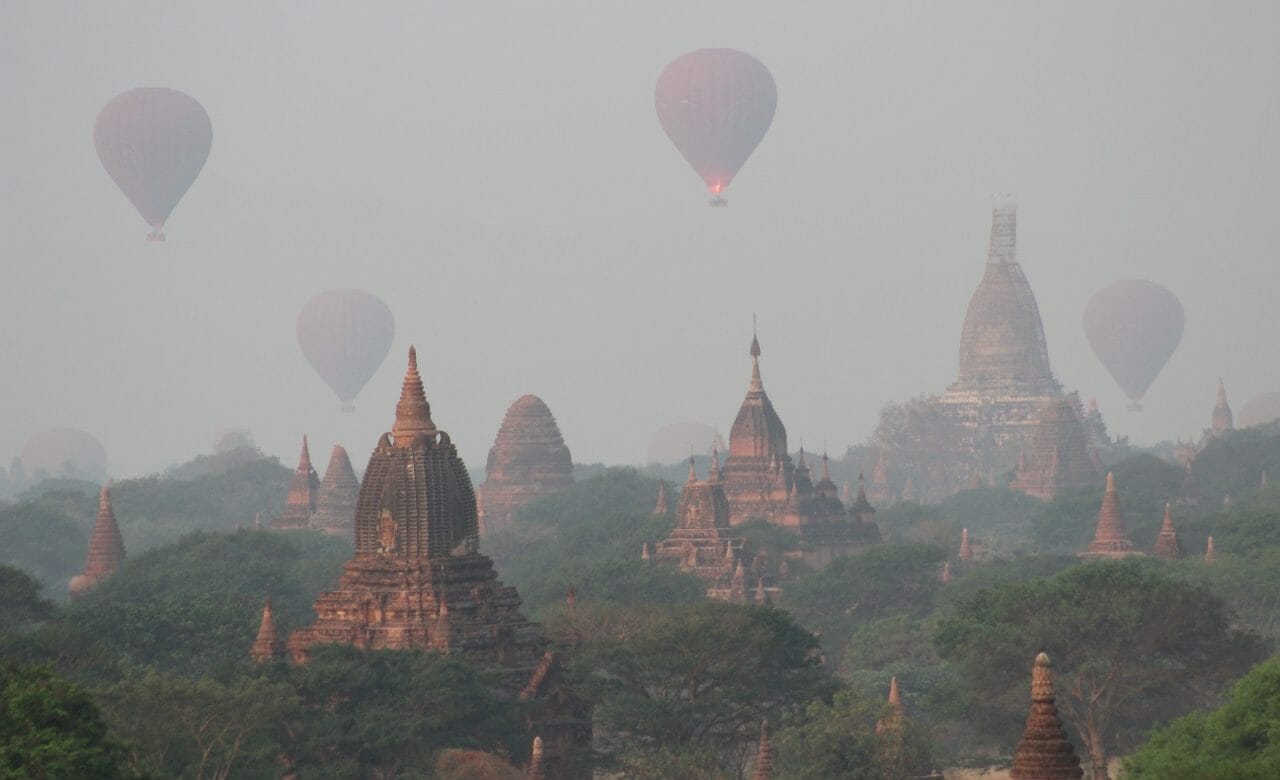 The Season
The Bagan balloon season is from October to March, and at its peak during Christmas and New Year's Eve.
As it's a very popular tourist activity with limited availability, I recommend booking your flight in advance, either directly with the companies or through agents (the prices are very similar). And because flights can be cancelled due to weather conditions, try and do it for as early as possible during your stay. That way, you might be able to rebook in the case of a cancellation and not run the risk of leaving Bagan without flying in a hot air balloon.
Bagan Balloon Flight Price
I arrived in Bagan early in the morning after a 9h bus ride from Yangon. When I arrived in the city it was still dark so I just checked in to my hotel before leaving to see the sunrise and, of course, the balloons.
But my excitement turned to disappointment very quickly when I discovered that there were no balloons flying that morning due to the weather conditions.
And to make matters worse, I also discovered what the average hot air balloon price is.
There are three companies offering rides in a hot air balloon in Bagan:
– Balloons over Bagan: US$ 340 – 450 / person
– Oriental Ballooning Bagan: US$ 399 / person
– Golden Eagle Ballooning: US$ 330 – 390 / person
The prices are quite expensive, especially if you compare it with other balloons rides around the world.
Over US$ 300 for a balloon ride??? This is very expensive, and I was not sure if I could pay that. It looked as if I might have to postpone my dream of riding in a hot air balloon for the first time.
But the following morning, after waking up early to watch the sunrise and seeing dozens of balloons flying over the ancient city of Bagan, I suddenly had no doubts that I wanted to be in one of those balloons the next day, no matter how much I had to pay for it…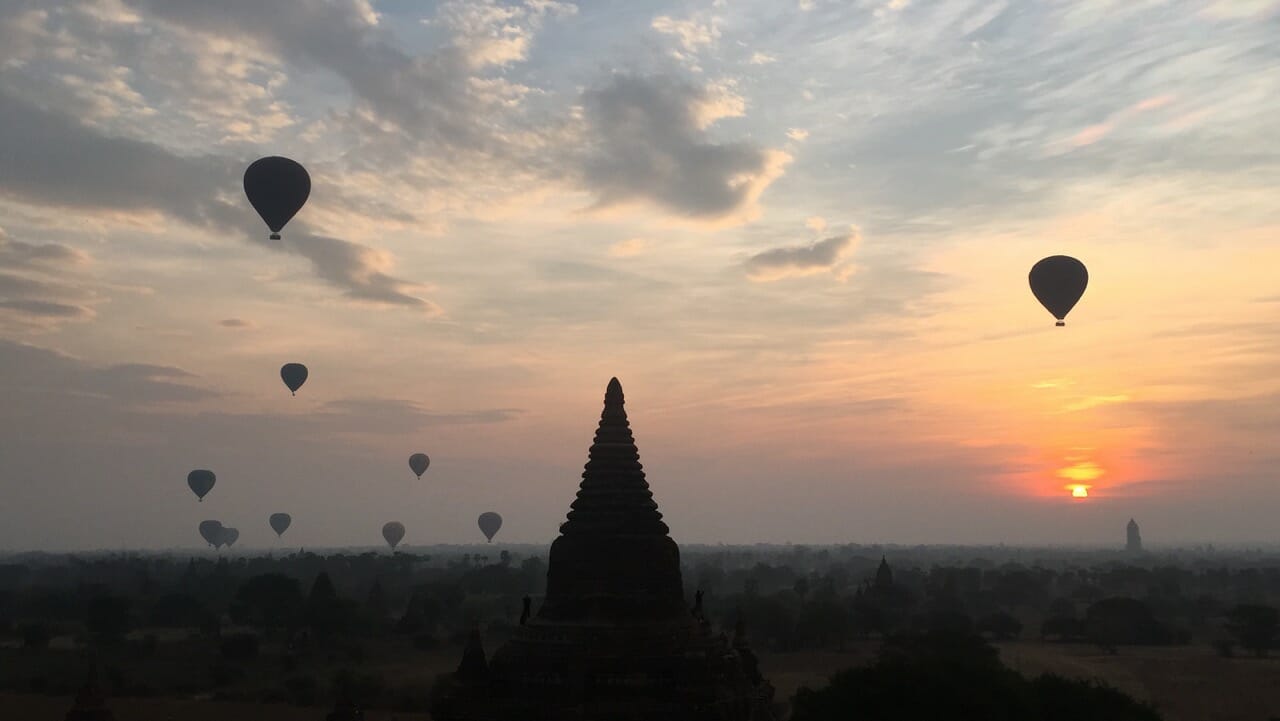 My Experience Riding a Hot Air Balloon in Bagan
I chose Balloons over Bagan because they were the cheapest at the time but also because they were the first company to offer commercial hot air balloon flights in Bagan.
While making my booking, I was informed that I would be picked up from my hotel at 5:20AM the next day, but also that there was no guarantee that the balloons would fly, as it completely depended on the weather,.
I was so excited and couldn't believe that I would take a hot air balloon ride for the first time!
The next day I woke around 5:00 AM and at 5:20 AM, the antique red bus pulled up in front of my hotel. The bus was full of foreign tourists who were all looking forward to flying over Bagan.
But, on the way to the balloon field, it was so foggy that we could barely see the road – it had rained heavily the night before.
However, we continued our journey, were dropped off at the field, received the safety briefing and even saw a balloon being inflated… Only to be given the confirmation minutes later by the captain: "We're not flying today because of the bad weather."
The mist was so dense that even Bagan airport was closed. You can imagine my frustration and worry that I might miss my chance to fly in a hot air balloon in Bagan!
I returned to the Balloons over Bagan office, rescheduled a new ride for the next day, crossed my fingers and prayed…
The next day, the same bus picked me up around 5:20AM with some of the same people who were on the bus the day before. But the weather was much better, which gave me hope that this time I'd actually get to fly in a balloon over Bagan!
One by one, the balloons were being inflated and I could no longer contain my happiness and exhilaration.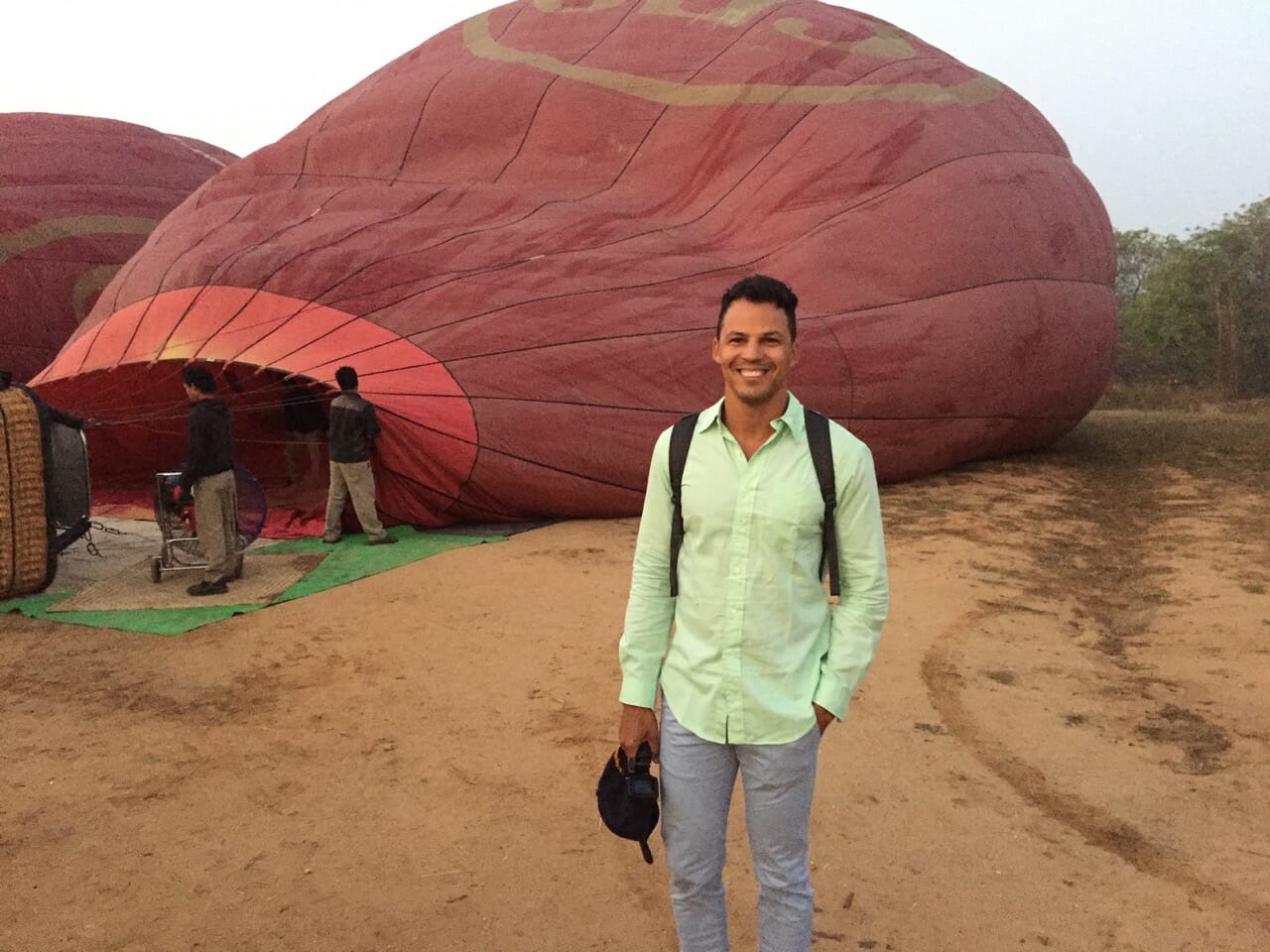 After the pilot, Robert Keron, gave us our safety instructions, we entered the basket with the help of the crew, crouched down, and seconds later, the balloon started rising. It was so exciting, but I have to admit, also a bit scary!
After a while, we were allowed to stand up. The sun wasn't out yet and in the semi-darkness we saw that other balloons surrounded us and we were already above the trees!
It was almost overwhelming. I was intrigued by the system Robert used to control the balloon, four tanks and ropes, and the strange feeling of floating, combined with the odd sound of the blast produced by the burners, ensured that my adrenaline was as high as the balloon, OMG.
Around 6:30AM, the sun started rising as we were flying over the Bagan Archeological Zone.
The pilot rotated the balloon so everyone could appreciate the view. And what a view!! The orange-yellowish sky dotted with balloons of three different colors, the big golden sun rising over the horizon and thousands of ancient temples and green plains below my feet. The ride had just started and I was already loving it.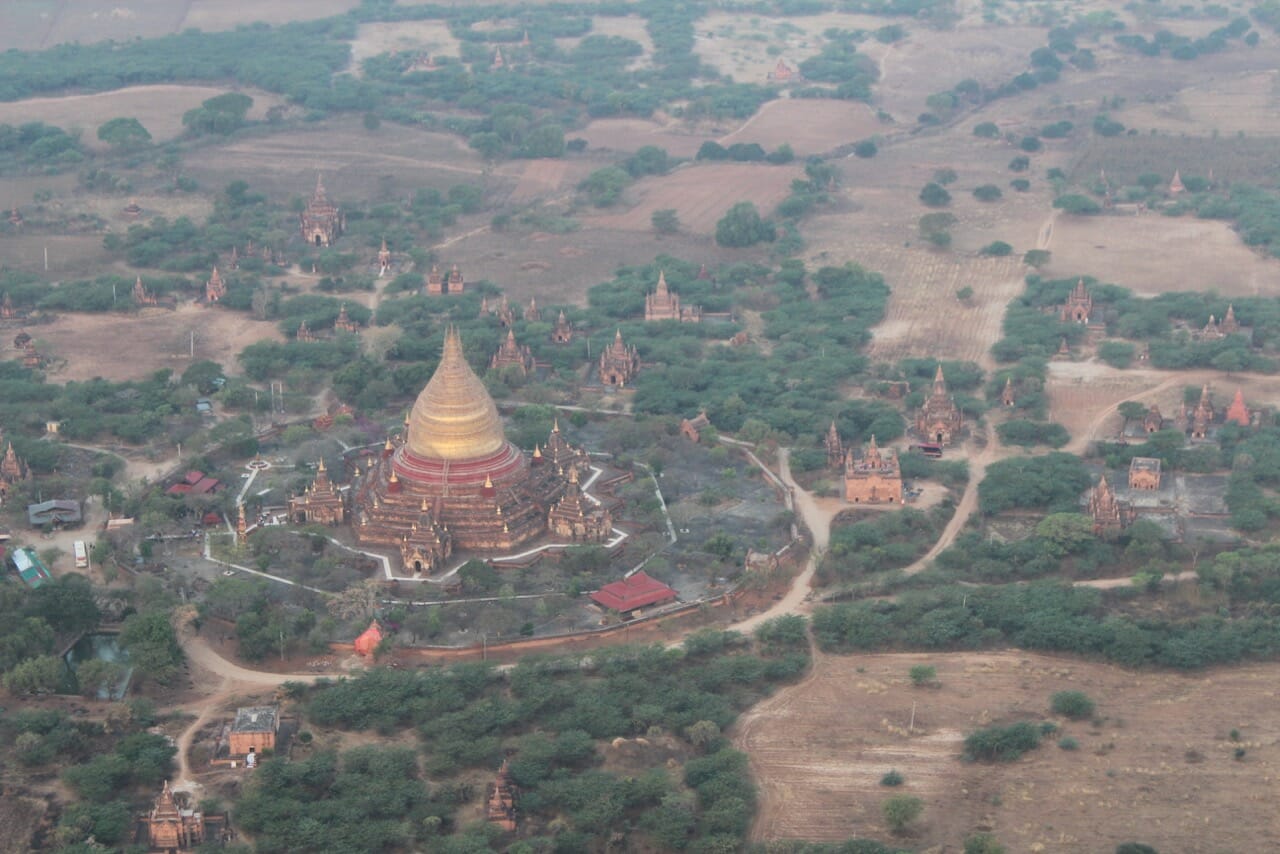 After passing the temples, we continued flying over a rural area of Bagan. My adrenaline was coming down and I enjoyed the flight even more. It was so smooth that it seemed as if we were floating on the breeze. There were some moments that I couldn't believe I was in a hot air balloon in Bagan. I felt like a child flying for the first time…
Robert told us interesting facts about Myanmar, and the changes he had seen take place over the last seven years, as we continued floating slowly over the plantations I could see some people working on farms below and other balloons on the ground.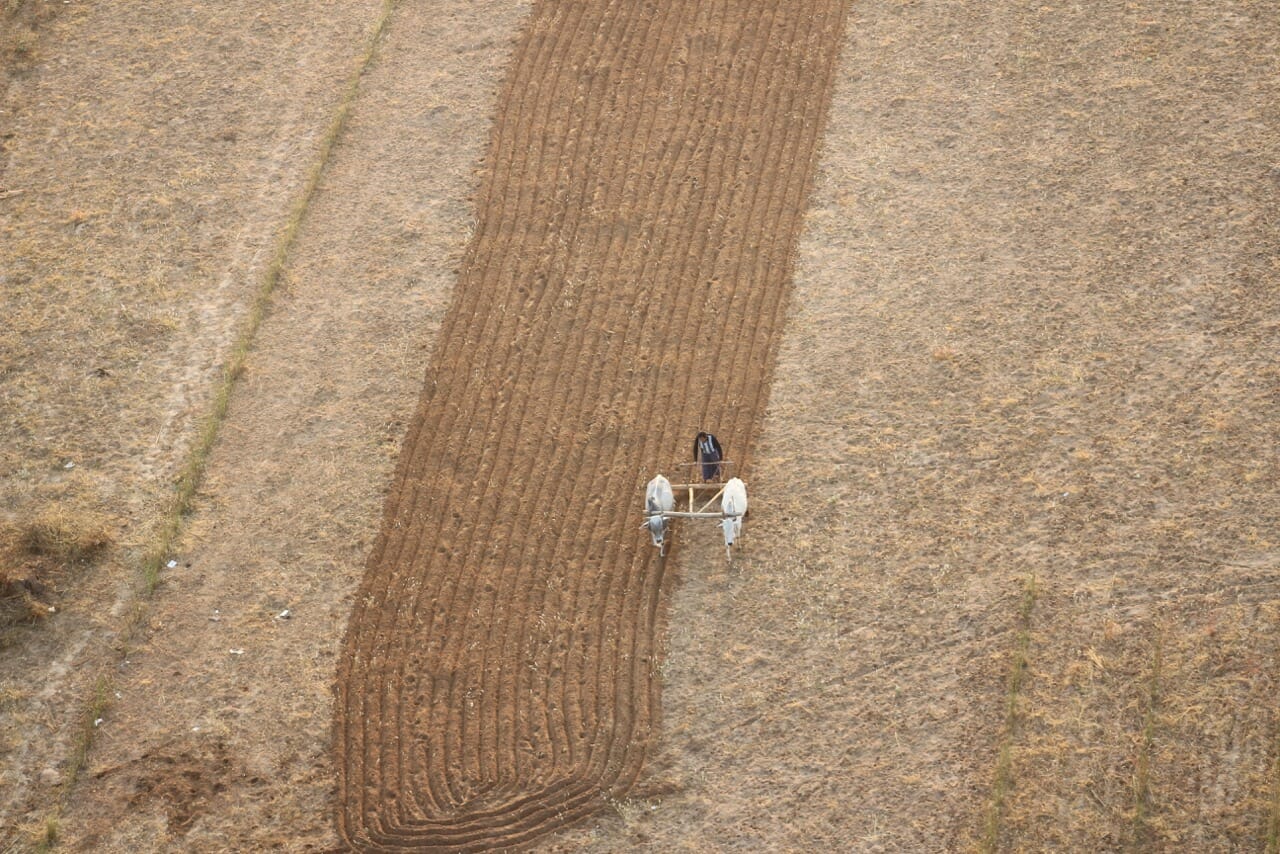 After around 50min, we started our descent. I was a bit apprehensive, as we had to practice the landing procedure several times before taking off, but the balloon landed successfully and very gently. And once on the ground, we had a light breakfast with some champagne, fruits, pastries, cakes, tea and coffee, and received our flight certificate. Everyone was extremely happy and filled with joy.
Riding a hot air balloon in Bagan was an experience that I treasure forever!
Of course, if you're on a backpacking trip through Southeast Asia, you could probably travel for another week on that amount of money, but if there's any way you can afford it, you should definitely do it.
After all, what is money for, if not to fulfill our dreams and make us happy??
And this experience really made me happy. In fact, I can't wait to do it again, hopefully next time in Cappadocia.
Balloons Over Bagan Review
My experience with Balloons over Bagan was excellent.
From the very friendly people who made my reservation, to the captain and the crew who worked with him, everyone provided an outstanding service.
The flight was very safe, the basket did not sway and during the flight I wasn't scared at all.
Balloons over Bagan was established in 1999 and was the first company to offer commercial hot air balloon flights, not just in Bagan, but in the whole of Southeast Asia.
The price may be high, but they also employ more than a hundred local people and donate money to poor communities in the city.
Balloons over Bagan offer two different options:
– Classic Balloon Flights: 12 to 16 people max; US$ 340/person
– Premium Balloon Flight: 8 people max; US$ 450/person
The price includes transfers between your hotel and the balloon field, pre-flight coffee, tea and refreshments, an experienced pilot (with an extensive safety briefing), breakfast with champagne upon landing, and a flight certificate.
And in case the flight has to be cancelled, Balloons over Bagan will refund the whole fee.
But no matter which company you choose, riding a hot air balloon in Bagan provides an unrivaled view of one of the most beautiful and picturesque cities in the world, and it's definitely an once-in-a-lifetime experience.
Safe travel and enjoy your ride.
Planning your Hot Air Balloon in Bagan Trip
Began is located 290 kilometers (180 mi) south-west of Mandalay and 700 kilometers (430 mi) north of Yangon (check map here).
You can get to Bagan by bus, airplane and train.
∗ By airplane
The closest airport to Bagan is located in Nyuang U, around 10Km from Bagan. There are only domestic flight to Bagan, and some of the companies operating to Bagan Nyuang Oo Airport (NYU) are: Golden Myanmar Airlines, Air KBZ Ltd, Hahn Air and Mann Yadanarpon Airlines.
You can book your flights with Skyscanner, which is the website that I use and trust.
* By bus
Traveling by bus is the cheapest and easiest way to get around Myanmar. There are buses to Bagan departing from Yangon, Mandalay, and Inle Lake; and some of the companies in operation are: Famous Traveller Express and Khyne Mandalay Express.
* By train
There are also trains form Yangon and Mandalay to Bagan with Myanmar Railways (MR). There is no official website though.
I stayed at Golden Rose Guest House, if you're looking for hotels, some of Bagan Hotels that I recommend are:
* Budget: Ostello Bello Bagan  and Shwe Nadi Guest House.
* Great Value/Money: The Hotel Umbra Bagan, Motel Zein and Zfreeti Hotel.
* Luxury: Aureum Palace Hotel & Resort Bagan, Bagan Thiripyitsaya Sanctuary Resort and The Hotel @ Tharabar Gate.
* Five months travel insurance: US$ 256 with World Nomads
* Bus from Yangon to Bagan: 19,000 Ks (US$ 14)
* Bagan Archeological Zone entrance fee: 25,000 Ks (US$ 18.30 )
* Taxi from the bus station to New Bagan: 9000 Ks (US$ 6.60 )
* Dinner with puppet show: Pyinsa Thikha Culture & Restaurant: 5500 Ks (US$ 4); Nanda Restaurant: 8000 Ks (US$ 5.8)
* Four nights at Golden Rose Guest Hotel: US$ 97
* Royal Palace entrance fee: 5000 Ks (US$ 3.60)
* E-bike rent: 6000 Ks (US$ 4.40)
* Balloon ride with Balloons Over Bagan: US$ 340
Have you ever been to Myanmar? Is riding a hot air balloon in Bagan on your bucket list? Let's us know on the comments bellow? 😉
Travel Planning Resources
For every booking made through my site I donate US$ 1 for a charitable organization.
Safe travels ☺