During my visit to Manaus in April 2016, I made sure to include a visit to some riverine communities.
Rivers surround Manaus, actually the Negro and Solimoes Rivers meet exactly at Manaus to make the biggest river in the world, the Amazon River.
My interest in visiting those communities was to see how the people live and what the difference is between the river dwellers and the people who live in the city. So I joined the Cooperativa Solinegros to visit two floating villages located very close to Manaus.
We took a boat towards the Comunidade São José, in Terra Nova, situated just 15min from Manaus. On the way we passed by one of the most interesting phenomenon I've ever seen: the meeting of the waters. The Rio Negro (Black river) that starts in Peru and the Rio Solimoes that starts in Colombia meet to form the Amazon River, one of the largest rivers in the world. But the most interesting and intriguing fact is that those two rivers flow together, side by side, between 6 and 18 Km without mixing. Because they have different temperatures, densities and current speed (Rio Solimoes, brownish color, is faster, colder and denser than Rio Negro), and because we were on a small boat, I was able to put my hand in the water and feel the difference in temperature. I was in awe and started to understand why these people venerate those two rivers. Such a magical moment!!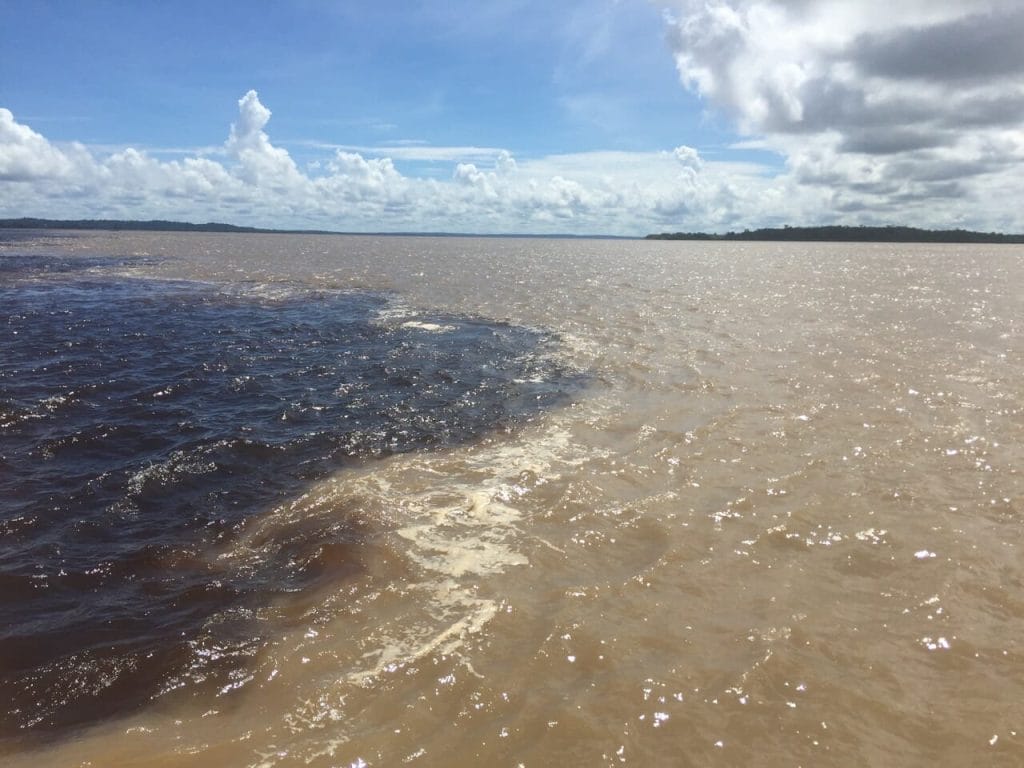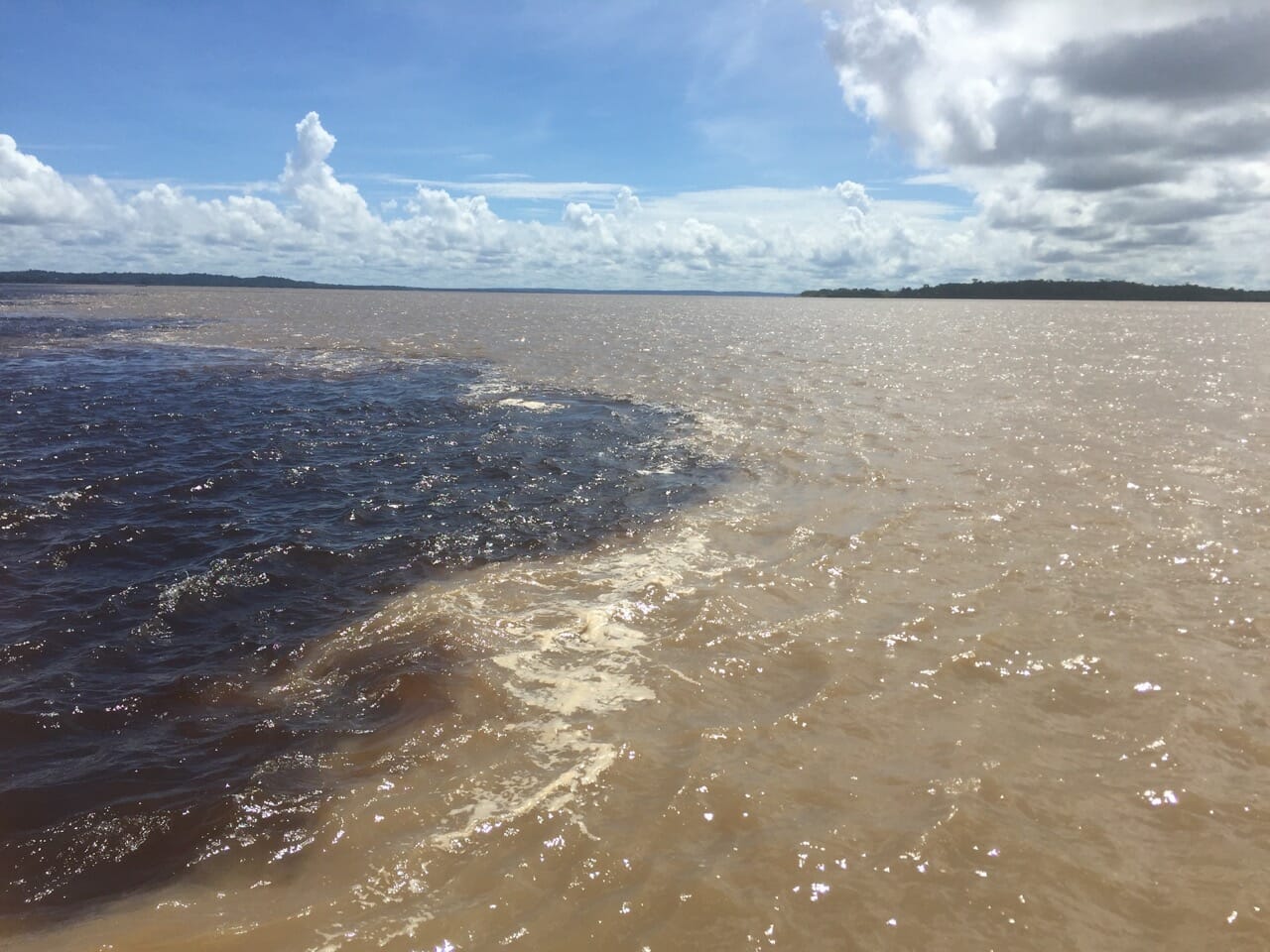 A Singular Community
We parked the boat and walked around 5 min under a strong sun to get into the community. The landscape changed completely and the contrast between the blue bright sky and the vegetation was just spectacular.
The Comunidade São Jose is very particular and interesting because during six months of the year they live on an island and the other six months the land is flooded and it becomes a floating village. During my visit they still had some land.
All of the houses are elevated. They have stairways, a canoe underneath the house and herbs in the back yard planted on a suspended platform, which I thought was quite interesting.
There were 40 families living in this area making their living basically from the cultivation of chive, kale and cucumber and fishing.
I took the opportunity to visit the gardens where some locals were working. They explained to me that everything has to be synchronized with the tide since that area would be flooded soon. They also said that the land is very fertile because the river deposits nutrients that are important to cultivating the herbs.
I also had the chance to talk to some locals to understand why they prefer their village versus the city of Manaus. They were so incisive saying that their village is much more relaxing, quiet and pleasurable. I actually felt that. Just 15min from Manaus, a city with a population of over 2.000.000 people, I was in an environment absolutely laid back, rustic and beautiful.
There is a future project to build a bridge to improve the tourism and to produce rubber from the latex again as a tourist attraction, but meanwhile you can hike and see some huge trees located in the community, and appreciate its unique beauty.
From São José we went to another riverine community called Catalão, located only five minutes from Manaus, which was very different from the first one.
Catalão Community
Catalão is a floating village with a population of 90 families. They make their money fishing, woodworking, producing handcrafts and receiving tourists.
Visiting this community I observed the infrastructure that they must have to support their way of life. There is a school for children with transportation, floating farms, markets, bar, church, stores selling arts and crafts, tanks with fishes for tourists to fish, and even a soccer field.
There are some really cute colorful houses in this community and the guide told me that locals constructed all those houses. During my visit I saw some locals fishing to prepare for lunch and I went to the stores to see the arts and crafts produced locally.
The stores are on a dock with a bar with tables and umbrellas, and it is where the tanks with pirarucu (a typical fish from the Amazon that can get to be 10 ft long) are also located. This area receives tourists daily and they are all welcomed.
The principal attraction is fishing for pirarucu. Well, you don't fish in the usual way; you basically feed the huge pirarucus because there is no hook. Of course I tried it, and the pirarucus ate all the bait so fast, but even so, it was fun.
I went back to Manaus very thankful for visiting those two riverine communities. Traveling is not just about seeing things but also about experiencing and getting to meet the people.
Cooperativa Solinegros
Cooperativa Solinegros was created in 1987 and has 24 members from eight different communities. Since 2013 they offer private and public tours in the Manaus area with excellent prices. The most popular one takes you to see the meeting of waters, Catalão floating village and Janauary Ecological Reserve, the first Ecological park in Manaus, which costs R$ 80 (US$ 23) for a small group from 1 to 4 people. There are discounts for big groups.
But they also offer a full day tour where you can go swimming with the pink dolphins and visit an indigenous tribe. The price for this tour is around R$ 150 (US$ 43) per person for a group between 1 and 4 people, and R$ 100 (US$ 30) per person for a group with 10 people (extra R$ 50 for the lunch).
Watch video:

 Visiting riverine communities on the Amazon.
Visiting Manaus
[huge_it_maps id="12″]
Manaus is surrounded by rivers and the best way to get there is by boat or airplane.
∗ By airplane: Sadly there aren't many international companies flying direct to Manaus. Some of them companies are: American Airlines, Copa Airlines and Insel Air.
Although there are plenty of flights from several cities in Brazil, specially from São Paulo and Brasília. The companies that fly frequently to Manaus are: TAM, Gol, Azul and MAP.
∗ By boat: there are many boats connecting Manaus with other cities in the North of Brazil, and also with Colombia and Peru. Those boats are huge and you sleep in a hammock (you have to buy it).
To Colombia and Peru it takes in general one week. One of the most common trips is from Manaus to Belem (Pará's capital) and it takes three and half days.
There are basically two seasons in Manaus: the rainy and high humidity season (from December to April), and the dry and very hot season (from July to September).
So, the best time to go is the shoulder season: May/June and October/November.
I was there for seven days in the beginning of April of 2016 and four days the weather was sunny and hot, one cloudy day and two days with heavy rain.
∗ I stayed at Local Hostel Manaus.
∗ Flight from São Paulo to Manaus: R$ 349 (US$ 100).
∗ Five nights at Local Hostel Manaus: R$ 235 (US$ 67).
∗ Tour with Cooperativa Solinegros: R$ 80 (US$ 23).
Additional links
For more information about Manaus visit: www.visitamazonastour.com
To book this tour and other tours in Manaus visit: Cooperativa Solinegro
To check boat schedules and prices visit: www.portodemanaus.com.br
∗ I was invited by Cooperativa Solinegros to visit the riverine communities and all the opinions here are personal and unbiased.
Travel Planning Resources
For every booking made through my site I donate US$ 1 for a charitable organization.
Safe travels ☺