My First Time on the Carnival Parade
After 5 years I had the opportunity to enjoy again one of the biggest festivals in the world: the Brazilian Carnival! However this carnival would not be just one more festival for me; it would be my first time actually on a carnival float. This was something that I had never tried to do or even planned to do before, but in the back of my mind, it was something that I have always wanted to do.
On Monday morning, February first of 2016, four days before the festival started, I received a call from a friend saying that he got me a costume and that I would be on a float that represented a samba school. OMG, I started to get nervous, anxious, excited, and I told all my friends and relatives that I would be in the carnival parade for the first time.
I started Googling some information about the samba school, the theme and the song for this year. Dragões da Real (Dragons of Real) is the name of this new samba school, only 15 years old, and on Saturday February 6th, it would be competing against 13 more schools for the championship trophy of the elite group. The competition would be held at Anhembi Sambadrome in four days: Friday and Saturday for the elite group, Sunday and Monday for the access group. The arena has a 530m (0,35 mile) long runway and had a capacity for almost 30.000 spectators. The top five samba schools would be back on the following Friday to show once again its festivity and extravaganza. I was so excited to be a part of this wonderful presentation!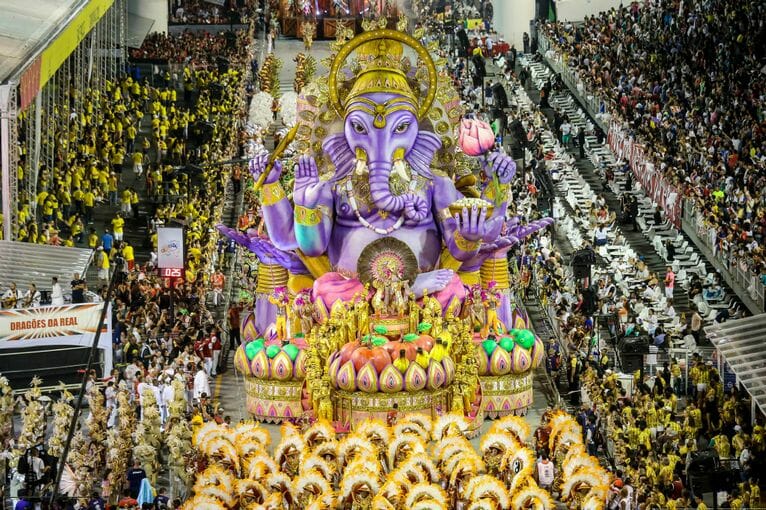 Carnival in Brazil is like devotion: it evokes Brazil's cultural heritage and the people's passion for samba. It's very hard to find a Brazilian who does not like carnival. Even though the actual Carnival day is Tuesday, the celebration takes 4, 5 and even 6 days in some cities. It is a big four-day holiday in the whole country and people say that the year in Brazil only starts after the carnival.
Rehearsals and Preparation
The preparation for the float involves many members of the communities of each samba schools who work with passion to create costumes, elaborate choreographies and get funds to support their presence on the carnival.
The rehearsal starts in September at the samba school hangars and everyone is invited to get ready for the parade in February of every year. Costumes start to be sold in October and as early you can get it you have a chance to pick a good float or even being featured on the top of a "Carro Alegorico" (a big car or truck carrying people on the floats).
Dragões's theme for this year was "Guess what I brought for you". It would be a celebration of the art of giving and receiving gifts and of all those who were involved in it. The theme would be speaking about the good gifts as well as the "not-welcomed" gifts (such as the Greek Trojan Horse), and also about the approaching festival dates (Christmas, Valentine's, Easter…); it would be praising faith, citing gifts that you receive and share with others (whether it comes from trips or unforgettable moments) and believe it or not, also giving gifts to the audience.
Two Sundays prior to the parade there is a technical rehearsal but because I knew only on Monday, I went to an unofficial rehearsal just to see the car that I would be on and learn the choreography.
When I stepped in at the Sambadrome it was basically empty, just some people working on final arrangements. I realized then that in a few days it would be completely different, full of people, lights, good vibes, loud music and glamour. I could not wait to be on a carnival parade for the first time in my life and I was so excited!!!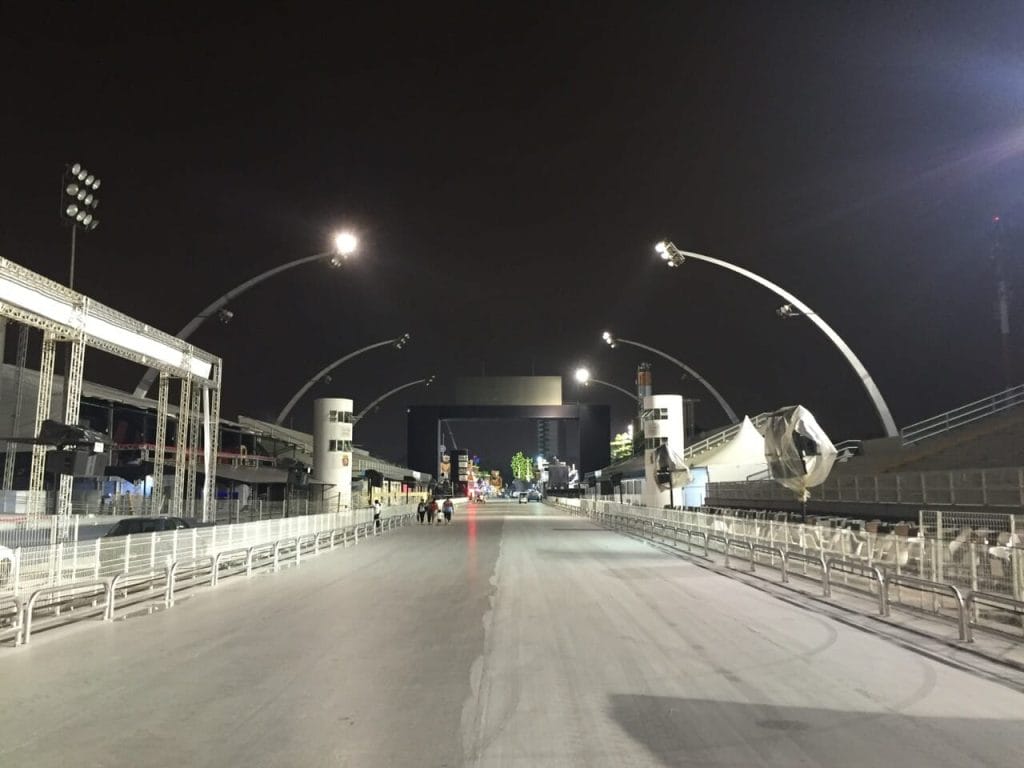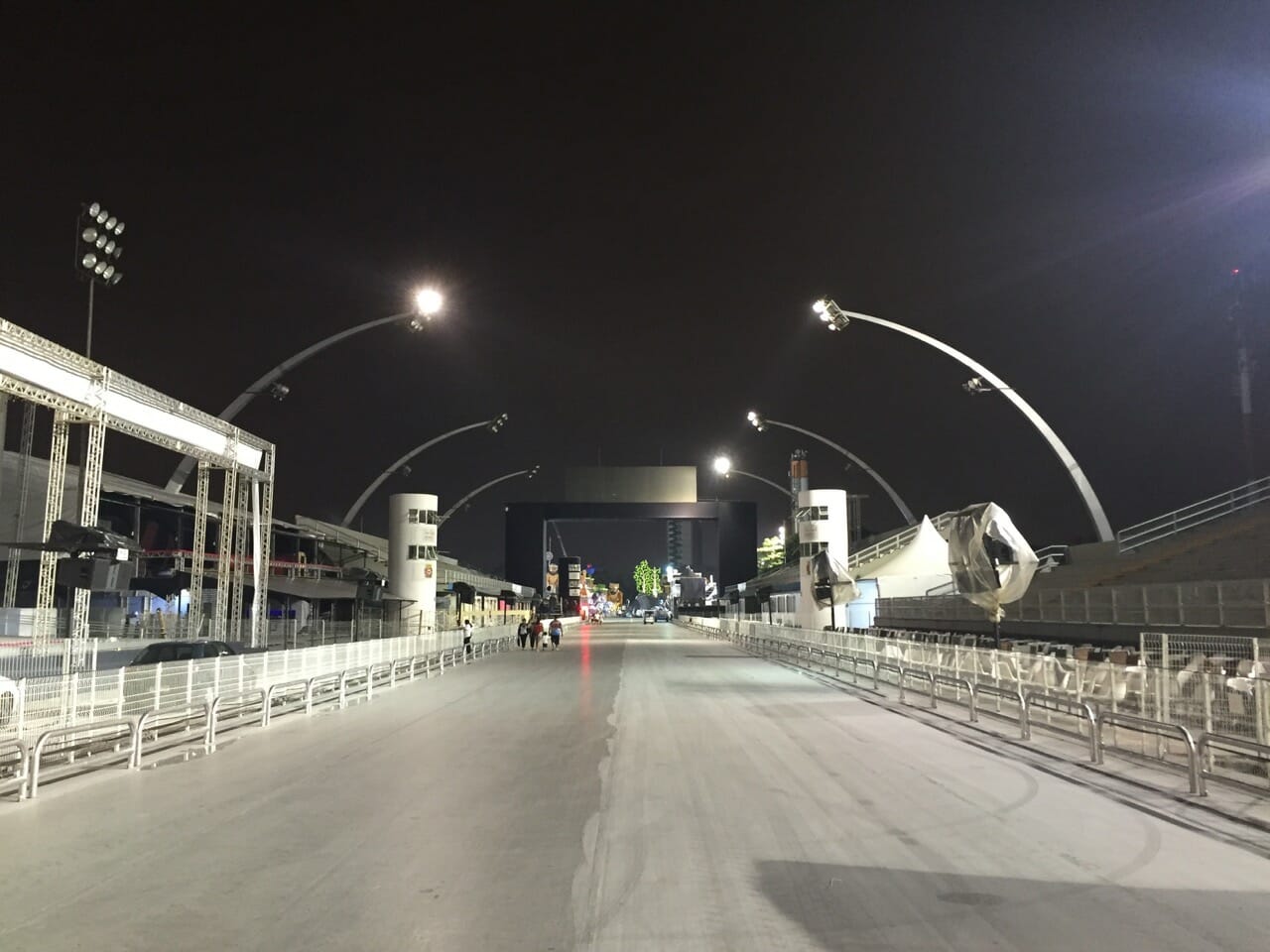 From afar I was able to see my car and I was amazed by how outstanding it was. The Trojan Horse Car was 14m (46 feet) tall made of simulated wood and it had a huge wood-like bowtie on its head. I met my friends and learned of my responsibilities for this section of the school. I would be a Greek soldier on the second floor of the car, which would also carry "Mothers-in-law" on the third floor and be pulled by "Slaves".
The big day
I spent the next three days learning the lyrics of the Samba Enredo (samba song), singing, dancing and getting more and more excited. Actually I don't remember the last time I was as excited as that…
 Finally on Saturday morning I tried my costume on to check if everything was perfect and also to see how I would look as a Greek soldier.
At night I went to my friend's place for happy hour. We were 8 friends and only one of us had attended other carnival parades before. At 11:30 PM we headed to the Sambadrome and the party continued in the car.
When we arrived at the parking lot, we bumped into some "Mothers-in-law" and went to the place where we would meet everyone, change and do the make up.
We were three and half-hours early to our float but even though we were early, we started changing. The room was big and we shared it with some people from other schools. Actually, people from all ages, so many children by the way, mothers with sons and daughters, couples… and everyone was helping each other to change. Some staff of Dragões were there as well to check if we had everything that we needed and to support us. I was dancing, singing, shaking, and I didn't stop at any time. My eyes were shining more than the costumes.
The moment
Finally around 3:00 AM we went to the concentration area (our float was supposed to start at 3:55 but it started around 4:30). When I got there I felt like a child in an amusement park. There were very tall stunning colorful cars enhanced by beautiful lights and smoke, featuring a range of motives from dragons, Ganesh, Santa Claus, cabarets, forest, airplanes… a true wonderland!
Meanwhile we were waiting for our turn while the firefighters were still putting some people on the floats with cranes. At the last moment the staff passed the choreography around again, while the technical commission checked that everything was ready and that we would deliver our presentations at their best.
When they announced our school the music started. Everyone was singing, dancing samba, screaming and the energy was sensational. I was thrilled!!
My car got into the runway 20min after the school started and I was having a blast, dancing and doing my best to provide an outstanding performance.
Besides it was almost 5:00 AM, many spectators were there, and they were singing and dancing with us, waving, taking pictures and having as much fun as we were. The choreography was very easy and in just one part I could dance freely and do whatever I wanted to do. And by the way, it was my favorite time.
There was a part that the drums go to the side and wait for basically everyone to pass them by. This was one of the best moments because we got so close to the drums and the energy and vibration was so exceptional that it gave me goose bumps. I wanted to stay there the whole night long, forget everything and just dance samba like a crazy person, but I couldn't. Harmony is important for the schools and they were under evaluation by the judges.
In total I was 31min on the runway, sweating, dancing, singing, swinging with my heart beating as fast as the beats of the drums. I could not be happier! When we crossed the line and got into the dispersion area, I left the car and went to see the final floats from my school. What a beautiful float we had!! I was just able to see two cars, but everyone who was attending the float was full of joy.
When the last group passed the gate on time there was an explosion of happiness. People were jumping screaming, hugging each other, crying, and I got so moved, even now that I'm putting this down, and for sure it was one of the best moments. After all, this is the magic of carnival!
I left the Sambadrome at 6:30 AM when the sun was already coming out. My friends looked so tired but I was still full of energy and so thrilled. When I got home I checked the videos, pictures, sang and danced again, only after that was I able to go to bed around 8:30AM.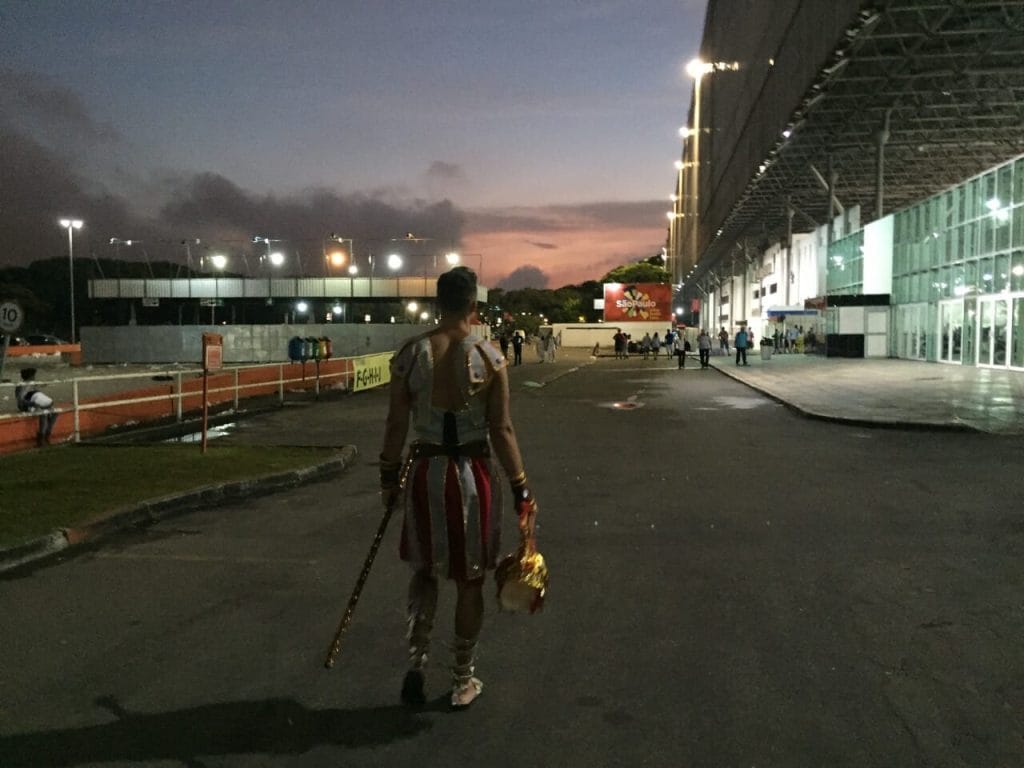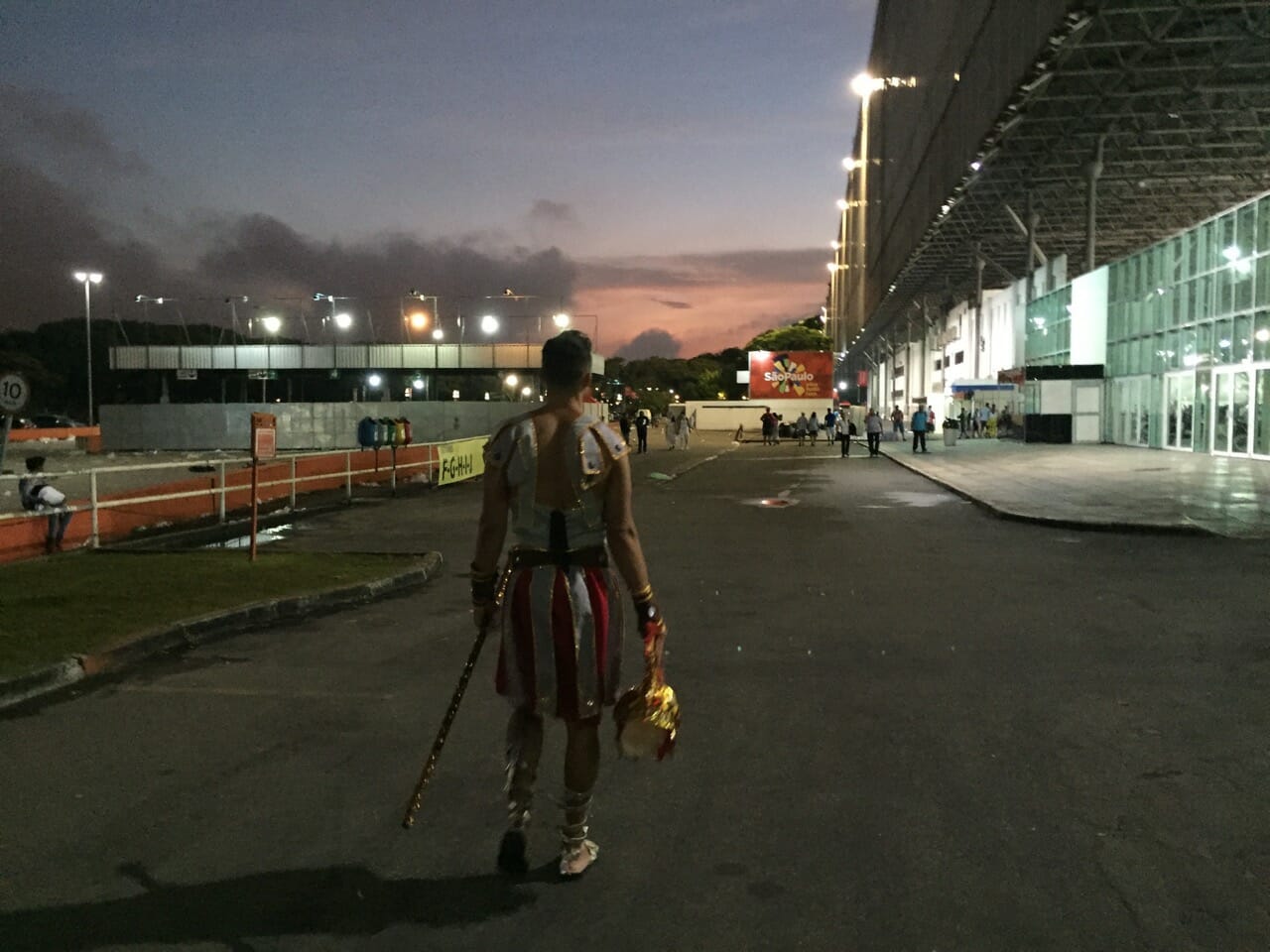 I still had three mores days to enjoy the carnival but I was sure that nothing would beat that magical night. What a carnival!!
Visiting São Paulo
São Paulo is located on the Southeast of Brazil distant 1008 Km (630 mi) of Brasília (Brazil's capital).
∗There are two airports in São Paulo: Guarulhos (GRU, the international) and Congonhas (CGH, the domestic one).
∗ Over fifteen companies fly to São Paulo, some of them are: AirFrance, TAP, British Air Ways, Delta, United, Emirates, Aerolíneas Argentinas, KLM and Alitalia.
∗ For domestic flights: Avianca, Tam, Gol and Azul (they also operate internationally).
∗ The main bus terminal, Tietê, provides buses for basically all capitals and big cities in Brazil and also nearby countries.
∗ São has a tropical mild climate and can be visited all year-round. The seasons are not well defined and in general the wheatear is nice and dry and not too hot.
∗ During the winter temperatures range from 55 to 75 F (12 to 23 C).
∗ Summer is the rain season and the weather becomes increasingly hot, with a few flash downpours.

Helpful links
For more information about São Paulo visit the web page: Cidade de São Paulo.
For more information about Dragões da Real samba school.
∗ I was invite by Dragões da Real to attend its parade, but all the opinions are on my own and unbiased. 
Travel Planning Resources
For every booking made through my site I donate US$ 1 for a charitable organization.
Safe travels ☺