Planning to visit Mindat in the Chin State, Myanmar, and see the tattooed face women? You're in the right place!
Myanmar is one of the most culturally diverse countries in the world, with 135 distinct ethnic groups.
They have some very interesting traditions, including the extraordinary and fast-disappearing "tattooed face" women.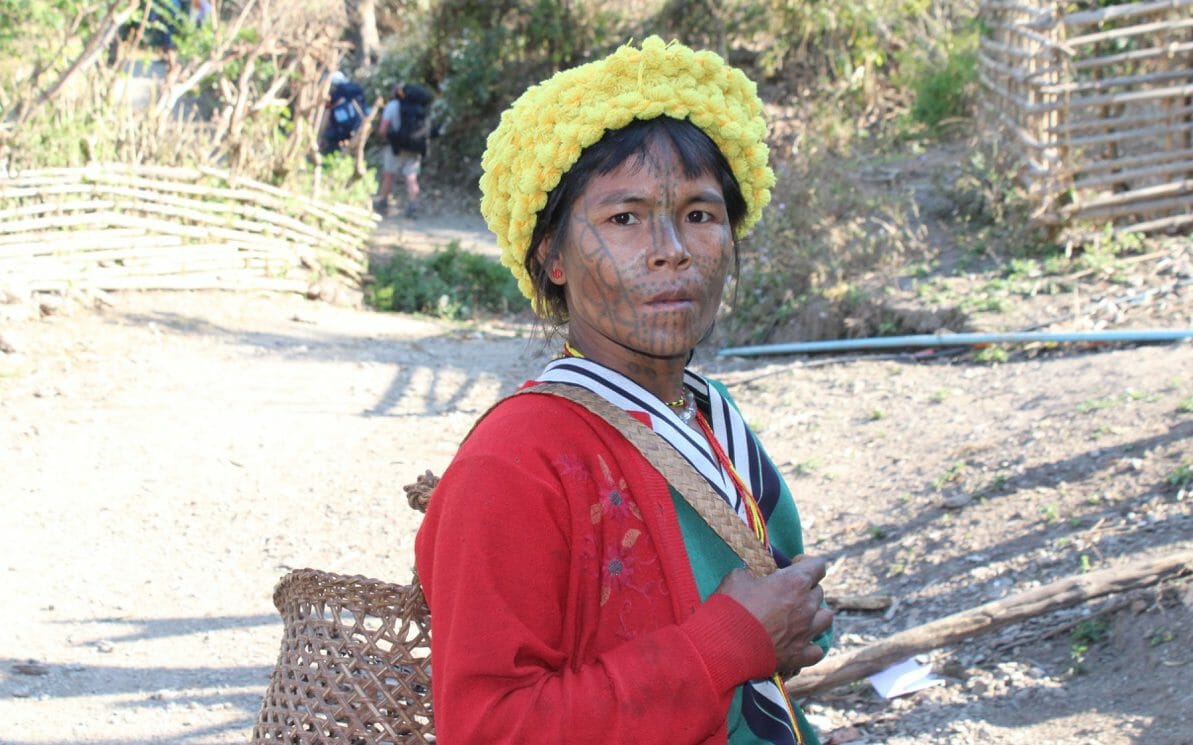 I knew nothing of them until I saw an advertisement while wandering around the streets of Bagan: "Trek to Mount Victoria and visit the only tattooed face women village in Myanmar".
I was intrigued and discovered that a tour by private car would take three days and cost a few hundred dollars. Thinking this to be too much and also wanting more freedom to travel around as I wanted, I decided to work out my own itinerary.
The Adventure begins
In order to visit the villages, you have to start at Mindat, in Chin State, about 180 Km by road from Bagan.
The first thing I had to do was pay 3000 Burmese kyat (US$ 2.20) to share a truck with locals for the first stage, an hour's drive to Pakokku. The truck wasn't comfortable at all. It was very crowded, I had to rest my legs on bags and my luggage was on the roof of the truck.
It was very hot and I was covered with dust and beginning to wonder why I was going through all this just to see the women.
I arrived in Pakokku, a town with no other tourists and where no one seemed to speak English… And, contrary to what I had been told, there was no van to Mindat at 1:00 PM. Suddenly, my plan to do everything on my own didn't look so clever…
After a lot of gesturing, sign language and bits of broken English, I managed to find my way to the "bus terminal". Now there was nothing to do besides eat, read and wait for the next van, which only came four hours later.
The trip from Pakokku to Mindat should take around four hours, but because of road works, it took us almost six hours.
However, the driver was incredibly friendly. He invited me to have drinks in a restaurant, meet his family and was very proud to tell me that there was an athlete from his village in the Rio Olympics.
We arrived in Mindat at around 10PM, 12 hours later! The city was completely quiet and I had no idea of where to stay. After trying two of the most popular guest houses, which were fully booked, the driver took me to his friend's guesthouse where I finally found a room to stay. The guesthouse was very simple, but at least there was hot water. But I had to share a room with a couple who were already sleeping when I got there. And I didn't have the most restful night, as the bed was very uncomfortable and the wind shook the wooden walls of the room all night…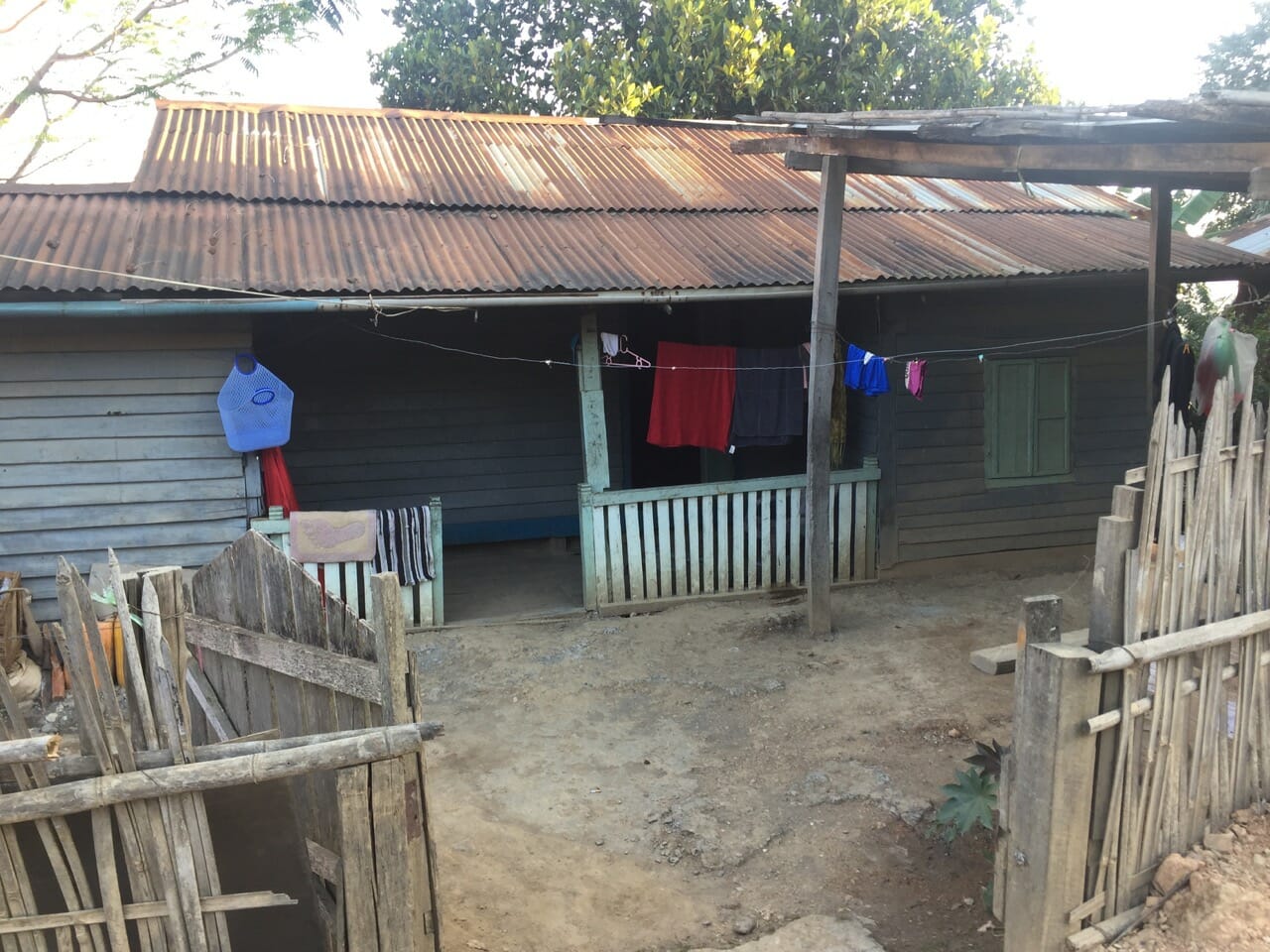 Mindat, Chin State, Myanmar
Mindat is a small simple town perched on a hillside at an altitude of about 1500m in Chin State, Western Myanmar.
The city, known as the sanctuary of the tattooed face women, offers various scenic trekking adventures to Mount Victoria and Chin ethnic minority groups, and also hosts the Chin Festival that happens yearly in February.
In Mindat you can find tattooed face women from three different tribes: Muun, Dai and Kaang. Those moved from their villages to study, work and even run businesses.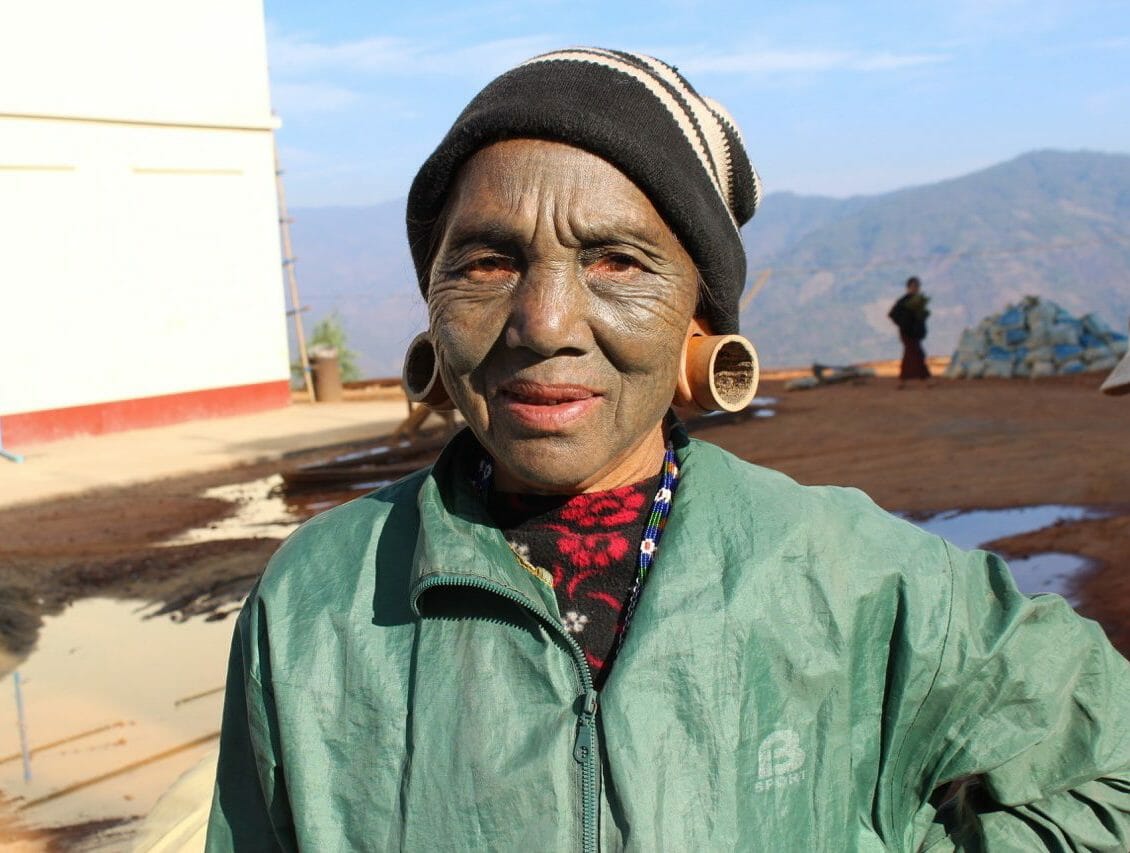 Next morning I woke up early and went for a stroll around the city to have breakfast. There are some teahouses in Mindat from where to watch the Chin people go about their daily activities.
I saw people wearing bright clothes, women doing construction work and children as young as 8 working from early on, carrying bags with leaves. There were also some tattooed face women walking around the city but when I asked to take pictures they were either very shy or wanted money.
I was feeling a bit lost, not knowing what to do, but I knew I wasn't willing to chase tattooed face women in Mindat and paying them to get a picture. I wanted a much more authentic and remarkable experience!
Trekking to Tattooed Face Women Villages
By coincidence, I bumped into a man who has a travel agency. His son, Naing Awm, advised me to do a trek to visit a village of tattooed face women, where I would have the opportunity to not only meet and talk with them, but also to be their guest for one night.
The next day I joined a young French couple and one of their fathers for the two-day trek to visit approximately five remote villages. I have to admit that I was a little surprised, as I had assumed it would just be me and Naing on the trek.
Nevertheless, we started out around 10:00 AM passing by some very simple houses, with people wearing thanaka on their faces to protect them against the sun, kids playing on the streets and goats roaming freely.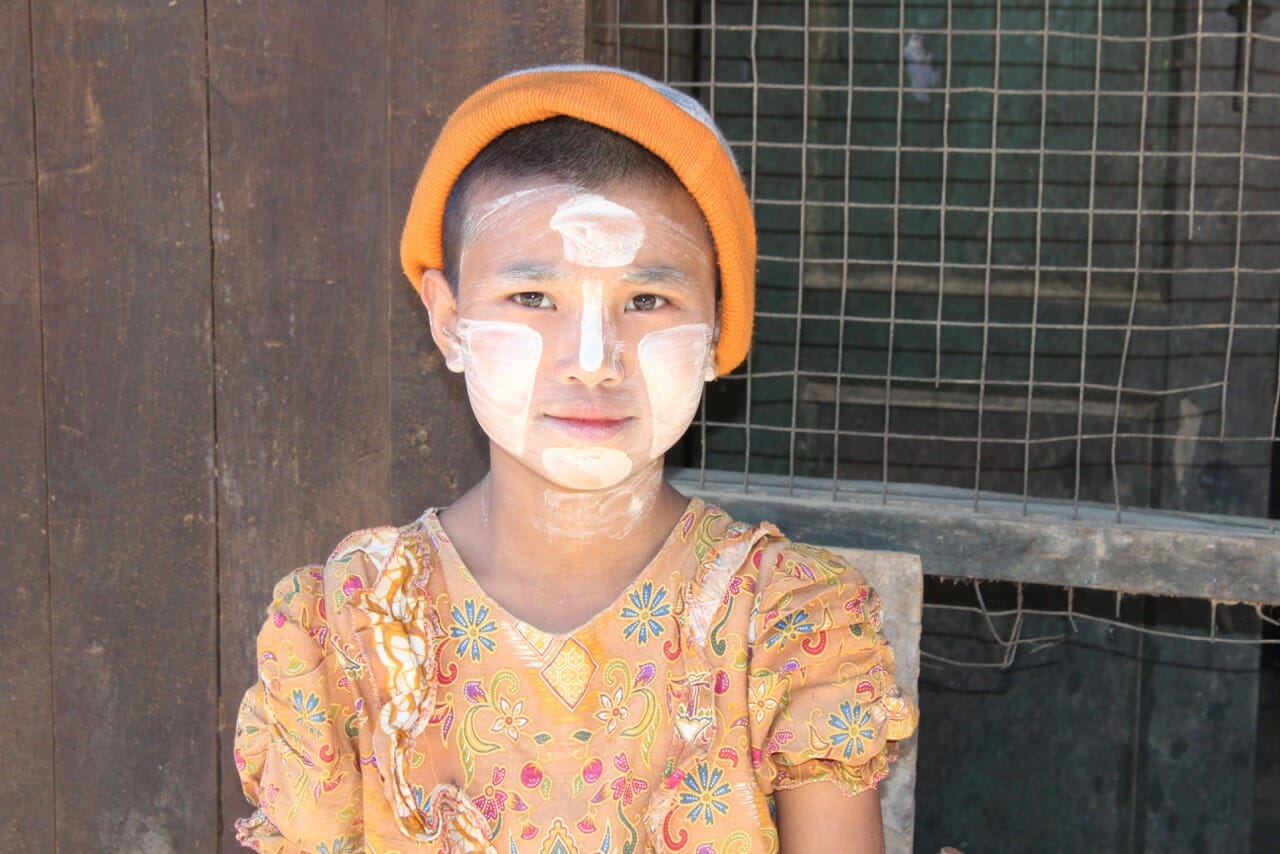 The weather was sunny, dry and very hot, and I realized very quickly that the journey wouldn't be easy, not only because of the heat, but also because we would have to cross several mountains on the way there.
Naming Awm, a native from Chin State, was leading us towards the valley at the foot of the mountains, among trees on trails familiar to him since childhood. While I was walking easily, staying close to him or his helper, the French tourists with their big backpacks were struggling a bit.
It did not take long before we bumped into the first local. An elderly man was walking towards us with "medicine" from the trees for his wife who was hospitalized. The medicine appeared to be the bark from the trees that he had harvested.
He appeared to be in his 70's, wearing flip-flops, missing some teeth and could only speak Chin. But his friendliness, determination, simple smile, love and compassion towards his wife were captivating.
I was amazed by this man, who, at that age, was walking up a very steep mountain wearing flip-flops and collecting medicine from trees for his wife. What a brave and inspiring soul!
We continued only stopping briefly by a river to refresh and have lunch.
It was already 2:00 PM and the temperature was very hot, around 36 C (97 F). I couldn't wait to reach the first village and get some shade again. But I had to wait in the sun with a very dry throat for my trekker friends…
The first Village: Pukon
Just before we arrived at Pukon, we met the first tattooed face woman.
After working in the fields and walking across the hills in the heat during the morning, she was heading home with her son. Both of them carried heavy baskets on their backs with straps around their heads. Again, the kid was very young not looking much older than 7.
The woman's name was Naing Heim. 37 years old, very short and shy, she could only speak the Chin language. When I asked her via the guide how she felt when her parents said that she would have her face tattooed, she opened up a wide smile and replied: "I hated it". She was only 14 years old at that time, and her grandmother and mother also had tattoos on their faces, and even though she doesn't like it, she said that if it were not prohibited she would do it to her daughter to keep the tradition.
The visit to the villages was just starting, but I was already very glad and excited to get to know more about those tattooed face women.
After a further ten minutes we arrived at Yukon, 1400m above sea level and about 15km from Mindat.
It's a small village of around 280 people, simple houses and a few brightly colored churches. Some kids were playing in a square, others were working and yet a few more were tinkering with an old motorcycle.
Nearby, people were working together to build a traditional wooden house. The ambience was welcoming and the feeling of community was very strong.
Even though the government banned the practice in 1960, seeing it as backwards and barbaric, you can still find tattooed face women younger than 50.
However, most, including the women I met at Pokun Village, had to pay a government fine.
Like Ling Shen who is 40 and decided to have her face tattooed at age 14. Cal Gei Awi is also 40 and got her tattoo when she was 15. Cal loves it because she said that it's part of the Chin culture. However, her sister hates it and doesn't have a tattoo.
I was surprised and intrigued to hear all those different stories, to find out how hard those women work, and also to see very young kids helping their mothers on the farms.
If sometimes we think that we work very hard and have a tough life, it doesn't really compare with the lives of those tattooed faced women!
Lote Pat Village
The next stop was Lote Pat, a small village of around 150 inhabitants.
The tattooed face women living in this village also belong to the Muun tribe. They are farmers, take care of the kids and the house, prepare the food, are adept at handcrafts, and most of them wear traditional Chin clothes.
They live in bamboo houses adorned with skulls of pigs, buffalos, cows and other animals sacrificed during shamanic ceremonies. But even though some of those houses look bizarre because of the number of skulls, their owners are very friendly and welcoming.
The origin and meaning of the tattoos
The origin of the tattoos is uncertain but there are various legends as to why the women started getting the tattoos on their faces:
1. The tattoo was a disguise to prevent the Burmese King from wanting to steal the Chin women.
2. They believe it made the local women look ugly and it would prevent the British colonists from assaulting them;
3. There was a rich man who wanted to marry a tattooed face woman so they started having the tattoos;
4. They believed that only tattooed women would to go to heaven and the ones without tattoos to hell;
5. They thought it made them look beautiful;
6. Tradition.
Whatever the true reason, the tradition is dying out, so eventually there will be no more tattoo faced women left.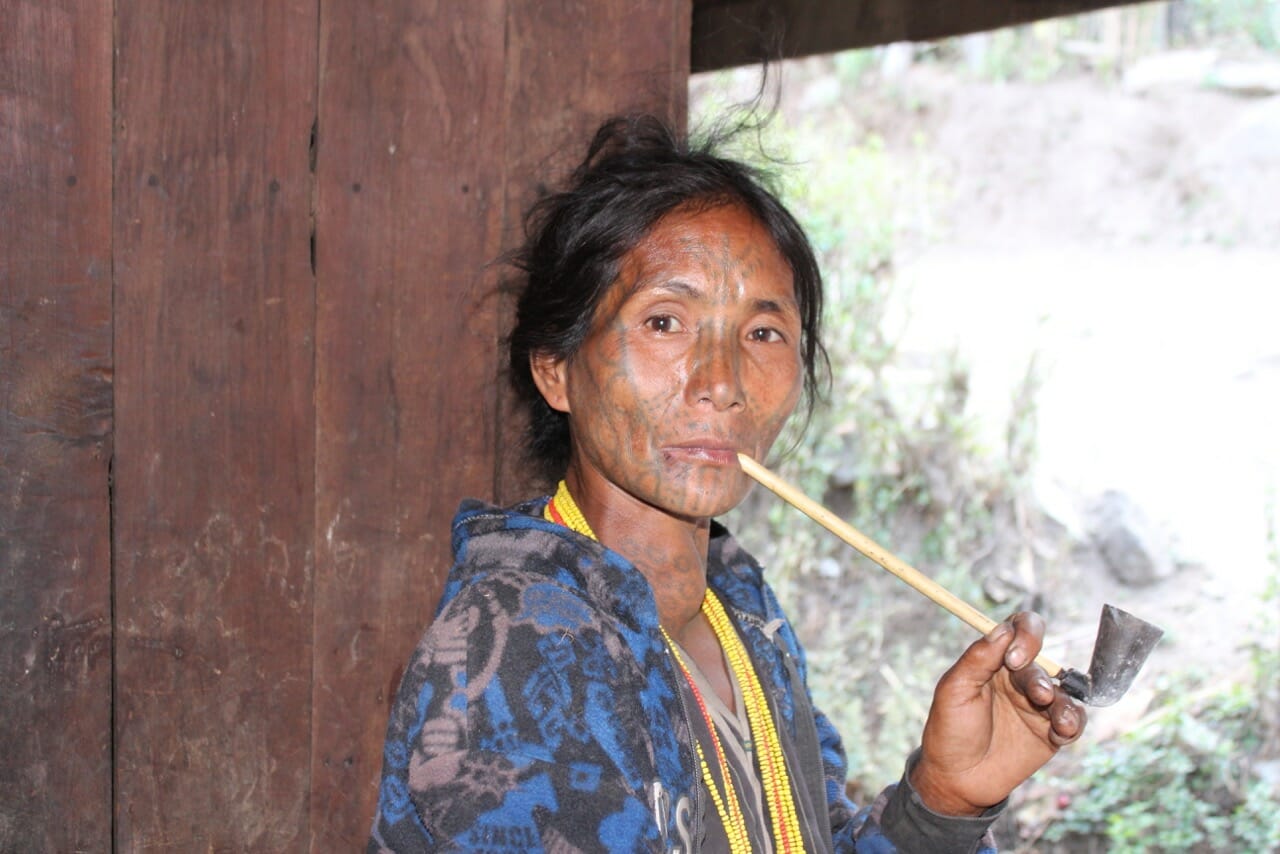 Among all the women that I met in the villages, the one who had the most prominent tattoo was Hung Young, a 34-year-old woman who was first tattooed at the age of 13. In fact, Hung had three tattoo sessions, each four hours long, and four months apart. She said that it hurt and she cried in pain every time.
The facial tattoos are made using thorns and ink made from a mixture of cow bile, pig fat, soot and plants. And the symbolism of a Muun tribe tattoo is: the semicircles on the cheeks represent the moon, the lines on the nose and chin represent the sun rays, and the dots represent the stars.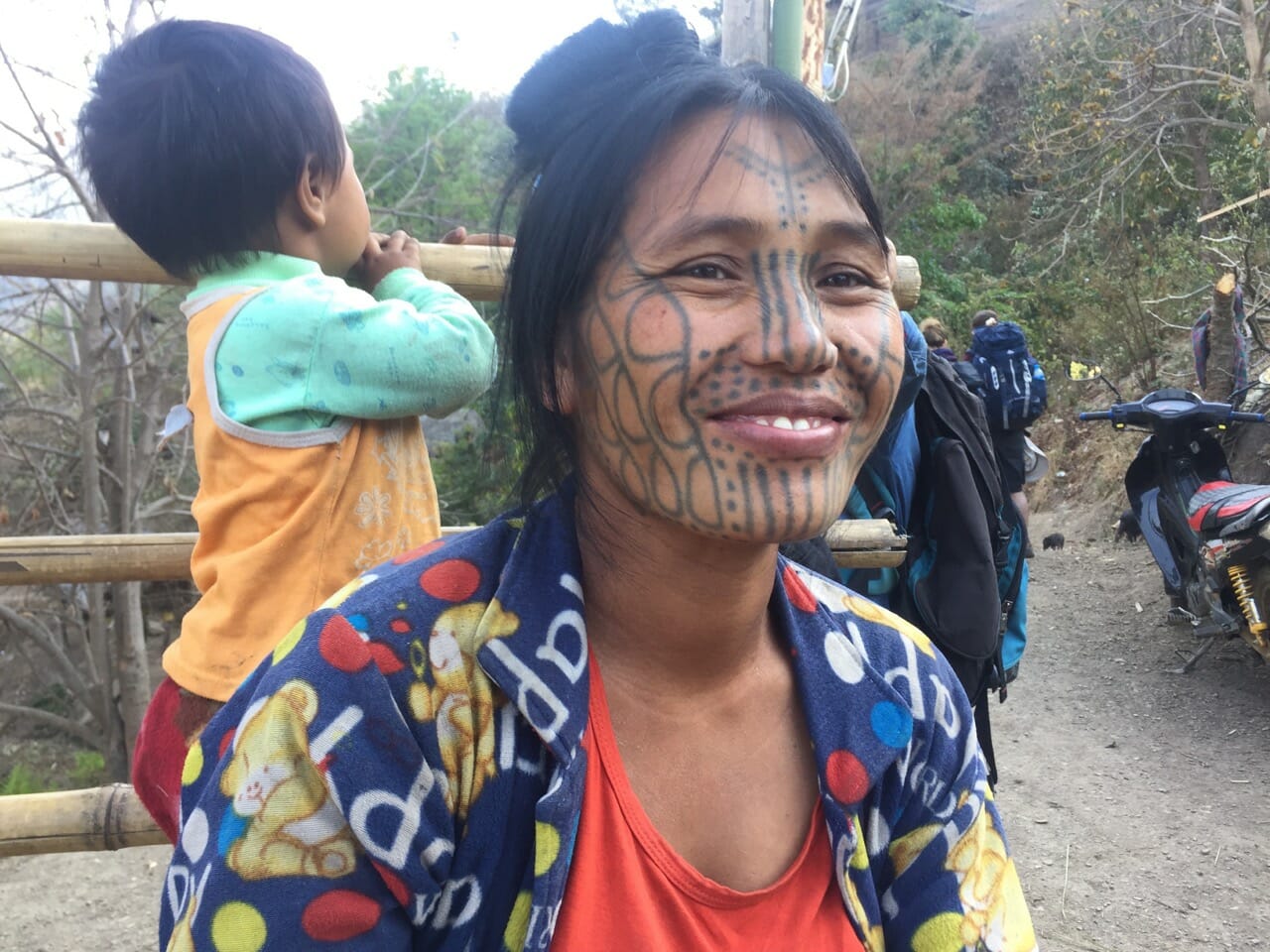 Our Stay at Kaye Do Village
The sun was setting when we arrived at Kaye Do Village, our final destination.
We headed to our guesthouse, which had very minimal amenities, with cushions on the floor, bathroom with just a toilet, and a home-made shower with a barrel and hosepipe in the garden…
I left my backpack in the living room and went out with Naing Awm to meet some locals. He introduced me to the youngest tattooed face woman in that area, Thang Ti, who is 28 and got her face tattooed at the age of ten. She told me that when her parents said that she should have the tattoo, she ran away from home and only came back the next day, after her father threatened her.
Thang also told me that sometimes she likes the tattoo but not always, and that she would not do it to her daughter because she believes that people are getting more educated and globalized, that the culture is changing and it would not be good for her daughter.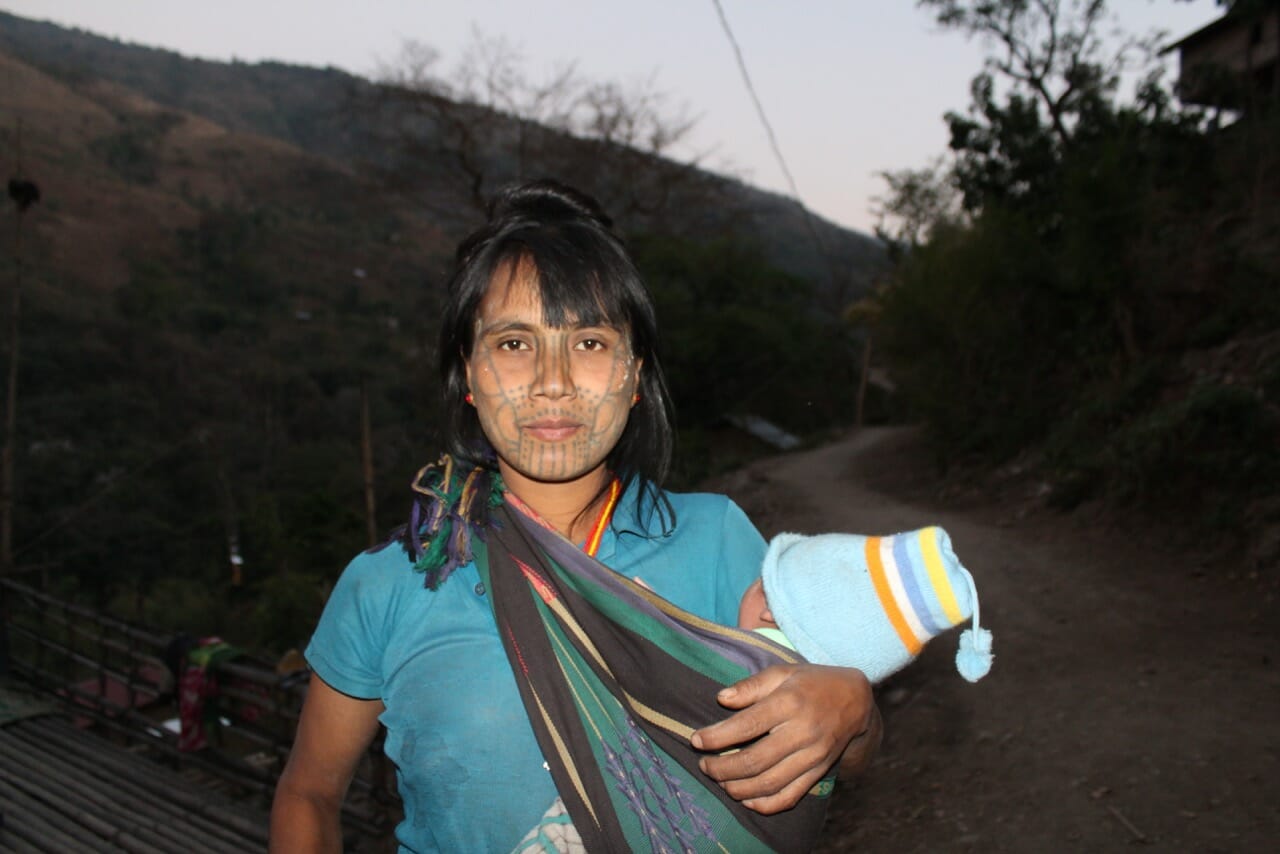 Naing and I went back to the guesthouse and while the French travellers played cards in the living room I kept Naing, his helper, and the owner of the house company while they prepared dinner.
At that time, I found out that polygamy is allowed and common in Chin State and that the owner of the house has two wives. Perplexed and curious, I asked the second wife if she felt jealous sharing her husband with another woman. She confessed that sometimes she does, but that she got used to it, and that they live in harmony.
The vegetarian dinner was very tasty, and after that we finally went to bed.
I woke up at 5:00 AM to go back to Mindat by motorbike because I still had to take the van back to Pakokku that morning.
The bike ride was much faster but more dangerous than the 7h-trekking, and the view of the sun rising in the middle of the mountains was magnificent.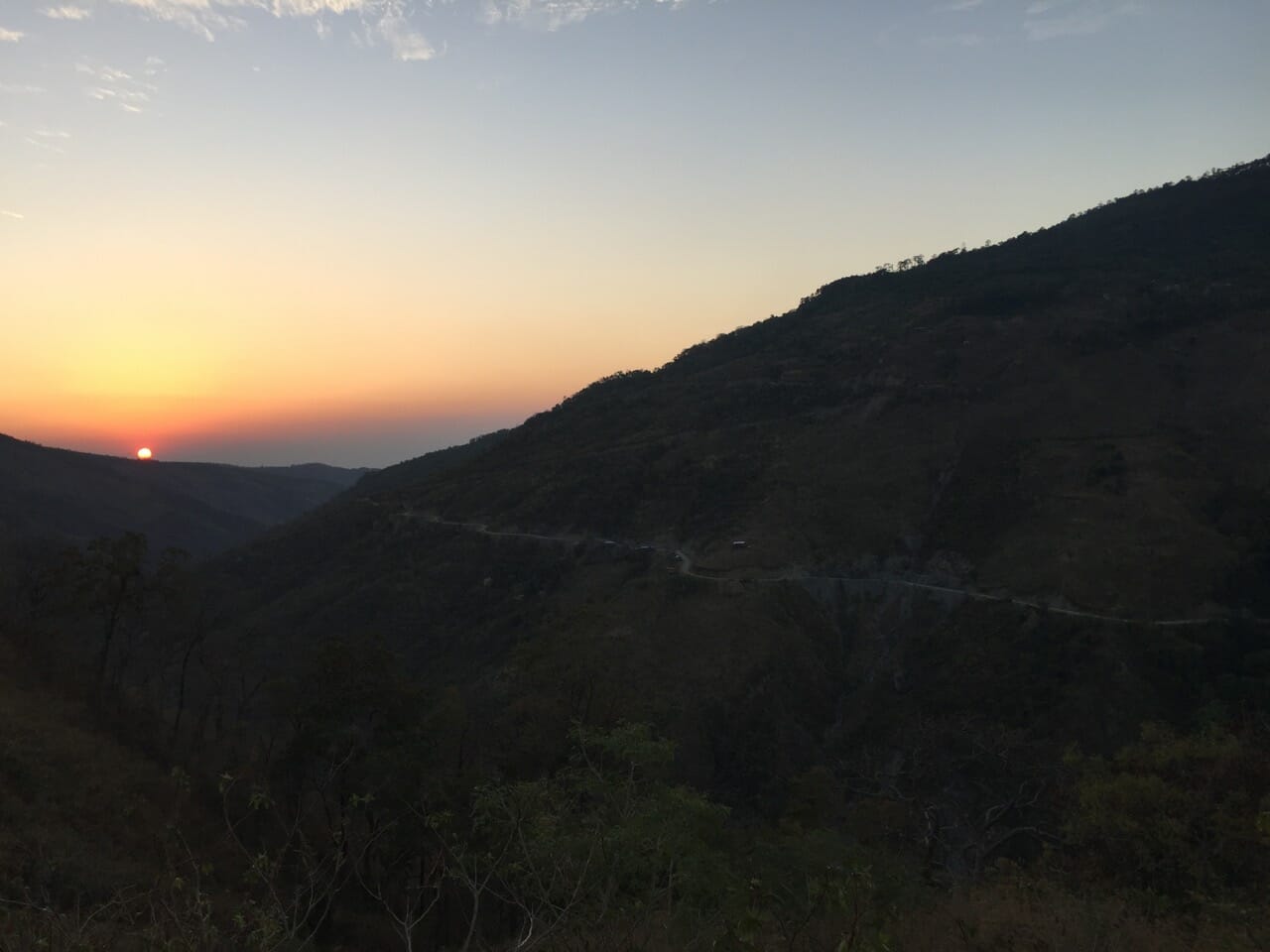 Once back in the city I still had time to see the only woman in Mindat who plays the nose flute. Yes, this is the practice of playing a wooden carved flute by blowing air out of your nose into it!
Yaw Shen, a 90-year old lady, started playing the flute as a teenager; stopped after getting married, and restarted only six years ago. Yaw, who belongs to the Kaang tribe, was very happy to have her face tattooed at the age of 15 because, according to her, it helps to keep the skin tight and free of wrinkles. After a very nice chat and a few good laughs, she played a short and delightful song for me.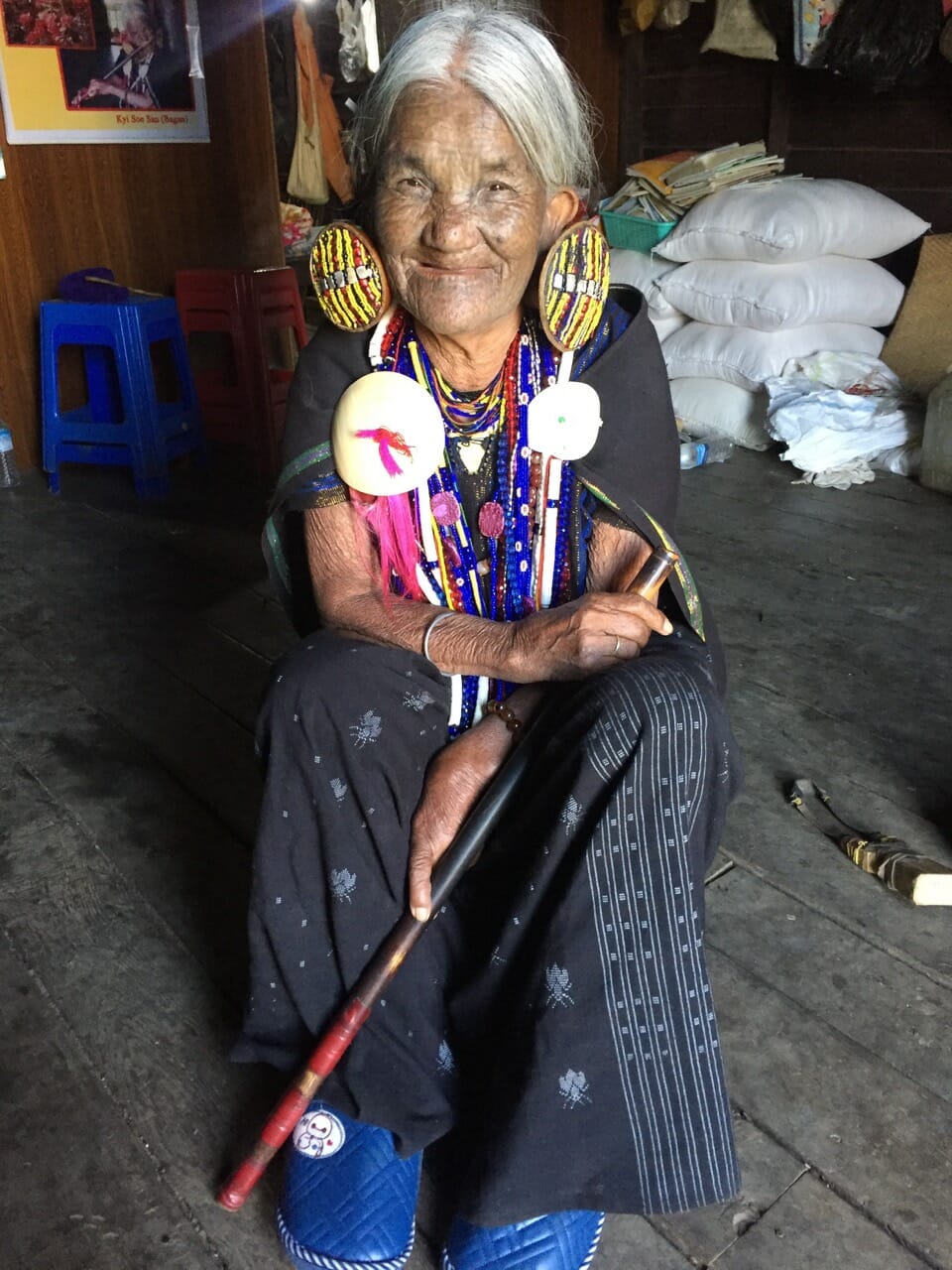 After leaving Yaw Shen's house, I rushed to pick up my luggage from the guesthouse and took the van to Pakokku.
Visiting the tattooed face women in Myanmar was one of the best experiences during the five months I spent in Asia.
It taught me not only the importance of keeping traditions and respecting cultural boundaries, but also to appreciate even more my life, the opportunities that I've had, and the country that I live in.
Safe travels!
[button link="http://againstthecompass.com/en/long-neck-women/" icon="hand-o-right" bg_color="#00566c" window="yes"]You may also be interest in: The Authentic Long Neck Women Villages[/button]

Visiting Mindat
Mindat is a southern town in Chin State, a state in western Myanmar (check map here).
You can get to Mindat only by road, either from Pakokku or from Kampellet. However from Pakokku os only accessible during the dry season (from October to April).
The best time to visit the Chin State, Myanmar, is from November to February, when the days are warm and nights are cold.
From June to September is the monsoon season and roads are in bed conditions, and from March to May is the dry season.
I visited Mindat in March 2017 and it was very hot and dry during the day, and chilling at night.
Bear in mind that accommodations in Mindat are very simple and you the to book it through an agency, or when you get there.
Some of the places to stay in Mindat are Victoria,Tun and Mopi guesthouses; and Oasis Hotel.
* Five months travel insurance: US$ 256 with World Nomads.
* Van from Bagan to Pakokku:  3000  (US$ 2.20)
* Van from Pakokku to Mindat: 14000 Ks roundtrip (US$ 10)
* One night at Tun House: 8000 Ks (US$ 6)
* Breakfast: 800 Ks (US$ 0,60)
* Trekking with Naing Travel Service: 82000 Ks (US$ 60)
* Nose flute presentation: 5000 Ks (US$ 3,70)
Extra Tips to Visit the Tattooed Face Women of the Chin State
– Since 2013 is not necessary a special authorization to visit the Chin State.
– There is no WiFi in Mindat area.
– The only hotel in Mindat is Oasis Hotel and it is one of the few places to stay that provide hot water.
– Bathrooms and toilets are always outside of your room (except at Oasis Hotel), and they are very simple.
– I personally don't recommend to do the treks by yourself, once most of the locals can't speak English, and you don't know the trails.
– I highly recommend hiring a guide with Naing Agency. You can contact them through: [email protected] and +959452093497.
– You can see different tattooed face women tribes in Kampellet, departing from Mindat.
Travel Planning Resources
For every booking made through my site I donate US$ 1 for a charitable organization.
Safe travels ☺