Some tips of how to do Machu Picchu on a budget.
Machu Picchu, one of the New Seven Wonders of the World, attracts visitors from all over the world; it is very hard to find someone who doesn't want to visit it.
Traveling in Peru can be very inexpensive, however visiting Machu Picchu, Peru's most important tourist attraction, can be quite expensive.
Airplane tickets to Lima and Cusco are not that bad, but Machu Picchu itself is.
You start digging deeper into your pocket when you take the train from Cusco to Machu Picchu: around an 8h round trip and US$ 160. This is a big price when you think that you can have a full meal for only 5 soles (less than US$ 2) in Peru, and pay public transportation with coins. In addition, the prices for Peruvian's are much cheaper than for tourists.
I'm just talking about the train, but there is also the ticket to visit the citadel, (the cheapest is US$ 45), plus accommodations, guide, and the bus from Aguas Calientes (the train's final stop) to Machu Picchu (US$24, round trip). The total amount can easily reach US$ 300.
Fortunately there are alternative ways to help you do Machu Picchu on a budget.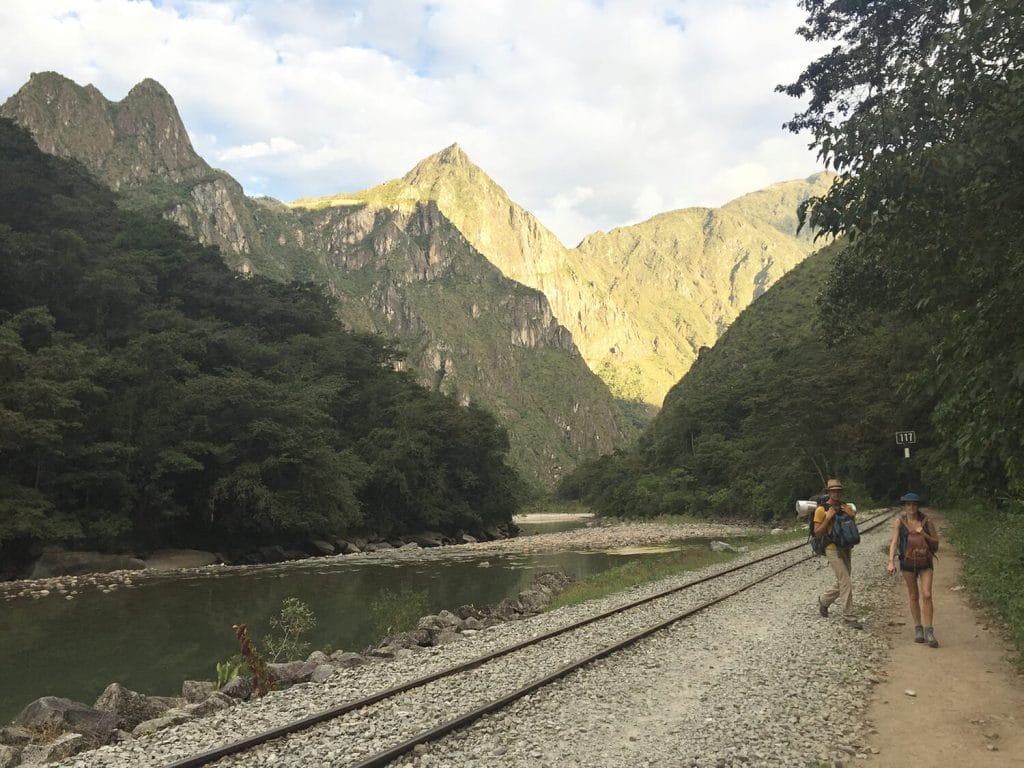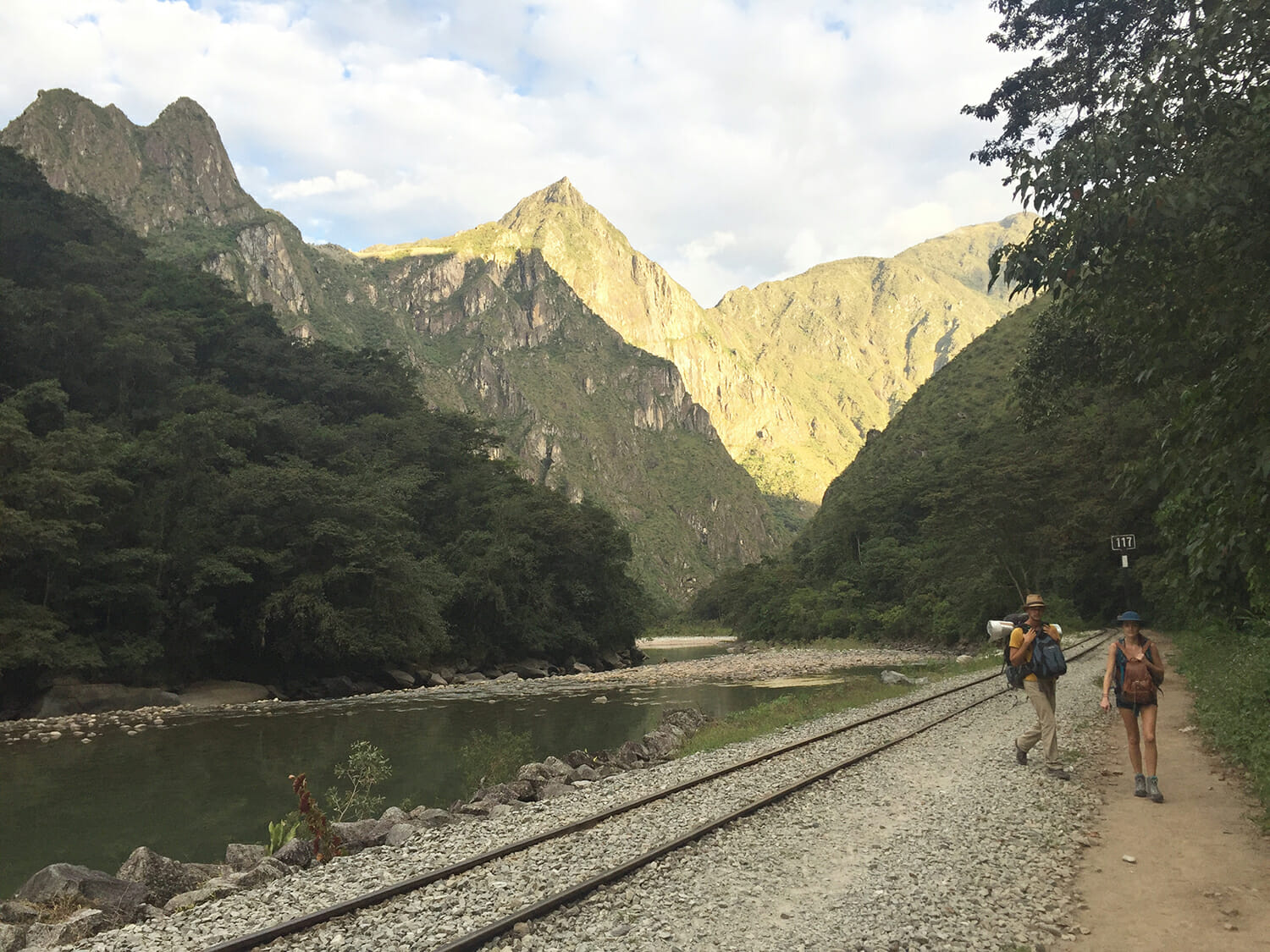 How to do Machu Picchu on a budget?
Transportation
If you want to save money on your trip to Machu Picchu, the first thing is forgetting the train. If so, the only option is taking a van from Cusco to Hidroelectrica, which cost 70 soles (US$ 22), and then walking to Aguas Calientes (Machu Picchu Pueblo). You will save US$ 138.
The van drive is long, around 7h, and during the last 1:30 the road on the edge of the Sacred Valley's cliff is winding, narrow, without pavement and quite dangerous.
If you were thinking that it isn't worth it, everything starts paying off once you hit the road. The views from the beginning are amazing! You are in the middle of giant mountains covered with lush vegetation; you see so many waterfalls and the river flowing in the bottom of the valley.
Be aware that you will arrive in Hidroelectrica full of dust because most of the cars don't have AC.
From Hidroelectrica you have to walk for at least two hours on the train tracks all the way to Aguas Calientes because there is no road connecting those two places. But don't worry; this trek is the most rewarding part!
You walk the whole time by a river and huge and stunning mountains surround you. In some parts you pass underneath tree canopies and you can even enjoy the river's crystal clear water.
Another important thing, the closer you get to Machu Picchu the more expensive everything becomes. Less time in Aguas Calientes means less money spent.
Accommodation and food there tends to be more expensive than in Cusco, but you can find hostels for around US$ 13 / night and eat for 10 soles (US$ 3) in restaurants far from the main square. However water and snacks are pricy.
Walking, walking and walking
Once you're in Aguas Calientes, there is an option to save the US$ 24 (40 soles at their conversion) bus ticket. Yes, you guessed it: walking.
This option is much cheaper but requires some of your energy and some good physical preparation.
You need to walk 20min from the town to a bridge, and then hike up at least 45min more. There are some rocks making up the steps and ascent is constant.
If it's tough in the sunlight, imagine doing that before the sunrise when most people make the climb…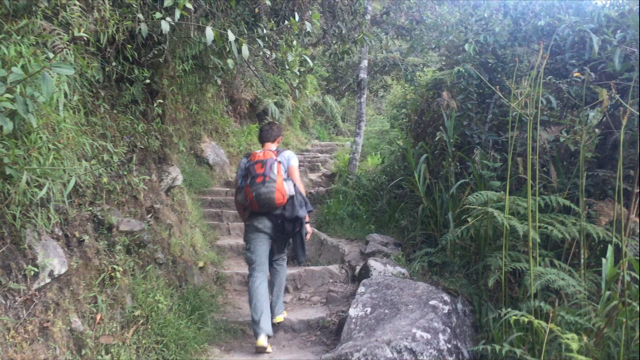 If you hire a guide to visit Machu Picchu, which costs 20 soles (US$6), which I highly recommend, the tour might start at 6:30, and you will need to leave your hostel at 4:20 AM.
There's a ticket checkpoint at the bridge, I personally spent 40min in line and had to hurry to be at the entrance between 6:15-30 or otherwise I would have been unable to meet my guide.
Visiting Machu Picchu
To visit Machu Picchu there are three options: only the citadel; MP + Wayna Picchu (the big mountain behind the citadel that we see in the pictures); and MP + Montaña (a huge mountain facing the citadel).
Of course if you want to do Machu Picchu on a budget you visit only the citadel. However the hikes of those two mountains provide unbelievable vistas.
Watch out for one detail: the van back to Cusco departs from Hidroelectrica at 2:40 PM and doing the hikes you may not be able to go back to Cusco until the next day and one more night in Aguas Calientes, you spend more money.
Be advised that you will arrive in Cusco only around 9 PM and this will be a very long and exhausting day.
Extra tips
To finish there are two more things to take into consideration:
Avoid visiting MP during the high season (July and August), because this is the busiest and most expensive time.
You can find good deals at travel agencies in Cusco including packages with transportation, accommodation, food and guide.
I booked the van drive from Cusco to Aguas Calientes and the guide in Machu Picchu with Qori Inka Travel (talk to Elias).
These are just some tips to help you do Machu Picchu on a budget.
I'm sure you will love it specially if the weather helps. The views are breathtaking and you will feel like you are inside a National Geographic magazine.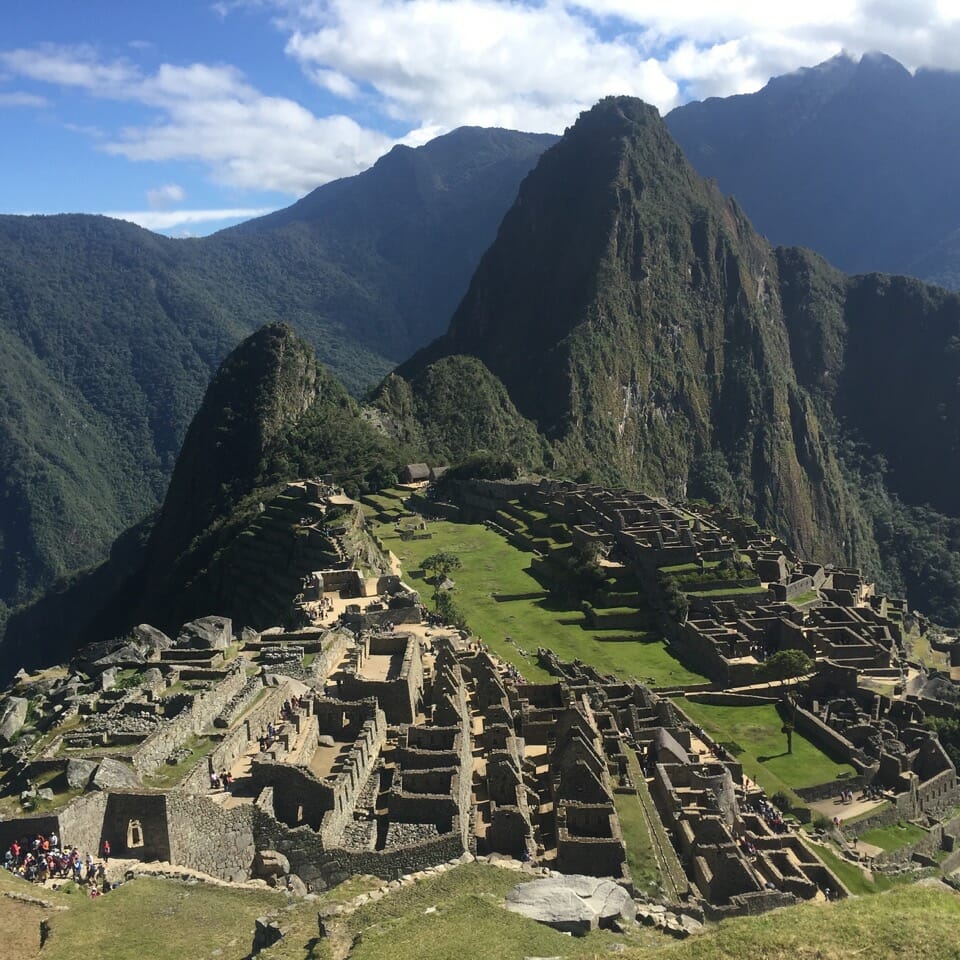 Ver video

: Cheapest way to Machu Picchu.

Travel Planning Resources For every booking made through my site I donate US$ 1 for a charitable organization. Safe travels ☺