Have you ever heard of Chinchero?
When planning my trip to Peru, two of the things that I wanted to see besides Machu Picchu were women dyeing textiles with natural pigments and the transformation of an insect into lipstick.
Those things always fascinated me and since finding out that Chinchero, a village near Cusco preserves this old tradition, I became really interested in visiting it.
After spending some time in Lima, I arrived in Cusco on a Sunday early in the morning.
Cusco is much bigger than I thought and it's busy with tourists and locals.
I arrived at a hostel, checked-in and walked to Pavitos street to take a van to Chinchero.
Chinchero 
Chinchero is located 30 Km (18.8 mi) from Cusco and driving took around 40min. Getting out of the car and walking down on the streets my feeling was that it was a very special village: women beautifully dressed with colorful and traditional Peruvian clothes in a low pace environment.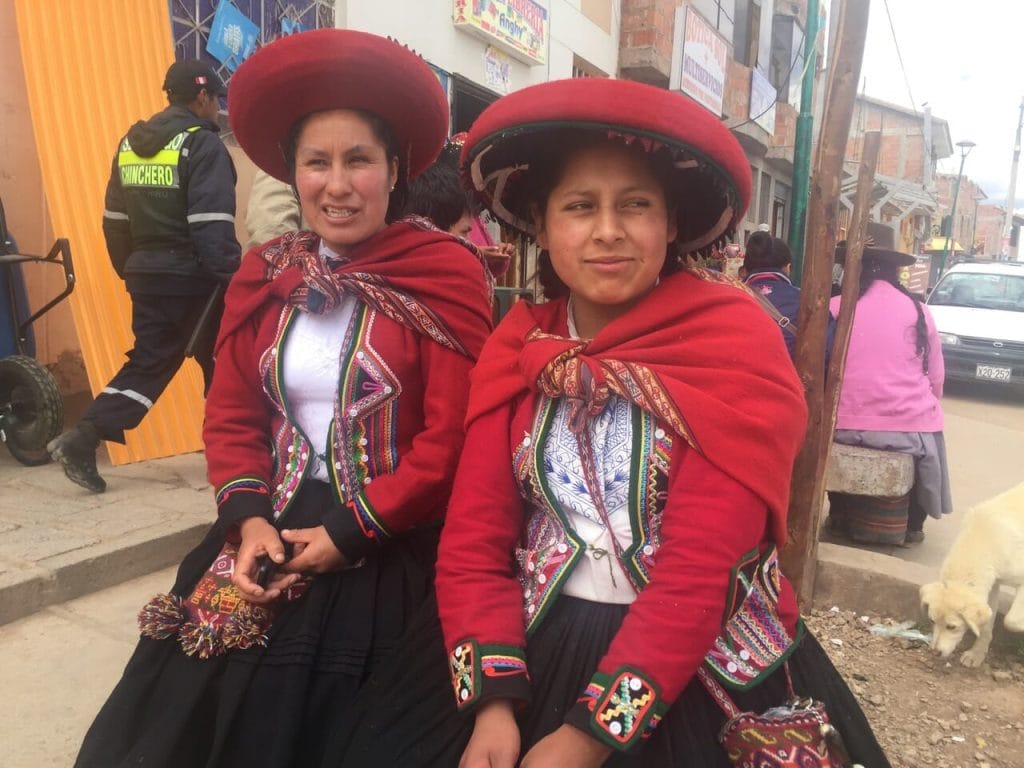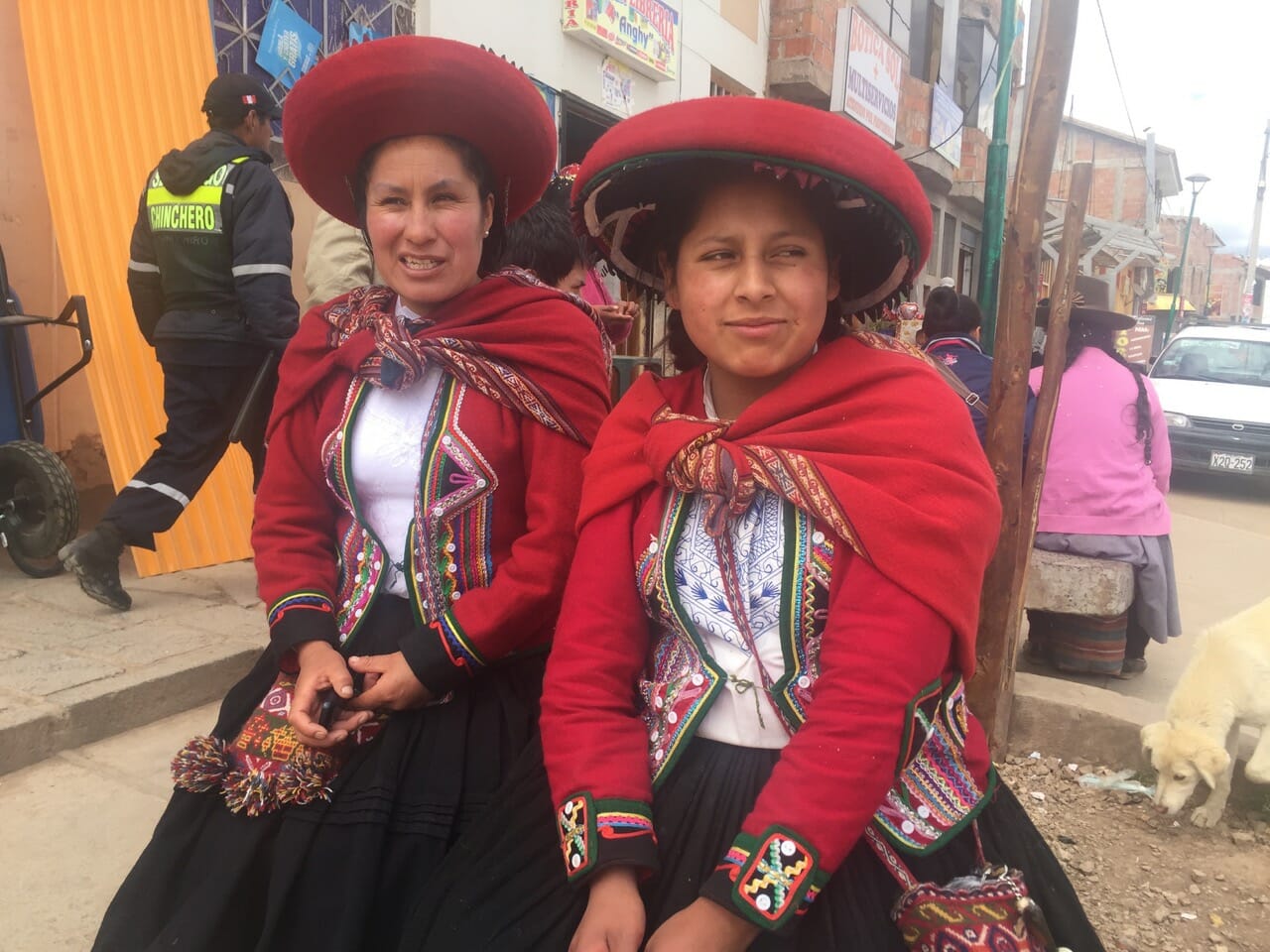 Chinchero's D

ominical Market
The local market is located in a square very close to some archeological sites, and it's very simple, with streets without pavements and people selling their products on blue canvases on the ground. Local women, and few tourists mostly frequent the market.
The women have on traditional Peruvian clothes typical from this area: red circular hats and sweaters with colorful details on the wrist and on the front, red shawls, white shirts and black skirts. Braids in the hair compose the very charming and lovely look. The costumes are impressive!
Chinchero market has loads of goods, from fruit, meat and seafood, to tons of textiles with different colors and souvenirs. My eyes were glittering as much as the sun and I was so delighted with all those vivid colors.
If the sellers were elegantly dressed, the buyers were not different. Most of the women doing their grocery shopping had on a hat and skirt and a long braid down their backs. They also had a colorful sheet wrapped on the chest and around the back to carry their products.
I love to see people dressed in their traditional clothes when I travel. It's as if the external influences of the "modern world" does not exist, and at the same time you dive into their culture and reality.
I spent some time people watching, talking to locals, bargaining and even had a delicious lunch there.
But what I was really looking forward to seeing was the women dyeing wool.
An old tradition survives in Chinchero
Very close to the market I found a house with flowers on the front (a sign you can find women dyeing alpacas). A young man welcomed me and called the ladies to make the presentation for me. The two teenage girls were prettily well dressed and invited me to sit down.
In front of me were some plants, flowers, cactus, wool, baskets with wool tubes, and bowls with lime, leaves, maize and a tubercle.
 The pigments
One of the girls started grating the tubercle called saqta in a bowl, then pouring water and mixing it. She explained that this is used to clean the wool and she put some really dirty wool in the bowl and washed it. The transparent water suddenly became brownish and the wool became white. She has just started and I was already impressed!
The second step was to put the wool to dry and then winding it into thread. They do that so easily that she made a joke saying that they can do many other things while executing this task, even kiss their boyfriend. I could not imagine how "easy" it can be to make the natural wool into thread for textiles.
After that she started showing me the different pigments used to get the colors: ch'ilka, a plant, to get green; maize morado light purple; awaypilly leaves, dark purple: holly flower, yellow; kinsakucho plant, blue; qqaqasunka, a moss, orange; conchinilla (Dactylopius coccus), an insect, to get the red color. To fix the color they use lime, salt, a mineral called Qollpa and urine.
I wondered how they found all those things and developed all these techniques. It is amazing!
When she got the cochinilla, a tiny black insect, from the cactus and smashed it, a purple color came out on her hand. I was speechless! The lady put some lime to dissolve the color and explained that the cochinilla is used internationally in the cosmetic industry and they've been using it for hundreds of years. She put some red color on her lips using her finger. It might be the cheapest lipstick in the world. Those ladies are so lucky!
The dyeing process
She demonstrated how to dye wool: putting it in boiling water with the respective pigment and the fixer and in an amount of time the wool changes according to the color that they want to get.
Then, they hang the dyed wool to dry and after that it is ready to be used on the loom.
The family uses looms to make delightful clothes, bags, tapestries and textiles in general. Everything carefully handcrafted and so colorful that it is impossible to resist and not buy everything.
The Antakillka is a family business, and the knowledge has been passed down from generation to generation. They speak Spanish and Quechua (another Peruvian official language), and they do the demonstration every day from 8:00 AM to 6:00 PM, it's free but tips are very welcome.
They are so adorable and friendly that I wished I could have stayed there the whole day to learn everything.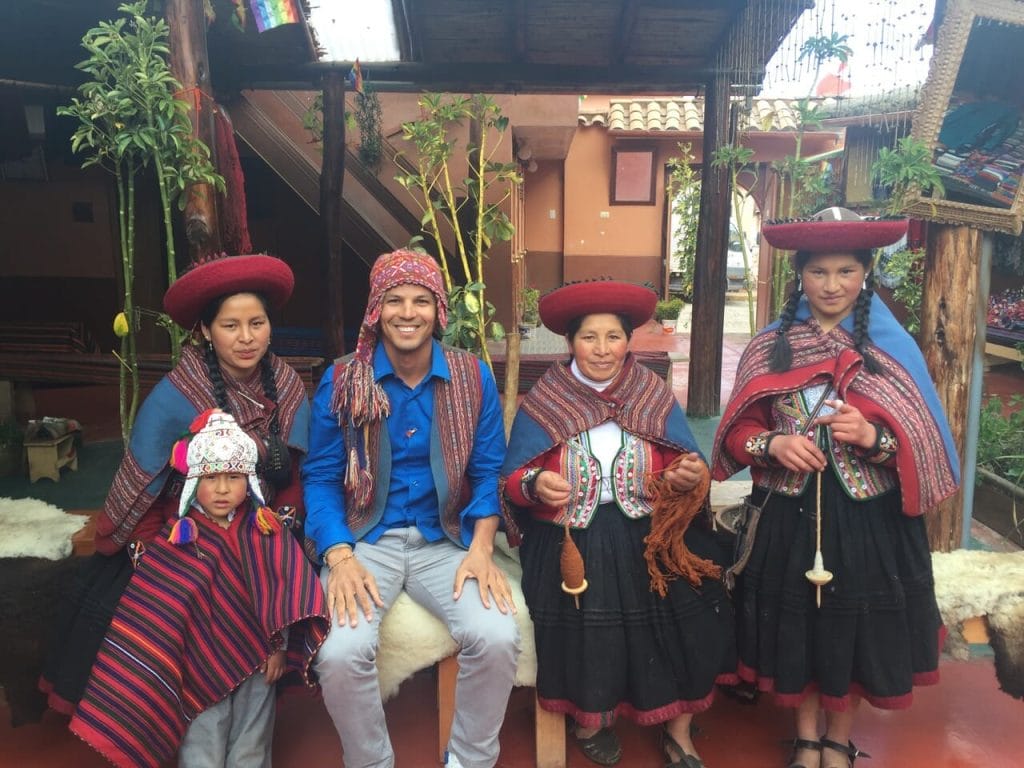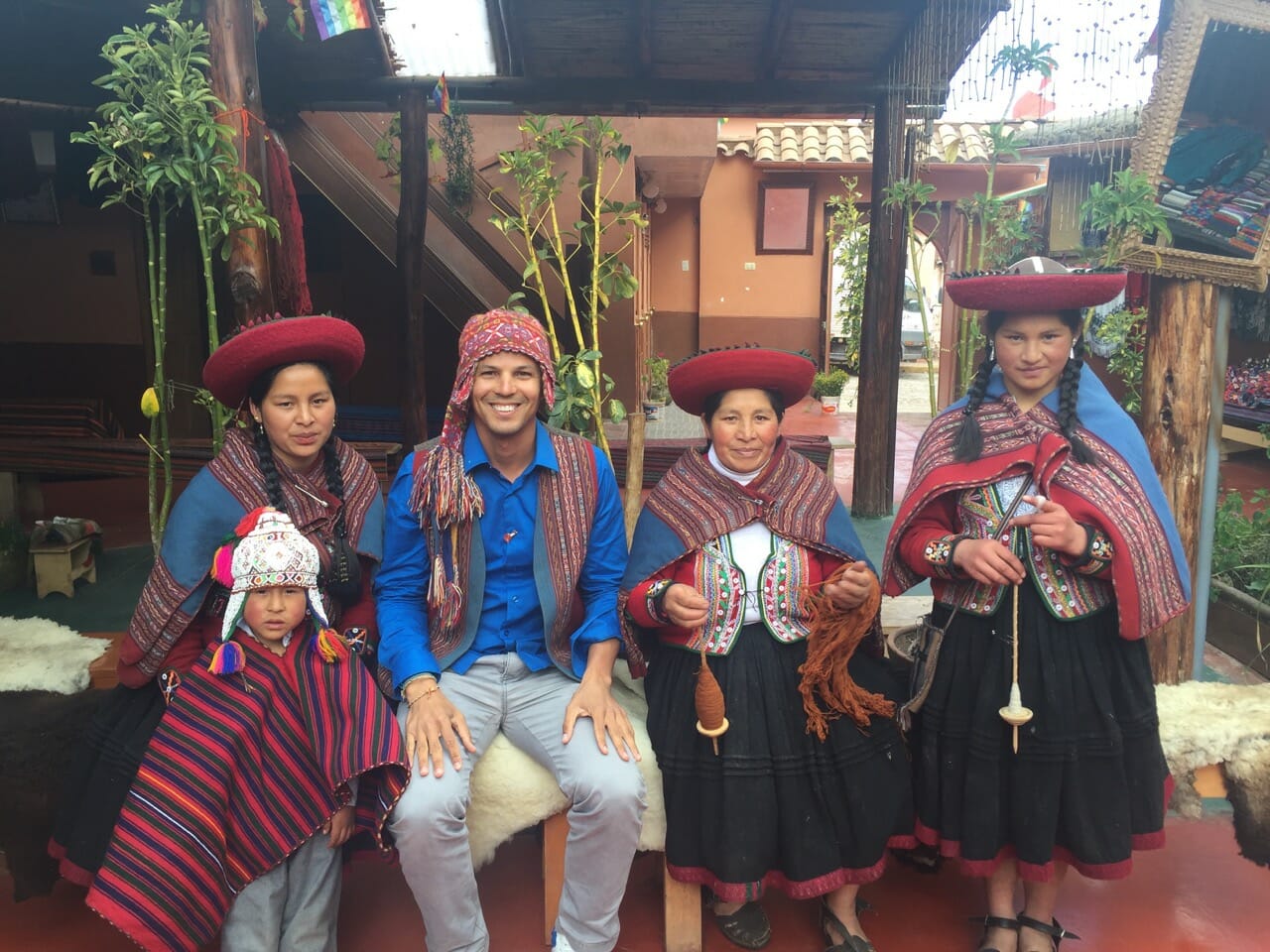 I felt so thankful and grateful for visiting Chinchero and to see all these old traditions that are still preserved. I hope it can be immune to the globalization and technology because it is so fascinating and interesting exactly the way it is.
Visiting Chinchero
Chinchero District is one of seven districts of the Urubamba Province in Peru, located 30 Km (18.8 mi) from Cusco (check map here)
You can visit Chinchero year-round but take in consideration that you're visiting Cusco to go to Machu Picchu as well, the best time to visit those places are during the shoulder seasons: May/June and September/October.
By car or van from Cusco.
I stayed at Hostal Mallqui in Cusco.
∗ Flight from São Paulo to Cusco with Avianca: US$ 330.
∗ Four nights at Hostal Mallqui: US$ 40 with breakfast included.
∗ Van from Cusco to Chinchero: 12 soles (US$ 3.5).
For more information about Peru visit: VisitPeru.com
This post was converted into an app and you can get it here.
Travel Planning Resources
For every booking made through my site I donate US$ 1 for a charitable organization.
Safe travels ☺