Philippines's best secret:  Nalusuan Island
We all know that when we travel there is nothing better than having friends in the place where we are visiting: they give you the best tips, take you to great restaurants, and even tell you their hidden gems that you would not be able to discover by yourself. So, when I was about to go to the Philippines for the first time, I reached out to my two Filipino Instagram friends. I was staying in Cebu, where one of them lives, and that friend told me to leave one day free and he would take care of everything. I didn't know what he had planned, but he would reveal the Philippines's best secret and for sure I would love it.
My first day in Cebu I went swimming with whale sharks in Oslob and visited two magical waterfalls. The second day I visited the famous Kawasan Falls, and finally the third day was up to my friend's plans. He gave me an address and recommended that I take a cab, and told me the price: US$ 200 with everything included (boat, snorkel mask, fins, entrance fee and food).
So, I woke up early and took a cab from Cebu city to Lapu-Lapu city in Mactan Island where the excursion began. We ended up taking a banca, a traditional Filipino boat. Feeling like kings on the 14-person boat, our captain and guide began our journey to two isolated islands on the Olango Channel. On the way to the islands dolphins played around the boat, the blue water was calm, the breeze was warm, and we just enjoyed the ride and the middle-of-no-where feeling. After almost one hour of sailing we spotted the first island: Nalusuan Island.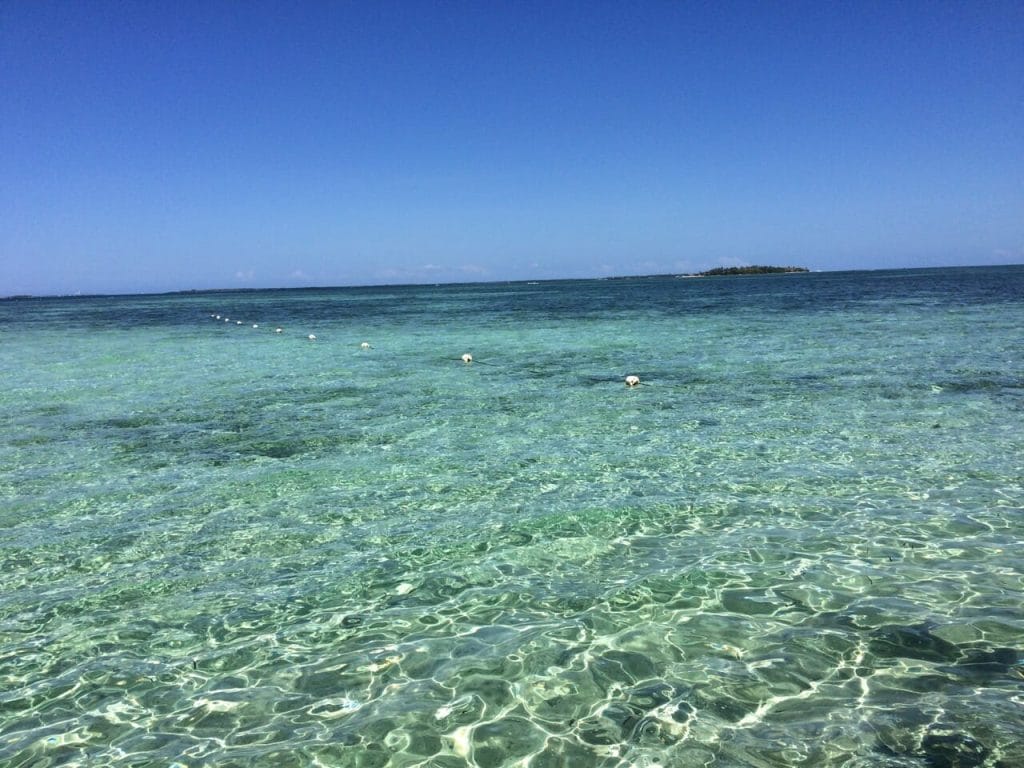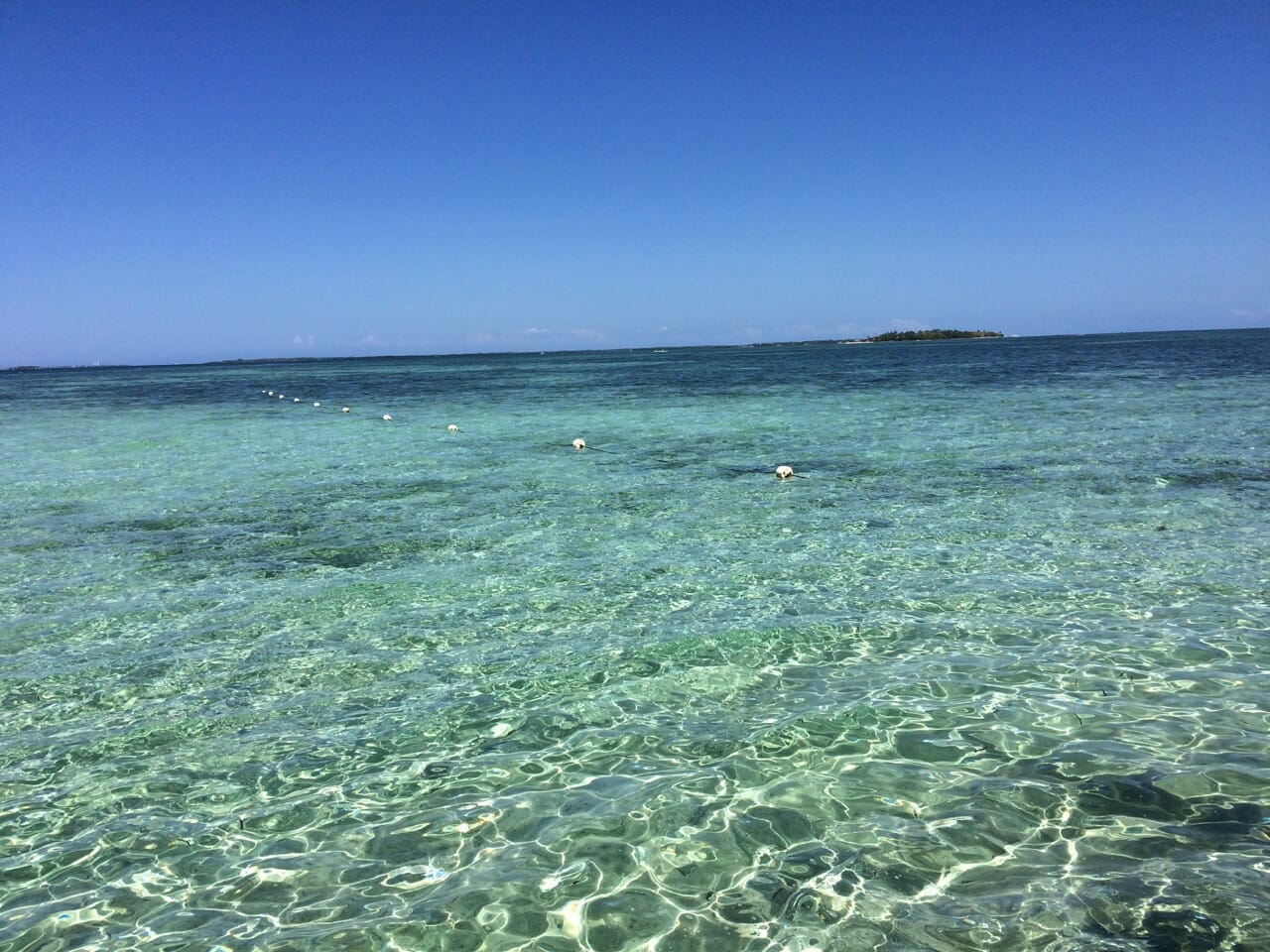 As we got closer to the island, the sun glistening water got shallower and we could see the different shades of blue. The guide said that there was a Marine Sanctuary just in front of us, and on the backside of the island a stretch of sandy beach. From the bridge we could see hundreds of fish and starfishes. It was time to put on my snorkel mask and fins, and become a part of that marine-life.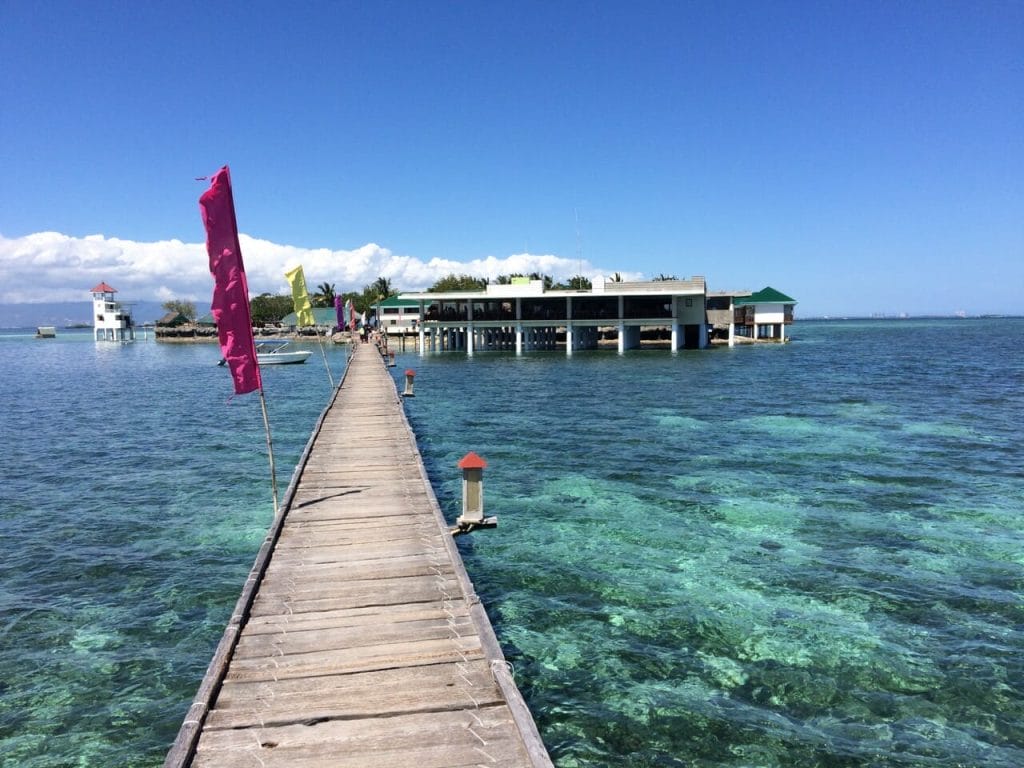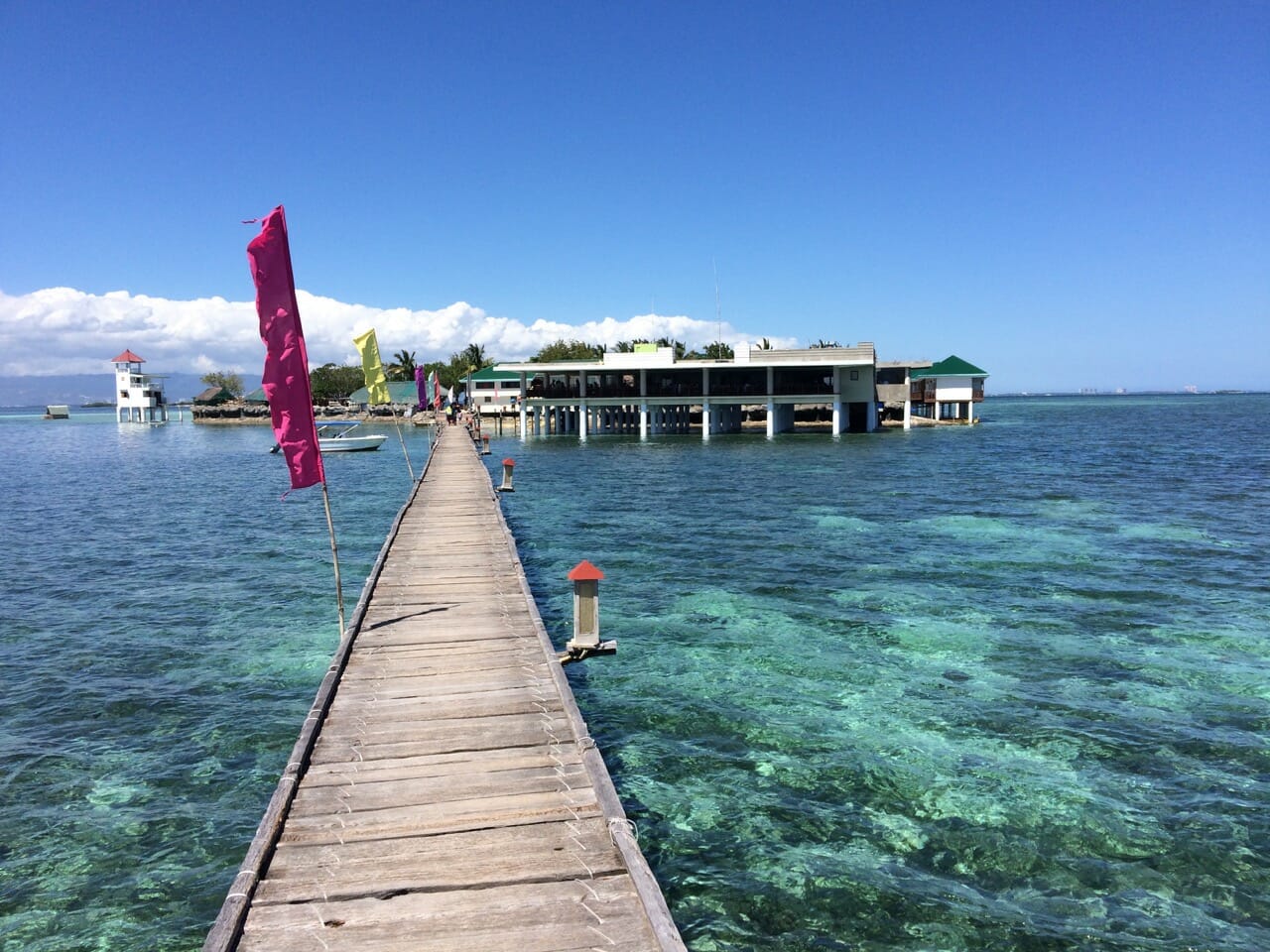 The water was so clear that I could see a stunning array of fish such as: sturgeon, angels, cardinals, and parrots. The shallow coral was alive and colorful. At one point I was surrounded by thousands of fish, they were all swimming around me, and as I turned they all turned, passing through my legs and fins. I felt like they had accepted me in their space and I was so moved… It was one of those once-in-a-lifetime moments! I also saw for the first time, blue and chocolate starfishes. This was definitely the best snorkeling I've ever had.
Only a few tourists from China shared this secluded sanctuary with us, but most of the time we were by ourselves feeling the serenity of the underwater life. I snorkeled for around three to four hours, and then I felt hungry and ate fresh grilled squid with salad and rice right there on the boat.
After lunch we crossed the wooden bridge to see the other side of the island. We passed by a restaurant, a bar, a dive shop, and a resort with its bungalows by the water. There was also picture-perfect scenery: soft sand, swaying coconut trees, hammocks, beach chairs, and pristine turquoise water. The water was clear and shallow and I could see many more chocolate starfishes. I walked for meters and meters with water coming only up to my knees. Surprisingly, to complete the scene, the beach was completely empty! I could not believe that such an idyllic place like this exists without the usual hoard of tourists. I felt so grateful and thankful to my friend for showing me this treasure.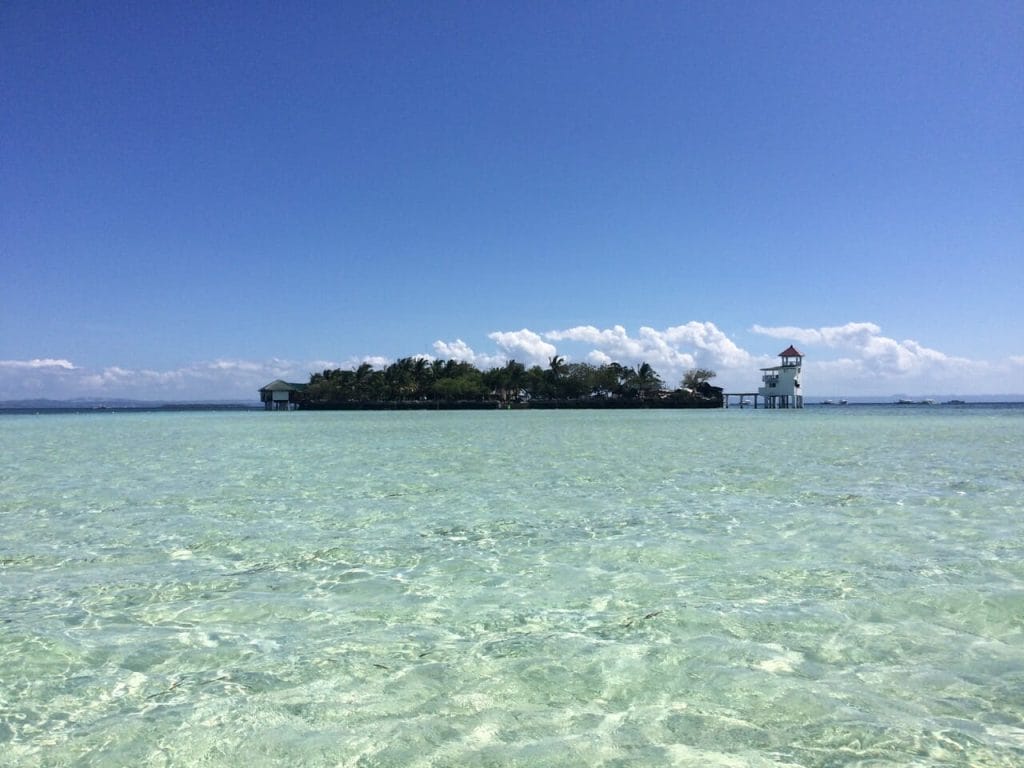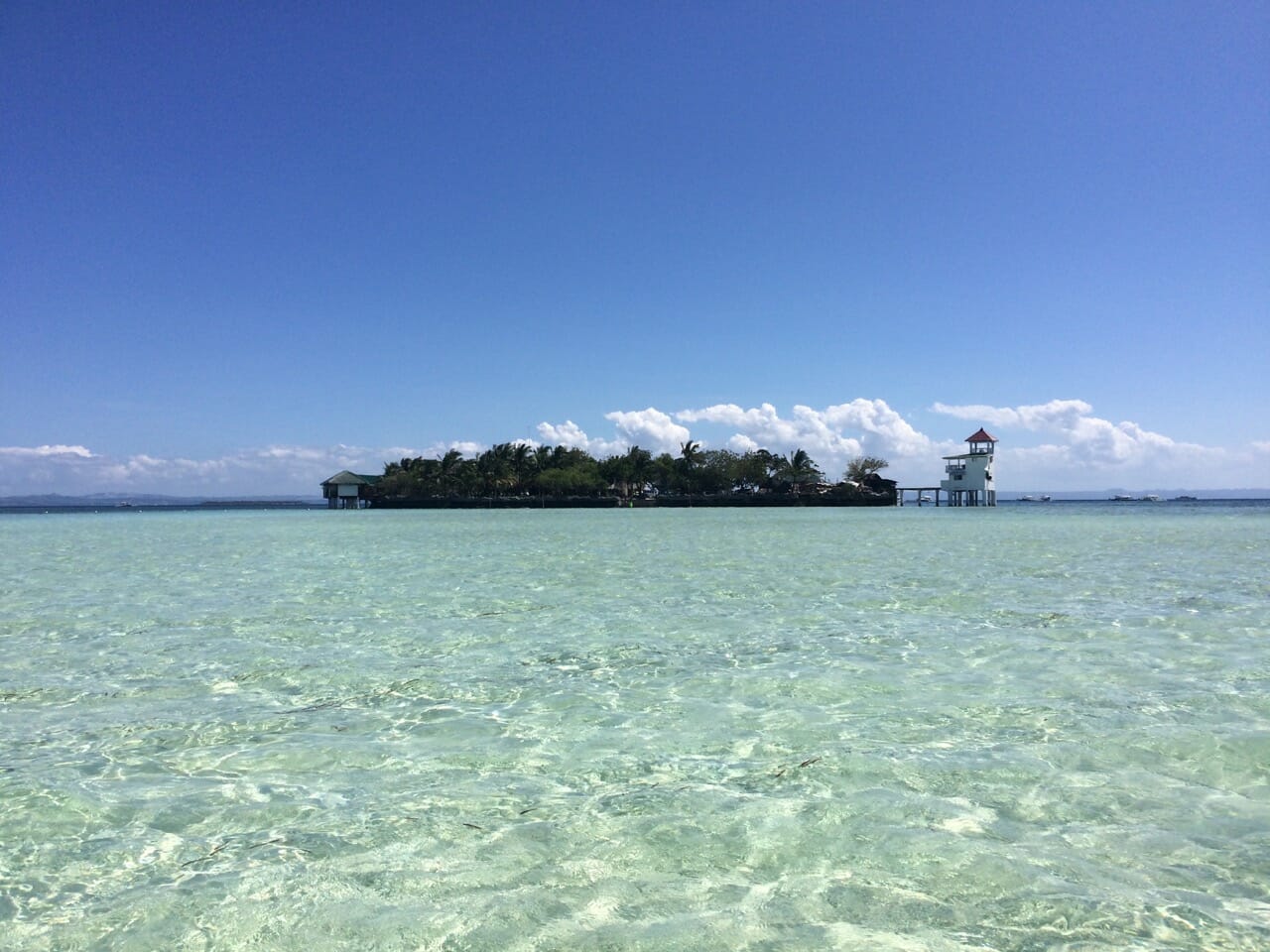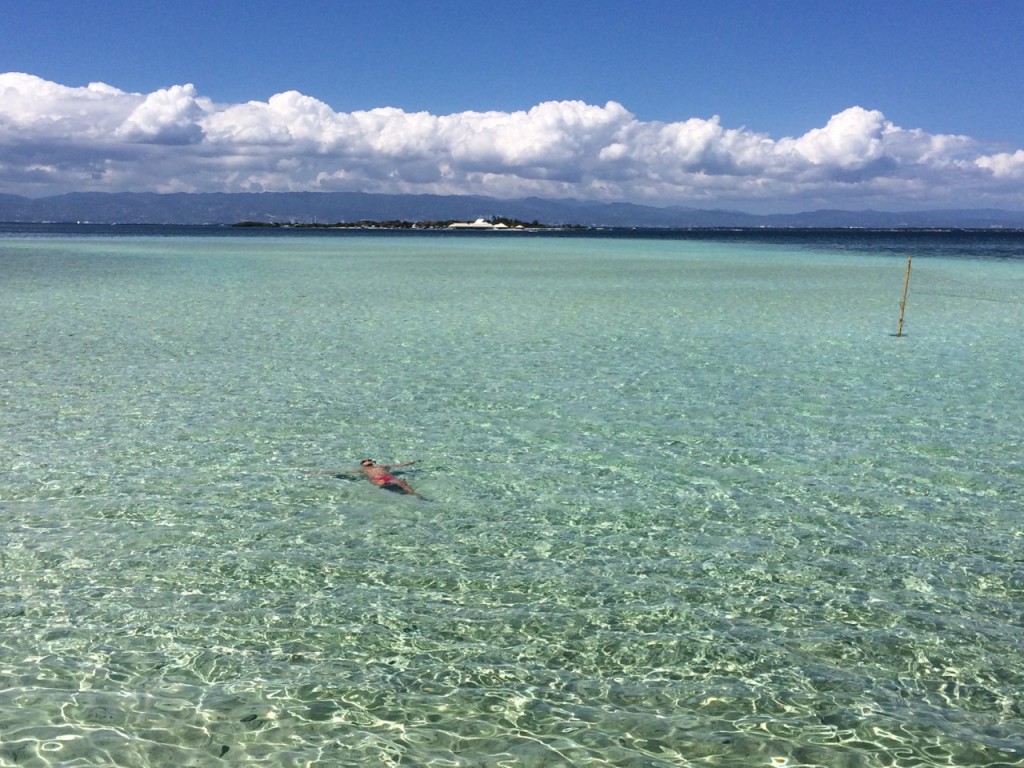 Later we reboarded our banca and headed to the second island on the tour just a few meters away. Caohagan island is a very typical fisherman's island with lots of boats anchored on the water, small and simple houses, children playing in a small field, and dozens of chickens running around free. There was one intriguing view: there were a number of poles each one with a rooster sitting on top, tethered to it with a rope; I guess so that the cocks left the roaming chickens alone. In the center of the island some locals were selling live seafood in bowls. This quiet environment was perfect for relaxing or even taking a nap underneath a tree; the powdery white sand and calm clear blue water were tempting for an afternoon swim.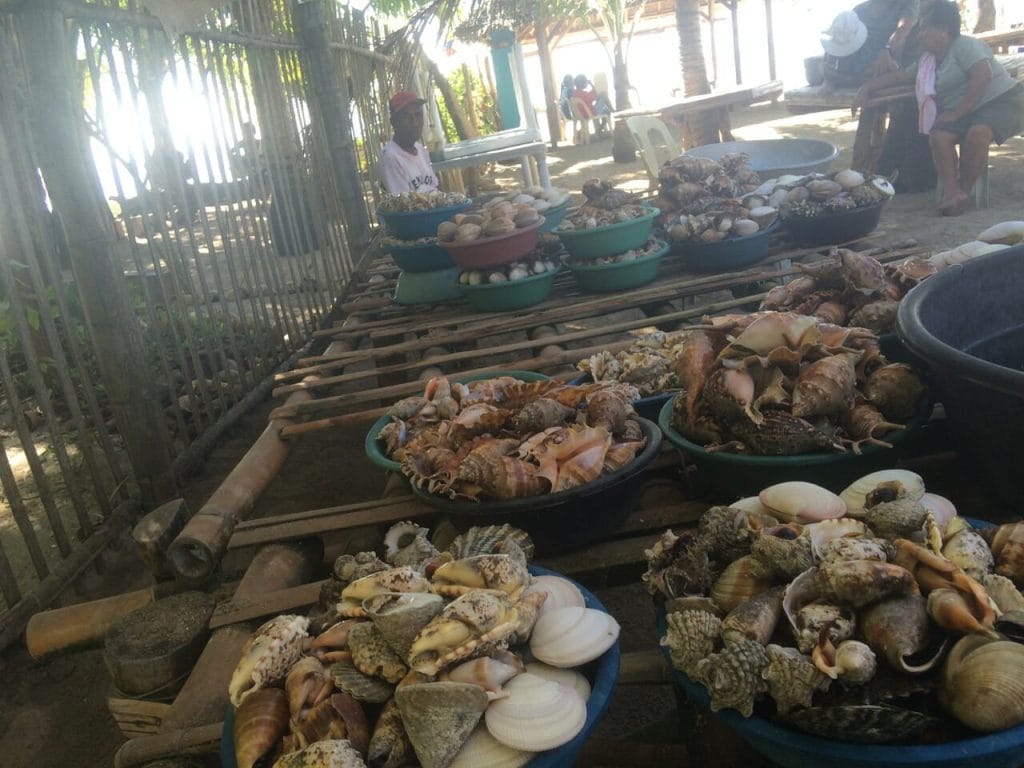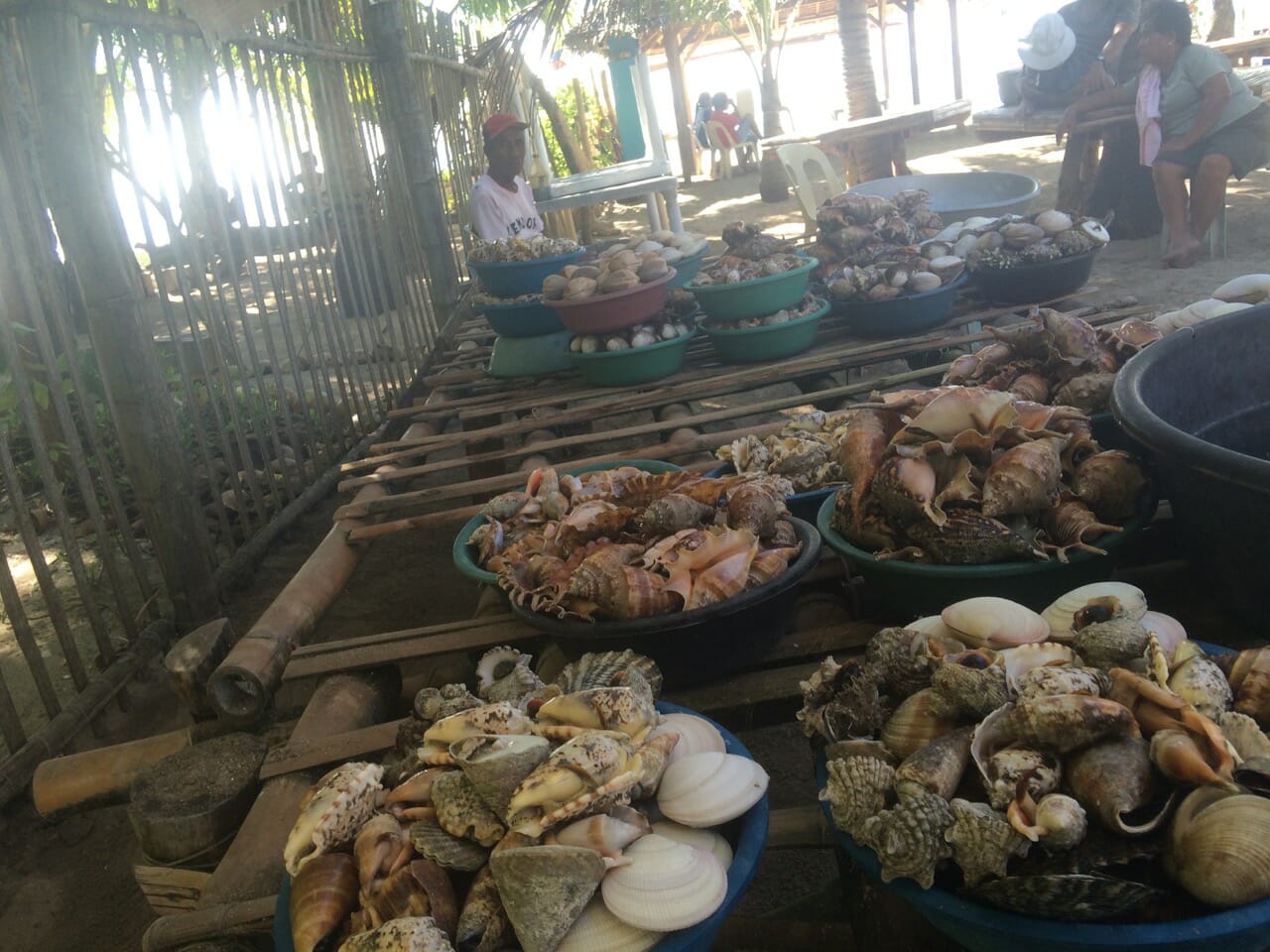 Finally it was time to take the banca and go back to Lapu-Lapu and then Cebu city. To complete our day we traveled like locals back to the city; we took a Jeepney, a hybrid bus, and the most popular form of transportation in the Philippines. I visited many other islands in this beautiful country, with different landscapes that would appeal to tourists, but I believe that Nalusuan Island is the Philippines' best kept secret!
Visiting the Philippine's best secret: Nalusuan Island
Nalusuan is a man-made island in the Cebu Strait, the Philippines, and one of the islands comprising the Olango Island Group, between the province of Bohol and Mactan Island, in Central Visayas, south of the Philippines.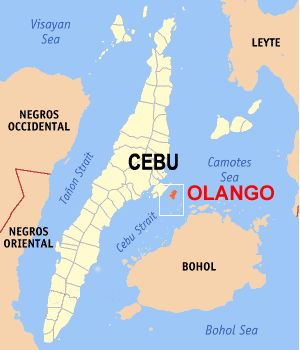 ∗ This part of the Philippines is very hot during basically the whole year, except from November to January when the wind is often cold. From December to March is the best time to visit Mactan Island. I was there in February and the weather was just perfect.
∗ From July to August is the rainy season, when torrential downpours are common.

∗ There's an airport in Lapu-Lapu city in Mactan Island and all the tours depart from this city.
∗ Some of the companies that fly to Cebu/Mactan are: Cathay Pacific Airways, Philippine Airlines, Cebu Pacific Air and SilkAir.
∗ From Cebu you can take a cab or even a jeepney.
I stayed in Cebu at Best Western Plus Lex Hotel and just went to Nalusuan Island for the day.
∗ I flew from Hong Kong to Cebu with Cebu Pacific Air and paid US$ 80.
∗ The tour was US$ 200 (the boat for 14 people, fins, food, water and entrance fee)
∗ My friend booked the tour with Sheena at Queens Land Beach Resort, Punta Engaño, Mactan Island.
For more information about the Philippines:
Visit the page It's more fun in the Philippines  
If you like it, pin it 😉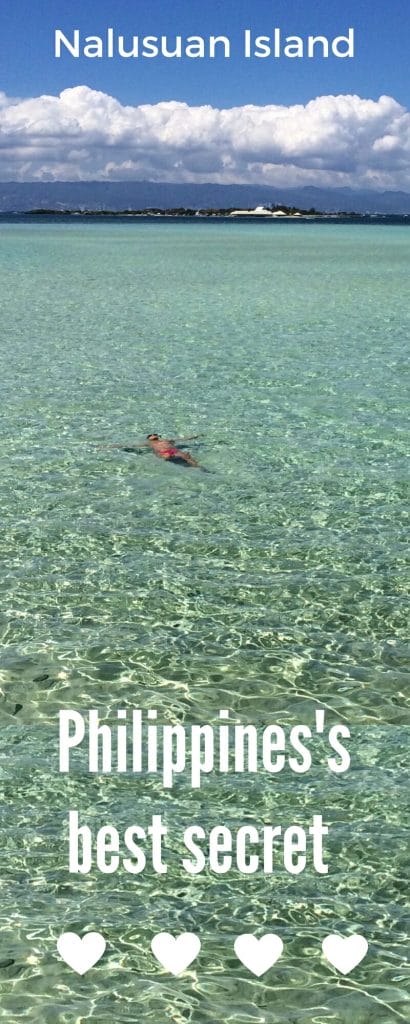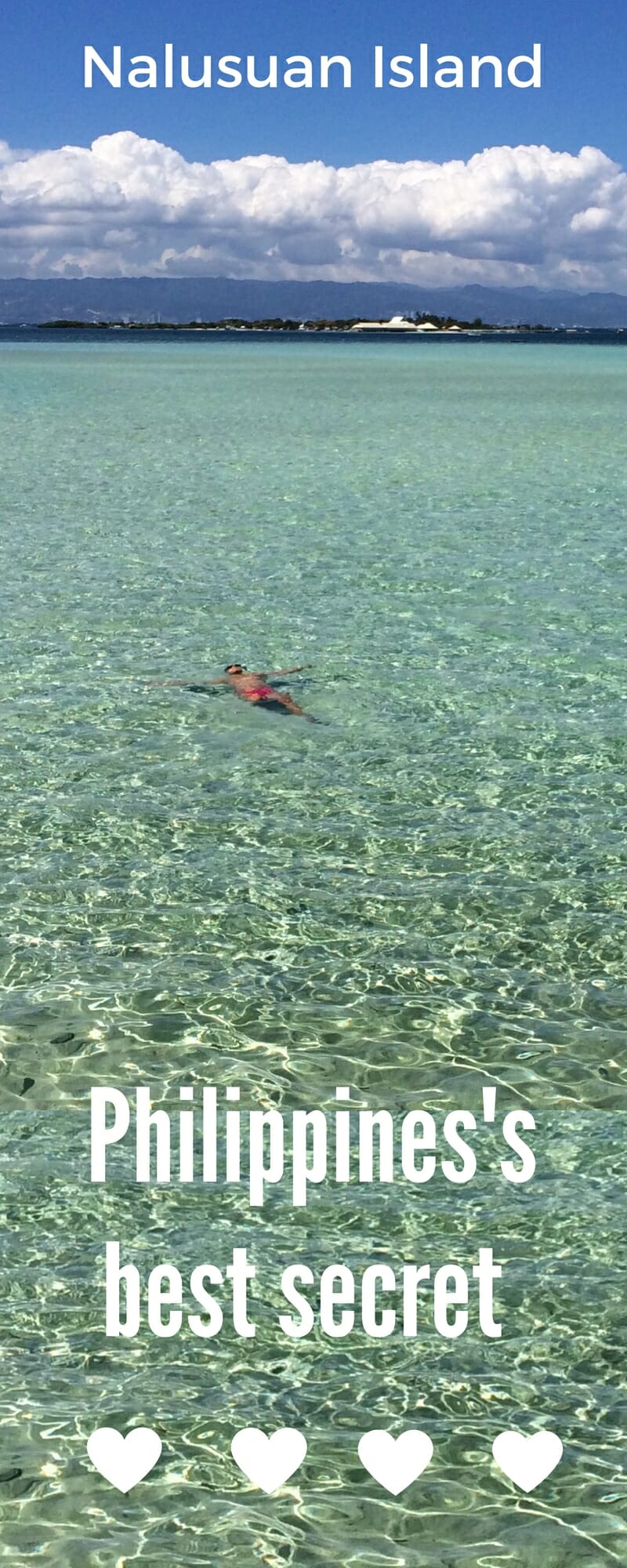 Travel Planning Resources
For every booking made through my site I donate US$ 1 for a charitable organization.
Safe travels ☺