Formentera? You've never heard about it?
Visiting Ibiza for the first time this summer, I decided to take a day-trip to Formentera, the smallest Balearic Island (an archipelago in the western Mediterranean Sea).
Known as the Caribbean of Spain, Formentera is much less touristy and busy than Ibiza and has unbelievable beaches with white sand and crystal-clear turquoise water.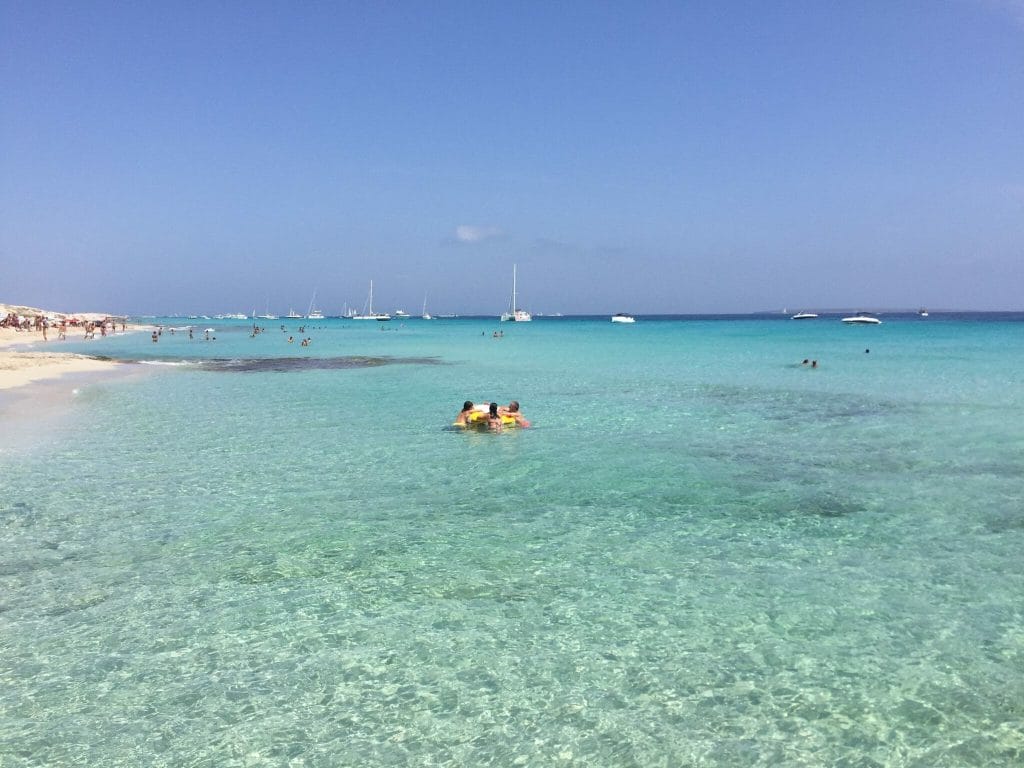 Off course a bike
Despite being out late the night before and going to bed at 6 AM, I got up at 9AM to have breakfast, got some groceries and took the 10:30 ferry to Formentera.
As soon as the ferry departed I started wondering how I would explore the island and get the most out of it?
I got my answer when a crewmember passed by asking if I needed any transportation on the island. The choices were: Car (a little bit expensive just for me), motorbike (no way, I can't drive and I'm scared of it), or bike (perfect: exercise and adventure at the same time).
I got off the ferry and for just € 6 I got a bike for the whole day.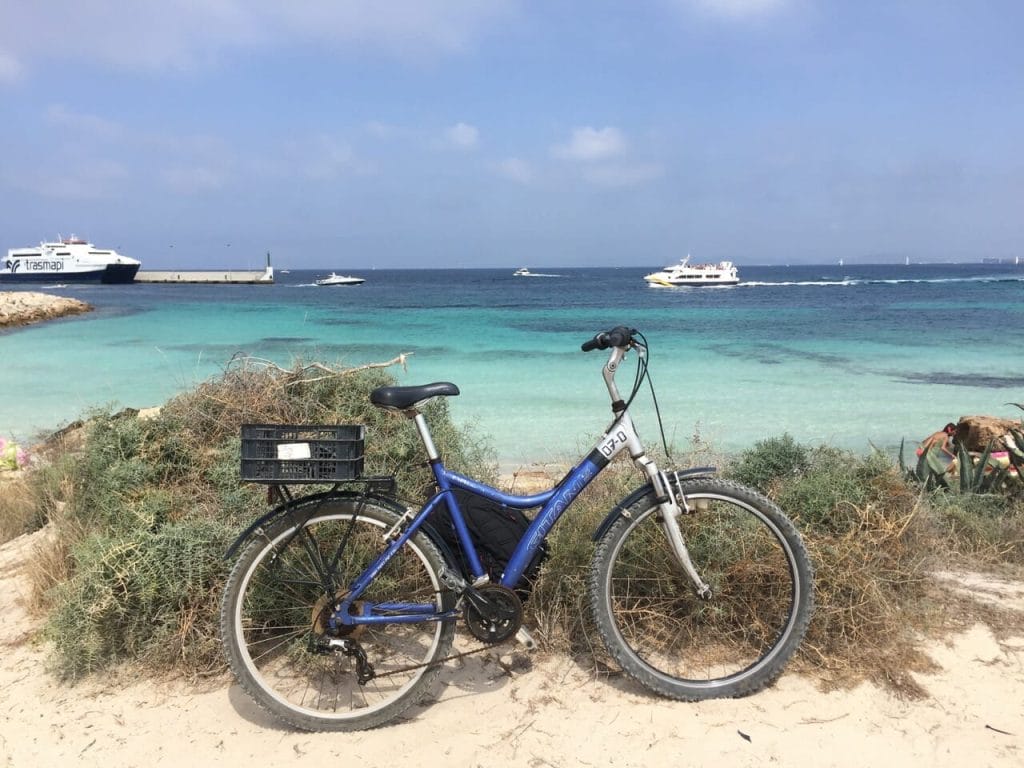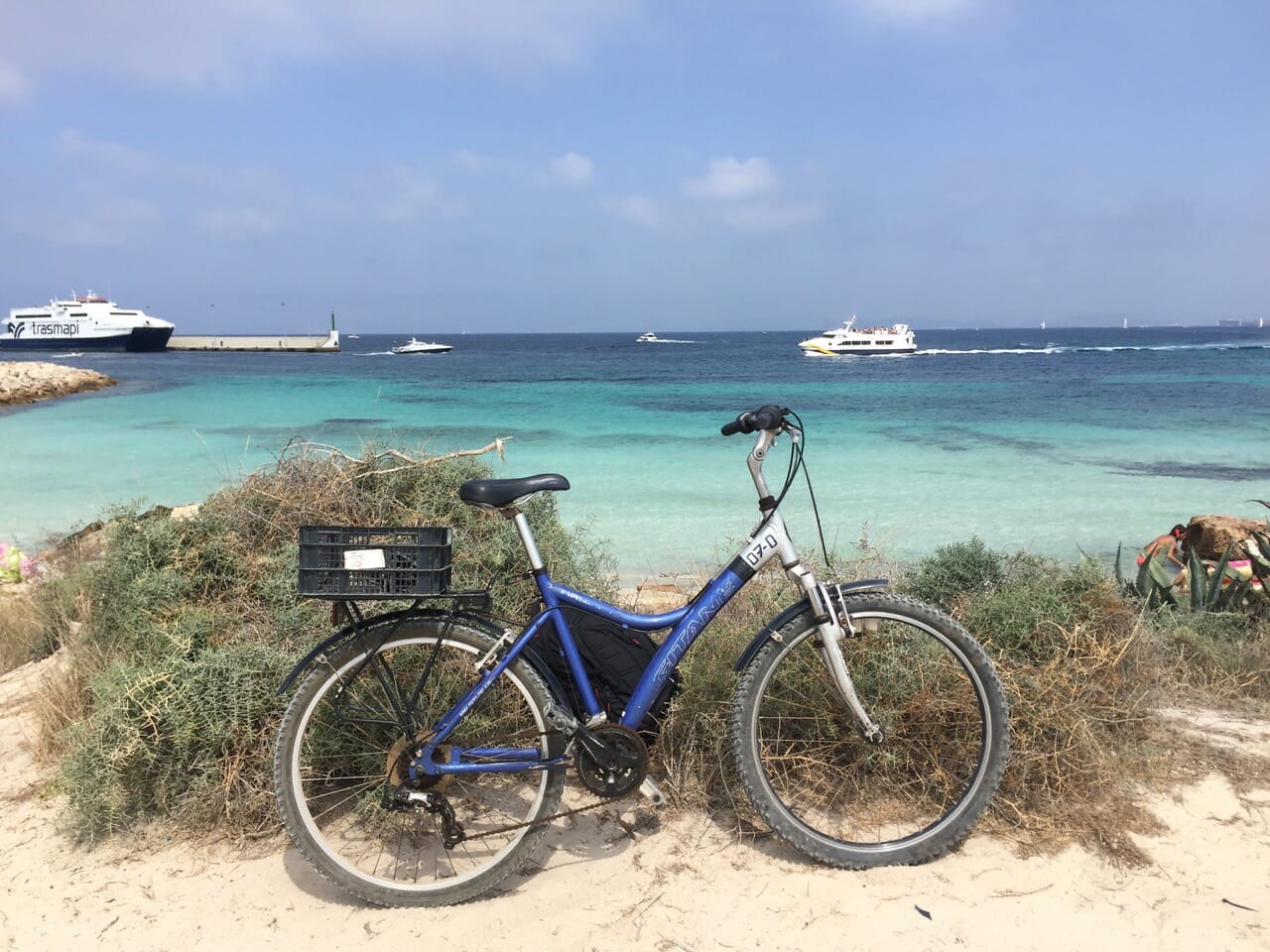 The adventure
The idea was to hop on a bike in a search for the most stunning beaches in Formentera. So, I got a map at the rental place and with my backpack filled with water, sunscreen and food, I started my adventure.
I was informed that the three most breathtaking beaches are Platja de Illetes, Cala Saona and Platja de Migjorn, and they are around 4Km (2.5 mi), 7Km (4.35) and 10 K from the port, respectively.
There is not a specific route to get to those beaches, but you can follow the bike lane (exists in some parts) and the signs on the roads.
Bear in mind that it's going to be tough, especially because of the heat, but you will have a great time and visit some of the most remarkable beaches of your life.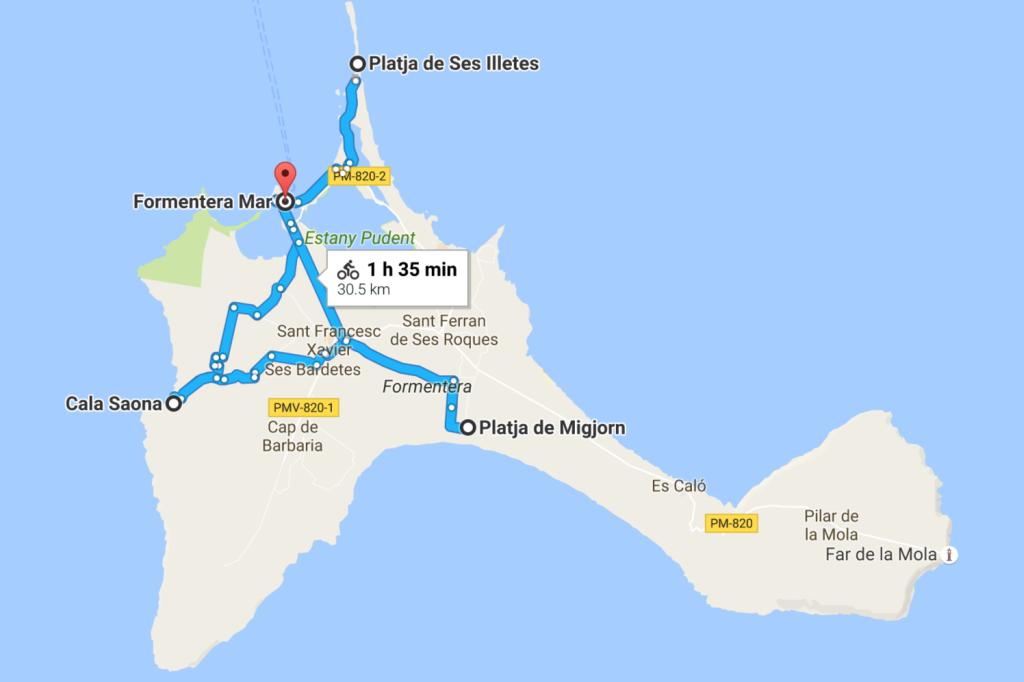 Just starting
I left the port and started following the bike path towards the north of the island.
Few minutes later I was cycling along the coast and admiring the different shades of blue of the Mediterranean Sea. I was thrilled!!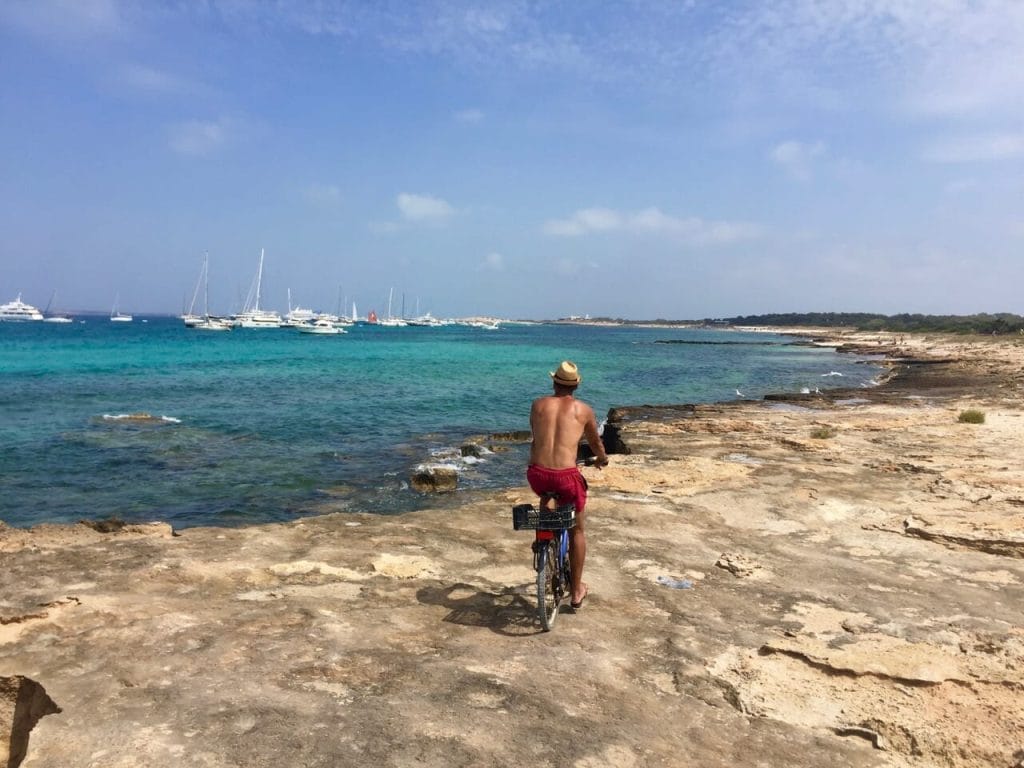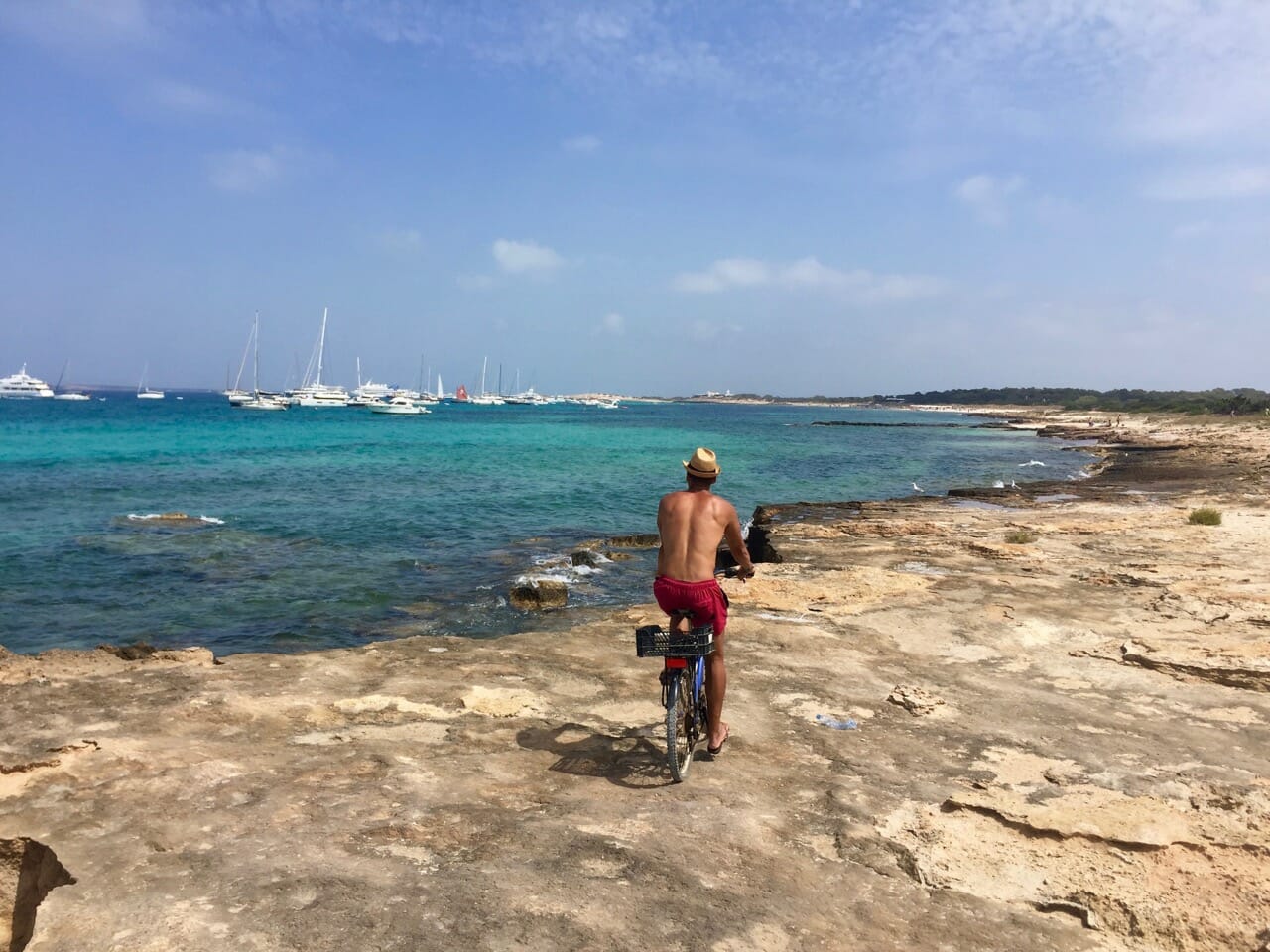 The non-pavement and car free road was full of adventure seekers, most of them biking but some walking, under the strong sun of the European summer.
After around 15 min biking I arrived at the first beach: Es Cavall D'en Borràs. This is the closest beach to the port and has crystal clear water, restaurant and beach facilities.
I rested, got some water and cooled down a little bit. The atmosphere was so laid-back with people relaxing on loungers, listening to the waves and feeling the refreshing breeze.
This beach seemed like the perfect synonym for vacation and I wanted to stay there, but I knew that better beaches were waiting for me.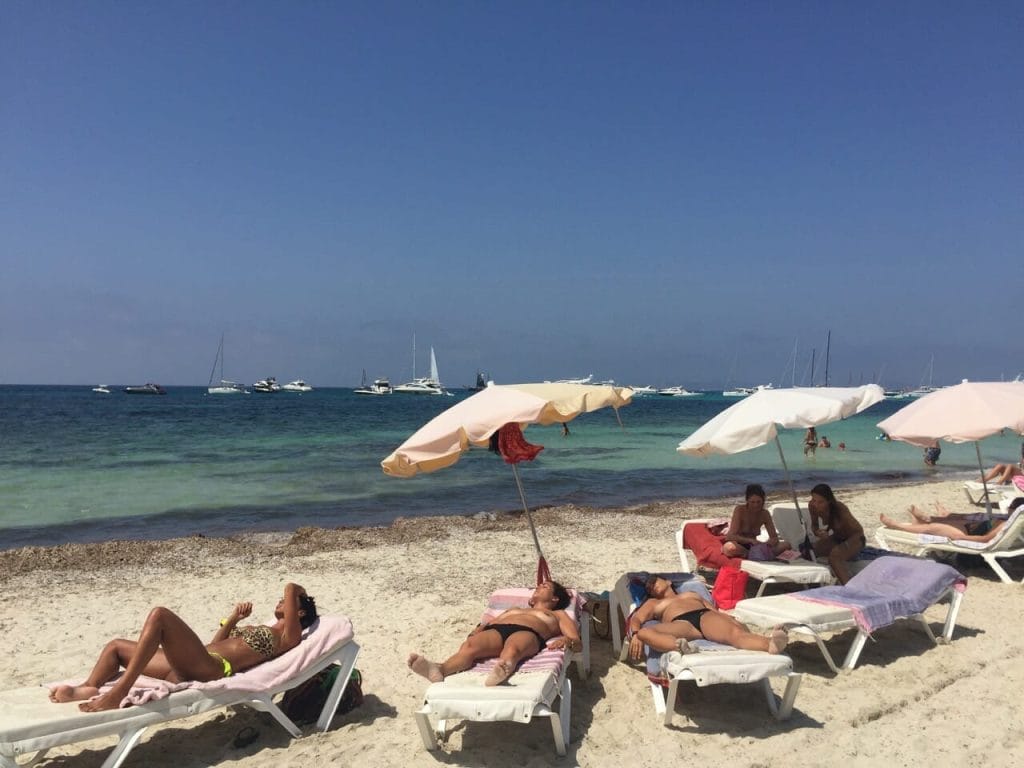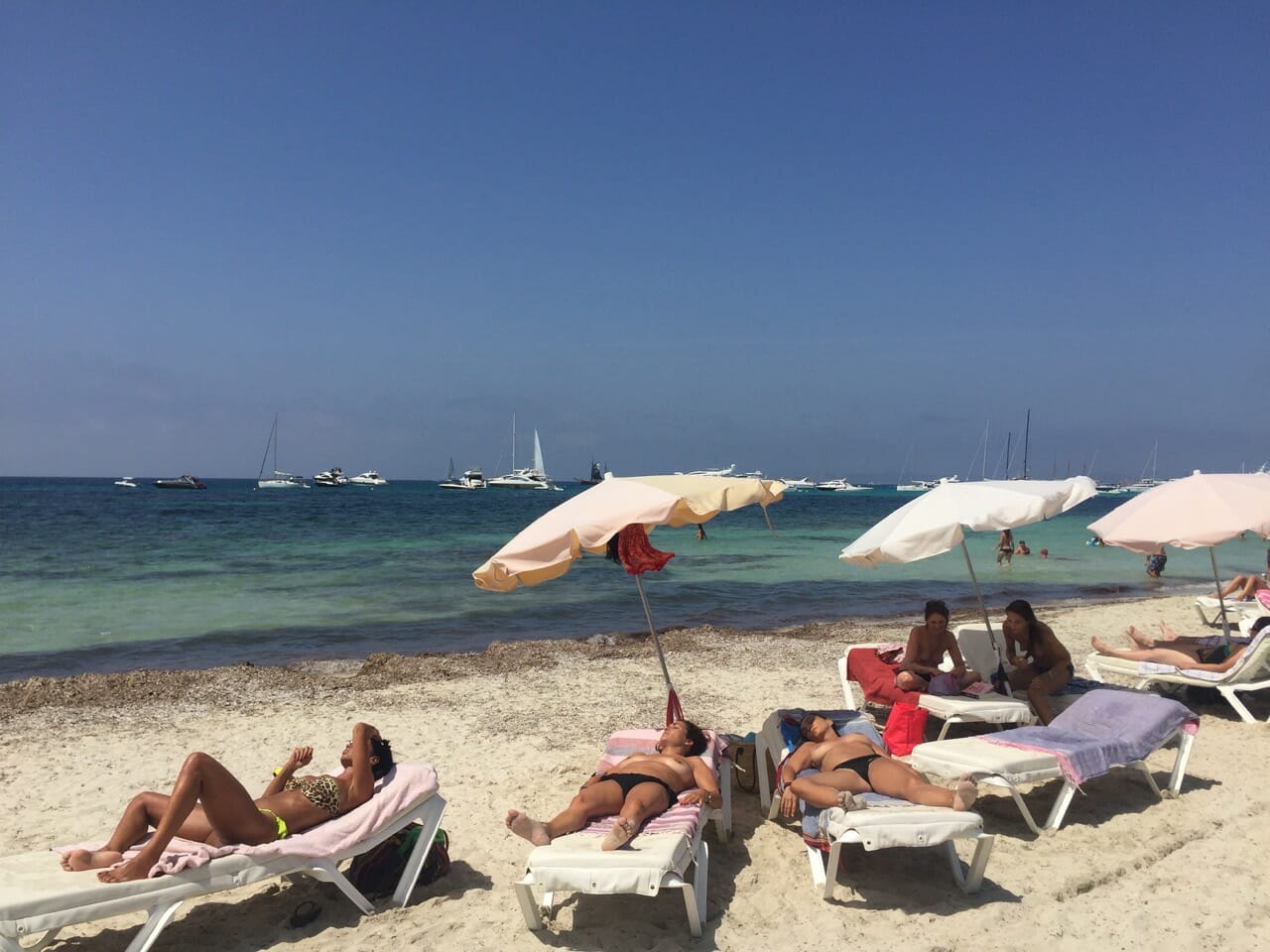 The most spectacular beach
Therefore I unlocked my bike and got on the road once again. This time it was shared with cars and motorbikes.
When I saw the huge lines, signs of "full park" and "parking fee," I felt glad and wise for getting a bike.
The beaches on the north of the island are part of the Parque Natural de Ses Salines and have some of the clearest water of the Balearic Islands. After around 15 more min I arrived at the one that is considered the most beautiful beach in Formentera: Platja de Illetes.
This beach is split in two sections by a pocket of powdery white sand and has incredible crystal clear turquoise water that leaves everyone in awe. I could not believe the color of the water!!
Playa de Illetes looks surreal and miles away from reality, and it is ideal for spending the whole day.
I took tons of pictures and was speechless swimming on the Caribbean of Spain.
The hardest part
I headed all the way back to port, 4 Km (2.5 mi), and got on the way to the second beach.
The road and the landscape changed drastically: asphalt and no ocean view. I started feeling the sun on my back and my knees were hurting.
I was getting hungry, tired and dehydrated. Like magic, I saw some vineyards by the road and didn't hesitate to stop by and get some grapes. I felt so happy!
On that occasion I raised the seat and the pain in my knees reduced, but the heat was still killing me. Biking under 30C, with no shade at all, of course, could not be easy, and sometimes I felt like in an endless road on a desert…
Stopping to drink water, catch some figs and ask for information I only arrived at Cala Saona 45min later, extremely tired and starving.
Yet another stunning beach with white sand and translucent water, framed with two small terracotta cliffs.
There are beach facilities and restaurants, but after refreshing my body in its calm waters, I just wanted to find some shade, rest my legs and have lunch.
The last and disappointing beach
Feeling much better I got my bike and hit the road.
The scenery now was full of bikers, cars and motorbikes, and the temperature was just at the right point.
My knees didn't hurt anymore and I felt a high dose of serotonin and adrenaline rushing through my veins. I really love an adventure!
The way to Platja de Migjorn was relatively easy, however I had to stop to ask for directions. It also took me 45min biking.
This is a long beach, located in the southeast of Formentera. It has clear green water, a great boardwalk, and it's good for unwinding and families with kids.
To be honest I didn't like Platja de Migjorn that much; I thought the others were better. However if you rent a car and want to stay away from the crowds this one might be the best option.
Going back to the port was time to feel the wind blowing on my face once again and feel gratitude for this journey.
In total I biked around 30.5 Km (19 mi) for 6:30 hours. I still had to take the ferry back to Ibiza and the 12:30 flight to London.
Every time I think of Formentera I can't believe the color of the water…
What an island!
Watch video

: Biking in Formentera
Visiting Formentera
[huge_it_maps id="21″]
The only option to get to Formentera is by ferry. Some of the companies are: Balearia, Trasmapi, Aquabus and Mediterranea Pitiusa.
The best time to go to Formentera is definitely during the summer, when the temperature is perfect (around 30C – 86F), and there is no rain.
Of course if you want a more low-key vacation, June and September are also good.
I stayed at: The Blue Bedroom.
You can use this link to get a discount using AirBnB.
∗ Flight from London to Ibiza: US$ 104
∗ Four nights at The Blue Bedroom: US$ 300
∗ Ferry to Fomentera with AquaBus: € 19
∗ Bike rental with Alquileres Torres: € 6
 Extra tips
Aquabus is the cheapest ferry to Formentera and depart from three deferents points in Ibiza.
Don't forget to get a lot of water because you will need it.You can also buy it in supermarkets in Formentera.
Some of the beaches have restaurant and you can get some food.
Wear a hat and a sunglasses is highly recommendable.
Put a lot of sun screen.
If you are not into adventure go only to Platja de Illetes. This is definitely the most beautiful beach in Formentera!
Have fun !
Travel Planning Resources
For every booking made through my site I donate US$ 1 for a charitable organization.
Safe travels ☺