Planning to do the Kjerag hike and take one of the most incredible pics of your life? You're on the right page. 
Kjerag (the mountain) and Kjeragbolten (the boulder) has became very popular over recent years, especially because of social media, and nowadays thousands of Instagrammers from all over the world come to do the Kjerag hike and get the daredevil no-photoshopped picture.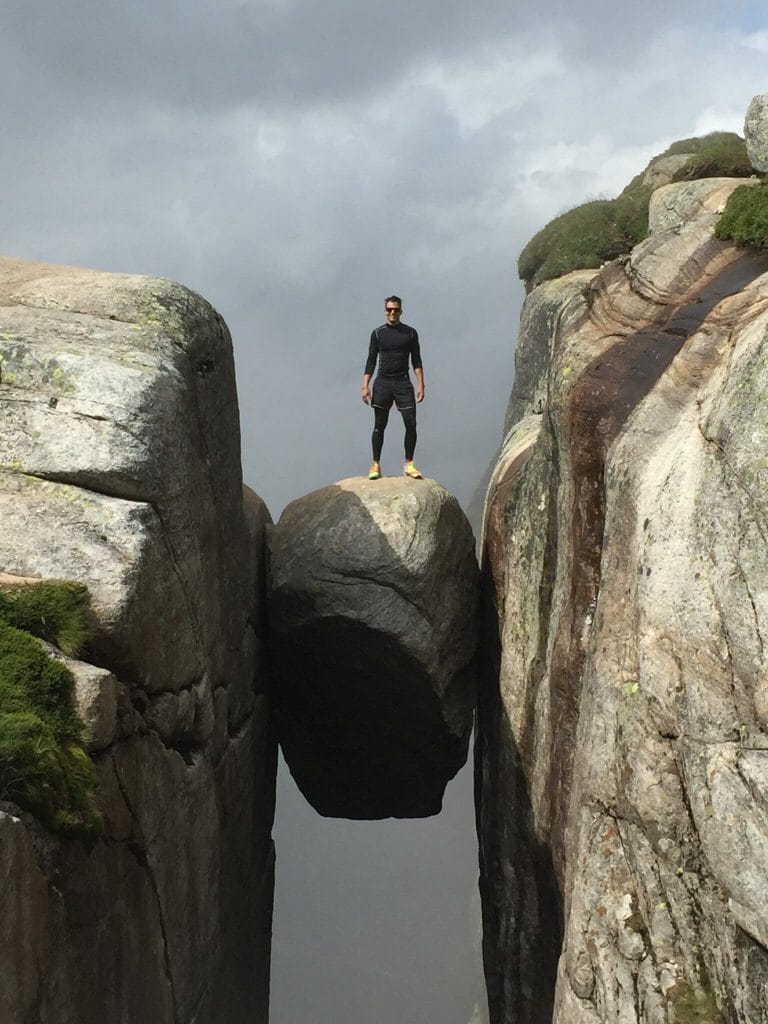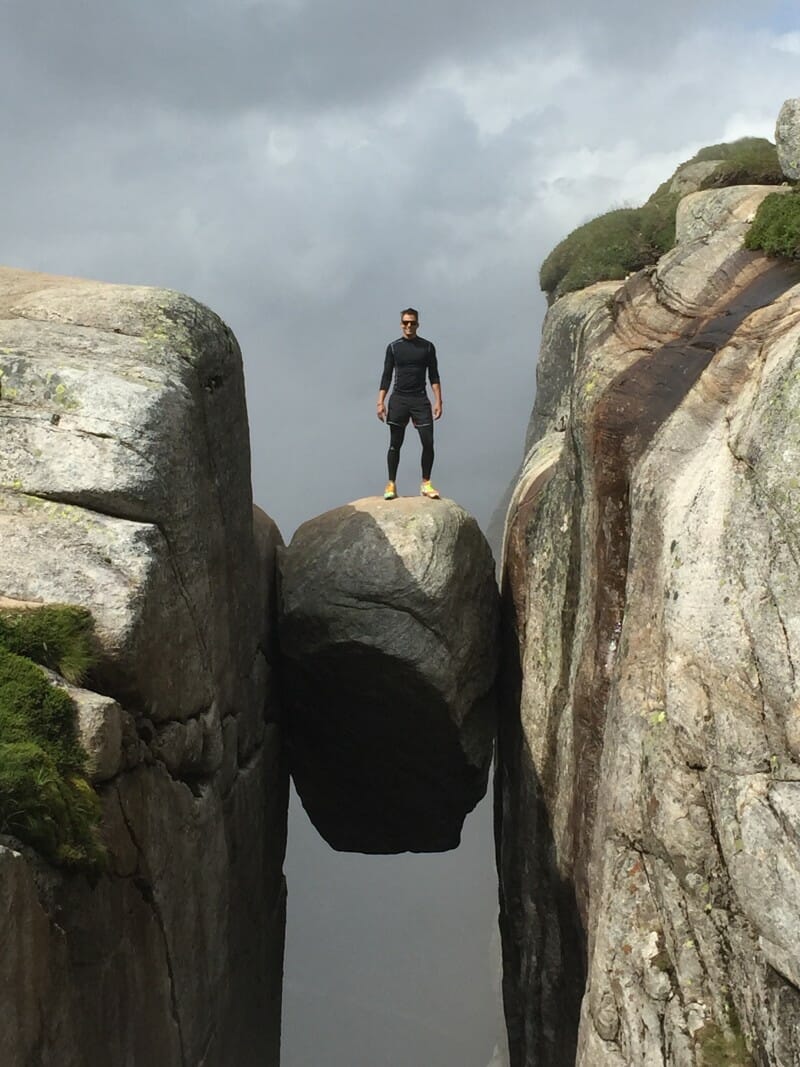 After spending one and half day in Olso in the beginning of August of 2015, I took a flight to Stavanger. There are plenty of flights from Oslo to Stavanger, and prices can be as low as 25.00 euros. As I was by myself and not planing to rent a car, I opted for this city as a start point to my hikes in Norway because during the high season there is a bus from Stavanger to Kjerag (Øygardstøl).
After a 50min flight, a bus from the airport to Stavanger's terminal, and a 15min walk I arrived at the hotel. I just checked-in, drooped off my stuff and went to explore the city a little bit. There are many things to do in Stavanger, including a visit to the very charming old city, with white washed houses, dotted with plenty of flowers and cobblestone streets.
After a quickly walk and some snaps I went to the supermarket to get some groceries for the next day (cereal bars, nuts, sandwich, juice and probably the most expensive mineral water I've ever gotten, almost US$ 4.00 each one). After leaving the supermarket I started wondering how expensive is travel in Norway. Actually I heard that Norway is one of the priciest countries in Europe…
How to do the Kjerag hike
The bus from Stavanger to Kjerag departed bus terminal at 7:30 AM. As soon as we left the city I could appreciate the beautiful Norwegian countryside. The weather was cloudy but pleasant. The drive was telling us a little bit about the local life. He also said that year (2015) they had a lot of snow, in some places up to 2 to 3m, and in the mountains up to 10m of snow. So, as I was imaging the fjords would be covered with snow, which for me would make it even more picturesque. The ride took three hours and 15 minutes, and at 10:45 we arrived at Øygardstøl, the start point of Kjerag hike.
The hike was not easy!! Full of ups and downs, sometimes I walked on steps, other time from water streams to waterfalls, and even mud. There are some chains attached to the ground that help a lot. There is a T (trail) in red painted in many rocks all over the trail. Actually there are so many rocks in this hike, that sometimes I wondered if I were walking on the moon…
The excited part was when I walked to edge of the mountain and could see the fjord. What a breathtaking view! I will never forget when I stepped on the fjord's edge for the first time. It's so high, so high that I was scared of fell down, but at the same time the adrenaline motivated me to be there for a while. A mix of feelings that is very hard to explain… I just opened a smile like an innocent child in an awe-inspiring moment. Of course I could not miss the opportunity to register it.
After 1:50 hiking I arrived at the Kjerag boulder. The final 10m was covered with snow, and I even warned people who were taking pictures and said that there was more dangerous than on the top of the rock itself.
As soon as I got in line I heard from an Italian lady: "Ma che paura." (I'm so scared.). As I replied, his boyfriend warned to not look down. I can confess that before I stepped on the suspended rock, I looked down and got some butterflies on my stomach because it's around 1000m high. However when I was on the rock I was so self-confident that even did a tree pose (an yoga pose which one stands in just one foot, putting the other foot on your knee and your hands together facing each other up to one's head).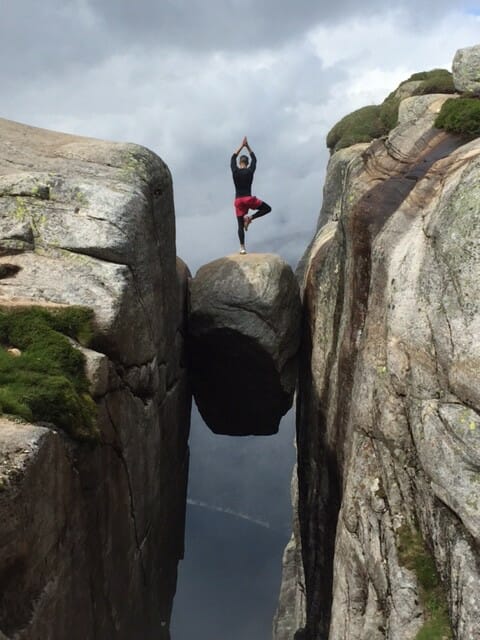 The weather changed a lot that day, partly cloudy, mostly sunny and foggy. The view of the fjord was unbelievably beautiful!! Three waterfalls, snow and the fjord's lake pictured magnificent scenery! I was surprised with this scenery, because I had seen only pictures of people on the top of the rock, but I would not imagine all those waterfalls. I couldn't resist and sat down on the edge again to contemplate the stunning view and take some pictures. The funny thing was that I asked a teenager girl to take a picture and she was so scared meanwhile I was fearless.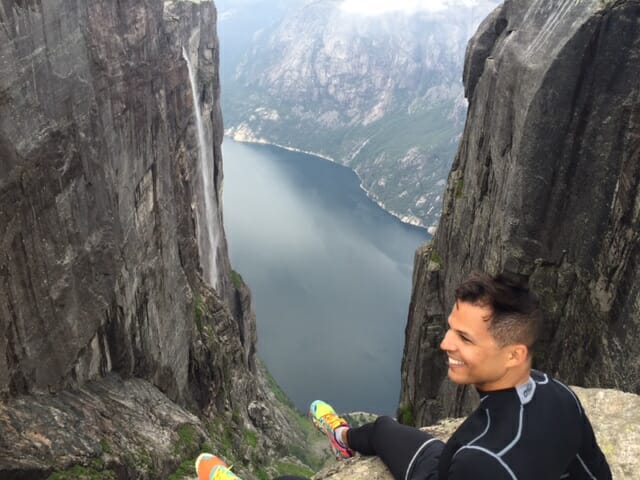 After the lunch break and got some rest, it was time to take the way back, what I did with the Italian couple. We did all the way admiring the landscape, taking pictures, drinking clear water direct from the fountain, and talking about some of our trips.
[button link="https://www.prettywildworld.com/best-adventure-quotes/" icon="smile-o" bg_color="#00566c"]Do you also like adventures? Check: Top 35 Quotes About Life Full of Adventures ![/button]
At 4:45 the bus departed to Stavanger. When I arrived, I took a shower, had dinner and went back to the grocery store shopping for the next day. Stavanger is a small city, with a lake in the city center. Something about this city reminded me Switzerland, and I'm almost sure that was not only the prices…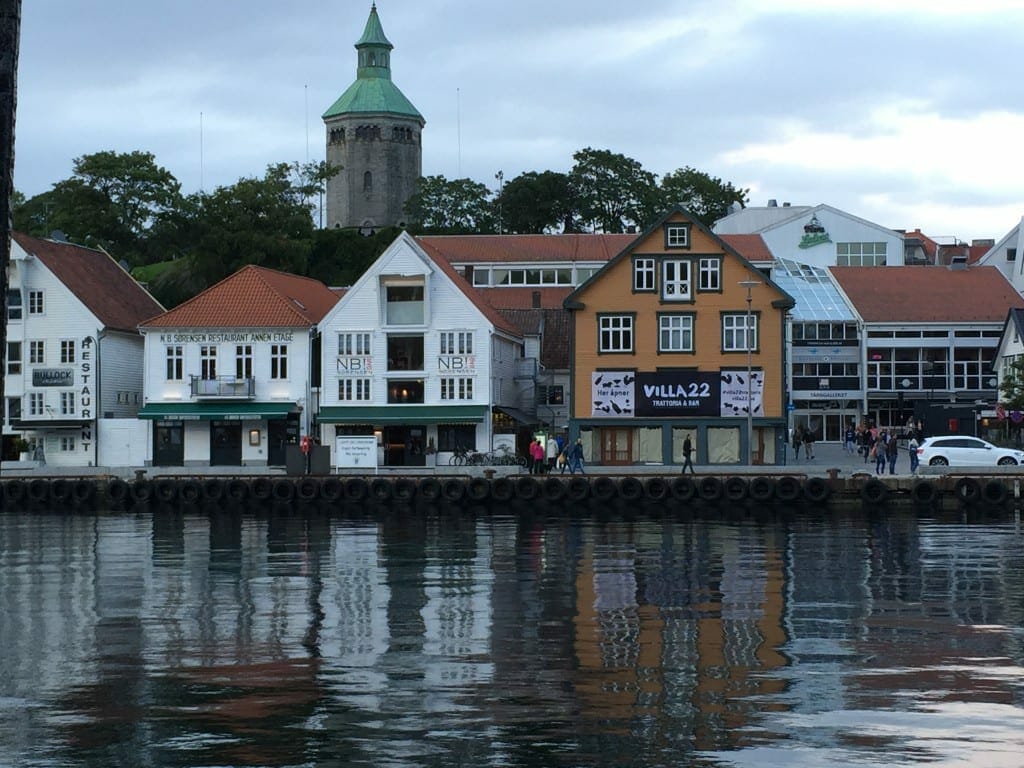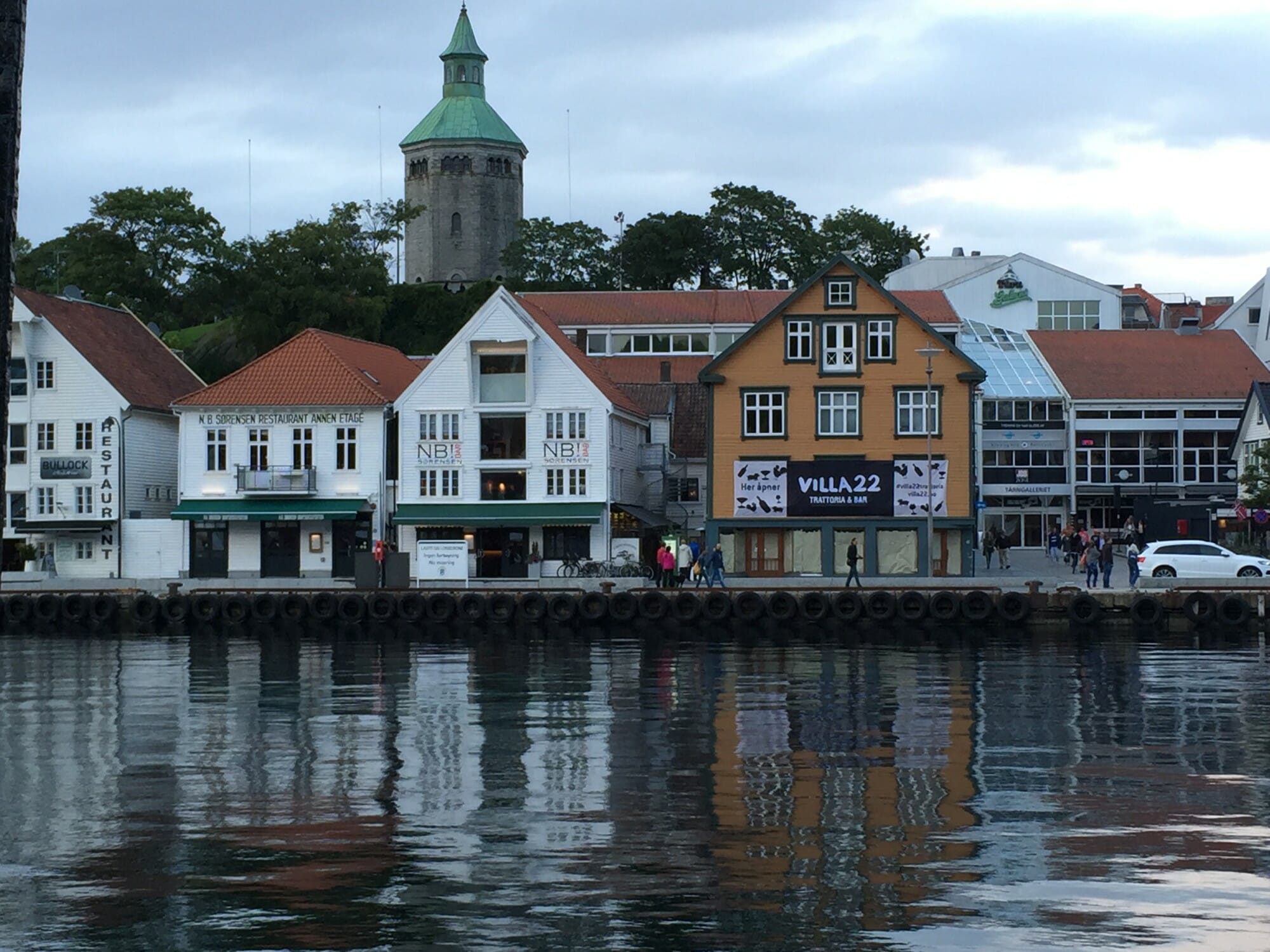 Watch video: Kjerag hike
[button link="https://www.7continents1passport.com/3-best-hikes-norway-3-days/" icon="hand-o-right" bg_color="#00566c" window="yes"]You may also be interest in: 3 Best Hikes in Norway in 3 Days[/button]
Planning your Kjerag hike
Where is Kjerabolten located? 
Kjeragbolten is located 1084m above others peaks along Lysefjord. The Kjerag hike starts at  Øygardstøl south of the Lysefjord by the Lysevegen road above Lysebotn.
How to get to Kjeragbolten from Stavanger?
∗ Bus to Kjerag: there is a bus from Stavanger to Kjerag (Øygardstøl) operated by Tide Reiser.

∗ By car: to get to Øygardstøl you need to take the ferry to Lysebotn and continue by car, or drive there via Sirdalen (this road is closed in the winter). Travel time: 2,5 hours one way (from Stavanger).
∗ There is a paid parking at Øygardstøl.
You can book your flights to Stavanger with  Skyscanner or Momondo, which are the websites that I use and trust.
Best time to hike Kjerag?
∗The hike is open from May to October/November and it's recommended to do during the summer (from June to September).
∗The bus runs daily from June to the beginning of September (in 2018 from June 9th to September 2nd).
Where to stay in Stavanger?
I stayed at Scandic Stavanger City, and if you're looking for accommodation my recommendations are:
* Budget: Stavanger Lille Guesthouse and Stavanger Pop Up Hostel.
* Great Value for Money: Stavanger Bed & Breakfast, Scandic Stavanger Park and Radisson Blu Royal.
* Luxury: Myhregaarden Hotel, Best Western Plus Victoria Hotel and Thon Hotel Stavanger.
∗ Norwegian Airline flight from Oslo to Stavanger: US$71.
* Two nights at Scandic Stavanger City with breakfast included: US$ 150.
∗ Kjerag Bus ride: US$ 64.
Additional Information for Hiking Kjerag
∗ All the hikes in Norway are at your own risk.
∗ Use appropriate clothes for hiking.
∗ Bring food, water, maps, and a first aid kit.
∗ There is no cellphone coverage in certain areas

∗ Norwegian Airline and Sas operate flights from Oslo to Stavanger.
∗ Tide Reiser is the bus company that operates from Stavanger to Kjeragbolten.

* Kjeragbolten hike time: Around 4 hours in the total.
∗ More information regard accommodation, transportation and the hikes can be found at www.visitnorway.com
Travel Planning Resources
For every booking made through my site I donate US$ 1 for a charitable organization.
Safe travels ☺