The beaches in Algarve are constantly ranked as some of the most beautiful beaches in the world. Bordered by cliffs in shades of yellow, red and orange, and lapped by crystal clear water, these incomparable beaches are some of my favorites in the world.
Below you will find a list of the seven best Algarve beaches and many other tips based on my several trips to Portugal.
The Beaches in Algarve: Why I Love It
The Algarve boasts a Mediterranean climate and during the summer the average temperature is 28C (83F) and there is as much as 12 hours of sunshine per day.
The Golden Coast, as it's also known, is a very popular beach destination especially among English and Southern Spanish tourists, and every year from May to September many cities along the Atlantic Ocean such as Albufeira, Faro, Lagos, Portimão and Vilamoura, receive tons of sun seekers and golf lovers.
I first went to Algarve, in southern Portugal, in 2008. My mother was living there at the time and so I spent one month enjoying the European summer and some of the best beaches in Algarve. Since then, I have tried to go to Portugal at least every other year!
I love it there, not only because of the gorgeous beaches, but also because of the tasty and cheap food.
Every time I go there, I have a lot of fun with friends and family and new adventures. My last visit was in 2018 and the Algarvian coast still surprised and amazed me with its impressive and breathtaking beaches.
So I decided to make this list with the seven most beautiful beaches in Algarve, so the next time you plan a trip to Portugal, you should make sure to visit some of them.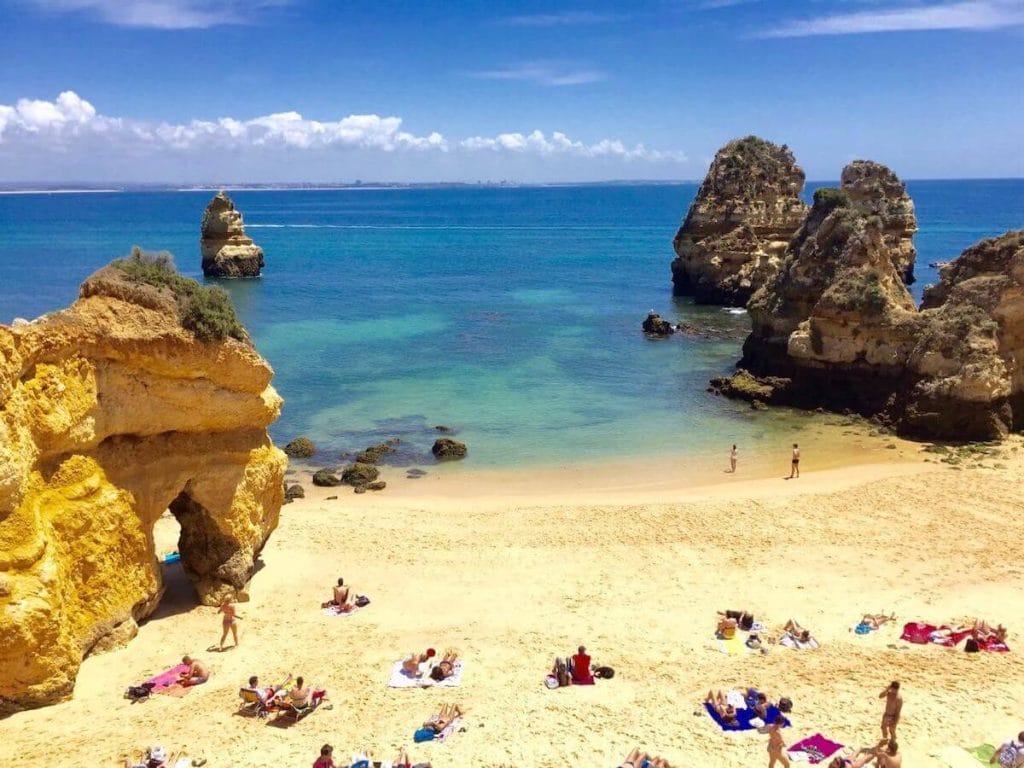 * Affiliate disclosure: Some of the links below are affiliate links, meaning I earn a small fee if you click through and make a purchase. There is never any additional cost to you, and I use some of these earnings for my monthly charitable donations.
The 7 Best & Most Beautiful Beaches in Algarve
1 – Ponta da Piedade, Lagos
Lagos is one of the cities that has some of the best beaches in Algarve. Among of them, it's Ponta da Piedade, one those places that it's hard to believe exist!
Located around 3 Km from Lago's city center, Ponta da Piedade is probably the most incredible shoreline in the world and, according to the Huffington Post, the most beautiful beach in the world.
Featuring a stunning combination of majestic rock formations, sea arches, caves, ochre cliffs and crystal-clear green water, Ponta da Piedade will certainly take your breath away.
I've been to the Algarve many times but even I was completely in awe the first time I saw Ponta da Piedade. OMG!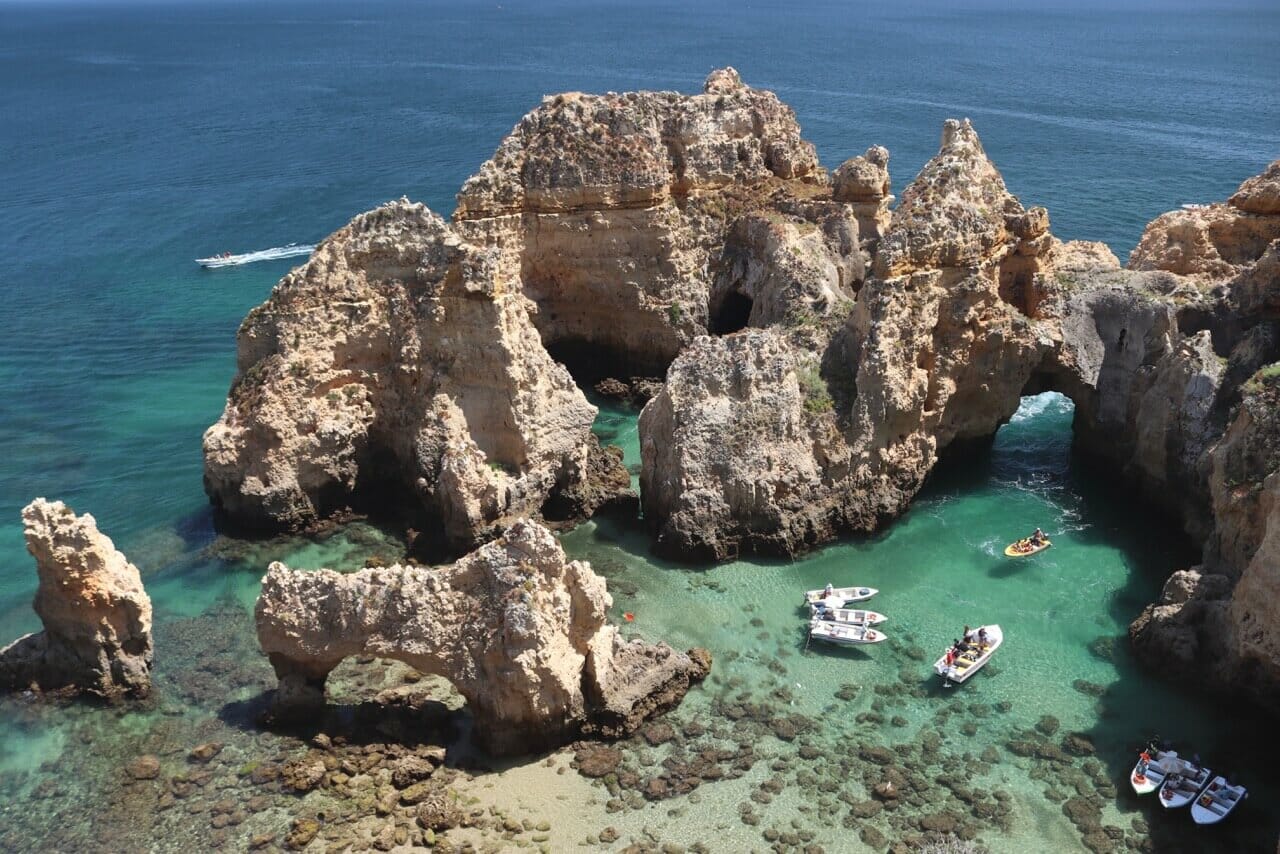 The beach is accessed by road then on foot along a cliff-top path, by boat or even better, by kayak.
From the top of the 20m (65ft) high cliffs you can take in all of Ponta da Piedade's beauty, but you should also definitely take the 182 steps down the ravine and get near the water to have another view of it.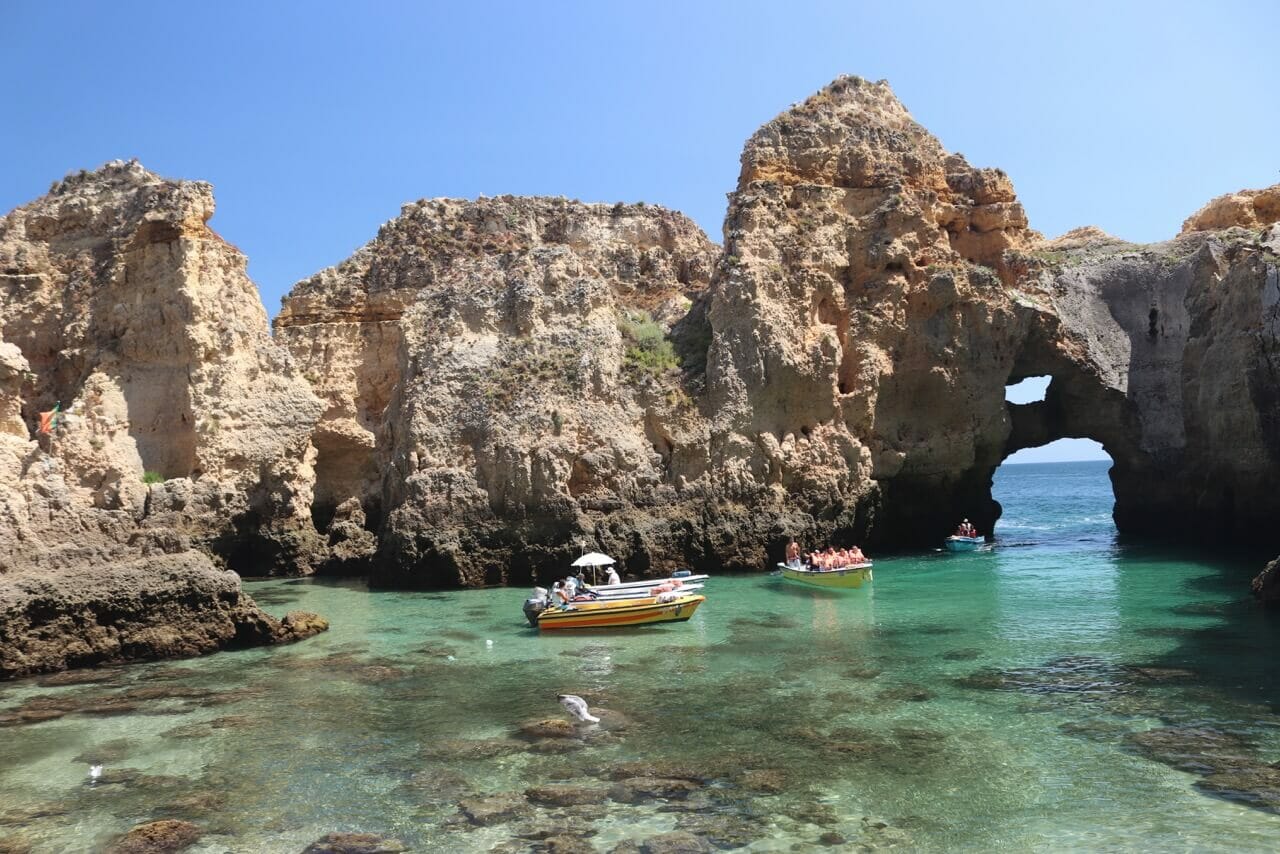 If you visit Ponta da Piedade during the peak summer season you won't be allowed to get into the water, unless you go early in the morning or in the end of the afternoon when there isn't boat traffic. But you can embark on a boat trip to visit nearby beaches and grottoes.
There's a parking lot, public restrooms a restaurant, souvenir shops, and lighthouse (closed to the public) at the end of the road.
Ponta da Piedade is for me the most beautiful beach in the Algarve. It's a must-see when you're in Lagos!
Smart Tip: You must be very careful when you climb the cliffs and the steep stairway to take pictures because in some parts there isn't a handrail.
2 – Praia dos Três Irmãos (Prainha), Alvor
This was one of the beaches in Algarve that impressed most!
Located at the eastern end of Alvor Beach, in the municipality of Portimão, Praia dos Três Irmãos, also known as Prainha, is home to the greatest rock formation I've ever seen in the Algarve.
The beach is framed by huge ochre colored limestone cliffs with incredible rocky outcrops that divide it into further little sandy bays each with their own rock arches, sea stacks and caves.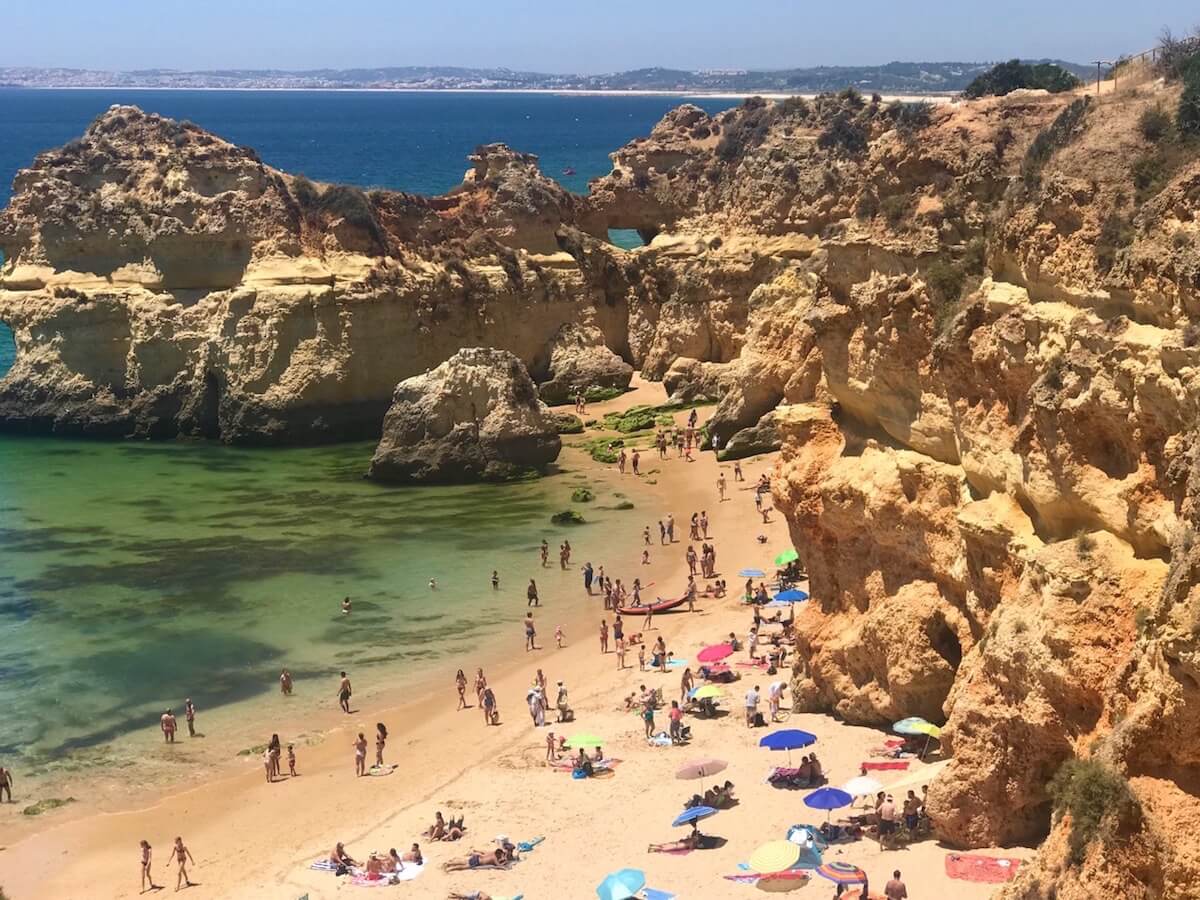 Access can be gained by the elevator of the Caniço Restaurant or a set of stairs for those coming from Aldeamento Turístico da Prainha, or through a space between the cliffs for those coming from Praia do Alvor.
This is a Blue flag beach and there are restaurants, toilets, seasonal lifeguards and also very nice viewpoints.
When I arrived at Praia dos Três Irmãos and saw the phenomenal rock formation I was completely in awe!
It was at low tide and the contrast of the shallow green water with the rocks covered with seaweed and the ochre cliffs made this beach look surreal and miles away from reality…
The sea arches and caves of Praia dos Três Irmãos are begging to be explored and you should definitely do it.
Please, don't forget to include Praia dos Três Irmãos your "Most Beautiful beaches in Algarve" list. You will be as impressed as I was!
Smart Tip: The closest parking lost is at Praia do Alvor and when you get on to the beach walk to the eastern end (left side facing the water) to reach Praia dos Três Irmãos.
3 – Praia de Benagil, Carvoeiro
You might have seen a picture of Praia de Benagil, considered one of the most incredible beaches in Algarve, as it gained fame recently because of its iconic sea cave.
Located in the little fishing village of Benagil, in the municipality of Lagoa, Praia de Benagil would be just one more of the hidden beaches in Algarve if it wasn't for the Algar de Benagil, a stunning cave just around the corner to the left side of Benagil Beach.
What makes Benagil cave special and one of the "Top 10 coolest caves around the world", according to Huffington Post, is the perfect combination of golden-colored walls with a round hole in the ceiling and the two beautiful archways.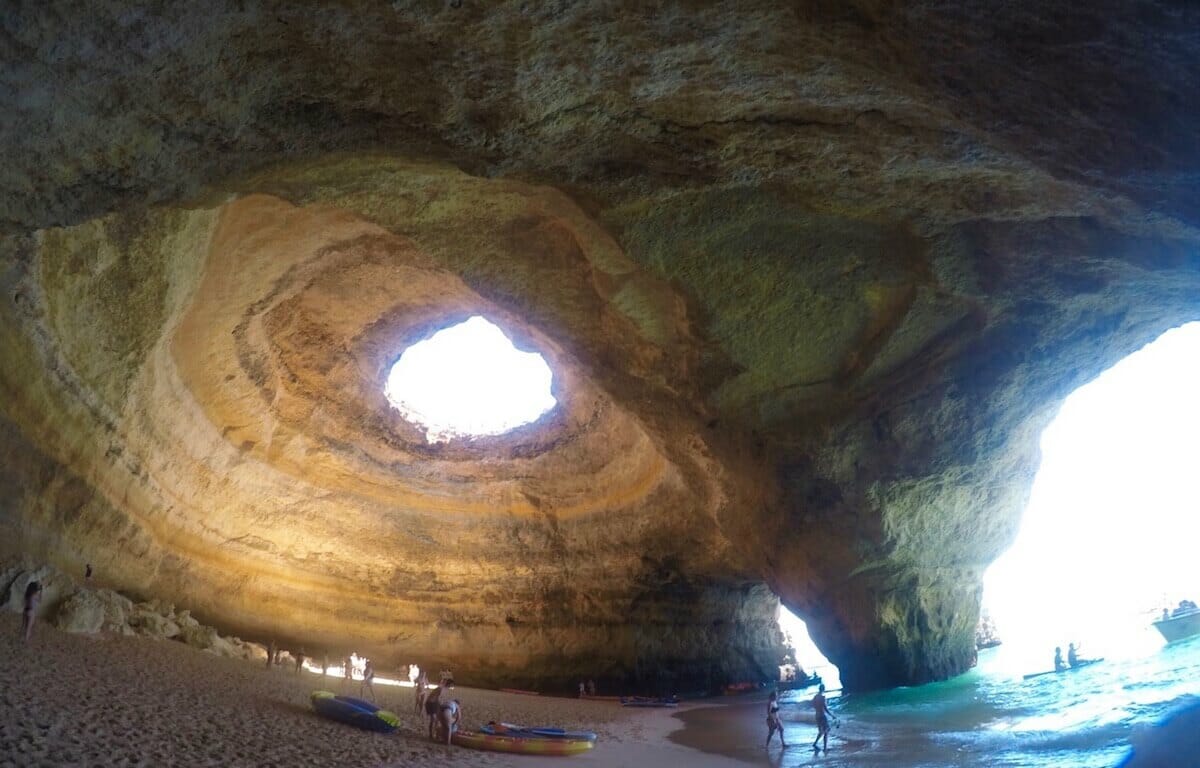 The cave is very picturesque and when you arrive, you will be completely amazed.
Inside this spectacular cave you will see the sunlight streaming through the roof and reflecting off the golden sand and the blue azure water entering the cave through the arches forming a small beach.
I have visited Benagil cave twice, by boat and kayak, and I loved it! It's such a magical place and a natural wonder of world.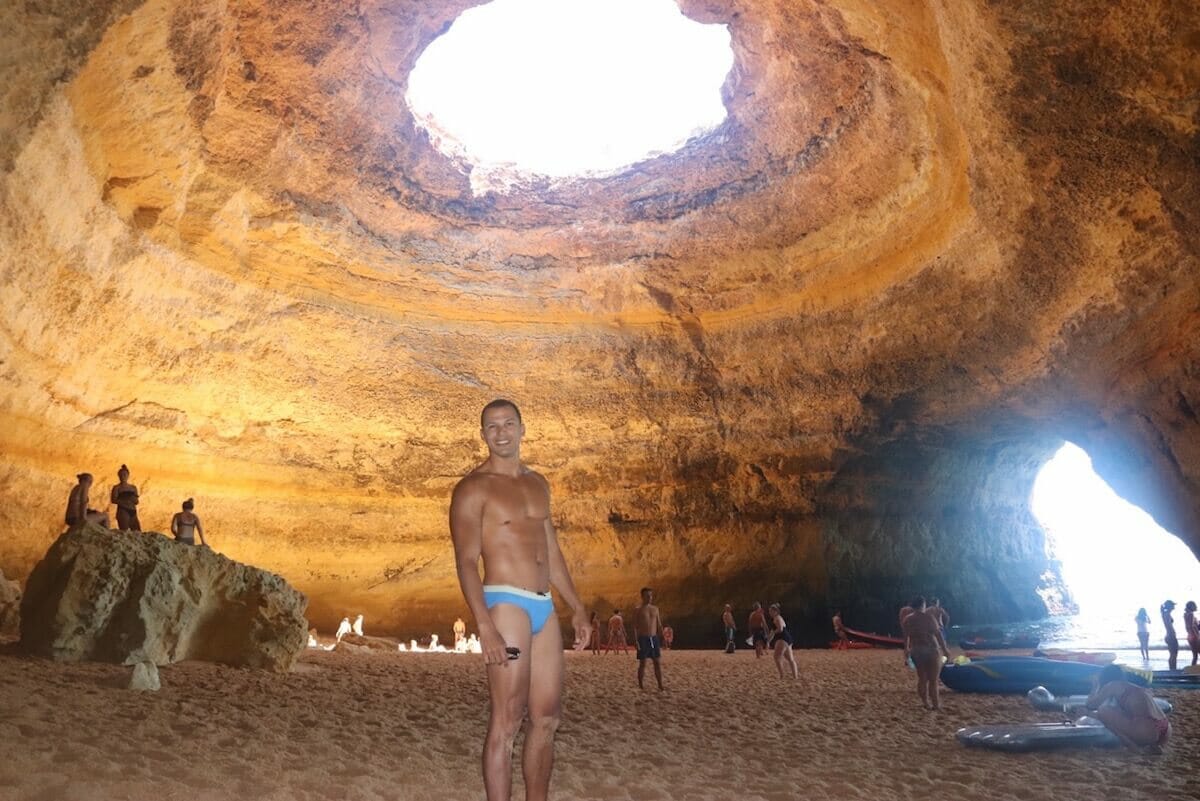 Smart Tip: Now only small boats, kayaks and SUP can get inside the cave.
Book your Benagil Cave Tour online in advance here.
4 – Praia do Camilo, Lagos
Located in Lagos, next to Dona Ana beach, Praia do Camilo is undoubtedly one of the most beautiful beaches in Algarve.
Access is easy and once you arrive on the top of the breathtaking cliff, it will be hard to decide if you should stay there to enjoy the awe-inspiring views, walk along the cliff-top path or take the steps all the way down to place your towel, sunbathe and just relax.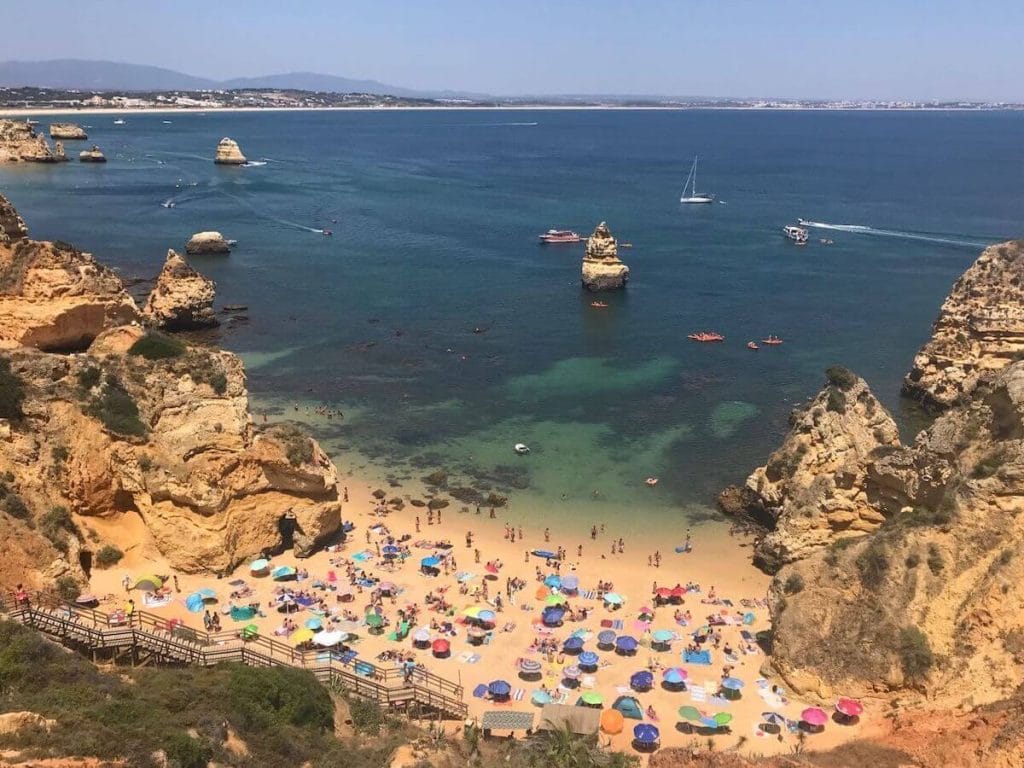 This picturesque beach is framed by majestic limestone rocks and provides astonishing vistas, whether you are on the cliffs, on the stairway, on the sand or even in the water.
When I went to Praia do Camilo, I wished that I could have stayed there the whole day and it instantly became one of my favorite beaches in Algarve.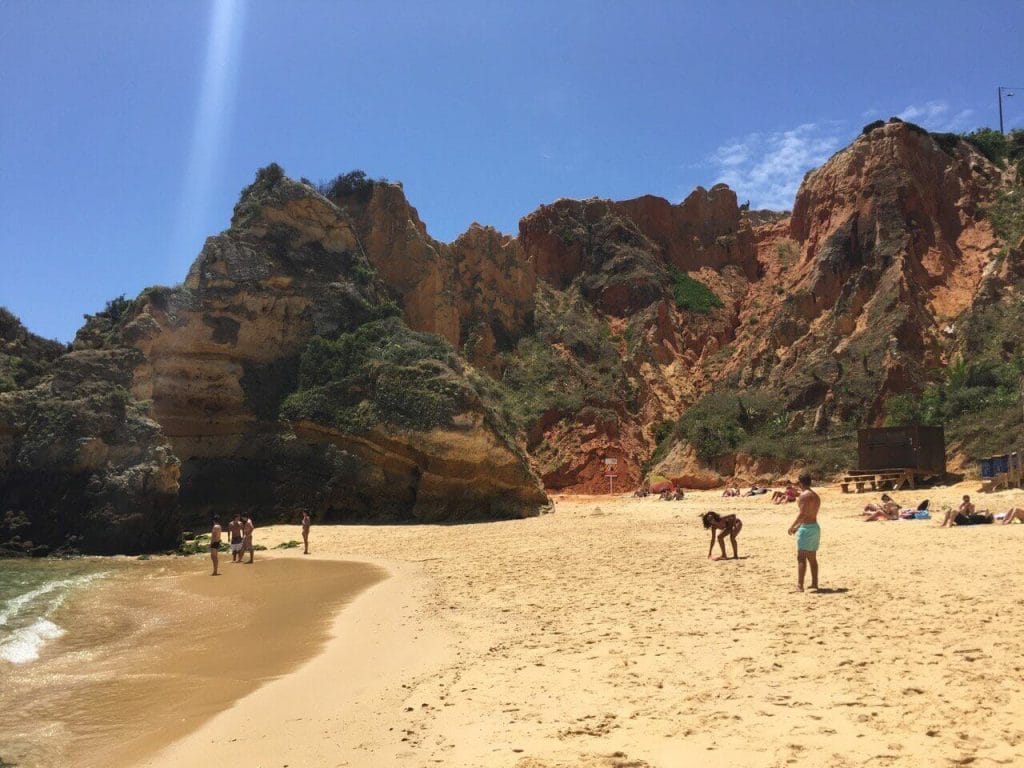 The infrastructure is very basic and there is only one restaurant close to the stairway, which is really nice by the way.
There are neither kiosks nor beach amenities at Praia do Camilo, so be prepared to take a cooler with water, booze and snacks.
5 – Praia da Marinha, Lagoa
Yet another stunning and definitely one of the most beautiful beaches in Algarve and I would say of the whole world.
Located in the Lagoa area, a half hour drive from Albufeira, this award-winning beach has been featured in many Portuguese guidebooks and advertising campaigns.
There is a large parking lot and once you step out of the car you understand why this beach was elected by Michelin Guide as one of the ten most beautiful beaches in Europe.
It's only accessible via a steep pathway along the cliff, and I bet you will stop every other minute to take tons of pictures, admire the striking views and catch your breath.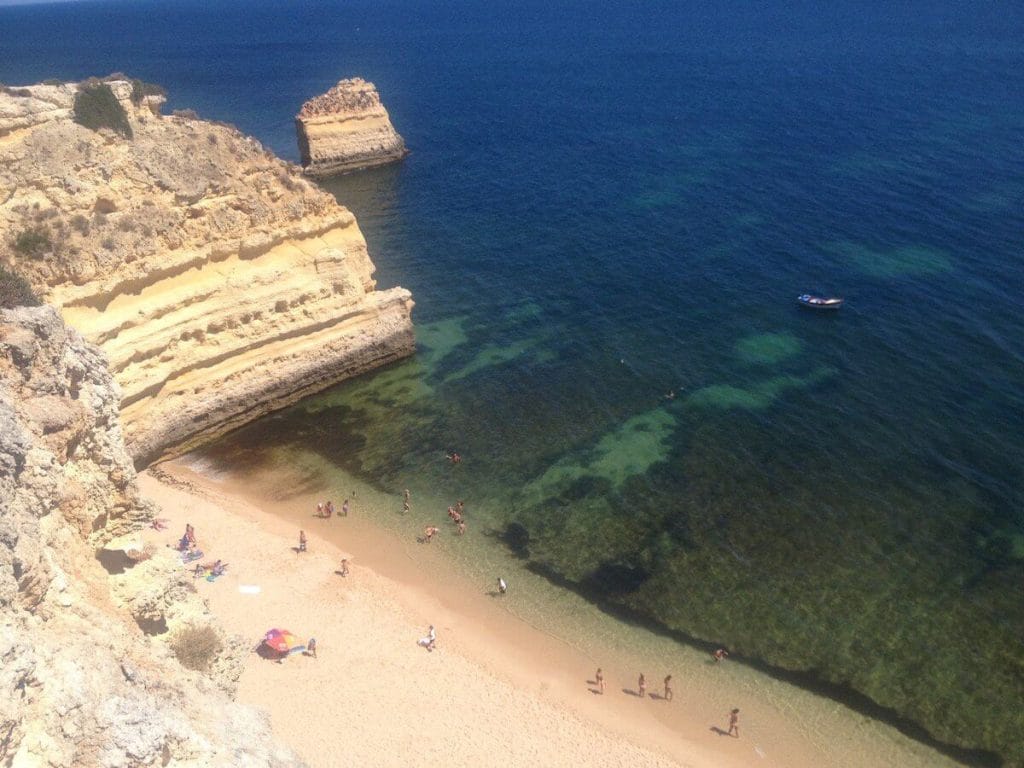 Praia da Marinha has amazing orange-yellowish limestone cliffs, golden sand and crystal-clear blue water. The contrast between the azure water and the cliffs is just unbelievable!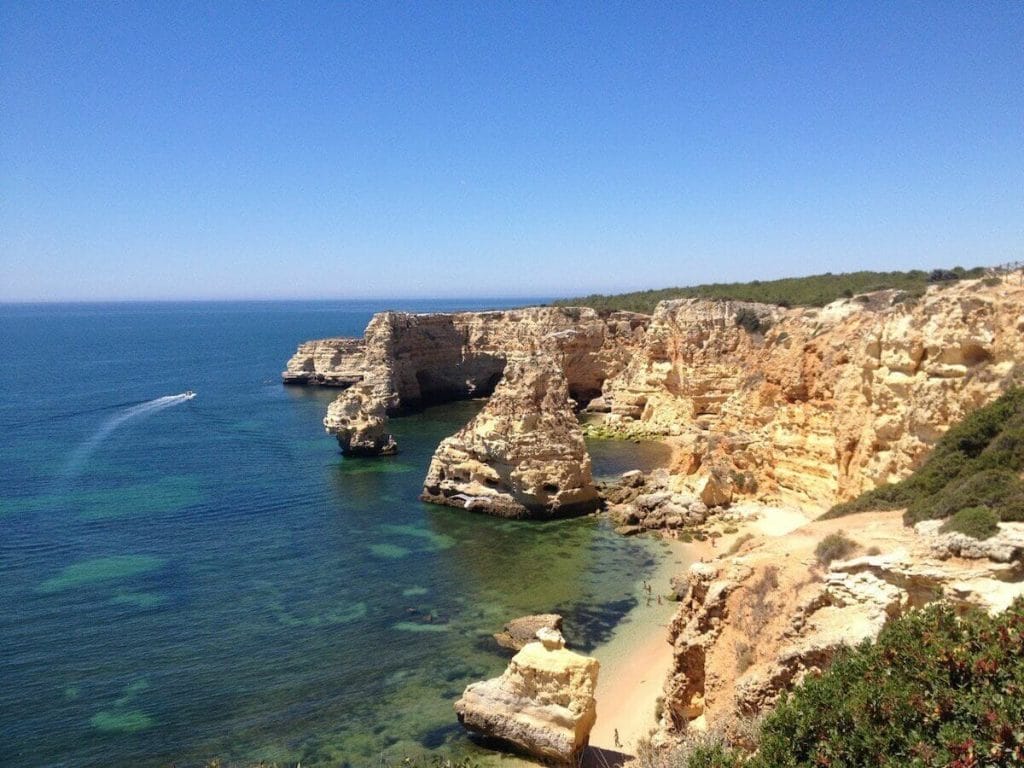 There aren't beach amenities, but there is a restaurant and a café right at the beach's entrance, and one of the popular activities is to take a kayak to visit other beaches and the Benagil Cave, which is totally worthwhile.
6 – Praia Dona Ana, Lagos
Located in Lagos and elected by Condé Nast Traveller in 2013 as the best beach in the world, Praia Dona Ana is outstanding and for sure one of the most beautiful beaches in Algarve.
But different from Praia do Camilo and Praia da Marinha, for example, its beauty is appreciated best from the sand.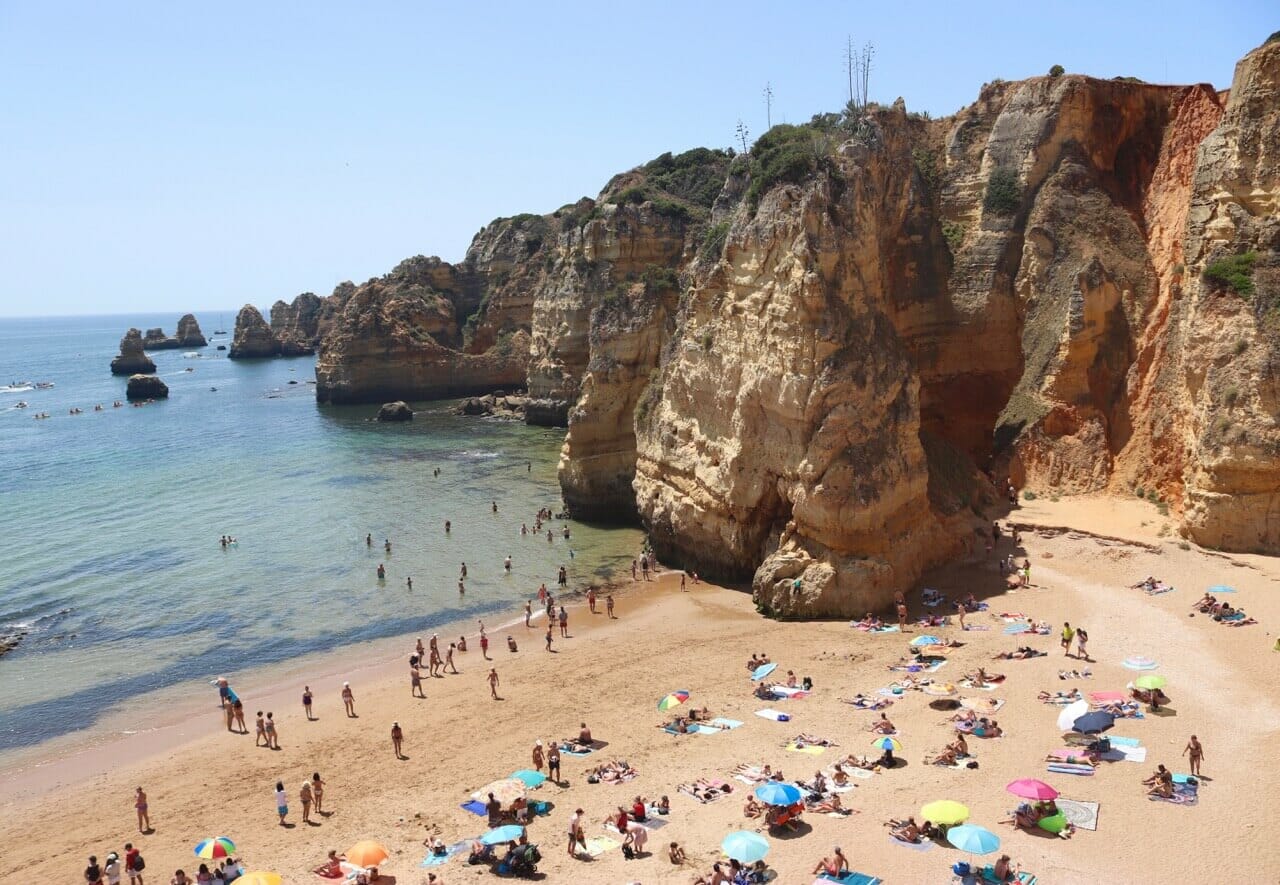 The access to this beach is by a stairway and there is a parking lot, beach amenities and a kiosk.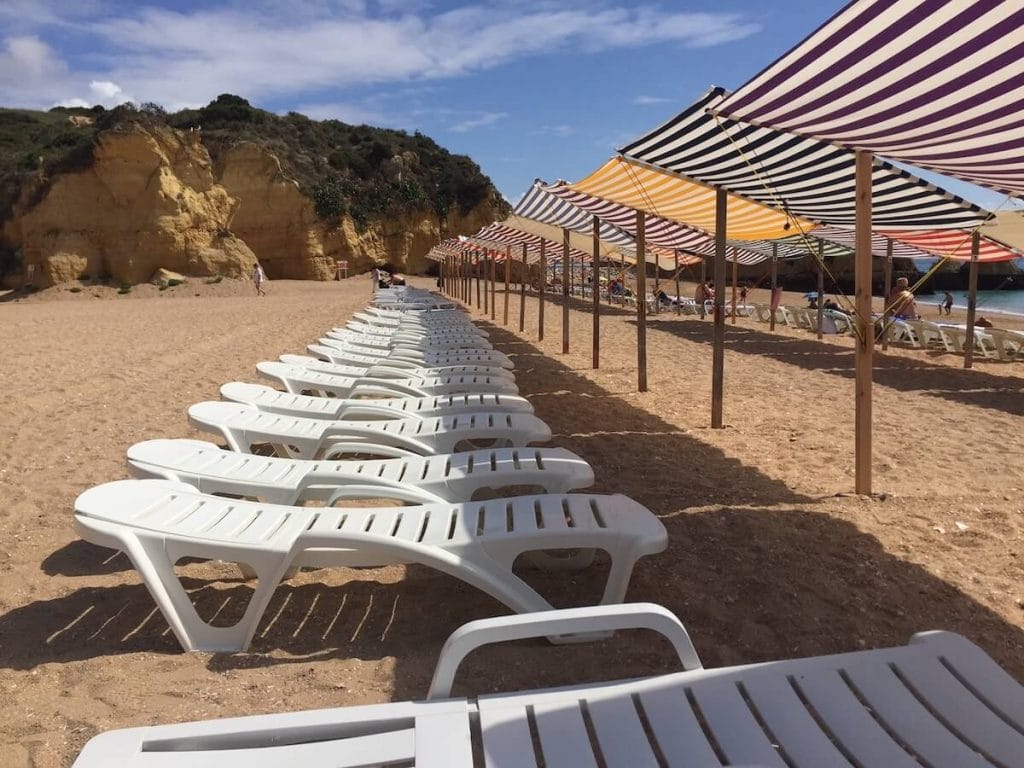 There are beautiful limestone rocks rising up sublimely from the crystal-clear blue water, golden sand and orange cliffs covered with vegetation. Walking down to this beach is truly amazing and I felt really glad that I finally visited it.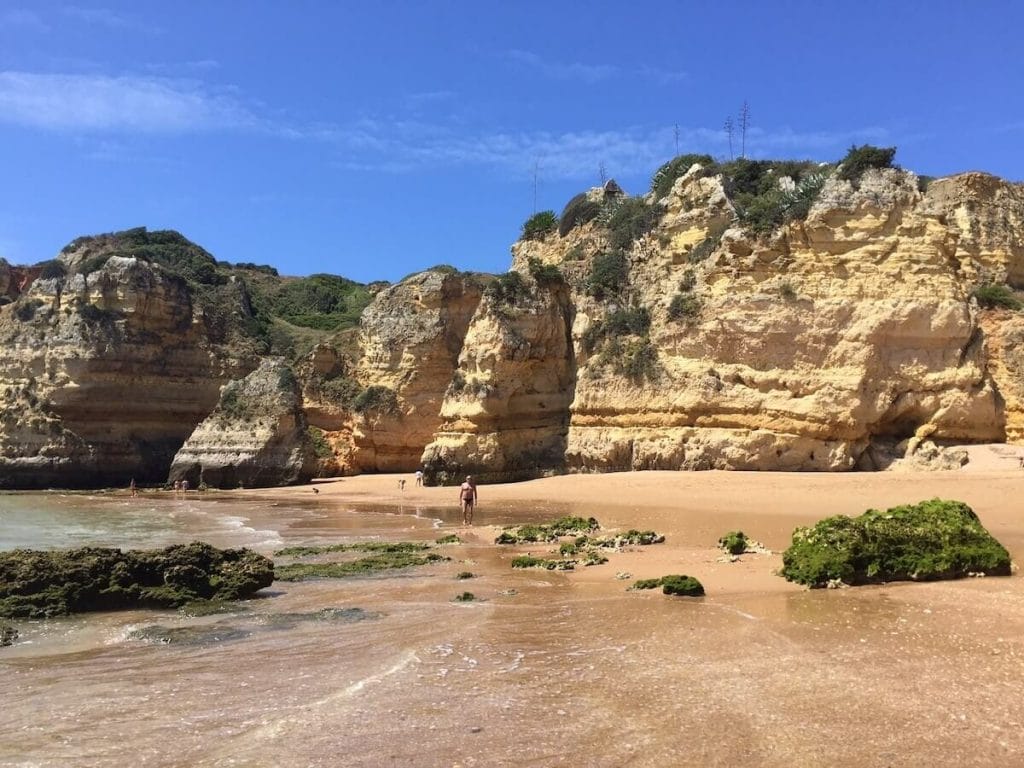 Praia Dona Ana is very popular among tourists and locals and it has been enlarged to better provide for everyone.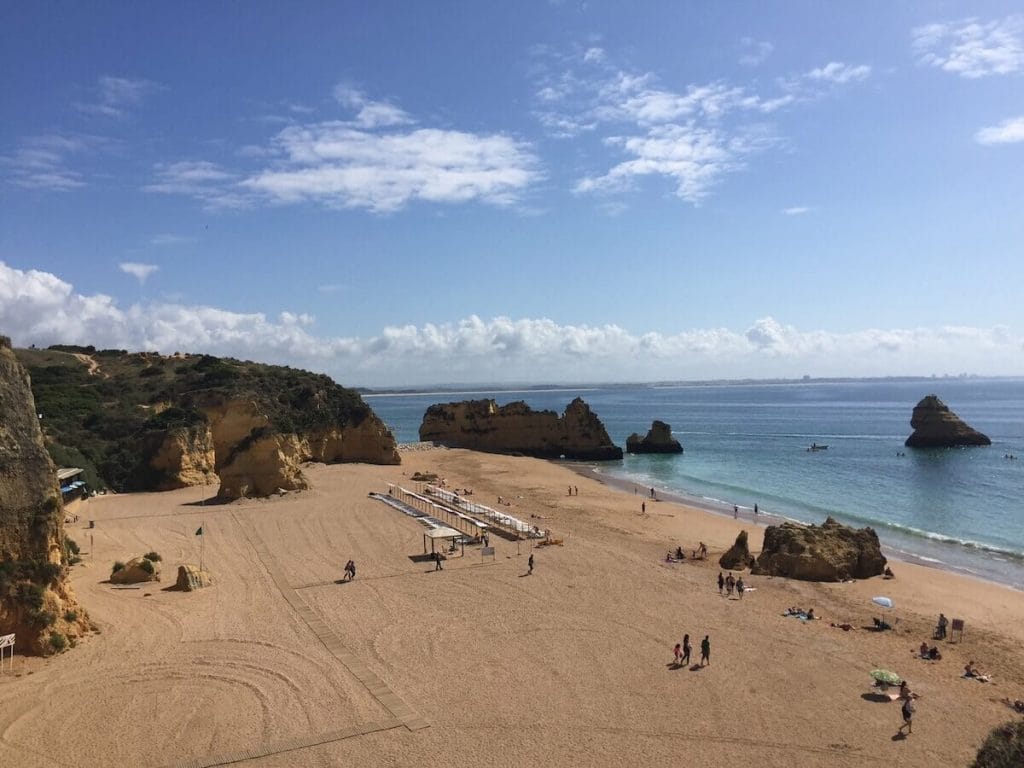 The most popular activities are kayaking, SUP and boat riding. I've done both and I personally think that kayaking on the sea to the stacks and grottoes is much more fun.
Book your boat trip/kayak to Ponta da Piedade in advance.
7 – Praia da Coelha, Albufeira
Albufeira also has some of the best beaches in Algarve and you must include this city in your itinerary, in case that you won't be based here.
Located around 6 Km (3.7 mi) west of Albufeira Old Town, Rabbit Beach is a breathtaking beach surrounded by yellow cliffs and has fine golden sand with seashells and crystal-clear turquoise water.
The beach is a 5 min walk from the parking lot, has calm water, extraordinary rock formations and very picturesque scenery.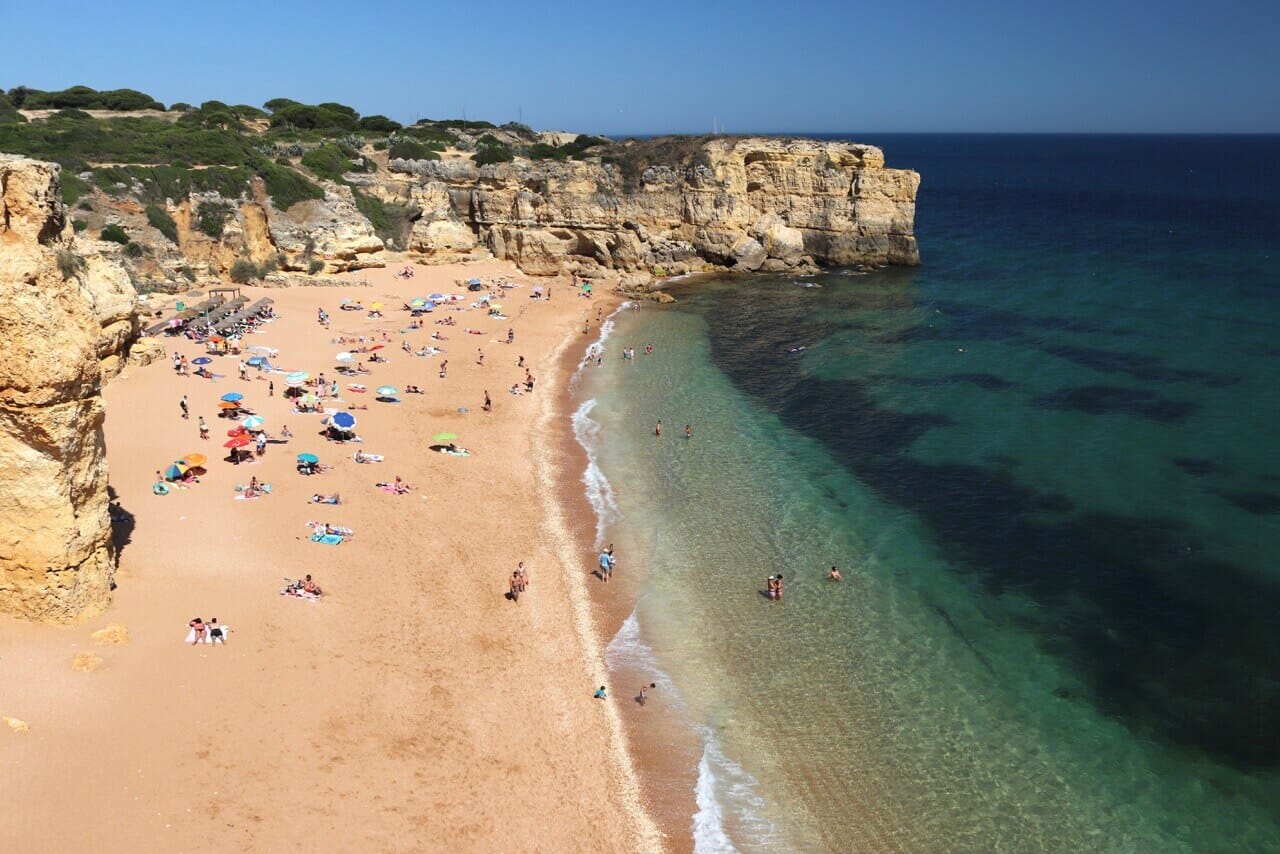 Raised wooden walkways take you to the western part of the beach from where, along the water's edge, you can reach the sections of Praia da Coelha that are more secluded and quiet.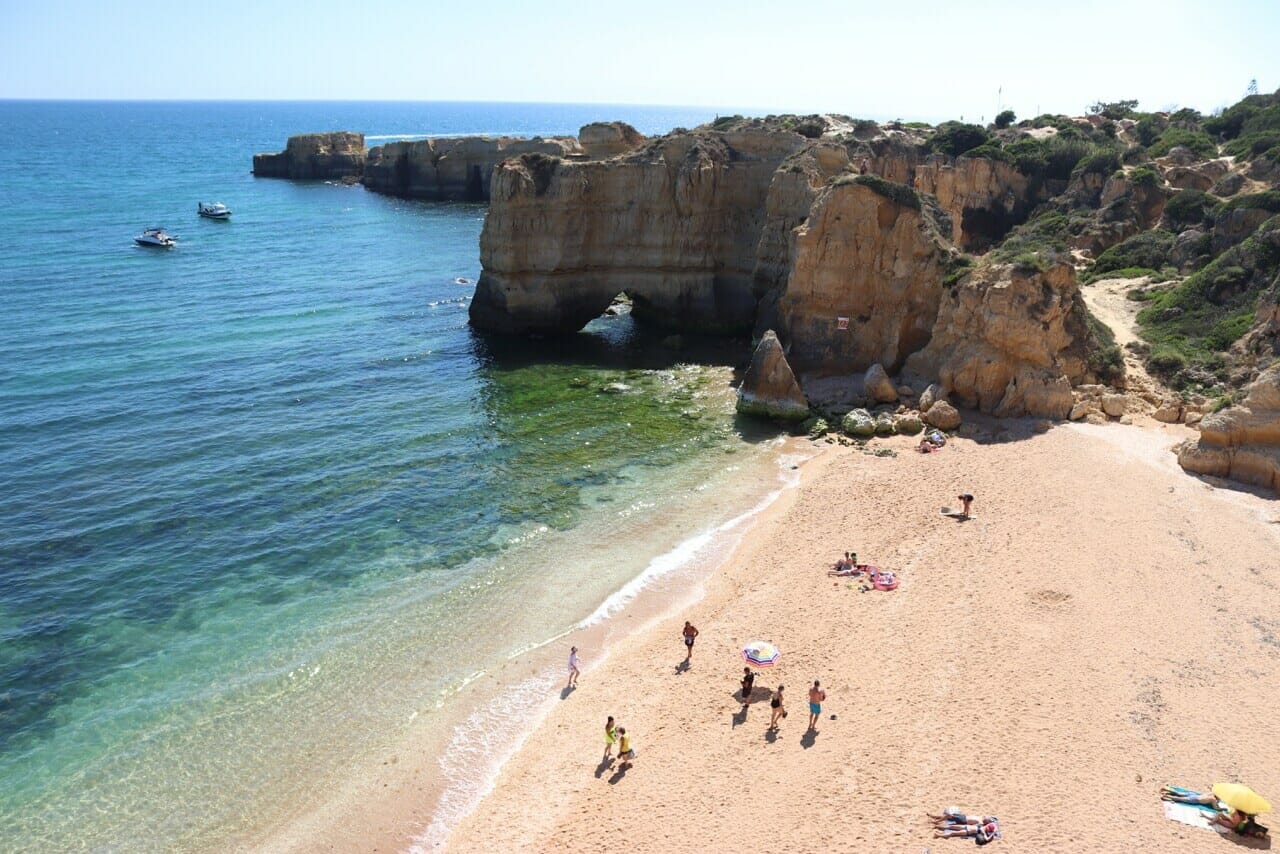 You can also walk on the trail path along the hilly landscape around it to explore the magnificent viewpoints, find hidden coves and especially see the beauty of Praia da Coelha in all its glory.
There also some coral reefs, making this beach perfect for snorkeling.
I felt like I found a real treasure while walking along the cliffs of Praia da Coelha.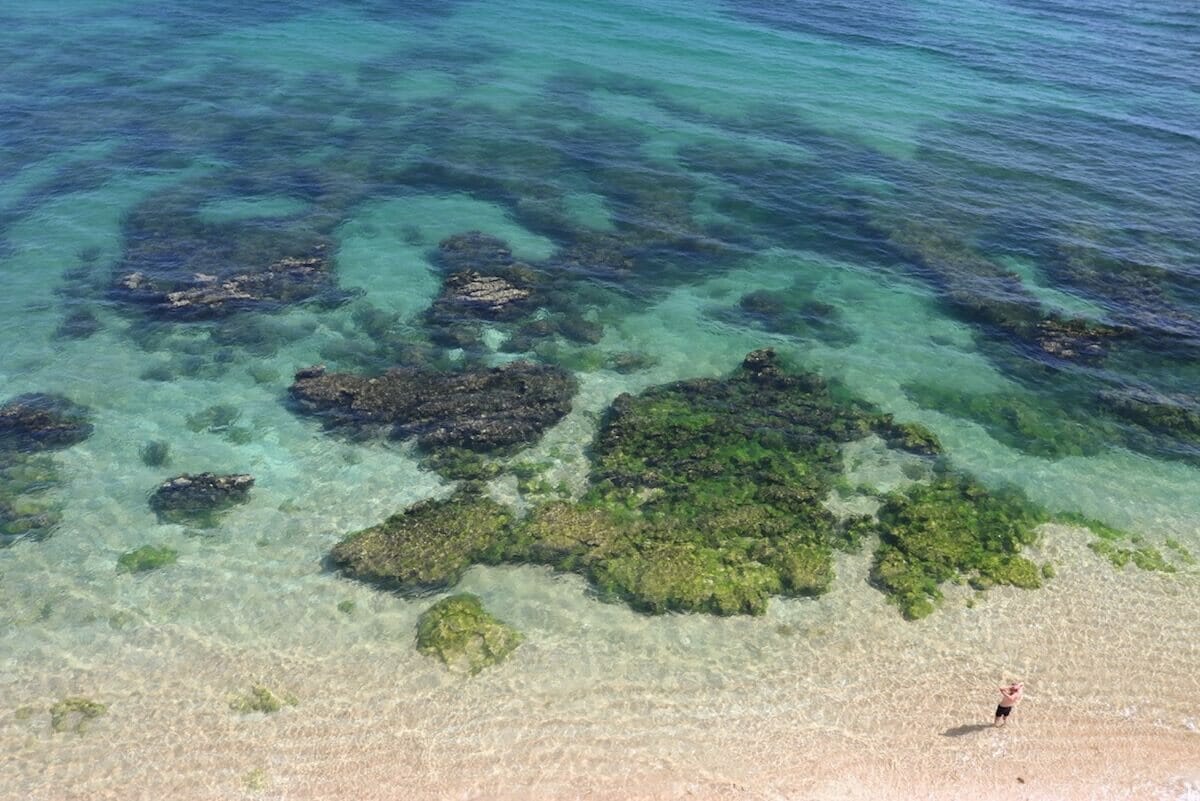 Praia da Coelha is a Blue Flag beach, with lifeguards on duty, Stand Up Paddle Boarding and beach chairs and umbrellas for hire and there is a restaurant at the entrance with Wi-Fi, reasonable prices, and bathrooms. Pets and balls aren't allowed, though.
Praia da Coelha is one the best beaches in Albufeira and one of the most beautiful Algarve beaches. You should not miss it!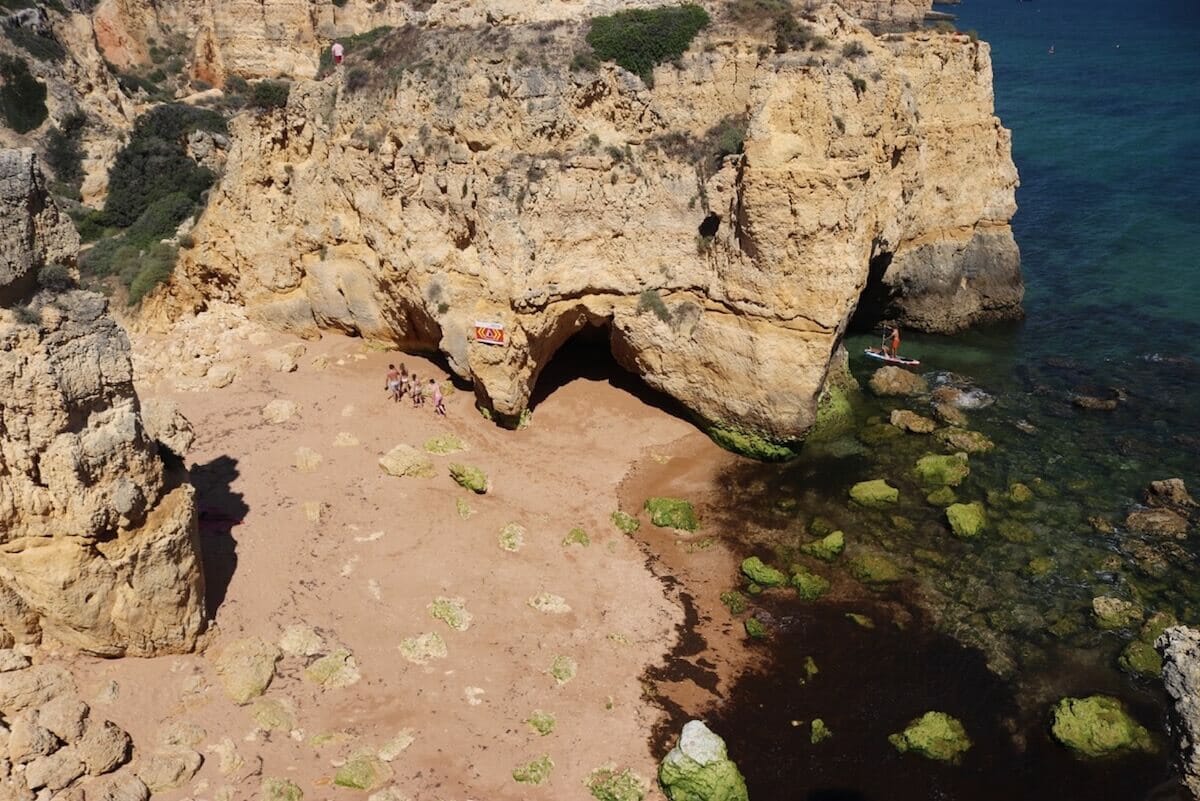 This is a short list with just seven beaches, but there are many other impressive beaches in Algarve. Just to cite a few more: Praia de São Rafael, das Falésias and Arrifes (Albufeira) Praia do Beliche and Telheiros (Sagres), Odeceixe, Praia de Albandeira (Porches), etc.
You may also be interested in:
Best Beaches in Algarve on the map
I created an Algarve beaches map below so you can have a better idea of the exact location of each.
Safe travel and have fun in Portugal.
Visiting the Best Beaches in Algarve
Where is Algarve located?
Algarve is southernmost region of Portugal (check map here).
Best time to visit Algarve beaches
Definitely during the summer and specially July and August. But if you don't like crowds and heat, you should go June or September.
How to get there?
There is an international airport in Faro, but the most popular is the one in Lisbon.
From Lisbon you can take a bus or a train to the Algarve. The prices are basically the same and they take around 2h and half to get there.
Some of the companies that fly to Faro are: Easyjet, British Airways, Ryanair and TAP.
You can book your flights with Skyscanner, which is the website that I use and trust.
To get to Praia da Marinha by public transportation you need to take a bus to Lagoa and then another to Marinha Beach.
If you go by car, Praia da Marinha is around 40min drive from Albufeira and Lagos. You can rent a car with Rental Cars here with no extra costs for you.
Where to stay in Algarve?
If you want to visit the best beaches in Algarve, I would suggest to stay in Albufeira or Lagos. Some Algarve hotels that I recommend are:
Albufeira Hotels:
Budget: Apartamentos Turísticos Novochoro, Água Viva and Albufeira Beach Hotel.
Great Value for Money: Hotel Topázio, Rocamar Exclusive Hotel & Spa, Hotel do Cerro and Grande Real Santa Eulalia Resort & Hotel Spa.
Luxury: Salgados Dunas Suites, Pine Cliffs Residence a Luxury Collection Resort, Aqua Pedra dos Bicos and Auramar Beach Resort.
Lagos Hotels:
Budget: Guest House Casa Sousa, Olive Hostel Lagos and Bela Vista Guest House.
Great Value for Money: Lagos Uptown Bed & Breakfast, Don Manuel I Charming Residence, Baluarte Da Vila Apartments and Aldeia Azul Resort.
Luxury: Villas Don Dinis, Cascade Wellness & Lifestyle Resort and Belmar Spa & Beach Resort.

More Algarve Tours with Get Your Guide
Helpful Links to Visit the Algarve
For more information about the Algarve visit the page: Visit Algarve.
For the train schedule between Lisboa and the Algarve visit Rail Europe webpage.
For the bus schedule between Lisbon and the Algarve visit Rede Expressos website.
For the bus company to Praia da Marinha visit EVA website.
* If you love beaches as I do, find out which are the 5 most beautiful beaches in Europe.
Travel Planning Resources
For every booking made through my site I donate US$ 1 for a charitable organization.
Safe travels ☺