Ibiza
Ibiza is one of the Balearic Islands (an archipelago of Spain in the western Mediterranean Sea), and one of the most desired travel destinations to enjoy the European summer.
Every year partiers and beach lovers flock to the island to dance all day and night listening to the best DJs in the world as well as having a great time at some of the most beautiful beaches in Europe.
Ibiza is the perfect combination of sun and fun!
Visiting the island for the first time I fell in love with Ibiza and it has become one of my favorite destinations in the world.
Whether you think Ibiza is overrated and expensive, or you still don't know if you should visit it or not, here are 7 reasons to love Ibiza.
7 Reasons to Love Ibiza
1 – Stunning Beaches
To see the most beautiful beaches in Ibiza, you have to explore the island, because if you stay only in Ibiza town, and go out every night you might not see those beaches.
The most gorgeous ones are in San Antony de Portmany (western coast of Ibiza), but there are others in the south and north of the island as well.
Among all the beaches that I saw, following local's advice, magazines and websites, Cala Saladeta and Cala Comte are my favorite ones.
Cala Saladeta (in front of Cala Salada) has a difficult access, crystal clear blue water and a small pocket of sand, which can make the beach easily crowded. However, it is perfect for swimming in its natural pools and for families with kids.
The cliffs surrounding it provide an extraordinary view and you probably won't leave before taking tons of pictures.
Cala Comte (Cala Conta) is considered the most beautiful beach on the island.
With different shades of crystal clear blue water, a stretch of land splitting the beach into two "U's" and two islands in front, Cala Comte totally blew my mind away.
While swimming in the pools, you feel as if you're in an ad for a perfect holiday: floating on crystalline blue water, getting a nice tan, and listening to great music. Life could not be better!!
Yet the beach is crowded and you need to get there early, but the visit is absolutely worthwhile and your friends won't believe that your pictures are not photoshopped.
 2 – Electrifying Beach parties
Ibiza is known for its parties and every summer people from everywhere head to the island to party hard.
Do not think that you're going to Ibiza only to rest and relax, (although you can also do that), however, you must not leave the island without moving your body at a beach party.
The parties start in general around 4-4:30, are full of beautiful people, booming music,  and go until 9:00.
Some of the most fun beach parties on the island are Ibiza Jet Pool Party and Bora Bora, both in Playa d'en Bossa.
Ibiza Jet Pool Party happens in a resort, is open to the public, and has two swimming pools, lounge chairs, great vibe and awesome music. This party gets better around 5:00 PM and people dance frenetically and animatedly.
Bora Bora is the hugest and craziest beach party in Ibiza. It has a good production with a big screen, dancers, excellent DJ's and people dancing on the tables. It gets better around 6:30-7:00 and the drinks' prices are raised at 4:00 PM.
These beach parties are great; especially when you are with friends.
3 – Singular music
Ibiza has one of the most vibrant electronic music scenes in the world!!
From the iconic Café del Mar, to Café Mambo, to some of the most renowned clubs in the world, the music in Ibiza is a chapter apart.
The music you hear on the island is beyond cool, modern and unique. Whether you are on a bus, in a car (believe me you can have a party with the music from the radio), in a restaurant, a sunset party or in a club, you will definitely feel like dancing.
And if you want to dance, go to Ibiza, because the best DJ's in the world are there during the summer: Above and Beyond, Fat Boy Slim, Carl Cox, Solomun, Sven Väth, Avicci and David Guetta are just few of them.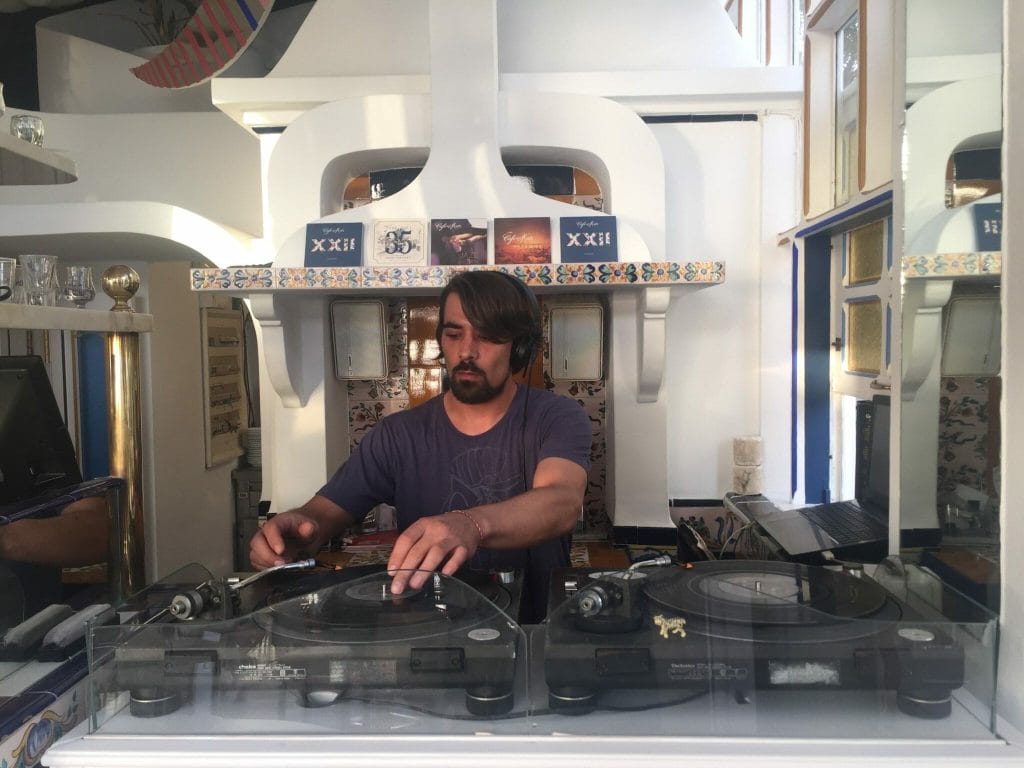 4 – Best Clubs in the World
Considered by many as the Mecca of the electronic music, Ibiza has spectacular clubs.
From the legendary Space (the most awarded club in the world, operating since 1989), to Privilege (world's largest nightclub, with a capacity of 10,000 people), Pacha (considered one of the best entertainment groups in the world) and Ushuaia (my favorite), the clubs in Ibiza drive millions of music devotees for a truly electronic music pilgrimage.
Those clubs have an incredible line up and you won't believe that your favorite DJ is just a ticket away from you. Ushuaia: Avicci every Sunday and David Guetta every Monday; Pacha: Solomun, every Sunday; Space: Carl Cox every Tuesday.
If you like to party hard, Ibiza is definitely your place!
5 – Hottest people ever
I've never seen so many hot people as in Ibiza, OMG!
The island is full of beautiful people, with the majority of the tourists from Italy, France, Germany and the UK.Everywhere you go in Ibiza you see hotties: airport, stores, streets, restaurants, clubs (even the staff), but especially the beaches that look like model runways with muscled guys and topless ladies.
Everyone walks around showing off his/her glowing tan…
6 – Parque Natural de Ses Salines
This UNESCO World Heritage site lies between southern Ibiza and northern Fomentera, and includes the sea channel that separates both islands.
The park plays an important role in the conservation of the Balearic islands' ecosystem and it is the home of 178 species of plants, 210 varieties of birds, and the largest and the oldest Posidonia Oceanica (seagrass) 8km (5mi) across and 100,000 years old, that might be the oldest live organism on Earth.
The seagrass acts as a global carbon sink, which provides a habitat for many marine animals and also helps to keep the water clear. As a result, the beaches that are part of the park have the most translucent water in the Balearic.
7 – A ferry away from Fomentera
Unless you have a private boat, the only way to get to Fomentera is by ferry, and departing from Ibiza it can take less than one hour.
Known as the Caribbean of Spain, Formentera, the smallest Balearic Island, is much less touristy and busy than Ibiza and is perfect for a day-trip.
The beaches in Formentera are marvelous! I went biking almost the whole island searching for the most gorgeous beaches, and found places that are really hard to believe that they exist.
Even the beach close to the port is irresistible, however the most striking one is Playa des Illetes, located just 4Km (2.5 mi) from the port. With crystal clear turquoise water and a stretch of white sand, it probably is one of the most beautiful beaches in Spain. I was in awe visiting this beach and I couldn't believe the color of the water.
With all of these reasons to love Ibiza, I might return to the island next summer, because I hope to go to Ibiza as many times as I can!
Because Ibiza is exactly like the ad I saw in the airport: "This is living."
See you there…
Watch video

: 7 Reasons to Love Ibiza
Visiting Ibiza
[huge_it_maps id="20″]
The only options to get to Ibiza are by plane or ferry.
There is an international airport in the island and some of the companies that operate are: EasyJet, Ryanair, Iberia, British Airways, Vueling, Monarch, AirEuropa, Lufthansa, KLM and Eurowings.
If you prefer take the ferry, there are ferries debating from Valencia, Barcelona and Mallorca. The companies are: Transmediterranea and Balearia.
The best time to go to Ibiza is definitely during the summer, when the temperature is perfect (around 30C – 86F), there is no rain, and all the big DJ's are there.
Of course if you want a more low-key vacation, June and September are also good.
I stayed at: The Blue Bedroom.
You can use this link to get a discount using AirBnB.
∗ Flight from London to Ibiza: US$ 104
∗ Four nights at The Blue Bedroom: US$ 300
∗ Pacha: € 60
∗ Ushuaia: € 55
∗ Space: € 35
∗ Ferry to Fomentera with AquaBus: € 19
Extra Tips
∗ Summer is the busiest time at the island and prices tend to be higher.
∗ Buy your tickets for the parties in advance to avoid lines and spend extra money. There are many kiosks selling tickets all over the island.
∗ The best way to move around is by car, but there are buses running the whole day and night.
∗ If you're looking for a restaurant by the port, Los Pasajeros was my choice. Good price, great portion and nice atmosphere (little bit small though).
Travel Planning Resources
For every booking made through my site I donate US$ 1 for a charitable organization.
Safe travels ☺